It's not easy to find the best gifts for guinea pig lovers, but with these crochet guinea pig patterns, you'll definitely find something to choose from.
These adorable little critters will surely have a way of squeezing their way into every corner of your life!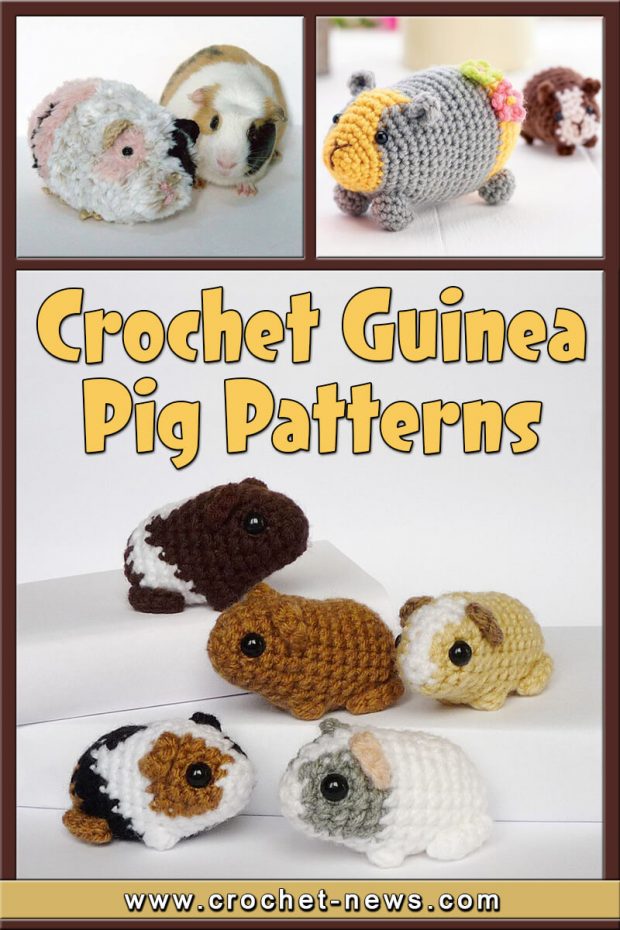 Whether you're in desperate need of a stocking filler, birthday gift or just want to please the guinea-mad lad/lady in your life, these squeal-inducing piggy prezzies are sure to turn any recipient into a certified grinny pig!

1. Amigurumi Guinea Pig Pattern by Erinna Lee
If you need another pet in your life then Erinna's realistic guinea pig could be the answer. Easy to care for and with gorgeous shed-free fur this little cutie is just waiting to be hooked and loved.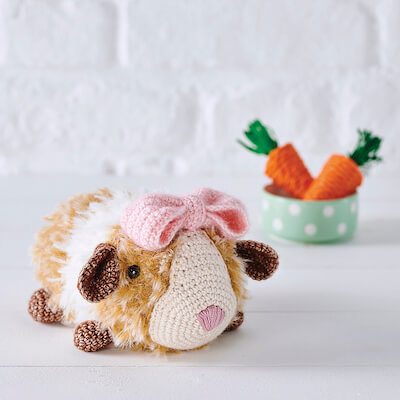 Get the Pattern here

2. Realistic Guinea Pig Crochet Pattern by Bvoe 668
Have you always loved guinea pigs and wanted to have a go at making one just like your favourite little friend? This surprisingly simple pattern will give you a most realistic looking end result – but is a delight to make up. She measures 7″ long and 4″ high and is done entirely in single crochet using a soft fuzzy yarn.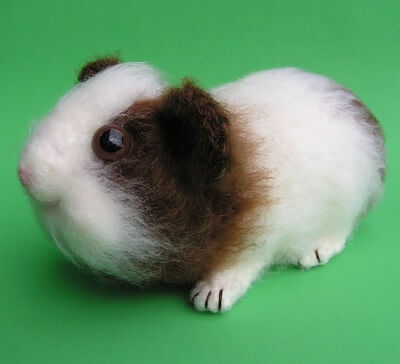 Get the Pattern by Bvoe 668 here

3. Crochet Guinea Pig Pattern by With A Shari On Top
This super fun, adorable and affordable guinea pig pattern is easy-to-follow and allows you to create cuddly pets for sale or to keep.
This pattern gives you the option of crocheting a fuzzy little friend with either fun fur or worsted weight yarn. It also gives you the option to customize your fuzzy pal by adding either a stripe, an eye patch or both!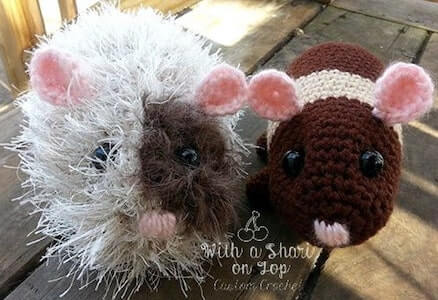 Get the Pattern by With A Shari On Top here

4. Guinea Pig Crochet Pattern by Knotted Faux
This pattern includes tips on how to crochet with faux fur, how to color change, and step by step instruction on how to make the feet and ears.
This is perfect for anyone who's a piggie lover, or would like to make it as a sweet gift for someone who'd appreciate this life-like pet!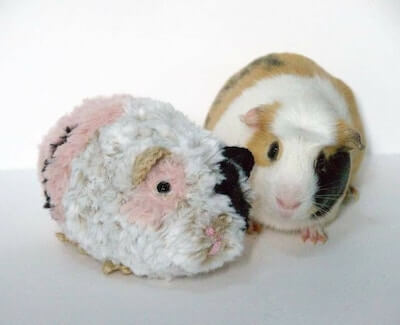 Get the Pattern by Knotted Faux here

5. Guinea Pig With Baby Crochet Pattern by Lau Loves Crochet
With this design, the adult Guinea pig's body has an internal pocket which opens to reveal the baby guinea pig inside! The pattern includes the instructions for both the adult Guinea pig and her baby. Aren't they so cute?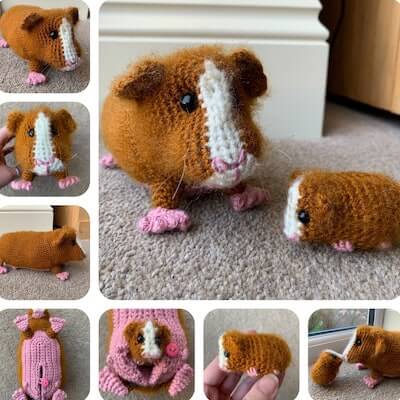 Get the Pattern by Lau Loves Crochet here

6. Crochet Guinea Pig Sweater Pattern by Lil Piggy Patterns
Crochet your very own hoodie sweater for your guinea pig! Perfect for cooler weather and snuggling! This pattern can also assist with the perfect diy custom gift for the guinea pig lover in your life.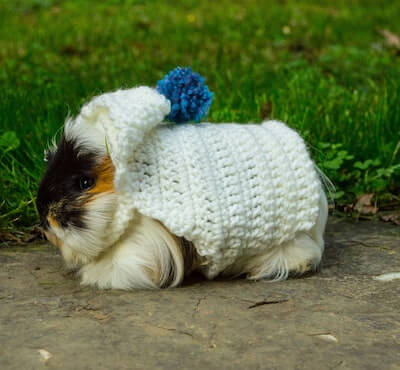 Get the Pattern by Lil Piggy Patterns here

7. Newborn Free Crochet Guinea Pig Pattern by Kati Galusz
Only 2.5-3" from DK and worsted yarns, these babies would be a great way to use up yarn scraps. The small size also means they can be completed in very short time, you could work up an entire herd in a day – they would be great for last minute gifts, stocking fillers, keychains, party favors and so on.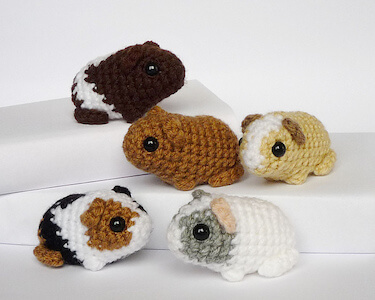 Get the Pattern here

8. Crochet Guinea Pig Family Pattern by Sachiyo Ishii
Crochet a group of these sweet little piggies! Nothing could be cuter than a crocheted guinea pig – other than entire family of them, that is.
You could make just one of these adorable characters, but why limit yourself when you could have Mummy, Daddy and as many babies as you like on display?
Get the Pattern here

9. Guinea Pigs Crochet Pattern by Mala Design
An entire guinea pig family is combined in one crochet pattern. The big guinea pigs are about 21 cm x 14 cm x 12 cm and the little guinea pigs about 16 cm x 10 c x 9 cm.
This crochet pattern contains the description for all four guinea pigs and for the two different grassbucks.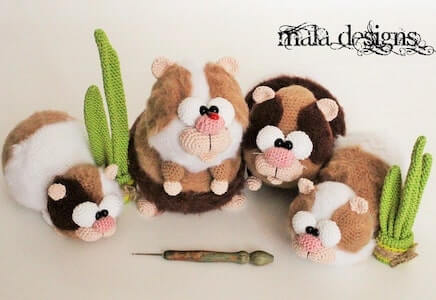 Get the Pattern by Mala Design here

10. Guinea Pig House Book Crochet Pattern by Crochet The Rain Away
Marcedes is a tiny and cute guinea pig. He has a twinkle in his eye ready for adventure! Marcedes house is about 14 cm tall and 12 cm wide.
The house has two rooms – bedroom (you can put Marcedes in his bed or read him a book) and kitchen (you can put Marcedes to sit his chair, open fridge and give him carrots or cabbages.

Inside the house is also two playgrounds- tent (you can put Marcedes inside the tent), cloud (you can make rain by taking raindrops from inside the cloud), Marcedes can also swing in a small yellow swing! In the backyard Marcedes can pick apples and put them in a basket.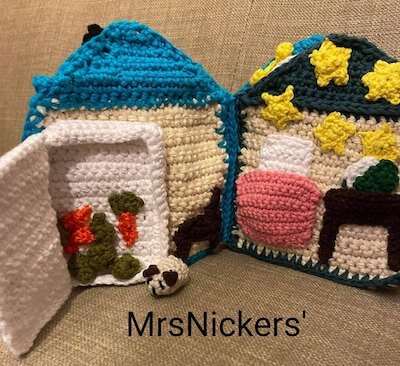 Get the Pattern by Crochet The Rain Away here
WITH THESE CROCHET GUINEA PIG PATTERNS, YOU WILL HAVE A PERFECT GIFT TO SOMEONE SPECIAL IN YOUR LIFE WITH A HUGE SPACE IN THEIR HEART FOR GUINEA PIGS! WE CAN GUARANTEE YOU WON'T BE DISAPPOINTED!
When you have finished your guinea pigs, please feel free to send along pictures of your creation or post on our Facebook Page for all to enjoy! 

Use your crochet skills to whip up a menagerie of animals with our huge collection of crochet animal patterns: Crochet Squirrel Patterns, Crochet Rat Patterns, Crochet Fox Patterns, Crochet Peacock Patterns, Hedgehog Crochet Patterns, Crochet Mouse Patterns, Crochet Beaver Patterns and so much more!

So whether you are looking for another adorable animal to crochet this year or simply love guinea pigs – you'll surely have fun making a crochet guinea pig today!