Those who suffer from musophobia might want to stop reading. This list is about rats! Treat yourself or a loved one to some rat-themed awesomeness with these crochet rat patterns. While you may be cautious in real life, these cuties will do you no harm!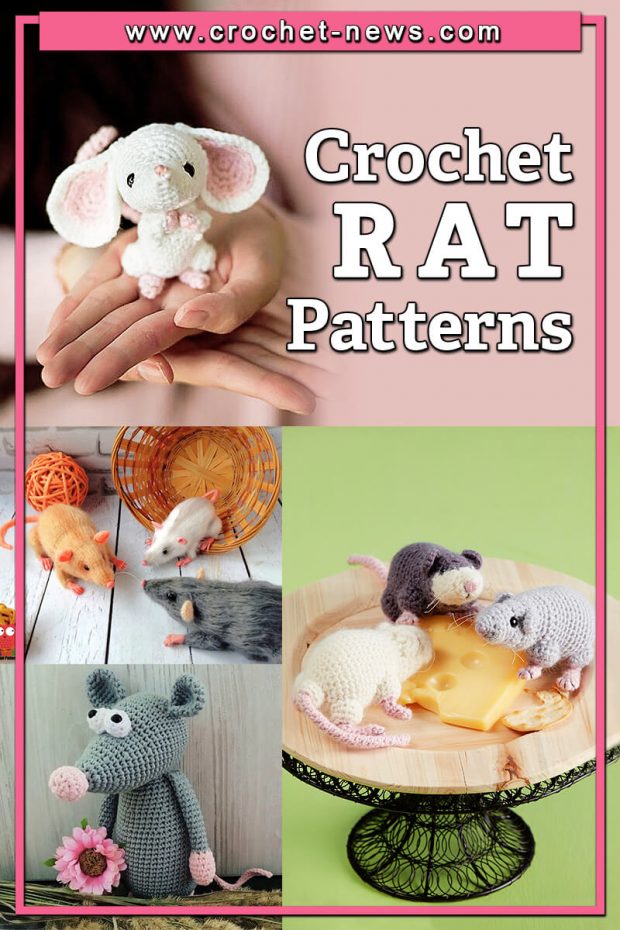 When you think of rats, you might cringe, picturing sewer rats in New York City, or dirty rodents who carried the plague.
But what about a crocheted rat as a pet or home decor? Unthinkable, you might say? Think again after seeing the patterns below!

1. Chinese New Year Rat Crochet Pattern by All About Ami
Crochet your own adorable rat complete with protruding snout, floppy ears, flexible tail, and the sweetest pose. You will love creating this little darling for all the rat and mouse lovers in your life!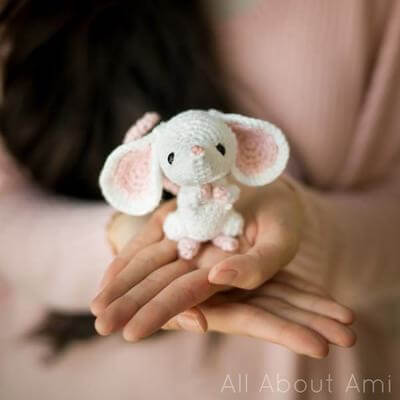 Get the Pattern here

2. Crochet Rat-A-Cutie Pattern by Interweave
Crochet a cute rodent that won't eat up all your cheese. The Rat-a-Cutie Crochet Pattern uses simple stitches to create cute rats with thread whiskers and curly tails.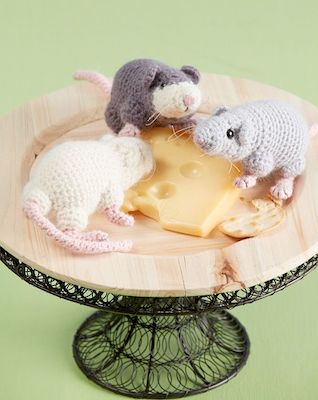 Get the Pattern here

3. Realistic Rat Crochet Pattern by Crochet By Nata Erkhova
These soft and cuddly rats make perfect pets. With realistic details like thread whiskers, painted noses, and dainty little paws, your new friends are sure to win over anyone who might not be a fan of rodents.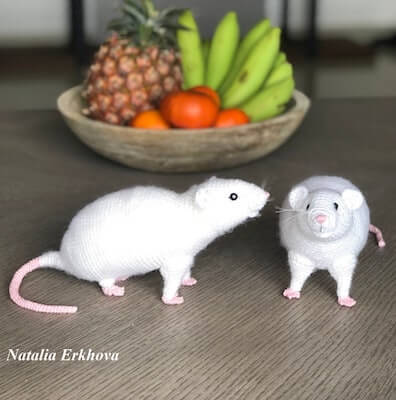 Get the Pattern by Crochet By Nata Erkhova here

4. Fancy Rat Crochet Pattern by Katalin Galusz
Whether you want to crochet a tribute to a beloved pet, or a creepy-cute Halloween prop, these realistic amigurumi rats would be just perfect!

The pattern starts with instructions for a solid color rat with standard ears, followed by the modifications for dumbo and hooded rats.
The amigurumi rat pattern also includes a simpler design for the front legs, in case you find the original version fiddly.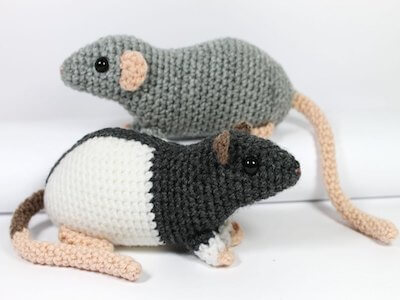 Get the Pattern by Katalin Galusz here

5. Rat Bookmark Crochet Pattern by Supergurumi Shop
More suited for the library than the kitchen, this crocheted rat bookmark is a fun amigurumi project which has been crocheted in spiral rounds and rows.

Here is an idea for a fun, playful bookmark that will be the talk of your reading club. It's an easy project with a "squished" look.
Perfect for inserting in between pages, which has an amigurumi head, and a simple stitched boy and limbs.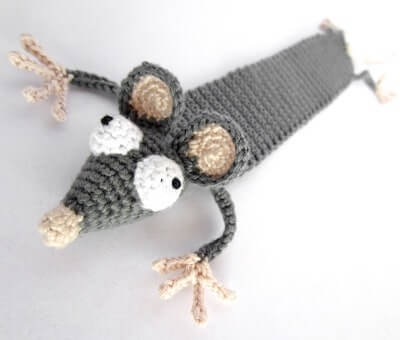 Get the Pattern by Supergurumi Shop here

6. Crochet Tiny Rat Pattern by On A Whim Crochet
This is just a tiny little rat and he's just too cute to resist! Using a 2.75mm crochet hook and worsted weight yarn, this rat measures about 2 1/2″ long (not including tail) and about 1″ high.

A fun and quick pattern to crochet, make yourself a sweet-not-scary amigurumi rat friend!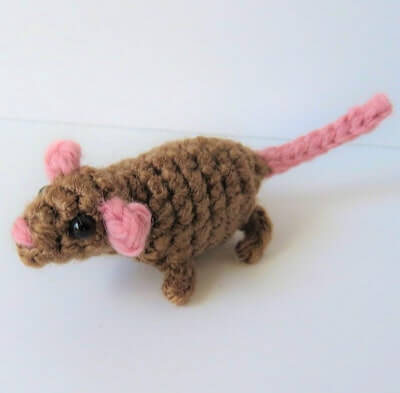 Get the Pattern by On A Whim Crochet here

7. Free Amigurumi Rat Crochet Pattern by Amigurumi Space
Expand your amigurumi collection with this Crochet Rat Free Amigurumi Pattern. What a delightful character he is, and no difficult stitches involved.
He has been crafted using a size 1.75 mm steel crochet hook and an acrylic/cotton blend yarn.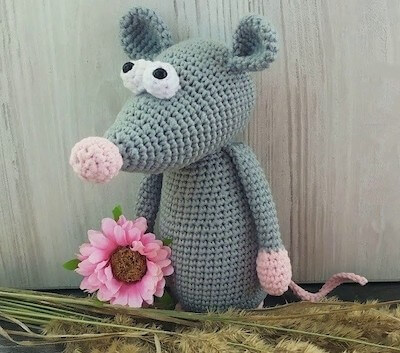 Get the Pattern here

8. Christmas Crochet Rat Pattern by Niwolu Creations
Who wouldn't want an adorable little Christmas rat in its own stripey basket as a hanging ornament this holiday season? You're in luck!
You can make your own with this pattern. It is a cute little critter to hang on your tree or wherever else you need some festive cheer.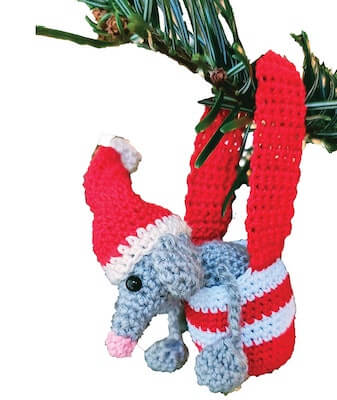 Get the Pattern by Niwolu Creations here

9. Crochet Rat Pattern by Little Owls Hut
If you need another pet in your life then this realistic amigurumi rat could be the answer. Easy to care for and with gorgeous shed-free fur this little cutie is just waiting to be hooked and loved.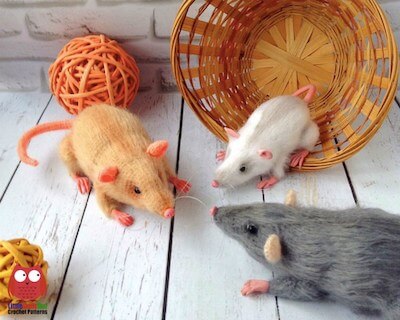 Get the Pattern by Little Owls Hut here

10. Reginald, The Royal Amigurumi Rat Crochet Pattern by KCACOUK Designs
Reginald, as befitting someone born in the year of the rat, is an industrious, thrifty, diligent and positive wee fellow.
He can accommodate himself to different circumstances quickly and get clear about the surroundings – which makes him perfect as an ornament to have on your shelf or desk at work.

A fun little design for anyone born in the year of the rat, or for a rat or royalty lover!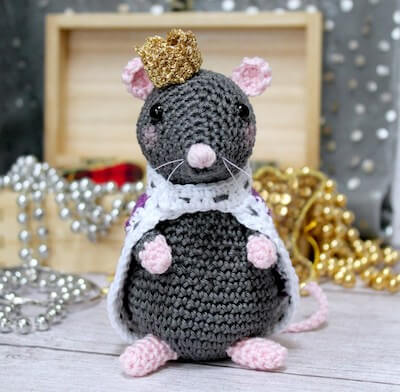 Get the Pattern by KCACOUK Designs here
THESE CROCHET RAT PATTERNS ARE FAR FROM THE INVASIVE VERMIN THAT PEOPLE COMMONLY THINK OF WHEN THEY THINK OF RATS.
Make a bunch of them, every one of you deserves a creepy-cute companion! Once finished, please have a moment to share your works on our Facebook Page.

And also, take time to browse all other patterns we have here. You will surely find something interesting to crochet next. Like these Crochet Mouse Patterns and Crochet Guinea Pig Patterns.
Enjoy crocheting your own crochet rats and bringing them to life with your own special touches!