Beavers are awfully cute and industrious little creatures. They build dams that are quite effective and astonishing to those looking at them as well. What to get for the special person in your life who loves beavers? Try out these crochet beaver patterns and you're sure to find a hit.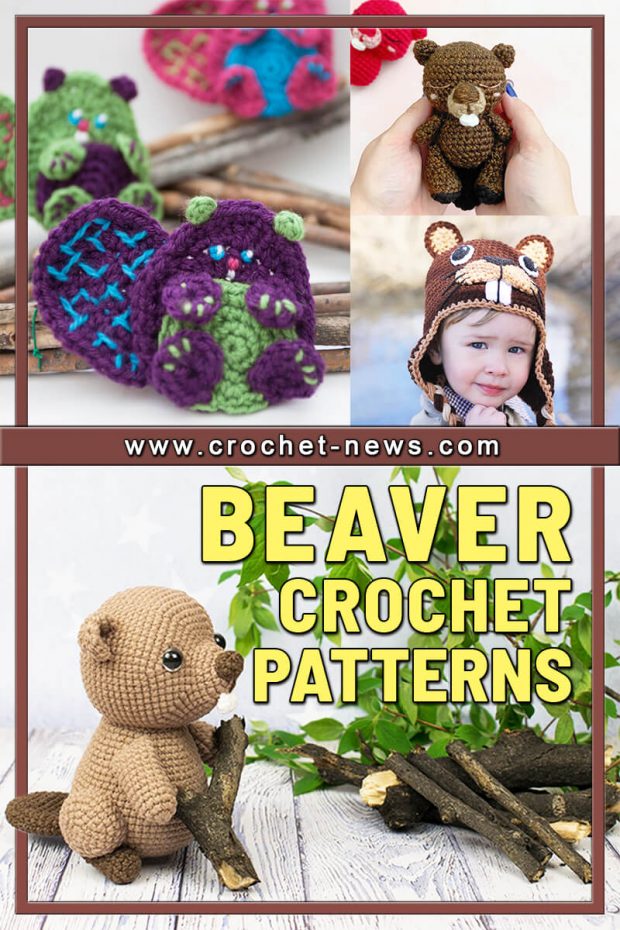 The beaver, not only the showpiece of magnificent dental care but also one of the best builders in the animal kingdom.
If you also want to have this little virtuoso of organic architecture at home, you can make these crochet beavers easily and quickly.

1. Amigurumi Beaver Crochet Pattern by Amigurumi Today
Got any tasty trees? This crochet beaver amigurumi would love if you share! Make a cute toy with this step-by-step crochet pattern.
Children are certain to learn about nature while having loads of fun with a huggable amigurumi beaver.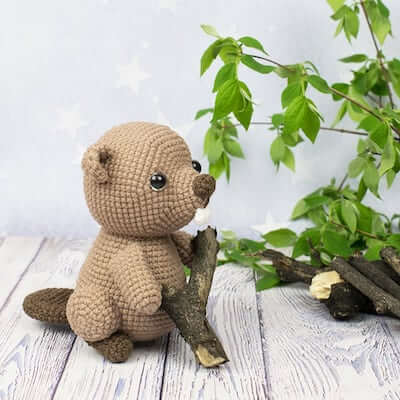 Get the Pattern here

2. Woody, The Beaver Crochet Pattern by Elisa's Crochet
This little beaver is full of chuckles and easy stitches! Made using DK yarn, a size D hook and poly filing, the finished size is 5 1/2″ x 3″ x 5″.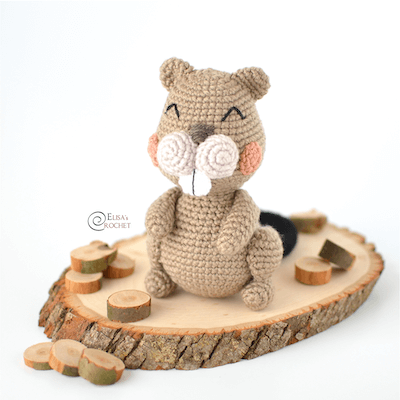 Get the Pattern here

3. Crochet Beaver Hat Pattern by Ira Rott Patterns
Meet Justin, the Canadian beaver! He likes to smile and always be busy. There are 8 sizes in the pattern, so you can make matching hats for your entire family to have fun.
Get the Pattern by Ira Rott Patterns here

4. Lenny, The Beaver Amigurumi Crochet Pattern by Airali Design
Lenny is a chubby beaver with lovely white felt teeth. He wears a yellow and blue tapestry crochet baseball hat and he can't live without his huge backpack, which is a miniature of a proper camping backpack!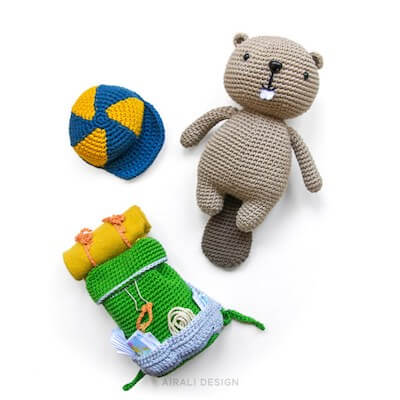 Get the Pattern by Airali Design here

5. Crochet Beaver Pattern by Planet June
We love how beavers sit up on their back feet, using their tail for balance, and that's the distinctive pose that was captured in this design.
You'll love how it all comes together – the body shaping, the cute little arms and big webbed back feet, and of course the iconic tail.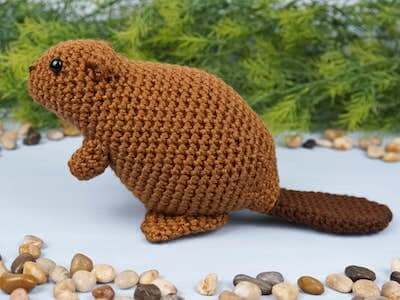 Get the Pattern by Planet June here

6. Baby Beaver Free Crochet Applique Pattern by Sustain My Craft Habit
This fun little guy can be made in his traditional color of brown or experiment with different bright and fun colors!
This Baby Beaver Applique is a great way to jazz up clothing, embellish a kids backpack, frame for décor or stitch to a throw pillow.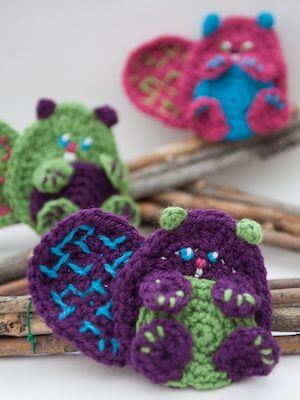 Get the Pattern here

7. Carl, The Mini Beaver Crochet Pattern by All From Jade
Carl, the Mini Beaver is the perfect toy for babies. Small enough to fit perfectly into baby's little hands. Designed with embroidered sleepy eyes so there is no safety risk for babies under 3.
Carl's movable legs are perfect to have him seated or in standing position which makes him even cuter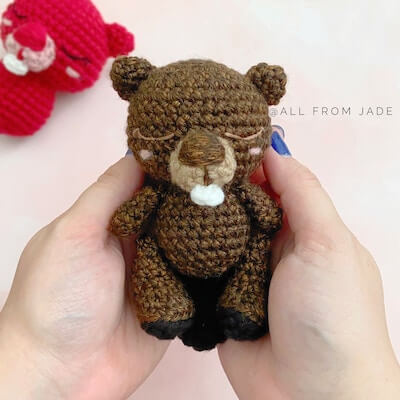 Get the Pattern by All From Jade here

8. Mini Beaver Crochet Pattern by Supergurumi Shop
This little Beaver can be crocheted relatively quickly and is perfect as a decorative figurine, gift or key chain.
It is crocheted with chain stitches, single crochet stitches, and half double crochet stitches in spiral rounds and in rows and is easy to crochet.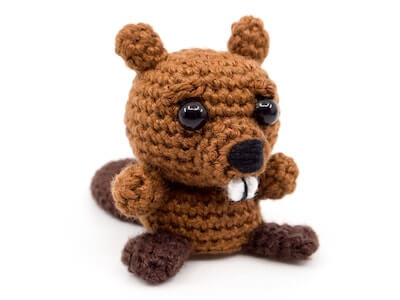 Get the Pattern by Supergurumi Shop here

9. Crochet Beaver Potholder Pattern by My Fingers Fly
As long as they're not building a dam on someone's property, beavers are beloved animals and even the mascot of several schools. If you're a beaver lover, crochet a few of these potholders for your kitchen.

You can also use them as hot pads to protect surfaces from hot pans. This easy crochet pattern is quick to make with a double strand of cotton worsted yarn.
You may even have the right colors in your stash already. Use a single strand of yarn to make a smaller beaver as a coaster.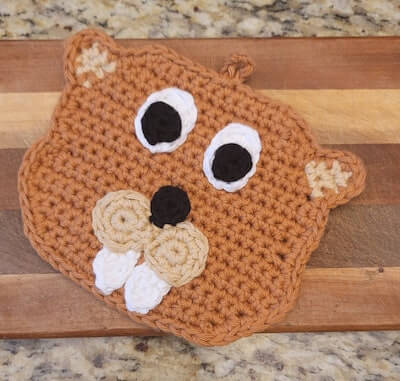 Get the Pattern by my Fingers Fly here
Here's more kitchen essentials: Potholders, Dishcloths, Coasters

10. Realistic Crochet Beaver Pattern by Sons Popkes
This realistic adorable crochet beaver amigurumi toy can be a great gift for a young wildlife explorer. This is made with a 100% wool with a toy of fuzziness.
He is 5.5 inch/14 cm high when made with this yarn. The pattern also includes the instructions for the little stick.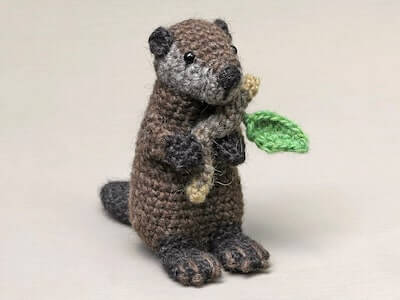 Get the Pattern by Sons Popkes here
YOU DON'T HAVE TO LIVE IN CANADA TO MAKE THESE CROHET BEAVER PATTERNS!
If you want to create a whole zoo of animals in addition to your crochet beavers, we have lots of other ideas on the site for you too. You can make a panda, a fox, a peacock, a giraffe, an elephant, guinea pig and a lot more!

When you're done making your own crocheted beavers or any of the animal crochet patterns we have shared, be sure to share your finished creations with us on our Facebook Page.

So pick up your hook and yarn and bring these bucktoothed furballs into your home with these crochet beaver patterns today!