I love the summertime, the sun, and swimming. I'll never forget my first snorkeling experience, where I was able to swim with the fish and look at all of the beautiful, colorful life in the sea.
Unfortunately, I don't get to see much of the ocean life unless I visit the aquarium. Thankfully, there are patterns for crochet sea creatures available so that I can bring elements of the sea home to me!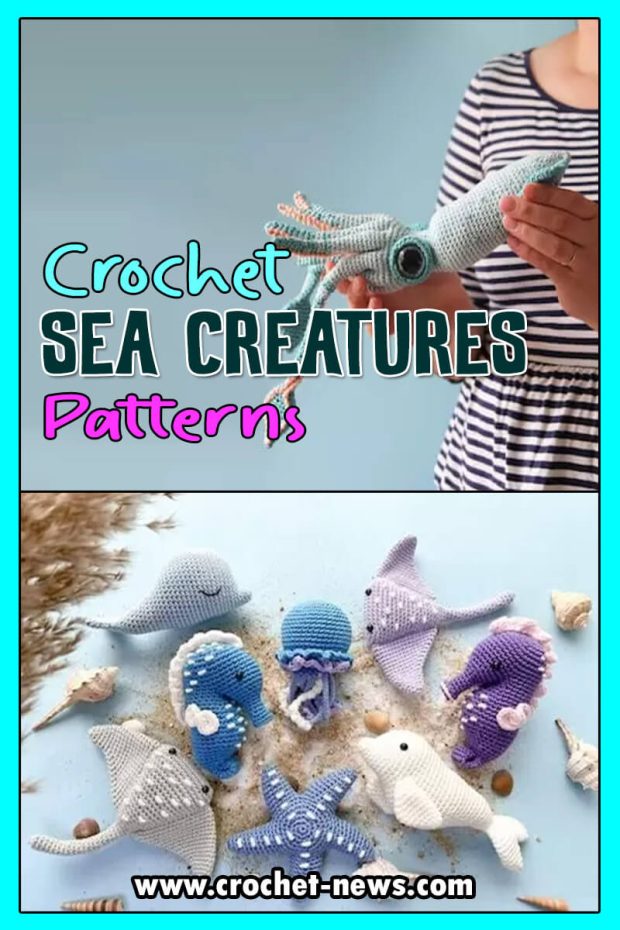 Crochet 27 fun and vibrant ocean creatures, including sharks, whales, jellyfish, an octopus, seahorse, turtle and plenty of colorful fish to choose from. There's even some coral to complete the set!
My Latest Crochet Book Recommendation
I just also want to share with you this fun book by the very clever Vanessa Mooncie — Crocheted Sea Creatures: A Collection of Marine Mates to Make. The book feature 15 marine buddies to weave together!
From beaming sharks to drifting jellyfish, this exciting and novel take on crochet creatures is a fun and refreshing way to sharpen your skills.
This volume is ideal for experienced crocheters, with each project varying in complexity. With exquisitely-simple charts and instructions, this lovely book is perfect for crafting marine toys—and also for learning a few sea facts!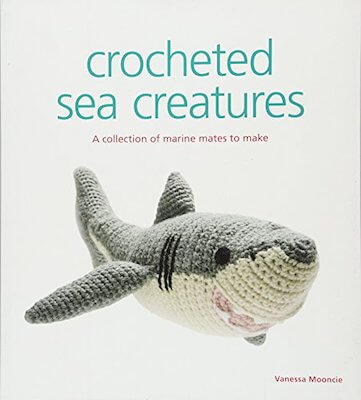 Crocheted Sea Creatures features:
15 projects of all levels of complexity, plus a comprehensive techniques section to teach beginners as well as refresh the seasoned crocheter's skill set
40 beautifully drawn crochet illustrations, 80 charts with detailed instructions, and 175 color photographs to successfully guide and inspire you
27 Crochet Sea Creatures Patterns

1. Crochet Sea Creatures Pattern by RNata
In just a few hours, you can make your own adorable set of six mini sea creatures! This pattern includes the following sea creatures: sea horse, jellyfish, beluga whale, starfish, and stingray. This adorable set is an excellent project for a newborn and an ideal baby gift.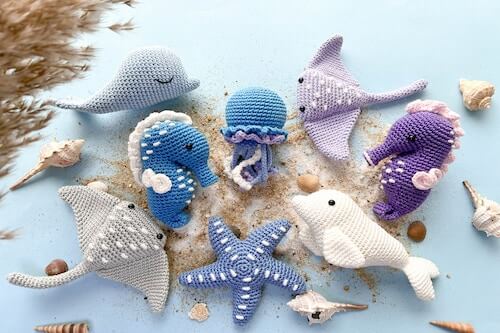 2. Undersea Friends Amigurumi Sea Creatures Pattern by Cat Lady Crochet Shoppe
Crochet these sweet little sea creatures for yourself or a friend! They're adorable as is, and there's so much you can do with them! Make the entire set and arrange them in a fish bowl for an adorable mini aquarium!
Or, you can add hangers to them for ornaments, or add magnets for the cutest little refrigerator magnets.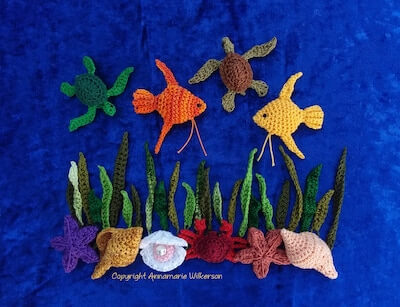 Get the Pattern by Cat Lady Crochet Shoppe here

3. Blobfish Free Crochet Sea Creatures Pattern by Spin A Yarn Crochet
This blobfish will definitely convince you that this sea creature can look cute! You will be using the shape of an open round of stitches as the main design feature — the mouth!
That means that this pattern does not require any stuffing and is not closed, which also means that you could add a strap to the blob fish and turn it into, perhaps, the most interesting crocheted bag ever!

The bottom of the blobfish is concave, making it the perfect little desk companion — it sits perfectly flat!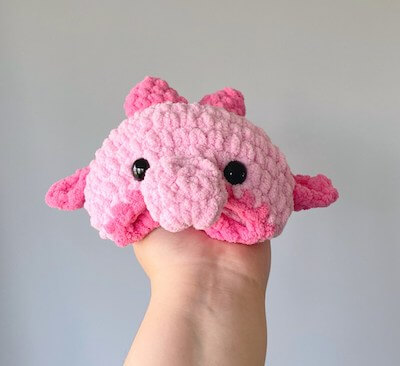 Get the Pattern here

4. Oscar, The Oyster Crochet Pattern by Yarnspirations
Because the world is your oyster, why not crochet one and hang it in your home? Use the luscious tones shown to bring this adorable little guy to life, or imagine something different for his personality. He's a fun piece that adds personality wherever he's displayed.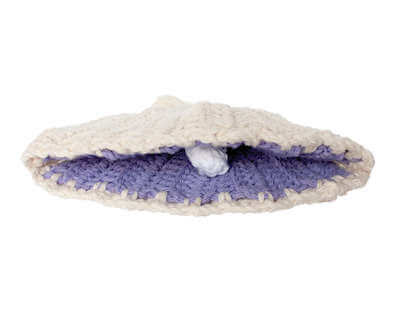 Get the Pattern here

5. Crochet Sea Animals by Airali Design
Sea Friends is a collection of 4 amigurumi characters: a Narwhal with silver horn, a cute little fish, a simple starfish and graceful shell. Their size is between 5 and 12 cm (2 and 4 ¾ in) which make them quick to crochet and perfect as little gifts, keychain charms or party favors!
See more Crochet Narwhal patterns here.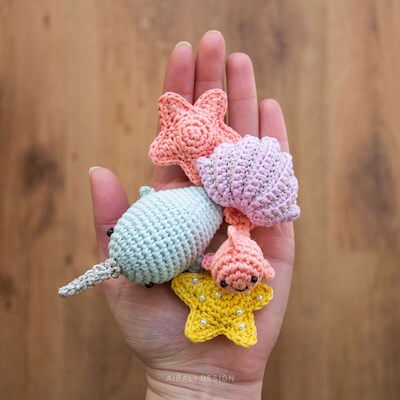 Get the Pattern by Airali Design here

6. Crochet Ocean Activity Blanket Pattern by 3 Redhead Crafts
This activity blanket will keep your children entertained for hours. An appliqué shark with a removable orange fish, a yellow fish hidden behind seaweed that can be folded down to reveal the fish entirely, and a clam that opens to reveal a pearl are all featured on activity blankets (pearl is not removable).

The blanket includes a separate boat, sea turtle, starfish, and jellyfish, all of which are soft and ready for play. Drawstrings on the blanket allow you to close it and wrap it up for easy transport. All plush toys fit easily inside the blanket.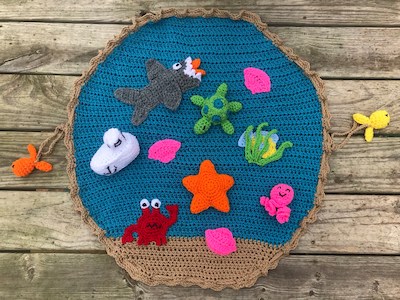 Get the Pattern by 3 Redhead Crafts here

7. Shrimp Crochet Pattern by Ghee Beans Crafty
Here's a little shrimp who makes a nice guard for your stash, a gift for a friend, or a welcome addition to a crocheted seafood salad. Approximate size of finished plush is approximately 5 inches long, which varies based on yarn weight, hook size, and tightness of stitches.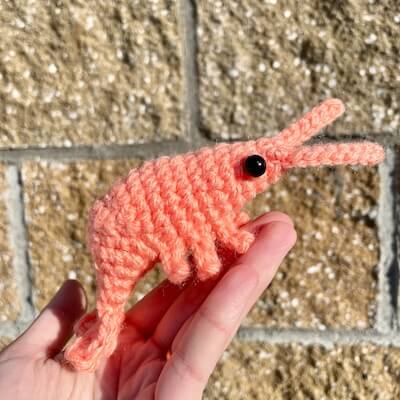 Get the Pattern by Ghee Beans Crafty here

8. Ocean Buddies Amigurumi Crochet Pattern by Moji Moji Design
Five ocean pals splash through idyllic ocean days, chasing and catching fish, plankton, or algae for dinner. This crochet sea creatures pattern includes instructions for Nigel the Narwhal, Wendy the Whale, Daphne the Dolphin, Sheamus the Shark, and Stephanie the Starfish.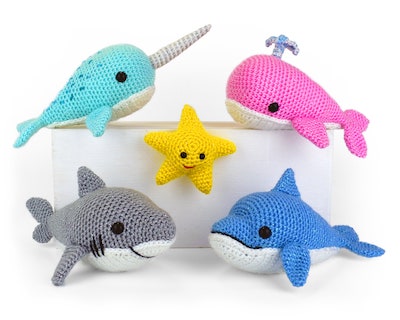 Get the Pattern by Moji Moji Design here

9. Steve, The Fish Crochet Amigurumi Pattern by Garnknuten
Steve is an amigurumi fish that measures 18 cm long and has stripes and small fins. This pattern includes two versions of Steve the fish, one for amigurumi and one for storing small trinkets.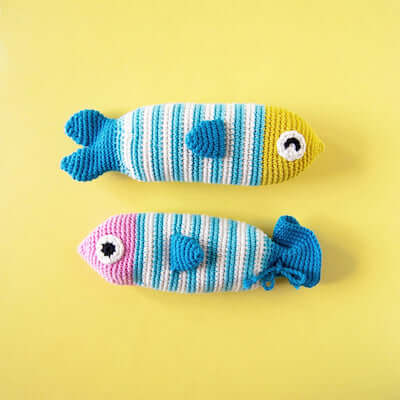 Get the Pattern here

10. Tori, The Turtle Crochet Pattern by Sweet Softies
Tori, the Turtle is a quick and beginner friendly amigurumi pattern. This little sea animal can stand on its own and makes a great desk buddy or keychain accessory.

Make it your own by using different yarn colors, fibers, and weights (try velvet or blanket yarn!) or embellishments like buttons, bows, bow ties, or flowers. It's an excellent craft fair item as well as a birthday or holiday gift for both kids and adults!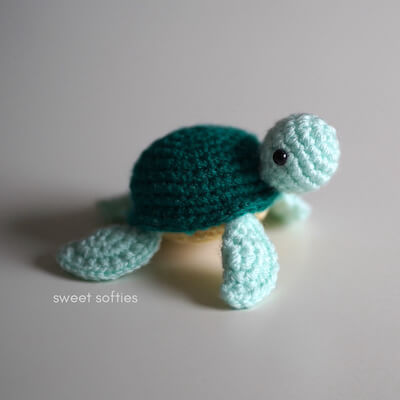 Get the Pattern here

11. Walter, The Walrus Crochet Pattern by Hooked By Kati
Walter, the Walrus is an adorable dapper fellow that will have you gushing with cuteness! His wrinkles are made with slip stitch rounds and sone inside-out sewing to scrunch him up.
This pattern also includes 2 hats, one winter beanie and one newsboy cap. Walter is a joy to create and sweet face to talk to.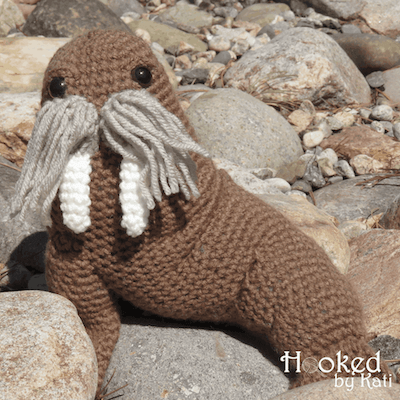 Get the Pattern here

12. Oliver Octopus And Baby Crochet Pattern by Cut Out And Keep
This pattern is a two-in-one! You can make a big octopus for yourself and a small one for a gift. These cephalopods are in a realistic style feature and feature detailed tentacles, complete with suckers!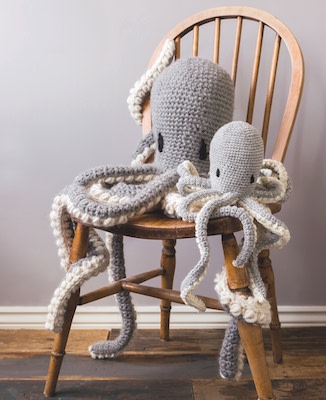 Get the Pattern here

13. Crochet Sea Otter Pattern by Sons Popkes
Have you ever seen pictures of a mother sea otter embracing her fuzzy little otter pup as they float along? It's one of the sweetest displays of parent-baby affection in the animal kingdom.
And to add to that, otters often hold their paws together while they nap to prevent them from drifting apart from each other, making them perhaps the most painfully adorable creatures around.

With this easy and very detailed pattern, you can make an utterly adorably mother with pup sea otter.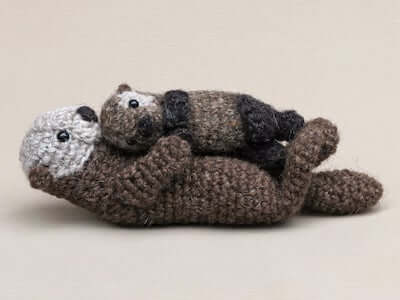 Get the Pattern by Sons Popkes here

14. Crochet Sea Slugs Pattern by Crafty Intentions
No aquarium? No problem! You can still have a little nudibranch friend with this amigurumi crochet pattern. This pattern comes with instructions to make any of four different, distinctive, beautiful Nudibranches aka Sea Slugs!
You can make a Hypselodoris bullocki, a Dirona albolineata, a Ardeadoris cruenta, or a Glaucus atlanticus!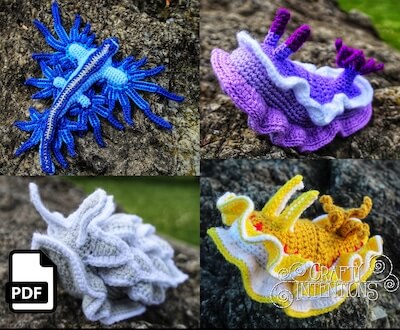 Get the Pattern by Crafty Intentions here

15. Crochet Hermit Crab Pattern by Outlaw Heart Creations
You can't be grumpy around these little cuties! These little hermit crabs are perfect "pets," desk ornaments, or add a keychain hanger for a one-of-a-kind backpack buddy!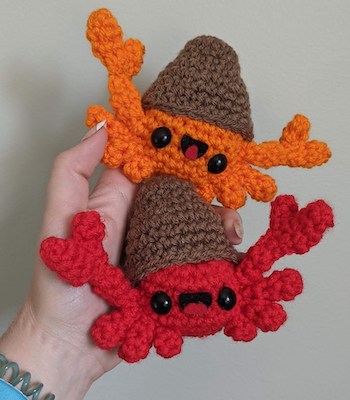 Get the Pattern by Outlaw Heart Creations here

16. Blue Lobster Amigurumi Crochet Pattern by Spin A Yarn Crochet
Crochet yourself a rare and beautiful blue lobster; one that you can actually cuddle! Or, use red yarn to make a more traditional lobster instead. A perfect little mascot for your next summer cookout.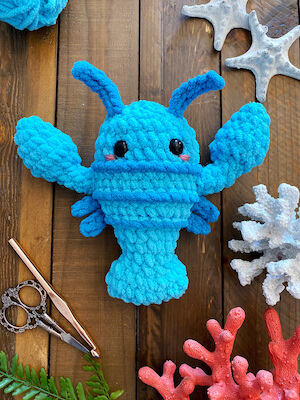 Get the Pattern here

17. Percy, The Squid Amigurumi Pattern by Irene Strange
Did you know that cephalopods are the most intelligent invertebrates and their eyes are comparable to human eyes? With Percy's great big eyes and with so many arms to hold when going on an adventure, your kids will adore this quirky cephalopod.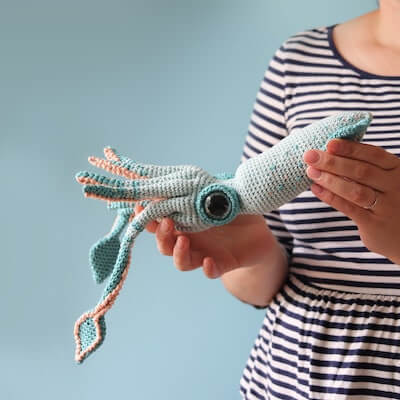 Get the Pattern by Irene Strange here

18. Angler Fish Sea Creature Crochet Pattern by Svetlana M
I invite you to move deep in the ocean and consider one of the most mysterious fish, closer. The deep-sea angler is scary in reality, but this one is far from that!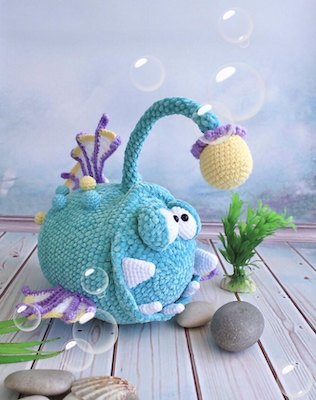 Get the Pattern by Svetlana M here

19. Salty, The Seal Crochet Pattern by The Loopy Lamb
Salty, the Seal, is a cuddly and sweet seal with big beautiful eyes who is curious and enjoys going on adventures with her baby seals. Salty and her baby seals are both made with as little sewing as possible.
Their heads, bodies, and tails are all crocheted together, but the fins are made and sewn on separately.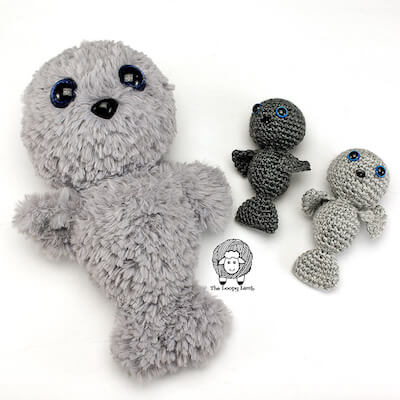 Get the Pattern here

20. Crochet Conch Sea Shells And Star Fish Pattern by TC Designs UK
These highly textured 3D Conch Shell Sea Shells and starfish will add a touch of the seaside to your home. It's unique, fun, and a great way to use up leftover cotton yarn.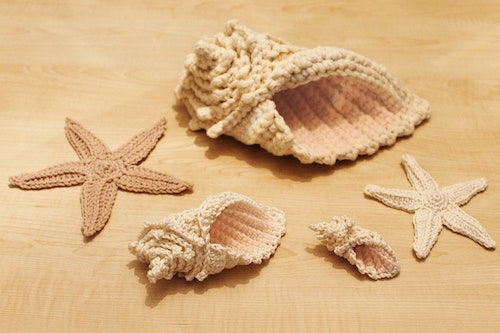 Get the Pattern by TC Designs UK here

21. Jag, The Jellyfish Crochet Pattern by Off The Beaten Hook
Your sea creations collection won't be complete without this fantastic amigurumi jellyfish. This Sea Nettle inspired jellyfish hits the mark between adorable and realistic!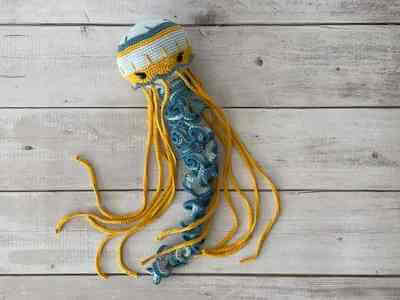 Get the Pattern here

22. Hudson, The Humpback Whale Crochet Pattern by The Well Made Walrus
Humpback whales are one of my favorite animals. They can grow to 60 feet long, and they can weigh a whopping 40 tons. Here's Hudson, an adorable and huggable humpback whale that would make a perfect gift for any fan of the deep blue sea.
Don't worry, this pattern will make a much smaller version that can fit in your hands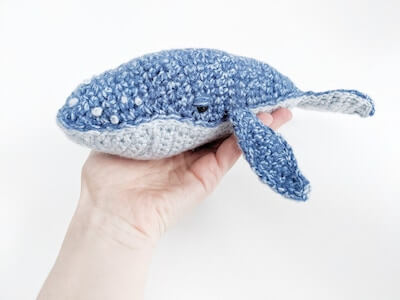 Get the Pattern by The Well Made Walrus here

23. Crochet Dancing Sea Horses Pattern by Red Heart
Bring something one-of-a-kind from the sea into your amigurumi collection. You'll crochet in rounds to bring this dancing duo to life, and they're sure to steal your heart!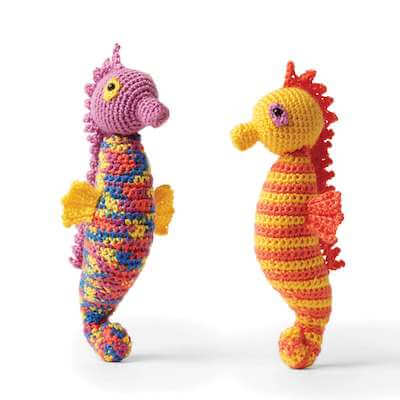 Get the Pattern here

24. Crochet Sea Life Book Pattern by SIRMA's Magic
This book has eight unique pages that present sea life and provide activities for toddlers. It's an incredible, educational, and very special gift you can make for your sea-loving child.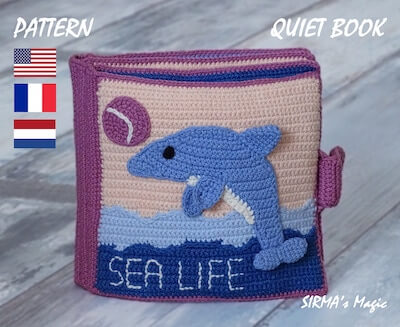 Get the Pattern by SIRMA's Magic here

25. Coral Reef Crochet Pattern by Artsy Phartsy Garden
This crochet sea creatures pattern will help you to make five stand-up, 3D corals: Tentacled Cup Coral, Tube Sponge, Flowerpot, Fan Coral and a Hyperbolic strip to fill in spaces in your coral reef. They require no fabric stiffener to stand up.

With these directions, you can crochet your own coral reef using any yarn in any color you want. These directions are easily modified to match your needs, home decor, and creative style.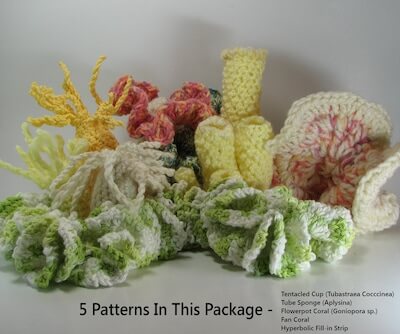 Get the Pattern by Artsy Phartsy Garden here

26. Whitney, The Whale Shark Crochet Pattern by The Kotton Kaboodle
Everything "whale" be alright with this cutie around! Whitney, the Whale Shark is so chubby and cuddly, you'll have a fin-tastic time hanging with her! When crocheted with worsted weight (category 4) yarn and a 3.5 mm crochet hook, the Whale Shark will measure 17″L x 13″W x 6″H.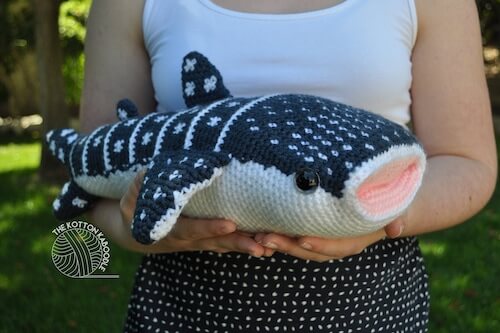 Get the Pattern by The Kotton Kaboodle here

27. Penelope, The Penguin Crochet Pattern by The Blue Elephants
Crochet the bird of the ocean with Penelope, The Penguin. This penguin plushie is cute, quick, and easy to make! The pattern is simple and works up quickly, which makes it a great projects for beginners.

The body is constructed with basic shapes, and then a few details are added to make him sparkle. This penguin amigurumi would make a wonderful baby gift or a cute winter decoration for your workspace!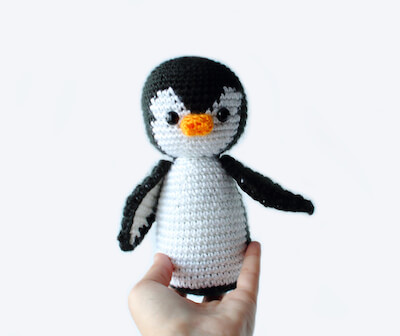 Get the Pattern here
LEARN HOW TO CROCHET MARINE-INSPIRED PIECES TO BRING THE BEAUTY OF THE OCEAN TO YOUR HOME WITH THESE CROCHET SEA CREATURES PATTERNS.
Remember to share your makes on our Facebook Page. We can't wait to see your adorable creations!
For more animal friends to crochet next, check out these unforgettable crochet projects that you and your kids will go wild for!
If an aquarium is still on your mind, try making your own out of these crochet sea creatures today!