With these crochet shawl patterns, you can make stylish and useful accessories in all kinds of shapes and sizes.
Although you may think of shawls draped over shoulders, perhaps paired with a rocking chair, they look great in a new and modern way.
Especially when worn wrapped like a scarf or draped more on one shoulder than the other,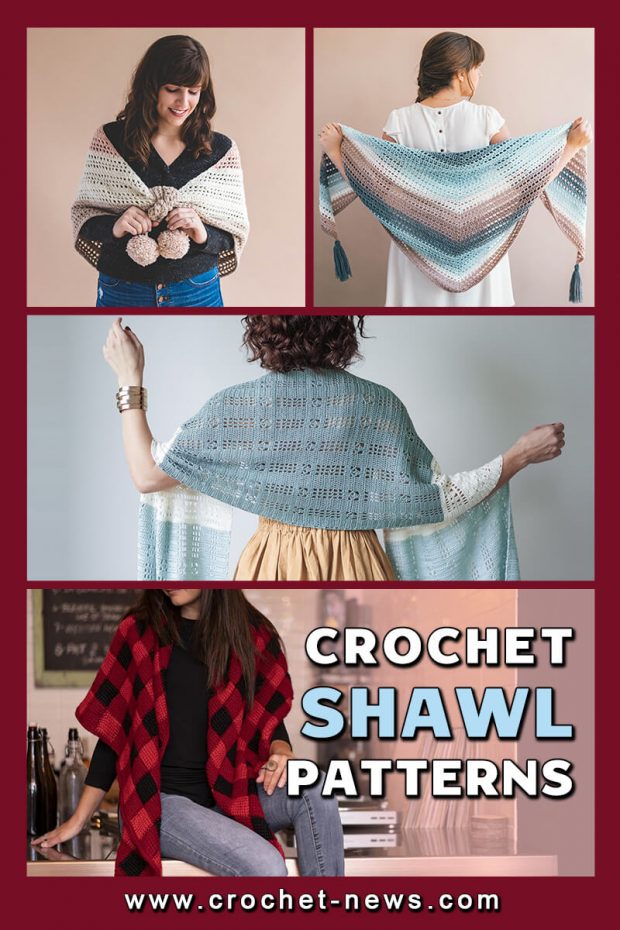 This collection of crochet shawl pattern includes triangles, rectangles, crescents, asymmetrical designs, and a mixture of all those things.
Find your favorite style and get your hooks ready!
1. Al Fresco Shawl Crochet Pattern by Hooked On Homemade Happiness
This Al Fresco Shawl Crochet Pattern is a lightweight shawl that's perfect for cool evenings. It has a beautiful drape that lays perfectly over the shoulders. Because of the curved shape, it stays on the shoulders without a shawl pin or tying.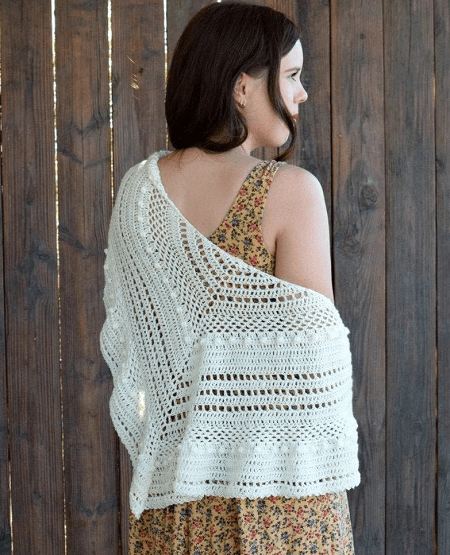 Get the Pattern by Hooked On Homemade Happiness here

2. Crochet Granny Stitch Shawl Pattern by Make And Do Crew
Put a modern spin on a crochet classic with this simple crochet granny stitch shawl! This shawl crochet free pattern uses rhythmic stripes to modernize the iconic stitch.
The resulting piece is light, super warm, and can be worn around the shoulders as a shawl or around the neck as a triangle scarf. Add tassels or fringe to create a versatile statement piece you can wear all season long.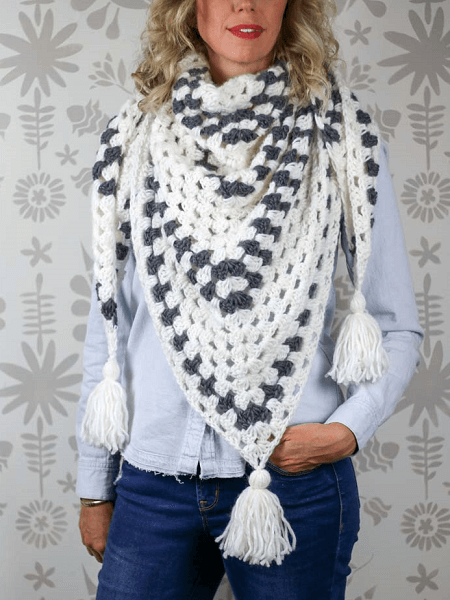 Get the shawl crochet free pattern here

3. Little Fictions Shawl Crochet Free Pattern by Annie Design Crochet
This Little Fictions Shawl is a crochet triangle shawl, with a beautiful drape, using only 400m of fingering weight yarn. One beautiful skein of yarn is all that is needed to show off this light and lacy shawl pattern. A wide wingspan to curl around your neck and shoulders – lovely as a Summer wrap, or a cozy scarf in colder months.
Made using basic crochet stitches that combine to create an interesting 2-row crochet pattern repeat, that is relaxing and quick to crochet.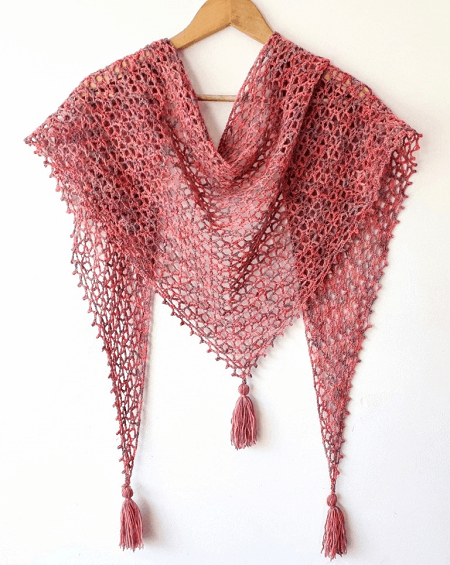 Get the Pattern here

4. Lace Crochet Shawl Pattern by Darling Jadore
Gorgeous, vintage-inspired, and romantic; are the three words used to describe the elegance of this shawl — a fun crochet pattern perfect for advanced-beginner crocheters that allows you to crochet a lacy, triangle shawl.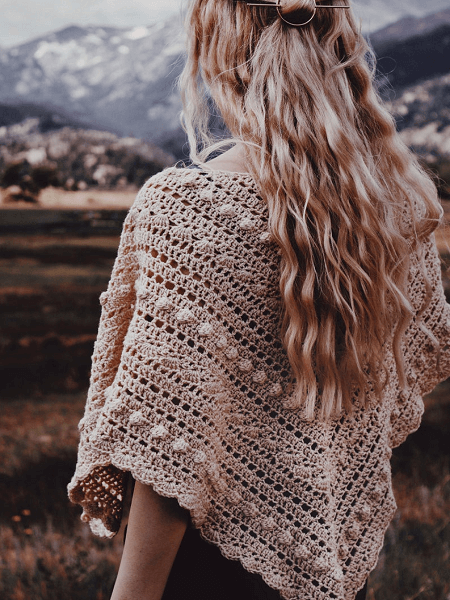 Get the Pattern by Darling Jadore here

5. Victoria's German Shells Shawl Crochet Pattern by Jonna Martinez Crochet
This Victoria's German Shells Shawl is designed using the German shells or virus stitch and a V stitch. It is lovely in many different colors and has repeats to easily make it bigger.
This crochet shawl finished size is 68 inches across straight edge by 35 inches from middle to tip. You can make this crochet shawl bigger by just continuing with the repeats.
If you know how to single crochet, double crochet, half double crochet, slip stitch, chain, and read basic crochet patterns, you can do this!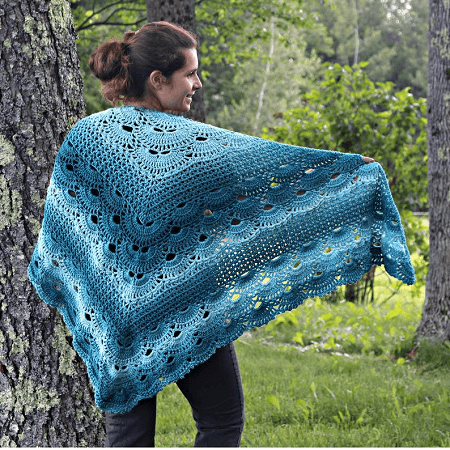 Get the Pattern by Jonna Martinez Crochet here

6. Throwback Wrap Crochet Shawl Pattern for Beginners by 1 Dog Woof
The Throwback Wrap, a retro vibe inspired crochet shawl free pattern, brings together a collection of vibrant jewel tones in one stunning piece.
This easy, beginner-friendly crochet wrap features a bias construction, modern colorful stripes, and playful twisted fringe.
Made with Lion Brand Cotton Bamboo, the wrap shawl is cool and light, but with enough substance to carry into fall and even moderate winter use, making it a truly year-round accessory.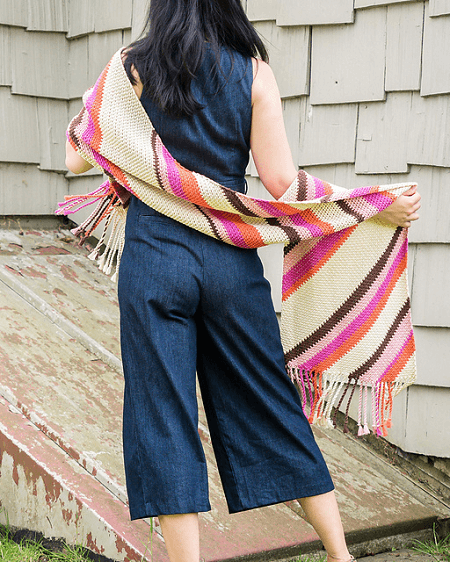 Get the Pattern here

7. Crochet Shawl Pattern by Lisa's Attik
Peaks and picots give a dramatic finish to this eye-catching piece, with optional tassels just because well, because tassels are great!
This crochet shawl is an easy to wear top-down triangle shawl which has dynamic textured grids slice through a bold geometric floral motif. Isn't it so pretty?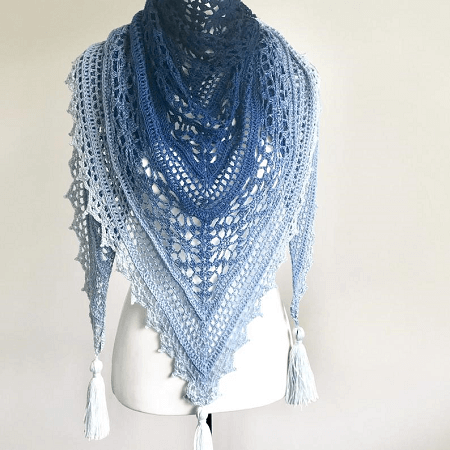 Get the Pattern by Lisa's Attik here

8. Awana Shawl Crochet Pattern by Dada's Place
This Awana shawl is light and airy, a perfect accessory for a summer night out. It can also be a wedding accessory. Just leave out the tassels.
This crochet shawl pattern is a triangle-shaped shawl, worked back and forth in rows. When blocked, the shawl measures approximately 142 cm (56") x 74 cm (29").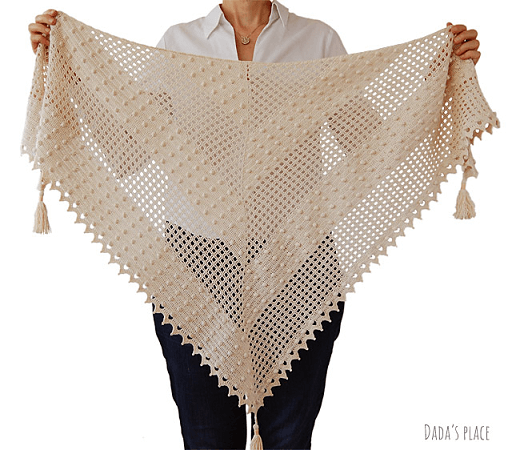 Get the Pattern here

9. Sienna Star Shawl Crochet Pattern by Mj Art At Heart
This Sienna Star Shawl provides the perfect combination of texture and squish to keep you warm.
Named after a favorite breed of chicken, the stitches will remind you of chicken feet and eggs making it the perfect accessory for all crazy chicken lovers.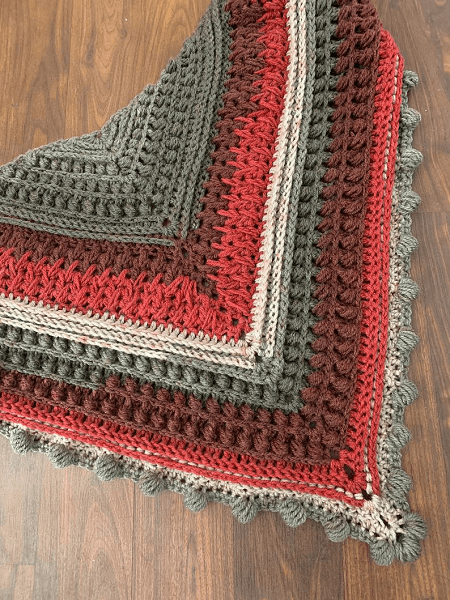 Get the Pattern by Mj Art At Heart here

10. Light Shawl Crochet Pattern by Mama In A Stitch
Wrap yourself in this airy, oversized light shawl featuring open stitchwork and beautiful drape. Super cute paired with a tank or maxi dress yet versatile enough to wear with just about anything!
The various stitches and textures will keep you interested as you crochet while also creating a modern, feminine accessory.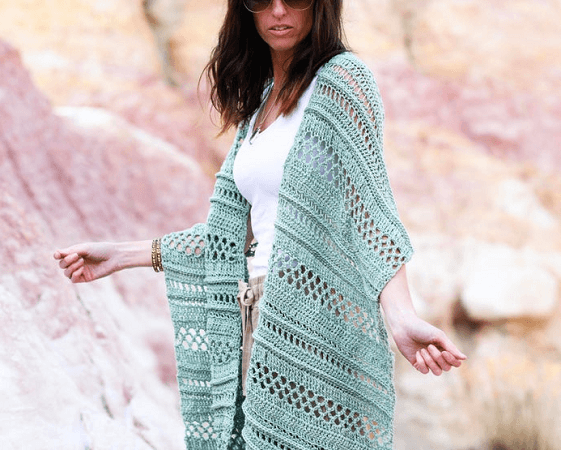 Get the Pattern by Mama In A Stitch here

11. Faroese Crochet Shawl Pattern by Briana K Designs
This Faroese Crochet Shawl Pattern is a cool kid on the block in terms of shawl shapes. There is a panel section on the center which has a triangle increase on each side. This triangle crochet shawl is made with a bulky weight yarn but it's 55% cotton so still great for those summer months.
Because this crochet shawl pattern has a simple repeat, it would be easy to make the shawl more substantial or smaller by merely working less or more rows.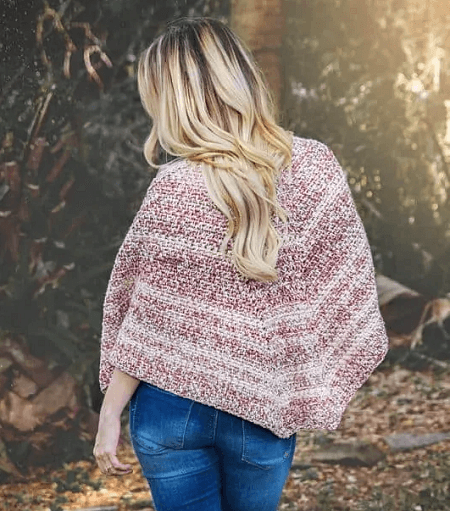 Get the Pattern here

12. Ombre Shawl Crochet Pattern by Petals To Picots
The gorgeous stitch texture and modern striping of this Ombre Shawl Crochet Pattern allows this shawl to pair just as easily with your favorite pair of jeans as it does over a little black dress, and it can be easily customized to any size you like.
You can follow the basic shawl crochet pattern and customize your colors and striping to fit your taste or you can follow the striping pattern included.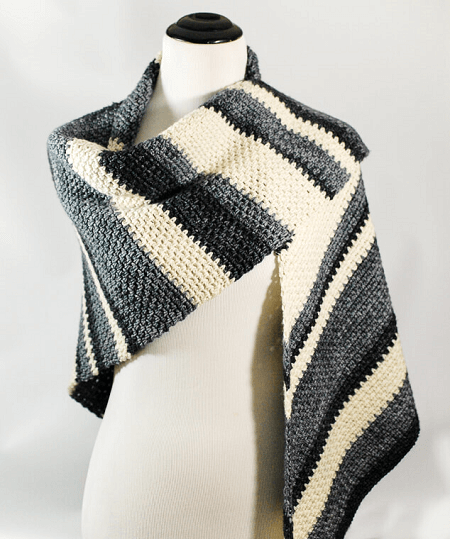 Get the Pattern here

13. Summer Shawl Crochet Pattern by Cream Of The Crop Crochet
There's no need to give up your walks on the beach or dinner by the seaside just yet. This Summer Shawl is cozy enough to make up for the sun's absence, at least until next summer. And this shawl goes with anything in your closet.
Because it's made with two colors, you can really personalize this wrap to fit your personality. Or you could make two! One in bright, summer colors. And another in tonal autumnal shades.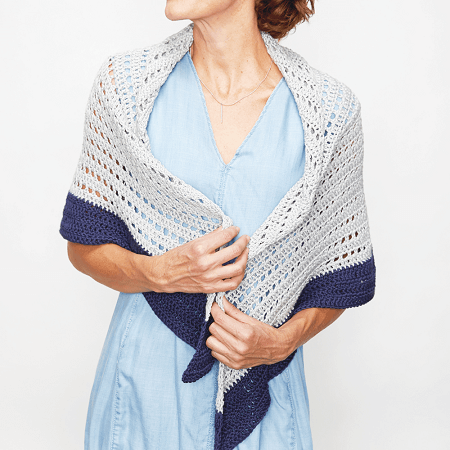 Get the Pattern here

14. Peaches Triangle Crochet Shawl Pattern by Hakelgold
How about a stylish statement piece for the upcoming fall season? This Peaches Triangle Shawl is an elegant, and drapy Tunisian crochet shawl.
It stands out with a homogenous and light texture reminding of knitted shawls, thanks to variations of Tunisian knit stitch. This is a fun crochet project for lovers of Tunisian crochet, it is also a true enrichment for your wardrobe.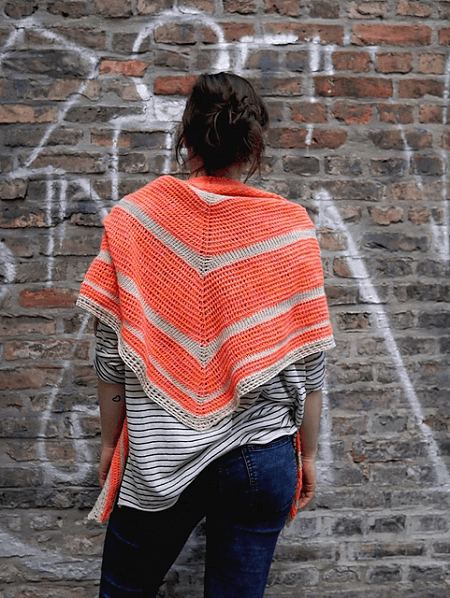 Get the Pattern by Hakelgold here

15. Hooded Shawl Crochet Pattern by The Velvet Acorn
This hooded shawl is handcrafted and designed with comfort and warmth in mind – a perfect accessory for all seasons.
The pattern includes toddler, child, and adult sizes and made with Aran/Worsted weight yarn. Looking for hoodies? Check out trendy Crochet Hoodie patterns here.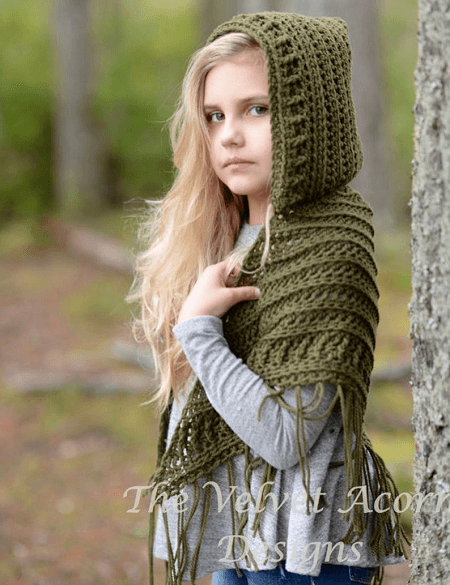 Get the Pattern by The Velvet Acorn here

16. Kanuuk Shawl Crochet Pattern by Melie Collection
This Kanuuk Shawl is a Tunisian entrelac crochet pattern, which can be realized with a standard crochet hook. Perfect to learn Tunisian and entrelac crochet!
Using a medium weight yarn with a larger hook to offer some breathability, this style works for both warm and cold weather.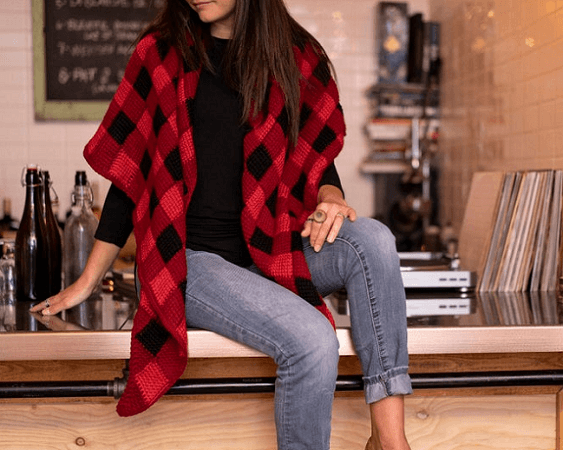 Get the Pattern by Melie Collection here

17. Crochet Elle Convertible Shawl Pattern by Sewrella
This Crochet Elle Convertible Shawl can be worked up in a weekend and is so very easy. You will be in love with how soft, fluffy, and feminine this project is!
It only uses 2 simple stitches, easily repeated rows, and easy multi-color pom-pom ties to take this from a basic shawl to a convertible piece!
It is a great project for those still new to the craft – very beginner-friendly. It is the perfect size and weight – not too chunky but soft, breezy, and warm.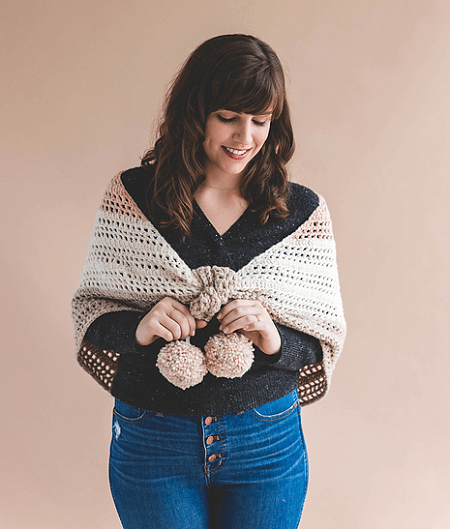 Get this crochet shawl pattern for beginners here

18. Modern Honeycomb Crochet Shawl Pattern by Briana K Designs
Hexagons are such a wonderful shape from nature and using them to create a honeycomb effect in a crochet pattern is absolutely fun to do.
Make it with some squishy yarn or use up some pretty yarn in your stash that has been sitting around waiting for the perfect project. No matter how you wrap up in this beauty, you will turn heads!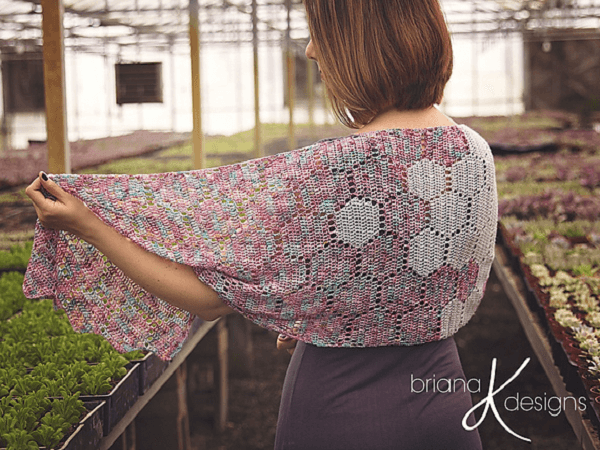 Get the Pattern by Briana K Designs here

19. Living Lagom Shawl Crochet Free Pattern by Lilla Bjorn Crochet
This Living Lagom Shawl is about living a happy and balanced life. The shawl is slightly asymmetrical with chunky cables combined with lace parts for additional softness and comfort.
This shawl crochet free pattern is an excellent combination of light and lacy outer section with a rope-like knotted edge, with a dense inner portion that is warm and cozy. The piece will be a great cold-weather addition to your outfit and a fashion statement in its own right!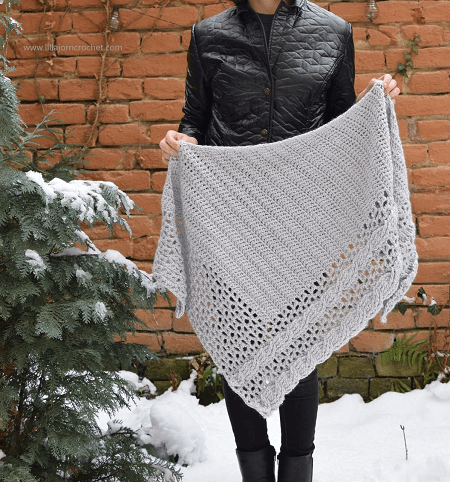 20. Coachella Shawl Crochet Pattern by A Crocheted Simplicity
This Coachella Shawl is a gorgeous asymmetrical shawl crocheted using Lion Brand Yarn Touch of Merino!
For a carefree sense of style, the boho motif was added as a focal point. The combination of the yarn, hook size and stitch patterns give this shawl a beautiful drape. Wear it as a show stopping shawl or stylish triangle scarf.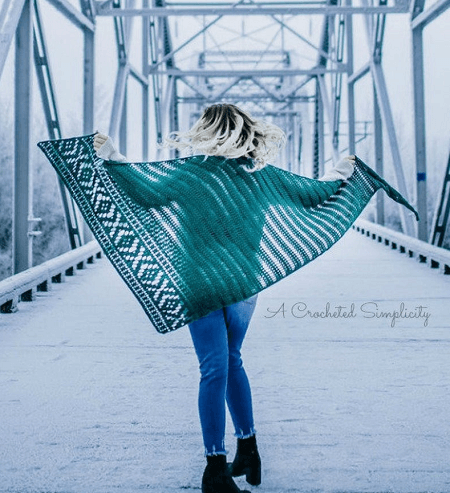 Get the Pattern by A Crocheted Simplicity here

21. Renata Shawl Crochet Pattern by Jane Vanselous
Renata, meaning "reborn." Spring and its new growth. The motifs in this shawl resemble tiny flower buds in neat little rows, like they are emerging from the soil in a carefully planted garden
This crochet shawl is designed around a 12 stitch repeat, and so maybe adjusted to a variety of widths. The 3 main color block sections may also be adjusted in length by changing the number of repeats worked.
This vision of loveliness can be made in any Fingering weight yarn. It is just right for the warm days and cool nights of Spring.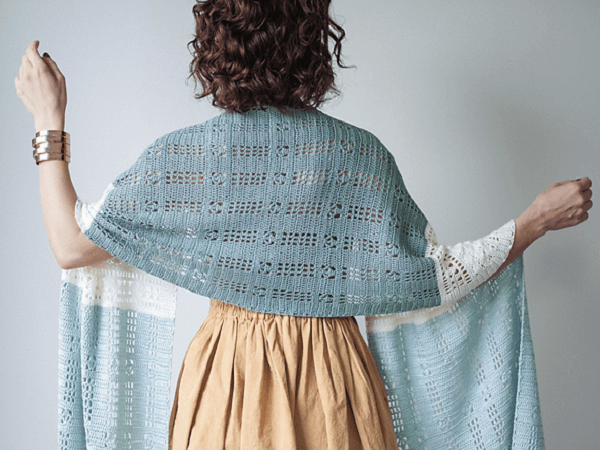 Get the Pattern here

22. Grinda Shawl Crochet Pattern by Lilla Bjorn Crochet
The Grinda Shawl design was inspired by a lovely boat trip to Stockholm archipelago, where the creative designer fell in love with the calm sea and the wild nature of a small Grinda island.
If you want to play with filet crochet, but to create a filet fabric in a little bit different way – this pattern is for you!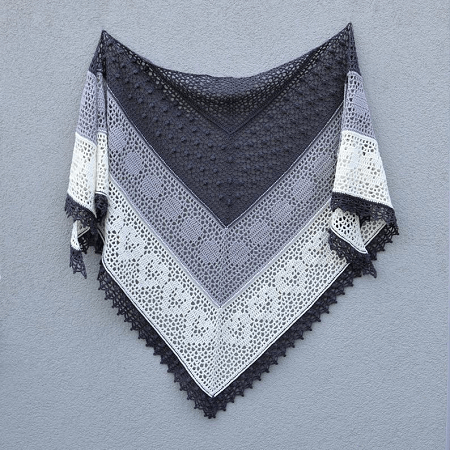 Get the Pattern by Lilla Bjorn Crochet here

23. Pop Of Color Shawl Crochet Free Pattern by Ideal Me
This pop of color shawl is a free crochet shawl pattern that's easy to work. It's a fast project and is really simple so even beginners can have fun with it. A crochet triangle shawl can seem intimidating if you've never made one before but this pattern is straightforward.
The main section of the shawl is worked in half double crochets. And the pop of color border is worked using the moss stitch in a contrasting color.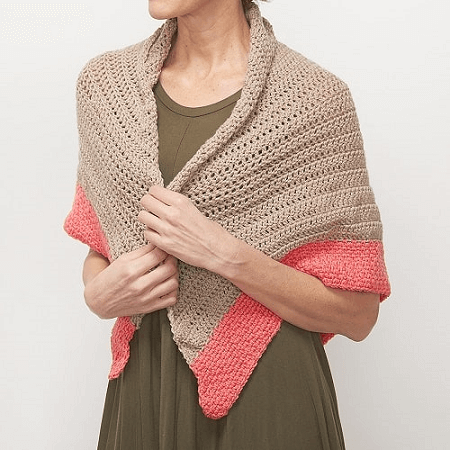 Get the Pattern here

24. Ada Shawl Tunisian Crochet Pattern by TL Yarn Crafts
Style meets minimalism in the design of this Ada Shawl. Simple Tunisian crochet stitching and colorwork are elevated by surprisingly easy shaping techniques.
The pattern uses Aran (heavy worsted) weight yarn and incorporates a striking color transition to challenge your skills.
Deceptively simple, this shawl features meditative stitching and colorwork to keep makers of all skill levels engaged and excited.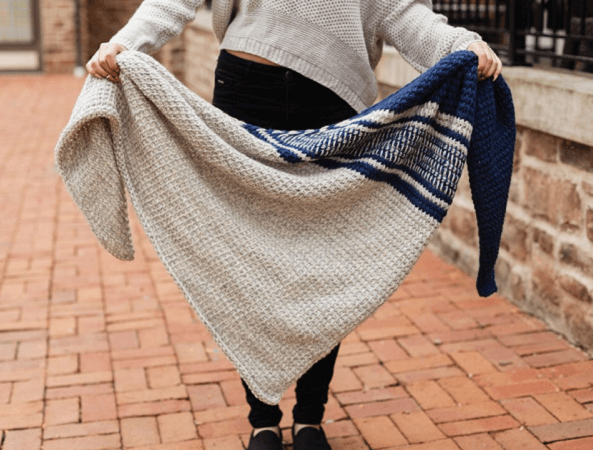 Get the Pattern here

25. Crochet Nightfall Shawl Pattern by My Crochetory
This Crochet Nightfall Shawl is a wonderful, gentle triangle-shaped shawl that has been designed to be crochet in lace weight yarn.
Delicate lace pattern work to give an airy, light, and elegant shawl perfect to dress up anything you wear it with. It will fit not only to daily clothes but also to a wedding dress.
The shawl is worked in rows in one piece with a continuous border added in the round. Because the shawl is worked bottom-up, its length is easily adjusted.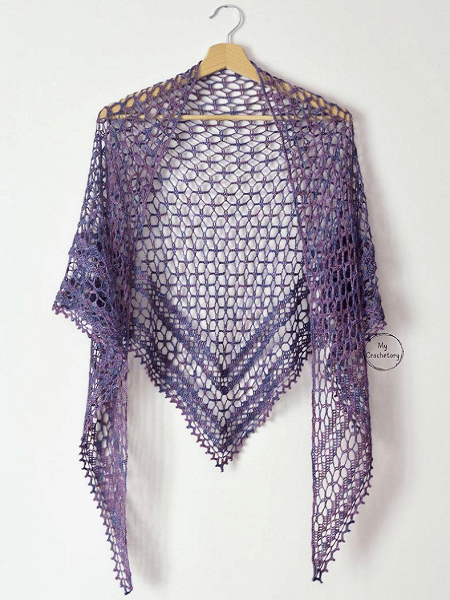 Get the Pattern by My Crochetory here

26. Tea Flower Shawl Crochet Pattern by Johanna Lindahl
This Tea Flower Shawl is a soft and airy triangular shawl that drapes very well, perfect for the summer. The edge of the shawl is made of little flowers that give it an even more summery feeling.
If the flower edge is nothing for you, this pattern also provides you with a description of an alternative picot border. This crochet shawl can be made in any size.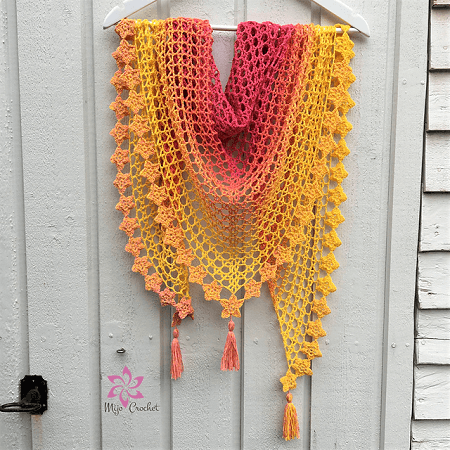 Get the Pattern here

27. Wanderlust Shawl Crochet Pattern by Heart Hook Home
This Wanderlust Shawl Crochet Pattern is lightweight but substantial enough to offer extra warmth whether you're poking around the house, headed to the supermarket, or gallivanting across the country.
This shawl crochet pattern is warm, it has pockets, and is perfect to wear over your favorite top. It's a quick one to crochet, too!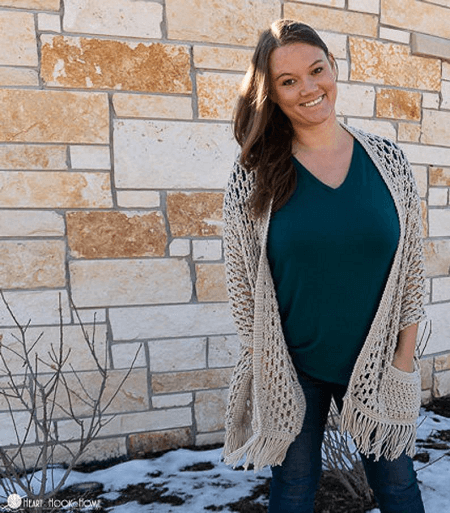 Get the Pattern by Heart Hook Home here

28. Easy Rectangle Crochet Shawl Pattern by Yarn Hook Needles
The Rectangle Crochet Shawl Pattern for beginners is an easy to wear wrap that doesn't overwhelming while still providing coverage.
Versatile enough to wear loosely or wrapped more securely, according to your needs. The simple diamond design is achieved with simple skipped stitches and chains. A great beginner piece for creating designs with filet crochet.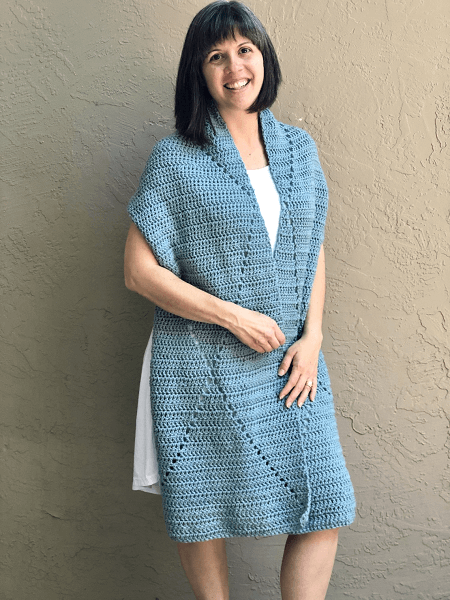 Get the Pattern here

29. Foxtrot Shawl Crochet Pattern by Rocketgirl Crochet
This foxtrot shawl is a simple and modern design with the focus on the edging. The pattern requires 625 meters of cotton DK, however, it is suitable for any lightweight yarn. You can increase or decrease the size easily, and it works well with different colored sections too!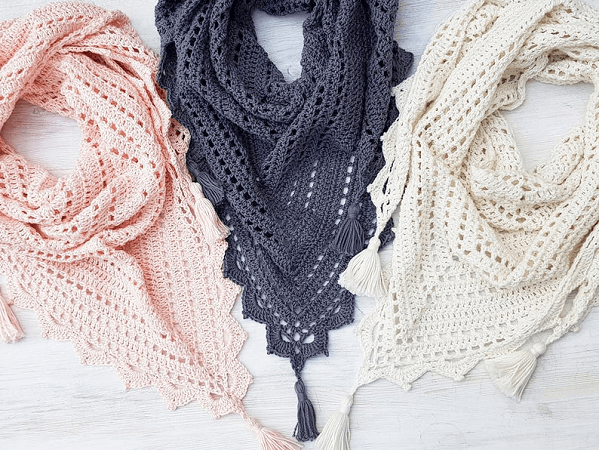 Get the Pattern by Rocketgirl Crochet here

30. Leaf Shawl Crochet Pattern by Alyse Crochet
This Leaf Shawl Crochet Pattern is so much easier and quicker to make than it looks, and uses combinations of simple stitches to create its delicate, lacy leaf-trellis pattern.
Drape yourself in this cloak of Mallorn leaves, do a twirl, and become the Elven queen you've always dreamed of!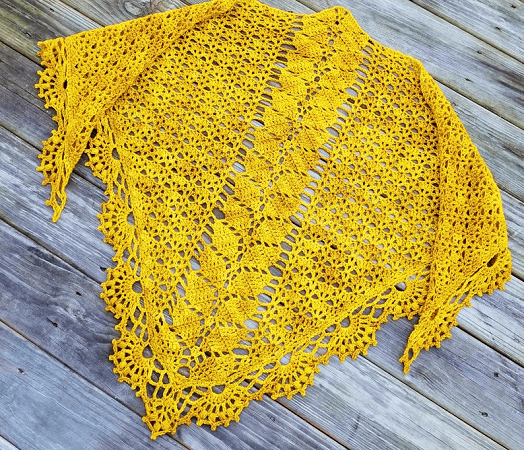 Get the Pattern by Alyse Crochet here

31. Chic And Strong Crescent Shawl Crochet Pattern by Yarnspirations
Looking to create a boost to your style? This Chic And Strong Crescent Shawl Crochet Pattern features softly shaded stripes and is graced with beautiful scalloped edging.
Crochet it in any two colors that make you smile!
Use your favorite worsted weight yarn for this one or dig through the scrap stash and choose a couple of your old stand by's. Choose a cool main color to really show off your stitch definition and skills!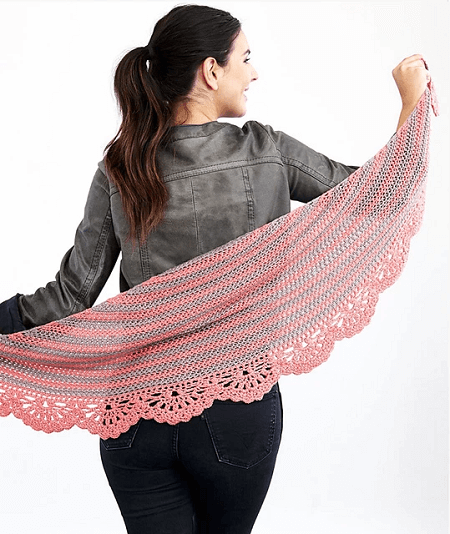 Get the Pattern here

32. Folklore Crochet Shawl Pattern by The New Moon Crochet
Add some lacy goodness to your winter and mid-season looks with this fun Folklore Crochet Shawl Pattern!
The folklore is a design aimed at advanced level crocheters, who are confident learning new stitches and experienced at following patterns.
The design is a wide triangular shape, which consists of an 11-row repeat and can be made to any size and no sewing required!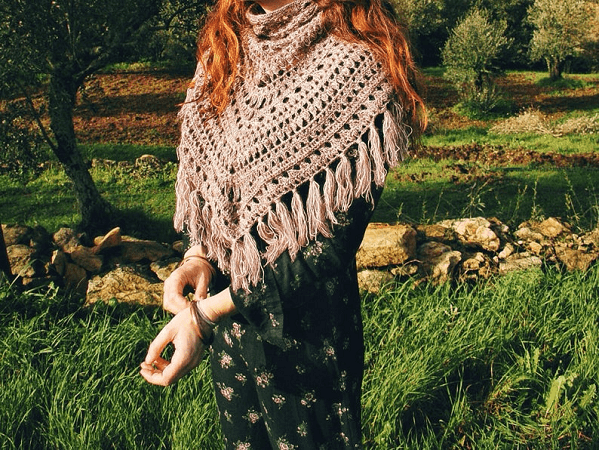 Get the Pattern by The New Moon Crochet here

33. Woodward Hooded Shawl Crochet Free Pattern by Stitch & Hustle
You can make this Woodward Hooded Shawl Crochet Free Pattern in your favorite team colors for those weekend football games as the weather gets cooler.
While this pattern is intended for two colors, you can get creative like and use 3 or even more colors. You can also add a pom pom for a fun accent.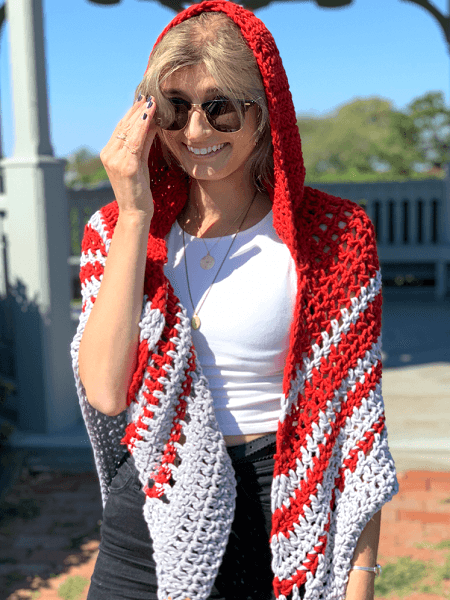 34. Shianne Shawl Crochet Pattern by Sundae Yarns
The Shianne Shawl is an all-seasons shawl that can also be worn as a scarf. Using a medium weight yarn with a larger hook to offer some breathability, this style works for both warm and cold weather.
This is a crochet pattern that is meant for all levels, while bringing that signature knit shawl look to life with simplicity. There is little challenge for beginners, with increases, decreases, and spikes.
Although the spike rows offer an opportunity to do them freely, there is a written explanation of how to achieve this stitch that truly is easier than it sounds.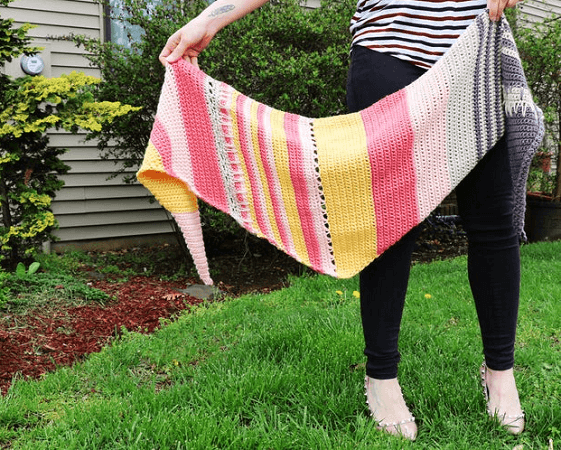 Get the Pattern by Sundae Yarns here

35. Pastel Rainbow Shawl Crochet Pattern by The Hat And I
Add a sprinkle of candy-colored cuteness to any outfit with this Pastel Rainbow Shawl that's made with a dreamy palette of soft and muted rainbow shades.
A dreamy, lightweight shawl designed for chasing butterflies, fairies, and unicorns, and also for staying warm and looking fab!
Wear bundled around your neck on chilly Autumn & Winter daysor draped over your shoulders on a fresh Spring or Summer evening.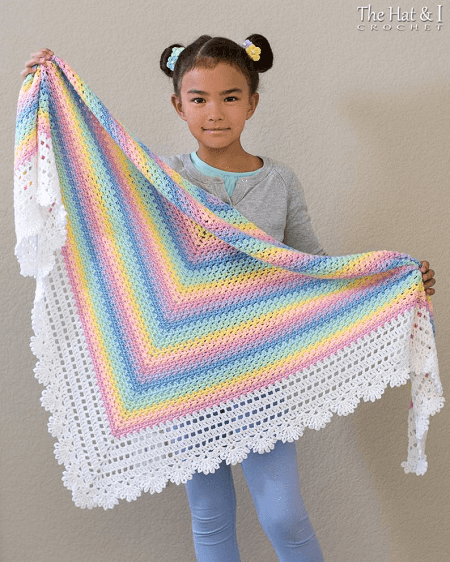 Get the Pattern by The Hat And I here

36. Warlock Triangle Shawl Crochet Pattern by Passionate Crafter6
This Warlock Triangle Shawl will make you feel warm and cozy in winter cold days. It's perfect for Autumn as well because the pattern includes small holes to keep it airy.
All you need is 2 balls of Lionbrand mandala yarn or any other cake yarn and a 4.5mm crochet hook. This design is soft to the touch and looks nice for draping around your shoulders or neck.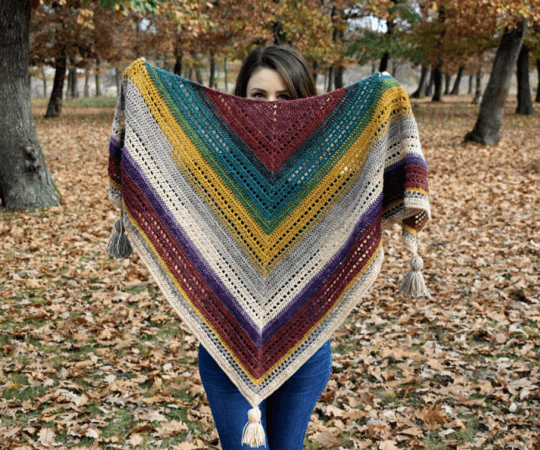 Get the Pattern here

37. Summer Garden Crochet Shawl Pattern by Agrarian Artisan
Shawl patterns are designed for every season. In the northern hemisphere summer may now be over, but there's no need to switch to just making mittens, scarves and warm hats in dull colors.
Light up your spare time with bright colors and the feeling of spring and summer. Crochet something now to bring a little sunshine into your life!

Inspired by garden flowers on a summer day, this throw will give you a year-long display of pretty flowers. Made of motifs, joined as you go.
You can make it any size you desire. The example used 4ply yarn – 6 colours for the flowers (200m of each colour) and one colour (a grey/green) for the background (approx 1400cm).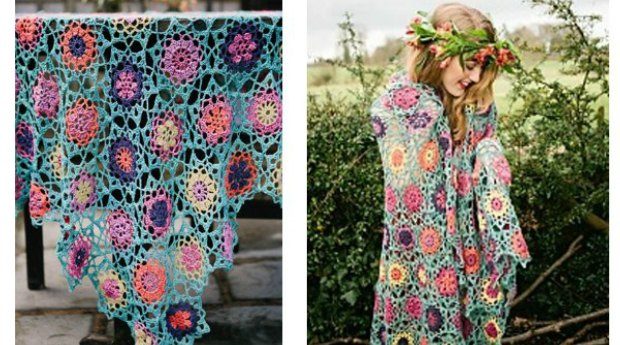 Get the pattern by Agrarian Artisan here

38. Sidewalk Shawl Crochet Pattern by Marly Bird
This Sidewalk Shawl crochet pattern is an award-winning shawl design. Which features the classic beauty of crocheted pineapples and is finished off with extra-long fringe.This is a shawl that you will love wearing for an evening out or more casual strolls.
Expert crochet instructor, Marly Bird, has a crochet pattern and chart you can download for this pattern, along with a full step by step video explaining the chart, and how to crochet this beautiful shawl.

39. Bobble Stitch Crochet Shawl Pattern by Sewrella
Well, Sewrella made this crochet shawl pattern that can definitely help you out! It's big enough to wrap around your shoulders and you can even use it as a scarf around your neck.
Go out and enjoy every Sunday picnic you'll be invited to this season! Get your yarn and hooks out and prepare for a weekend of crocheting!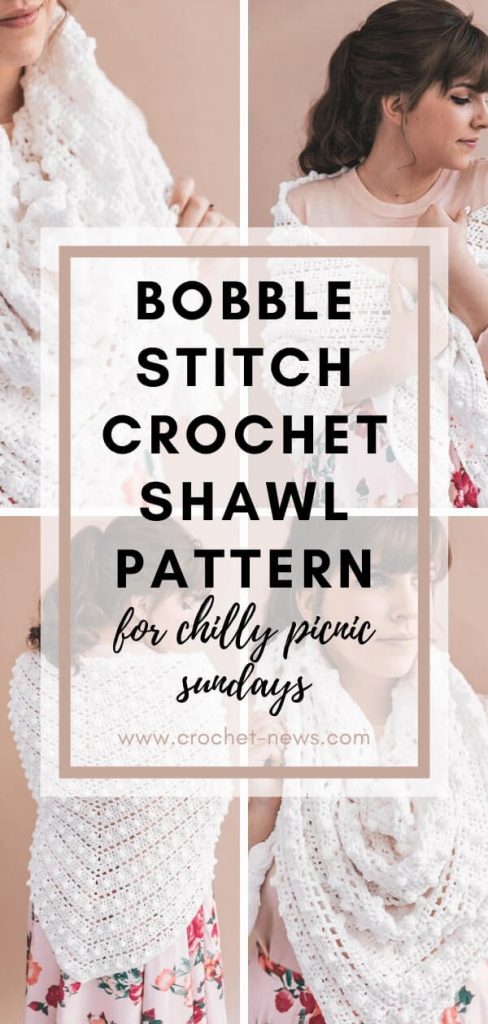 40. Free Sea Shawl Crochet Pattern by Harlee Wentworth
This free beginner crochet shawl patterns brings into play the gradient effect of only ONE yarn to create a beautiful, eye-catching and fashionable shawl.
The gradation of blue and green colors reminds me of the sea. The lacy stitches and and the gentle crescent shape looks like scales. This sea-green free sea shawl pattern brings me back to my summer memories of the sea.
This shawl crochet free pattern by Harlee Wentworth and gradient yarn colors used brings the comfort of the sea in any occasion, any place and any season.
Measurements of the crochet sea shawl after blocking are width is 66 inches and depth is 15 inches.

Here are the stitches that you will need to be able to complete this sea shawl pattern.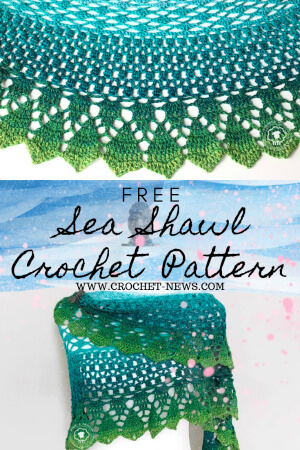 Get this Shawl Crochet Free Pattern here
41. Sunday Shawl Crochet Pattern by The Little Bee
You have on your best Sunday clothes, shoes and earrings match and you smell like blooming roses but there is still something missing. Something that will bring you whole ensemble together for the perfect day out and the Sunday Shawl Crochet pattern is just the thing.
Sunday Shawl is just the right piece to finish up that outfit for the perfect day out. Its light enough for a sunny day and yet heavy enough to keep you warm when the breeze starts blowing.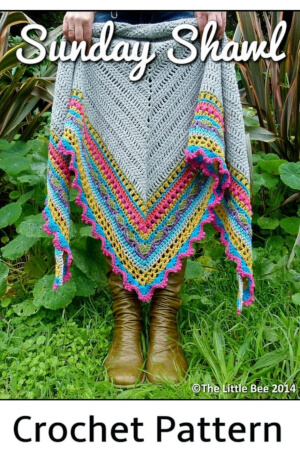 Get this pattern here

If this collection of gorgeous crochet shawl pattern is not enough to show how versatile and flattering crochet shawls can be – I don't know what will!
If you want more crochet patterns to get your hooks busy, check out our collection of Granny Square Patterns and Crochet Scarf Patterns. We love to see your projects! Please post pictures of your finished shawls on our Facebook Page to show off your stitches!
Now that you are on a roll, you might also enjoy other Crochet Clothing Patterns we have on our site. Your to-crochet list is about to get really long!
Keeping one of these delightful crochet shawl patterns around will help you stay prepared year-round and looking better than ever!