Do you get cold easily? Are you not a fan of the cold winter and summer nights? If you answered yes to the previous questions, this list of crochet hoodie pattern is for you!

32 Trendy Hoodie Crochet Patterns To Make for Summer and Winter
We have listed 32 crochet hoodie patterns you can make for yourself and for your loved ones. Since we want you to be warm and comfy even during the summer, we included patterns you can use during the winter season and the summer season.
1. Trendy Bobble Crochet Hoodie Pattern By CapitanaUncino
Are you ready for something that's perfectly comfy but still looks fun? Work on this Bobble Crochet Hoodie Pattern! Because of the added bobble texture, this plain looking hoodie is transformed into something fun.
The yellow strips on the hood and the sleeves are just enough to add some variety to your hooded sweater. If you're up to adding a bit more color, go ahead and use the same yarn for the front pocket.
However, if you don't want the accent design to be too visible, choose a shade a little darker or lighter than your main color. You can even skip the pocket or use the main color to make it blend with the whole hooded sweater.
It's also fully customizable, you have the option to add a front pocket and you can also use a different yarn color to add accent to the sleeves.
Learn how to crochet bobble stitch here.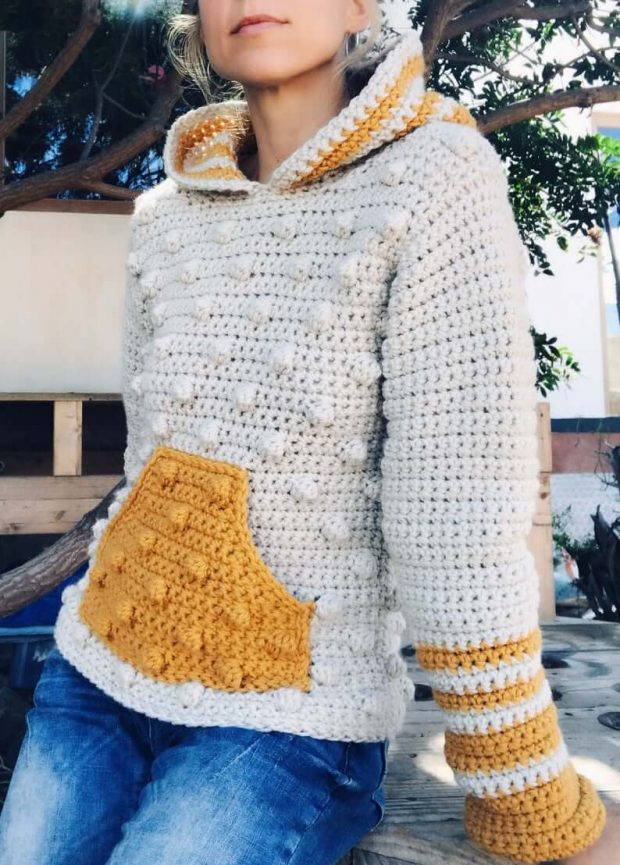 Get the Pattern by By CapitanaUncino here
2. My First Crochet Hoodies By KerryJayneDesigns
Hoodies aren't just for adults, babies need them too! Take this little hoodie for example, it's built with enough space so it can easily slide over babies clothes. Talk about functionality!
Furthermore, We really love the contrasting yarn color design they added as a little accent to the hoodie.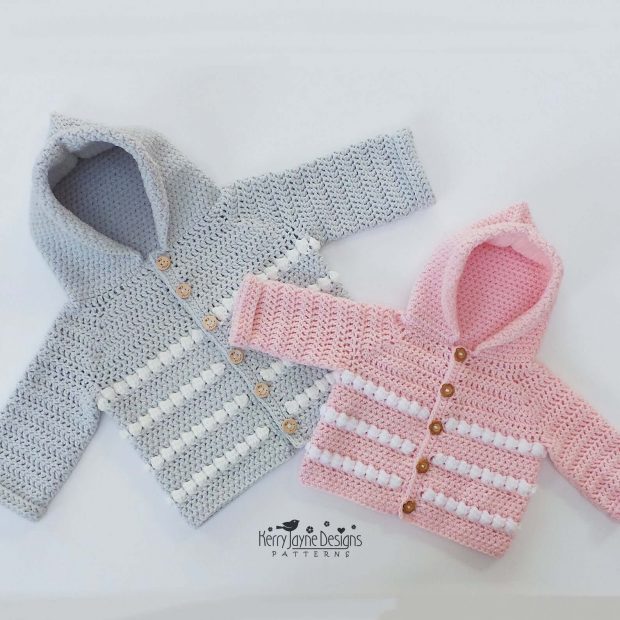 Get the Pattern By KerryJayneDesigns here
3. Houston Crochet Hoodie By TwoBrothersBlankets
If you don't want something fancy and would prefer to stick with casual clothes, this hoodie is perfect for you. Although it's loose and casual, it can still keep you warm and serve its purpose.
This hoodie is perfect for beginners who don't have any experience in making clothes. You'll never have a hard time making this since it uses basic stitches only.
Get The Pattern By TwoBrothersBlankets here
4. Banff Crochet Hoodie By BySincerelyPam
Even during the cold weather, you can't stop the kids from running around and playing. If you want to keep them warm but don't want to restrict their movements, this kiddie crochet hoodie is something you can make for them.
Because it's cozy and roomy, they can still be active and can also stay warm. If you want, you can also add a zipper or some buttons to secure the hoody.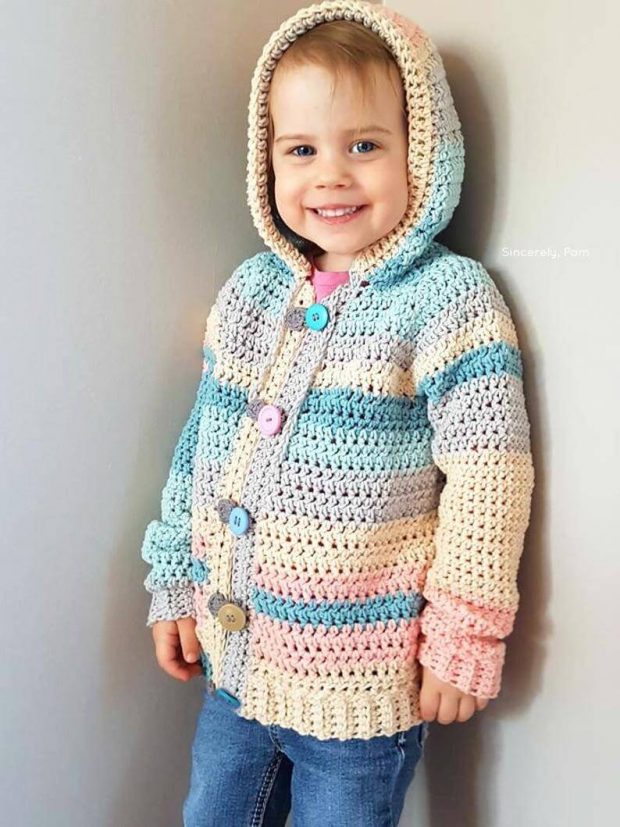 Get the Pattern By BySincerelyPam here
5. Red Heart Baby Bear Free Crochet Hoodie Pattern By Yarnspirations
Yum! Doesn't this hoodie remind you of a sweet sweet candy? We love how the pink colors complement your sweet little daughter. With this hoodie, you'll get the perfect combination of whimsy and warmth!
Plus, it has this adorable bear ears that completes the cuteness of the hoodie.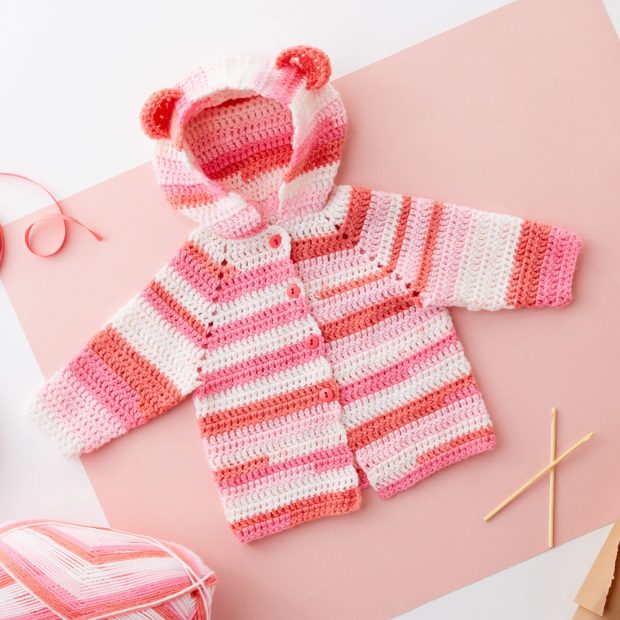 Get Baby Bear Crochet Hoodie Pattern here
6. Bernat Mousie Crochet Hoodie Pattern By Yarnspirations
Is it hard to make your little ones wear their hoodies whenever you need to go out and it's freezing? We're pretty sure they will love this hoodie because of the mouse ears!
Parents, on the other hand, will absolutely adore the lovely pattern and texture its stitches create. It's also really soft to touch, perfect for the little kids.
For more crochet mouse pattern here.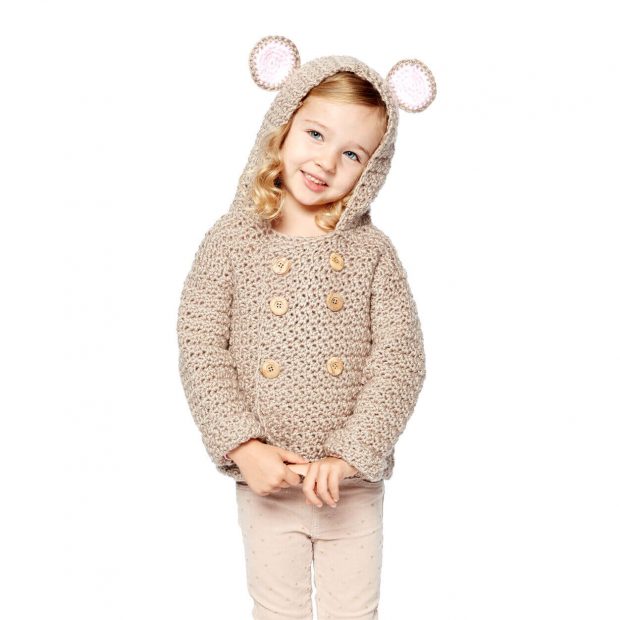 Get this Pattern By Yarnspirations here
7. Dawson Hoodie Pattern By BySincerelyPam
Looking for a quick pattern to make for your little boy? This hoody uses bulky yarns so it works up pretty fast and can be done in no time! Because of its bulkiness, it's the perfect garment to use on your weekend morning walk bonding.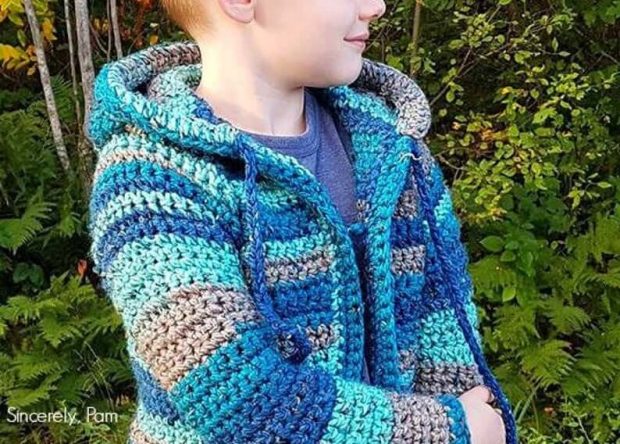 Get the Pattern By BySincerelyPam here
8. London Cropped Sweatshirt By TheCrocheting
This cropped sweater is definitely something you can wear over the summer. You can make it in other colors, but we think black will work with anything. Make one to keep you comfy and warm during the cold summer nights.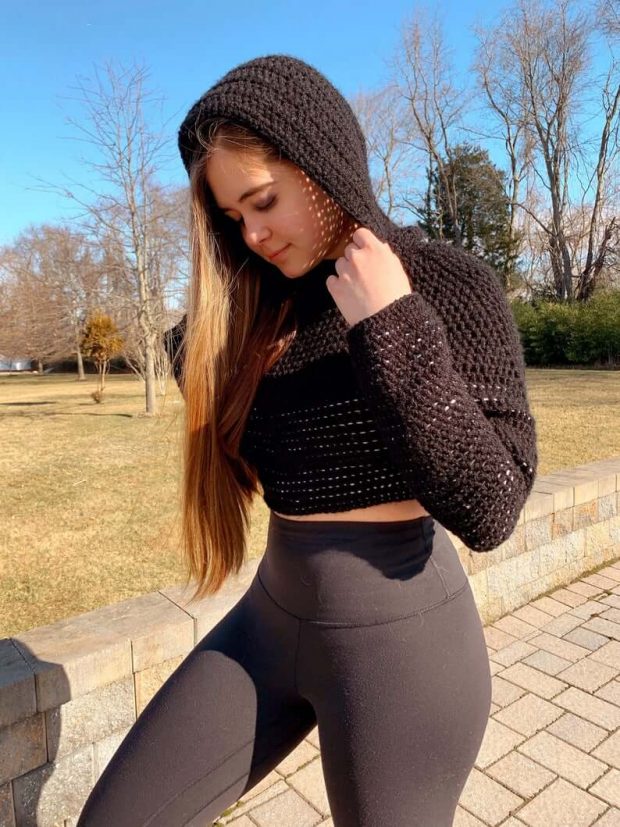 Get the Pattern By TheCrocheting here
9. Hibernation Crochet Hoodie Pattern by Heart Hook Home
Let's start this list with something extremely comfy you'd want to wear everywhere! This hoodie is not only comfy, it also looks and feels like it's bought from a high-end store. Just looking at makes us want to touch and feel this hoodie.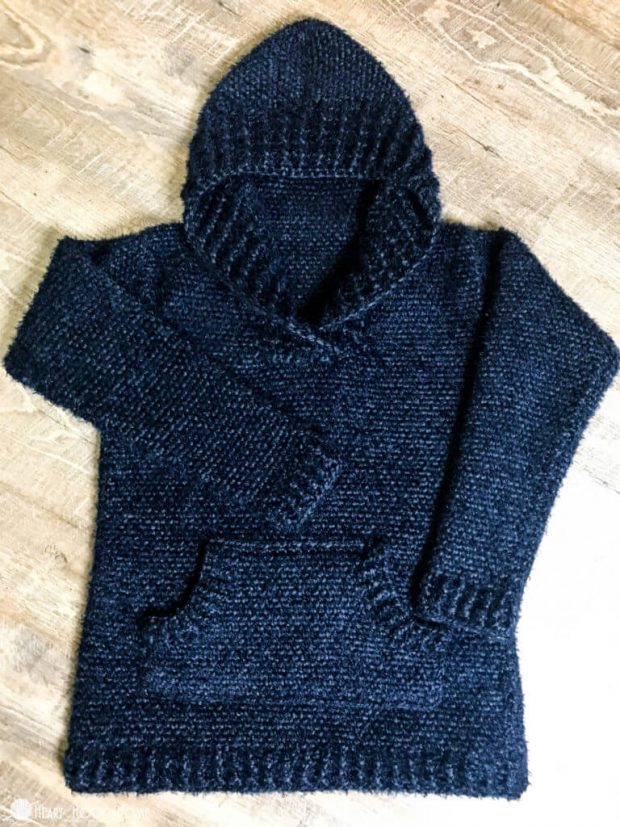 Get the Pattern by Heart Hook Home here
10. Crochet Cowl Neck Hoodie Pattern By TCDDIY
We all want a hoodie that comfy but still flattering, but it's kinda hard to find one that has both of these characteristics. Well, if you haven't found one why not make your own?
We added this crochet cowl neck hoodie because it's cozy and still flattering. With it's vertical ribbed design, you get the warmth you need and still look sleek. It's also stretchy just like your normal hoodie.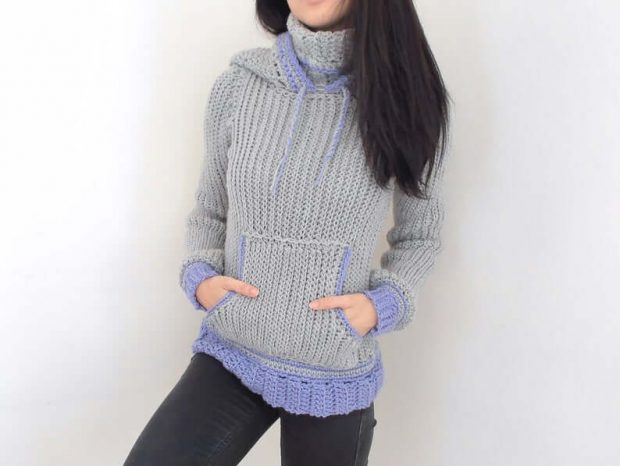 Get this Pattern By TCDDIY here
19. Harmony Crochet Hoodie Pattern By SerendipityasAlways
Since cropped tops are in right now, people have been turning their outfit into something cropped. Hence, we added this fashionable cropped hoodie to our list!
Because it's cropped, it's perfect for beach days during the summer. It also fits perfectly. Since it's not too tight, you can move freely.
Get the Pattern By SerendipityasAlways here
20. Shark Hoodie By MJsOffTheHookDesigns
Is your little boy a big shark fanatic? We found this nice hoodie perfect for your little one! With its intricate designs, we're sure he'll be delighted when he sees your finished work.
Plus, it comes with a matching socks pattern to complete his get up. Make one for your little boy and watch him cozy up with his shark hoodie while he watches his favorite shark documentaries.
More shark themed crochet patterns or a shark blanket pattern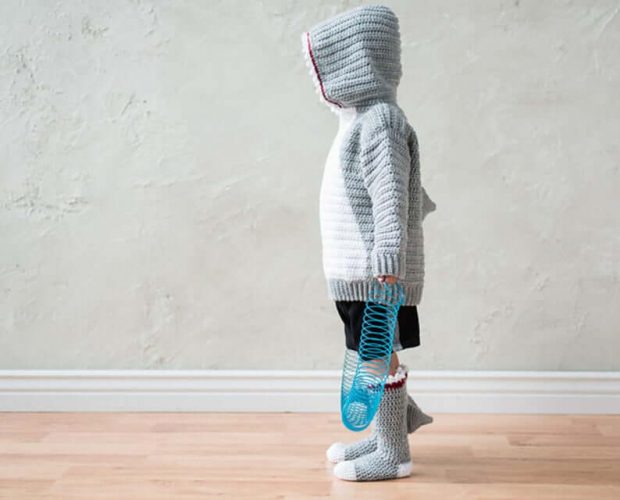 Get the Pattern By MJsOffTheHookDesigns here
Keep yourself warm by working on one of the crochet hoodie pattern we have listed!
Have you decided on what crochet hoodie pattern to make next? If you want more hoodie patterns, check out our Cheshire Cat Hoodie, Hooded Gypsy Jacket, or better yet, make any of these Crochet Hooded Scarf Patterns.
We really love it when you keep us updated! Feel free to post some of your patterns and finished works on our Facebook Page.
If you're looking for more patterns to work on, we have lots of other crochet cardigan patterns here.