Easter has come and you know what that means, it's your yearly Easter egg hunting party again!
Make this year a different one, how about adding a few toys by making this Crochet Amigurumi Bunny Pattern?
It's so irresistibly cute you can put them inside big eggs or maybe on your Easter basket giveaway!
Are you excited to add something new to your Easter egg hunt? Continue reading the article to learn how to make this pattern!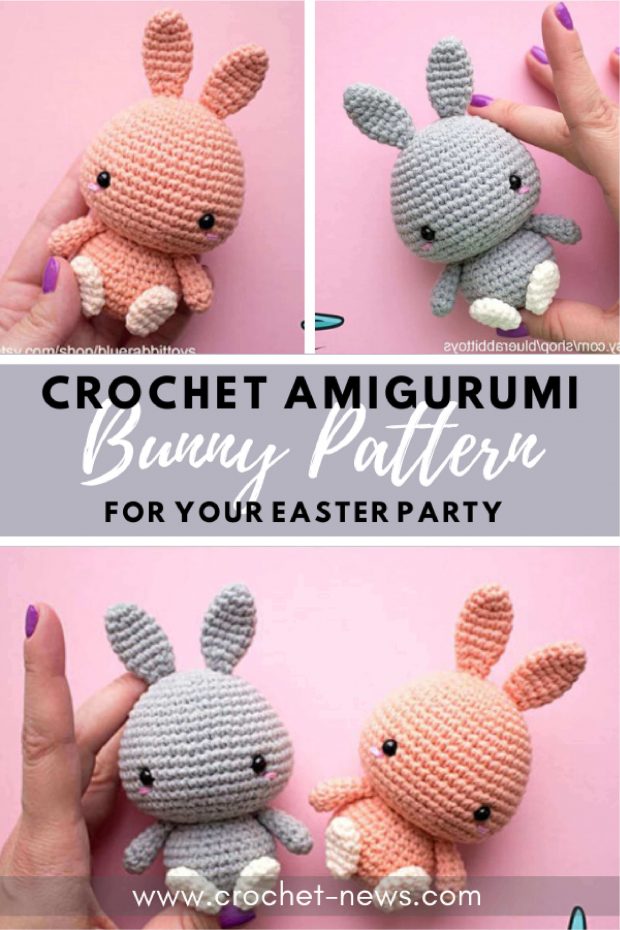 Easter Crochet Amigurumi Bunny Pattern
Easter parties won't be exciting if you use the same stuff over and over again each year. This year, we want to help you come up with something extraordinary!
With this Amigurumi Bunny Pattern by BlueRabbitToys, you'll have the perfect table topper or even Easter basket filler for Easter! It's so cute, everyone can not help but pick it up and take a closer look.
Why not include them in your Easter egg hunting? If you have eggs large enough to fit these toys, you can make a few and put them inside. It can also serve as the prize along with the usual candies and chocolates placed inside the eggs.
Add extra fun in your Easter Party this year. This Crochet Amigurumi Bunnies is something both the adults and the kids will truly enjoy!
About the Yarn
You have to be extra careful when choosing the yarns to use on amigurumis. It should not be too fuzzy or you'll lose the details, but it should be soft and at the same time sturdy.
The recommended yarn for this pattern is the YarnArt Jeans sport yarn. It's made with 55% cotton and 45% acrylic, perfect for soft items but without the weight of the usual cotton yarns.
Aside from its softness, this yarn also offers a wide range of colors! If you're planning to make lots of this amigurumi bunnies in different colors, you'll never have a hard time looking for colors to use!
Have you thought of your Easter color palette this year? Why not choose from the available colors from this yarn!
About the Pattern
Amigurumis are a little different from the traditional crochet. So for this pattern, it's best if you know the basics of crocheting and amigurumi and have some experience working in rounds.
A lot of sewing will be needed in completing this crochet amigurumi bunny pattern. Aside from sewing together the head and the body, you will also have to sew the smaller details like the ears, feet, and arms.
After the basic bunny is done, you can also customize it to however you want it to look like! Add eyes using safety eyes. To make it a little different you can also use buttons or sew eye patches. You have the creative freedom to design it however you wish!
Use the color palette you have chosen for this year and make a few ones in different colors and designs!
Skill Level
Intermediate
Materials Needed
Yarn – YarnArt Jeans
Crochet hook
Stuffing
Yarn Needle
Scissors
Pins
Safety eyes
Pink embroidery thread for blush.
Finished size
4.7 inches
Stitches Used
Magic Ring
Slip Stitch
Single Crochet – Single Crochet Tutorial
Increase
Invisible Decrease
Are you done planning for this year's Easter Egg Hunt Party? Do not forget to include this Crochet Amigurumi Bunny Pattern in your preparations!
Looking for more fun ideas to add to your Easter party this year? Check more ideas here: Crochet Easter Chick Amigurumi Pattern, Easter Chocolate Crochet Bunny Pattern, Crochet Egg Basket video.
Start working on your party by making this Crochet Amigurumi Bunny Pattern that will surely capture everyone's heart!