Make these freshest summer crochet top patterns to start and end the summer season with a bang! There's nothing better than a crochet top in summer. They're light, they're airy, and they're effortlessly glam!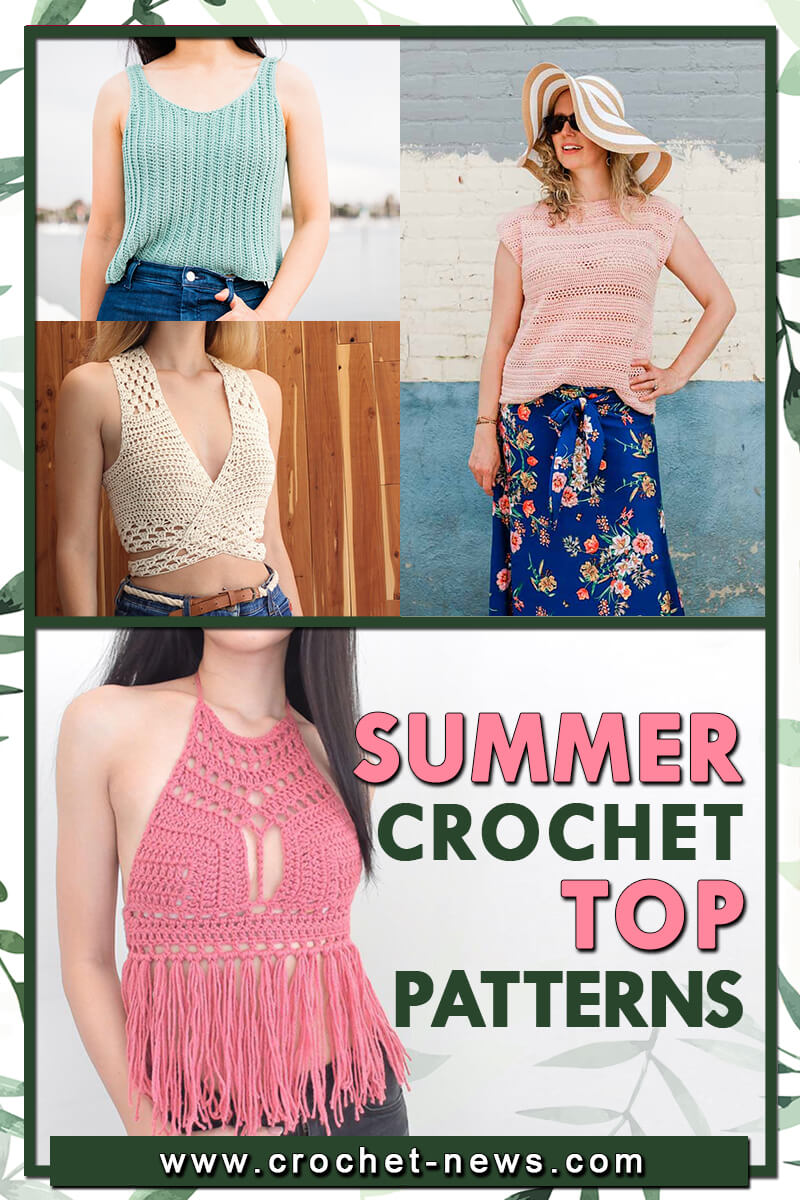 After spring comes summer and you have to be ready for it. Summer is the time where we put on our favorite outfits just to go out and be seen.
Forget about swiping yourself broke to be trendy this summer when you can look your best without the expense. From sleek tanks, open gauge tees, to breathable cover-ups – these projects below are light enough to crochet in the sun.
45 Summer Crochet Top Patterns
Get ready to cast-on these airy and inspirational projects and enjoy a crafty summer!

1. Crochet Tie Strap Crop Summer Top Pattern by For The Frills
Using basic easy stitches, this crochet crop top features a simple silhouette with fun, feminine details! The body is worked in the round and made up entirely of half double crochets.

The top is finished off with scalloped chains for a fun, feminine touch and the tie straps add a cute bow detail. You can also easily alter this top to have normal thick straps for a cleaner look.
Get the Pattern here

2. Summer Crochet Lace Top Pattern by Filamento Kat Beach
This Summer Crochet Lace Top in ethnic style is made of quality cotton and multi-color square motifs " Granny's square" of different sizes. This is a cotton top like blouse with open shoulders, very feminine.

Narrow openwork straps are beige, which makes them less visible. The top can be worn everywhere, as well as on the beach.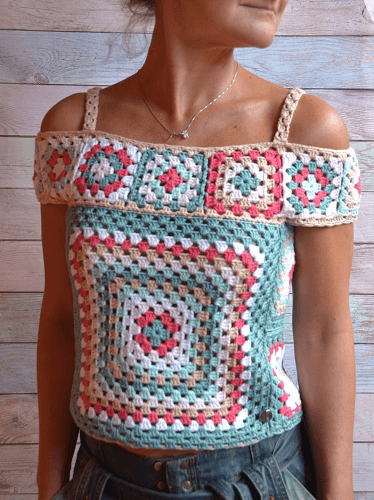 Get the Pattern by Filamento Kat Beach here

3. Dreamsicle Tee Crochet Pattern by Sigoni Macaroni
This Dreamsicle Tee Crochet Pattern is a dreamy cotton top that you're going to love wearing everywhere you go. It is an easy, beginner-friendly garment crochet pattern.

It would be perfect for any beginners who are looking to crochet their first top! The construction of this garment is simple to follow with a little shaping. This is going to be your go-to summer top pattern!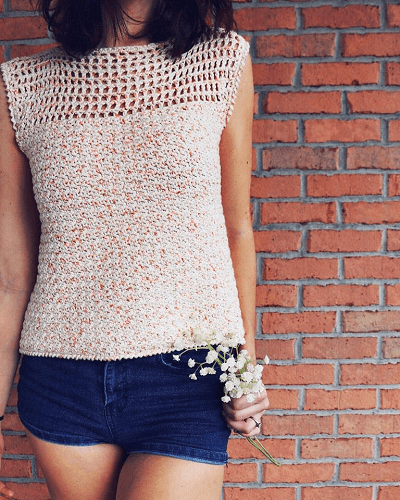 Get the Pattern here

4. Wildflowers Crochet Tunic Pattern by One Dog Woof
This Wildflowers Crochet Tunic Pattern makes a gorgeous lacy-but-not-too-lacy spring/summer top.
Both the width and the length are dictated by stitch patterns repeated at specific intervals, so it's hard to really create a custom size.
That's okay though because this crochet blouse is meant to be a loose-fitting tunic top worn over a camisole. You can even make it extra large to use as a swim cover-up!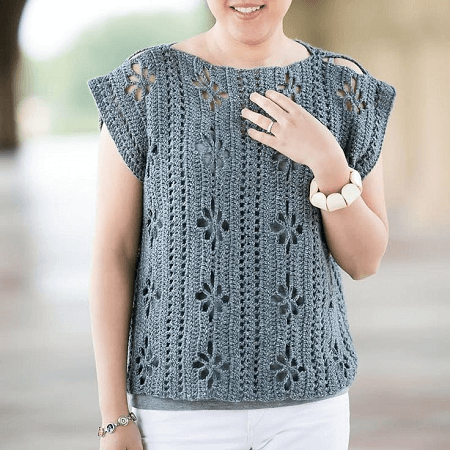 Get the Pattern here

5. Fringe Summer Crochet Top Pattern by TCDDIY
This summer crochet top features an adjustable halter strap, a corset back tie for a hint of flirty-ness, and fringe along the front and side for added coverage. Add some flair to any outfit with this fun and sassy fringe top.
Watch the fringe sway while you dance the night away at a festival, rave, or hanging with some friends this top is perfect for it all.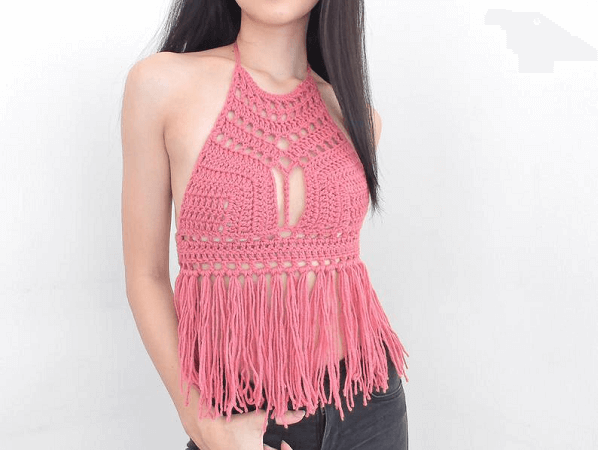 Get the Pattern by TCCDIY here

6. Easy Crochet Summer Top Pattern by Make And Do Crew
If you can crochet a rectangle, you can make this Easy Crochet Summer Top Pattern! With very simple stitches and minimal counting, this lightweight top is a perfect mindless make to work on the poolside.

Made with flatteringly drapey yarn that's also refreshingly light, this top is wearable all summer and layer-able all fall. A delicate border elevates this top into something you can dress up for work or dinner out.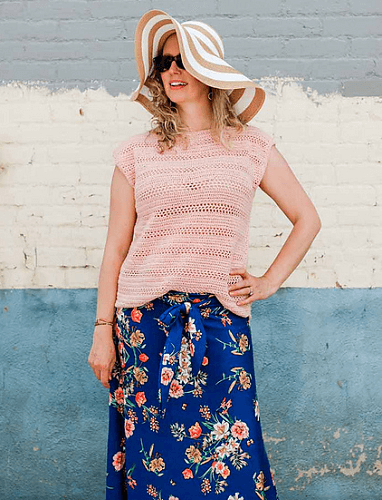 Get the Pattern here

7. Sweet Summer Tee Crochet Pattern by Evelyn And Peter
This Crochet Summer Tee Top is a must-make for the warmer months. It's slightly oversized for a comfy fit that flatters all body types.
You can easily add or take away rows for a longer or shorter fit. It's also perfect for beginners because there are minimal shaping and seaming.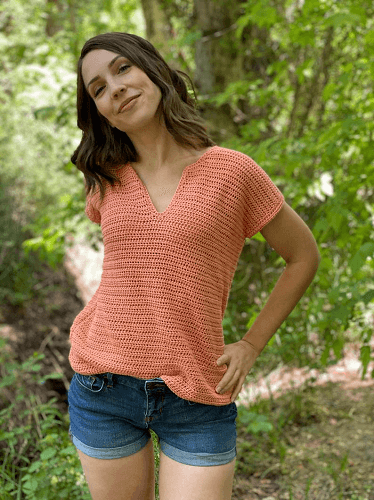 Get the Pattern by Evelyn And Peter here

8. Crochet Rainbow Summer Top Pattern by Dice Knits
Make the festival season a colorful experience with this rainbow halter top pattern. This halter top is so cute for the summer!

Don't like rainbows? Make it in any color to suit your fashion needs. It ties in the back and around the neck, which means it's extremely adjustable.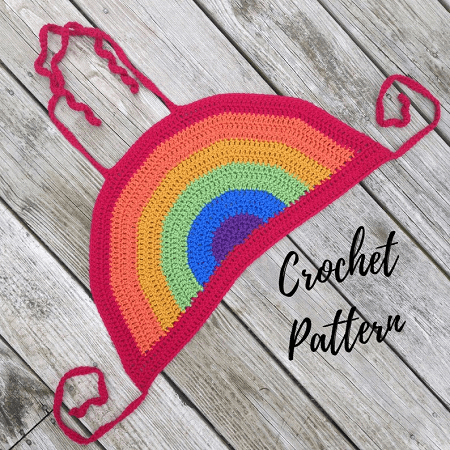 Get the Pattern by Dice Knits here

9. Sagebrush Tank Crochet Pattern by For The Frills Store
Simple, stylish, and modern, this Sagebrush Tank Top is perfect for summer! This easy ribbed tank top features a flattering round neck and comes in cropped and normal length.

With its incredible drape and knit-like look, this summer crochet top will be a staple piece in your handmade wardrobe. The Sagebrush Tank Top is so versatile and quick to make, you'll want one in every color!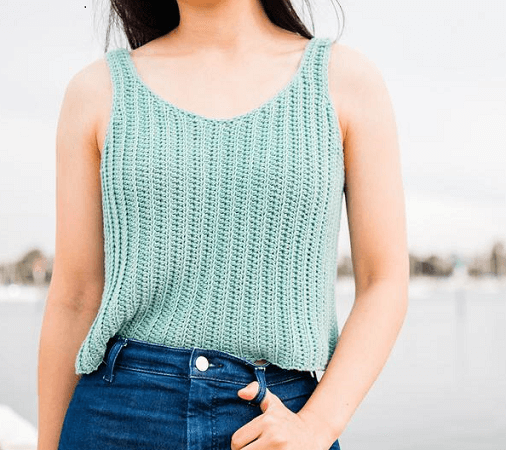 Get the Pattern by For The Frills Store here

10. Summer Rules Crochet Top Pattern by Red Heart
When the temperature rises, take some time to create this flirty crochet top to play up your look. Stitched in 2 pieces, you'll love working on this intricate project as you reveal the stunning pattern featuring a breezy openwork section that's perfect for warmer weather.

Pattern stitches include crochet, double crochet, chain, single crochet, and slip stitch for your crocheting pleasure. Flattering on so many body types, instructions include a range of sizes for the perfect fit!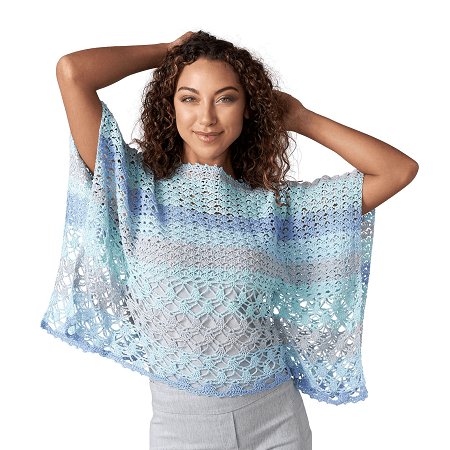 Get the Pattern here

11. Isla Summer Tank Crochet Pattern by Ruby Webbs
This Isla Summer Tank is perfect for all of your summer adventures. This sweet little top is easy enough for a beginner to make.
The picot edging around the neckline and straps give this top a feminine look. The length of the top can easily be adjusted by adding or omitting rows from the front and back panels.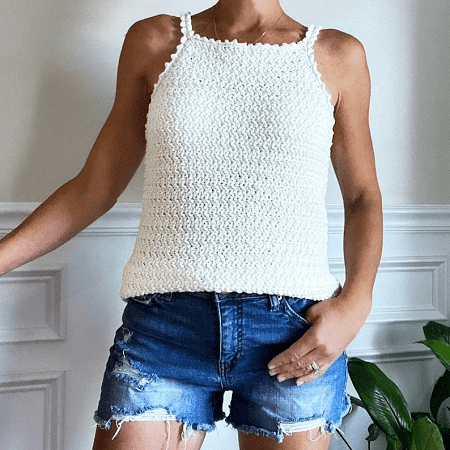 Get the Pattern by Ruby Webbs here

12. Nautical Top Crochet Pattern by Yarnspirations
A gradated, striped pattern gives this sleeveless top its far-reaching, nautical theme. Easily crochet your version as suggested, or maybe you have another idea in mind.
No matter the look you're after, find your inspiration from fresh, modern shades to finish this lightweight piece for summer.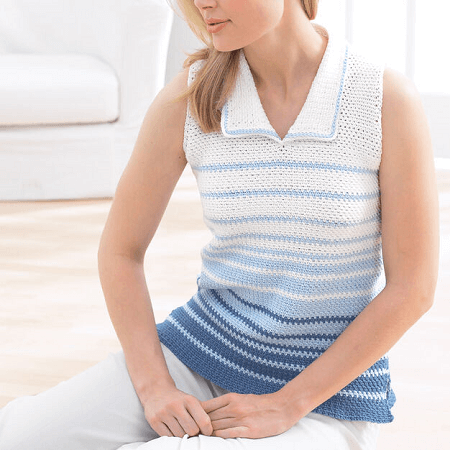 Get the Pattern here

13. Summer Vacation Top Crochet Pattern by Mama In A Stitch
Pretty, open stitchwork an understated baby-doll fit make this a breezy, comfortable summer top! Flattering on any figure, it goes great with cut-off jean shorts, skinny pants, or wide-leg capris.
If you know basic crochet stitches, you can make this top in no time and wear it all summer long!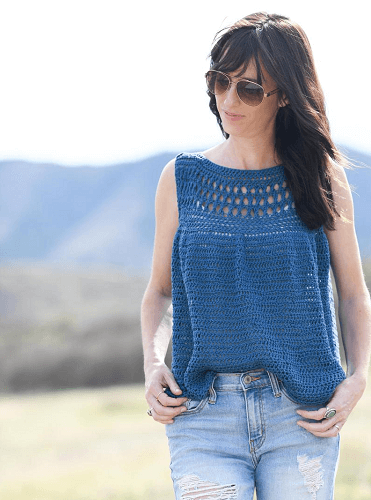 Get the Pattern by Mama In A Stitch here

14. Lacy Summer Top Crochet Pattern by Knitcro Addict
This Lacy Summer Top is a simple two-panel project. It's beginner-friendly and easy to follow along for all levels. The pattern includes instructions for women's sizes XS-XXL.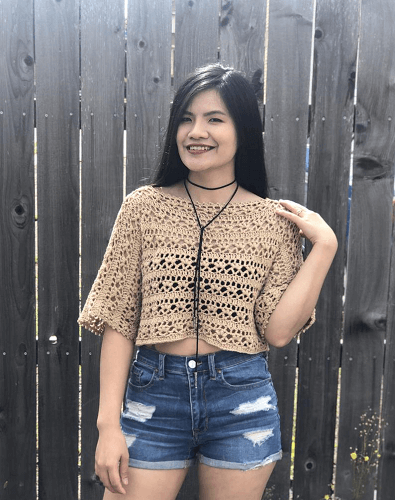 Get the Pattern by Knitcro Addict here

15. Malibu Ruffle Tank Top Crochet Pattern by Mommy Loves Yarn
Ruffles are the rage and it's tank top time! Dive into summer with this Malibu Ruffle Tank Crochet Pattern. A simple and smart crochet pattern that works up quickly and is great for beginner crocheters.

This pattern is worked in almost entirely half double crochet stitches with a very little seaming. The straps are built into the design so don't worry about seaming those on.
This tank is made with light (DK) weight yarn, that ensures beautiful drape and flow of those ruffle
Get the Pattern here

16. Summer Top Crochet Pattern by Mama In A Stitch
Subtle vintage vibes make this denim-look crocheted top a classic for summer. The boat neck top features clean lines, open stitching and a fabric that's both soft and has amazing drape.

Pair it with jeans, a skirt or shorts to take you from the work day to coffee with friends. The simple design of the shirt is created by an equally simple pattern which will be enjoyed by beginners and intermediate crochet artists alike.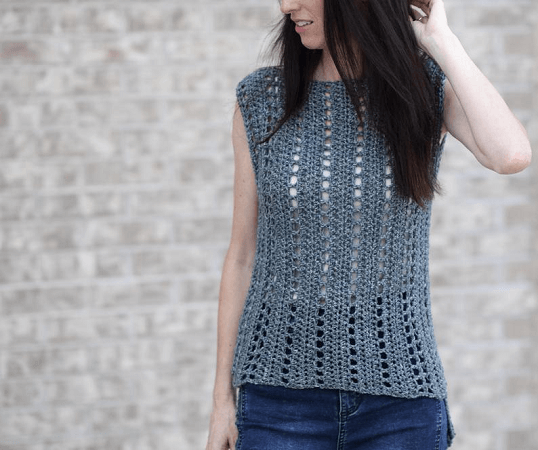 Get the Pattern by Mama In A Stitch here

17. Little Girl Summer Top Crochet Pattern by By Katerina
This Little Girl Summer Top is so easy to make and a no sewing project. So when you're done, you're done.
The pattern is for 2, 4, and 6 years old, but there are also some tips to make this top in any sizes even adult sizes if you want.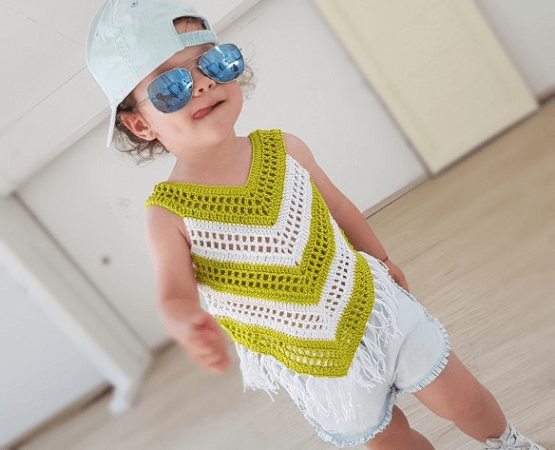 Get the Pattern here

18. Summer Valley Top Crochet Pattern by Hooked Homemade Happy
How fun is this Summer Valley Crochet Top Pattern? The back is completely open, which makes it totally perfect for summer!

The front is solid with a cute ribbing at the bottom. If you didn't want the open back, you could make two front panels instead.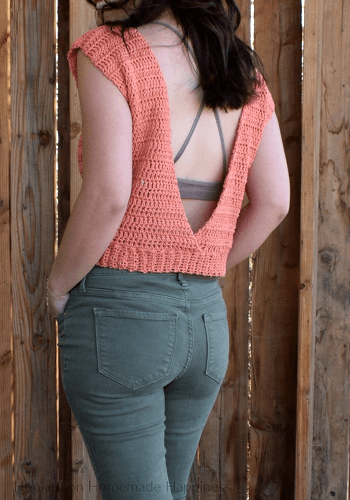 Get the Pattern by Hooked Homemade Happy here

19. Summer Halter Top Crochet Pattern by Moara Crochet
This gorgeous halter top is perfect for those hot summer days with your favorite jeans or skirt. The pattern made using 4ply cotton or linen yarn to make your crochet top lightweight perfect for those hot sunny days.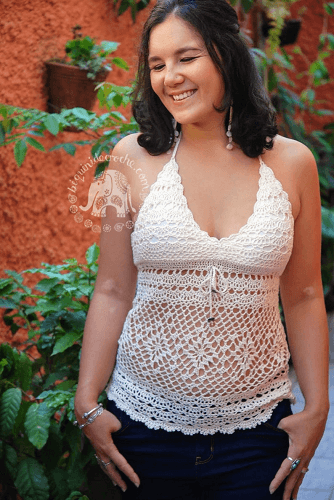 Get the Pattern by Moara Crochet here
20. Summer Lacy Crochet Top Pattern Lacy Shells Stitch by Vicky Chan Designs
If you do not already have a stunning outfit for the summer well you'll love this lacy shells summer crochet top pattern.
The beauty of it all is that you do not need to go to some designer store for it just a crocheting needle and some yarn.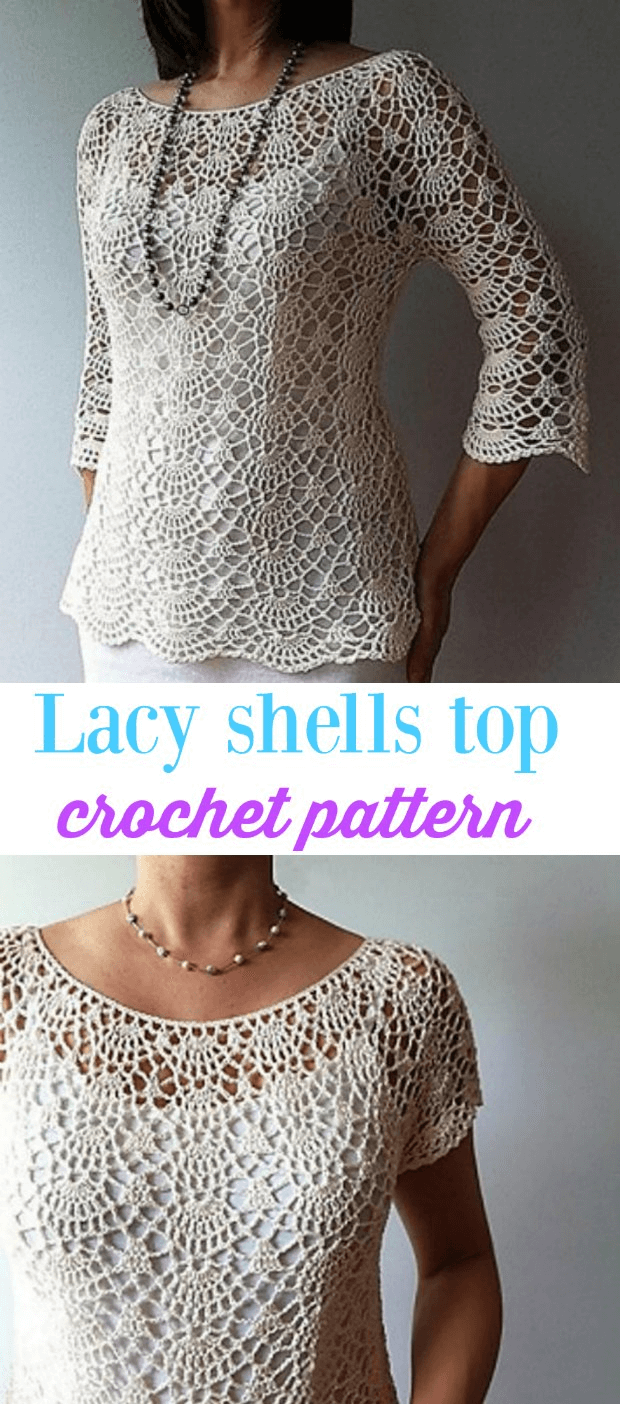 Advanced Crochet Top Pattern
Making the Summer lacy shells crochet top pattern can be a bit technical. Some advanced crocheting techniques will be required.
The creator of the pattern categorized it as for the more advanced level of a crocheter, but with the detailed instructions, I believe even a tenacious intermediate can hack it.
Well, the instructions are given in quite simple English that is easy to understand, and the PDF's and tutorials are rich in diagrams and charts.
Each illustration and set of instructions is meant to guide you in creating the perfect lacy shells crochet top.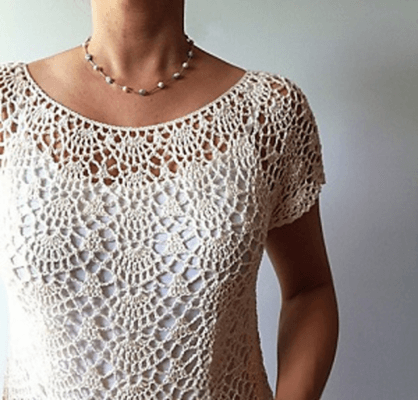 But, don't let that limit your creativity. When it comes to the lacy shells crochet top , you can do almost anything with it. The pattern gives you so much room to play around with; you can create something magical, to say the least.

21. Milla Crochet Tank Top Pattern by Two Of Wands
The goals for this design? A fun but casual summery crochet top that's quick to make and super wearable. Best of all? This tank works up so fast.

There are some simple details like the soft scallop at the front neckline, matching ribbing on the bottom and straps, and a split hem.
Little added touches like these take a very basic pattern up a notch for added style and a bit of a flirty feel.

This is an easy level crochet pattern and the techniques involved are the slip stitch, single crochet, half double crochet, and double crochet.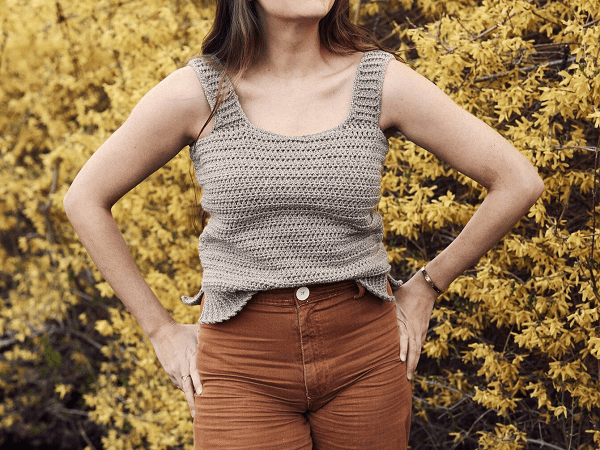 Get the Pattern here

22. Summer Crochet Top Pattern by E'Claire Makery
Get ready to bring in the spring and summer seasons with this fun summer crochet top pattern. This simple and easy crochet design is the perfect top to wear with jeans, shorts, skirts, or a pair of leggings.
It's a beginner friendly raglan crochet top pattern that anyone can make and feel fabulous!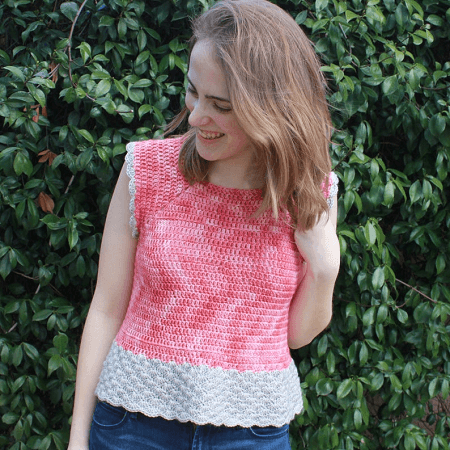 Get the Pattern by E'Claire Makery here

23. Summer Breeze Tank Top Crochet Pattern by Cactus And Lace Designs
This Kids Summer Breeze Tank will keep you cool this summer while still looking stylish! This tank is the perfect beginner pattern, with its simple stitches, easy row repeats, and minimal seaming.
Made in two separate panels, this tank works up in a flash!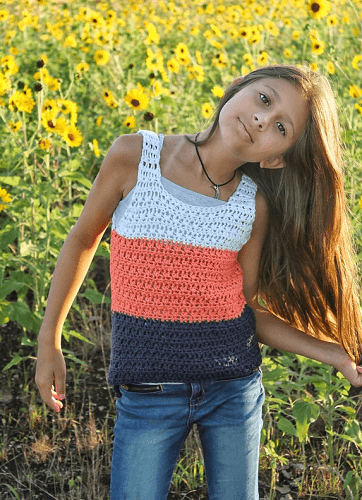 Get the Pattern by Cactus And Lace Designs here

24. Lacy Cropped Top Crochet Pattern by Yarnspirations
Top off anything from a dressy skirt to casual jeans with this classic lacy top. Crocheted with size 10 crochet thread, it's the ideal project for taking along for productive relaxation on your travels or to work on during a lunch hour.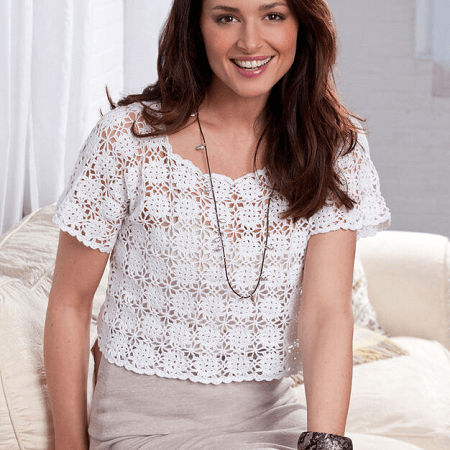 Get the Pattern here

25. Verity Crochet Summer Top Pattern by The Almond Snug
Easy to make and easy to wear, this Verity Top is a perfect summer project. Made almost entirely in double crochet, it is worked from the top-down, with only shoulder seams to sew.
It is a great project for an improving crochet maker.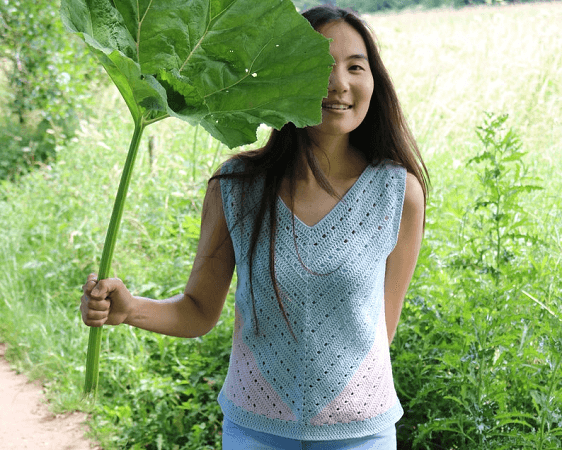 Get the Pattern by The Almond Snug here

26. Eyelet Lace Top Crochet Pattern by Han Jan Crochet
Beautifully delicate and effortless to wear, this Eyelet Lace Top is all about comfort and style. Super simple construction of two panels, the filet neckline is echoed at the hem giving a stunning, modern crochet garment to suit everyone.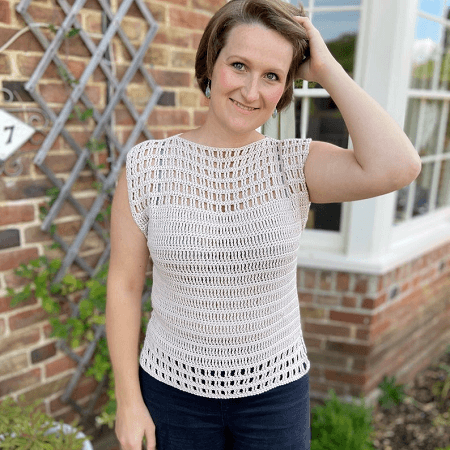 Get the Pattern by Han Jan Crochet here

27. Ivory Lace Bralette Free Crochet Pattern by Carroway Crochet
Bralettes and bikini tops are perfect summer tops that you can crochet in countless ways. This lacy bralette walks you through the steps of adding a more delicate look to a classic pattern.

If you're comfortable working with single, double, treble, half double crochet, and spacing, then you've got what you need to make this beautiful summer top!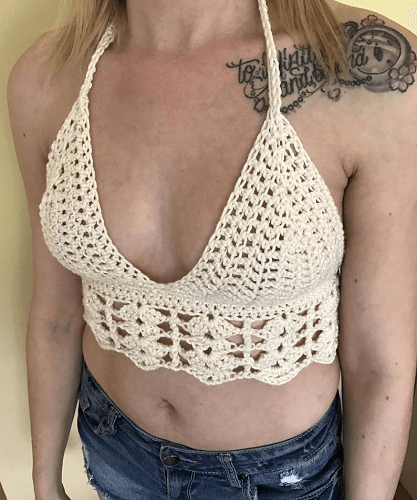 Get the Pattern here
28. Peaks Crochet Summer Top Pattern by Hooked By Anna
This simple yet stylish tank top is a quick and easy make using only basic crochet stitches (US crochet terms) and any cotton based sport or DK weight yarn.

It's crafted in two panels and comes in two adult sizes. The top is a strappy halter-style tank. The design uses spacing to create a large print that alludes to mountain peaks.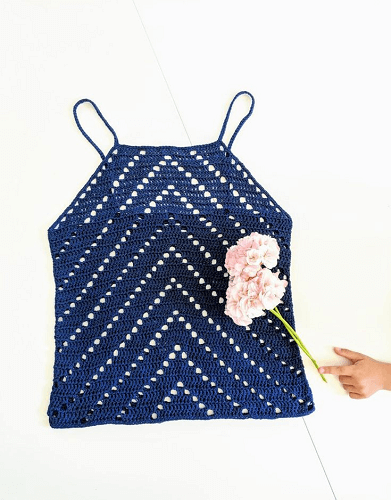 Get the Pattern here

29. Free Summer Crochet Top Pattern by A Crocheted Simplicity
Although the openwork element of this piece was designed to be worn in the back of the garment, this summer crochet top is completely reversible so you can wear it in the back one day and in the front the next!
Aside from the openwork back and subtle waist shaping, you'll love that this top is seamless!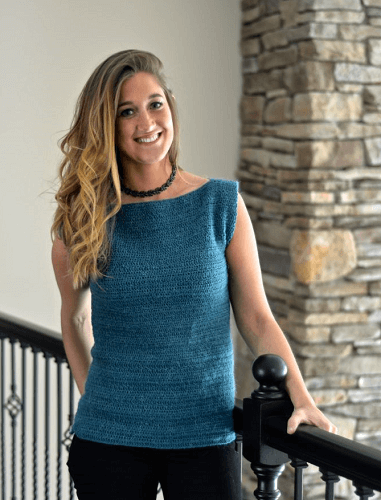 Get the Pattern here

30. Crochet Parisian Tunisian Top Pattern by Sewrella
This Crochet Parisian Tunisian Top is a pullover style with short ruffled sleeves that make a chic statement. It's lightweight and easy to wear and so much fun to make!
It only uses 2 front panels, some seaming, and the simplest ruffle sleeves you've ever seen! It is a great project for those still new to Tunisian crochet – very beginner-friendly.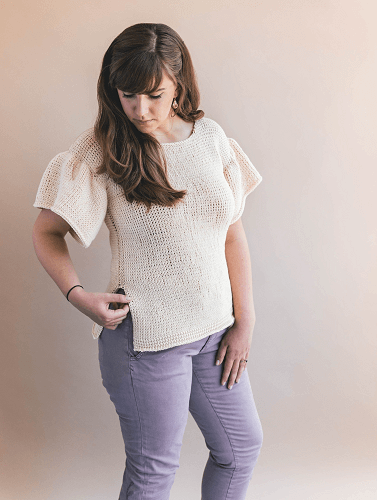 Get the Pattern here

31. Peplum Summer Crochet Top Pattern by Knitting With Chopsticks
This Peplum Summer Crochet Top is an easy crochet summer top for advanced beginners. The shoulder shaping and elegantly rounded v-neck add femininity to this loose-fitting simple peplum top.
The pattern uses single crochet and double crochet stitches, along with a bit of shaping (decreases) for the neck and armholes.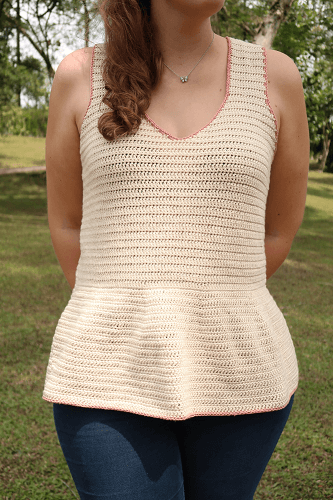 Get the Pattern by Knitting With Chopsticks here

32. Daybreak Top Crochet Pattern by Little Golden Nook
This Daybreak Top is designed to be fun, flattering and comfortable in summer! There is a more flared body variation included, and you have the option to play around with color, tassels, and length to make your top unique to you. You'll love it! The sizes given range from size AU/UK 6 through to 16.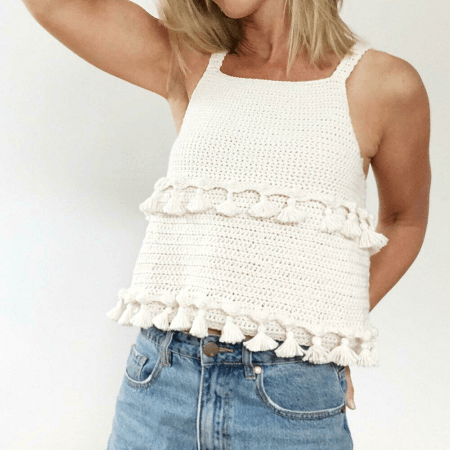 Get the Pattern by Little Golden Nook here

33. V Neck Summer Crochet Blouse Pattern by Knit Cro Addict
This is another great project for crochet beginners. It's a simple two-panel project, but you still end up with a cute little top. 
This is a lacy, oversized tunic with a plunging v-neck. Add length to make a beach cover-up or use a heavier yarn to create a cold-weather top.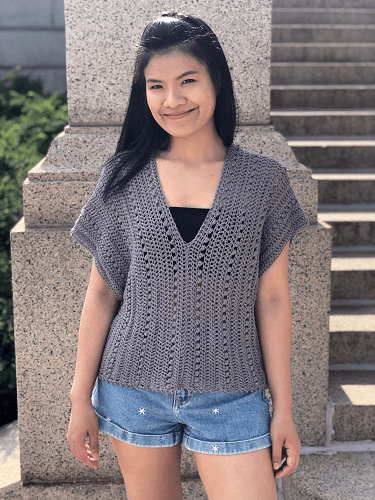 Get the Pattern here

34. Summer Smoothie Top Crochet Pattern by By Katerina
This Summer Smoothie Top is the easiest Top-down garment ever!!! You will love it. Can you imagine that there are no increases? Yes! We don't need them!

This top is super beginner friendly and it's that kind of a garment project that you can not fail with. If you want a dress or a top with longer sleeve or why not a dress with longer sleeves you can do it, just by adding more rounds.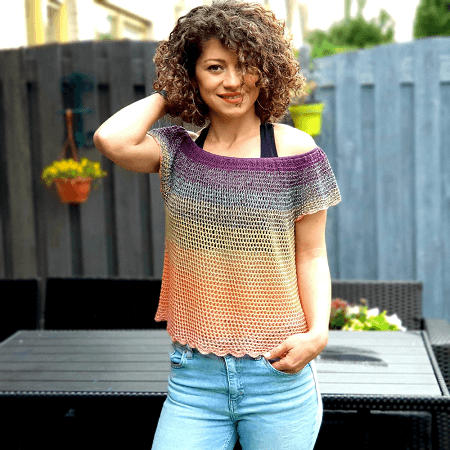 Get the Pattern here

35. Honeycomb Tank Summer Crochet Top Pattern by Liz Salazar
The beautiful honeycomb crochet stitch paired with a solid single crochet panel makes this pretty coral – colored tank top. This is a perfect summer garment made with 100 % cotton lightweight yarn.

The top is worked in 2 panels then seamed at shoulders and joined together at the sides with a simple but elegant special seaming technique.
Single crochet stitches make up the upper portion of the tank which creates a solid fabric, no need to wear a tank top underneath!
Get the Pattern by Liz Salazar here

36. Lace Cami Crochet Pattern by Hooked Homemade Happy
This Lace Cami Crochet Pattern is a simple 2-row repeat! It looks so cute layer with a jacket for spring and summer.
It's perfectly lightweight for hot days and can be layered with ease. This camisole will add a touch of lace to your favorite summer outfits!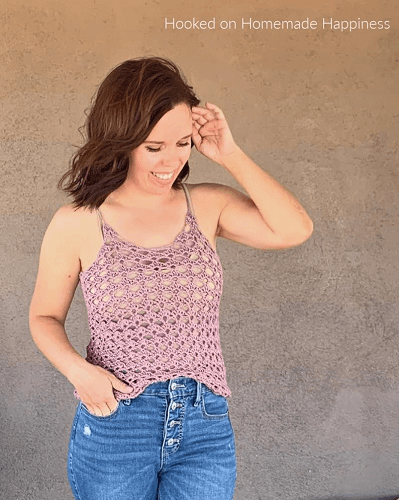 Get the Pattern by Hooked Homemade Happy here

37. Summer Breeze Crochet Top Pattern by Yarnspirations
Easy and breezy, this crochet summer top is perfect for layering over a bathing suit or over a casual summer outfit. This easy crochet top is versatile and looks great worked up in a neutral self-striping yarn.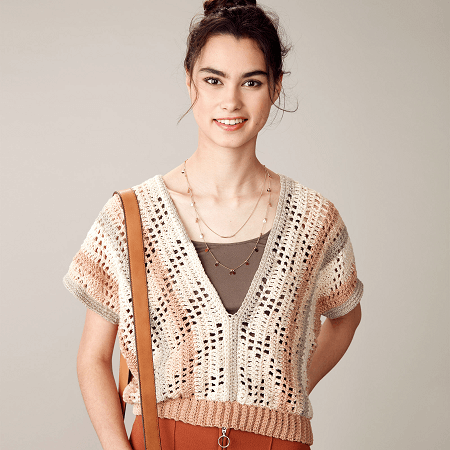 Get the Pattern here

38. Sea Of Summer Top Crochet Pattern by Creations By Courtney
This Sea of Summer Top was inspired by the ever classic off the shoulder look that crosses multiple decades and occasions.
Whether wearing it to the office, to a date or a family picnic, you'll be comfortable and stylish.

This garment was designed with 4″ of positive ease to compliment all shapes. The Ruffle section can be worn across or atop of the shoulders to change the look.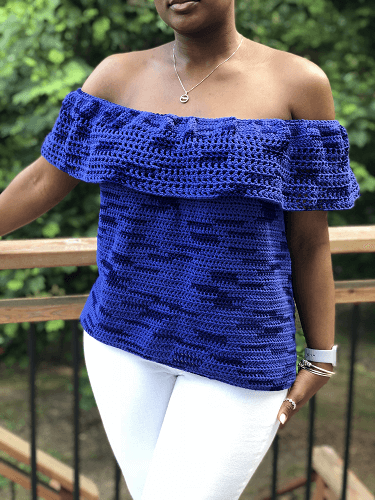 Get the Pattern by Creations By Courtney here

39. Honeycomb Crochet Tank Top Pattern by Briana K Designs
Need a comfy and cool summer top? This Honeycomb Crochet Tank Top Pattern is a unique and buzzing summer trend in fashion.
This unique use of filet hexagons creates a honeycomb look for a cool and wearable crochet summer top. This pattern is worked as one piece, from bottom up, and in rows.

If a longer length is desired add one more repeat on the body portion. Trim is added and at the same time buttonholes are created for the front.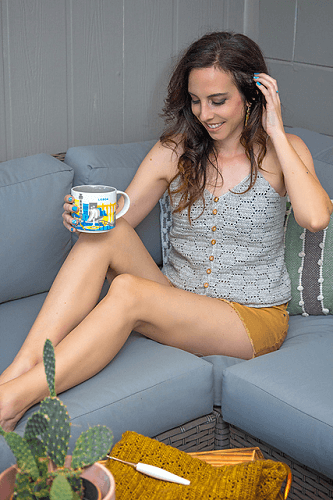 Get the Pattern by Briana K Designs here

40. Crochet Summer Halter Top Pattern by The Easy Design
This trendy crochet halter top is different from everything you've seen and is a perfect choice for summertime!
This fun halter top is very light and breezy, perfect for summer or the warmer days of fall. This pattern is easily adjustable and is easy to craft for all shapes.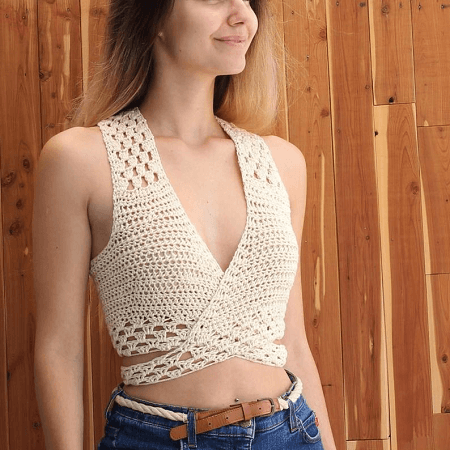 Get the Pattern by The Easy Design here

41. Crochet Summer Fruits Top Pattern by Crochet With Carrie
This Crochet Summer Fruits Top is so easy to make, and perfect for all levels. It uses very basic stitches, so this is another project to have in your lap while watching your favorite Netflix series!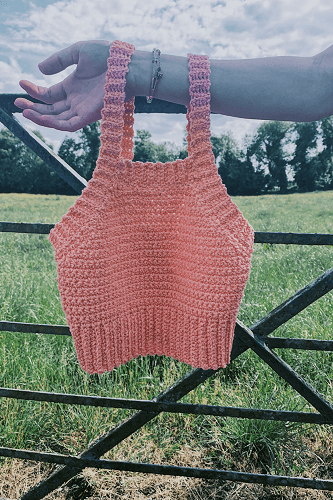 Get the Pattern here

42. Beginner Summer Crochet Top Pattern by Jenny And Teddy
By looks alone, it would be impossible to determine that this top can come together in only a few hours of crocheting.
Its light and airy feel makes it perfect for a bathing suit cover-up, although it can also just be worn with any standard summer outfit.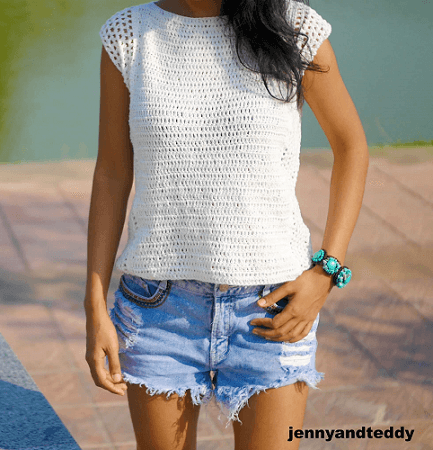 Get the Pattern here

43. Pretty Little Shells Tunic Crochet Pattern by Primrose Patterns
This Pretty Little Shells Crochet Tunic features a shell pattern and a picot trim on the sleeves. This top can go from spring into summer with a little tank top underneath.
The openwork fabrication is made with a light sport, cotton blend.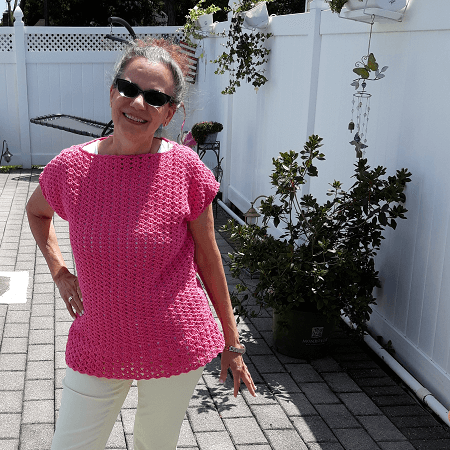 Get the Pattern by Primrose Patterns here

44. Summer Top Free Crochet Pattern by Teal And Finch
This summer top is the perfect layering piece for summer. Wear it over a tank with your favorite cut-offs for easy summer style. Sizes include XS/S, M/L, 1X/2X, and 3X/4X so you'll be able to make one for yourself and one for a friend.

Constructed from two rectangles, the design of this piece is very simple. Once you create the front and back panel, simply join the shoulder and side seams and you're all done!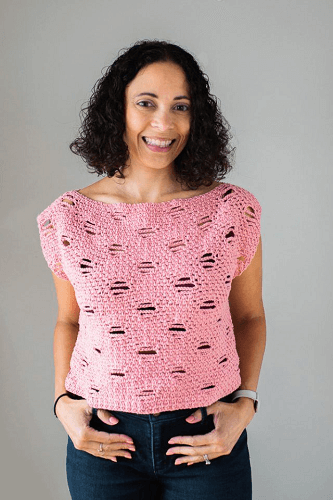 Get the Pattern here

45. Poncho Style Summer Crochet Top Pattern by Make And Do Crew
Whether your summer plans include a music festival, a cruise, or a backyard BBQ, this Poncho Style Top will give you an effortlessly chic piece to toss on for the next adventure.

The construction of this easy poncho-style top couldn't be simpler, but the changing stitch patterns will keep you engaged the whole way through.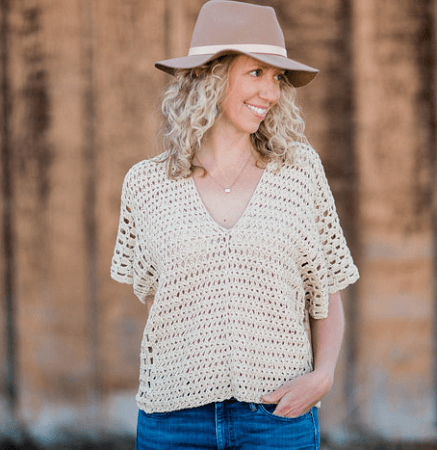 Get the Pattern here
Which ones from this list of summer crochet top patterns do you have in mind to DIY? Share your thoughts with us in the comments section below!
When you've finished your tops, our challenge to you is to not make another one. You know why? Because you can't! Once you make one, you're going to want to make it in every color!
Totally make as many as you can and then share them on our Facebook Page because we would love to see them!

And if you're eager to find a lot more summer garments to make, check out these Boho Crochet Top Patterns, Crochet Halter Top Patterns, Crochet Bralette Patterns, and of course, Crochet Bikini Patterns.

Now it's time to pop on your new summer crochet top, stash a flower behind your ears, and frolic through the rest of summer!