There's no better reason to make a handmade gift than the arrival of a new baby. These crocheted baby gifts are a lot of fun to make, and parents will adore them! Crocheting is a rewarding activity in and of itself, but it becomes even more rewarding when the product you create will warm the heads, toes, and hearts of a precious little one.

From baby showers to birthdays to charity donations, these blankets, accessories, soft toys, and more are perfect for any gift-giving occasion. With quick crochet projects such as bibs and booties, or something that takes a bit more time such as a sweater or baby mobile, you'll find the perfect gift.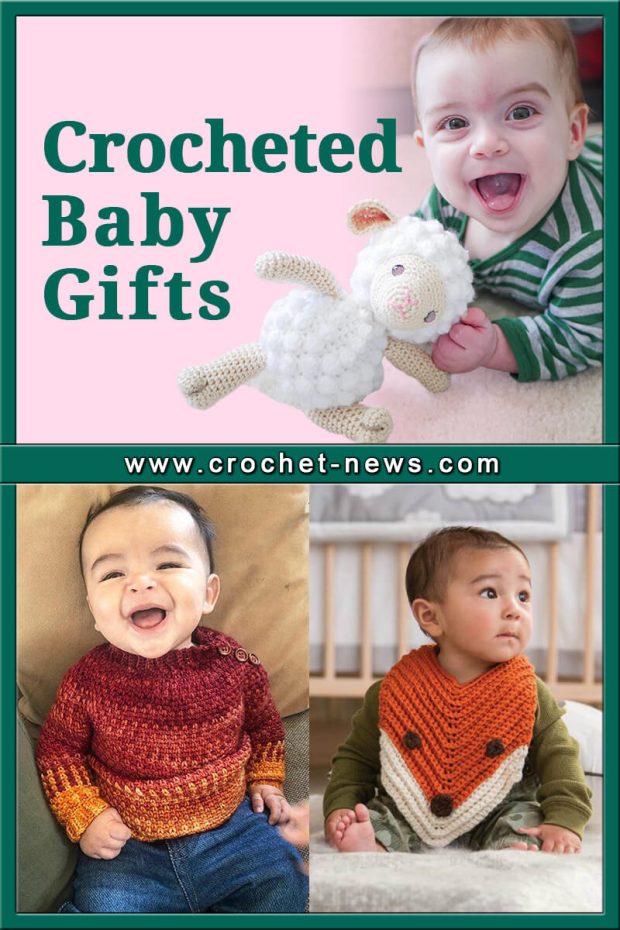 21 Crochet Baby Gift Ideas
Whether clothes, toys, or ideas for the nursery, the projects in this sweet crochet collection of crocheted baby gifts make the perfect custom treasures! Dive into this charming mix of ideas for delighting little ones and filling their nurseries with warmth, comfort, and love, and crochet your own favorite baby gifts.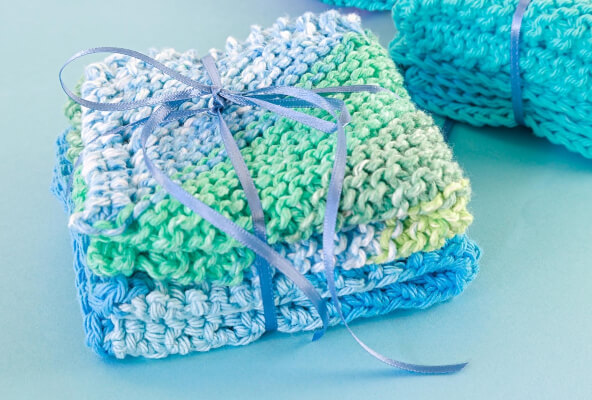 1. Crochet Butterfly Baby Blanket Pattern by Red Heart
Whether you're looking for the perfect baby gift to hook up, or want to decorate you little girl's room in gorgeous crochet, a crocheted baby blanket is the perfect make! A comfortable pink or butterfly blanket would undoubtedly be the perfect present for a baby girl.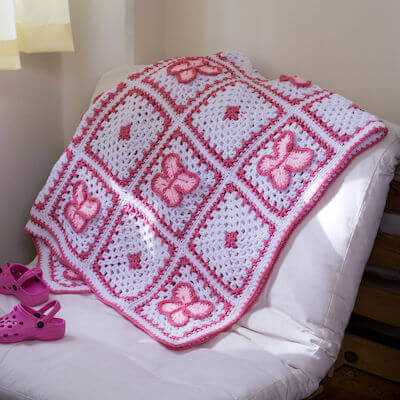 Crochet Baby Girl Blanket Patterns

2. Bobble Pixie Crochet Baby Bonnet Pattern by Peach And Paige Designs
Is there anything cuter than seeing a baby in a bonnet? With minimal effort, create an endearing accessory to amplify the sweetness of all the baby faces around you. A crochet baby bonnet is ideal for gifts, family photos, or walks in the park.

If you or someone you know recently welcomed a child, bonnets are the perfect little hats to keep the child's head warm as they summon all the awws and kisses.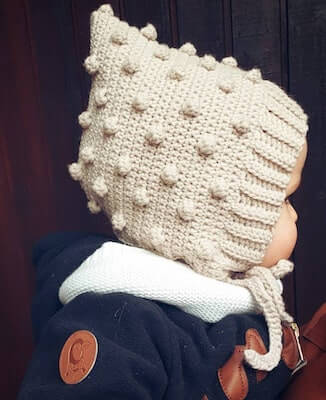 Adorable Baby Bonnet Crochet Patterns

3. Baby Socks Crochet Pattern by Knot Sew Cute
Pamper your little darling's tiny toes with a comfy crocheted baby socks. This pair of super cute footwear will complete your precious one's fall and winter wardrobe. And if you need a lovely handmade crocheted baby gifts for a baby shower or christening, a crochet baby socks pattern is exactly what you need.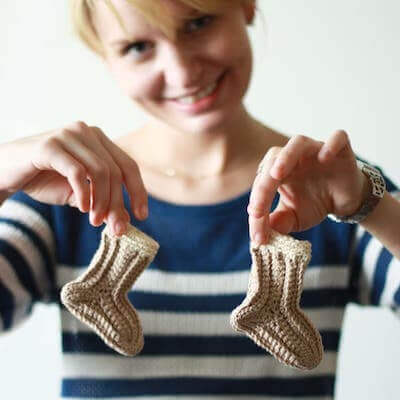 4. Easy Crochet Baby Booties Pattern by Hopeful Honey
It is always fun to crochet for babies. Newborn shoes are a precious keepsake to remind you of how tiny they once were. What a useful and heartfelt gift a pair of these baby booties would make!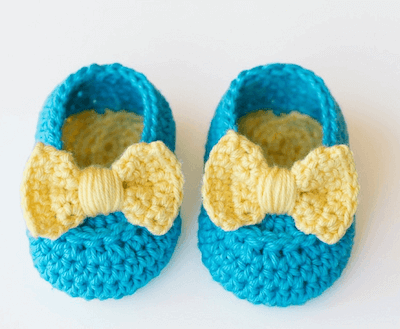 5. Yawn, The Sheep Crochet Snuggle Sack Pattern by Yarnspirations
Like a wearable sleeping bag for babies, crocheted baby sleep sacks are easy to take on and off for diaper changes. Plus, they'll keep the baby warm and cozy all night long. Think of sleep sacks as a wearable blanket but better. What more if you crocheted one yourself?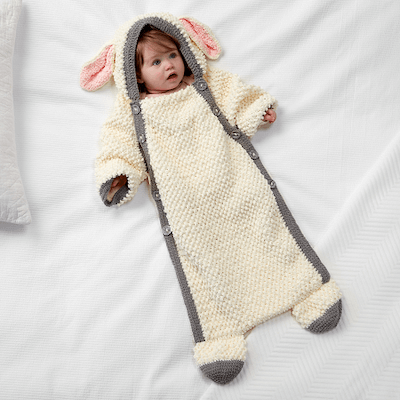 Crochet Baby Sleep Sack Patterns

6. Crochet Baby Bunny Hat Pattern by Make & Do Crew
Crochet baby hats are truly perfect for any baby in your life. Make them for your own child, to gift at baby showers, or to give away to charity. Every baby needs their head kept warm, so a soft crochet hat is always useful. Plus, of course, crochet baby hats are very cute – just look at this bunny hat complete with long ears!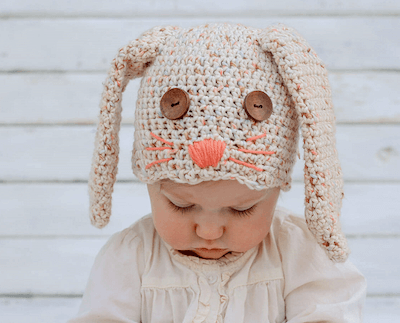 7. Finley, The Fox Bib Crochet Pattern by Petals To Picots
A baby bib is a must-have item for any new parent to help keep babies dry by catching and soaking up food and drink spills. It's also a great solution for excess drool from teething infants.

Bibs can be easily customized to style preferences or personalized for the baby. And if that wasn't enough, crocheted baby bibs are often cheaper than purchasing from a store.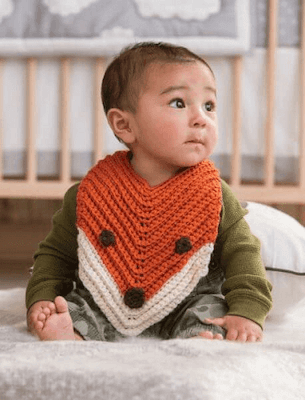 8. Hot Air Balloon Baby Mobile Crochet Pattern by Amour Fou
Baby mobiles are classical. They complete the nursery and serve as symbols for everything baby-related. A mobile is one of the first things anyone thinks of buying either as a parent or as someone who wants to welcome a baby into the world.

If you want the mobile to have a meaningful design or a story behind it, consider crocheting it yourself. A crochet baby mobile can make a wonderful gift or a great project for expecting parents.

9. Crochet Elephant Baby Rattle Pattern by Vinera Eyer Patterns
A rattle has been one of the first toys for babies to play with for centuries and it's still now! Babies love sound and color, and you put both these attributes in a rattle, which makes it a perfect toy for a little one.

Crochet it and give it any look and color that you like. This makes the perfect handmade crocheted baby gifts since they love contrasting colors, interesting sounds and soft textures.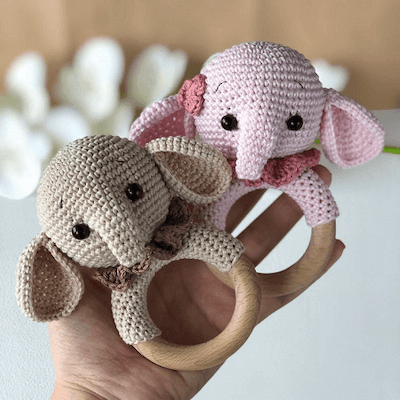 10. Crochet Baby Sweater Pattern by Nomad Stitches
When the weather starts to get cooler, you'll love making a crochet baby sweater. These baby sweaters are not only perfect for your little one, but they make great gifts for new moms and moms expecting a new bundle of joy!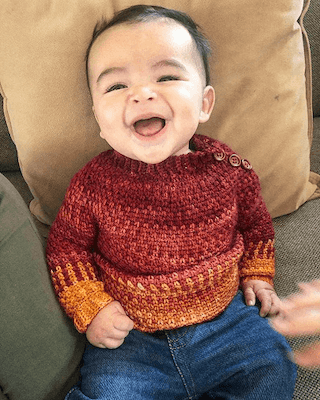 11. Crochet Baby Diaper Covers Pattern by Croby Patterns
If your friend is expecting a baby and you are pondering to surprise her by crocheting something unique, then these baby gift crochet pattern is going to come in handy!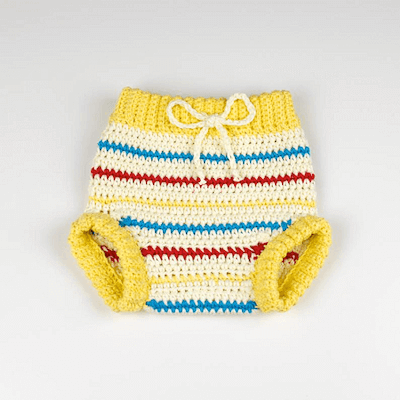 12. Crochet Giraffe Lovey Pattern by Tilly Some
Babies adore a cuddly, comforting, and stimulating lovey. We love the idea of loveys because it gives the baby something that they can hold and snuggle and that they will use time and time again as they get older. They make wonderful keepsakes!
When you are not sure which present would be better – a blanket or a crochet toy, simply make a crochet lovey. Crochet lovey is just the perfect present for a new arrival and toddlers alike. It is the best of both worlds!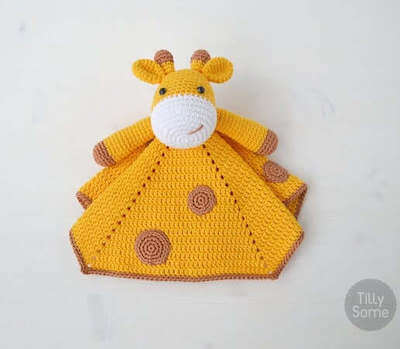 13. Bobble Crochet Baby Headband Pattern by Thoresby Cottage
What's not to love about a sweet baby headband? Not only do they make a lovely accessory for your little one, but they are super quick to make. You can crochet up a whole bunch of them in a weekend.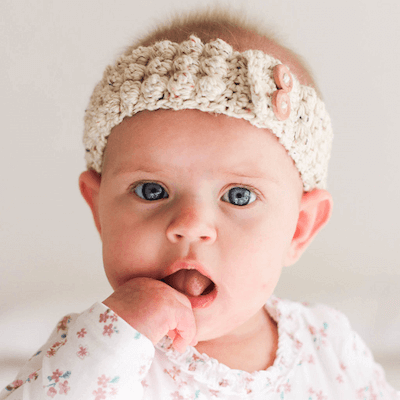 Crochet Baby Headband Patterns

14. Crochet Baby Gladiator Sandals Pattern by Matilda's Meadow
Crochet baby sandals are one of the cutest things you can make with your crochet skills. There's just something about the dainty yarn on an adorable baby foot! With summer on our doorstep, it's the perfect time to crochet a set of sandals for all the babies in your life!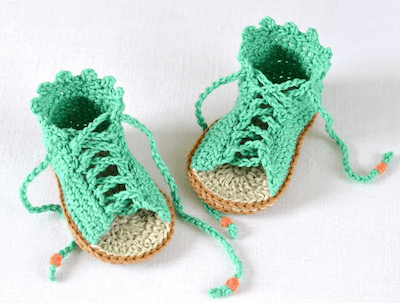 Adorable Crochet Baby Sandals Patterns

15. Crochet Lamb Baby Toy Pattern by Sewrella
Want to make something handmade for a baby shower gift? You're going to love crochet baby toys – and the new arrival will too! Crochet baby toys are just the most adorable things, so soft and small and just waiting to be explored and loved by teeny hands.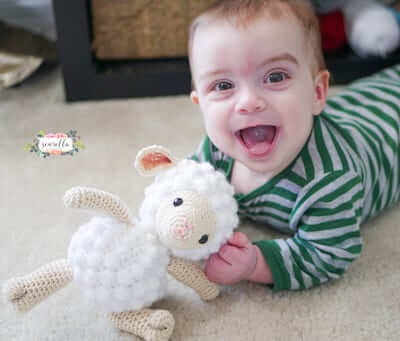 16. Crochet Snowflake Teether Ring Pattern by Adele Daisy Crochet
A crocheted teether ring is one of my favorite ideas because not only can you make it beautiful and personalized, but it can be a very sustainable gift as well! This is a win on so many levels.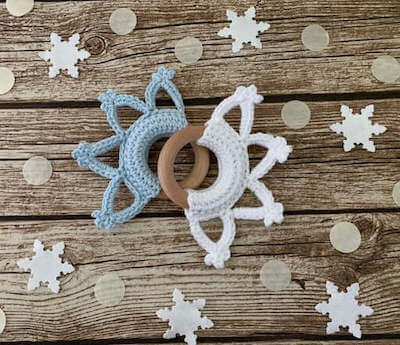 Crochet Teething Ring Patterns

17. Crochet Halloween Baby Outfit Pattern by AMK Crochet
Dressing up your little baby with pieces of attire that you have put together all by yourself with a dose of love blended with style is quite an unearthly feeling!
Whether you want to DIY your baby's Halloween outfit or just simple everyday wearables, a crochet baby outfit pattern will help you make stylish clothes for your infant without spending much money.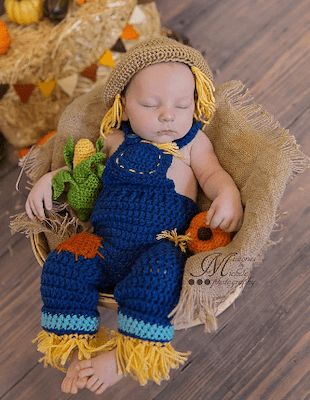 18. Football Fever Baby Blanket Crochet Pattern by Design City
Welcoming a baby boy instead? Celebrate his arrival with a crocheted baby boy blanket. The newborn will enjoy his gift and the parents will be delighted by it. That's for sure!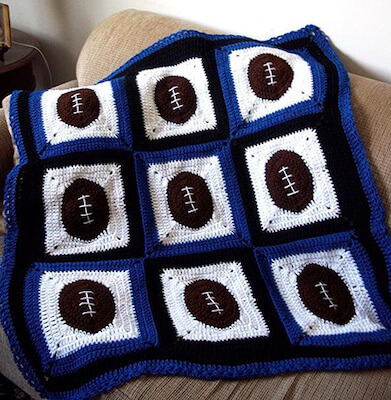 Best Crochet Baby Boy Blanket Patterns

19. Triceratops Dinosaur Crochet Pattern by Spin A Yarn Crochet
Who said that dinosaurs aren't real? Almost every kiddo would be delighted to see one and play with it – and they can! And the best part is, crocheted dinosaurs are perfectly safe, squishy, and just adorable!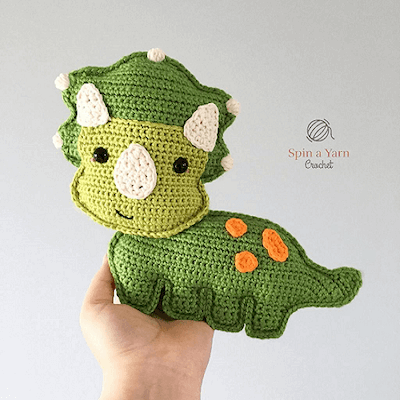 20. Baby Buttoned Turban Crochet Pattern by Sweet Softies
Crochet turbans look adorable on babies. They are perfect for parties, baby showers, photo shoots or just going outdoors. If you are looking for a unique baby gift item, a crochet baby turban will also come in handy!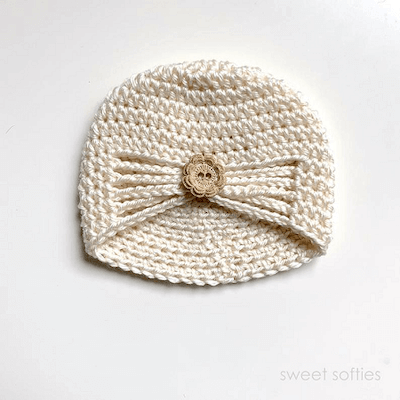 21. Crochet Doll Pattern by A Crafty Concept
Instead of running to the store to buy a new doll for your perfect little one at home, why not crochet one? Crocheted dolls are sure to be treasured heirlooms – and make wonderful crocheted baby gifts!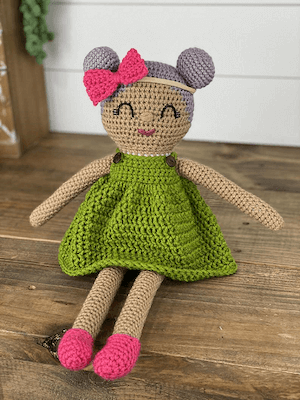 EVERY NEW BABY—AND MOM—WILL LOVE THESE SWEET AND THOUGHTFUL CROCHETED BABY GIFTS.
You don't need to be a grandmother to bring a crocheted baby gift to a friend or relative's baby shower. All you need are basic crochet notions, the right materials and the pattern of your choice.
Looking for more ideas? Check out our compilation of crochet baby poncho patterns you can make today. Share your makes with us on our Facebook Page so we, too, can appreciate it!

Find more inspiration for what to make as a crochet gift with our crochet gifts archives. These crochet gift ideas make unique, thoughtful and useful crochet gifts for everyone on your list!

When in need of something to crochet for a baby, this collection of crocheted baby gifts is one you will turn to again and again!