A teething baby is often a cranky baby, so you want to make sure that your little one has something to chew on. That's where teething toys come in handy. Don't know where to start? Not a problem, here are 15 Crochet Teething Ring Patterns to get you inspired.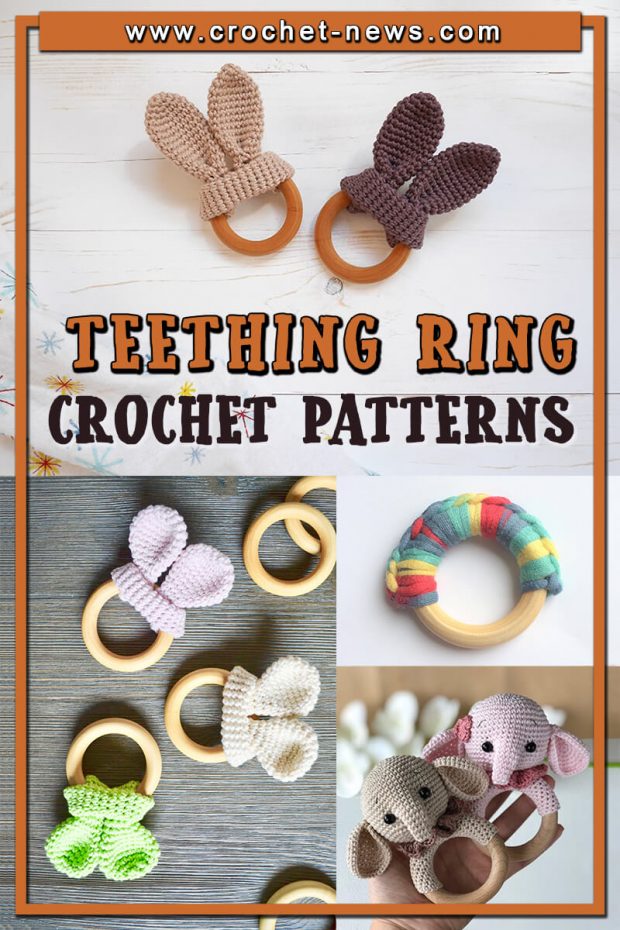 As your baby looks for sweet relief from new-tooth pain, they'll want to bite and gnaw to soothe their irritated gums. Your little one might start reaching for dangerous household objects – or your hands or shoulders, ouch! – and teethers are a great and safe alternative.

So, we're rounding up some of the most favorite crochet teething ring patterns to put an end to those teething tears.

1. Easy Crochet Wooden Teether Pattern by Malloo Knits
Obsessed with what your baby puts in her mouth? Make this easy crochet wooden teether toy for your baby to chew on!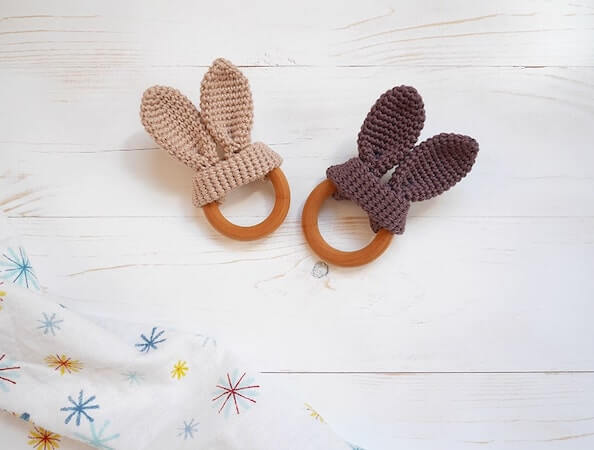 2. Hippo Rattle Teether Ring Crochet Pattern by A Purpose And A Stitch
This Hippo Rattle Teether Ring is super cute and adorable, functional as a teething ring and a rattle, with an easy grip for baby! These little guys are so sweet and soft you may just want to keep him for yourself!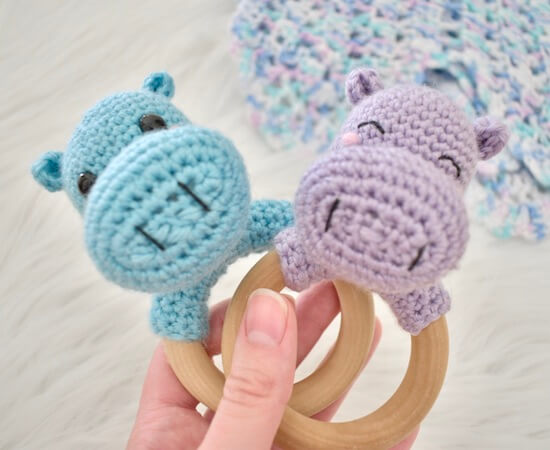 Get the Pattern here

3. Crochet Turtle Teether Pattern by Toys By Knit Friends
This Crochet Turtle Teether is a good gift for a baby shower, for new parents or an addition to the pregnancy gift box. The texture of this organic cotton toy is suitable for tactile stimulation of the baby's little fingers.
It develops fine motor skills from birth! Make this in neutral or bright colors!
Here is a mix of crochet turtle patterns to add to your collection.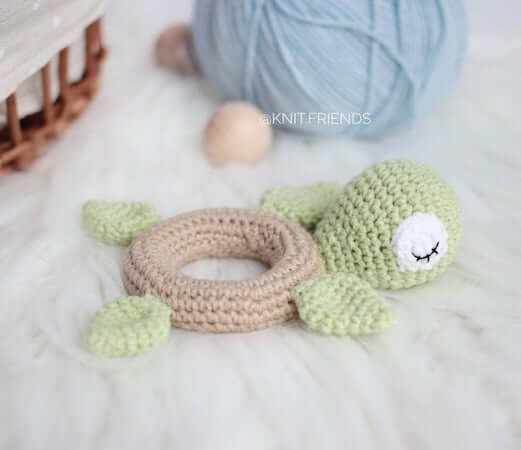 Get the Pattern by Toys By Knit Friends here

4. Baby Teether Lovey Crochet Pattern by Petals To Picots
This teether lovey crochet pattern is not only cute and cuddly but will help provide much needed comfort and relief for teething babies. The blanket body makes it easy for baby to grasp and hold.
This lovey is the perfect gift for any new mom and baby and is fun to make for your own little one.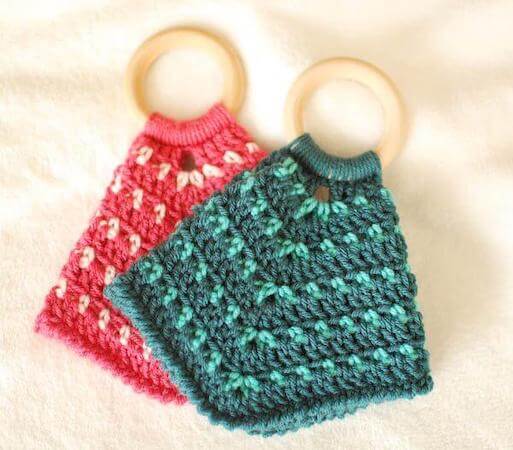 Get the Pattern here

5. Ruffles And Ridges Teether Toys Crochet Pattern by The Cookie Snob
These teether toys are super simple to make. There are three different quick and easy teether styles to choose from: "The Ruffle," "The Ridge," and "The Wave," for fairly obvious reasons.
And, of course, you can personalize them with any color that tickles your fancy. these would make really cute baby shower gifts, in case you're looking for something unique and handmade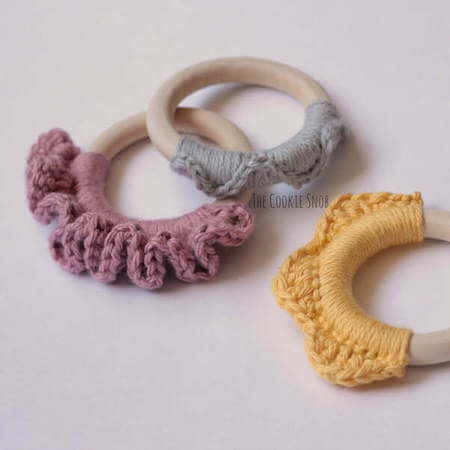 Get the Pattern here

6. Crochet Snowflake Teething Ring Pattern by Adele Daisy Crochet
The beauty of this snowflake teether is snow joke! In fact, it will be love at frost sight! Make these teether rings in different colors and textures to encourage a whole range of skills and learning for young babies.
And the cherry on the top is you don't need to worry about the little one having a good chew, it's what they're made for!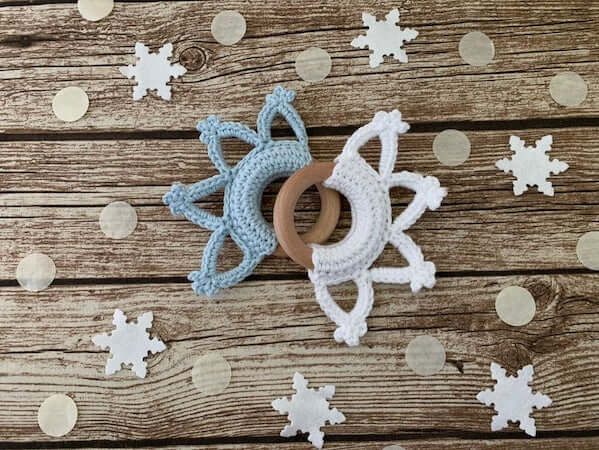 Get the Pattern by Adele Daisy Crochet here

7. High Contrast Teether Crochet Pattern by Ja Ki Gu
This crochet pattern will guide your through a project to create a stimulating and engaging infant toy. While the black and white stripes offer the perfect visual interest, the different crochet elements attached to the rings allow little fingers explore intriguing textures and shapes.

And when teething time comes, this tactile toy turns overnight into a practical teething ring. As a bonus, this high contrast teether holds really well to washing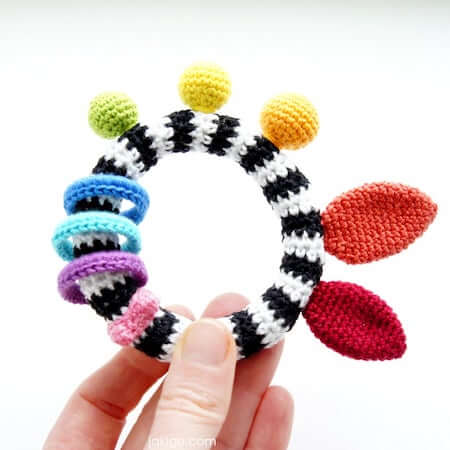 Get the Pattern by Ja Ki Gu here

9. Octopussy Teether Crochet Pattern by Knot So Square
This Octopussy Teether is another fun teether that will soothe your baby's gums. The soft tentacles will remind babies of the umbilical cord and their mother's womb which might work comforting. Plus they're great to play with!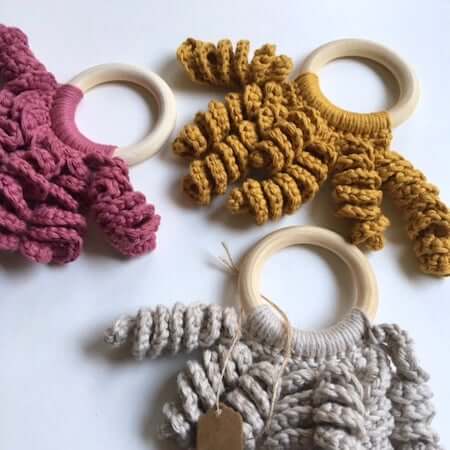 Get the Pattern by Knot So Square here

10. Crochet Bunny Teether Pattern by Yarn Society
This Bunny Ear Teether is a classic and functional crochet project. This simple teether takes less than an hour to make and is the perfect present for your next baby shower. It's approximately 2 inches tall in cotton DK yarn.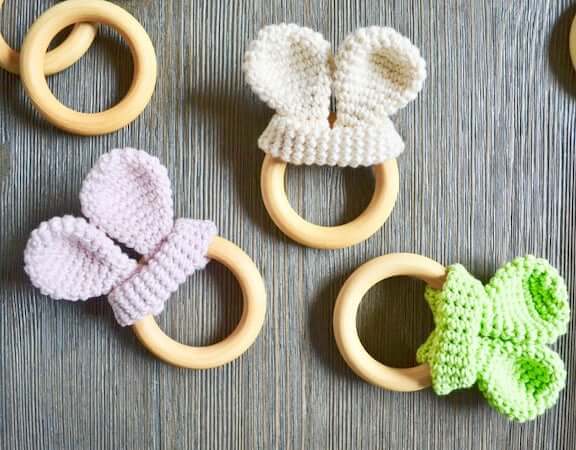 Get the Pattern by Yarn Society here

12. Crochet Elephant Baby Teether Pattern by Vinera Eyer Patterns
Looking to create a little gift for a new bundle of joy? This Elephant Baby Teether would be perfect! It also would make a great gift for a baby shower or a hospital visit!

Crochet an adorable elephant rattle to entertain your little ones. You can easily customize it with different colors as well as with small details such as bows and flowers.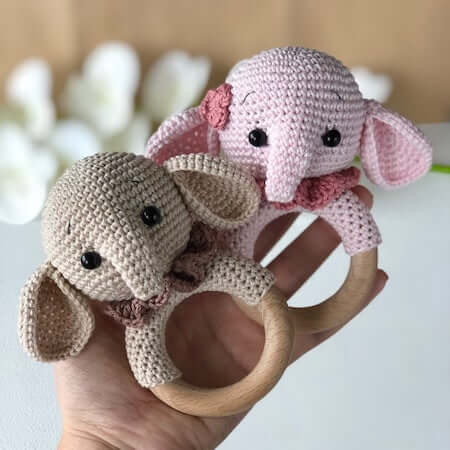 Get the Pattern by Vinera Eyer Patterns here

13. Crochet Wood Ring Teether Pattern by Christa Co Design
Crochet up a little wood ring teether for those baby chompers. This makes a fast but hand crafted gift for the next baby shower. This pattern includes a tutorial and is beginner friendly.
It's a quick and easy crochet project your favorite drooler will love!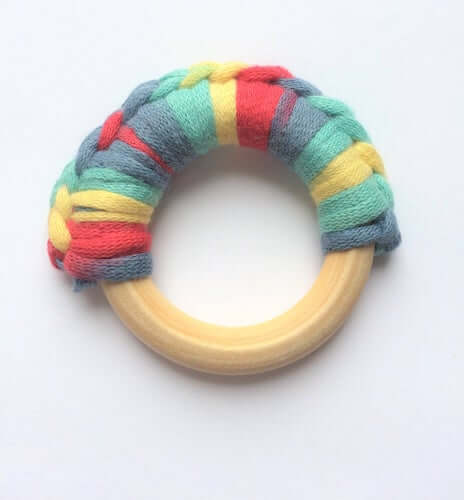 Get the Pattern by Christa Co Design here

14. Flower Free Crochet Baby Teether Pattern by Irene Strange
Giving little hands something to squeeze and play with is a great way of improving grip and co-ordination. This simple Flower Crochet Teething Ring is worked in double crochet, with pretty petals added on afterwards.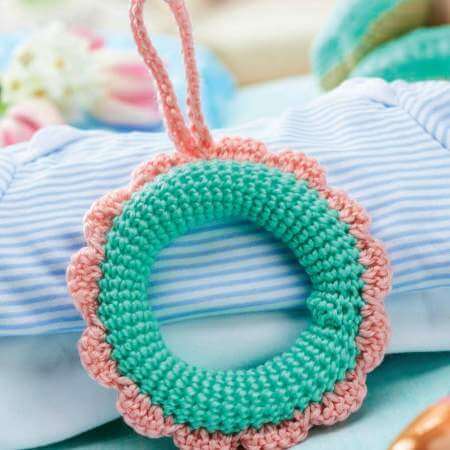 Get the Pattern here

15. Baby Crochet Teething Ring Pattern Bubbles and Goldfish by One Dog Woof
Baby Crochet Teething Ring Pattern Bubbles and Goldfish OOh, we can't contain ourselves. How pretty is this crochet project? If you have a baby on the way or know someone who does, this Bubbles and Goldfish Teether pattern from One Dog Woof would make the most gorgeous baby shower gift idea.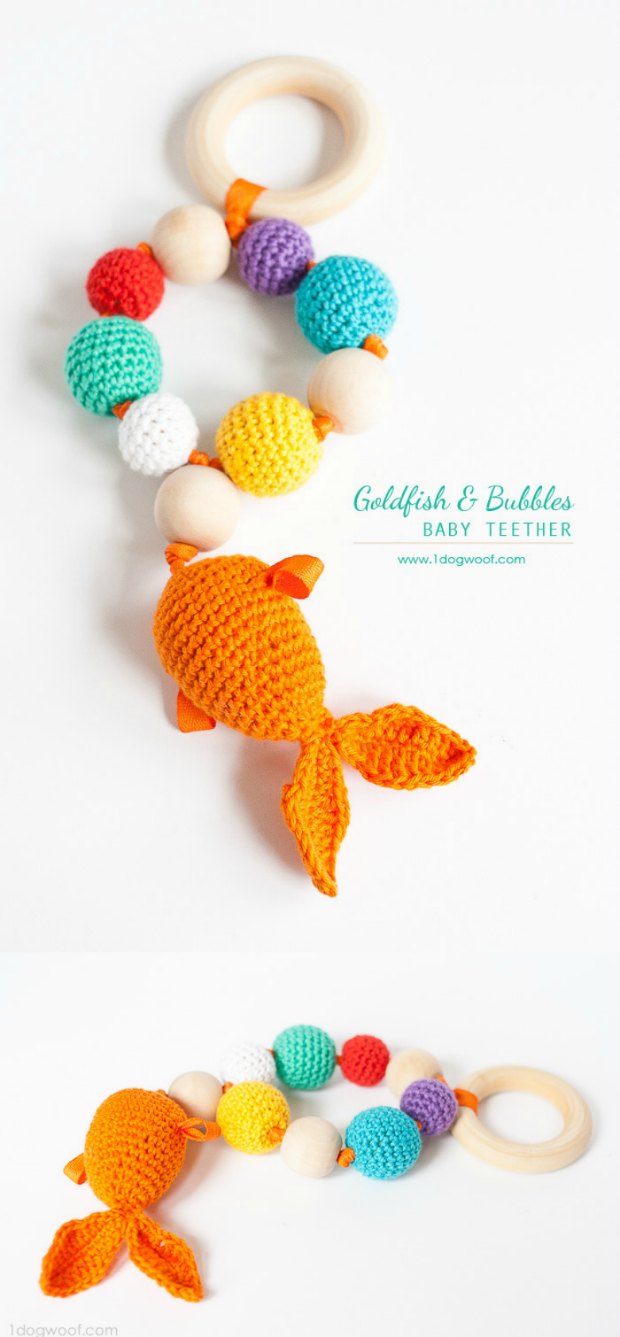 This crochet baby teether is a teething ring, toy and rattle in one. You could crochet or create an entire ocean or fish themed gift set with this bright and funky goldfish to top it off.
Even better, it's a free pattern. Don't delay – make it today!
Baby Crochet Teether Pattern Materials:
Lion Brand Yarn Bonbons Yarn Beach
C2 hook (2.75mm)
3/4 in round beads
1 in round beads (the bare beads are organic teething beads from Alexa Organics)
Organic Round Teething Bead
3/8 in twill ribbon
small plastic easter egg
polymer clay, or small bell
small amount of fiberfill stuffing
WHICH CROCHET TEETHING RING PATTERN YOU'LL MAKE FIRST FOR YOUR LITTLE ONE?
Seeing your finished projects brings us so much joy! We'd love for you to share them on our Facebook Page and show us your DIY successes (or even-less-than-successes!). Getting ready for a new arrival?
Transform your baby's nursery and wardrobe with the amazing list of patterns we have here. Little tiny things that are so adorably cute, from blankets to creative outfits – you are sure to find one or more for that special little one!

For now, let's start on making some of these crochet teething ring patterns for those little humans to play (and chew!).