Flamingo seems to be the theme of this summer, they are everywhere! It's not hard to fall in love with the flamingo. Their pink color automatically makes them fun to use for different crafts and art projects.
Take a look through these 15 super fly crochet flamingo patterns and choose a few to try this summer!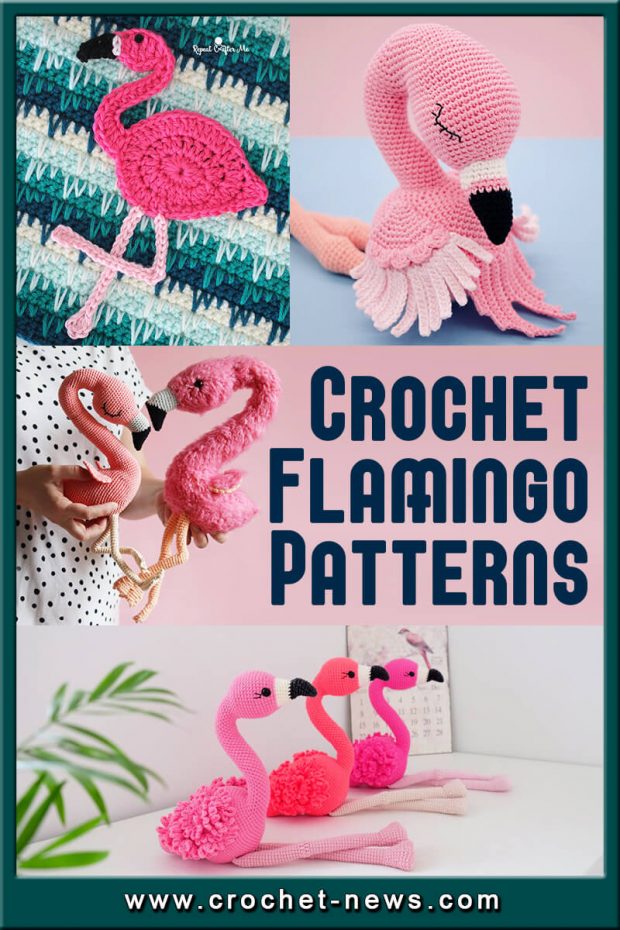 These patterns range from simple crochet patterns to projects designed for your children. Complete these projects and decorate your home with everyone's favorite pink bird! This hot pink animal is going to leave you speechless, so check the ideas below and get inspired!

1. Fiona And Fred Crochet Flamingo Pattern by Red Heart
If you've been looking for a new pair of tiny toys, look to these colorful birds that are full of personality. The pattern makes them exquisitely playful in your favorite blend of colors.
Craft them for your office, the kids' room, or place them on a shelf to add a touch of whimsy. It's a wonderful project that engages from beginning to end, and beyond.
Get the Pattern here

2. Crochet Amigurumi Flamingo Pattern by My Cro Wonders
This flamingo toy is structured enough for room decor yet soft and huggable enough for playtime. The size of the ready bird while sitting 22-24 cm. with Sport / 5 ply (12 wpi) yarn and 2.00 mm crochet hook size.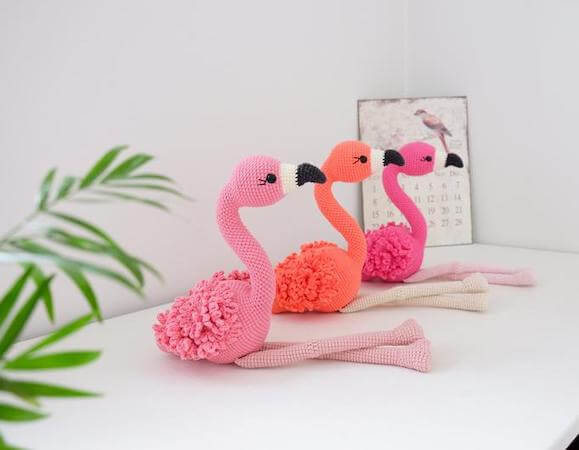 Get the Pattern by My Cro Wonders

3. Amigurumi Free Flamingo Pattern by Spin A Yarn Crochet
Pink is an attitude! And this graceful flamingo amigurumi has got plenty of it. It is a unique amigurumi made in the ragdoll-style; separate pieces worked in flat rows and joined together to give it that charming and distinctive 2-D appearance. This pattern has just 7 separate pieces.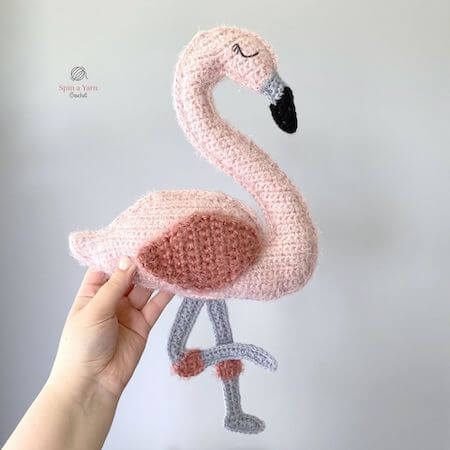 Get the Pattern here

4. Crochet Flamingo Baby Rattle Pattern by Crochet Feelings Toys
This Flamingo Crochet Baby Rattle can be a beautiful baby shower or christening gift for a newborn a baby girl! It's baby-safe because this rattle is made without any small details and eyes are embroidered.

This baby toy rattle is around 6.3 inches (16 cm) when finished and created using chain stitch, slip stitch, single crochet, decrease, increase, and a magic ring.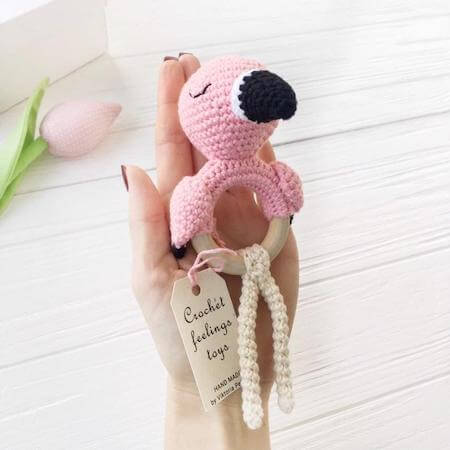 Get the Pattern by Crochet Feelings Toys here

5. Crochet Flamingo Baby Blanket Pattern by Owl B Hooked
Are you crazy about flamingos as we are? This Flamingo Baby Blanket is a beautiful centerpiece for a bright, tropical nursery. This baby or toddler blanket has a popular flamingo silhouette, worked using filet crochet technique.
The written size allows it to be used as a security or snuggle blanket well into toddlerhood!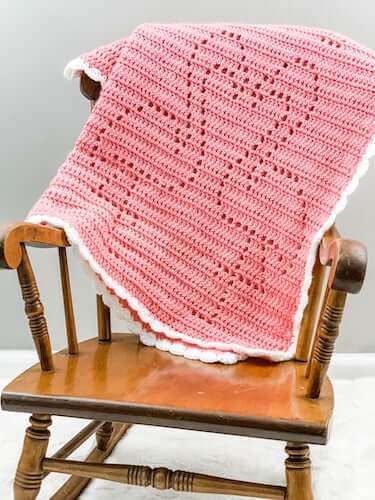 Get the Pattern by Owl B Hooked here

6. Crochet Flamingo Feet Baby Booties Pattern by Yarnutopia
In spite of the fact that these booties were intended for a 6-month old child, changing snare sizes can build the span of the example for a somewhat more seasoned newborn child.

This Flamingo Feet Baby Booties Crochet Pattern is an unbelievable versatile pattern not only because you can make them any size but also you can use the same guidelines to make gorgeous Swans, Ducks, Peacock, and more!

With these super cute booties, you and your little one can totally stand out in a crowd!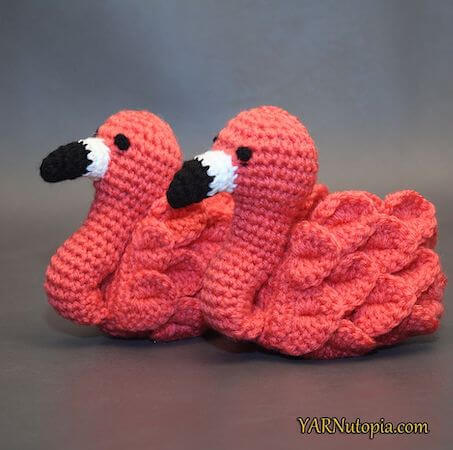 Get the Pattern here

7. Crochet Flamingo Wall Hanging Pattern by Winding Road Crochet
This Flamingo Wall Hanging is a fun corner to corner project that will inspire you every time you look at it. What would be better than a bold flamingo and being yourself?

The corner to corner crochet stitches has a great texture and adding tassels to the bottom really makes this wall hanging very unique. The stripes on this wall hanging require you to change colors a lot but the final look is totally worth weaving in the ends!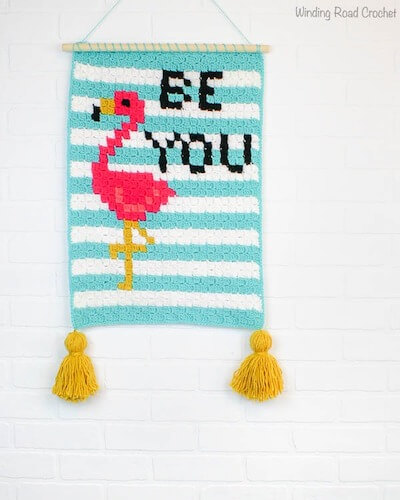 Get the Pattern here

8. Chloe And Beau, The Flamingos Crochet Pattern by Irene Strange
Elegant, slender and really rather pink – say hello to Chloe and Beau, The Flamingos! Both flamingos are made using the same pattern, but with different yarn and hook size.

When made with DK weight yarn and 3.50mm hook the finished flamingo will measure about 50cm long from top of the neck to feet. When made with 4-ply weight yarn and 2.50mm hook she is 39cm long.

The fluffy flamingo fur is created with a single thread of textured yarn hidden under the stitches over the body and uses different pink colors for different elements, so there is a subtle color shift behind the fur.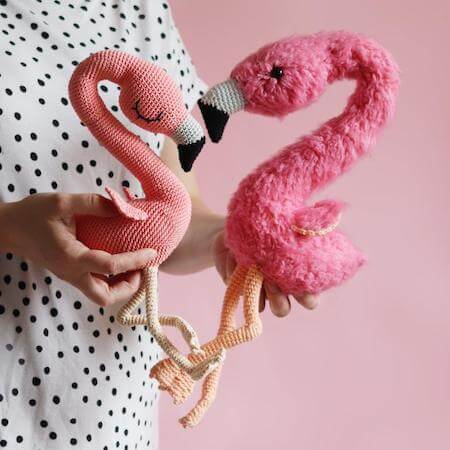 Get the Pattern by Irene Strange here

9. Crochet Hatching Flamingo Pattern by Kayte Dids
With pipe cleaners in her legs to give her the sassy shape to the endless color options bringing all the summer vibes – this Crochet Hatching Flamingo Pattern is a must! These little birds will give your own little one lots of fun at playtime.
They have their own little eggs that they can be tucked into and taken out of.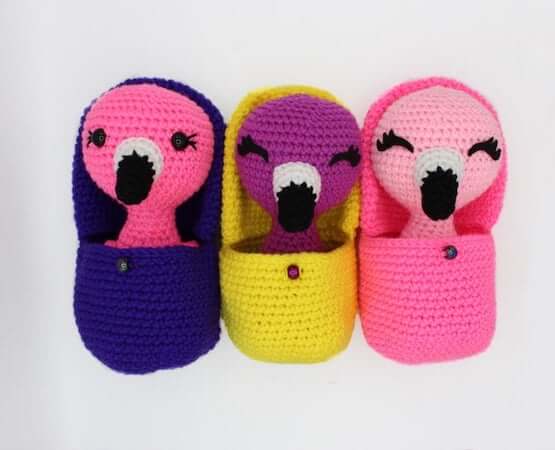 Get the Pattern by Kayte Dids here

10. Crochet Flamingo Appliqué Pattern by Repeat Crafter Me
This is a fun and summery Crochet Flamingo Appliqué that can be added to any project for a splash of summer! It can be used for a wide variety of craft projects and would be perfect to decorate baby's clothes, blankets, or you can make a bunch of them to create a bunting for a child's room.
Surely, you can come up with a variety of ways to use this adorable pink bird!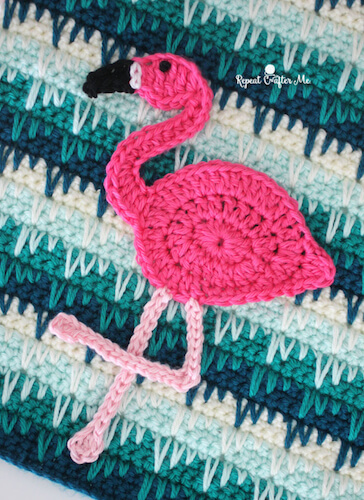 Get the Pattern here

11. Crochet Flamingo Baby Mobile Pattern by KNUFL
How cute is this baby crib mobile with all the flamingos? This would make a fabulous baby shower gift for a mama to be that's for sure! Your friends and family will surely notice this adorable mobile, and you can proudly say that you've made it yourself!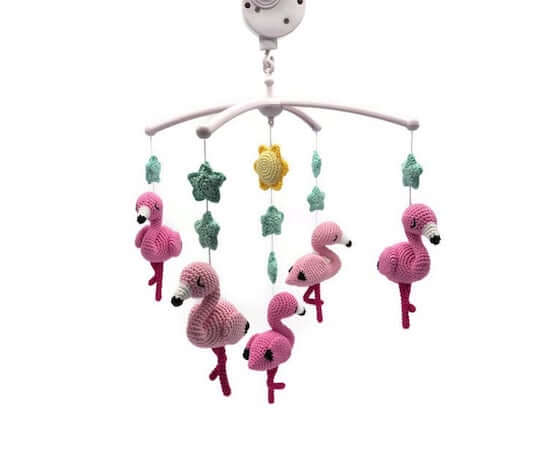 12. Crochet Flamingo Hooded Blanket Pattern by MJ's Off The Hook Designs
Wrap yourself in this cozy Hooded Flamingo Blanket made using big chunky crocodile stitches – perfect for cuddling, play and display. It even includes a bonus infant prop/ lovey/ doll costume.
It would make the perfect Halloween costume for kids, teens and the young at heart!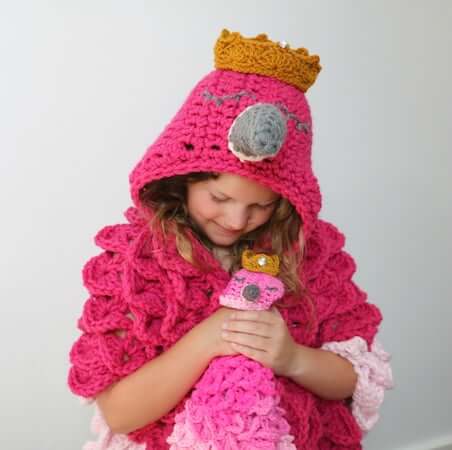 Get the Pattern here

13. Fabio, The Flamingo Crochet Pattern by Trishlemoose
Everybody meet Fabio! Isn't he just the most fabulous flamingo you ever saw? He stands about 16.5 inches tall and would be just at home in your nursery or even hanging out with you on your front porch!

He's made using just yarn and toy stuffing so you don't need any additional materials to create his long, graceful neck and elegant, curved beak. As Fabio is worked in a spiral, it's a good idea to use a stitch marker at the start of every round – that way, you'll avoid getting in a flap with your fabulous flamingo friend!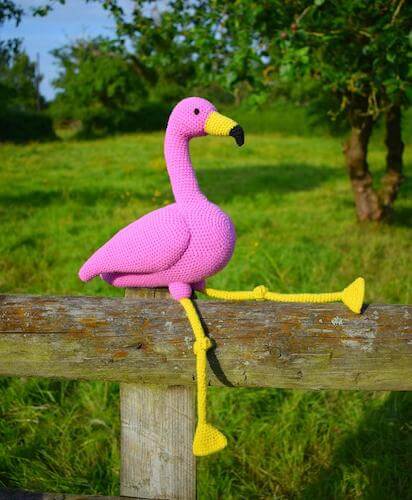 Get the Pattern by Trishlemoose here

14. Flo, The Flamingo Amigurumi Pattern by The Little Hook Crochet
Flo is extremely shy and is a bit of a daydreamer. She loves having a good giggle with her friends whilst grooming her feathers. She has wonderful wings, that's for sure. They make her stand out from this beautiful flamingo crowd!
Make the whole squad, you don't want your flamingo to feel lonely!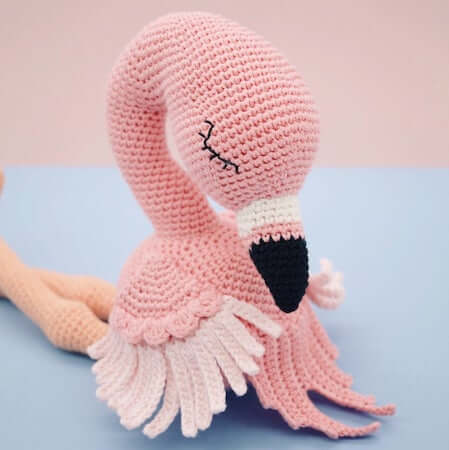 Get the Pattern by The Little Hook Crochet here

15. Fanciful Flamingo Basket Crochet Pattern by Red Heart
Need a fresh burst of style that's also a functional must-have? This crocheted basket is a superb organizer – from bedroom to bathroom, to family room and more – whether you appliqué the flamingo onto it or not.
Imagine a version with the personality and charm that suits your world! Basket measures 10″ x 12″ so it's also a creative way to present a gift.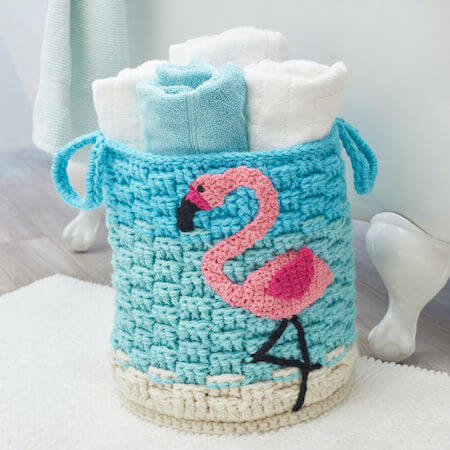 Get the Pattern here
TRY ONE OR MORE OF THEE CROCHET FLAMINGO PATTERNS AND TURN YOUR HOME INTO A FUN FLAMINGO FESTIVAL!
Keep in touch on the Crochet News Facebook Page and feel free to post and share pictures of your precious flamingo. We'd love to see!

In case Flamingoes are not enough, we have also gathered crochet patterns for Parrots, Peacocks, Giraffe, Panda, Sloth, Turtle, Jellyfish, Lion, and Hippo to cheer you up! And if you're a fan of Amigurumi, we have lots of them here. Check them all out!

It's time to give the charming pink animal the recognition it deserves, make some of these crochet flamingo patterns today and celebrate the chic flamingo!