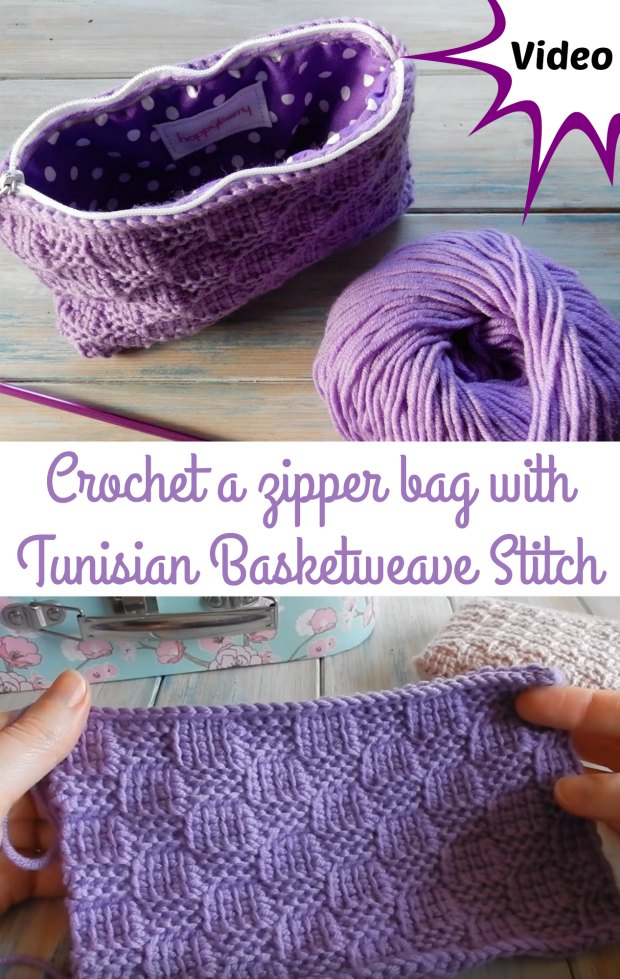 Crochet Zipper Bag Tunisian Pattern
Every girl loves a cute purse. Designer bags these days can cost you an arm, and a leg. But, I bet it won't cost you a dime if you were the designer.
Well, maybe just to buy the materials that you will need but definitely you will love making your own designer bag. And that's just what the crochet zipper bag Tunisian pattern will help you to do.
See, it's already an exotic pattern so; even your girls will want one. If you wanted a pattern that will let you keep your purse game on top then this is the pattern for you.
I made one and It is absolutely astonishing. Everywhere you go with your Tunisian crochet zipper bag I guarantee you will be turning heads.
So what exactly do you need to make your own crochet zipper bag Tunisian pattern?
Crochet Zipper Bag Materials
5 mm crochet hook
worsted weight yarn – Red Heart Super Saver in purple
One 100 gr/ 3.52 oz (200 m/ 218 yd) skein of fine 100% cotton in purple color.
Yarn bowls or box with holes
One 13.8"/ 35 cm ring pull metallic zipper
Stitch markers
Great Zipper Bag Video Tutorial
This pattern has no technical aspects to it so you do not need to be a guru at crocheting in order to complete it. If anything, with a detailed video tutorial, even a beginner will have an easy time bringing this creation to life.
However a written down format for this pattern would still be of use since you don't have to keep playing it back in case you missed a step or two. All in all, if you follow this pattern you will definitely end up with the most beautiful crochet zipper bag.
The beauty of the crochet zipper bag Tunisian pattern is that it is not limited to just what is contained in the tutorial. There is actually a lot of room in the pattern to get creative with. It's a bag you will be carrying around with you after all so it might as well look stunning.
Vary The Colors To Match Your Outfits
Try to change up the colors; instead of just a solid block of color you can combine a few to make your bag even more unique and beautiful. It is either that or you could try making the bag in different blocks of color. Have a bag for every outfit.
You can also try adding some rind stones or some light bead work to add some spice to your crochet zipper bag Tunisian pattern.
If you thought that the bag was stunning before wait till you see it sparkling in the sunlight. It will take your breath away.
So, the crochet zipper bag Tunisian pattern is definitely one of those patterns that a girl should have in their repertoire.
The fact that you will be able to design and create your own stunning purses definitely takes a load off financially and you now have the freedom to create exactly what you want. If I were you I would be watching the tutorial by now.
Need Crochet Zipper Bag Supplies?