Here are Corgi crochet patterns full of tail wag-worthy cuteness. Surprise your favorite Corgi fan (and hey, it's OK if that's you!) with any of these Corgi-themed projects that celebrate the fluffy friendliness of this incredible, floofy breed.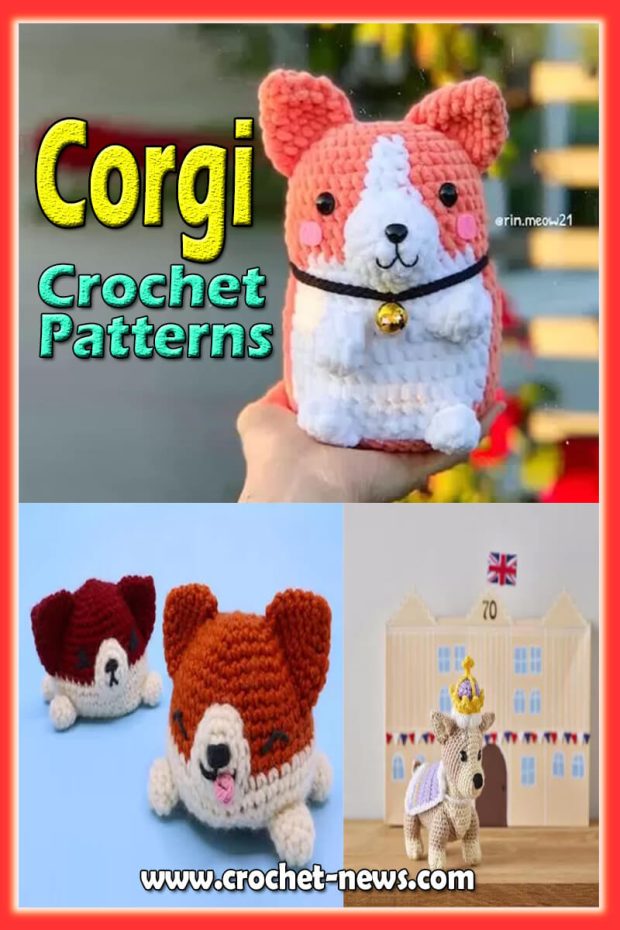 No other dog with inch-long legs and a chunky bod trot through the streets with quite the same fervor as the corgi. Not to mention, their butts are beloved far and wide—pun intended.
So, it makes sense that this particular dog breed has inspired crocheters to make their own. If you find yourself looking for more things Corgi, this list is definitely for you!
15 Corgi Crochet Patterns

1. Reversible Crochet Corgi Amigurumi Pattern by Sir Purl Grey
This is an interactive amigurumi that displays two different emotions. On one side, the corgi shows a slight grimace, and with quick flip, the corgi turns that frown upside down into a perkier mood. Of course you can make your corgi have any two emotions so let your imagination run wild!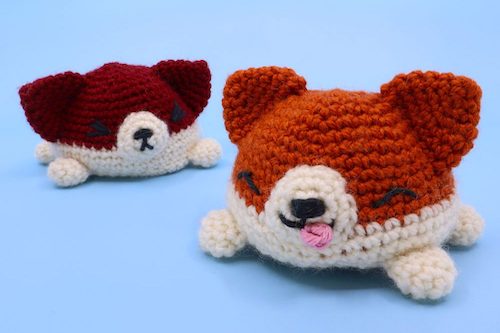 Get the Pattern here

2. Crochet Corgi Pot Holder Pattern by Blackstone Designs
This Crochet Corgi Pot Holder os the perfect gift for dog lovers! This pot holder has a pocket on the front for adding little gifts like cookie mix, spatulas, and recipe cards.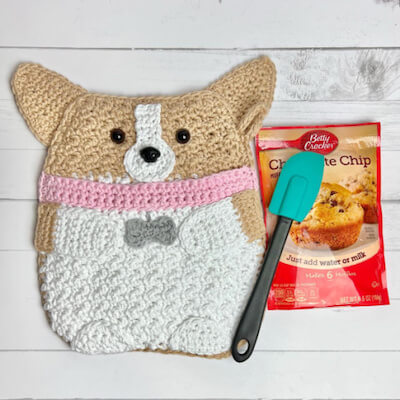 Get the Pattern here

3. Corgi Crochet Amigurumi Pattern by Hobbycraft
This crochet corgi is the perfect royal addition to your amigurumi collection! With a removable gown, this adorable animal will be loved by children and adults alike. This cute corgi makes a great gift for a loved one or looks perfect as a decoration in any room!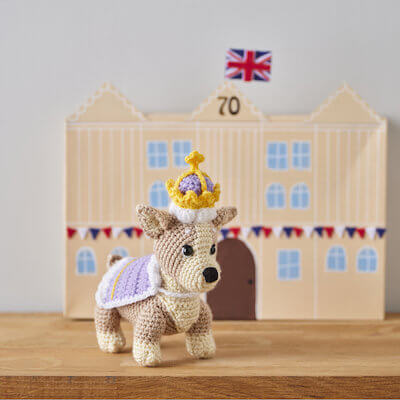 Get the Pattern here

4. Crochet Chubby Corgi Pattern by Rinmeow 21
Add a little K-9 playfulness to your world with this adorable Crochet Chubby Corgi! Ready for year-round play, this little pooch playmate is wonderfully sized for easy toting on road trips and around the house.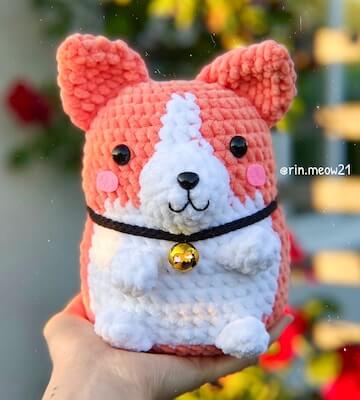 Get the Pattern by Rinmeow 21 here

5. Corgi Cup Cozy Crochet Pattern by Hooked By Angel
This dog lover's pattern is designed to delight Corgi dog lover's, and to add some paws-itivety to their cup. Make this cup cozy pattern for yourself, or for any special Corgi dog owner.
You will never have so much fun crocheting, and it's a fun crochet dog gift. The recipient will love you fur-ever when they see their pup on a cup!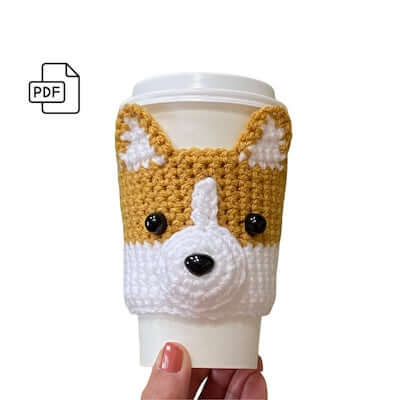 Get the Pattern by Hooked By Angel here

6. Mini Corgi Crochet Pattern by Fluffy Tummy
Known for their short legs and large ears, Corgis are an irresistibly cute dog breed—even beloved by the Queen herself! This mini Corgi includes a bandana and a lead for more four-legged fun!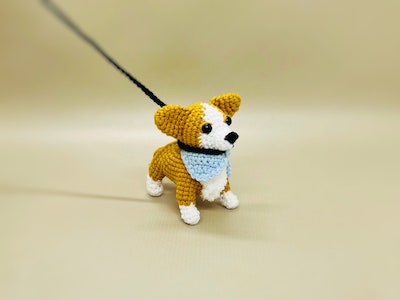 Get the Pattern by Fluffy Tummy here

7. Welsh Dog Free Corgi Crochet Pattern by Tatjana Ozolina
This Crochet Welsh Corgi Dog is as handsome as he is cuddly! Featuring a coat of white and golden fur and engaging eyes, this little crocheted dog is designed to be both realistic and lovable. Large ears and stout legs typical of the breed make this an accurate representation of a real Corgi dog and a black sculpted nose completes his look!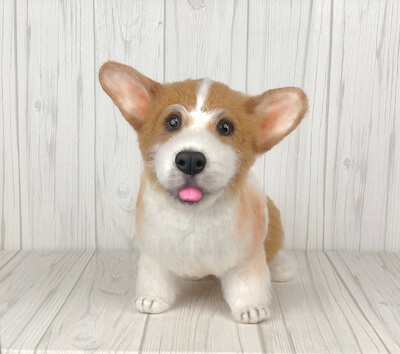 Get the Pattern here

8. Crowley, The Corgi Crochet Pattern by Critteriffic Crochet
Crowley, the Corgi dog is the cutest and cuddliest puppy there ever was! Create this amigurumi crochet dog pattern as an adorable standard single headed puppy, or add some magical fantasy and create the sweetest little three headed hellhound cerberus that will be sure to clear your pockets from treats in no time!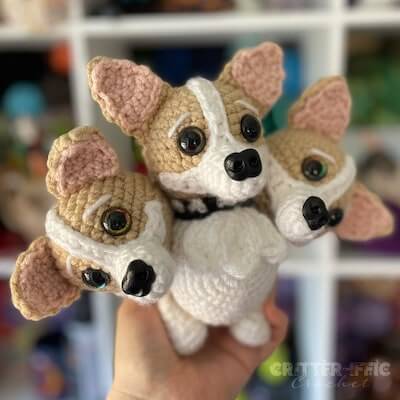 Get the Pattern by Critteriffic Crochet here

9. Oliver, The Corgi Crochet Pattern by Piki Craft
Treat yourself or a friend to a purse-sized corgi you can tote with you everywhere by following the instructions in this amigurumi pattern.
The pattern is easy to read and comes with instructions for added clarity. Use the colors suggested or pick out your own, a corgi would encourage you to be creative.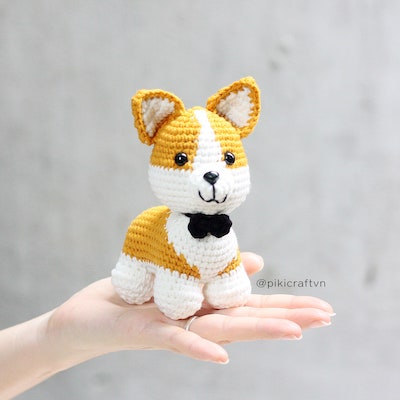 Get the Pattern by Piki Craft here

10. Corgi Applique Crochet Pattern by Little Bamboo Handmade
This darling Corgi Appliqué can be used for a wide variety of craft projects including card making, scrapbooking, craft embellishments, and sewing accessories. It can be sewn onto anything you desire!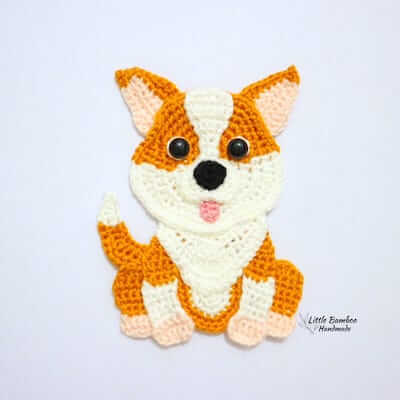 Get the Pattern by Little Bamboo Handmade here

11. Corgi Scarf Crochet Pattern by Crochetions By Shell
Wear your dog around your neck! Well, not really, but how about a soft, warm scarf inspired by your favorite breed? This scarf would make the perfect gift for a friend or even just for yourself to show your love for your Corgi!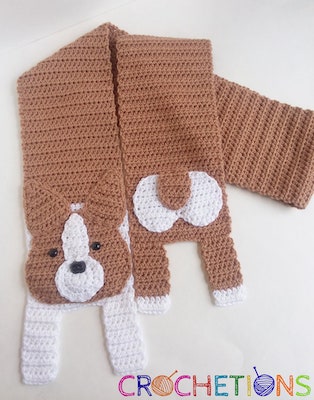 Get the Pattern by Crochetions By Shell here

12. Mini Corgi Amigurumi Crochet Pattern by Lenn's Craft
Just when you thought Corgis couldn't get any more adorable with their little legs and adorable ears and fluffy butts, in comes the Mini Baby Corgi!
With even shorter legs and floppier ears! Don't be fooled by their mini nugget forms, a pile of these Mini Corgis is a fluffy whirlwind of cute madness!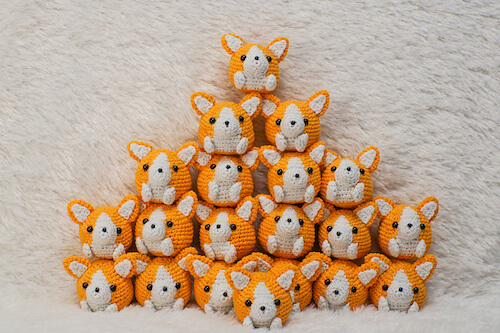 Get the Pattern here

13. Corgi Amigurumi Pattern by Miles Of Crochet
It's hard not to appreciate the cuteness of a corgi. Those big ears, stubby legs, and fluffy little rumps—they're just too much! Luckily, with this pattern you can crochet your own cuddly corgi pups!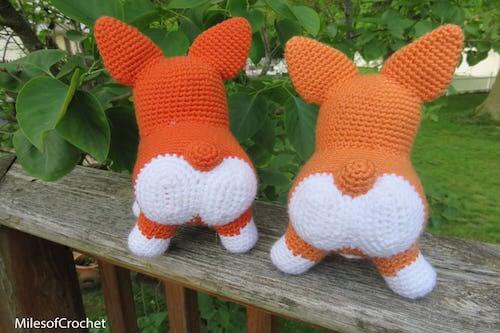 Get the Pattern by Miles Of Crochet here

14. Bookmark Crochet Corgi Pattern by Whitney Lemme
You'll start reading more when you have a corgi that greets you every time you open your favorite book. This bookmark comes out to be about 10.5 inches long and uses super fine weight (1) yarn so it lays nice and flat between the pages of a book!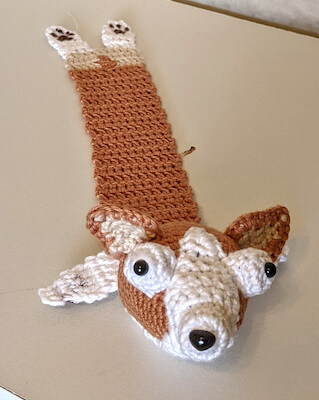 Get the Pattern here

15. Corgi Butt Crochet Pattern by The Art Otter
Corgis love to strut their butts and you can pay homage to that by making a Crochet Corgi Butt Keychain! Take your love for corgis wherever you go, once cute butt at a time!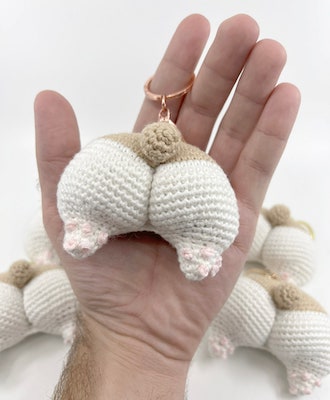 Get the Pattern by The Art Otter here
YOUR CORGI LOVING SELF WILL FALL IN "LOAF" WITH ANY OF THESE DELIGHTFUL CORGI CROCHET PATTERNS.
We would love to see how your doggies come out – please post a pic in our Facebook Page. We'd love to see your creations if you're willing to share!
Prepare to embark on your yarn journey to the world of crocheted animals with more animal-themed crochet patterns!
Or if you fancy using your crochet skills to spoil your very own pooch, then we've got some must-make projects for you!
Corgis are just too pure and good for this world. Make the corgi lover in your life one of these corgi crochet patterns to support their obsession. Happy crocheting!