Do you love the look of ribbed knitted beanies, but don't enjoy knitting? If you like crochet, I've got the perfect crochet ribbed beanie patterns to add to your winter wardrobe! And while adding ribbing to your crochet hats may seem daunting, in reality, it is really very simple to do.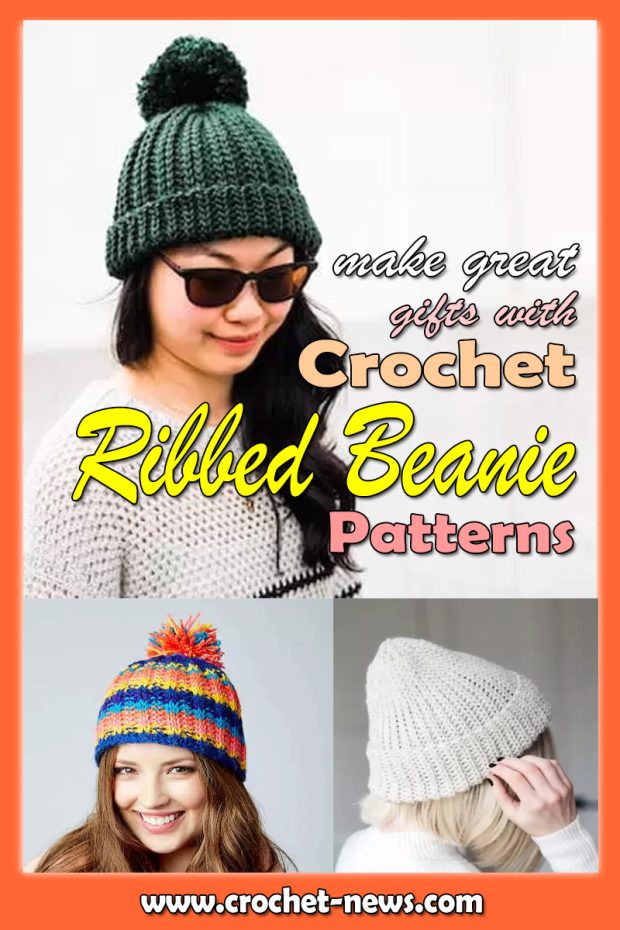 These patterns are crafted with easy-to-remember stitch patterns that resembles knit ribbing. The results are textured, stretchy fabric that functions like knit but crochets like a dream! Made with just one skein of yarn, they're a great project for beginners and advanced crocheters alike.

Don't forget, beanies make great gifts for the whole family! I love making these styles of crochet hats for everyone on my holiday gift-giving list!
10 Crochet Ribbed Beanie Patterns

1. Crochet Chunky Ribbed Beanie Pattern by For The Frills
Here's a simple, ribbed chunky crochet beanie that works up fast and has a modern knit-like look. This easy crochet beanie comes in 8 sizes ranging from preemie baby all the way to adult!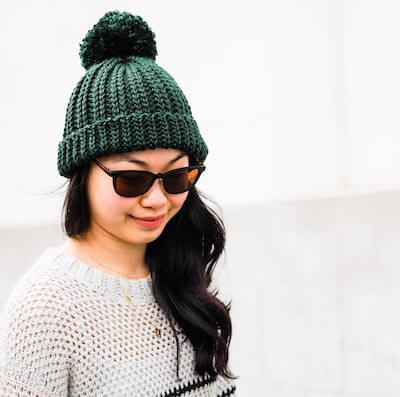 Get the Pattern here

2. Fisherman's Winter Ribbed Beanie Crochet Pattern by Dora Does
This Fisherman's Winter is a take on the classic fisherman rib beanie hat. It has incredible stretch and is seamed at the crown so it fits to the top of the head with no gather. The pattern includes instructions for 3 yarn weights, each in 4 sizes.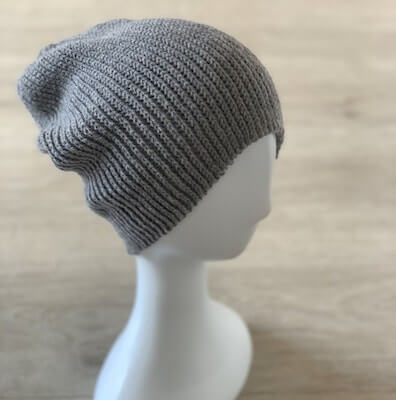 Get the Pattern by Dora Does here

3. Two Toned Crochet Ribbed Beanie Pattern by E'Claire Makery
Cozy, stylish, and perfect for everyone, this Two Toned Beanie is just the crochet winter hat that your wardrobe needs. Made by crocheting a rectangle, this crochet hat is a great beginner hat pattern. It works up in an hour or less, and makes a great gift or item for your markets! Plus it can be worn by both men and women!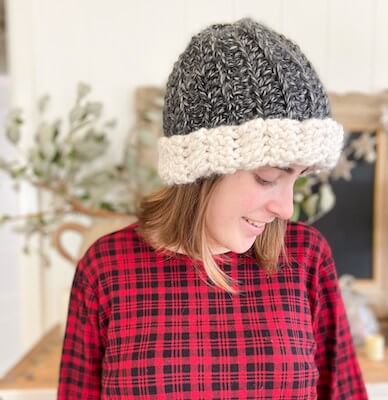 Get the Pattern by E'Claire Bakery here

4. Simple Ribbed Crochet Beanie Pattern by Yarnspirations
This cute crochet beanie is a stylish way to keep cozy. Worked flat using a combination of single crochet in the back loop only, plus half double crochet in the third loop, this toasty topper boasts a classic ribbed design that's easy to fit and comfortable to wear.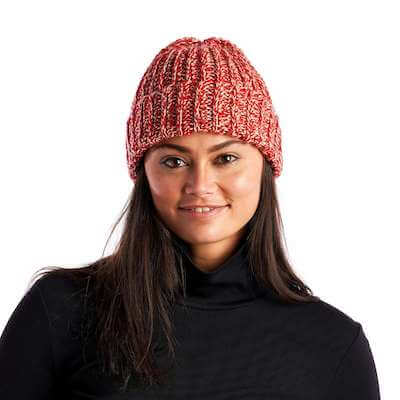 Get the Pattern here

5. Crochet Ribbed Slouch Beanie Pattern by Doraly Crochet
This Ribbed Slouch Beanie is a very simple, beginner friendly pattern. Using only double crochets and front-post double crochets, it works up fast, like a dream! It comes in one universal size, but there are instructions included if you need to make it larger. It is worked as a single piece, with no sewing needed.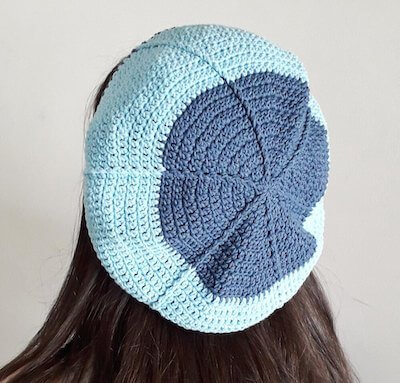 Get the Pattern by Doraly Crochet here

6. Madeline Beanie Crochet Pattern by Shehla Ahmed
Everyone loves a super chunky beanie and this ribbed crochet beanie is no different. It's thick, warm and the textured ribbed fabric works up quickly. The beanie is made in one piece and involved no shaping, unless you choose to add the optional band at the bottom. This is a one size fits all beanie because it's super stretchy and easy to wear.

The faux fur pom finishes it off ot you can opt for a regular yarn pom instead. Either way, this crochet beanie pattern is great for beginners, and it makes fun and easy holiday gift!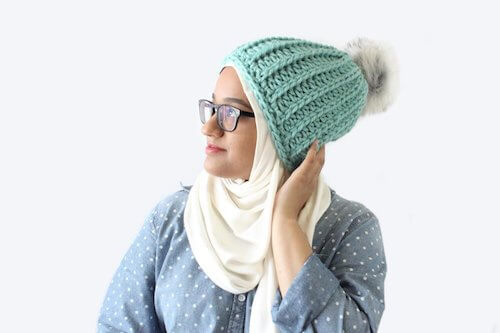 Get the Pattern by Shehla Ahmed here

7. Simple Crochet Ribbed Checker Beanie Pattern by Hayhay Crochet
This beanie is a nice. more subtle way to ease you way into the checkered trend. It's a very basic, simple beanie made up of mostly half double crochet.

These hats work up fairly fast and make great gifts for the upcoming holiday season, birthdays, etc.! I know I'm going to enjoy gifting a few beanies this winter season because they always make such good presents.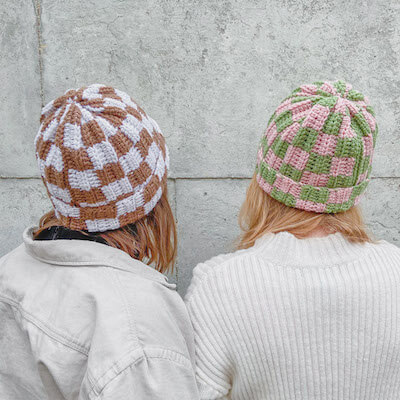 Get the Pattern here

8. Crochet Ribbed Cactus Beanie Pattern by Raffamusa Designs
Whether you're a plant lady waiting to happen, or just have a deep love of all things cactus, this Crochet Ribbed Cactus Beanie is enough to make you swoon without getting prickly! This is a fun hat with lots of texture and a cactus look.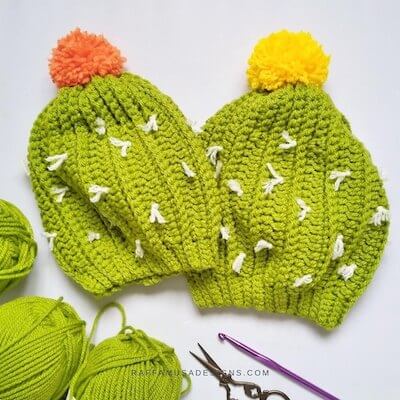 Get the Pattern by Raffamusa Designs here

9. Torbeck Beanie Crochet Pattern by De Brosse NYC
This Torbeck Beanie features a thoughtfully designed crown with the perfect decrease. Get all the stretch + texture of a knit project, with the speed + ease of crochet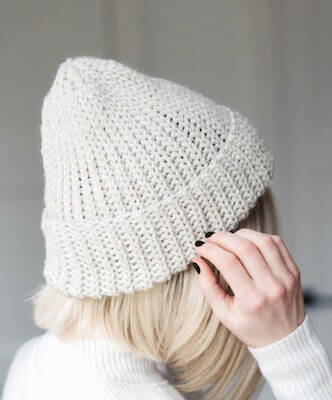 Get the Pattern by De Brosse NYC here

10. Tunisian Ribbed Hat Crochet Pattern by Yarnspirations
Discover this vibrant beanie using the Tunisian crochet technique. If you've never tried Tunisian crochet, this project is a great one to get you started.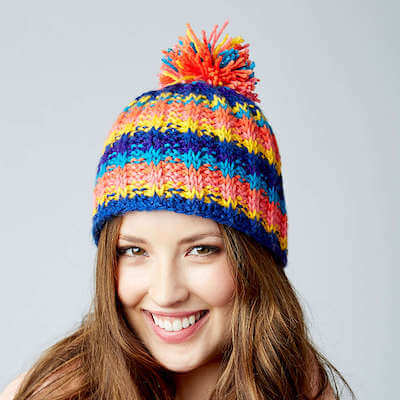 Get the Pattern here
POP YOUR NEW CROCHET RIBBED BEANIE ON YOUR HEAD AND GET TO WORK ON MAKING ONE FOR EVERYONE YOU KNOW!
If you do make one of these, please share a picture on our Facebook page. We're itching to see you in it!

Looking for more crochet hat patterns? From messy bun hats to bucket hats, we've got lots more ways to keep your head covered. If you loved these patterns, here are some more modern crochet hat patterns to try out!
If you love the look of knitted hats but don't know how to knit, give these crochet ribbed beanie patterns a go! Happy crocheting, y'all!