Whether you're looking for quick and easy crochet patterns to make for Valentine's Day or just need to add a dose of cuteness to your crochet projects, look no further than these crochet heart applique patterns!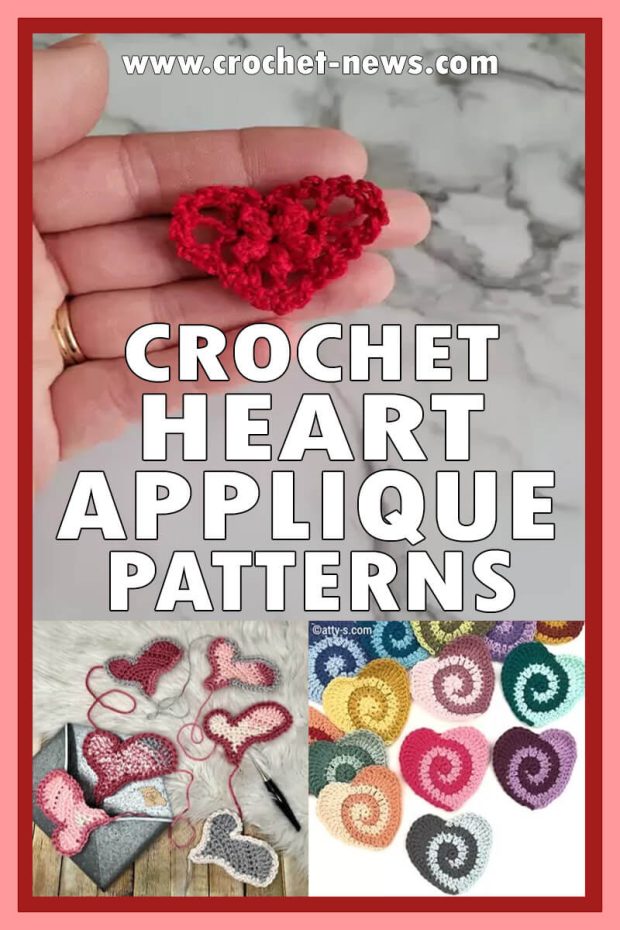 Nothing shows your love quite like a crochet heart! Whether you're using it on a card, making a brooch, or embellishing an outfit, hearts are a simple crochet shape that are easy to hook up. Ready to fall in love?
15 Crochet Heart Applique Patterns

1. Crochet Broken Heart Applique Pattern by Eye Love Knots
This Valentines, share your heart with your besties or show broken hearts can be mended with this delightful Crochet Broken Hearts Pattern! Broken hearts can be crocheted as appliqués for greeting cards, as keychain/backpack fobs, or as friendship necklaces.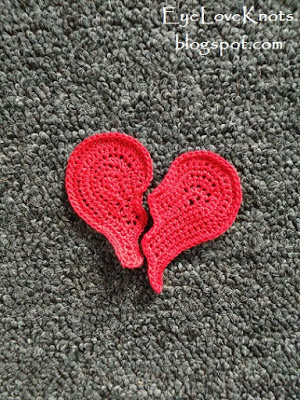 Get the Pattern here

2. Easy Crochet Heart Applique Pattern by Loops And Love Crochet
These crochet hearts work up quickly and are fun to make! You can make them in any colors depending on the theme you're going for or the time of year.

I love adding heart appliqués to my crochet patterns year round, but if you make them in red and pink, they are also perfect for Valentine's Day!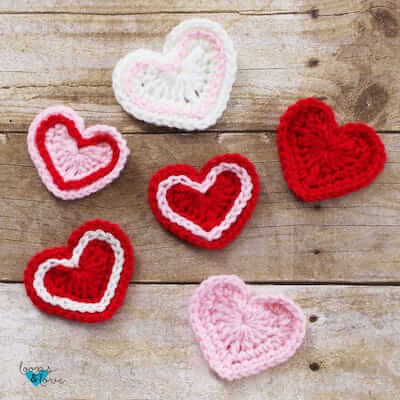 Get the Pattern by Loops And Love Crochet here

3. Heart Applique Crochet Pattern by Crafty Kitty Crochet
These heart appliqués are quick and easy embellishments that you can crochet in just a couple of minutes and with some scrap yarn.

These are perfect to make Valentine's Day cards, gift tags, or to add a cute finishing touch to your baby items, accessories, blankets, or really, any project!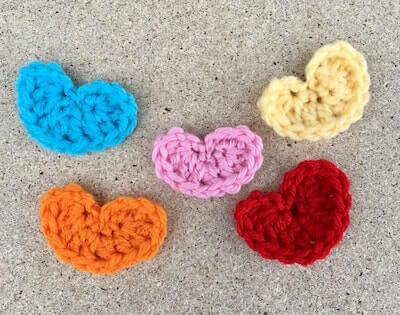 Get the Pattern by Crafty Kitty Crochet here

4. Vintage Crochet Hearts Pattern by Annie Design
Turn your crochet hearts vintage this Valentines Day with this easy crochet heart pattern with a beautiful edging. These hearts have such a nostalgic feel and make up so quickly and easily you won't stop making them.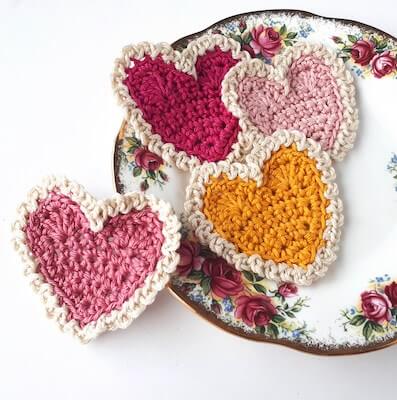 Get the Pattern by Annie Design here

5. Crochet Heart Motif Pattern by Irina Mulyavko
This small crochet heart appliqué uses a variation on the corner-to-corner crochet stitch to create a heart with a top that looks a little bit like a bow. This is perfect for gifting; add a magnet or pin back to turn it into a simple gift. Use different yarn weights to create hearts of varying size.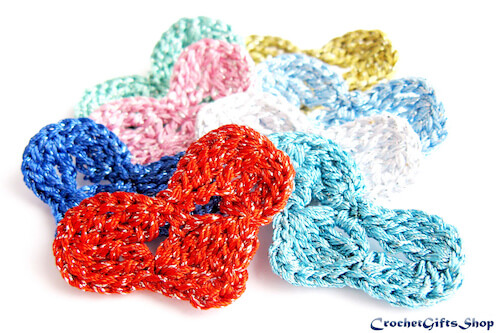 Get the Pattern here

6. Easy Crochet Heart Pattern by Repeat Crafter Me
Here's an absolutely easy crochet heart pattern that's worked in straight lines, using single crochet for those that find working in the round difficult.

You could use them as an appliqué on a hat, scarf, for a hair clip, garland, gift topper, or sew two together and stuff lightly for a puffy heart!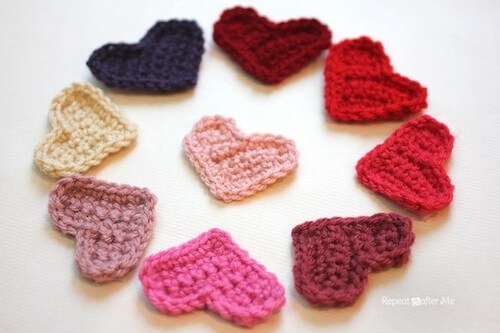 Get the Pattern here

7. Key To My Heart Applique Crochet Pattern by Golden Lucy Crafts
These adorable appliqués definitely are the keys to my heart! This is such a clever and cute design. You can make this quick and easy crochet project using just single, half double, and double crochet stitches. I think it would look especially adorable on a handmade card.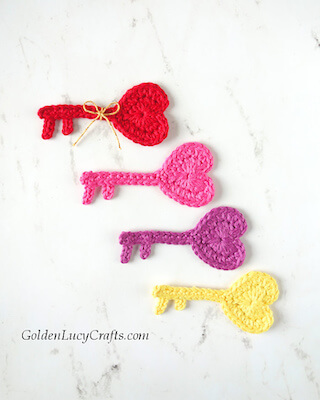 Get the Pattern here

8. Crochet Wonky Heart Applique Pattern by TL Dot Crochet
This Crochet Wonky Heart Applique is such a cute addition to a pocket, patched added to jeans, make a garland, wreath, wall hanging, or whatever your Wonky Heart desires! Have fun with it!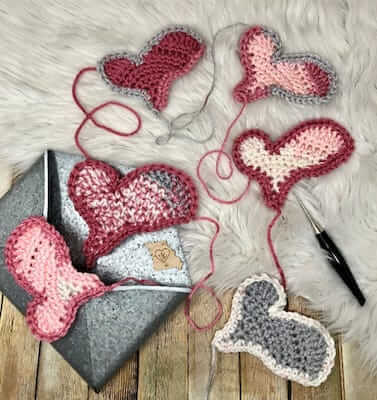 Get the Pattern by TL Dot Crochet here

9. Crochet Swirly Heart Pattern by Atty's
I think this year we all need a little extra love! Use this cute Crochet Swirly Heart to embellish jeans, bags, scarves, wedding notions, or any other project where love abounds.

Begin with shades that spark your creativity or in your loved ones' favorite colors just to show them you appreciate them.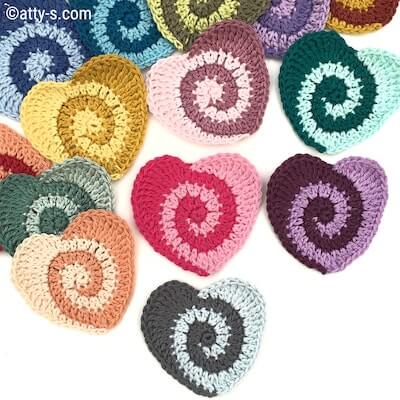 Get the Pattern by Atty's here

10. Crochet Heart Applique Pattern by Ana D Design
This Crochet Heart Applique Pattern is a quick and easy beginner's project and it's made in two rounds only! If you are beginner this is a perfect project to level up and learn some new stitches as puff stitch and cluster stitch.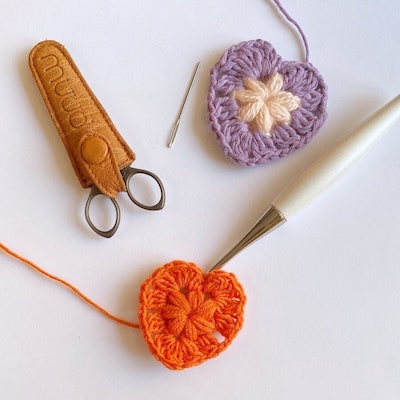 Get the Pattern by Ana D Design here

11. Little Lacy Crochet Heart Applique Free Pattern by Jennifer E. Ryan
This small crochet heart motif is quick to make and uses a small amount of yarn. It features some textured stitches in the center (that look like a flower) and some taller lacy stitches around the flower to give it the signature heart-shape. You can make one of these crochet hearts in just about 5 minutes!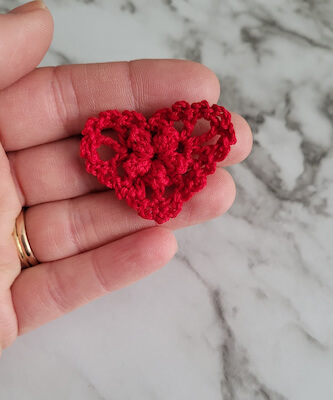 Get the Pattern here

12. Crochet Mini Heart Applique Pattern by Milimagfa Shop
These sweet little crochet hearts are begging to be made into a Valentine's Day garland to decorate your house, don't you think? They'd also make cute crochet appliqués to add to clothing, bags, or other accessories.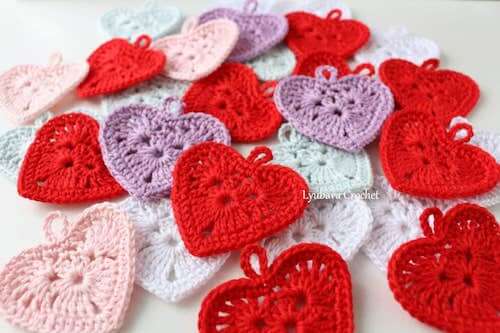 Get the Pattern by Milimagfa Shop here

13. Crochet Color Burst Heart Pattern by ATERG Crochet
With the color burst design, these crochet hearts are just stunning! You'll have so much fun choosing different color combinations to try. And since you only use a little of each color yarn, it's a great project for stash busting.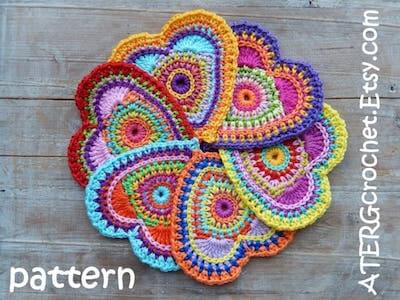 Get the Pattern by ATERG Crochet here

14. Crochet Heart Flowers Applique Pattern by Golden Lucy Crafts
Crochet flowers made of hearts? What more could you want! This makes a fun little project for yourself or a cute gift for someone special.

The flower is made up of 5-6 medium hearts and 2 for the petals, as seen below. Crochet all in one color or multiple, depending on how you are feeling.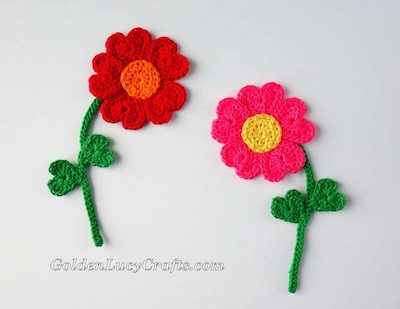 Get the Pattern here

15. Tunisian Heart Crochet Applique Pattern by Cheryl Dee Crochet
These adorable little hearts are small enough to be worked with a standard crochet hook—no Tunisian crochet hook required!

Use them as clothing patches or appliques on tote bags, hats, baby blankets, scarves, and other items. Make several and connect them with a ribbon or yarn chain to create a festive garland or wall hanging.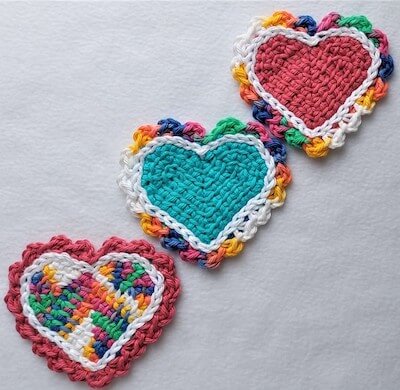 Get the Pattern here
HOOK A UP A BUNCH OF THESE ADORABLE CROCHET HEART APPLIQUE PATTERNS!
What will you use these cute little hearts for? Leave me a comment below or share photos of your finished projects on our Facebook Page — your creativity is our biggest inspiration!
If you fancy hooking up some more lovely makes that are perfect for Valentine's day, then check out the patterns below. There's plenty of cute crochet projects to try!
I hope you've enjoyed these crochet heart appliqué patterns! Whatever you are planning for Valentine's Day, make sure there's a little handcrafting involved!