This Sweet and Classic Corner to Corner Baby Gingham Crochet Blanket Pattern will be a darling blanket to any room – use it as it is or as a throw blanket!
If you are a beginner and new to crocheting, you will love this Corner to Corner Blanket Gingham Crochet Pattern, because of its clear and comprehensible steps!

Whether it is a preparation for your own baby or your gift for an upcoming baby shower, this gingham blankets crochet pattern is pretty perfect for you!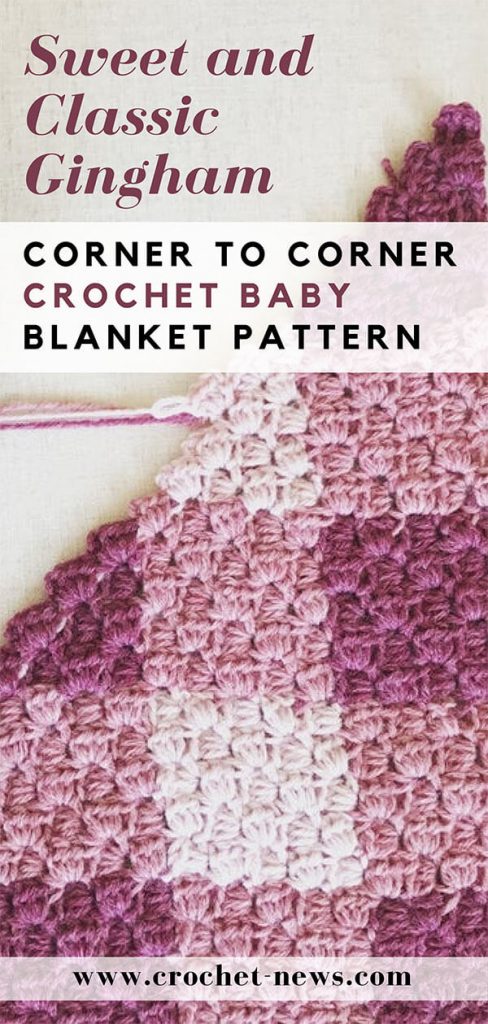 ABOUT THE BABY GINGHAM C2C CROCHET PATTERN BLANKET DESIGN
Karla Wren, the owner of Karla's Making It, was the one who designed this precious C2C baby blanket. She used three color shades of the flower named Heather which are Dark Rose Heather, Rose Heather, and Blush Heather.

Though the sample product was created for a baby girl, you can always choose the color/s of the baby blanket you will knit, depending on the gender of the baby you are giving it to.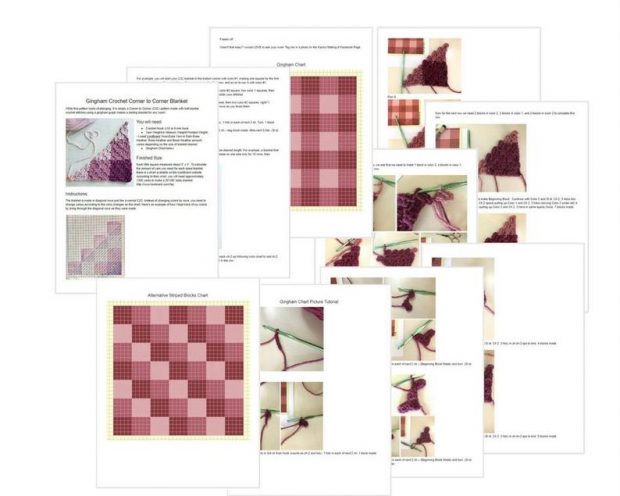 Once you've downloaded the pdf, you will get 10 pages of instructions. It provides 2 graphs and a picture tutorial that makes it easier to follow. The pattern also provides a Gingham chart as extra help in understanding the entire crochet.

If you are not familiar with a C2C graph, it is like a grid, and each box in the grid represents every stitch on your needle; therefore, it serves as your pattern.

MATERIALS NEEDED
The following are the only materials needed to create a Gingham Corner to Corner Blanket:
Hook – a J/10 or 6-millimeter crochet hook
4 pieces medium/worsted weight yarn – Specific yarn used is LionBrand Wool-Ease Yarn in the colors: Dark rose heather, rose heather and blush heather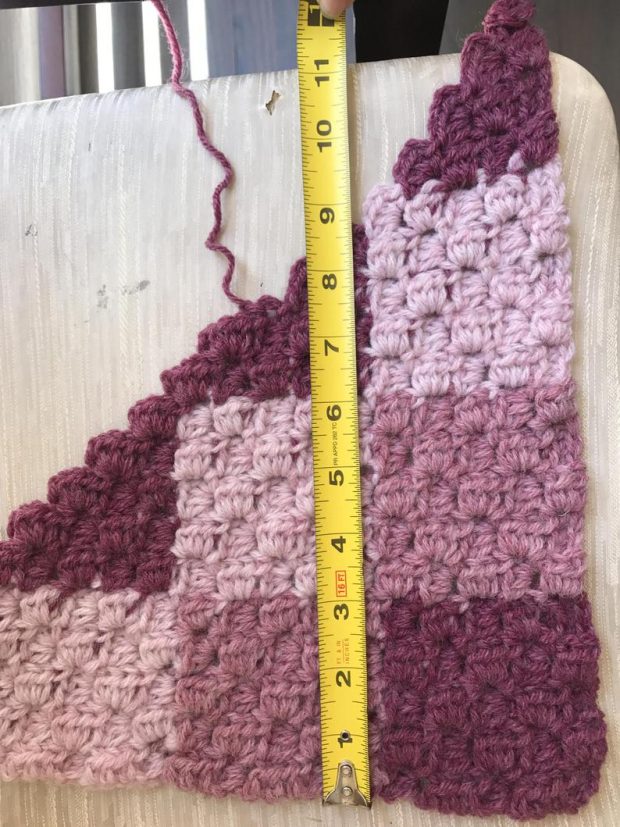 FINISHED SIZE OF THE BLANKET
Approximately 1300 yards are needed to make a 20×30 inch baby blanket. Each size of the blanket has its approximate amount of yarn.

WHAT YOU NEED TO KNOW BEFORE YOU START
What stitches will be used?
This corner to corner pattern is made with half-double crochet stitches. You just have to repeat the same stitch in the crochet over and over until you achieve the size you desire.
It looks hard to make…
This pattern is easier than how it actually looks. It may seem complicated, but it is absolutely not.


How long will this take me?
Since the pattern is so easy and there are only repetitions that you have to work on, you can definitely finish it over the weekend! No time will ever waste when you start crocheting the baby blanket. It is totally enjoyable and will not bore you at all!

WHY IS IT A PERFECT GIFT FOR BABIES?
Unlike any other material things, this crocheted blanket is something babies can use every day for years. It is washable, easy to bring, and most importantly— it is a baby's necessity.

These cute little babies will surely love the warmth this blanket is going to give them! Its warmth and coziness can also be felt by other babies (perhaps their siblings or cousins) when the baby who originally owns it grows up.

What are you waiting for? Make the babies feel your hugs through this Sweet and Classic Gingham Corner to Corner Crochet Baby Blanket Pattern, with the help of this beginner-friendly pattern!