A crochet project isn't truly finished until the perfect crochet edging pattern is added. Crochet borders smooth out uneven edges, add a polished finish, and add a touch of style.

Crochet border patterns, with variations such as lace or a crochet shell edging, can range from simple to complex and can add significant length to your design or simply create a clean edge. Crochet edgings aren't just for finishing projects; adding a border to a hand towel or pillowcase adds so much charm!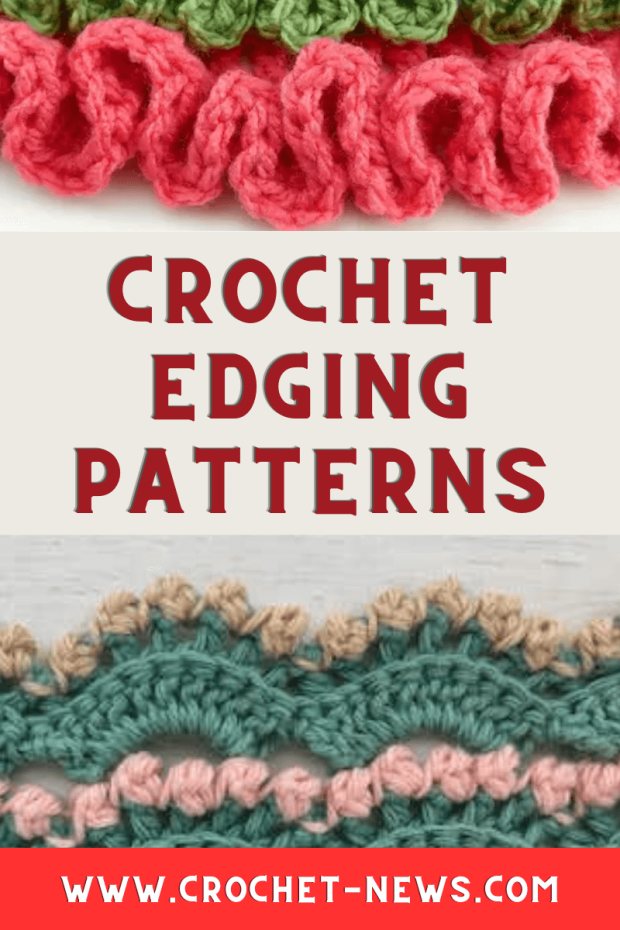 25 Crochet Edging Patterns
Though seemingly an obvious decision, your choice of edge stitch can really make your crochet projects pop. When working or designing parents or accessories, you should know your options. Read on for some ideas below.

1. Crochet Crab Stitch Border by Joy Of Good Knit Kisses
The Crab Stitch is a unique crochet edging that adds a bumpy rope-like texture to almost any crochet project. It's unique because you work the stitch backwards. This border works best when worked after a full round of single crochet stitches. When adding this edge to an existing project it's best to work one full round of sc before adding the crab stitch.

The crab stitch is a narrow knotted border. Work it in the same color as your single crochet round for a wider border. Or crochet it in a contrasting color to make it stand out.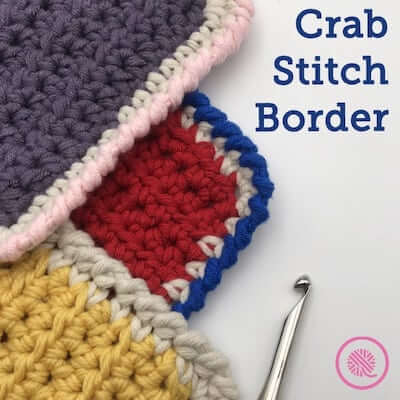 Follow the tutorial here

2. Crochet Pom Pom Border by Daisy Farm Crafts
This is a fun border for all sorts of projects! Don't be afraid to give it a try, the pom pom are just 2 clusters slipped stitch together to form a little ball. Blankets, coasters, mug rugs and home décor, they could all go from snore to a festive atmosphere with a Crochet Pom Pom Border.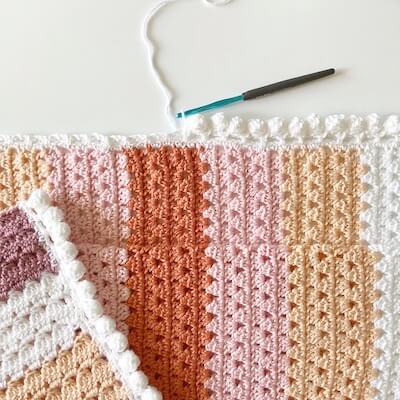 Follow the tutorial here

3. Berry Stitch Crochet Edging by Made By Gootie
Do you like bobble stitches? If you do, you are going to love the berry stitch! This stitch is a better looking versionof the bobble stitch, it creates a rounder and more tight little bobble stitch.

The pattern forms a mini bobble border stitch, or puff border. It's a beautiful and unique border to add to blankets, potholders, or garments.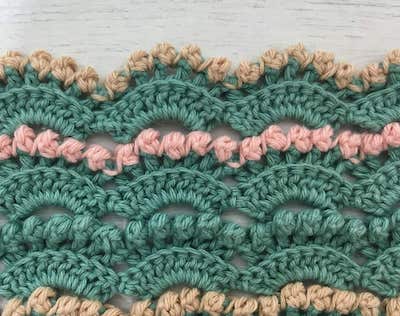 Follow the tutorial here

4. Crochet Ruffled Edging Pattern by Fiber Flux
Ruffles are a fun and easy way to add some beautiful texture edging to any crochet project. Worked in simple stitches, you can add them to the bottom of a skirt, a blanket, garment and lots more!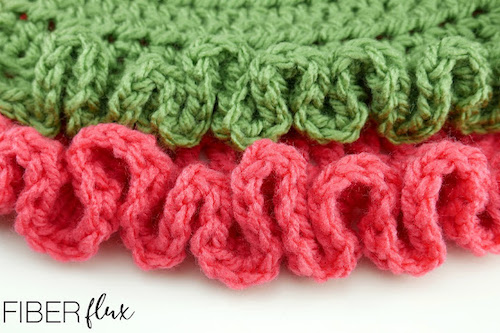 Follow the tutorial here

5. Crochet V-Stitch And Picot Edging Pattern by The Spruce Crafts
This free crochet edging pattern uses the V-stitch in combination with picots to create a unique border. It works exceptionally well around openwork designs, including those that make use of V-stitches, but is a versatile border for everything from crochet blankets to cardigans.
Follow the tutorial here

6. Crochet Flower Border Edging Pattern by Naztazia
Ever want to know how to make a cute 3D flower that is incorporated into a border edging for a blanket, scarf, shawl, and more? It's a lot easier than you think!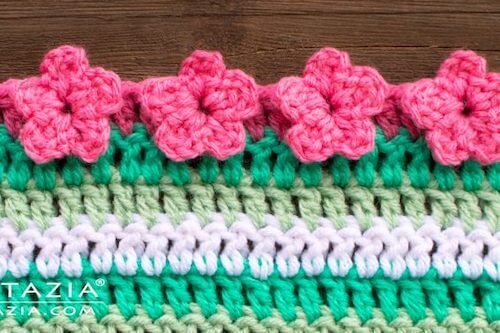 Follow the tutorial here

7. Treble Scallop Crochet Edging Pattern by Cypress Textiles
Fancy a fancy crochet edging that takes scallops to the next level? Then try this Treble Scallop Crochet Edging Pattern. With it's gorgeous treble and picot shells it'll add a whole extra level of sophistication to your crochet projects.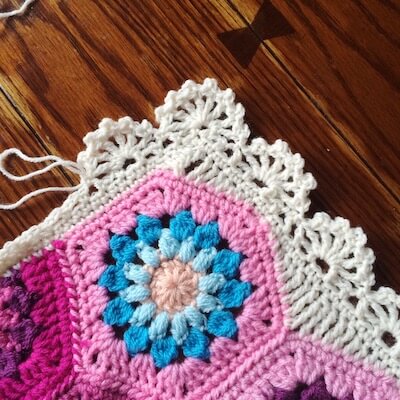 Follow the tutorial here

8. Rib Crochet Border by Winding Road Crochet
Sometimes simple crochet edging patterns will suit your projects much better than an overly complicated pattern, and this free simple Rib Crochet Border Pattern is great for framing your crochet masterpieces with that lovely tactile rib stitch!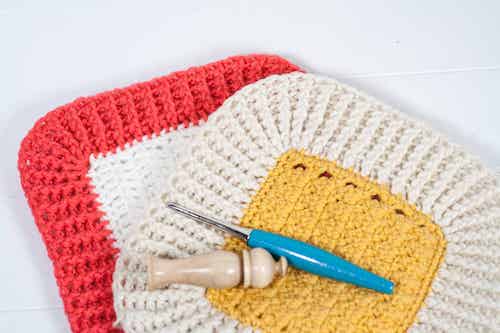 Follow the tutorial here

9. Crochet Little Stars Border by Raffamusa Designs
This "Little Stars" Border is made with many little crochet stars and it is perfect for your Christmas and holiday projects, baby blankets, home decor items, and much more.

Worked in a similar way to the more known heart and flower borders, this crochet edging can be a nice little addition to your crochet border library!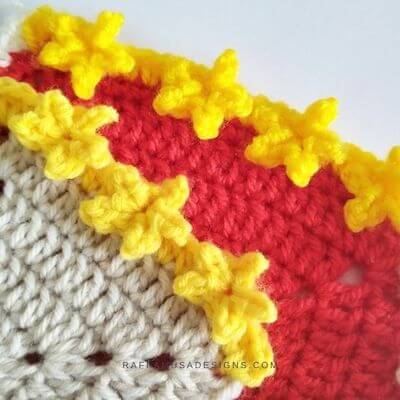 Follow the tutorial here

10. Crochet Bow Edging by My Picot
Whether you're making a special baby blanket or just want to jazz up your crochet projects, things always look better if you put a bow on it! This clever pattern will add a lovely pictorial element to your crochet designs.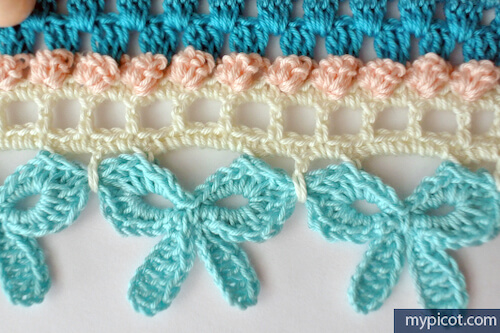 Follow the tutorial here

11. Bobble Shell Stitch Crochet Border by Nana's Crafty Home
Here's a fun little border that would work well with a variety of different projects. Very simple, elegant and pretty – it creates just the right amount of texture and visual interest. Perfect for a simple blanket edging.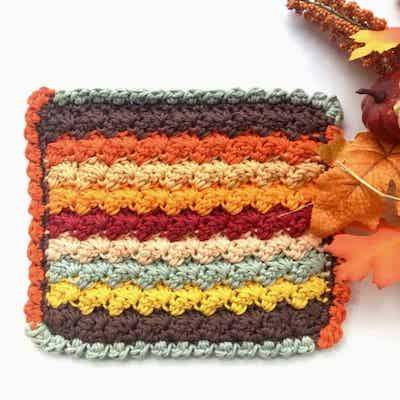 Follow the tutorial here

12. Easy Crochet Rolling Fans Border Pattern by Crafting Happiness
This Rolling Fans Border is constructed with overlapping shells of double crochet stitches crocheted around the border, each 3 stitches wide. It doesn't require a special pattern for corners and that makes it a beginner-friendly pattern that can be adjusted to any project.

It works great for any kind of edge, from square and rectangle projects such as blankets and afghans, to triangle edges such as shawls or straight edges such as scarves. You can even crochet it on a round edge such as a dress.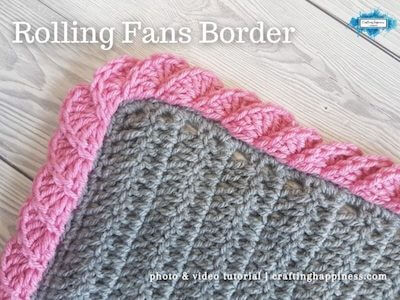 Follow the tutorial here

13. Crochet Windows Border by Moogly
This Windows Border is an easy two round pattern that can work with just about any pattern, but it is particularly suited when you're bordering squares or blocks that have been joined by one of the "loopy" methods, where chain loops are made all the way around the square.

I think it looks like little windows with pretty curtains — but the modern, graphic style will work with tons of patterns!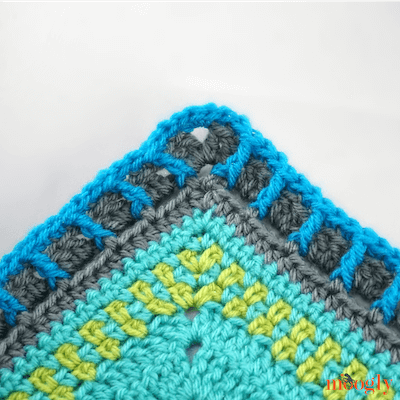 Follow the tutorial here

14. Crochet Pumpkin Patch Edging by Fiber Flux
Here is a cute edging for your fall festivities — a crochet edging with sweet little pumpkins in a little row! It is super simple and fast, you can have your own pumpkin patch in no time! Suitable for chunky yarns or lighter weight yarns too, experiment to see what you like best!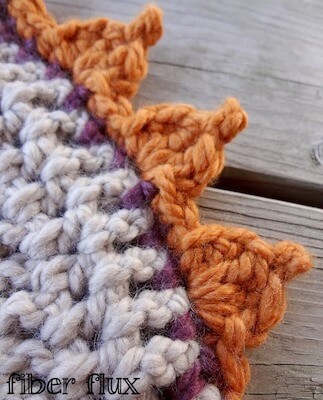 Follow the tutorial here

15. Crochet Blanket Stitch Edging by Gathered
You may have heard of blanket stitch in reference to sewing or embroidery, but that same stitch is also how you can add crochet edgings to all sorts of woven fabrics.

It's an embroidery stitch that is surprisingly simple, and once you've added the embroidery you can work a simple row of double crochet stitches which will enable you to add all sorts of fancy crochet edging!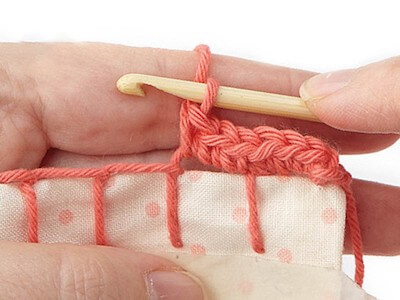 Follow the tutorial here

16. Crochet Scalloped Edging by Moogly
Scalloped Edging or Shell Stitch Border is easy, feminine, and adds just the right touch to blankets, hats, little girl's dresses – the applications are endless! Making this edging is an easy way to give a knitted or crocheted item a pretty finish without looking too fussy.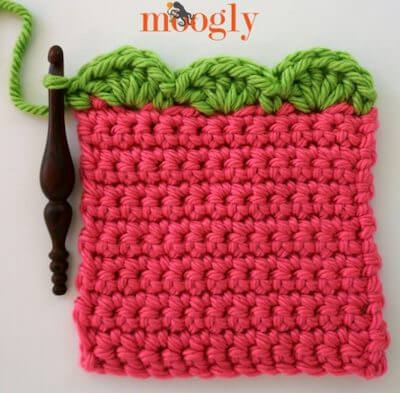 Follow the tutorial here

17. Crochet Candy Cane Border by Repeat Crafter Me
Do you have any Christmas projects on your hook yet? It will be here before you know it! This fun candy cane border uses single crochet and chain stitches in alternating colors to get this fabulous and festive effect.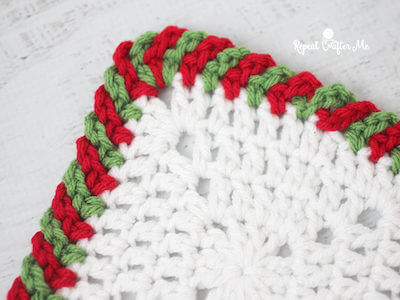 Follow the tutorial here

18. Mini Heart Crochet Border Pattern by Baking Outside The Box
How cute is this crochet edging pattern? These little hearts would look so sweet on a baby blanket or a shawl, or even a table runner! I could even see them as 'fringe' at the bottom of kitchen towels. The possibilities are endless with this one.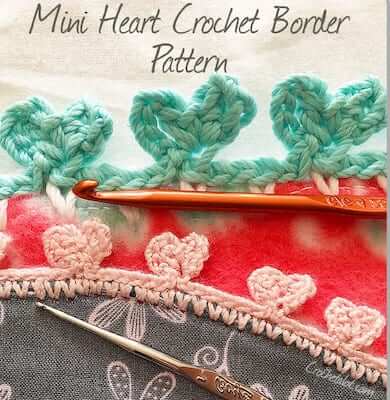 19. Crochet Granny Edging Pattern by Petals To Picots
Who doesn't love crocheting a good granny square? The best part about this granny crochet edging is how simple it is and how perfectly it fits with your granny design!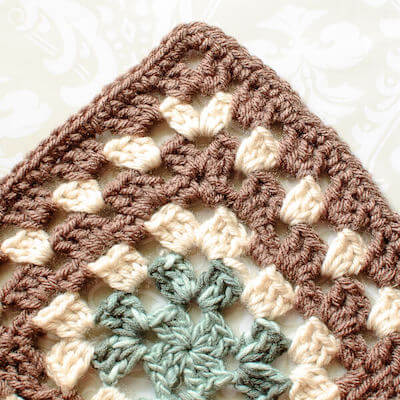 Follow the tutorial here

20. Crochet Bobble Edging by Lullaby Lodge
If you are looking for an edging that is both perfectly pretty and super simple, then this is the one for you. It's great for those blankets that you want something a little less girly around the edge. This is one of my favourite go to borders and is so, so simple, making it perfect for beginners.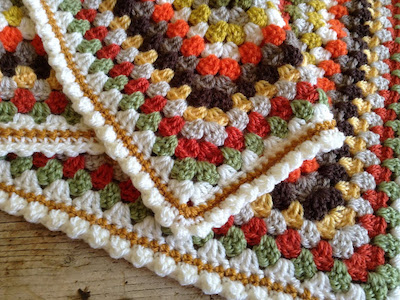 Follow the tutorial here

21. Crochet Moss Stitch Border by Every Trick On The Hook
This simple Moss Stitch Border adds a touch of soft texture to any project. It's perfect for framing afghans of all sorts without distracting from the main piece.

It's extremely flexible! You can start with any four sided piece with any stitch count and you can repeat the pattern to make as wide or narrow of a border as you like.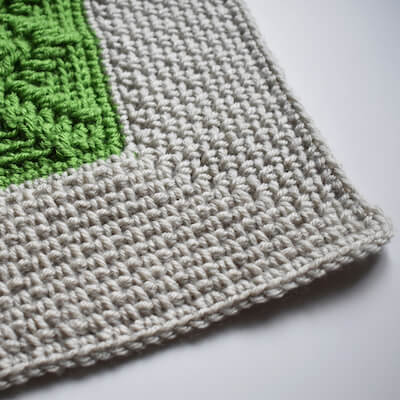 Follow the tutorial here

22. Elephant Parade Crochet Edging Pattern by Allyssabeth's Crochet
This Elephant Parade Crochet Edging has got to be the most unique pattern of edging of all. This pattern will be a perfect border of any baby cover and can also be used as a decorative motif in children's wardrobe.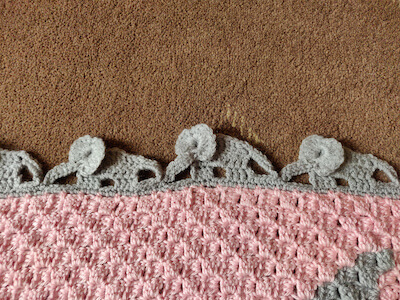 Follow the tutorial here

23. Wavy Shell Stitch Crochet Edging Pattern by Naztazia
Here's a nice 3D wavy shell stitch border edging. This crochet pattern works great on the edge of baby blankets, afghans, shawls, scarves, and more. It is created by making several double crochet stitches in a ring on top of a solid double crochet border. These clusters form a 3D wave or ripple effect.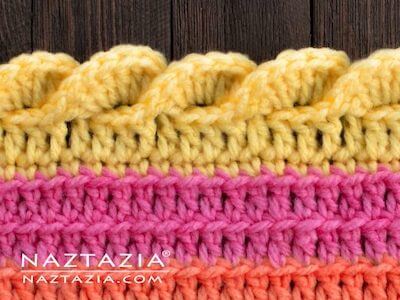 Follow the tutorial here

24. Whipsiderry Border Crochet Pattern by Look At What I Made
Here's another amazing pattern which features an incredibly detailed and elegant design that is made up of cleverly arranged simple stitches, as well as some lovely textured popcorn stitches, too!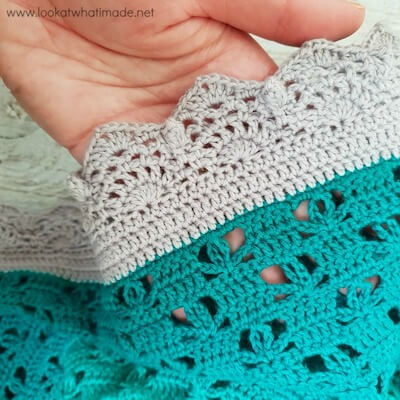 Follow the tutorial here

25. Single Crochet Border Edge by Dream A Little Bigger
Hate when you finish a crochet project to see wonky edges? A Single Crochet Border Edge is all it takes for a clean, simple finish on your crochet projects!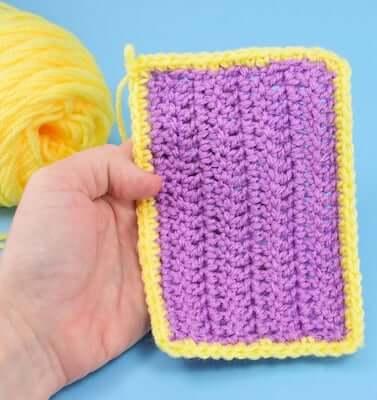 Follow the tutorial here
Crochet Edge Patterns Frequently Asked Questions
What is edging in crochet?
If you're not familiar, crochet edging is a finishing technique that often takes the form of a crochet border and gives your design a polished, finished appearance.
Crochet edging can elevate a design or change the overall look of your project. Edging can be wide or narrow, straight or ruffled, or anything in between.
What's the easiest crochet edging?
The easiest crochet edging to make is single crochet. You can switch colors if you want, or you can continue working with the same yarn you've been using without having to join a new yarn.
Another basic stitch, such as half double crochet or double crochet, could be used for a more basic edging. Even if you only use one of these simple stitches, your finished project will have a much neater finish.
What's the prettiest crochet edging?
The prettiest crochet edgings have a scalloped or lacy edge, such as shell stitches and picots. These techniques are simple to learn and add a delicate touch to your project.
How do you finish crochet edges?
You will fasten off at the end of the round when working an edging around your finished piece. Because this can sometimes result in a knot, I've discovered that the best way to finish crochet edges is to work the invisible join – pull the last stitch through the loop, then thread it through a yarn needle.
Weave the yarn down into the original loop after passing it through the next stitch. This will help it blend seamlessly.
WHETHER YOU ARE SEARCHING FOR THE PERFECT CROCHET EDGING FOR YOUR NEW GARMENT, ACCESSORY, OR BLANKET, YOU'LL SURELY FIND THE PERFECT BORDER IN THIS LIST.
Let me know which one your are going to use by leaving a comment below or showing me your work on our Facebook Page. I can't wait to see your makes!

If you're looking to add a new repertoire of stitches to go with these fabulous crochet edging patterns, you have to check out our Crochet Stitch Tutorials. You'll have all the stitches you need to crochet anything you've ever wanted to.
Here are some more crochet patterns that you may be interested in.
Whip up your favorite crochet edging patterns today and give your crochet projects a sophisticated finish. Happy crocheting, friends!