I think crocheting is a lot of fun. There are so many types of projects you can make. But sometimes, once a project is complete, it feels like it needs something more. This is where knowing how to make crochet fringe comes in handy. It is an easy technique that will add a finishing touch to your project.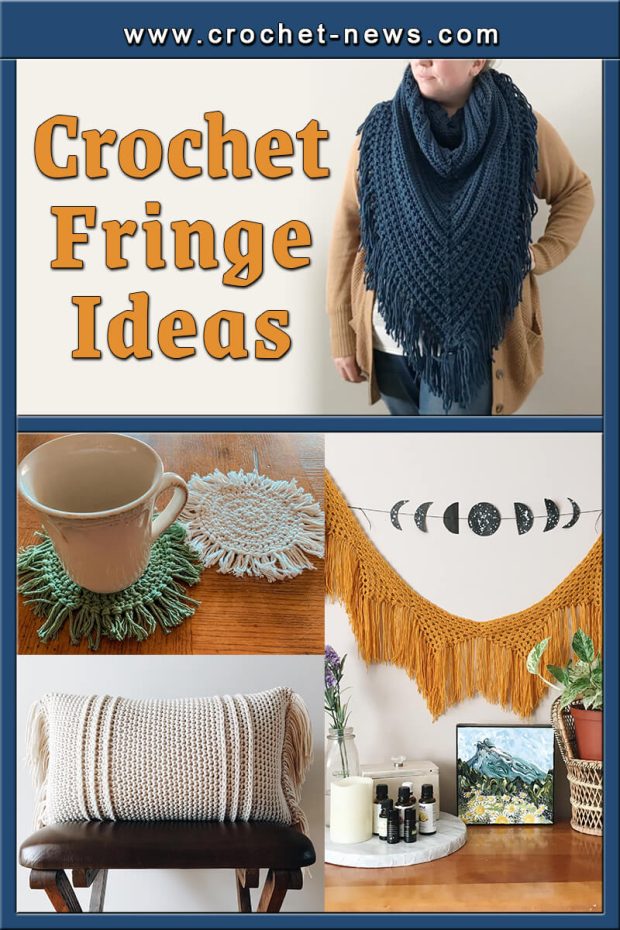 What Is the crochet fringe?
Fringe is a decorative feature often added to crochet projects. It is usually added to the border, however, it can also be used in other areas of a project. Fringe usually consists of two or more pieces of yarn that are held together and attached to stitches. Fringe can be straight or twisted.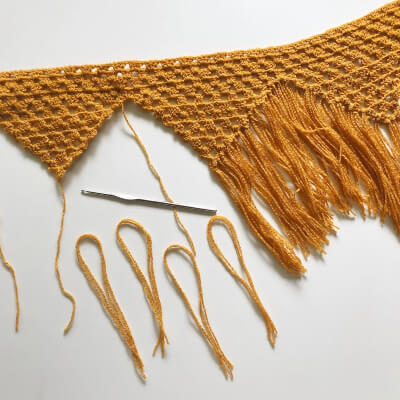 Projects That Often Use Crochet Fringe
You used to be able to find fringe on just about everything. But for a while, the trend seemed to be going away. Do not worry, it is making a comeback. And it is super easy to add to your finished projects.
Some projects you will find crochet fringe added to are:
Blankets
Scarves
Cowls
Coasters
…and More
Learning the Basics of Creating Crochet Fringe
Just as with most crocheting techniques, crochet fringe can be created using several different methods. Below you will learn an easy way to create crochet fringe.
Crochet Fringe Tutorial:
1. Determine how long you want the fringe to be.
2. Cut your yarn pieces twice as long as the length of the fringe. So, if you want your fringe to be 5 inches (12.7 cm) long, cut the yarn 10 inches (25.4 cm).
3. Hold two pieces of cut yarn together, side-by-side.
4. Holding the pieces together, fold them in half, creating a "U" shaped loop in the centre.
5. Take your crochet hook and insert it into a stitch along the edge of your crochet project.
6. With the hook, grab the loop and pull it through about 1 inch (2.54 cm).
7. Remove the hook and pull the tails of the fringe through the loop. You can also use the hook to pull the yarn through if that is easier for you.
10 Patterns that Incorporate Crochet Fringe
Adding fringe is a great way to add a final touch to a project. It is often used on scarves and shawls, but you can use it on a wide variety of projects. Below you will find 10 fun projects that use crochet fringe to add texture and visual interest.
1. Crochet Fringe Infinity Scarf Pattern by TraverseBayCrochet
This crochet fringe infinity scarf is lightweight and soft. It will certainly become one of your favourite go accessories.
The scarf is worked using 2 strands of Loops & Threads Woollike yarn held together. If you want to make a thicker scarf, you can use a different weight yarn. Using the suggested yarn, the scarf will measure about 27 inches (68.58 cm) folded in half by 5 inches (12.7 cm).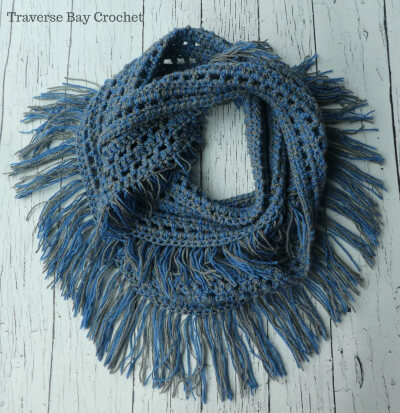 Find the Pattern by TraverseBayCrochet HERE
2. Fabulously Fall Scarf Crochet Fringe Edging Free Pattern by Easy Crochet
Not only is this crochet fringe scarf fun to make, but the pattern is free! The scarf is ideal for keeping warm on those chilly fall days.
To make the scarf, you will need to know how to make slip stitches, half double crochets, and chain stitches. It is a super easy pattern that works up quickly.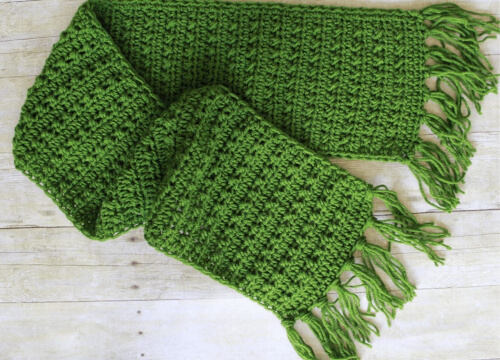 Find the Pattern by Easy Crochet HERE
3. Blossom Wall Hanging Crochet Fringe Pattern by 1dogwoof
Let your creativity shine with this amazing wall hanging. Crochet fringe is not only for clothing and winter accessories. It can also be used to create beautiful pieces of home decor.
You can use this pattern to create two completely different looks. Hang it upside-down for a bowl shape design, or right side up for a rainbow. The finished size will depend on what materials you choose to use.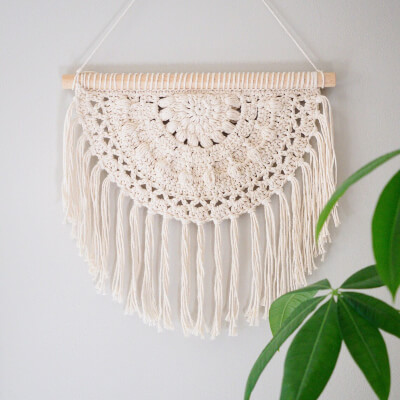 Find the Pattern by 1dogwoof HERE
4. Easy Boho Shawl with Fringe Crochet Pattern by KnotYourselfOut
Do you like wearing shawls, yet wish you had pockets? With this crochet fringe shawl pattern, you get the best of both worlds. The boho chic shawl is stylish, versatile, and unique.
This crochet fringe shawl pattern is fitting for a confident beginner. The PDF download contains step-by-step how-to photos. The shawl is worked in back-and-forth-rows using half double crochet stitches and wrapped double crochet stitches. Once complete, the pockets are attached using the whip stitch.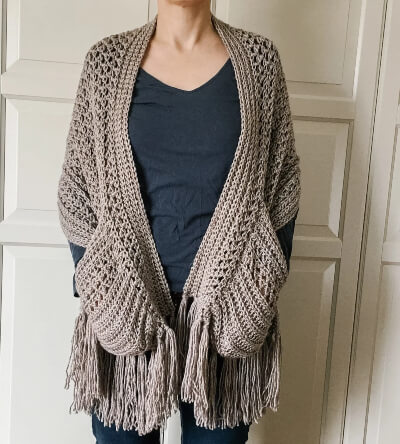 Find the Pattern by KnotYourselfOut HERE
5. The Hadley Modern Boho Oblong Rectangle Pillow Cushion with Fringe by MMadisonMarie
The Hadley pillow has lots of crochet fringes. The cover has a modern, boho style. The oblong rectangle shape and beautiful texture will add interest wherever you decide to display it.
The crochet pattern is written in standard American terms. It is an easy pattern that can be completed by a beginner with basic crochet knowledge.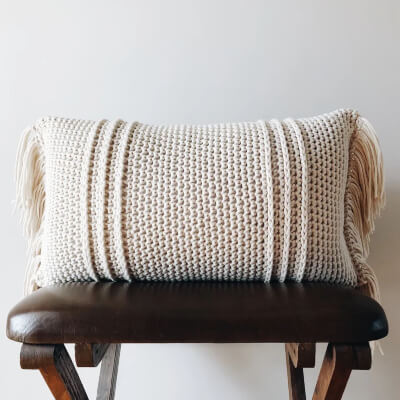 Find the Pattern by MMadisonMarie HERE
6. Brioche Bun Scarf with Fringe Crochet Pattern by HighDesertYarn
The Brioche Bun Scarf is perfect for cold winter days. The fabric is thick and warm. And the puff stitches paired with the half crochet stitches create a lovely texture. This pattern is suitable for advanced beginners. It is crocheted in short rows, so you can easily adjust the length.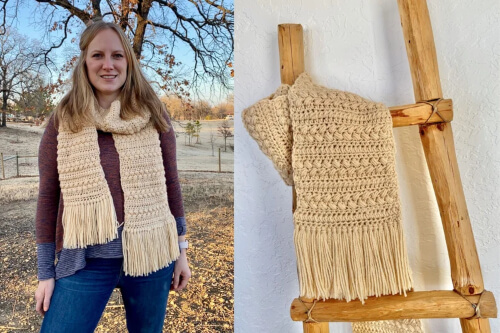 Get the Pattern by HighDesertYarn HERE
7. Boho Coasters Crochet Fringe Tutorial by Amaryllis Lane
You can always use coasters. And with this pattern, you can change the colours and have coasters for every season. Or just make a set using your favourite colour. These coasters also make great housewarming gifts.
To make these fringe crochet coasters, you will need to know how to make a magic ring. This pattern has 4 rounds of double crochet and 1 round of single crochet.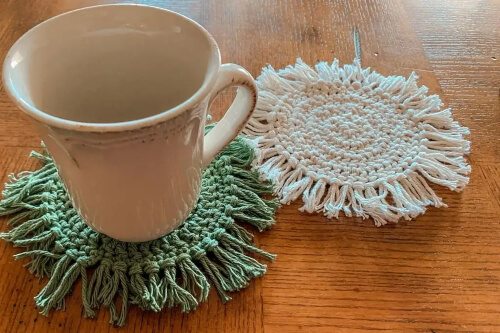 Find the Pattern by Amaryllis Lane HERE
8. Fresh Fringe Banner Crochet Pattern by HelloWildflowerCo
Brighten your walls or decorate for an upcoming party with a crochet fringe banner. This gorgeous project will add boho charm to nurseries, mantels, gallery walls, patios, and more.
It is an easy crochet pattern that can be completed by a beginner with working knowledge of basic crochet stitches. You will need to know how to make the chain stitch, slip stitch, double crochet, and lark's head knot (macrame).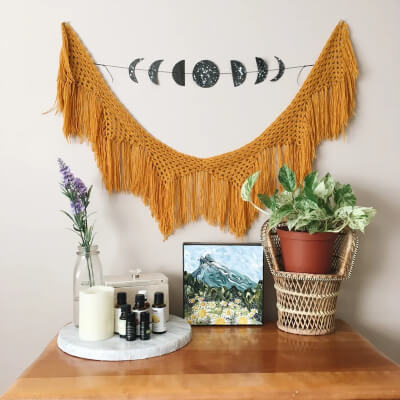 Find the Pattern by HelloWildflowerCo HERE
9. Crochet Triangle Scarf Pattern by Meghanmakesdo
The Huckleberry Scarf is not only for keeping the chill off, but it is also a statement piece. You will definitely get a lot of compliments on this project.
You can make the shawl using either bulky or worsted weight yarn. The airy stitches create a beautiful drape. To complete the project, you can add either crochet fringe or tassels.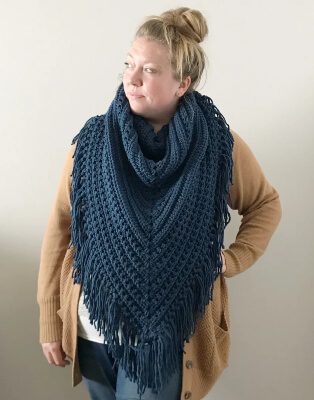 Find the Pattern by Meghanmakesdo HERE
10. Boho Shawl Fringe Crochet Pattern by 1dogwoof
Add some Bohemian charm to your summer and fall wardrobe with this beautiful crochet fringe shawl. When you are not wearing it as a shawl, you can tie it around your waist.
The pattern used a mix of yarns, textures, and stitches. It is an advanced-beginner project. You will need to know chain stitch, single crochet, double crochet, bobble stitch, loop stitch, increases, and decreases. Completed, the shawl will measure close to 36 inches (91 cm) wide by 77 inches (196 cm) long.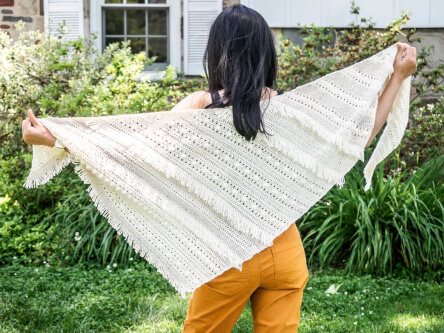 Find the Pattern by 1dogwoof HERE
Are you looking for a simple way to add a decorative touch to your crochet projects? Why not add some crochet fringe?
You can also try the crochet scalloped edge stitch technique or these blanket edging crochet patterns to finish off your projects. When you're done, share your makes on our Facebook Page. We'd love to see those creations!
I love the look that fringe adds to my crochet projects and is super easy. If you are looking for a way to add that final touch to your projects, use crochet fringe.