Thanks to these crochet bathroom sets, your bath time regime will never be the same again! A mixture of loofahs, washcloths, mitts, soap bags, and face scrubbies, these crochet patterns are all fun and quick projects that can easily amp up any bathroom decor space.
What's more, due to their durability, they offer an amazing opportunity to help the environment instead of throwing away countless flannels, make-up remover pads, soap savers, and shower puffs, why not embrace an eco-friendly outlook?
What a great way to not only give the gift of handmade love, but promote environmentally-conscious products, too!
7 Crochet Bathroom Set Patterns

1. Crochet Bath Set Pattern by The Loophole Fox
Treat yourself with the luxury of puff stitches and raised line texture, and bring a pampered feeling to your self-care routine with this Radiant Crochet Bath Set Pattern! The patterns were designed using soft cotton yarn to ensure the crochet bath set feels great to use from the start.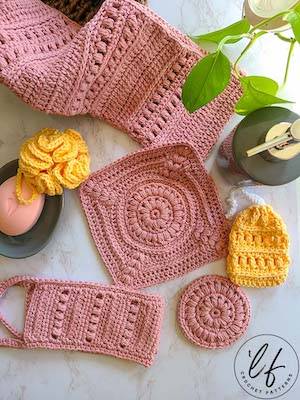 Get the Pattern here

2. Crochet Luxury Bathroom Set Pattern by Hooked On Patterns
Crochet a shower puff, headband, washcloth, soap scrub, and face scrubbies to decorate your bathroom.Stitch it as shown or explore different colors to create a set that fits your décor.

It's fantastic in the guest bathroom, or add it to other spa goodies and make a themed basket as a thoughtful gift!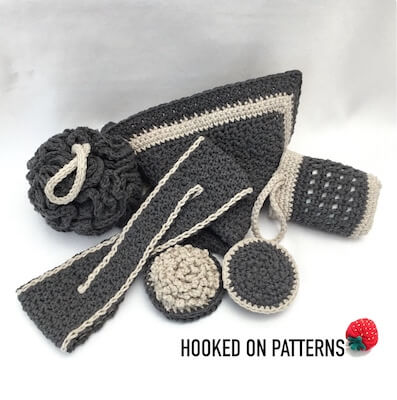 Get the Pattern by Hooked On Patterns here

3. Crochet Alpine Bath Set Pattern by Off The Beaten Hook
Add a little luxury spa to your bath time routine with this Crochet Alpine Bath Spa Set! Included in the set are a loofah, washcloth, soap saver, and face scrubbie with storage basket. They come together quick and easy, making this set a perfect project for beginners!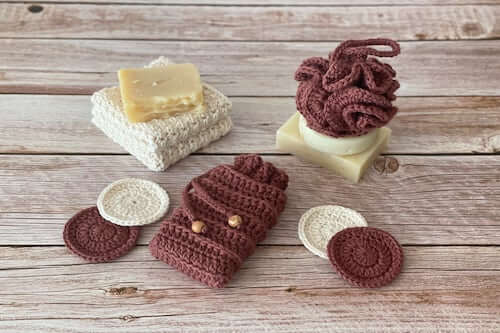 Get the Pattern by Off The Beaten Hook here

4. Crochet Spa Day Set Pattern by Yarnspirations
Make yourself a spa-inspired set of pampering must-haves, including bath mitt, facecloths and pretty basket to keep everything together. Crocheted in cotton yarn, these accessories would make a practical addition to your bathroom.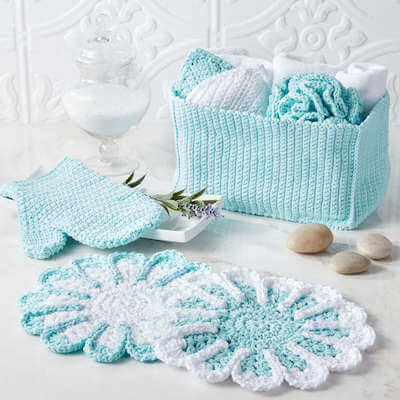 Get the Pattern here

5. Crochet Eco Spa Set Pattern by Whistle & Ivy
This Eco Spa Set is designed to pamper and invigorate the skin, body, mind, and spirit, which includes a double-sided bath mitt, a soap pouch, and textured face scrubbies. All designs are quick and easy, and suitable for beginners.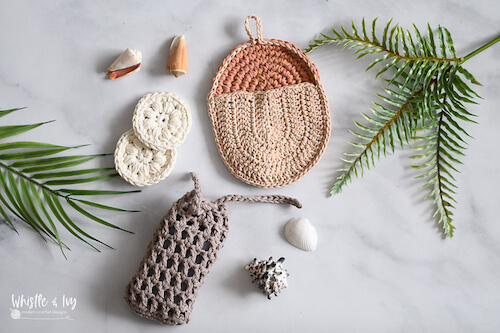 Get the Pattern here

6. Crochet Epitome Bathroom Trio Set Pattern by Melody T
This Epitome Bathroom Trio Set is made with 100% cotton so that it can be used, washed and reused. The pattern is simple with some cushy bobbles to add texture.

Make it for yourself or surprise a loved one! It can be a lovely Mother's day gift, or a birthday present for your sister, cousin, or friend, handmade by you.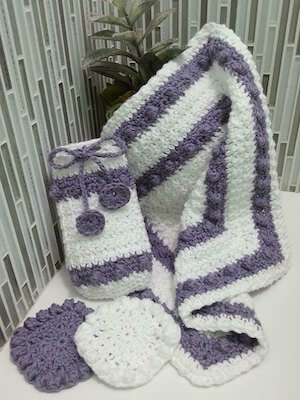 Get the Pattern by Melody T here

7. Crochet Eco-Chic Bath Set Pattern by Red Heart
Introduce a new bath accessories to your home spa experience by stitching this Crochet Eco-Chic Bath Set made in easy crochet stitches. It's a fun project to work on, and a great item for a spa-themed gift basket.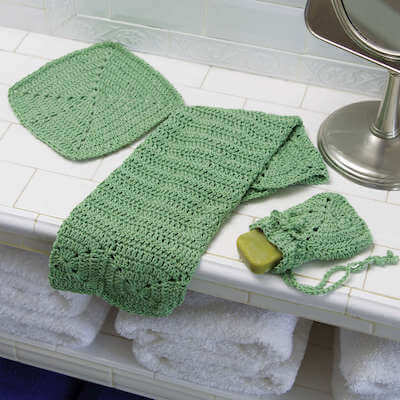 Get the Pattern here
IF YOU'RE LOOKING FOR SUSTAINABLE ITEMS TO YOUR BATH AND BEAUTY ROUTINE, THIS COLLECTION OF CROCHET BATHROOM SET PATTERNS IS DEFINITELY FOR YOU.
Making one, or many? I'd certainly love to see! Post any pictures to the Crafting News Facebook Page! Gift a bundle to a crocheter you know or whip up a set for a house warming gift—either way, bring a little handmade beauty to a home you love!

For more useful and unique crochet patterns for your home, have a look at these patterns to add a crafty touch to every space, from the living room to the kitchen:
These crochet bathroom sets make it a breeze to take any bathing experience to the next level. I'm betting these gems will make you want to spend way more than 15 minutes in the tub!