These crochet oven mitts patterns will show you how to make your own oven mitts that are both functional and stylish.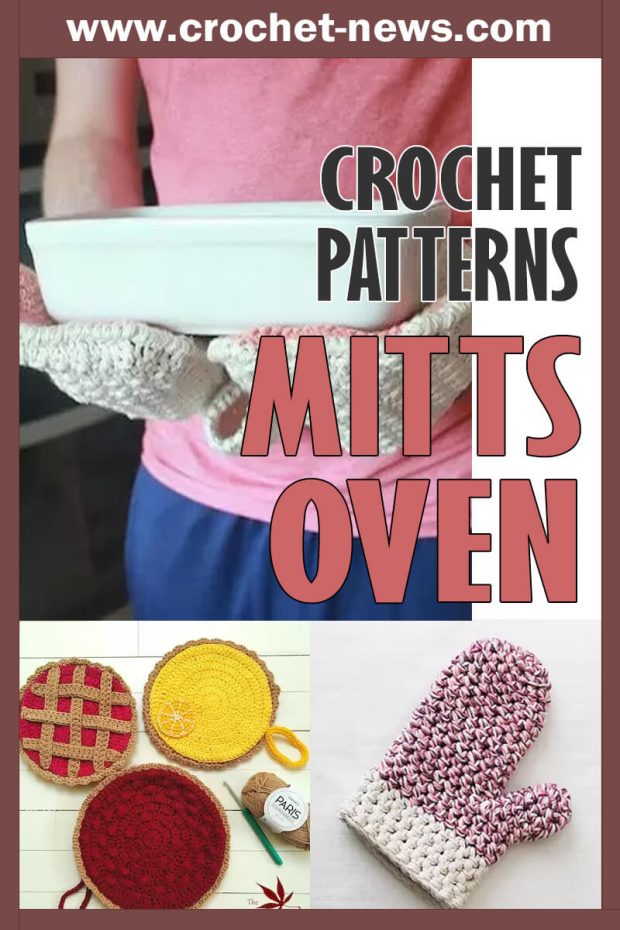 While kitchen towels often serve as de facto oven mitts and pot holders, grabbing an actual oven mitt or pot holder can make your cooking experience safer and easier. Oven mitts are an essential kitchen accessory that can save your hands from burns and heat. But, why settle for plain store-bought oven mitts when you can create your own with a personal touch?
Not only does making oven mitts of your own allow you to match them to your kitchen decor, but it is also a quick project you can make in a day. Plus, they make fantastic gifts!
10 Crochet Oven Mitts Patterns

1. Crochet Star Oven Mitts Pattern by Lily Sugar 'n Cream
It's almost time, so complete 4th of July-themed oven mitts that can be used all year-round. Use blue and white for a patriotic look you'll love to show off. It's a fun gift for any proud American chef!

Your Fourth of July barbeque may be an ideal place to debut them, but they'll certainly fulfill their function year round!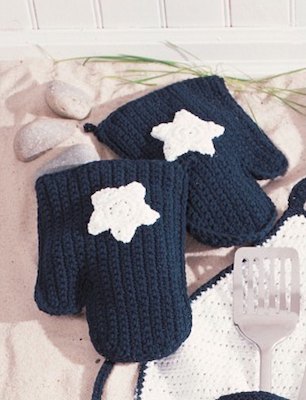 Get the Pattern by Lily Sugar 'n Cream here

2. Crochet Oven Mitt Pattern by Burgundy And Blush
Here's a waffle stitch single oven mitt or pot holder made from 100% cotton. The thickness of the waffle stitch does a perfect job at protecting hands from hot surfaces. Make two to use on oven trays etc using both hands.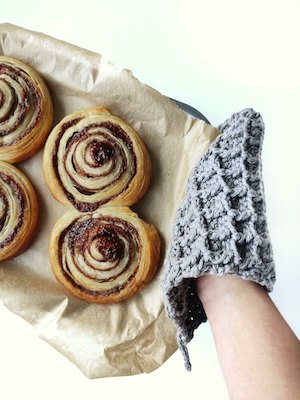 Get the Pattern here

3. The Best Oven Mitts Crochet Pattern by Fat Lady Crochet
This easy crochet pattern is perfect for people looking for a great fitting-pair of oven mitts; they are smaller than commercial ones, making them much more safer and practical. Mix and match your colors to give each pair distinct flair.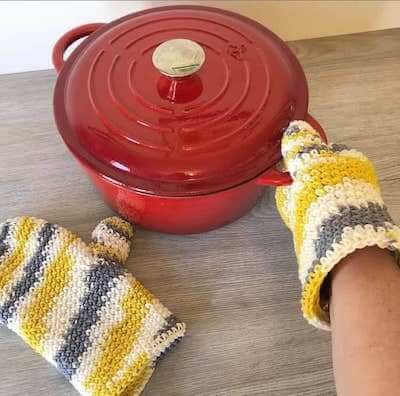 Get the Pattern by Fat Lady Crochet here

4. Crochet Owl Oven Mitt Pattern by Million Bells
This Crochet Owl Oven Mitt is the perfect dose of cute to add to your kitchen! Just imagine pulling your cookies out of the oven with this cute owl on your hand! The pattern includes a matching potholder, too.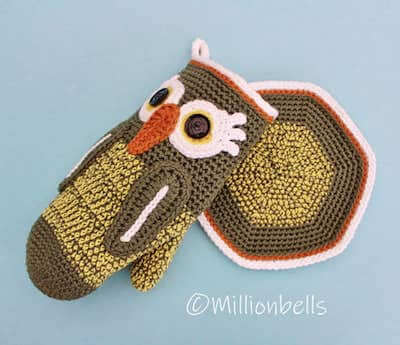 Get the Pattern by Million Bells here

5. Crochet Double Oven Mitts Pattern by Sarah Ruane
What is better than a good oven mitt? A good oven mitt that lets you use both hands! No more trying to lift heavy dishes with one hand, or scrambling for a second hot pad – this crochet two-handed oven mitt is all you will ever need!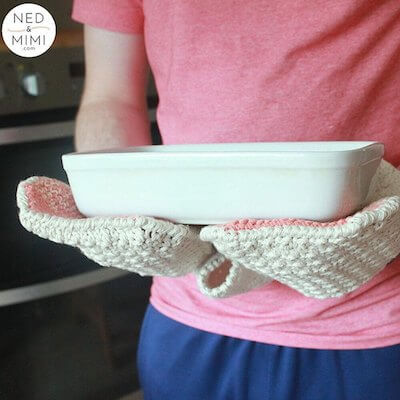 Get the Pattern by Sarah Ruane here

6. Betty's Marbled Oven Mitt Crochet Pattern by Sewrella
This slender fit, marbled oven mitt or potholder is a great addition to any kitchen! It is very easy to work up, only using a single crochet and slip stitch. The material winds up being very thick, protecting the hands from warm (not hot!) pot and pan handles.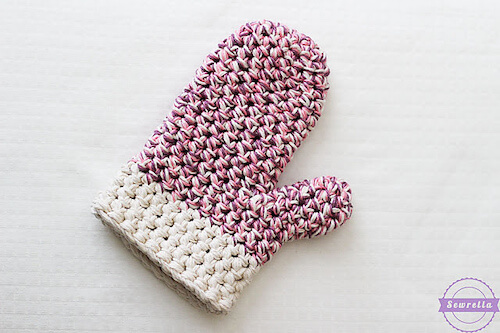 Get the Pattern here

7. Crochet Waffle Stitch Oven Mitt Pattern by Crochet Love Melbourne
This waffle double oven mitt pattern will help you make your dream potholder to help you protect not one but both hands from burns. Those who love baking know how important is to have double potholders in your kitchen. Make a dozen these connected oven mitts for yourself and to spoil everyone you know.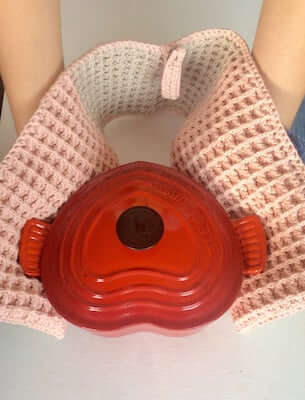 Get the Pattern by Crochet Love Melbourne here

8. Jaws For Your Paws Crochet Kitchen Mitten Pattern by Yarnspirations
Bring the craze to your kitchen by using this Shark Oven Mitts. This pair will turn your hands into the most terrifying sea creature to ever exist. Just slip the hungry predator over your hand and let it take protect you from warm dishes, sticky plates or cold cartons.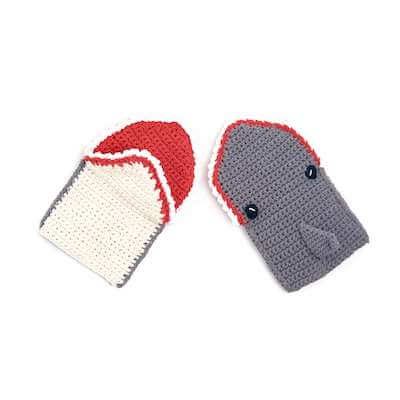 Get the Pattern here

9. Oven Mitts Crochet Pattern by Celine Korner
This Oven Mitts Crochet Pattern is a great way to bring some personalized flair to your kitchen. Besides being a useful accessory to help you hold hot dishes, you can customize the color of your oven mitts to match with your kitchen design scheme.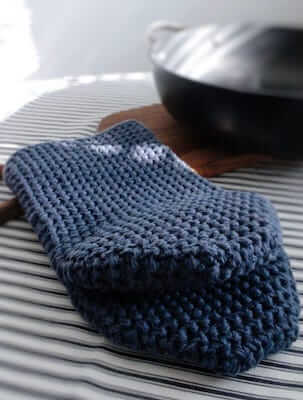 Get the Pattern by Celine Korner here

10. Crochet Pie Oven Mitts Pattern by Melanie Garnet
Pie lovers, unite! Choose your favorite pie and then get to work on these cute crocheted oven mitts. The crust layer plus the pie topping layer make this pattern double thick.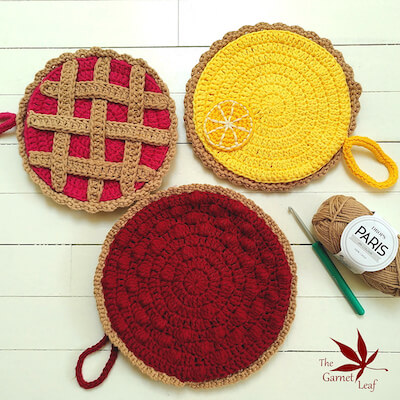 Get the Pattern here
KEEP YOUR COOL WITH THESE CHARMING CROCHET OVEN MITTS!
Which great project are you going to make first? Share your progress and connect with the crochet community by posting your finished items on our Facebook Page. We can't wait to see what you make!

There is nothing more satisfying than creating useful crochet projects for your home. Whether they are useful for the kitchen or the dining room, we have more lists of crochet patterns that are sure to spark inspiration – to crochet or to clean!
Have fun making these crochet oven mitts – you'll be surprised how great it feels to bring out a brand new oven mitt the next time you go to cook!