Washcloths are the perfect project for many purposes! Not only is the finished product handy (and compostable once it's past it's use by date), but it's the perfect project for learning new stitches and new techniques. As we all strive to be eco-friendly, I think a quick, fun, easy to repeat washcloth would be nice. I've made tons of these crochet washcloth patterns. I feel so much better washing my face with an organic cotton cloth. I know you will, too!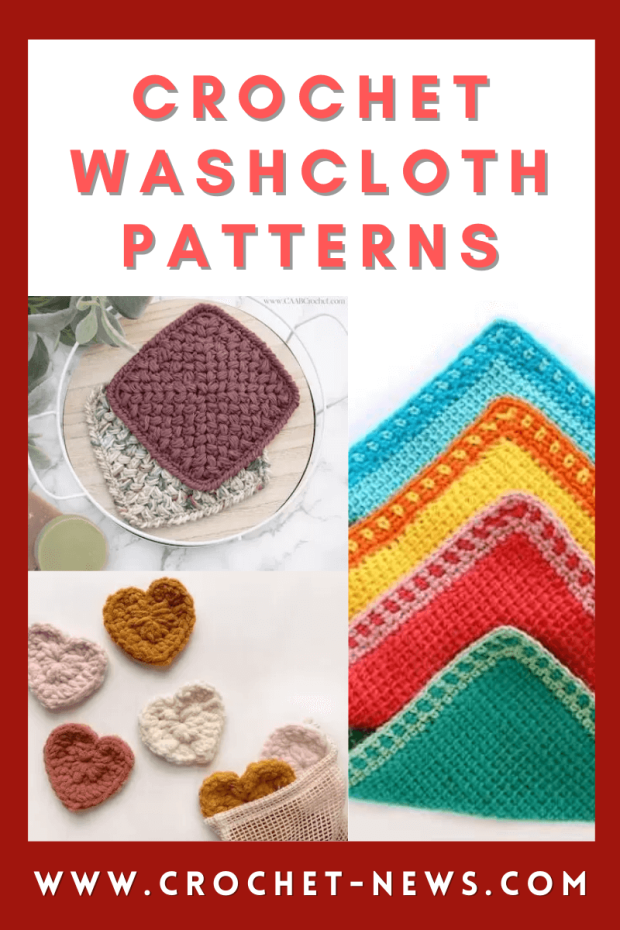 Crocheting doesn't offer too many shortcuts. Maybe that's exactly why I love crocheting so much, but every now and then, even diehard crocheters need a little instant gratification. Enter the washcloth! I love to give (and use!) washcloths. They're an unexpected luxury that's not on anyone's list but would be if they only knew the pleasure. And I love the satisfaction of a small shape that's open to a whole world of possibilities. And finally, I love how very fast they are to crochet!
25 Crochet Washcloth Patterns

1. Crochet Washcloth Pattern by The Loophole Fox
Treat yourself with a luxury crochet washcloth! This lovely crochet washcloth was designed to have texture — both for visual and touchable interest. The puff stitches add a touch of luxury and the raised lines bring a visual appeal. Using a soft cotton yarn ensures that the crochet washcloth feels great to use from the start and bumps up the "treat yourself" feeling.

This crochet washcloth pattern is designed in closed rounds and begins as a circle before becoming square. This way, the texture radiates outward in a beautiful pattern.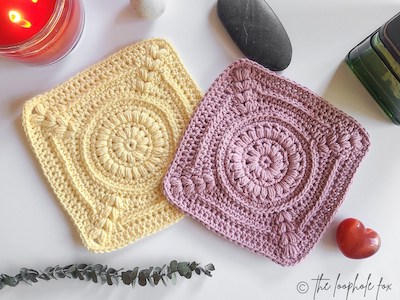 Get the Pattern by The Loophole Fox here

2. Spill The Beans Washcloth Crochet Pattern by CAAB Crochet
The bean stitch makes this crochet washcloth pattern a nice squish factor! It is also a beautiful and feminine stitch pattern. A perfect addition to any spa or bathroom and soft to the touch when you use a nice quality cotton yarn!
Get the Pattern by CAAB Crochet here

3. Crochet Lollie Face Cloth Pattern by Christina Ann Studios
Cleanse your face with cloud-like softness! These reusable facial rounds remove makeup with just water or add your favorite cleanser for a deeper clean. Because they are so soft, these face cloths are great for winter skin, sensitive skin and children.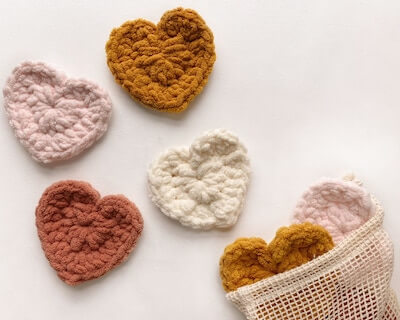 Get the Pattern by Christina Ann Studios here

4. Tunisian Crochet Washcloths by My Poppet Makes
Tunisian crochet is a deceptively easy technique that is a little bit crochet, a little bit knitting and looks like weaving. The resulting fabric is quite thick and spongy making it a perfect choice for washcloths. This is a quick and easy project finished off with a crochet border in Linen Stitch and perfect for gift giving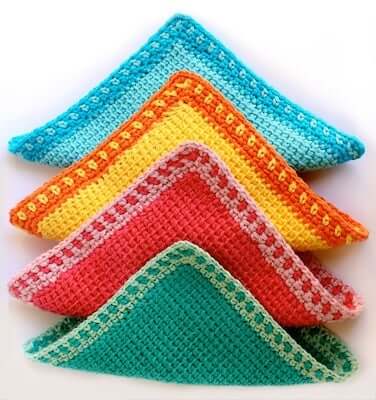 Get the Pattern here

5. Crochet Baby Washcloth Pattern by Annie Design Crochet
A Crochet Baby Washcloth in 100% cotton yarn is soft and gentle on baby's delicate skin. Make a stack of these pretty baby washcloths and add a bar of handmade soap for the perfect new baby gift.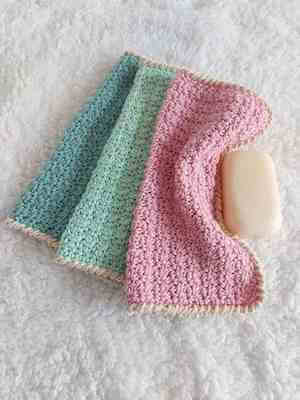 Get the Pattern here

6. Crochet Loopy Spa Washcloth Pattern by Loopy Handmade Studio
Pamper yourself with this Loopy Spa Washcloth! Made in a soft cotton yarn this wash cloth will feel soft and luxurious against your skin. The stitches in this pattern are beginner friendly.

You will use chain stitch, half double crochet stitch, single crochet stitch and puff stitch to create a simple stylish washcloth. This pattern is also a great way to use up left over bits of yarn as it only requires 40g and since it works up quickly it makes the perfect last minute gift!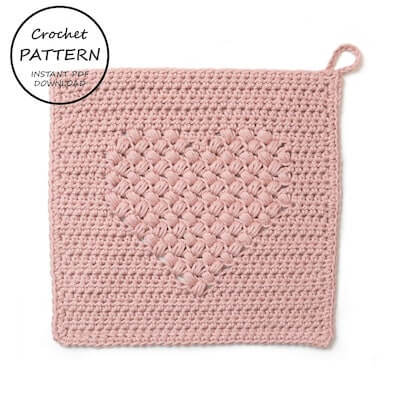 Get the Pattern by Loopy Handmade Studio here

7. Crochet Back Scrubber Washcloth Pattern by Time Knitting
Create a spa-themed gift basket including favorite items like this smart and effective, crochet back scrubber. It's a fantastic exfoliating tool. Simply customize using favorite colors and finish a great unisex gift that's machine washable for years of everyday enjoyment.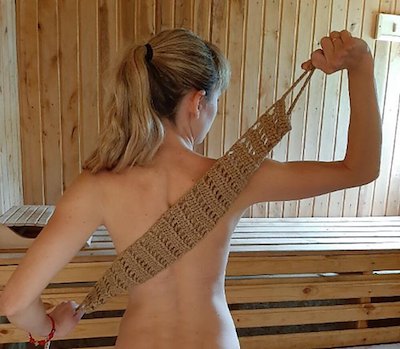 Get the Pattern by Time Knitting here

8. Crochet Fish Scrubbie Washcloth Pattern by One Dog Woof
Add to a nautical themed bathroom with these adorable fish washcloth scrubbies. They're great fun for kids in the bath, and look great just hanging up, as well.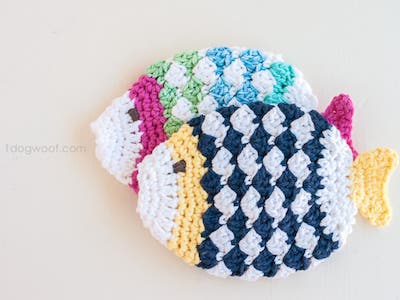 Get the Pattern here

9. Seeing Spirals Washcloth Free Crochet Pattern by Winding Road Crochet
This Seeing Spirals Washcloth has a different texture on each side and a fun spiral effect. The spiral in this piece makes me think of the spirals on sea shells. The spiral is created by working in a continuous round using the half double crochet in the third loop.

This technique gives the washcloth a subtle texture. Package this with some handmade soap or sugar scrub and it will make a cheerful 'pamper yourself' gift for any occasion.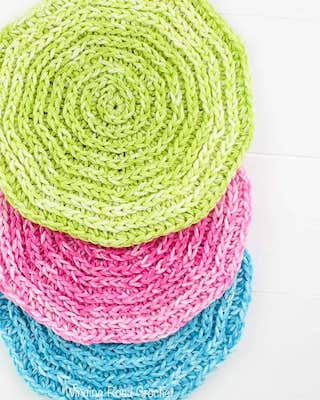 Get the Pattern here

10. Crochet Washcloths Pattern by Stitchberry Patterns
This Sampler Stitch Washcloth Collection is the perfect way to learn a new crochet stitch. This collection includes 4 different washcloths that all use different easy to learn stitches. They are beautiful together as a set, but they also work well separately.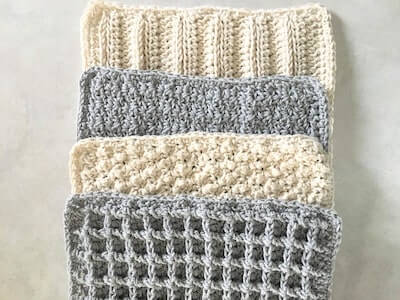 Get the Pattern by Stitchberry Patterns here

11. Zinnia Spa Cloth Crochet Pattern by Kirsten Holloway
Crochet a pretty, round, Zinnia-inspired Washcloth for your bathroom for a refreshing spa experience! These flower crochet washcloths are thick and luxurious, and can be made in almost any color!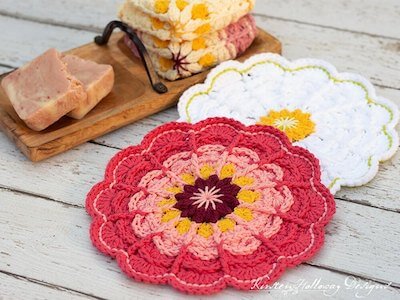 Get the Pattern by Kirsten Holloway here

12. Free C2C Crochet Heart Washcloth Pattern by Pattern Paradise
With Valentine's Day coming up, I want to make a little something to celebrate. This Heart Washcloth is just the thing! This quick and easy project is a basic corner to corner (C2C) square and the added heart, well, it just adds a little bit of love!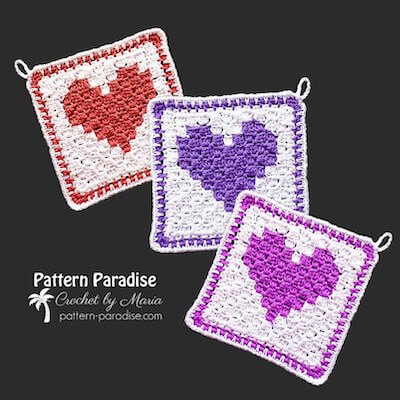 Get the Pattern here

13. Crochet Posts & Clusters Washcloth Pattern by Amber K
This Posts & Clusters Washcloth has very pronounced texture created by combining sections of post stitches with small cluster pairs. It has great scrubbing power and looks very elaborate while being fairly simple to make.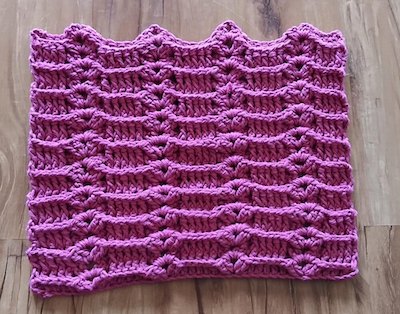 Get the Pattern by Amber K here

14. Crochet Decadence Face Washer Pattern by Live Love Crochet Shaz
This lusciously thick and yet delicate face washer will make cleansing your face and body a real treat. The softness of the cotton combined with a slight texture in the pattern creates an overall pampering sensation when used on any body part.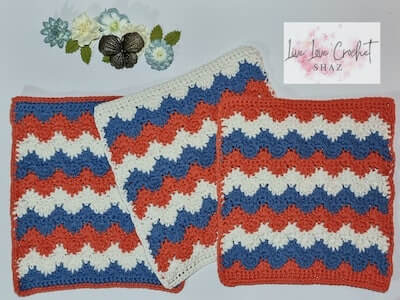 Get the Pattern by Live Love Crochet Shaz here

15. Crochet Donut Face Scrubby And Washcloth Pattern by Vivid Kreations
Crochet bathroom accessories are awesome! They're a great way to reduce you impact on the environment as they're reusable, they're quick and fun to make and they make great gifts. These donut face scrubbies and washcloths are even more awesome because, well, because they're donuts!

Make a matching set of colourful sprinkle topped donut face scrubbies for yourself or a donut washcloth for your little one in their favourite flavour and see how much more fun washing your face can be.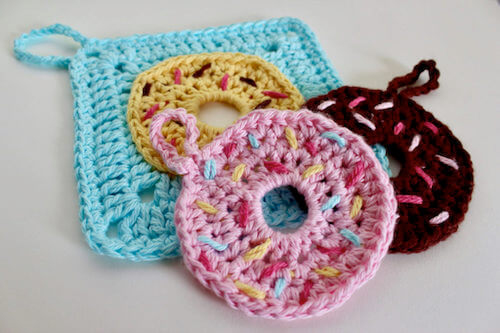 Get the Pattern here

16. Crochet Farmhouse-Inspired Washcloth Pattern by Megmade With Love
Here's a super cute and dainty washcloth pattern that's got all the pretty farmhouse-vibes. It is most definitely beginner-friendly. As all you need to know are the basics — how to chain and single crochet.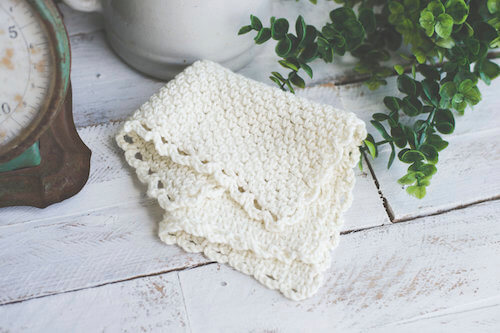 Get the Pattern here

17. Crochet Dino Bath Mitt Pattern by My Dear Knot
This bath mitt is sure to be a hit with dinosaur-lovers everywhere! This mitt is designed for kiddos, but is just big enough for an adult hand to fit in, as well. This pattern uses scrubby cotton, but can easily be switched out for your favorite cotton yarn.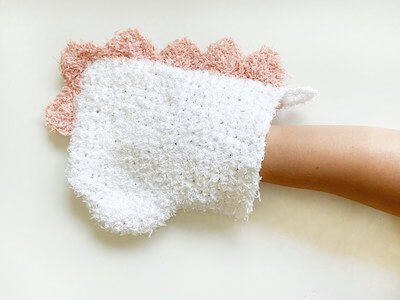 Get the Pattern by My Dear Knot here

18. Mosaic Crochet Stained Glass Washcloth Pattern by Nicki's Homemade Crafts
Stained Glass can be made in many different ways, even in crochet. Considering this pattern is easy to make and looks amazing, you can easily crochet this washcloth as a gift or for a gift basket for someone special, regardless of the occasion or the time of the year.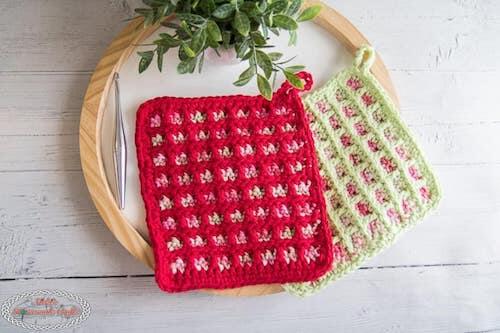 Get the Pattern by Nicki's Homemade Crafts here

19. Crochet Spa Time Washcloth Pattern by Grace And Fiber Co
This crochet pattern uses simple crochet stitches and the bobble stitch, works up very quickly, and doesn't even use a full skein of yarn. Soft and squishy cotton yarn is fairly inexpensive, and from one skein of around 180 yards, you can easily get 2-4 washcloths! Sound like a good deal?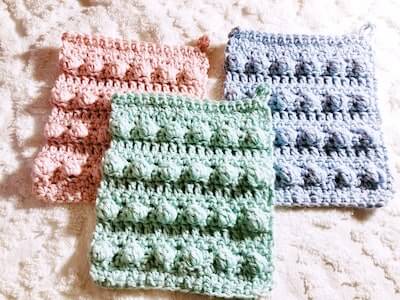 Get the Pattern by Grace And Fiber Co here

20. Rainbow Crochet Washcloth Pattern by My Poppet Makes
Here's a cheerful crochet washcloth pattern made using the corner to corner method. Combine rainbow cotton and textured yarn to make a nice scrubby or face washer.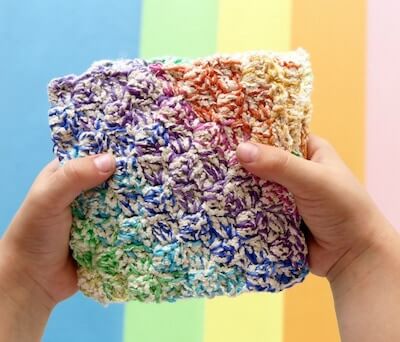 Get the Pattern here

21. Chevron Crochet Washcloth Pattern by E'Claire Makery
If you're looking for a fun crochet washcloth, look no further than this Chevron Washcloth! This beginner-friendly free tapestry crochet washcloth pattern makes a wonderful gift, or works great for yourself. Its unique chevron design is created using tapestry crochet, and has a lovely texture made with the lemon peel stitch. You're going to love making these!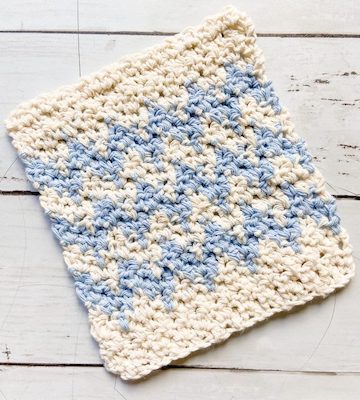 Get the Pattern here

22. Crochet Washcloths by De Brosse NYC
Dress up your bath with this complementary set of washcloths. Conveniently constructed from a single cake of cotton yarn, these are the perfect summer project. Stock up and gift to friends and family as housewarming or holiday gifts.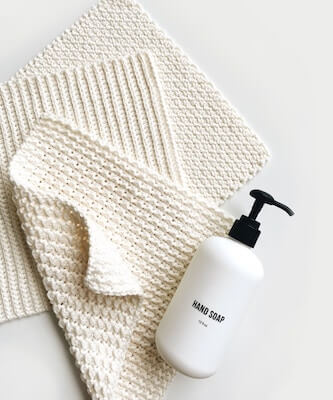 Get the Pattern by De Brosse NYC here

23. Crochet Face Washcloth Pattern by The Lost Shoelace
These round face scrubbies, with a loop for easy hanging, are made from 100% raw cotton. and work up very quickly and easily. They are the perfect addition to your beauty regime — use to replace cotton wool pads when removing makeup or applying toner, or in the place of a facecloth when cleansing your face.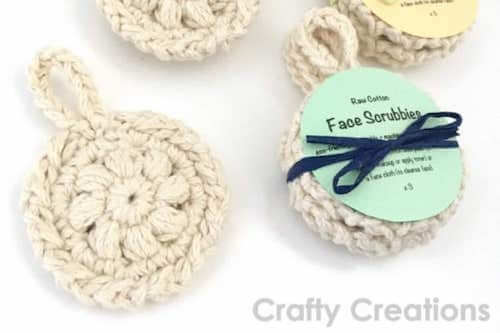 Get the Pattern by The Lost Shoelace here

24. Cottage Washcloths Crochet Pattern by Darling Jadore
Lather up with these eco-friendly, highly-effective Cottage Washcloths. Featuring gorgeous crocheted texture, these washcloths make for great exfoliants and have a modern farmhouse-style design.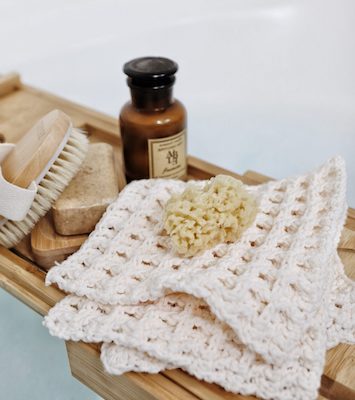 Get the Pattern here

25. Granny Square Crochet Washcloth Pattern by Crochet Rochelle
The granny square is a simple and timeless crochet block of fabric that can be used in so many ways. Crochet granny squares to create blankets, scarves, bags and other beautiful projects. Below you will find instructions for creating the basic granny square that functions as a quick and easy washcloth pattern, perfect for you home or as a gift.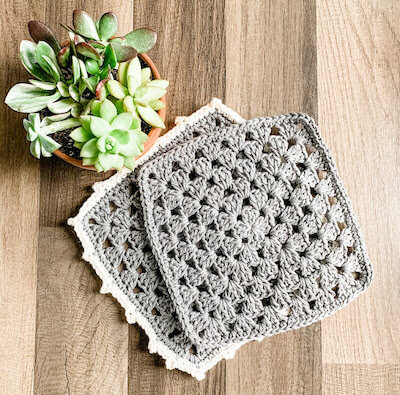 Get the Pattern here
Crochet Washcloth Patterns Frequently Asked Questions
What type of yarn is best for washcloths?
Hands down, the best type of fiber to use for washcloths or dishcloths is cotton. I recommend using a fiber that is 100% cotton, but if you can't find that or you can't find one that you like, at least use a yarn with a cotton blend.
What is the best crochet stitch for washcloths?
When deciding what crochet stitch to use for your washcloth, you have a lot of options. It's best to choose something fairly solid that can withstand soap and water while not stretching too much. If I had to choose just one crochet stitch, it would have to be half double crochet stitches in the back loop only. Single crochet stitches around the edge will give your washcloth a nice, polished look.
How big should a crochet washcloth be?
This is personal preference, but I find that a square crochet washcloth between 8-10 inches fits most hands well, though I usually prefer something between 8.5-9 inches the best. I also love that the exact size or stitch is not important, so if your crochet gauge is different or your crochet washcloth turns out bigger or smaller than expected, it really doesn't make a difference; it will still be lovely.
Do crochet washcloths work well?
Crocheted washcloths are pretty little workhorses. I love them because they are pretty, they are quick to make, and they work! Cotton crochet washcloths are the way to go if you need a tough washcloth that can withstand a lot of scrubbing.
Are crochet washcloths sanitary?
Yes, as long as you wash them after use. All cloths and flannels breed germs if you leave them dirty and hanging around your sink – plus, we think you're far more likely to care for a cloth you have made yourself!
I'M HEAD OVER (SQUEAKY-CLEAN) HEELS FOR THESE CROCHET WASHCLOTH PATTERNS!
One-of-a-kind and cheerful, yes, but behind the joy of these little beauties is the enduring satisfaction that you made them with your own two hands. Once you're finished making some, share your progress with me by posting a photo on our Facebook Page.
Need a last minute crochet gift idea? Fear not! Check out these posts for the best crochet patterns that will tickle your making bone in a jiffy!
For old pro crocheters who appreciate simple beauty and for newbies who are just finding out what they're capable of making, these crochet washcloth patterns appeal to the maker in us all! Happy crocheting, friends!