Here is our collection of some of the best Crochet Dish Scrubber Patterns to help you tackle that ever-present pile in the sink.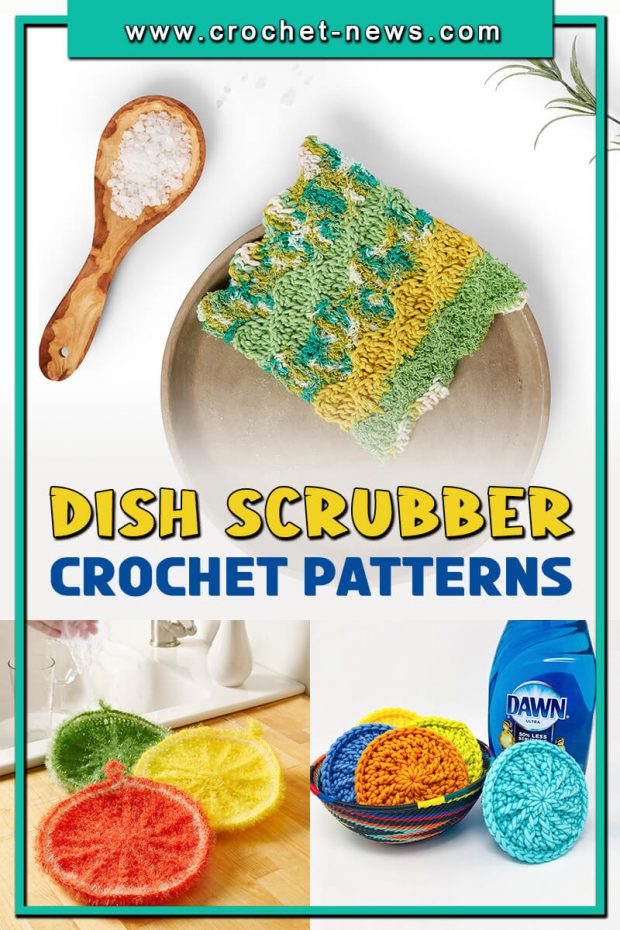 15 Dish Scrubber Crochet Patterns
If you've only got a few tired-looking sponges in your dish-cleaning arsenal, it's time to consider a few upgrades. Most people aren't fans of scrubbing dity pots and pans, but having the right tools for the job can make it more efficient and pleasant – and, dare we say it, fun.

Go through these patterns below to replace the traditional disposable scrubbers of your kitchen with the crocheted ones!
1. Citrus Dish Scrubber Crochet Pattern by Red Heart
This citrus crochet scrubby looks so juicy, it's a joy to make and to use for washing dishes or scrubbing the sink! Make a whole set and add a splash of color to the kitchen. Ideal for everyday use, just toss them into the washing machine when it's time to give them a good cleaning.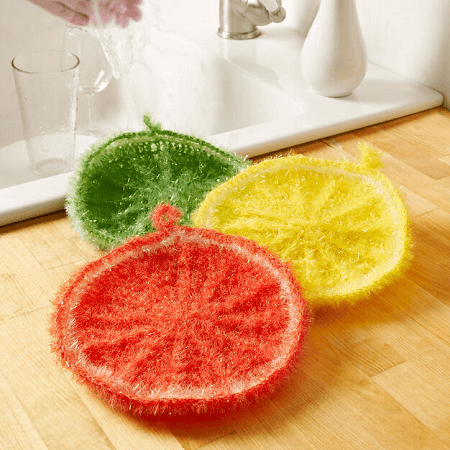 Get the Pattern here

2. Heart Shaped Dish Scrubber Crochet Pattern by Spin A Yarn Crochet
Pour your heart into this easy crochet scrubby that reminds them they are loved – whether washing dishes or soaking in a bathtub! It's sweet on its own, or add it to a Valentine's Day or anniversary gift basket.
This Heart Shaped Dish Scrubber adds a lovely accent to your kitchen. Work it up for your Valentine decor or use it all year long.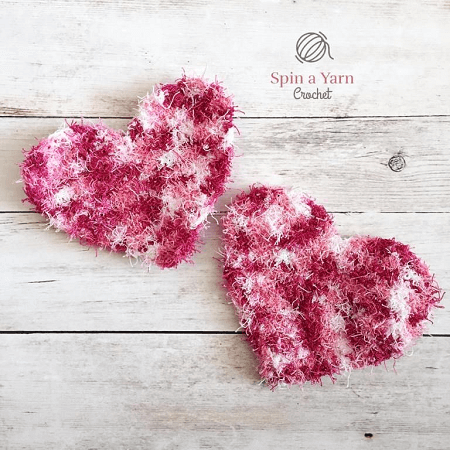 Get the Pattern here

3. Fiorire Dish Scrubber Crochet Pattern by Sculptural Crochet
Using this pattern you can make dish scrubber, facial scrubber, and kitchen dish sponge. This is an ideal pattern if you are starting out in crochet textured doilies!

The dish scrubber design includes a neat edging for a 'finished' look and an optional hanging loop making your finished works easily nice enough to give as gifts.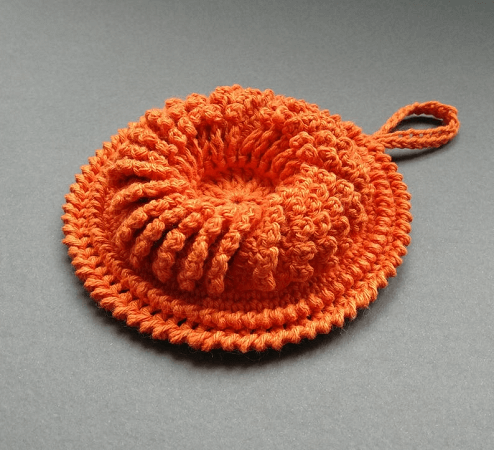 Get the Pattern by Sculptural Crochet here

4. Dish Scrubber Crochet Pattern by Prims N Stitches
This scrubby fits right over your hand for easy scrubbing, is eco-friendly/washable, and can hang from your kitchen faucet to dry. It can also be used in the bathroom to scrub tubs/tile/sinks.

They are quick to whip up and would make great gifts, giveaways, or small filler items at craft shows.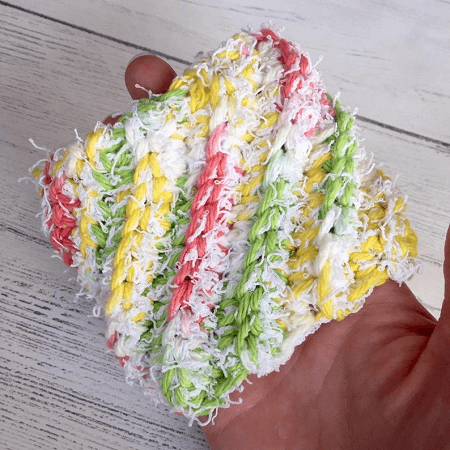 Get the Pattern by Prims N Stitches here

5. Lemon Dish Scrubber Crochet Pattern by Rebekah Haas
Fun and summery, this Lemon-shaped Sish Scrubber uses simple dc stitches to create a thick, sudsy material. The leaves, made with cotton are the perfect shape for cleaning bottle nipples, sippy cup parts, or other small, hard-to-clean areas.

This easy, free pattern creates a whimsical scrubber that will bring a smile to your face!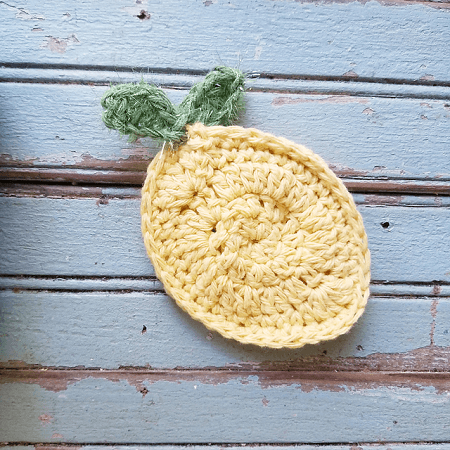 Get the Pattern here

6. Crochet Dual Duty Scrubber Pattern by City Farmhouse Store
This is a dual purpose scrubber or dishcloth crochet pattern. One side could can be the abrasive scrubby and the other portion is the more traditional dishcloth.

This way, you wouldn't have to have two different things lying around the sink. It could be all in one! Each there for when you needed it. This producers two different textures to meet various kitchen scrubbing needs.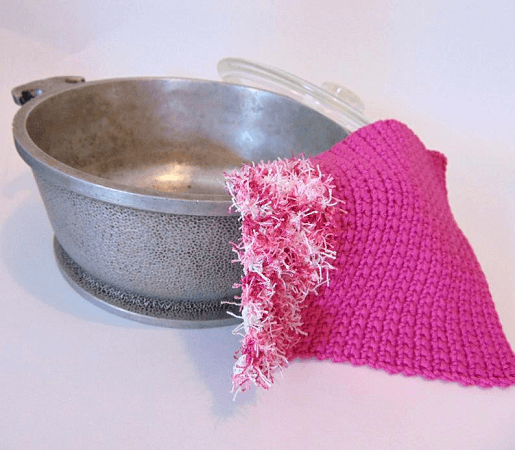 Get the Pattern by City Farmhouse Store here

7. Rose Bush Scrubber Crochet Pattern by Crochet Spot Patterns
The scrubbers and cloths can be displayed in a cute flower pot to resemble a rose bush, making it a great gift idea and decoration for your home. It can be used to clean dishes and countertops, or used as a washcloth or face cloth.

The rose-shaped scrubbers are crocheted with ordinary yarn and nylon netting held together to create a rough texture that's great for scrubbing. Use a scrubby for your dishes and another to exfoliate your face or body.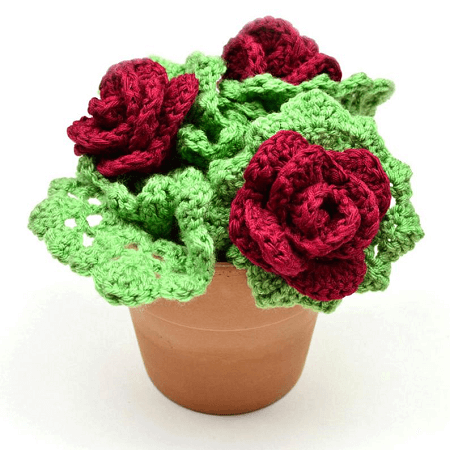 Get the Pattern by Crochet Spot Paterns here

8. Rippling Wave Crochet Dish Scrubber Pattern by Yarnspirations
Create a fun, rippling texture using a combination of double and single crochet stitches to make this cute dish scrubber. Make waves by crocheting this wavy-edged dish scrubber using your favorite vibrant colors. It's perfect for tackling everyday clean-ups in a snap.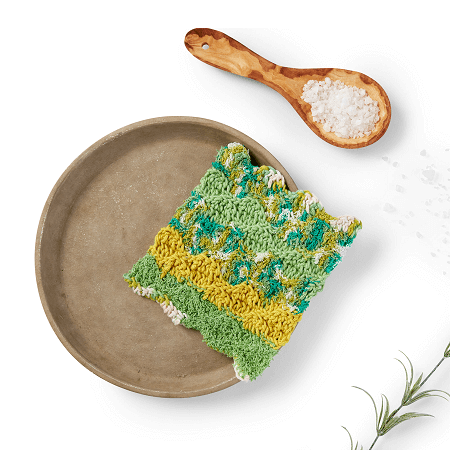 Get the Pattern here

9. Crochet Kitchen Scrubber Pattern by CAAB Crochet
This cotton scrubby is designed to have the same look and feel as your kitchen sponge but is 100% cotton and reusable.

These are super easy to make! And with all the colors of cotton and scrubby yarn out there, the color combination possibilities are endless! Great for yourself, or as an easy gift!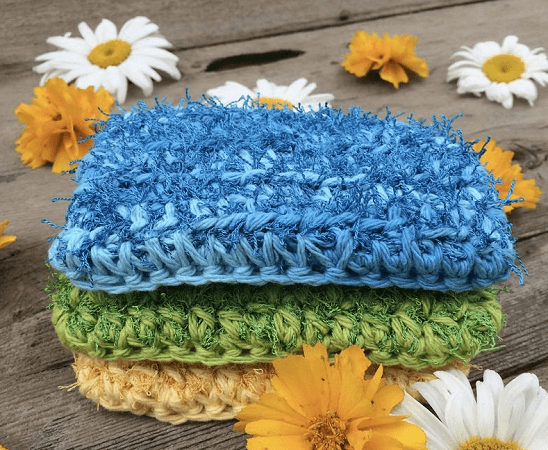 Get the Pattern by CAAB Crochet here

10. Crochet Dish Scrubbers Pattern by Dream A Little Bigger
These Crochet Dish Scrubbers have cotton for added fullness. These are the best little scrubbers you'll ever hook up! Make a whole pile of these guys for you to keep on your kitchen sink!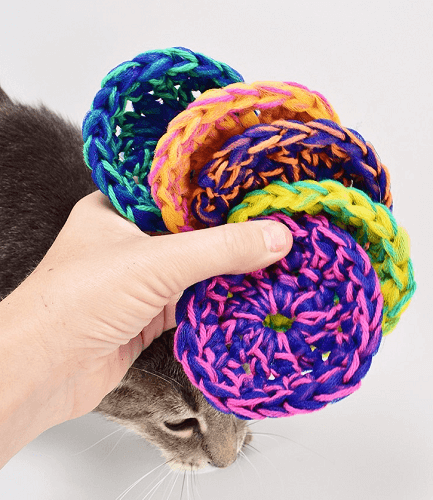 Get the Pattern here

11. Crochet Flower Power Dish Scrubber Pattern by Wren Couture
A cute crochet flower dish scrubbie to power away grim and add some sunshine to your kitchen sink. This pattern takes the same idea of upcycling an inexpensive store scrubby, but instead of making it a granny square it's turned into a flower.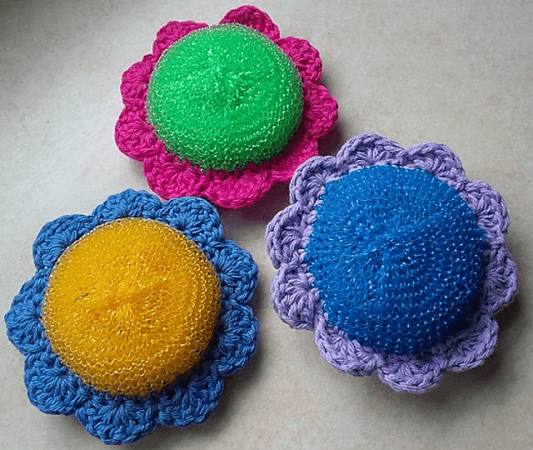 Get the Pattern here

12. Crochet Cactus Dish Scrubber Pattern by Belle And Bean Crochet
You can add a bit of desert chic to your kitchen with these crochet cactus scrubbies! You will love having a darling cactus by your sink. It would make a lovely housewarming or Mother's Day gift, or for you to keep for yourself.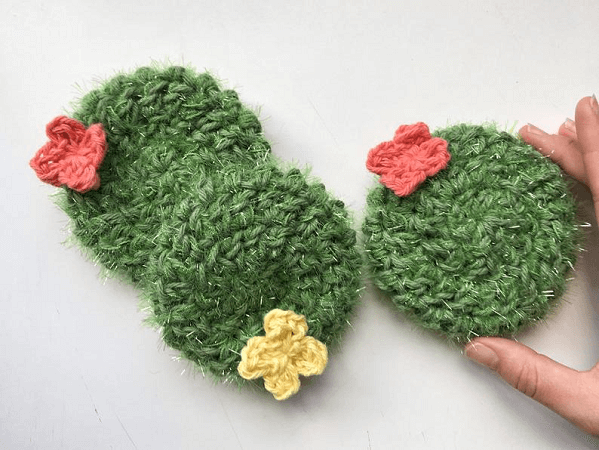 Get the Pattern by Belle And Bean Crochet here

13. Crochet Dish Scrubber Pattern by Yarnspirations
Have fun whipping up an adorable scrubber for the kitchen. This handy little helper is worked mainly in half double crochet, double crochet around the front post, and popcorn stitches to give it extra scrubbing power.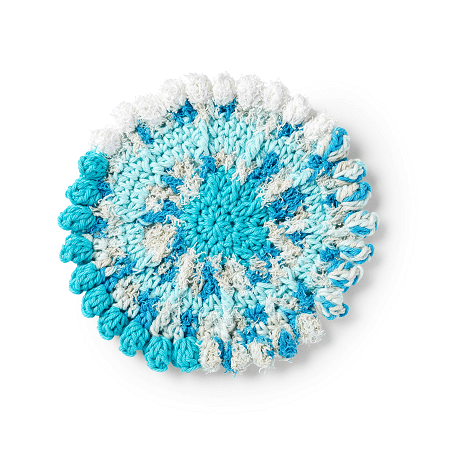 Get the Pattern here

14 Peppermint Dish Scrubber Crochet Pattern by Red Heart
Freshen up your kitchen or scrub those plates clean with this festive crocheted helper. It's even great for washing your face! The unique polyester yarn used can be washed by machine and air dries quickly. Make them for the perfect hostess gift or stocking stuffer.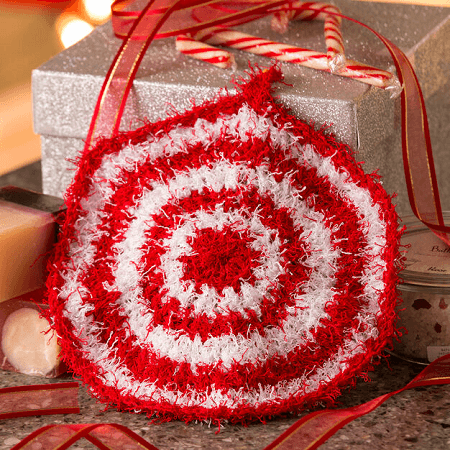 Get the Pattern here

15. Sun Kitchen Crochet Dish Scrubber Pattern by Bash Yarn Works
The Sun Kitchen Crochet Dish Scrubber Pattern creates a double sided dish scrubber that can be used for your kitchen or bathroom scrubbing needs.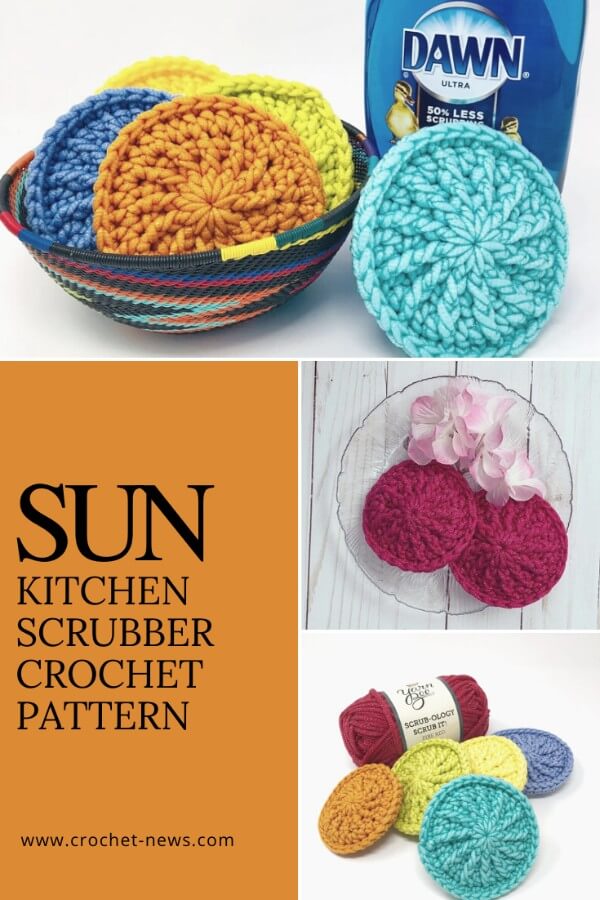 Tired of your everyday, bland scrubbing experience? The Sun Kitchen Dish Scrubber Crochet Pattern can excite you! Maybe it's time for your old and icky pads to be thrown away. This scrubber is a delightful scrubbing pad; make way for a new and colorful scrubber!
One of the crochet pattern you can try for your scrubber is a sunburst pattern. This pattern, as its name suggests, resembles the sun. Its rays bursts and swirls in all directions.

OTHER CROCHET KITCHEN SCRUBBER PATTERN USES
Since the sunburst pattern forms a natural circle, it will make for a perfect scrubber. Not only in kitchens but in bathrooms as well. This pattern would also fit perfectly as a hanging decoration, mini wallet, and as pads for cups.
Mothers would be delighted to use this pattern because it can go perfectly with a lot of everyday objects. Just carefully follow all the instructions needed for this pattern. Then, they can churn out a lot of sunburst patterns with ease. Also, when they already mastered how to make this pattern, they can finally bring it on large-scale projects.
The great thing about this pattern is it doesn't only serve as mere decoration. It can be an actual product that one can use every day. Emily Bash designed the sunburst pattern. Thanks to her, our everyday items now has a lease of new life. It is now beaming with bright colors and delightful design!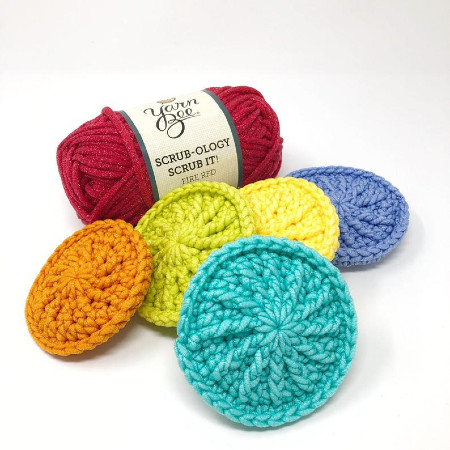 CROCHET PATTERN SKILL LEVEL

MATERIALS TO MAKE A KITCHEN SCRUBBER
Yarn – nylon scrubby yarn or spooled 3" tulle
– 25 yards
The sun kitchen scrubber crochet pattern takes a bit of patience. Eventually, it can be an absorbing and fulfilling craft to do. The sunburst's visual is great! Not only on your scrubbing pads but as various everyday objects.
By taking a look at sunburst patterns, it's not only the intricate designs that one should marvel at, but the labor of love that came in with stitching it.
Today, you can start your own expression of love by making your very own Sun Kitchen Scrubber Crochet Pattern. It can brighten up, not only your kitchen, but different parts of your house as well!
These crochet dish scrubbers are the perfect addition to any kitchen!
Run to the kitchen to put your new dish scrubbers to use – or better yet, hand it to your husband or kids and let them get some good practice with it. When you're done, please post your works on our Facebook Page for everyone to see!

Your kitchen accessories can add excitement to your cooking environment. So be sure to also check out all of our patterns for Toilet Roll Covers, Potholders, Placemats, Dishcloths, and Coasters, as well.

Get out the hooks and learn how to make this kitchen essential by making every one of these crochet dsh scrubber patterns!