How to brighten up your space in an instant? Check out these crochet chair cover patterns to stitch your own handmade chair covers! If you have chairs and stools that are getting worn or even just outdated, consider making your own crochet chair covers instead of replacing them altogether. Chair covers are also the perfect solution if you deal with pet hair in your home: just slip them off and wash!
Whether you want to fill your rooms with color, or use your crochet skills to make some useful and practical items, these crochet chair cover patterns will come in handy. Find the designs that you like, and then personalize that design in a whole array of colors and sizes to match your decor. These crochet chair covers are so convenient!
17 Crochet Chair Cover Patterns

1. Crochet Pooch Protector Chair Cover Pattern by Meadow Lane Crafts
Keep your furniture clean because you already know the cat or the dog thinks the seat is theirs! This beginner-level pattern works up fast and easily in bulky-weight yarn – just pick a color that matches your home decor.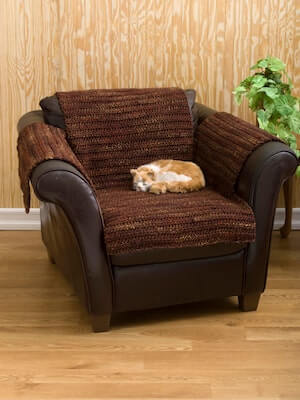 Get the Pattern by Meadow Lane Crafts here

2. Crochet Round Stool Cover Pattern by DW Crochet Patterns
The vibrant colors of this stool cover add interest to a practical project. Worked in the round using trebles and double crochet, this is an ideal project for someone with some experience of crochet.

Treble crochet gives a lovely openwork finish to the top of this cover, but the underneath is much more dense because it is worked in double crochet. This will ensure that the cover fits snugly over the stool, preventing it from slipping.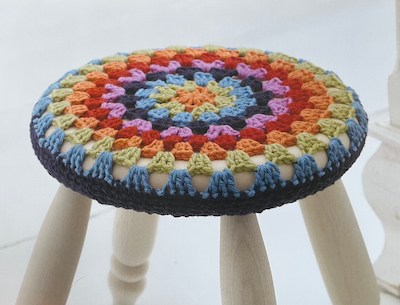 Get the Pattern by DW Crochet Patterns here

3. Chunky Crochet Chair Covers Pattern by The DIY Mommy
These Chunky Crochet Chair Covers are soft and squishy, and they look fantastic on any farmhouse chair. This pattern may need to be adjusted depending on the size of your chair and yarn, but it should work for most chairs.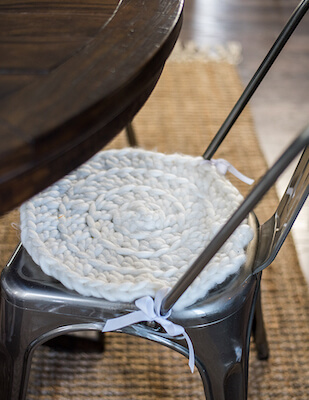 Get the Pattern here

4. Crochet Hexagon Seat Cover Pattern by Nordic Yarn Art
This Crochet Hexagon Seat Cover is ideal for sprucing up your deck chairs, taking with you on walks and using on benches, making your bleacher seat more comfortable, sitting on the floor, and so much more!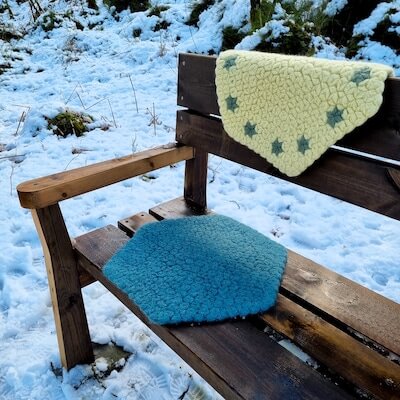 Get the Pattern by Nordic Yarn Art here

5. Lazy Daze Lawn Chair Free Crochet Pattern by Beatrice Ryan Designs
Bring some life to any worn out lawn chair with this fabulous bright Lazy Daze Lawn Chair Cover. It's the perfect solution for all your backyard or back porch decorating needs. Customize your version to make it uniquely yours.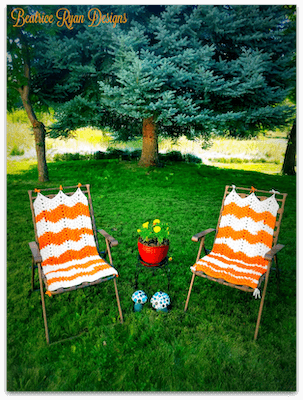 Get the Pattern here

6. Soft Sunshine Chair Pad Crochet Pattern by Moogly
In addition to comfort, this Soft Sunshine Chair Pad chair is a great way to inject vibrancy and texture to a room. It features a lovely tapestry crochet pattern worked in the round to create a cheery, sunny motif. It makes a great housewarming gift, too.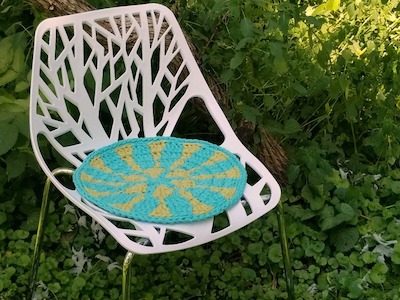 Get the Pattern here

7. Crochet Peacock Feather Stool Cover Pattern by The Curio Crafts Room
Peacock feathers with their unique and vivid colors can look great in any decorations in your home. This Peacock Feather-inspired Stool Cover particularly is my favorite! I like it in bright colors, but I think it's just as stylish in white and light shades, don't you agree?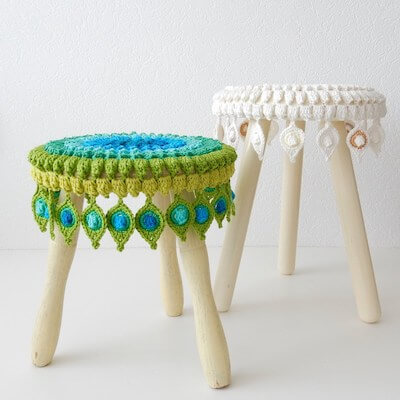 Get the Pattern by The Curio Crafts Room here

8. Chair Cushion Crochet Pattern by Darling Jadore
Update your chairs with the style and comfort of making this Crochet Chair Cushion which gives a modern, farmhouse-chic décor to a dining room. Add a personal touch with different color ways and tie closure.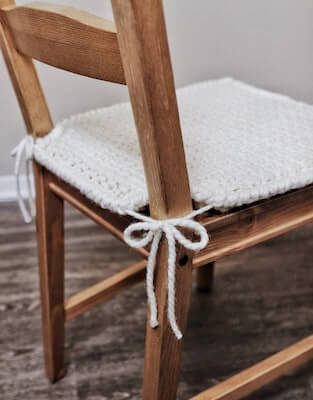 Get the Pattern by Darling Jadore here

9. Crochet Hexie Puff Seat Cushion Pattern by Whistle & Ivy
This fab crochet hexagon puff seat cushion is a fun, easy project to make your kitchen chairs more comfortable. This project is beginner-friendly and you will love working all the adorable hexagons.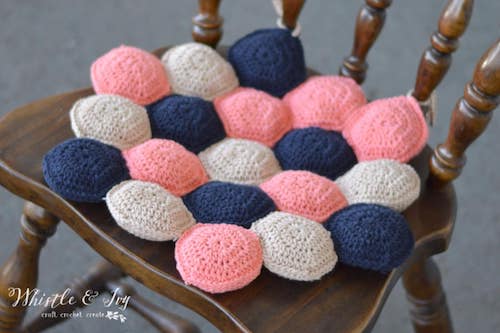 Get the Pattern by Whistle & Ivy here

10. Giant Granny Square Chair Pad Crochet Pattern by Creative Jewish Mom
Here's a fun project using commercial t-shirt yarn that will add a wonderful decorative touch to your home. Its thick, cushiony fabric really does pad your chairs. Not to mention that this is much easier to wash than a chair pad with a foam insert. You'll certainly want to make a whole bunch!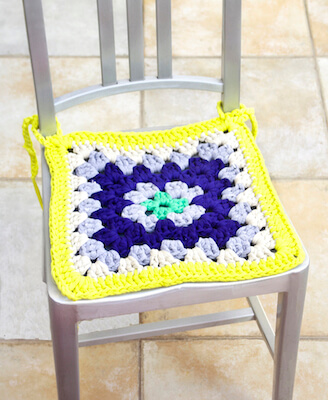 Get the Pattern here

11. Crochet Chair Cover Pattern by Jola's Patterns
Protect your chairs while adding comfort and style with this Crochet Chair Cover Pattern. It's a simple design that's easily customizable, so imagine the vibe you want to create.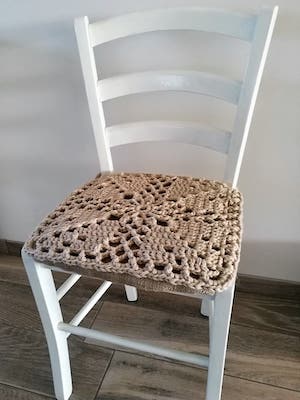 Get the Pattern by Jola's Patterns here

12. Limpet Chair Pad Crochet Pattern by Interweave
Stitch up the best seat in the house when you make yourself a comfy cushion that looks this fancy. Crochet limpets march nicely between slip-stitch rows to create a visually appealing chair pad with lovely texture and a cheerful zigzag picot edge. When you want to freshen up your décor, simply slip it over!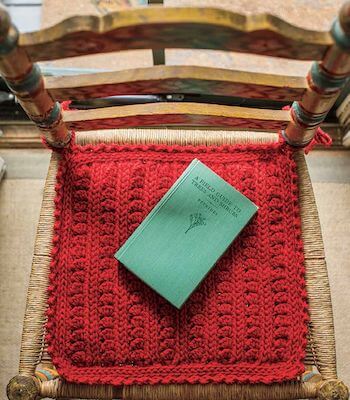 Get the Pattern here

13. Crochet Fitted Chair Covers Pattern by Kristyn Hertrich
With these fitted chair coverings, you can give your kitchen a new look!

These fitted chair covers are made in motifs or as a single piece using simple Granny stitches and Double Crochet stitches. This pattern includes three simple designs that is easily customizable to match your home's color scheme.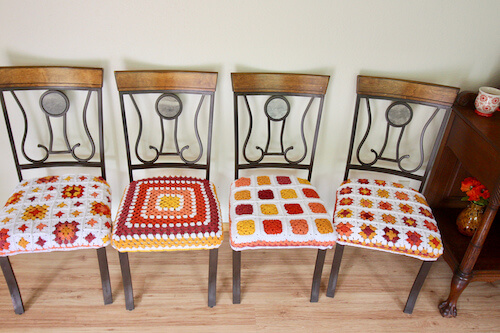 Get the Pattern here

14. Crochet Rainbow Seating Pad Pattern by Vibeke Magnesen Design
Bring these Rainbow Seating Pads with you on your outdoor activities. They are comfy to seat on can also be a nice colorful rug or play mat for kids. This is such a great piece, so why not create a set and give it as a distinctive gift everyone will love?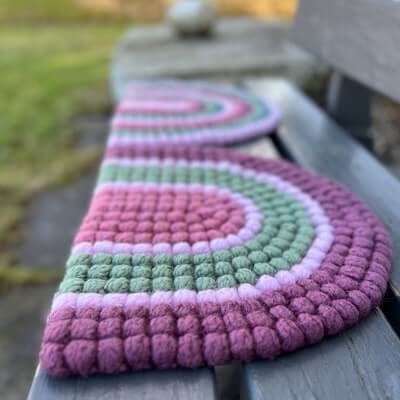 Get the Pattern by Vibeke Magnesen Design here

15. Crochet Chair Covers Pattern by MG Patterns
Dress up your chairs by making a crochet chair cover. It is easy to crochet and will add a nice touch to your home. Work it up in colors to match your own style and decor!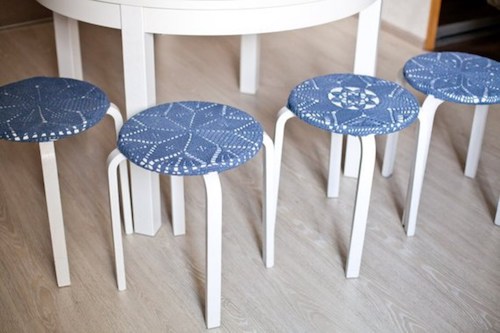 Get the Pattern by MG Patterns here

16. Crochet Mandala Chair Cover Pattern by Felted Button
Brighten up your stools with this Crochet Mandala Stool Covers. It's a super fun, quick, and skill building project — make a few in your favorite colors. This is a great stash-buster!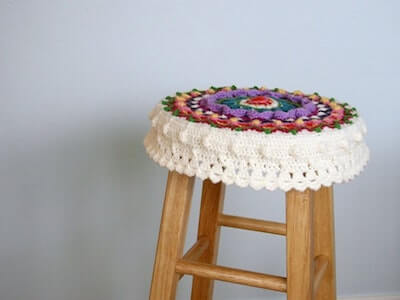 Get the Pattern by Felted Button here

17. Crochet Flower Chair Cover Pattern by Ana D
This is a satisfying project that adds color and warmth to any interior and outdoor setting. Make it in colors that complement your decor. You may even make some for your patio chairs! Make it colorful or monochrome — the choices are endless!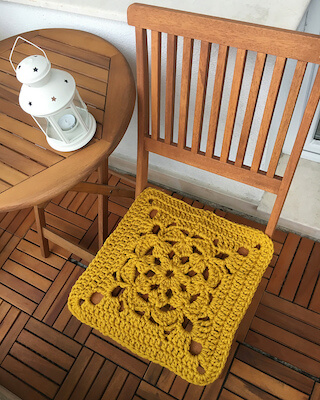 Get the Pattern here

18. Crochet Polar Bear Stool Pattern by Vanessa Mooncie
We can't forget about the kids room when it comes to crochet home ideas. This amazing pattern transforms a plain Ikea stool into a cute polar bear! I love the legs!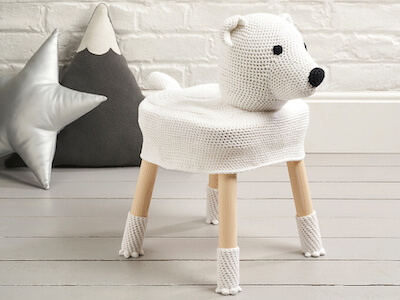 Get the Pattern here
A CROCHET CHAIR COVER IS A SIMPLE WAY TO GIVE YOUR SEAT A TREAT! WHAT ARE YOUR FAVORITES?
When you finish, sit back and enjoy! But don't forget to share your makes with us on our Facebook Page first!
Crochet is a brilliant craft for reflecting your own personal style, and this is especially so when it comes to home decor crochet projects. If you are feeling inspired to do your own home decor refresh, check out these patterns:
I love creating a cozy space with handmade items, and this list of crochet chair covers has to be one of my favorites yet. Happy crocheting!