One of the easiest ways to transfer your space is via window treatment. Instead of spending hundreds on custom window valance at a store, you can make them by yourself with some of these crochet valance patterns.

Crocheting curtains yourself ensures a made-to-measure fit that you just won't get buying them off the shelf. These simple, handmade, ultra-functional window valances will go with many décor styles!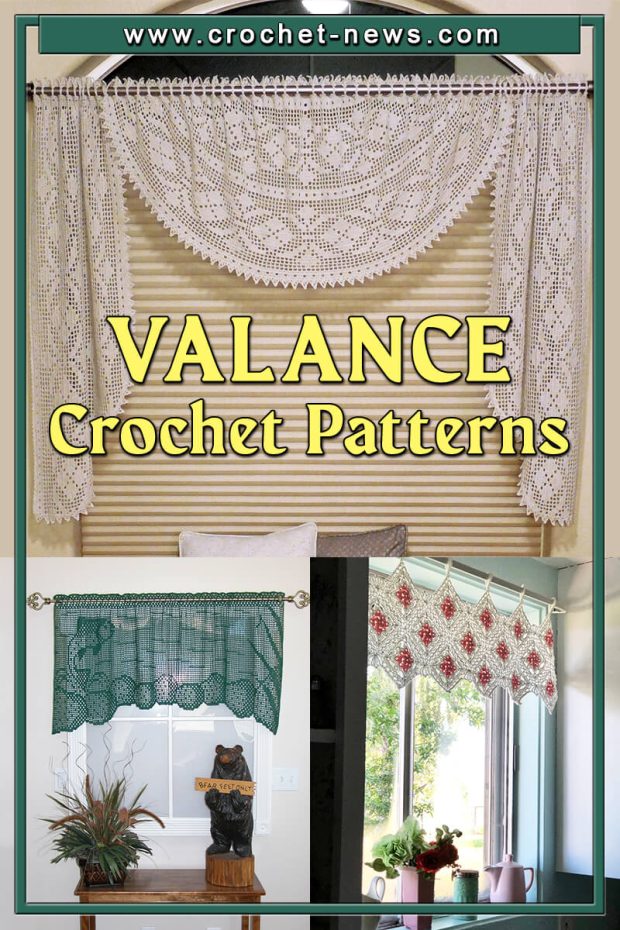 Valances allow you to dress your windows without blocking any of the fabulous light coming through. Although window valances are not as common as perhaps they once were, they have never gone out of style. As a decorative accessory, crochet valances can be added over any window and have become a wonderful tip to refresh your space without costing you very much.

1. Whimsical Birds Valance Crochet Pattern by Kathryn Clark Design
This delightful valance is covered with whimsical birds sitting on branches and flying through the air. A slight gathering at the top of the valance is incorporated into the pattern. The rod pocket is also built into the design to fit a 5/8" or 3/4" inch curtain rod.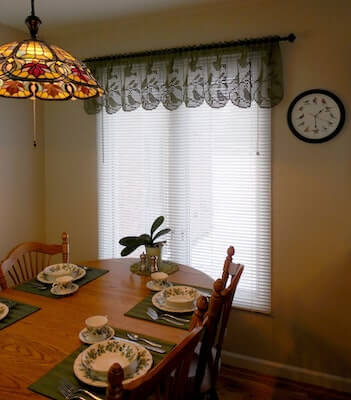 Get the Pattern by Kathryn Clark Design here

2. Petals On Point Valance Crochet Pattern by Joys In Stitches
Add a bit of perfectly textured garden elegance to your decor with an on-point two colored dimensional floral motif curtain valance. Joined in rows of motifs, with a round of finishing that also forms the hanging loops, it's the perfect finishing touch to a bathroom or kitchen, or any room.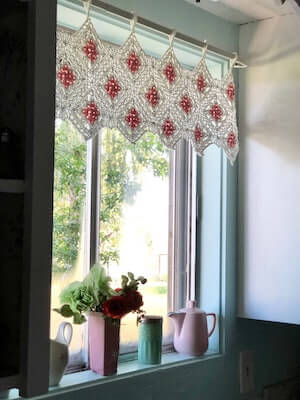 Get the Pattern by Joys In Stitches here

3. Crochet Flower Power Valance Pattern by Once Upon A Pink Moon
This Crochet Flower Power Valance is a great pattern to re-make your interiors and add a splash of color. It is also a perfect pattern in places where you need a non standard shape or size of a curtain.

Indeed, with this pattern you can easily hide the window's frame, soften the corners and at the same time leave as much window uncovered as you wish.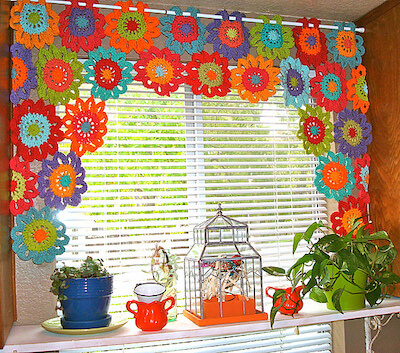 Get the Pattern here

4. Big Bold Chevron Crochet Curtain Pattern by Moogly Blog
A little bit of stash from your leftover projects is all you need to whip up this lacy chevron curtain – add a tension rod and done! It's nice and open so that the light comes in, but the bold lines obscure the view of any looky-loos.

The design uses a big chevron crochet pattern that could be worked in the alternating neutral color scheme shown here or in any color scheme from plain white to vibrant rainbow hues.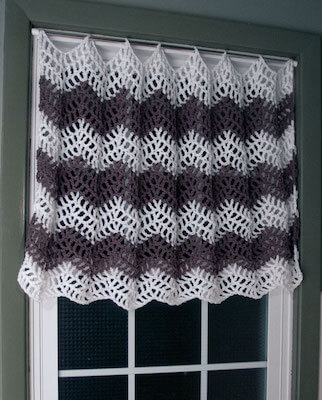 Get the Pattern here

5. Flower Lattice Crochet Valance Pattern by Dearest Debi Patterns
Instantly brighten up any room in the house with the addition of this floral crochet window valence. It was designed using variegated yarn to give it an interesting color pattern without having to change colors while you work.

Of course, if you want a simpler look for your home, you could work the same curtain crochet pattern in a single color.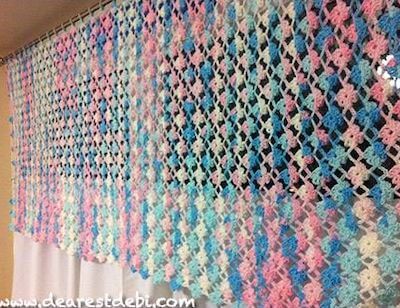 Get the Pattern here

6. Boho Crochet Valance Pattern by ATERG Crochet
Such fun to see and to crochet this boho curtain yourself! The pattern is the base, the fun part of 'choosing colors' is for you! Lovely and bright — and they look like they could be a great stashbuster too!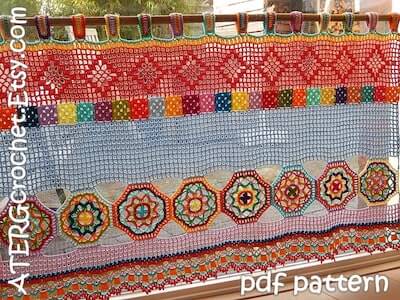 Get the Pattern by ATERG Crochet here

7. Crochet Stunning Swag Valance Pattern by Kathryn Clark Design
Enjoy the calm design of this Stunning Swag Valance as the sun shines through your window. This filet crochet valance is completed in three separate sections: a right and left panel with a scalloped section in the center.

It can easily be customized to fit your window by changing the number of scalloped sections or eliminating the right and left panels.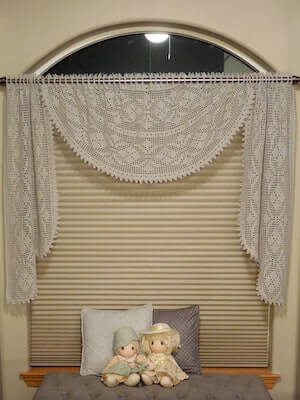 Get the Pattern by Kathryn Clark Design here

8. Crochet Daisy Valance Pattern by Diane Stone
This simple daisy free crochet curtain pattern will definitely perk up your home. The flower design will bring a lively, fresh, spring vibe all year round! Once completed, the crocheted daisy valance should measure approximately 14 inches high and around 45 inches wide.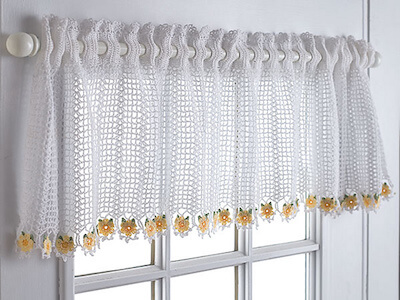 Get the Pattern here

9. Crochet Valance Pattern by Prismatic Forest
This pattern may seem a little complicated at first glance, but once you make your first curtain, you be hooked and ready to make your next one! Add on sqaures and make a longer archway curtain or window trimming!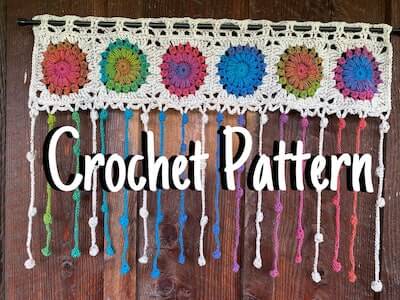 Get the Pattern by Prismatic Forest here

10. Crochet Gone Fishin' Valance Pattern by Kathryn Clark Design
Wouldn't your favorite fisher-person love to have this window valance? This sporty filet crochet valance features a life-size rainbow trout rising out of the water to catch a perfectly-placed fly.

The valance is worked in back-and-forth rows from the left side to the right side with a repeat in the pattern to allow for customization to your window size. The rod pocket is built into the design with a checkerboard border across the top.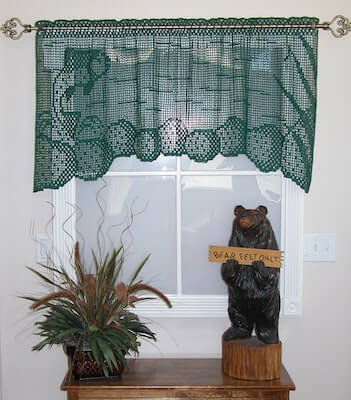 Get the Pattern by Kathryn Clark Design here
GET INSPIRED WITH THESE CROCHET VALANCE PATTERNS AND PREPARE TO INJECT SOME NEW LIFE INTO YOUR WINDOW DÉCOR THIS SEASON.
We hope you've enjoyed browsing through these ideas as much as we did finding them for you – and with any luck, you will now have plenty of fresh ideas for your next DIY project. Once you're done, share your makes with us on our Facebook Page.

Use your hooky skills to complete your crochet home with more crochet home decor patterns we have here. Whether you want to fill your rooms with color, or use your crochet skills to make some useful and practical items, you'll find there's loads of crochet ideas for the home here for you!
If you want an attractive crochet valance to treat your window but are unwilling to spend so much at the store, you should try one or more of the ideas out. Beautifully adorned windows shall be yours!