We know bath mats are inexpensive and washable, but that's no reason to avoid creating cooler DIY versions to replace your plain old towel mats! Today, we collected just about the best crochet bath mat patterns you can make right here!

If you're a crocheter, you've probably outfitted your extremities, plus those of everyone in your immediate family, and you've most likely also supplied a few babies with crocheted blankets. All worthy and satisfying endeavors, but have you ever crochet a soft, plush landing pad for your wet feet? No? Well, why not?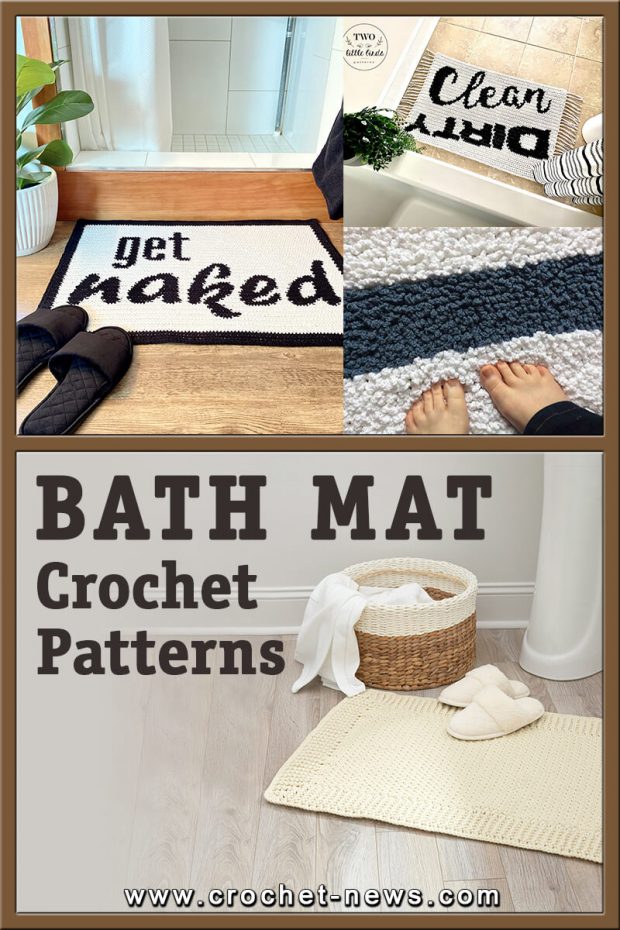 Shopping for bath mats isn't the most glamorous way to spend an afternoon, but spending a few hours enjoying your favorite hobby with the outcome being a custom piece of pure joy to step on, sure is! Let's take a look at them!

1. Crochet Woven Bath Mat Pattern by Darling Jadore
Featuring a modern, highly-absorbent woven texture, this Crochet Woven Bath Mat is the perfect eco-friendly addition to any bathroom décor!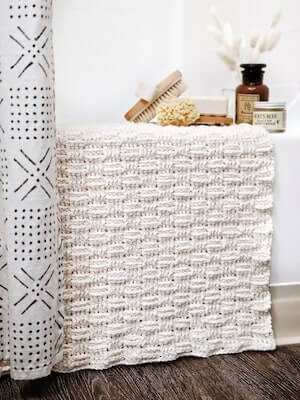 Get the Pattern by Darling Jadore here

2. Crochet Bath Mat Pattern by TLB Patterns
This is a crochet pattern for this Clean and Dirty Bath Mat. This crochet bath mat pattern is a clever way to add a little fun to your bathroom! You walk in "Dirty", you come out "Clean". This crochet pattern uses cotton yarn and the tapestry crochet technique for color changes.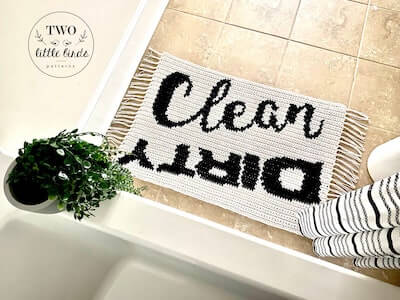 Get the Pattern by TLB Patterns here

3. Free Crochet Bath Mat Pattern by Yarnspirations
Invigorate the bathroom with a fresh, modern vibe that looks fantastic. Shape a beautiful piece as shown, using cool colors or, explore a different theme altogether. Make a second mat for anyone who loves their bathroom.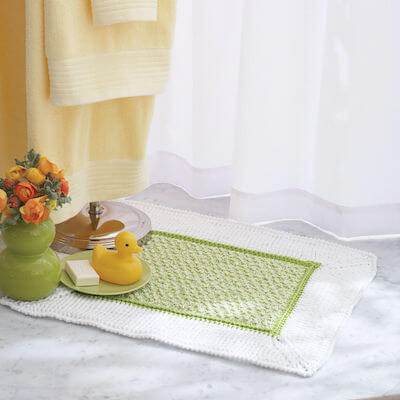 Get the Pattern here

4. Crochet Bumpy Bath Mat Pattern by Kathy's Crochet Closet
This plush and cozy bath mat is a great beginner crochet project. The only stiches used are chain and single crochet. The project works up quickly using super bulky yarn and a large size P (11.5mm) crochet hook.

The bumpy texture feels great on your bare feet and the rug can be machine washed and dried. This rug would also make a great kitchen rug.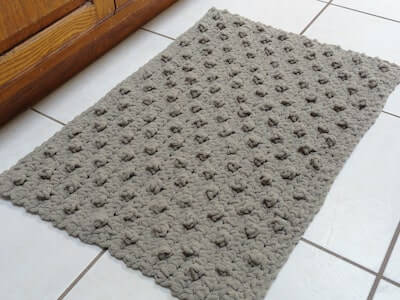 Get the Pattern by Kathy's Crochet Closet here

5. Crochet Bubble Bath Mat Pattern by Angela Plunkett
This Bubble Bath Mat Crochet Pattern creates a super fun, textured, round bath mat to add some coziness to your powder room or bathroom. The pattern includes instructions for crocheting the mat to your preferred size.
A mix of basic stitches and puff stitches add some texture and design to this rug. A fun repeating pattern makes it a joy to crochet. The bath mat is a perfect pattern for the advanced beginner crocheter looking to add to their skills.
Use a favorite cotton yarn color and crochet this bath mat to keep your toes cozy after a bath or shower or as a housewarming gift for a friend.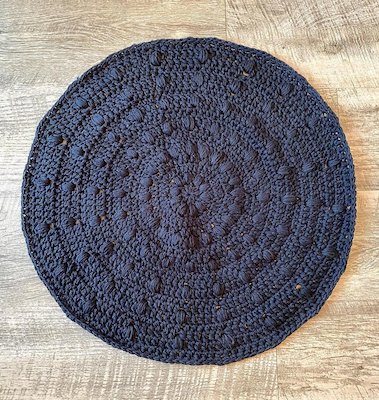 Get the Pattern by Angela Plunkett here

6. Crochet Bathroom Mat Pattern by Easy Crochet
If you are looking for a cozy crocheted bath mat that you can easily make, then you'll love this pattern. It works up quickly, uses simp;e stitches and will add the perfect homemade touch to a bathroom!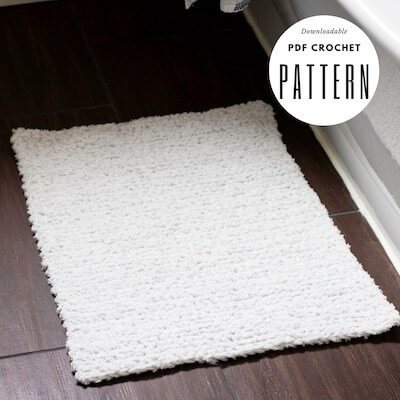 Get the Pattern by Easy Crochet here

7. Thick Thermal Stitch Bath Mat Crochet Pattern by Yarnmare
This slightly oversized bath mat is super soft, thick, and squishy for a spa-like experience! It can be crocheted in just a few hours. Choose a variegated color for a unique pattern, or make it in a classic solid for a more modern look. Either way it is a perfect addition to your bathroom decor.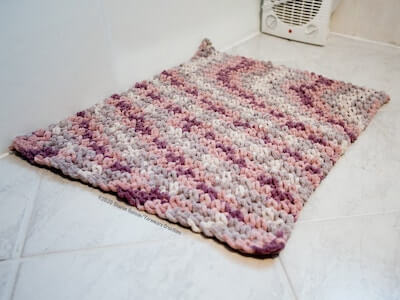 Get the Pattern by Yarnmare here

8. Get Naked Bath Mat Crochet Pattern by Jaded Crafts Creations
This modern and fun bathmat would be perfect addition to your new bathroom makeover. The bathmat is practical and stylish and a great conversation piece. Choose your own vibrant contrasting colors to suit your home design style.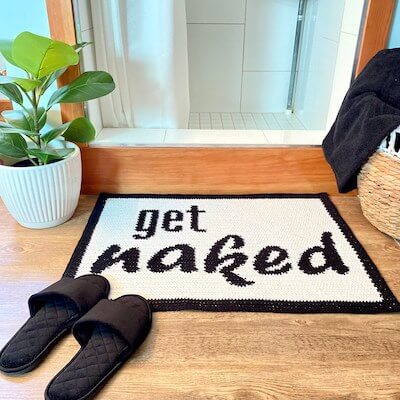 Get the Pattern by Jaded Crafts Creations here

9. Crochet Popcorn Bath Rug Pattern by Raffamusa Designs
This Popcorn Bath Rug is a quick crochet project with T-shirt yarn that has a guaranteed beautiful result. The name of this project obviously comes from the popcorn stitch used at the sides of the rug.

The contrast between the main color of the rug and the popcorn stitches creates a very eye-catching effect. Surely, this rug looks modern and fresh, and it will look great not only in your bath, but also in front of your backdoor, or on your patio if you prefer.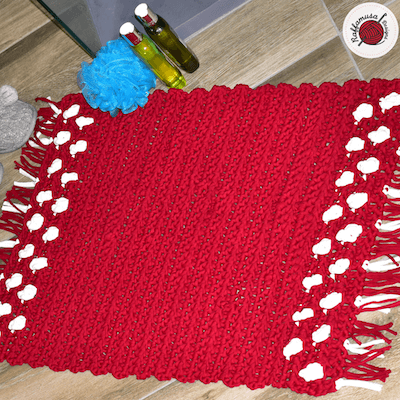 Get the Pattern here

10. Home Spa Bath Mat Crochet Pattern by Red Heart
Treat your tootsies to the cozy comfort of this crochet mat that's perfect for your bathroom retreat! Stitch a luxurious mat using any shade that works in your space.

The pattern is available in 2 sizes for either single or double vanity. Roll it up and add it to a basket including other spa-themed items like scrubbies and soaps, for a fantastic gift.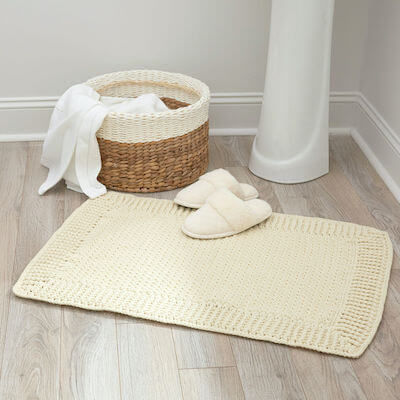 Get the Pattern here

11. Textured Crochet Bath Rug Pattern by Cream Crop Crochet
If you're looking for a bigger project to take on this season, check out this Textured Crochet Bath Rug Pattern. It's made up of alternating rows of single crochet, double crochet, and the bobble stitch. The rug also uses fringe detailing and decorative tassels to really make it stand out.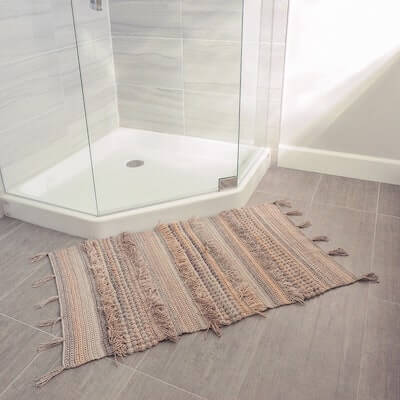 Get the Pattern by Cream Crop Crochet here
12. Honeycomb Bath Mat Crochet Pattern by Mysh Lubelska
Here's a thick and nice rug, with an interesting modern pattern structure and a three-dimensional honeycomb effect. It's perfect to use in front of the tub, sink or shower to absorb spilled water and will be nice for the feet to stand on after bathing.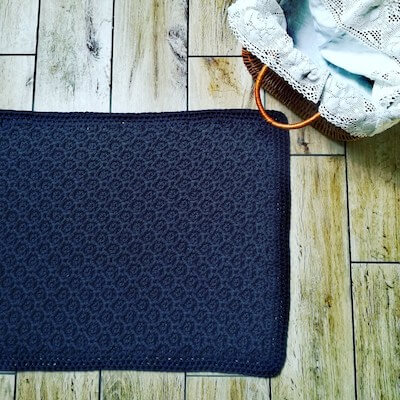 Get the Pattern by Mysh Lubelska here
13. Easy Beginner Bath Mat Crochet Pattern by Teal & Finch
This pretty and functional mat is great for the bathroom, kitchen, nursery, or anywhere you want to brighten up a room! This easy crochet project is great for beginners. You will use a large hook to make this rug. That's half the fun of this project, it goes by fast and you see instant results.
Get the Pattern here

14. Crochet Rope Bath Mat Pattern by Mama In A Stitch
Think outside the box with a squishy spa bath mat made with clothesline rope. The rope makes for a sturdy and squishy rug.

The soft texture of the crochet stitch here – a simple combination of single and double crochet – is absolutely perfect for a bath mat that's both comfortable to walk on and will actually soak up a fair amount of water.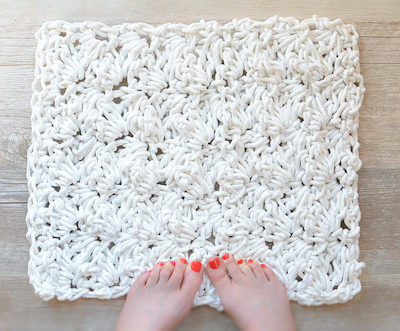 Get the Pattern here

15. Crochet Spa Bath Mat Pattern by Rich Textures Crochet
Step into luxury with this plush bath mat. Made with %100 Cotton, the finished product measures approximately 35 inches long and 17 inches wide. It is a great piece for those just starting out in crochet or for the experienced crochet artist looking to work on a simple yet rewarding project.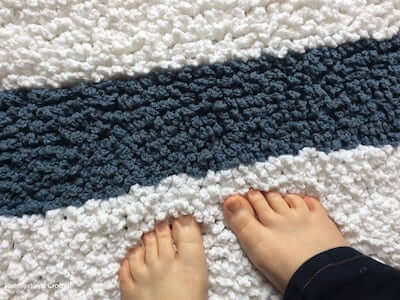 Get the Pattern by Rich Textures Crochet here

16. Crochet Loop Stitch Bath Mat Pattern by Maggie's Crochet
Create this beautiful Loop Stitch Rugs Pattern in no time. Perfect as an easy addition to home decor, these rugs can function as a bath or shower mat as well. Use the patterns to create different rugs for your friends and families homes and give them as gifts.
Get the Pattern by Maggie's Crochet here

17. Take It Easy Crochet Bath Mat Pattern by Yarnspirations
You'll love waking up to this cheerful reminder to "Take it Easy" every morning! This crochet bath mat features vibrant shades that will brighten your whole day. A 100% cotton yarn makes this mat super absorbent and perfect for humid places like the bathroom.

Pick up this easygoing pattern to practice single crochet, increases, decreases, fringe and assembly techniques. It's a thoughtful gift for someone who could use this daily reminder!
Get the Pattern here

18. Bobble Crochet Bath Mat Pattern by B.Hooked Crochet
Let's stitch some cushy bobbles to complete a crochet mat that's perfect for the bathroom. Select the shades that work in your space, or imagine colors with a recipient in mind. Invigorate your own bathroom, or include one as part of a housewarming gift. It's an absorbent and durable mat that gives you years of enjoyment!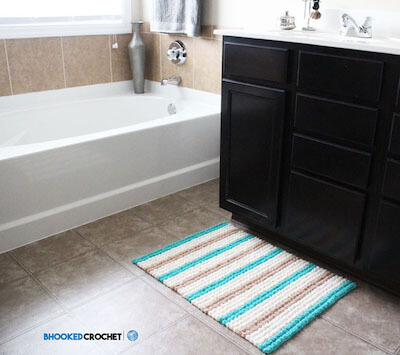 Get the Pattern here

19. Herringbone Bath Mat Crochet Pattern by Sincerely Pam
This free crochet bath mat pattern features strips in neutral colors, textured herringbone half double crochet stitches, and front post double crochet edging. The bulky weight of the cotton and nylon yarn gives you a nice solid rug surface.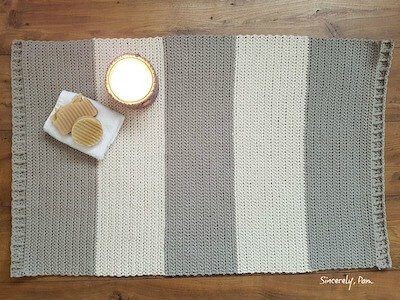 Get the Pattern here

20. Öresund Sky Bath Mat Crochet Pattern by Lilla Bjorn's Crochet World
This bath mat is a beautiful project that shows just how versatile crocheting is for making attractive, functional items for the home.

This thick, luxuriant bath mat is a joy to look at draped over the side of the tub, but are also functional and help you stand safely on a tiled floor when you get out from the bath. The pattern is easy to crochet, and there is no limit to the color combinations you can make.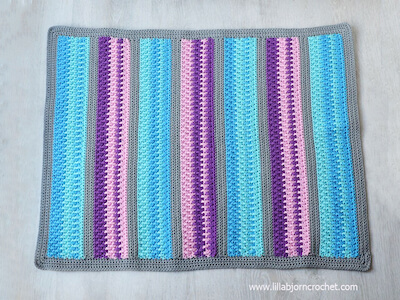 Get the Pattern here


KEEP YOUR SPACE COMFY AND CLEAN WITH THESE CROCHET BATH MAT PATTERNS!
If you love design but are running out of room to get creative, then rugs are a great way to mix up your decor. And if you're eager to test out a new flooring look but your budget is tight, then check out our Crochet Rug Patterns, Rug Weaving Patterns and Punch Needle Rug Patterns to make one to fit all of those parameters.
Share your progress and connect with the community by sharing your experience and finished pieces on our Facebook Page. We can't wait to see what you make!

If it's been a while since you've checked the condition of your tried (but no-so-chic) mat, it's officially time to make a new one with these crochet bath mat patterns. Treat yourself!