This awesome Crochet Converse Patterns allows you to make crochet slippers that resemble your Converse sneakers, and it really looks like the real thing!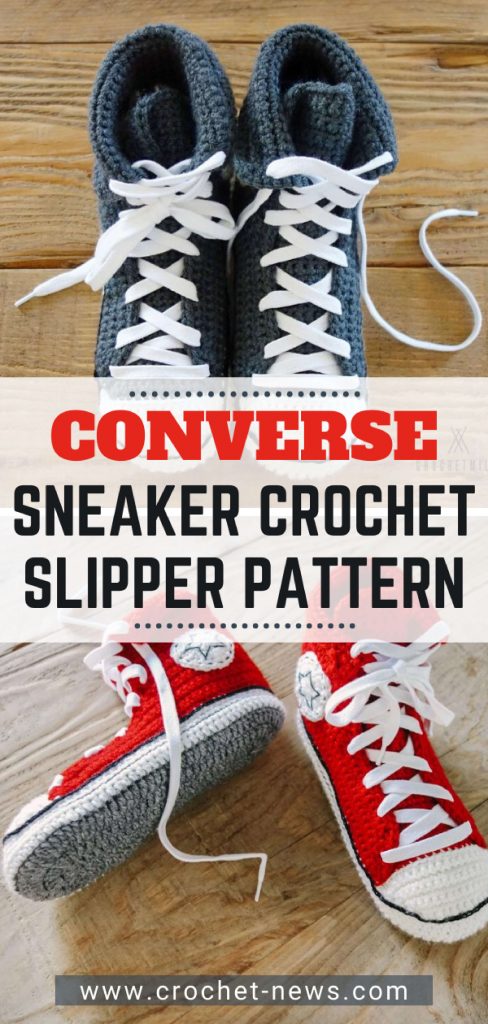 Meet the worthy substitute for your usual slippers: the Crochet Converse Slipper Pattern. It's got the shape, the high cut look, the lace, and even the patched star!

The crochet look of this 'Converse Slippers' gives it a unique design that makes it a head-turner, wherever and whenever you may choose to bring it. Also, you can make dozens of it with its easy to follow instructions!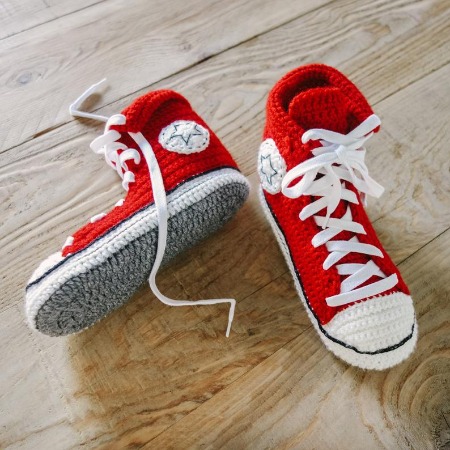 WHERE CAN I USE THIS CONVERSE CROCHET SLIPPERS PATTERN?
If you're tired of your usual rubber or foam slippers, then you should really try making these crochet slippers.
The coolest thing about this crochet converse slippers pattern is it doesn't look like any of your boring slippers; instead, it resembles your well-loved Converse sneakers! Who wouldn't want to wear that?

Thanks to Emilie Bolduc, the maker of this pattern, you can now level up the look of your trusty slippers! It's time to say 'Baby, bye bye bye' to your boring slip-on!
With this pattern, not only can you make one for yourself, but you can also make it as an awesome gift for your loved ones. As we all know, nothing beats a handmade gift, right?

Also, you can make it as merchandise that would place it as a unique product that will not only appeal to crochet enthusiasts but also with sneaker enthusiasts!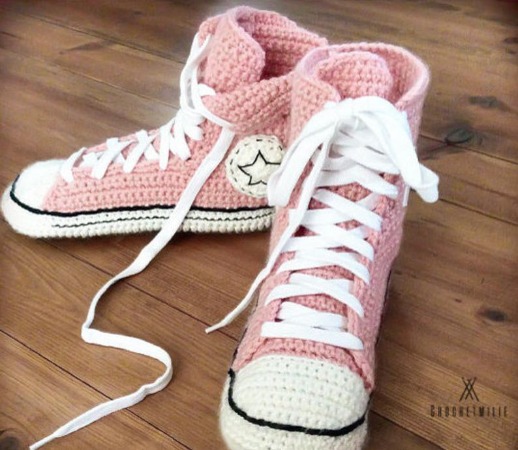 SKILL LEVELS NEEDED FOR CONVERSE CROCHET PATTERN
Good news! For those of you who are planning to make this pattern, the Converse Crochet Pattern only requires an Easy to Intermediate skill level. Simply put, it's a not-so-complex pattern to make.

Along with these required skill levels, its easy to follow instructions would make it even easier for you to make more than one pair of 'sneakers' in just a day. 'Shoe' making has never been this easier!

TO MAKE A SLIPPERS PATTERN, WHAT MATERIALS WILL I NEED?
Hook – 4.00 mm (G), 3.5 mm (E), 2.25 or 2.75 (B or C) mm hook
Yarn – Worsted weight (4) yarn in white, gray and the color of your choice (1 skein of each)

Specific yarn used is Patons Canadiana winter for the white part

Superfine black yarn (Style of wool-like of loops and thread or bamboo yarn from eBay)
Stich marker (optional)
Tapestry needles for sewing and weaving in ends
Scissors
Shoelaces about 72 inches (optional)

SIZES FOR CONVERSE SNEAKER CROCHET
For women, the available sizes are 5 to 12. For men, they can choose between 7 to 14.

WHY SHOULD YOU TRY THIS AWESOME CONVERSE SLIPPERS PATTERN TODAY?
Let the stitching begin! For more footwear patterns, check out our round-up of Easy Crochet Slipper Patterns, Basic Crochet Clogs, Crochet Loafers, Crochet Shoes Moccasins Pattern.
So today, make someone (or yourself) feel special by trying out this awesome and unique pattern that would surely spoil your two lovely feet!

With its easy to follow instructions and awesome design, the Converse Crochet Slipper Pattern would be a delight to make, not only for yourself but also for your loved ones. It's a perfect gift, whatever occasion it may be.