Wolves are symbolic of strength and possess a fierceness in the wild. Do you know someone who embodies these traits or simply loves wolves? You'll want to browse below for the best crochet wolf patterns you can make for the wolf fan in your life.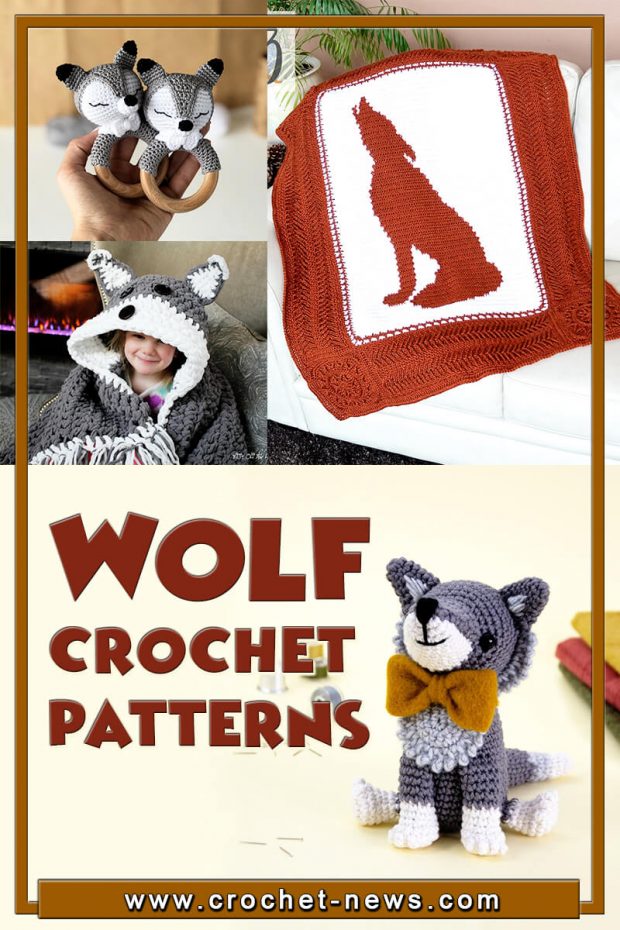 You'll see all sorts of neat toys, softies, hats, and other fun accessories you can make for yourself, your friends, and everyone intrigued by this fascinating creature of the wild!

1. Flynn, The Wolf Amigurumi Pattern by Hello Lady Ellie
Meet Flynn the wolf! He loves winter so much because that's when he can wear his lovely cape. The cape is designed seamlessly so it's a quick and fun project to be made.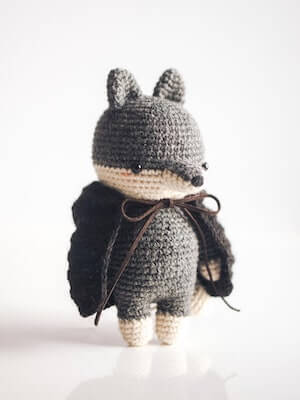 Get the Pattern by Hello Lady Ellie here

2. Grey Wolf C2C Square Crochet Pattern by My Hobby Is Crochet
You can use this wolf corner to corner crochet square together with all the other animal squares you have to make a lovely blanket or make this square only and turn it into a pillow case.
Kids and adults alike will surely love it. It would make a great Father's Day Gift as well!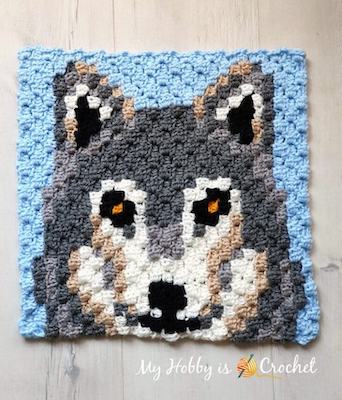 Get the Pattern here

3. Crochet Wolf Amigurumi Pattern by Amigurumi Today
This Crochet Wolf Amigurumi Pattern will help you to crochet a sweet and innocent amigurumi wolf, an adorable friend of your child. The size of finished crochet wolf is about 26 cm.
Be aware that six may vary depending on the yarn and hook size used.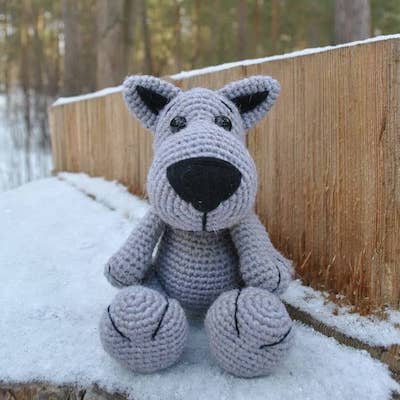 Get the Pattern here

4. Crochet Wolf Pillow Pattern by Dream Stitching Crafts
This Wolfish Dream Pillow invites you to let your imagination run wild and free as a wolf – helping you bring your inner wild side to life!

Whether you wish to rest your head upon its comforting side to bring it with you on your daily adventures – the Wolfish Dream pillow is sure to please. With the simple to follow pattern, you will bring your newest home accessory to life.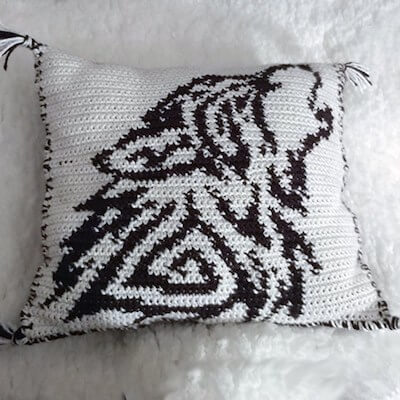 Get the Pattern by Dream Stitching Crafts here

5. Italo, The Wolf Amigurumi Crochet Pattern by Airali Design
Italo is a kind amigurumi wolf who wears a thin felt bow tie (explained step by step in this pattern too!). Almost all the pieces are joined to head and body while crocheting, there are only a few seams to do to complete the project!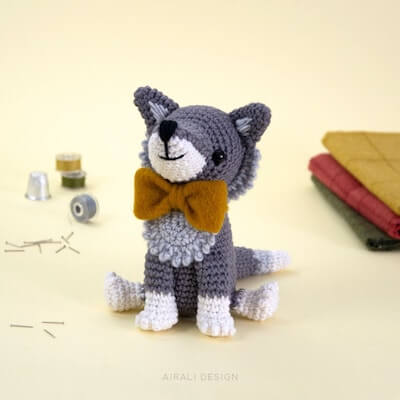 Get the Pattern by Airali Design here

6. Woodland Crochet Wolf Hat Pattern by Traverse Bay Crochet
This Woodland Crochet Wolf Hat is a cute design that is sure to delight! The pattern uses medium worsted weight yarn in 3 colors and is written in baby, toddler, child and adult sizes.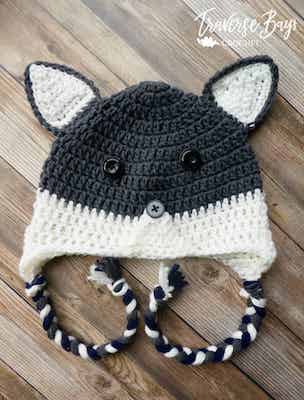 Get the Pattern here

7. Wolf And Direwolf Amigurumi Pattern by Lucy Raven Scar
With this pattern, you can make a wolf (or direwolf) with three different types of markings. You can make a completely white wolf, and two grey and white ones; one is grey along the top and white underneath, the other just has a white throat.

You can of course use different colours, wolves can be brown, reddish, black, grey or a mixture, and mottled yarns will give a good effect.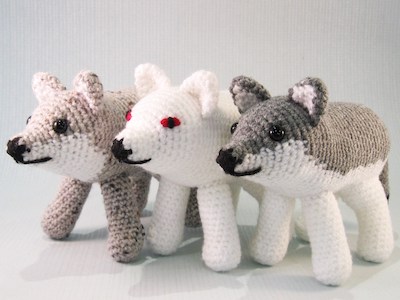 Get the Pattern by Lucy Raven Scar here

8. Crochet Wolf Blanket Pattern by MJ's Off The Hook Designs
This blanket is designed as a gorgeous hooded fringe throw. Wrap yourself up, forget your worries and be the wolf! Or simply lay the blanket over top and admire your cozy blanket.
When not in use tuck into a pillow. This is a fun extra thick and bulky design suitable for beginners using basic crochet stitches.

Not into wolves? Well, the pattern also includes instructions on making a super cute crochet fox hooded blanket, too.
Get the Pattern by Mj's Off The Hook Designs here

9. Amigurumi Wolf Crochet Pattern by Wonder Wishes Studio
This kawaii wolf just lazes around all day, without a care in the world. If you're a crochet-lover looking to DIY and make your own cute wolf, this pattern is for you!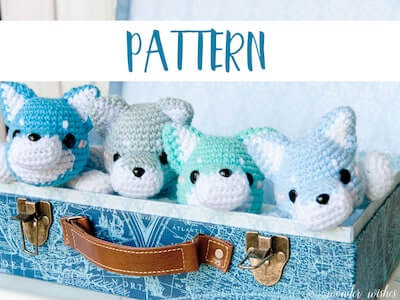 Get the Pattern by Wonder Wishes Studio here

10. Crochet Luis Lobo, The Wolf Pattern by Underground Crafter
Luis Lobo, the wolf is an adorable, rag-doll style, wolf amigurumi pattern. He is more friend than predator and a faux fur yarn gives him fun, textured fur to cuddle.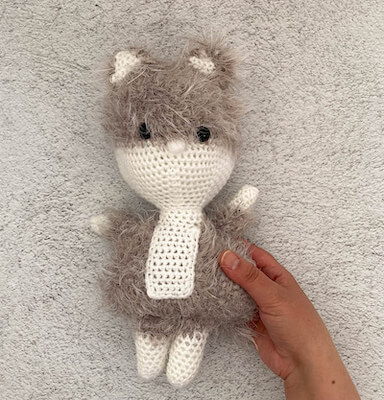 Get the Pattern here

11. Wolf Lovey Crochet Pattern by Bowtykes
This blanket is easy for babies to hold on to and is so cute! This Wolf Lovey is a plush toy and security blanket all in one! She will become a good friend for your baby.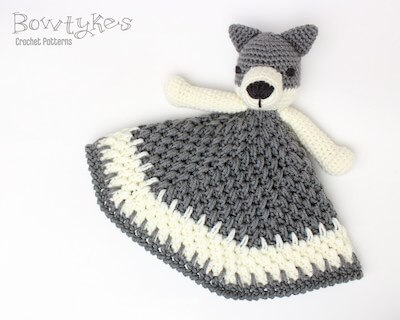 Get the Pattern by Bowtykes here

12. Willy, The Wolf Crochet Pattern by Lilleliis
Willy, the Wolf is the perfect middle-sized toy for cuddling. You'll get the softest and coziest toy if using merino wool. This design includes several eye-catching features including brushed ears and tail.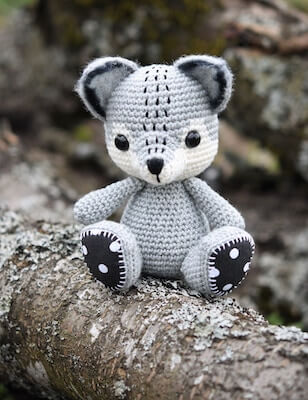 Get the Pattern by Lilleliis here

13. Crochet Howling Wolf Blanket Pattern by Sweet Potato 3 Patterns
This Howling Wolf Blanket is a unique design, full of rich texture and features the classic howling wolf silhouette that pops with the white background. This is a blanket that makes you feel at home and everyone is going to love.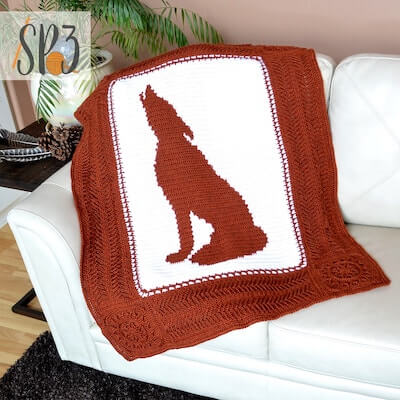 Get the Pattern by Sweet Potato 3 Patterns here

14. Hooded Timber Wolf Scarf Crochet Pattern by Sweet Softies
This Hooded Timber Wolf Scarf is a fun and whimsical winter accessory! It comes with cozy hand pockets, and you can wear it akin to a vest over your body, or wrapped snugly around your neck. This furry snoodie is quick to work up with simple stitches, a large hook, and super bulky textured yarn.

The animal ears can resemble a cat or fox as well. This is great for Halloween or cosplay costumes, as a birthday or Christmas holiday gift, or just for anyone who loves staying cozy and cute during the cold!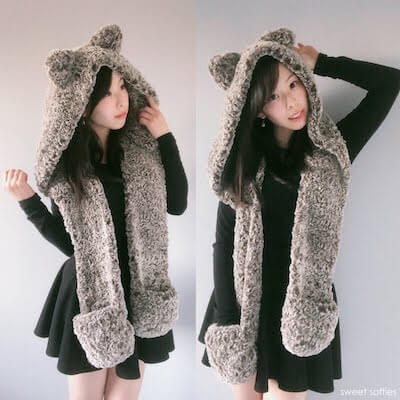 Get the Pattern here

15. Big Bad Wolf Crochet Pattern by Crochelandia
This Big Bad Wolf in Grandma's clothes is a great take on the world's favorite fairy tales. This doll is easy to make and will be either an attractive decoration, or a much-loved plaything.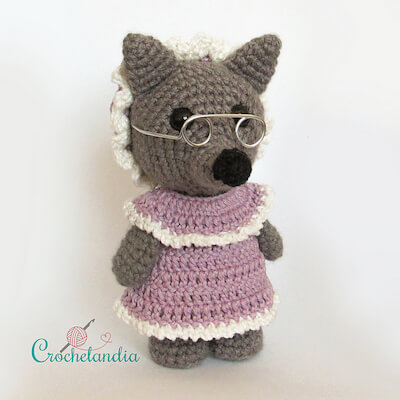 Get the Pattern here

16. Crochet Wolf Baby Rattle Pattern by Vinera Eyer Patterns
These soapy wolves with embroidered sleeping eyes, upturned noses, bows on their necks, and tags on the tips of their ears crocheted for the smallest in our life are babies themselves.

You can crochet a wonderful sleeping wolf rattle using this pattern. The finished Wolf is approx 5″/12 cm high Great size for a baby hand.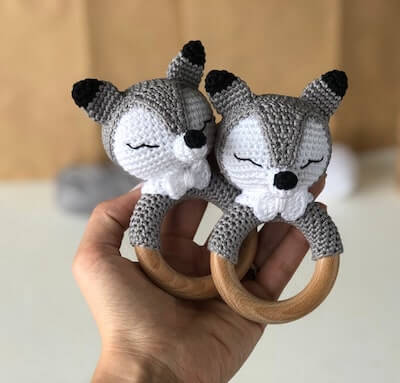 Get the Pattern by Vinera Eyer Patterns here

17. Crochet Wolf Pattern by CR Originals
This is a cute amigurumi wolf for cuddling or putting on display. The size of the finished toy is about 9 inches tall if using indicated yarn and hook.

This crochet wolf is just the right size for cuddles and fortunately for you, he's a very affectionate little guy!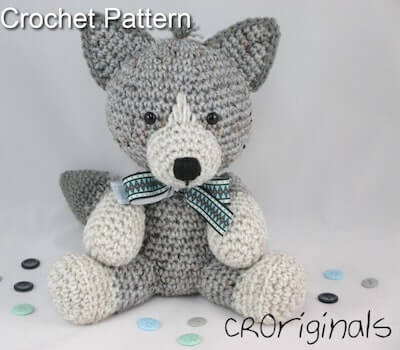 Get the Pattern by CR Originals here

18. Realistic Wolf Crochet Pattern by Sons Popkes
With this clear written pattern, you can make a super cute and realistic wolf. If you feel like it you can even make a pack of wolves!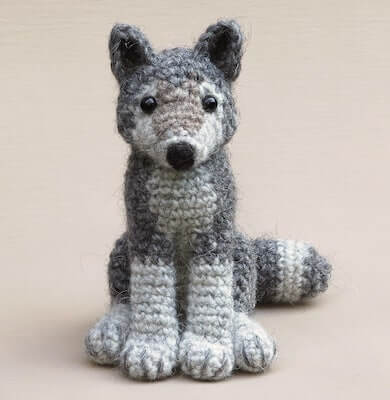 Get the Pattern by Sons Popkes here

19. Wiley Willa, The Wolf Amigurumi Pattern by Handcrafting A Life
Who's afraid of the big bad wolf? I can't imagine anyone would be afraid of Willa with her little smirk and adorable hooded poncho all tied up in a nice, sweet bow!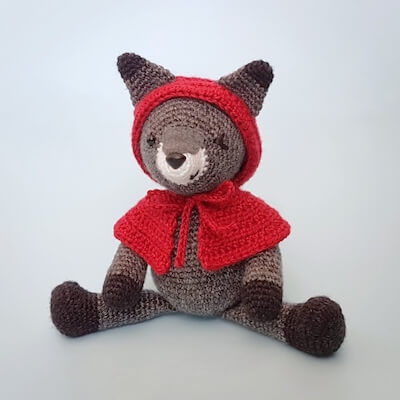 Get the Pattern here

20. Duke, The Wolf Free crochet Pattern by Elisa's Crochet
Make a little wolf to guard your desk! This little guy is anything but scary! What makes this project interesting is that the arms and the head of the wolf are crocheted to the body instead of being sewn to it.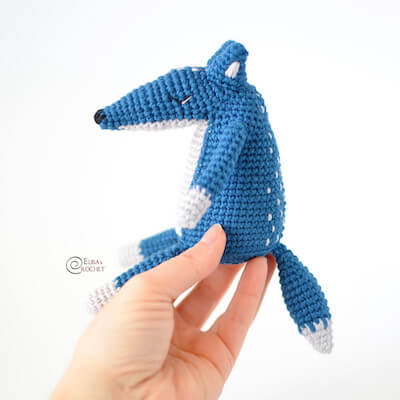 Get the Pattern here

21. Crochet Wolf Applique Pattern by Nella's Cottage
This Crochet Wolf Applique would make a great addition to a crochet hat, dress, blanket, or any other project you are working on. It would even look great as a decoration for a baby shower or a woodland themed party.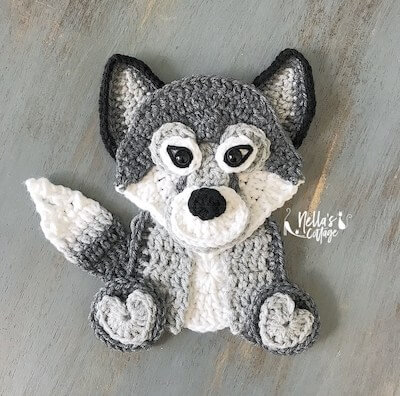 Get the Pattern by Nella's Cottage here
I HOPE YOU'VE ENJOYED THESE CROCHET WOLF PATTERNS!
Don't go far because more gorgeous animal roundups are just around the corner! Check out out collection of patterns for Rhino, zebra, fox, bat, tiger, lion, snake, narwhal, otter and more!

When you have finished your own pack of wolves, please feel free to send along pictures of your creation or post on our Facebook Page for all to enjoy!

With these crochet wolf patterns, we are showing even more love to our wild and free animal friends, the wolves. Have fun making them!