Here are crochet watermelon patterns that will make everyday feel like summer! If you love the sweet snack for more reasons that just biting into it on a hot summer day, you'll definitely want to keep reading for all the juicy deets!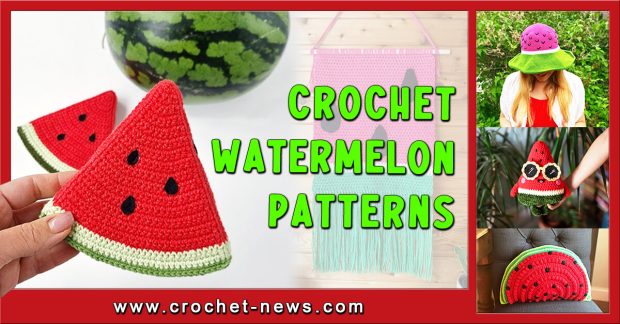 Even though summer season has long gone, the watermelon lover in your life is sure to love any of these patterns inspired by the planet's favorite jumbo-sized fruit. You'll find wearables, toys, and stuff for the home, each designed to make your mouth water with summer delight!
15 Crochet Watermelon Patterns

1. Crochet Watermelon Slices Pattern by Pinky Pinky Blue AU
Here's a realistic replica of everyone's favorite summer treat! Perfect for beginners, this Crochet Watermelon Slices Pattern will have you making a refreshing watermelon slice that looks good enough to eat!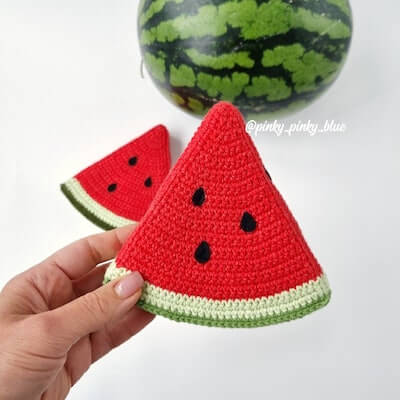 Get the Pattern by Pinky Pinky Blue AU here

2. Crochet Watermelon Bunting Pattern by Sweet Bee Crochet
This sweet and summery Crochet Watermelon Bunting is a delightful way to brighten your décor all year round! It's a quick and simple crochet pattern that could be worked easily before a party and a cheerful trim that will add a touch of whimsy to your home.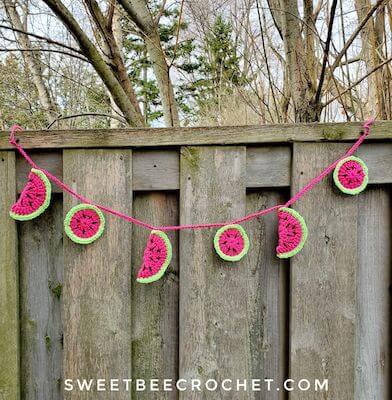 Get the Pattern here

3. Crochet Watermelon Coasters Pattern by Hanbo Studio
Wouldn't it be fun to crochet a few watermelon coasters to add to the summer mix and use as we sip on our lemonade? Having watermelon slices on the table brings a summer vibe to the room. This crocheted watermelon slices coaster set can be a decorative and functional addition to your seasonal gatherings.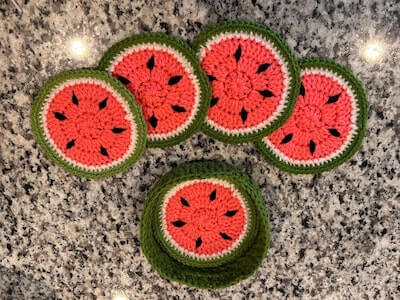 Get the Pattern by Hand Studio here

4. Crochet Watermelon Blanket Pattern by Happy Crochet Lady
Enjoy sweet snuggles under this fun Crochet Watermelon Blanket! Perfect for a child's room our brightening up your summer decor, this easy crochet blanket shaped like a slice of watermelon is worked in the round with appliqués seeds stitched separately and then sewn onto the finished blanket.
Get the Pattern by Happy Crochet Lady here

5. Crochet Watermelon Pillow Pattern by A Crafty Concept
This adorable Crochet Watermelon Pillow is such a spunky statement piece for any room in the house! It would look adorable in a nursery, laying on the bed, or relaxing on the couch in the living room. It's the perfect pillow for adding some color and summer vibes to your home!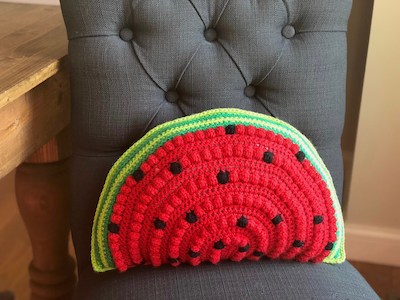 Get the Pattern by A Crafty Concept here

6. Crochet Amigurumi Watermelon Keychain Pattern by One Dog Woof
These smiling faces of watermelon amigurumi will bring a touch of summer to your everyday essentials. Attach them to your keys, bags, or accessories, and let its fruity charm accompany you wherever you go!

Perfect for all seasons and as stocking stuffers – it's cute, it's small, and you can whip up a set of these in just one evening for everyone on your list!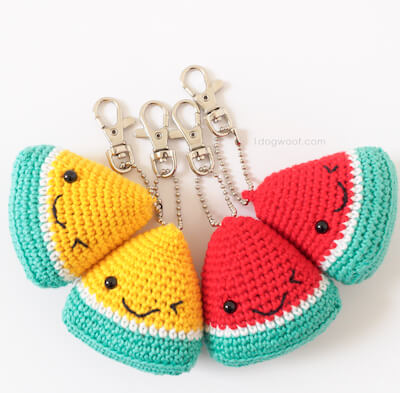 Get the Pattern here

7. Watermelon Wedge Free Crochet Pattern by Spin A Yarn Crochet
Here's another quick and fun little project that that you can complete in just a couple of hours. While it's incredibly charming by itself, it could also serve as a wonderful addition to a child's toy kitchen set. Or, you could add a squeaker, leave off the safety eyes, and turn it into a fantastic chew toy for your furry friend!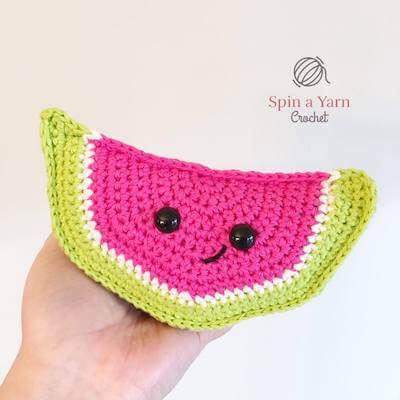 Get the Pattern here

8. Crochet Peelable Watermelon Pattern by Honeybee 69
Crochet your way to cuteness with this Crochet Peelable Watermelon Pattern! While real watermelons don't peel, this crocheted version is irresistibly adorable. Unveil the fun by opening it up to discover six sweet watermelon wedges that's perfect as toys for little ones or use them in a dramatic play!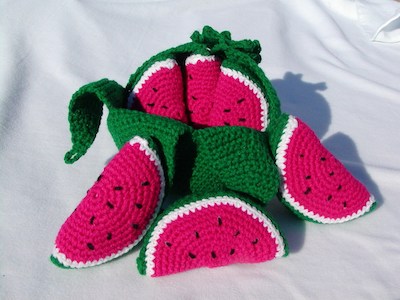 Get the Pattern by Honeybee 69 here

9. Crochet Sliced Watermelon Placemat Set Pattern by Hooked On Patterns
Whether you're having an indoor or outdoor picnic, nothing says summer like watermelon. These fun sliced watermelon placemats help to protect your table and add a pop of color! The pattern also comes with a watermelon-shaped holder to neatly store them in.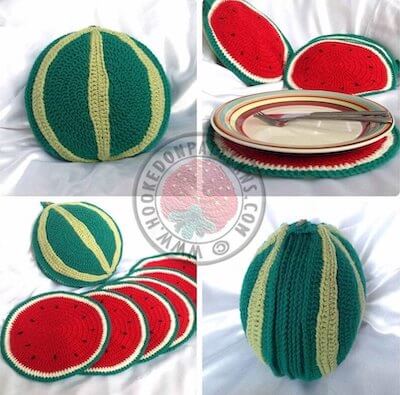 Get the Pattern by Hooked On Patterns here

10. Watermelon Sun Hat Crochet Pattern by Crafty Kitty Crochet
Nothing quite says summer like donning a crocheted watermelon hat! This fun sun hat makes a bold and comfortable fashion statement. Plus, it's a breeze to make—all you need to know is the single crochet stitch, and how to work in the round!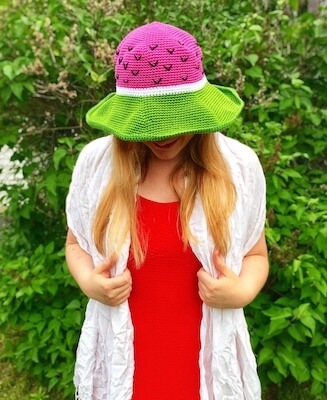 Get the Pattern here

11. Crochet Watermelon Earrings Pattern by Pops De Milk
Get the perfect pop of color and a fun juicy look with these Crochet Watermelon Earrings. This pair of fruit earrings is everything you need to jazz up your summer #ootds. Their lightweight design makes them ideal for any summer occasion or a sunny day out.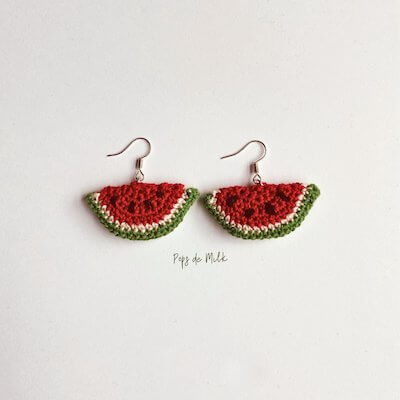 Get the Pattern here

12. Crochet Watermelon Toy Pattern by Magic Filament
This Crochet Watermelon Toy is the sweetest fruit plushie you will ever meet! With sunflower glasses, arms, and feet, this little watermelon slice is the best stuffy companion for little hands!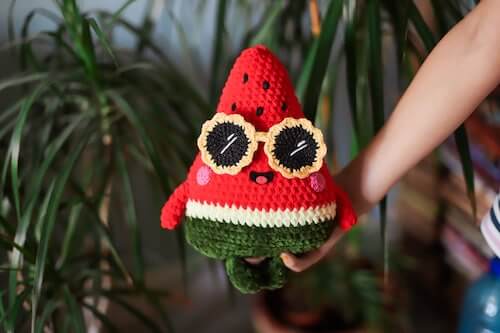 Get the Pattern by Magic Filament here

13. Watermelon Set Crochet Pattern by Tiffy Happy Crafts
Create your own watermelon slices with this pattern, perfect for imaginative play of adding a sweet touch to your home decor. Get creative by crocheting your own watermelon slices in the size that suits your fancy — whether it's a half watermelon, a half slice, or even in triangle slices!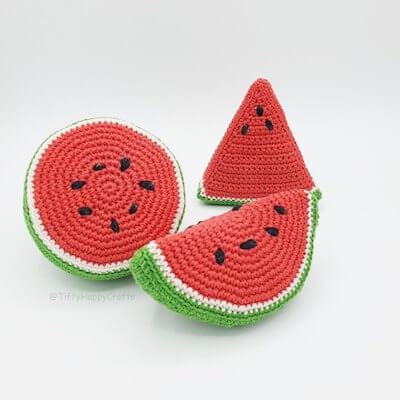 Get the Pattern by Tiffy Happy Crafts here

14. Crochet Watermelon Coin Purse Pattern by Nicki's Homemade Crafts
Crochet a cute and practical accessory with this Crochet Watermelon Coin Purse Pattern!

Perfect for spring and summer, the pattern guides you to create a mouth-watering coin pouch to keep your coins, keys, or small essentials safe. There's no doubt this little pouch will earn you plenty of compliments all summer long.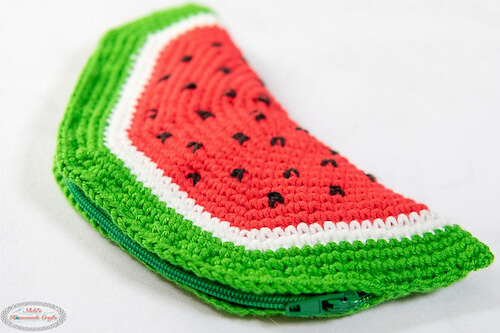 Get the Pattern here

15. Crochet Watermelon Wall Hanging Pattern by Jaded Crafts & Creations
For the true watermelon lovers, crochet this watermelon wall hanging to hang in your home. This wall decor is a quick and easy project for any space that needs a light, bright piece!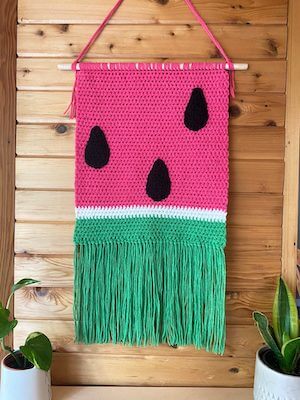 Get the Pattern here
WHICH OF THESE CROCHET WATERMELON GOODIES DID YOU LOVE?
Check out more of our delectable crochet food patterns that will delight without filling you up! A lot of choices for you to mix and match to have a yummy basket of goodies:
What better way to hold ourselves over for summertime with a fun crochet watermelon pattern or two. Let's get crocheting!