How do you like your eggs? Sunny side up and made of yarn! I have a thing for fried eggs at the moment, not only are they super tasty, their bright graphic quality lends itself to fun decorative designs. Let's create the yarn version of them with these crochet fried egg patterns.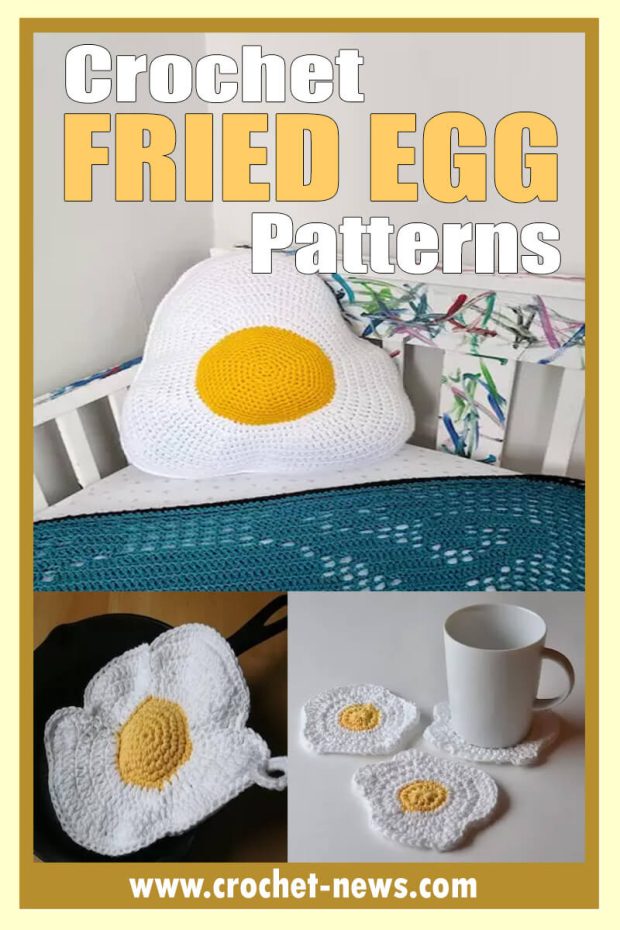 10 Crochet Fried Egg Patterns
Warning: The following post contains an egg-cessive amount of egg puns. Those of you that egg-hibit egg sensitivities may want to look away.

1. Cheeky Egg Free Crochet Pattern by Tiny Curl
How do you like your eggs in the morning? I like mine cheeky and squishably silly—just like this one! With a bright sunny yolk, cloudy-soft white and wacky, waggly arms, this playful pal will bring you out of your shell!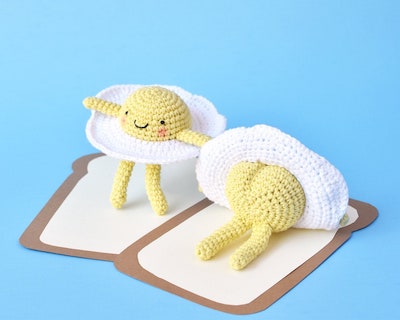 Get the Pattern here

2. Fuzzy Fried Egg Crochet Pattern by Baby Cakes Studios
We all know that the best start to a comfy morning includes eggs! Packed full of protein and a range of vitamins and minerals, who wouldn't want to eat their eggs next to an egg plush?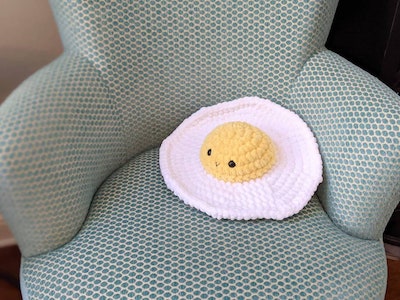 Get the Pattern by Baby Cakes Studios here

3. Crochet Fried Egg Potholder Pattern by Joy Prescott
Serve your family with a little fun. This Fried Egg Potholder is made with cotton yarn and will protect your hands while cooking as well as bring some fun style to your kitchen!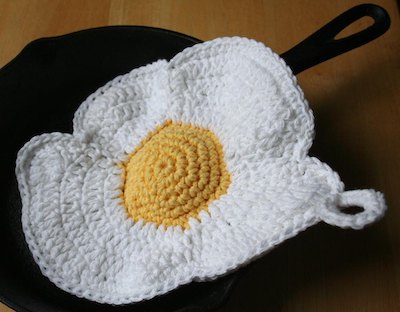 Get the Pattern by Joy Prescott here

4. Crochet Fried Egg Coasters Pattern by Xasper 8ing
These Crochet Fried Egg Coasters are perfect for those farmhouse or chicken lovers to decorate the kitchen. These are great addition to your most picturesque brunch!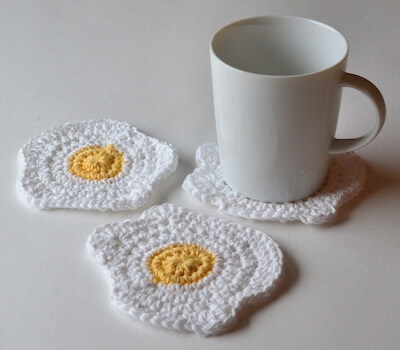 Get the Pattern by Xasper 8ing here

5. Crochet Fried Egg Pillow Pattern by Jessica Ryan
A plushie fit for a fry up, this Fried Egg Amigurumi is an oversize eggy pillow that you can sleep on, lounge on cuddle up to or just stare and smile. Just don't try and eat it! Make a breakfast tribute or embroider a face on the yolk to make a snuggly egg friend.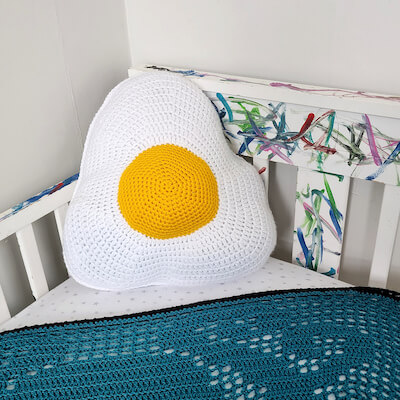 Get the Pattern here

6. Crochet Fried Egg Pattern by Many Evenings
Here's a pattern for a life-size fried egg, that will be a perfect addition in your kid's playroom. You can use it as a pin cushion, too.

It is made of two parts, which are sewn together. Yolk is additionally stuffed with a bit of toy filling for even yummier look. This project is perfect for a beginner, who wants to practice all basic crochet stitches. It takes about 1.5 hours to complete.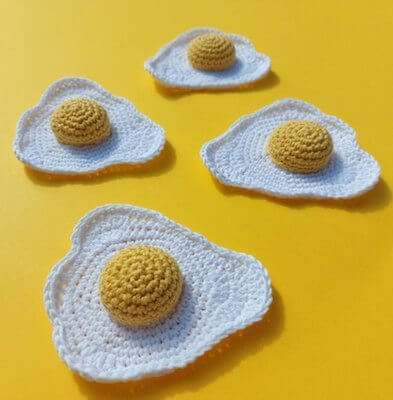 Get the Pattern here

7. Beret Sunny Side Up Egg Crochet Pattern by Quincy Maranan
Wouldn't it be cute to have a little white beret with an egg yolk on top making you look like you're wearing a little sunny side up egg? It's perfect for any whimsical/breakfasty outfit you could come up with!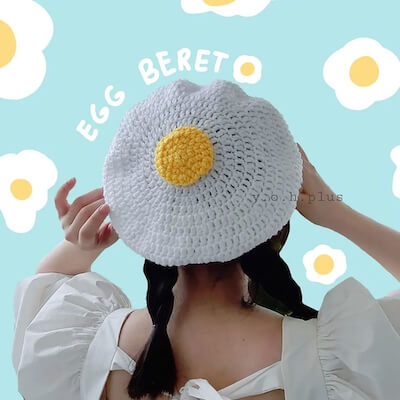 Get the Pattern here

8. Crochet Fried Egg Mini Bag Pattern by Duong Nguyen
How about a pocket-sized Fried Egg Mini Bag that will hold all your loose change. Handy for storing lots of small items such as ear pods, jewellery, keys, or lipstick!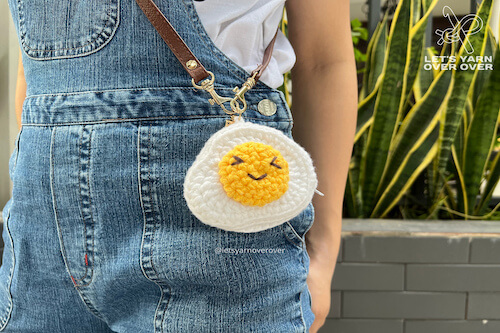 Get the Pattern here

9. Crochet Fried Egg Keychain Pattern by Flo And Dot
Here's an adorable Crochet Fried Egg Keychain that makes a perfect accessory for any food lover and is sure to bring a smile to your face every time you reach for your keys.

This mini amigurumi fried egg features a delightful fried egg design complete with eyes and a tiny smile. Finished it off with a sturdy metal keyring to make it easy to attach to your keys, purse, or backpack.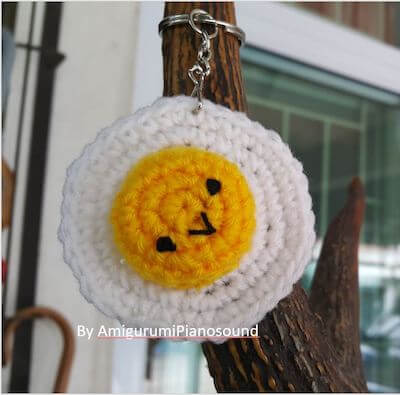 Get the Pattern here

10. Free Fried Egg Crochet Pattern by Off The Beaten Hook
This crochet egg pattern includes the method for crocheting eggs 2 different ways: whole and fried. This realistic and adorable egg crochet pattern will make the perfect addition to your little one's crochet toy food collection.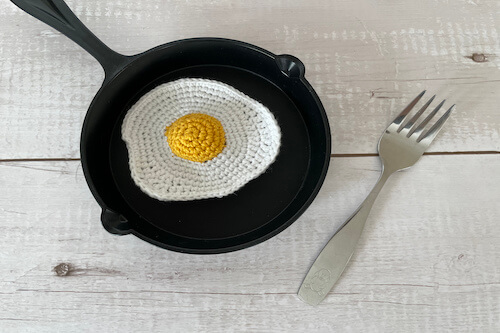 Get the Pattern here
USE UP SOME OF YOUR YARN STASH IN A YUMMY WAY WITH THESE CROCHET FRIED EGG PATTERNS.
I'd love to see your finished eggs! Please take a moment to post a picture on our Facebook Page. I can't wait to see it!
Make amigurumi food or other crochet food patterns that are a fun way to decorate for holidays and parties, or to give as gifts to foodies! Check out these lists and encourage imaginative play with a fully stocked kitchen!
I hope you love these crochet fried egg patterns as much as I do. Happy crocheting, friends!