Everyone deserves a cake on her birthday (or any other day of the year, for that matter). Not a baker? No worries — you can make a cake for yourself and any of the important people in your life with these crochet cake patterns. With just some yarn and a crochet hook, you get all the beauty of a cake without making a mess in your kitchen — that's my kind of baking!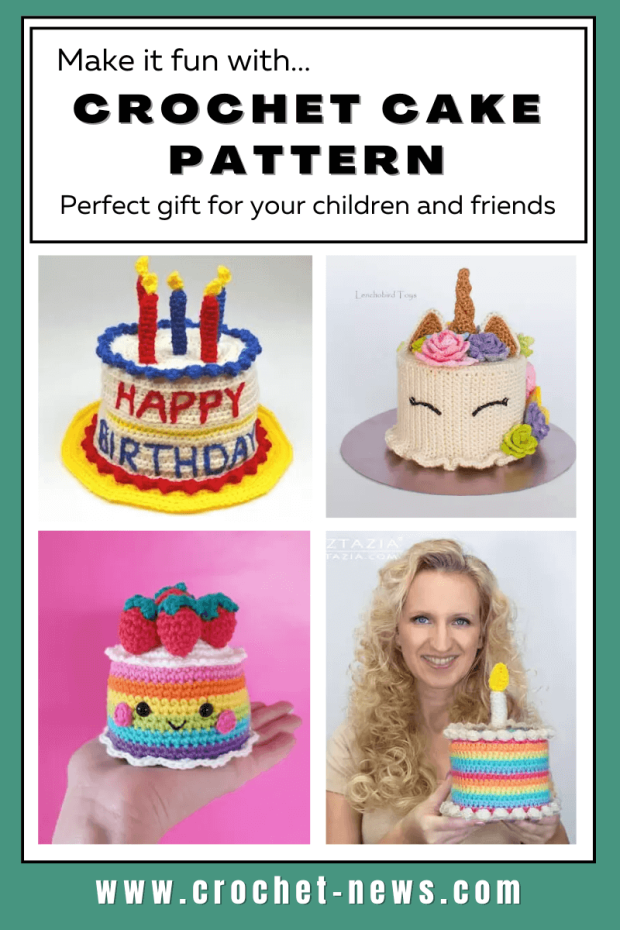 You'll be spoiled for choice with an array of delectable-looking baked goods to crochet yourself. Whether you're looking for a fun project to add to your collection or making a crochet birthday gift for your children or friends, this list of crochet cake patterns is sure to please.

If you need some cakesperation, I recommend switching out the spatula and wooden spoon for your crochet hooks for these baking-inspired makes!
16 Crochet Cake Designs

1. Birthday Cake Crochet Pattern by Naztazia
A birthday cake is a cute gift for someone on his or her birthday. It also can serve as a toilet paper cover.  This cake is quick to make and is sure to bring about a smile to your face!

This birthday cake crochet pattern is relatively simple, although it does use more than just basic crochet stitches. You'll find single crochet, double crochet, half double crochet, and even a bobble stitch in this one.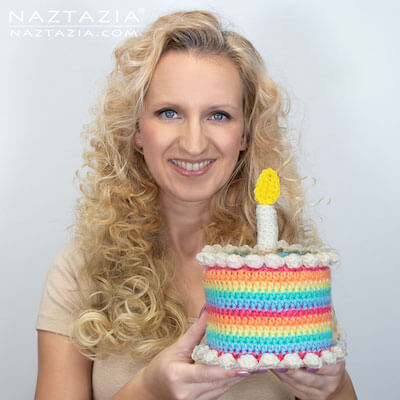 Get the Pattern here

2. Crochet Heart-Shaped Cake Pattern by Twinkie Chan
While this Heart-shaped Cake is a perfect decoration and gift for Valentine's Day, it's always fun to celebrate every day!

The basic cake base is pretty easy for a beginner, but the toppings and decorations might get a little fussy. You'll use a wide range of stitches in this pattern, from working single crochet in rows, to puff stitches, to bobbles, to working in the round making tiny cherries.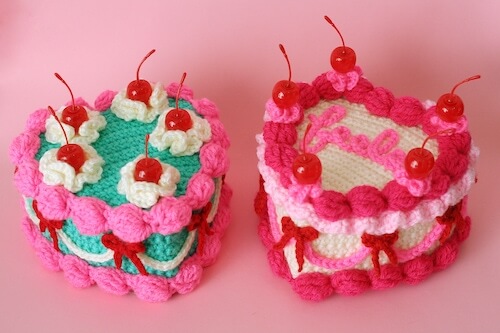 Get the Pattern by Twinkie Chan here

3. No-Stuff 2-Layer Cake Crochet Pattern by Copacetic Crocheter
This pattern is for a 2-layer cake. It includes a "Just Because" cake and piped frosting topped with cherries as well as a larger cake. Both cakes have 2 slices cut out with separate pieces that flush.

This pattern calls for a lot of yarn, but it is perfect to keep the form of your cake without it ballooning with fiber filling! It also serves as a template, ready to be decorated with strawberries, hearts, kiwi and all that complements a delectable cake!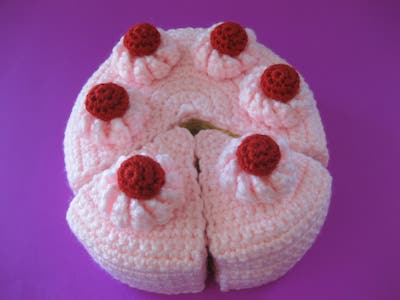 Get the Pattern by Copacetic Crocheter here

4. Crochet Cake Gift Box Pattern by Sweet Softies
Here's a sweet, little amigurumi dessert that you can open up and store tiny treasures inside of. A zero-calorie treat that lasts forever, and features a little strawberry on top of a dollop of whipped cream. You can easily customize it by using different yarn colors, adding sprinkles, or attaching beads.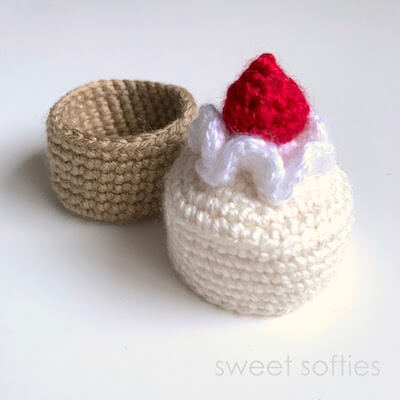 Get the Pattern here

5. Crochet Rainbow Cake Pattern by Hobbii
Are you missing a dessert in the play kitchen? Now you can crochet the sweetest rainbow cake with blushing cheeks and strawberries on top. The pattern includes a picture-guide making it easy to follow along.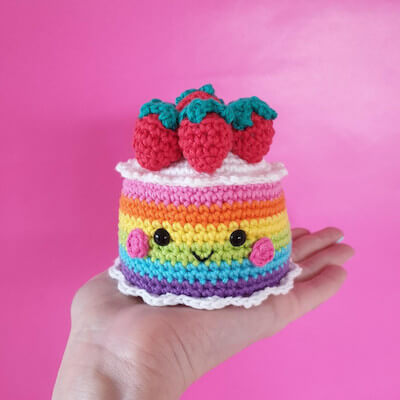 Get the Pattern here

6. Crochet Birthday Cake Hat Pattern by Crochet Spot Patterns
Crochet this goofy hat for the birthday boy or girl. Add as many candles as needed. Crochet it in any size, ranging from babies to kids to adults. This Birthday Cake Hat would make a fun photo prop for baby or children photo shoots.

Too embarrassed to wear a cake on your head? You can also use it as a table decoration! Crochet the cake with colors to match the theme of the party. You can also personalize the "Happy Birthday" on the front with the person's name or your own message.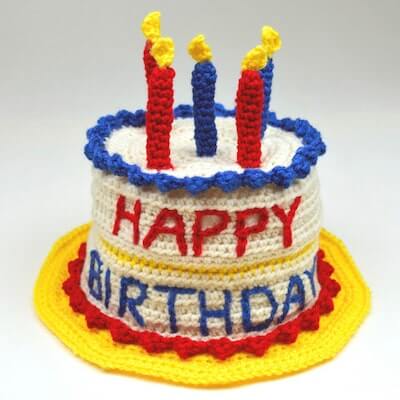 Get the Pattern by Crochet Spot Patterns here

7. Crochet Birthday Cake Stacking Rings Pattern by Ekay G
This Birthday Cake Stacking Rings Toy is the best gift for a little one's 1st birthday, and is a fun alternative to a cake smashing photography session! This is a fun toy for both learning and photography purposes, and little ones love toy food! They can pretend to blow out the candle, eat cake, and serve you cake at their little tykes restaurant!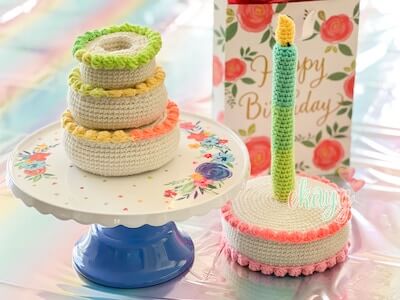 Get the Pattern by Ekay G here

8. Tiny Wedding Cake Crochet Pattern by Crafty Kitty Crochet
What better way to celebrate the big day than with a tiny crocheted wedding cake? These little cakes are easy and fun to make, and this free pattern has lots of photos to guide you! These would make a great gift for the bride and groom to be in your life.

They would also make great wedding favors — what a fun and personalized gift for your wedding guests! The possibilities are endless!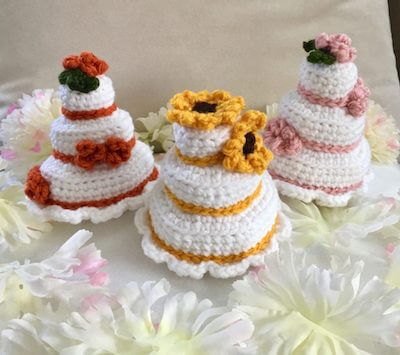 Get the Pattern here

9. Rainbow Birthday Cake Crochet Pattern by Yarn Blossom Boutique
This six layer rainbow amigurumi birthday cake is perfect for celebrating birthdays, or even just for those days where you need a pick me up. No judgment here!

White frosting separates each colorful cake layer and big crochet dollops of frosting circle the top, where a candle fits perfectly in the center. Make this crochet rainbow birthday cake or go tradition with funfetti or chocolate! The options are endless, and you'll have one sweet amigurumi cake afterwards!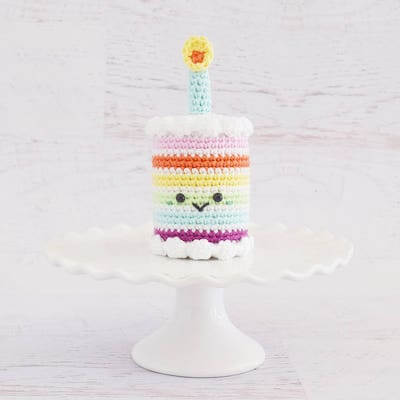 Get the Pattern by Yarn Blossom Boutique here

10. Crochet Fairy Cakes Pattern by Copacetic Crocheter
These mini fairy cakes are made without fiber stuffing to maintain a firm shape. The pattern includes how to make cakes with one or two slices cut, cake slices, hearts and simply plain or chocolate-dipped strawberries. Designing your own fairy cake using different colors are endless!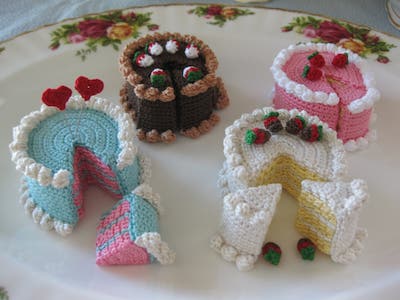 Get the Pattern by Copacetic Crocheter here

11. Sprinkles, The Funfetti Cake Slice Crochet Pattern by A Menagerie Of Stitches
This sweet slice, of course named Sprinkles, is so easy to whip up and you could even make a handful to create a full amigurumi cake. The perfect play food for any little kitchen or tea set.

This slice is so easy to customize, so if you love other flavors of crochet cake, totally make that! I can see this one being a red velvet or even a chocolate fudge! The options are unlimited for sprinkles the funfetti cake slice!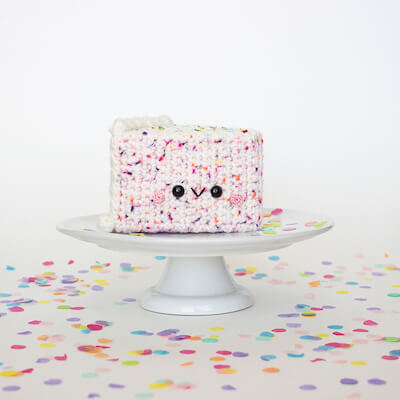 Get the Pattern here

12. Ice Cream Cake Crochet Pattern by Super Cute Design Shop
How crummy looking is this ice cream cake? It's topped with ice cream, strawberries, and a lemon slice. And of course, sprinkles—because you cannot have a birthday cake without sprinkles! It would make a fabulous birthday gift, don't you think?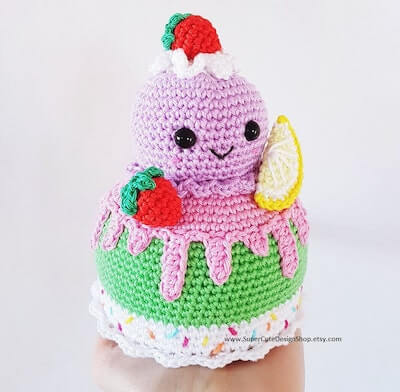 Get the Pattern by Super Cute Design Shop here

13. Crochet Cake Flower Unicorn Amigurumi Pattern by Elena Pichugina
This Crochet Flower Unicorn Cake is a sweet, little amigurumi dessert that you can admire and pet, but not eat! This zero-calorie treat isn't meant to be consumed, but rather, serve as a lovely gift or provide you cute and cheerful company during the day!

You can easily customize your cake using different yarn colors for the flowers, horn, and more! You can also add sprinkles. beads, or other embellishments. The creative possibilities are endless!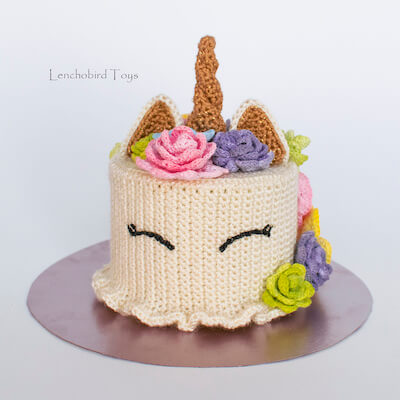 Get the Pattern here

14. Crochet Birthday Cake Pattern by Repeat Crafter Me
Big and colorful cake like this one has layers of fluffy bobble stitches and is topped with beautiful crocheted rose.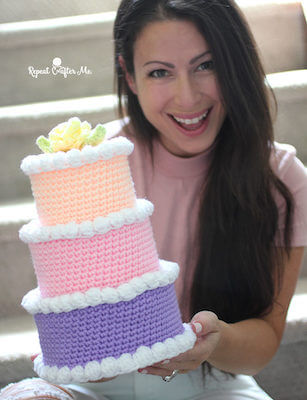 Get the Pattern here

15. Crochet Cake Pattern by Stringy Ding Ding
Crochet lots of cute cakes with this very easy and quick amigurumi pattern. This crochet cake pattern includes the pattern to make a cake along with 7 different toppings.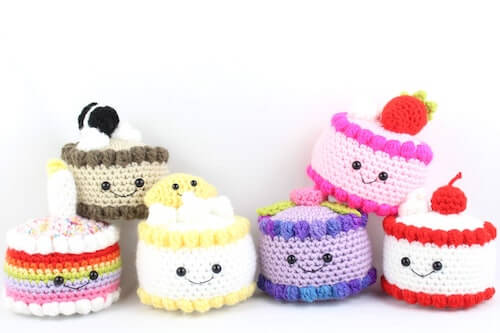 Get the Pattern by Stringy Ding Ding here

16. Let Them Eat Cake Crochet Pattern by Yarnspirations
How sweet it is for this delectable novelty piece that adds lighthearted flavor to any table. Bring life to this decoration in shades for any event, or craft it as shown for a wedding shower or birthday. There's a memorable cake waiting to be revealed by your imagination!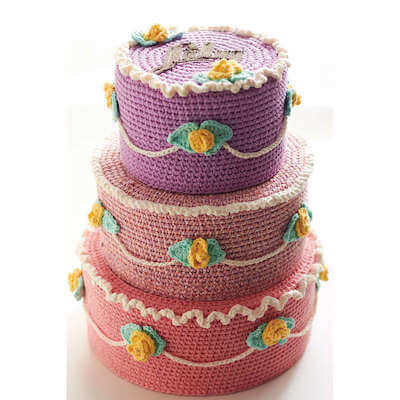 Get the Pattern here
NESTLE THESE GUILT-FREE CROCHET CAKES FOR AN EXTRA POP OF COLOR AT THE PARTY TABLE.
As always, if you make something from the patterns we share, I would love to see it! Share photos of your crocheted cakes on our Facebook Page. Seeing your creations really does make my day!
Paired with crocheted cupcakes and crocheted donuts, you'll have a full afternoon tea party that looks good enough to eat!
These crochet cakes are just as festive as the real ones without adding to the sugar mountain. Further proof that yarn is the answer to all of life's quandaries. Happy hooking!