Most people take them out of the burger and throw them away, and yet there are also those who love them and are more than happy to have extra. I'm talking about pickles.
While I don't like them myself, I did manage to find some rather adorable crochet pickle patterns for those crocheters who do!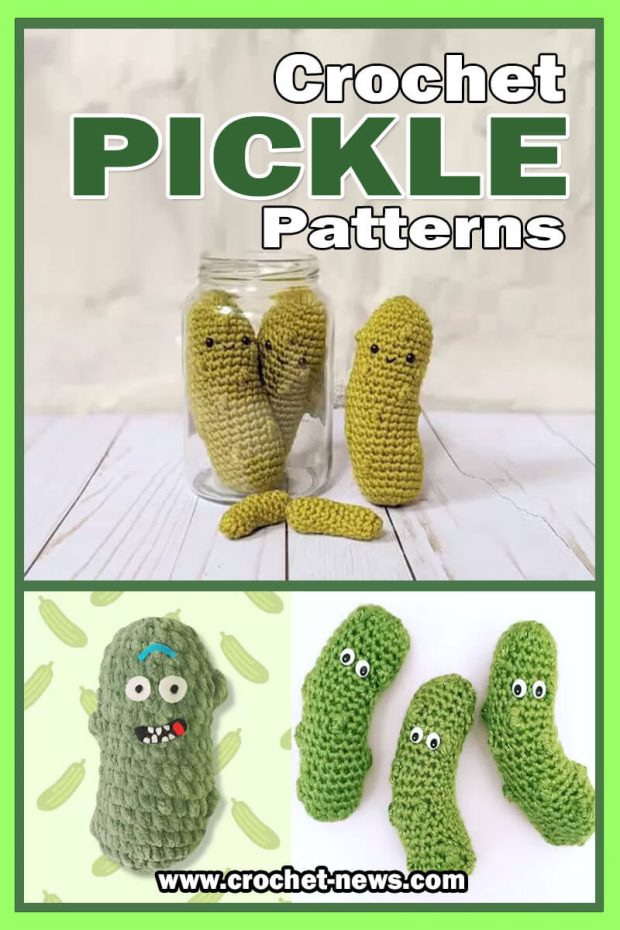 10 Crochet Pickle Patterns
Pickle lovers, rejoice! Here's a list of crochet pickle patterns to celebrate your favorite sandwich accompaniment! From toys to ornaments, every pickle lover needs these crocheted ones in there life!

1. Crochet German Pickle Christmas Ornament Pattern by Sewrella
German legend has it that the Christmas pickle was the last ornament hung on the tree and the first child to find the pickle got an extra present, Whether you follow tradition or just love pickles, you'll enjoy crocheting this happy face ornament to have each Christmas season.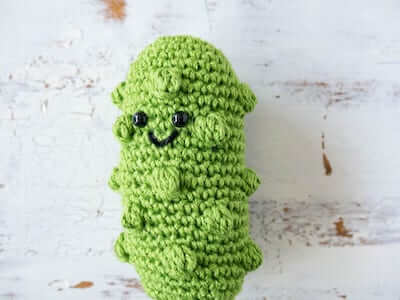 Get the Pattern here

2. Crochet Pickle Cucumber Pattern by Knot Monster
Everyone needs a pickle in their life! And this one is just the perfect size to make you smile. No sour faces here! When finished, this pickle is approximately 15cm tall.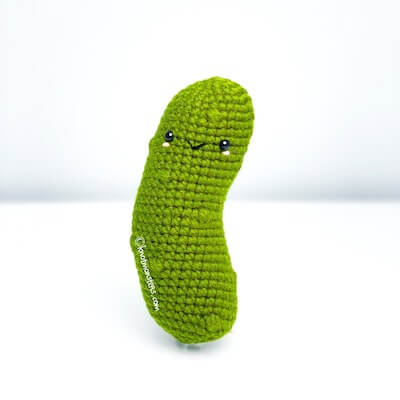 Get the Pattern by Knot Monster here

3. Pickle Rick Crochet Pattern by Kamina Kapow
If you want to make Pickle Rick, you'll need to improvise the face from this free pickle pattern. He has a variety of expressions to choose from, so pick your favorite Rick and get to work.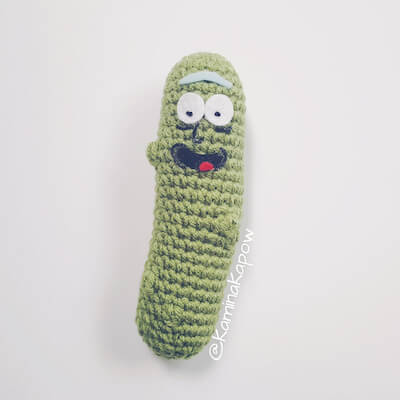 Get the Pattern here

4. Crochet Pickle Pattern by Baby Cakes Studios
Teach your kids to love veggies from a young age with this pickle amigurumi play food. With instructions for both large and small pickles, reuse this pattern over and over again whenever you need a quick gift or playtime activity for your little one.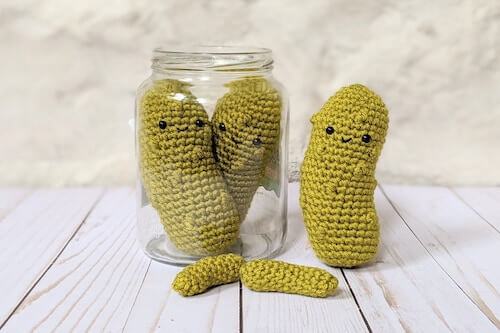 Get the Pattern by Baby Cakes Studios here

5. Rick Free Pickle Crochet Pattern by Summerbug Crafts
Even people who aren't fans of Rick and Morty and can enjoy Pickle Rick. He's a great gag gift, conversation starter, or even a plush dog toy! Don't add the face if you want to crochet a plain pickle, instead.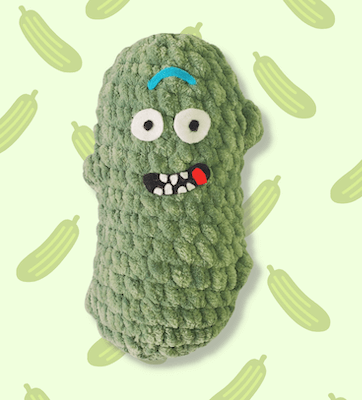 Get the Pattern here

6. Fuzzy Pickle Crochet Pattern by Lexi's Crochets Shop
When you're hungry, you grab a chocolate and when you're stressed, you should grab a crocheted pickle. This hand-size stress gherkin is yearning for a squeezing to help you reduce your bad feelings and anxiety!
This pickle crochet pattern is beginner-friendly, super simple to make, and only requires some basic stitching and materials.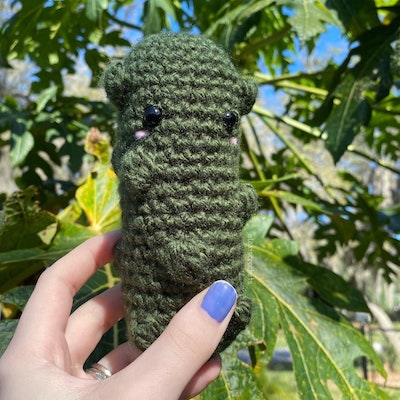 Get the Pattern by Lexi's Crochets Shop here

7. Easy Crochet Pickle Pattern by Patterns By Palena
Bring some Petite Pickle Energy into your life with an adorable crochet pattern that makes creating pickles easy as pie.
Once you have the pattern in hand, you can make literally as many pickles as you want and share them with friends. The pattern is for pickles with a finished size of 5.5 inches tall, crochet and spread the joy!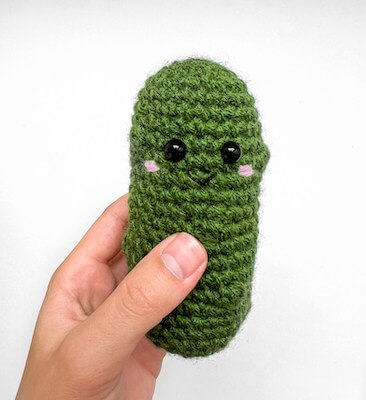 Get the Pattern by Patterns By Palena here

8. Crochet Christmas Pickle Ornament Pattern by Dandy Bee Makes
Use this 4″ Christmas ornament as a twist on the regular Christmas Pickle tradition and you and the crew will be ready to traverse the portraits of time and space to holidays past. Isn't he cute with his little Santa hat?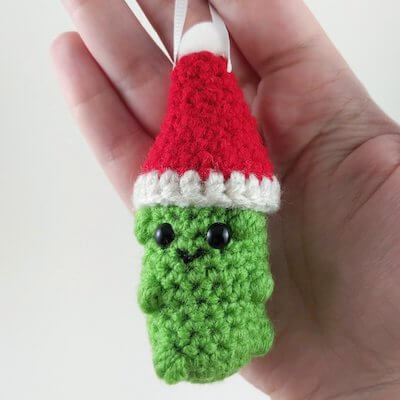 Get the Pattern here

9. Crochet Pickles by Twinkie Chan Blog
We decorate our homes with the thongs we love most, right? So by that logic, this crochet pickles should fit in nicely among any pickle-lovers home decor. The bumps are created by randomly swapping out a single crochet with a triple crochet. It's really easy!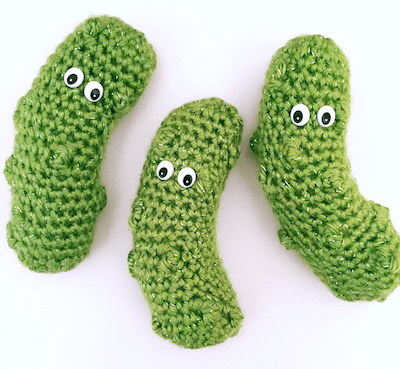 Get the Pattern here

10. Crochet Pickle Ornament Pattern by Maria's Blue Crayon
Create your own Christmas pickle with this Crochet Pickle Ornament Pattern! The Christmas Pickle is a tradition for many families—hide the pickle on the tree and the first one to spot it on Christmas morning gets a reward or extra gift!
Get the Pattern here
THESE CROCHET PICKLE PATTERNS ARE GUARANTEED TO BE KIND OF A BIG 'DILL'!
I hope you make these salty little cuties, I know you will! When you're finished making some, be sure to share a picture of your crocheted pickles on our Facebook Page. We'd love to see!
Have you ever made a piece of crochet food? There's an entire grocery store of patterns out there! Here are some crochet patterns you can tackle next:
Fast and fun to crochet, these crochet pickle patterns are great for using up bits of green yarn leftover! Happy crocheting, friends!