If you just can't get enough of cozy throw blankets, I found another reason to make more: Halloween. A good crochet halloween blanket will ward off the chill and provide a covering for your eyes that you'll need for all those scary films you're watching.
One of the best parts about the haunted holiday is all the fun decorations that get you in the spirit of looming ghosts and goblins—and to make your Halloween decorations even better, you definitely should whip up a cozy blanket inspired by Halloween.

Whether you like pumpkins or skulls, there are some spooky blankets that will make you feel even more excited about your favorite holiday.
15 Crochet Halloween Blanket Patterns

1. Jack-O-Lantern Crochet Halloween Blanket Pattern by Red Heart
It's time to decorate for Halloween! This Jack-O-Lantern Crochet Blanket is the perfect gift and decor piece for the month of October! Don't you just love that sweet spooky smile?
Get the Pattern here

2. Halloween Blanket Crochet Pattern by Hooked Homemade Happy
Have some Halloween fun with this Halloween Crochet Blanket! It's the perfect size to wrap up in while watching your favorite Halloween movie! This is more of a lap blanket – the perfect size for the kids! But it can be made in any size by simply adding more squares.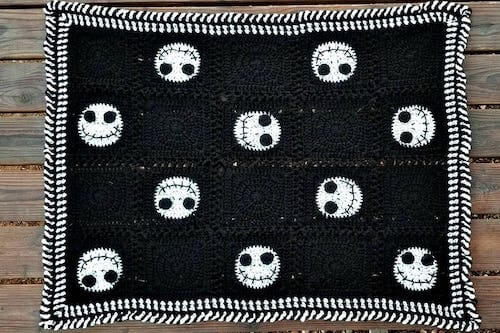 Get the Pattern by Hooked Homemade Happy here

3. All Hallows' Eve Afghan Crochet Pattern by Simple Things By Tia
This All Hallows' Eve Afghan Crochet Pattern is so versatile! Make one for Halloween or switch up the colors and make one for Christmas, Valentine's Day, etc. It's a little throw that measures 38″x38″ and is easy to store the rest of the year.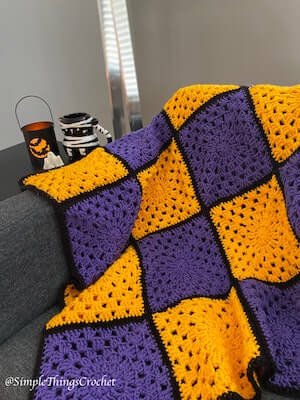 Get the Pattern by Simple Things By Tia here

4. Crochet Haunted House Blanket Pattern by Crochet Couch
Get a jump on Halloween decorations and create your own creepy haunted house this year with this Haunted House Blanket. With a haunted house set against a full moon design, this blanket will transform your home into an eerie gothic house for all trick-or-treaters.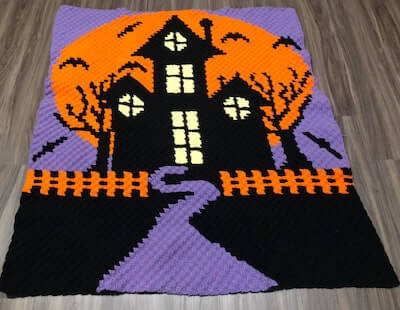 Get the Pattern by Crochet Couch here

5. Crochet Halloween C2C Blanket Pattern by Repeat Crafter Me
Halloween decor doesn't always need to be scary or creepy. Sometimes we need a cute accent piece for our seasonal decor! How adorable is this little black kitten peeking out from under the blanket?! Then a lovely spider appears from the top to greet you!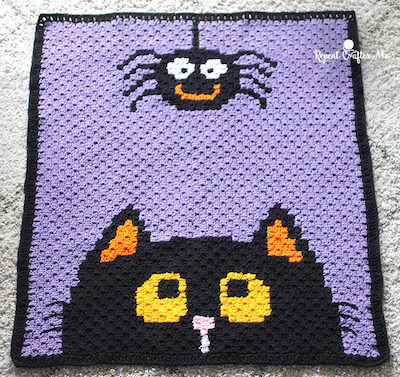 Get the Pattern here

6. Spooky Spider Afghan Crochet Pattern by Lion Brand
Spiders and spider webs in your home are usually frowned upon. But at Halloween, they are perfectly acceptable and even sought after. This Spooky Spider Afghan will be a favorite blanket to hide under while watching scary movies on Halloween!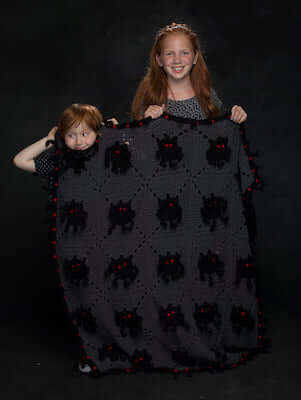 Get the Pattern here

7. Pumpkin Face Throw Crochet Pattern by Michele Wilcox
Make Halloween more memorable with this crochet throw that adds a touch of whimsy to your festive décor. The funny pumpkin faces are combined with a "BOO!" center square to make everyone smile.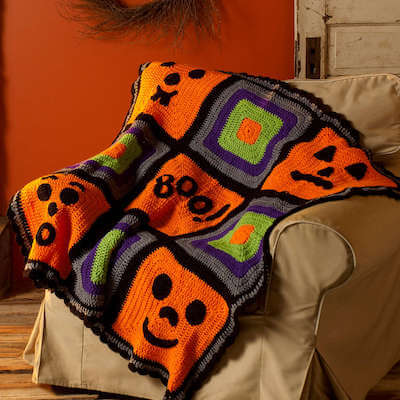 Get the Pattern here

8. Too Cute To Spook Crochet Halloween Blanket Pattern by Ana Morais Soares
The black cat is a classic Halloween character and a symbol of bad luck. But did you know that in Ancient Egypt people believed that black cats can bring their owners good luck?

You can keep the colors as they are or switch them up to make cats in different colors. This fun and festive Halloween blanket is the perfect way to add a little (just a little) spook to your home this holiday season!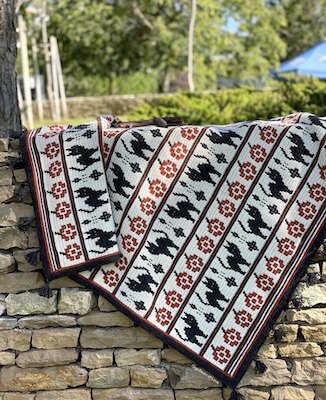 Get the Pattern by Ana Morais Soares here

9. Skeleton Throw Blanket Crochet Pattern by Melissa Hassler
If you are looking for some classy Halloween home decor, look no further. This spooky Skeleton Throw Blanket is creepy, cozy, and fun but not too dark, scary, or childlike. It's perfect to snuggle up in on those chilly fall evenings.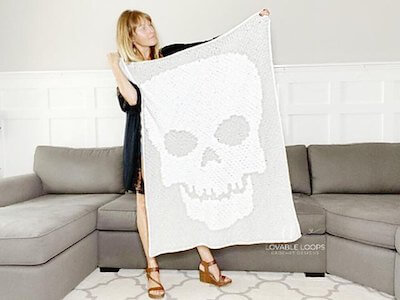 Get the Pattern by Melissa Hassler here

10. Spooky Spells Halloween Afghan Crochet Pattern by Dahlia Willow LLC
Playful Halloween hues make this crocheted afghan perfect for chilly October nights. It's a great throw for snuggling on sofa, covering up while taking a nap, or sitting outside on a day outside in a cool weather.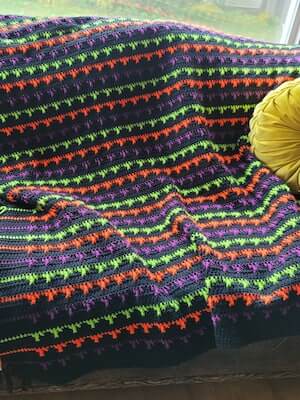 Get the Pattern by Dahlia Willow LLC here

11. Crochet Halloween Throw Pattern by Red Heart
Let the winds moan and groan! You'll stay warm under this delightful Halloween throw, accented with appliquéd cats, bats, and pumpkins to keep you in the Halloween spirit! Make it for your kids to sleep and cover themselves.
Get the Pattern here

12. Crochet All Skulls Blanket Pattern by Alexis Sixel
This Crochet All Skulls Blanket has an intriguing pattern of skeletons and skulls over it. The design itself is very spooky and gives chills down the spine, but its artistic design is quite enough to captivate your heart. It's a great Halloween blanket or year-round throw for skull lovers.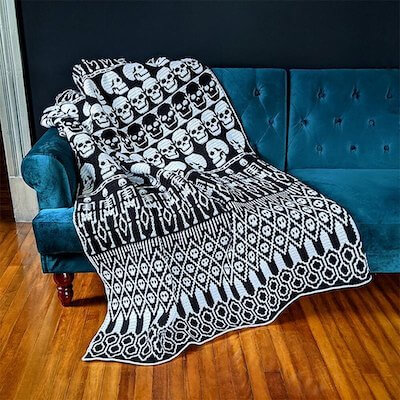 Get the Pattern by Alexis Pixel here

13. Crochet Halloween Blanket Pattern by Color And Shape Design
Pumpkins and bats and skulls, what could be better? Whether you're trick-or-treating on Halloween or staying spooky all year 'round, this spooky cute Halloween blanket is an absolute scream!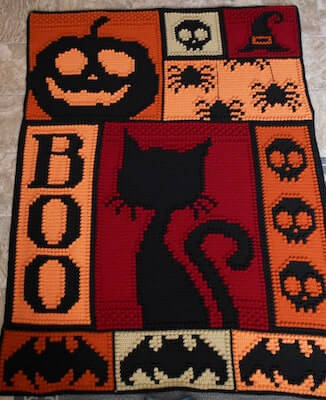 Get the Pattern by Color And Shape Design here

14. Easy Crochet Halloween Blanket Pattern by Hooked On Homemade Happiness
Are you ready to add a spooky touch to your home decor this Halloween season? This Easy Crochet Halloween Blanket is made using double strands of yarn to help you create an warm, cozy piece you'll be happy to display year after year.

It features the use of Halloween colors, sure to make your finished piece just scream Halloween!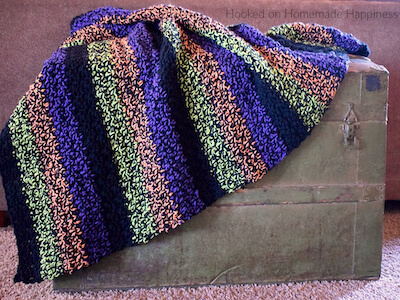 Get the Pattern here

15. Crochet Candy Corn Throw Pattern by Red Heart
Make your very own sweet and comfy blanket for the season inspired by the perennial holiday treat. The pattern uses 4 colors of worsted weight acrylic yarn (a yellow, an orange, a white, and a black for the lining) to match the familiar candy corn colors with an added twist!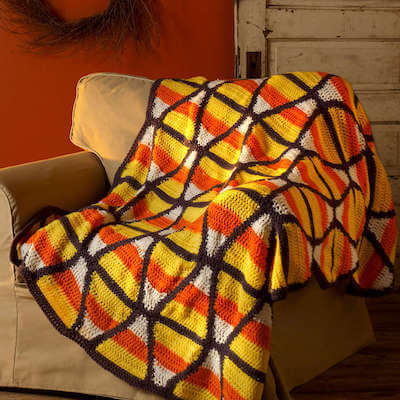 Get the Pattern here
GET INTO THE SPOOKY SPIRIT WITH YOUR FAVORITE CROCHET HALLOWEEN BLANKETS!
For more creepy crafty makes, check out more of our spooky Halloween crochet patterns!
Explore all of these options and let us know what you'll be making this year for Halloween. Feel free to share photos of your latest crocheted spooktacular stuffs with us on our Facebook Page!
Halloween is coming soon. With these crochet Halloween blankets ready, prepare to curl up and watch your favorite Halloween movies!