Try your hand at one of these amazing crochet granny square and square patterns for beginners and learn new techniques as you stitch up some new twists on the classic square.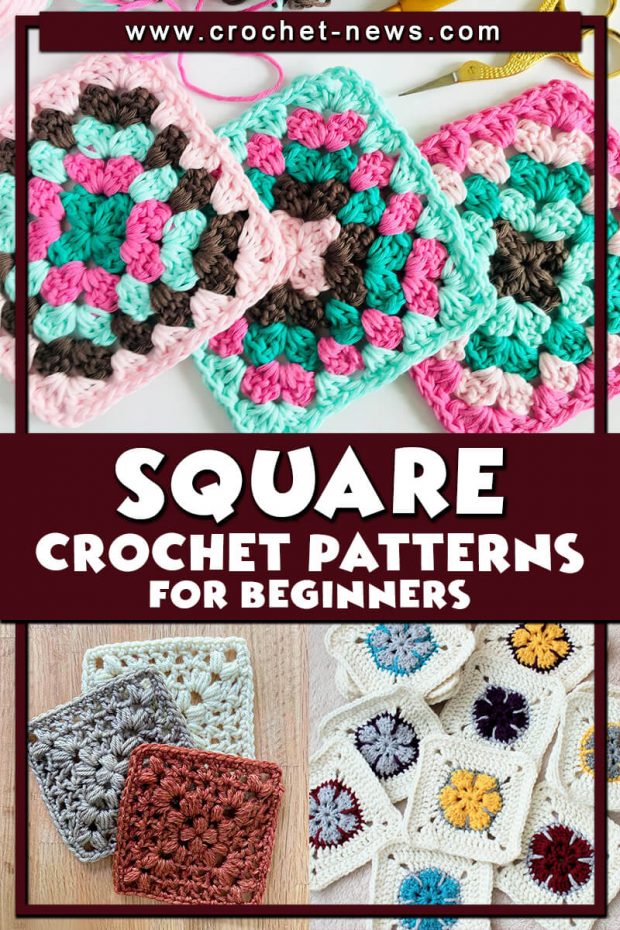 34 Crochet Square and Granny Square Patterns for Beginners
Crochet squares are a playground for designers, because you can come up with unlimited ideas and color combinations.
You can use squares to make blankets, pillows, sweaters, bags, and so much more! With these crochet square patterns below, you'll be stitching up a storm!

1. Solid Granny Square Crochet Pattern For Beginners by Sarah Maker
This can be worked using one solid color, or a different color for each round – which is a great way to use up smaller scraps of yarn.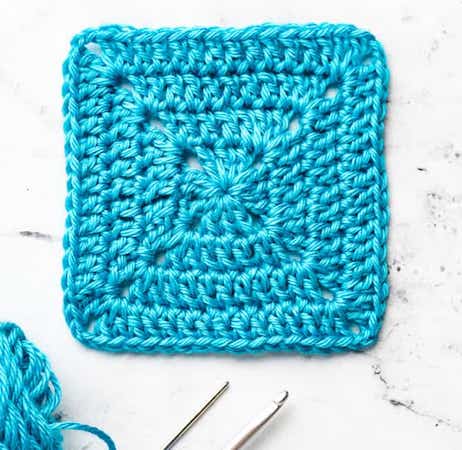 Get the Pattern here

2. Beginner Crochet Square Pattern by Jayda In Stitches
If you enjoy making the traditional granny square, then you'll love this nifty twist on the old classic! This square is a great blanket builder, and is an fun, stash-busting way to eat up those odd balls of yarn.
This crochet pattern is suitable for beginners. Try mixing these together with traditional shell stitch grannies for a modern look!
Also see: How to Crochet a Blanket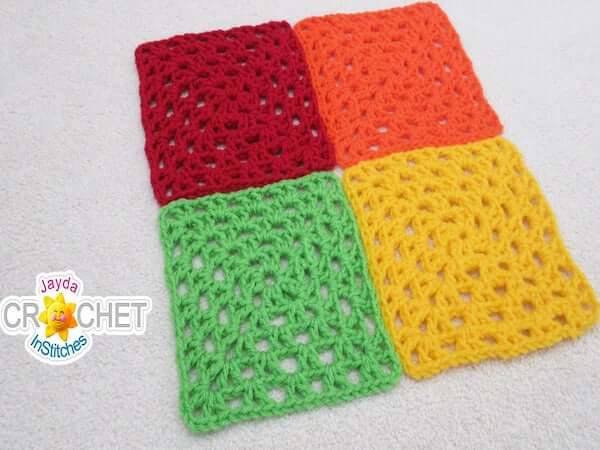 Get the Pattern by Jayda In Stitches here

3. Love Your Granny Square Crochet Pattern by Wilmade
This simple granny square pattern is made with chains, single crochet, double crochet and post stitches. It can be used for many different projects, such as pillows, baby blankets, bags, cardigans.
Learn how to make this simple granny square with this free crochet square patterns for beginners, including video!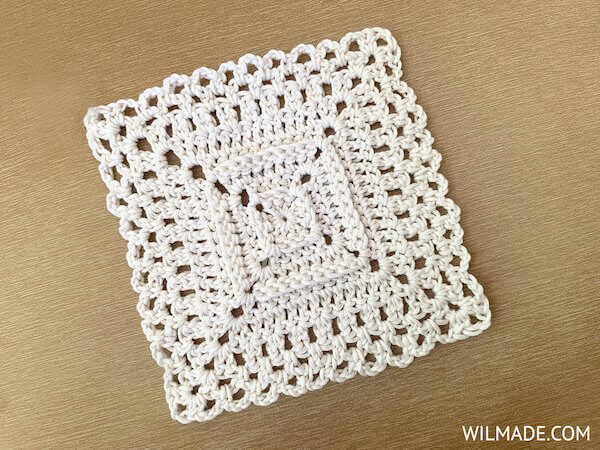 Get the Pattern here

4. Crochet Ideal Square Pattern by Ms Premise Conclusion
This square is made in single crochet and is worked in rows (from the inside to the outside). The pattern has the correct number of stitches in each row to make it a mathematically 'ideal' square.
You can stop at any row you like to make a smaller square, or – once you get the hang of the pattern – continue crocheting to make a ginormous square!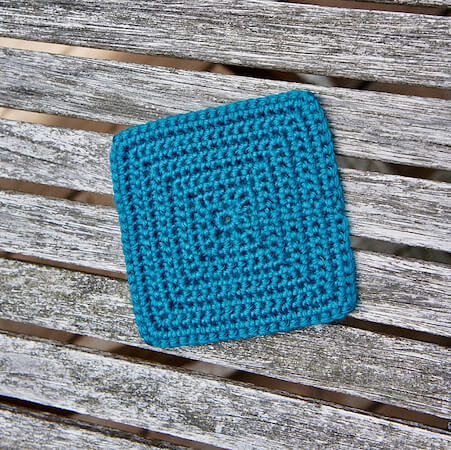 Get the Pattern by Ms Premise Conclusion here

5. Primrose & Proper Ruffled Granny Square Crochet Pattern by Kirsten Holloway Designs
A delicate ruffle frames the center of this square giving it plenty of romantic, feminine charm that would fit in in any little girls (or women's) bedroom.
This free square crochet pattern would also make a great addition to any sampler afghan.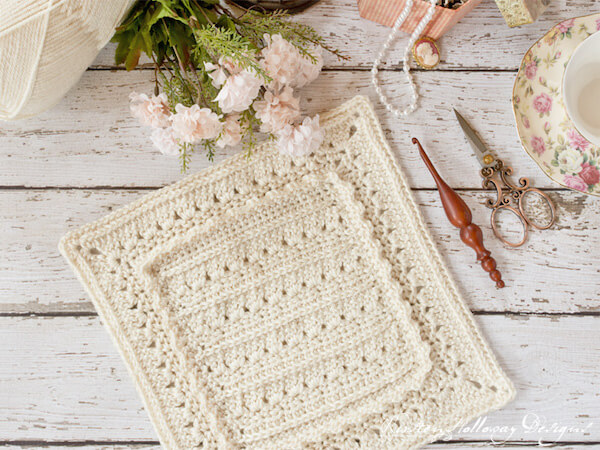 Get the Pattern here

6. Popcorn Stitch Flower Easy Crochet Square Pattern by Yarn & Hooks
There are many different ways to transform and tweak the crochet square. You can use color changing, different stitch techniques and of course, various flowers motif just like this one here. If made every single stitch properly, you'll get this kind of adorable square.

You can expand upon the design to make various decorative and useful items, from blankets to accessories like bags or pouches.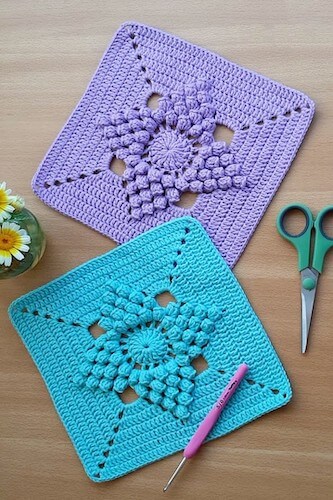 Get the Pattern here

7. Flower Easy Crochet Square Patterns For Beginners by The Easy Design
You'll love this super easy way to crochet a Flower Square! This easy crochet square pattern works up super quick, and it can easily be customized with different colors and yarn weights.
Join up the squares to make blankets of any size or simply use it individually.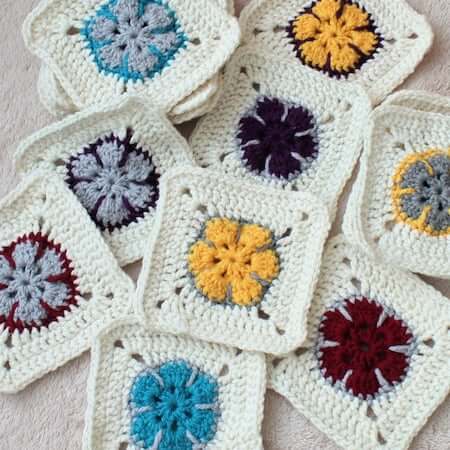 Get the Pattern by The Easy Design here

8. Basic Crochet Granny Square Pattern by Smiling Colors
This Basic Granny Square Pattern is as easy as it gets and you can make these squares on the go for a nice portable project to keep your hands busy.
The basic granny square pattern is also a great kid-friendly, beginner project.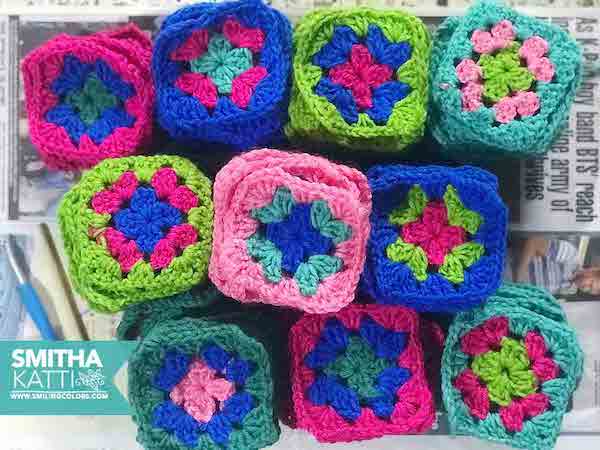 Get the Pattern here

9. Crochet Spring Burst Square Pattern by Pattern Paradise
This 12" square is fun and interesting to make. All the stitches are basic, but combined to create some interesting texture and elegant curves.
It's starts with the three dimensional flower at the center and radiates from there. The flower looks complicated but it's really easy!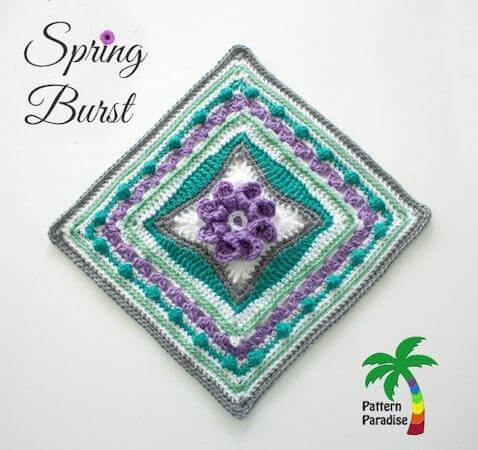 Get the Pattern by Pattern Paradise here

10. Sunburst Granny Square Crochet Pattern by Make And Do Crew
This type of crochet granny square is perfect for afghans, jackets, sweaters and more! These sunburst grannies work beautifully in most granny square patterns where a traditional granny square could be used. Blankets, afghans, retro jackets, cardigans, pillows, cushions and even slippers!
Get the Pattern here

11. Crochet Candy Cane Blanket Square Pattern by Knitting With Chopsticks
For a quick, fun, beginner-level make, check out this Candy Cane Crochet Blanket Square! Worked on the bias with simple single crochet stitches, you'll end up with a festive diagonally-striped square that can be used as part of a blanket or even as a potholder.
Join the square with other granny squares and create a big cozy blanket to curl up under all winter long.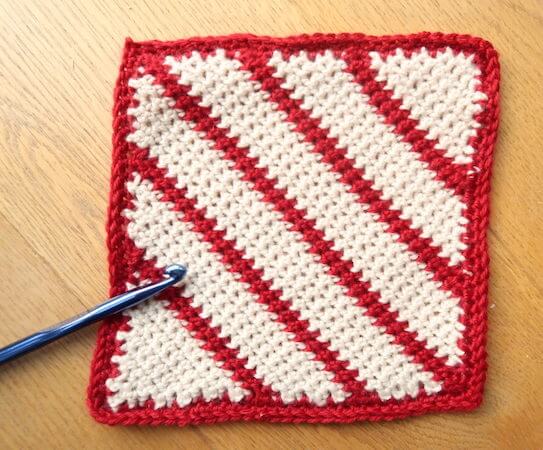 Get the Pattern by Knitting With Chopsticks here
12. Coasters Easy Crochet Square Pattern by Red Heart
We love projects you can whip up quickly using timeless crochet stitches like the granny square! Practice your granny square technique and make this set of crochet coasters in shades that matches your decor.
Make a set as a housewarming gift, or stuff a few stockings. It's a satisfying project that's both easy and functional.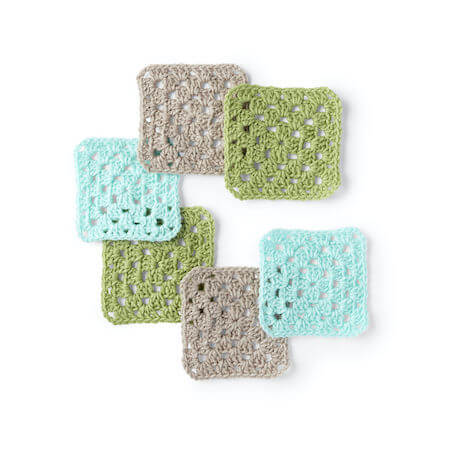 Get the Pattern here

13. Perfect Granny Square Crochet Pattern by Lullaby Lodge
Granny squares all wonky with twisty corners? Then this is the perfect pattern for you! Learn how to make the Perfect Granny Square, a simple pattern aimed at beginners.

Any yarn with corresponding hook size may be used for this. Finished squares may be joined together to create a blanket or continue round after round to make a giant granny square.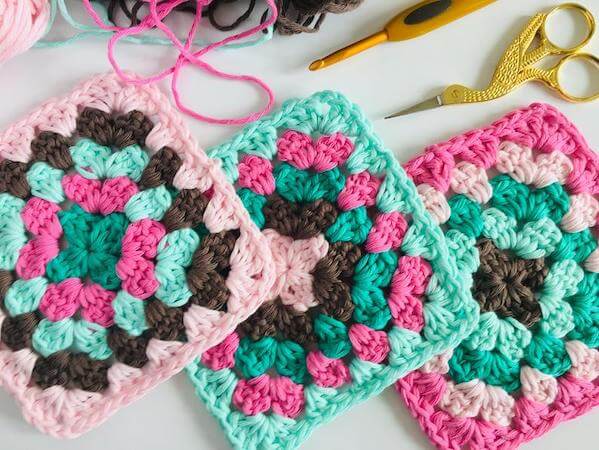 Get the Pattern by Lullaby Lodge here

14. Circle To Square Granny Square Crochet Pattern by Just Be Crafty
This Circle To Square Granny Square is a fresh take on the classic granny square which results in a more modern flair to a cherished classic!
You will love the look and think these would be gorgeous stitched together as a baby blanket, lap wrap or afghan for the couch. Just like a classic granny square, the possibilities for these little suckers are really endless!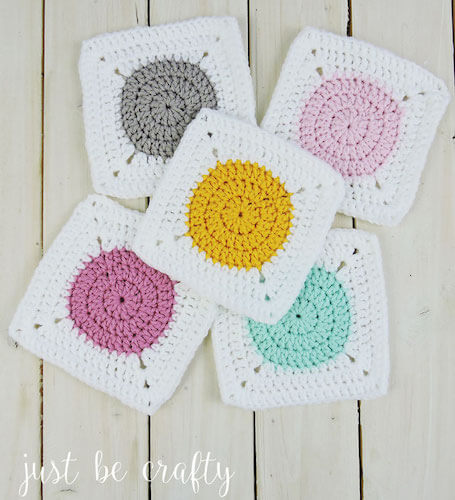 Get the Pattern here

15. Traveling Crochet Afghan Square Pattern by Wilmade
This Traveling Crochet Afghan Square uses the tulip crochet stitch which is a fun and beautiful stitch. The tulip stitch is made of 2 rows: 1 row with V-stitches and 1 row with puff stitches. Together they really look like tulips.

It is made with a simple row repeat and only uses basic stitches. It turned out to be a super simple and beginner-friendly pattern.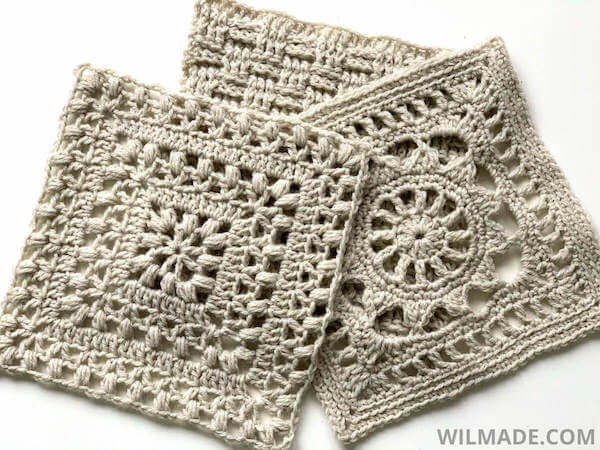 Get the Pattern here

16. Bright And Bulky Crochet Squares Pattern by Repeat Crafter Me
The best part about these crochet squares is that they are so fast to make! With only two rounds to crochet, you have a pretty decent sized square (5×5 inches). A granny square blanket never worked up so quickly!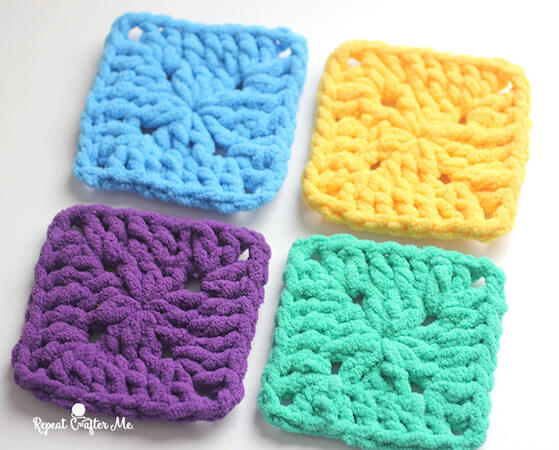 Get the Pattern here

17. Iced Pie Square Crochet Pattern by Look At What I Made
These simple quarter-circles-in-a-square are very basic, but basic is not necessarily a bad thing. Using double knit yarn or light worsted weight yarn and a 4 mm crochet hook, each square will be roughly 10 cm (4") across.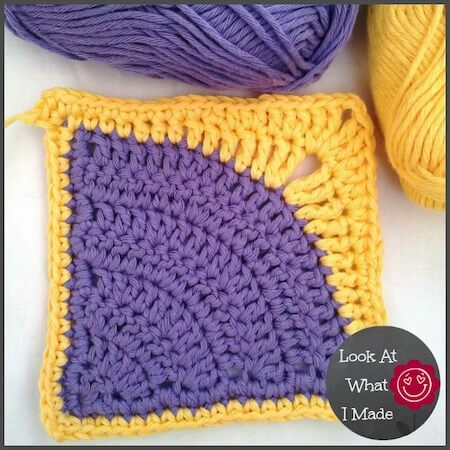 Get the Pattern here

18. Crochet Filet Starburst Square Pattern by Creative Jewish Mom
Here's a super simple yet quite lovely filet crochet/granny square starburst, with just enough detail to make it interesting, yet simple enough for crocheters of any level to pull off.
And, since there are no color changes that means a lot fewer ends to weave in!
Get the Pattern here

19. Heart Granny Square Crochet Pattern by Petals To Picots
Wouldn't it be fun to have a Heart Granny Square Crochet Pattern to include in some of your Valentine's crafts! Use this pattern to make blankets of any size, table runners, cushions or anything else that you feel could use a little love.

Or use the heart on it's own as a cute applique for existing projects or make a bunch and string them all together in a decorative garland!
Get the Pattern here

20. Crochet Duchesse Square Pattern by Beauti Wool Treasures
Let your imagination go wild with the color possibilities of this Duchesse Crochet Square Pattern! Use if for a table runner, drink coasters, afghan, cushion cover, sweater, rug, or bag/purse.

The example in the photo was made of 6 ply wool with a 3.5 mm crochet hook. The size turned out to be 14 cm/5.5″.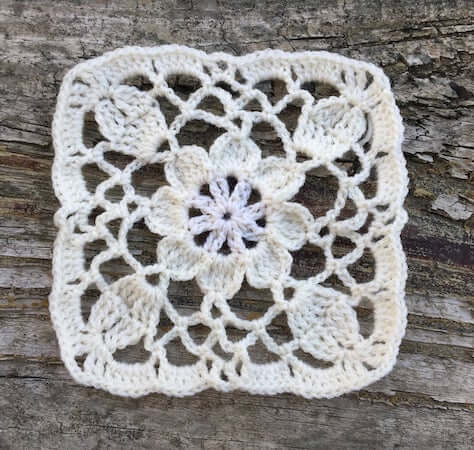 Get the Pattern by Beauti Wool Treasures here

21. Sandbar Granny Square Crochet Pattern by Trifles & Treasures
Want a beach themed crochet project that is chic and modern? This easy granny square crochet pattern is perfect for beginner crochet projects.
A classic crochet pattern, this fun afghan square has so many uses. Whether you want some fun DIY home decor or a unique throw, this Sandbar Granny Square Crochet Pattern has it all.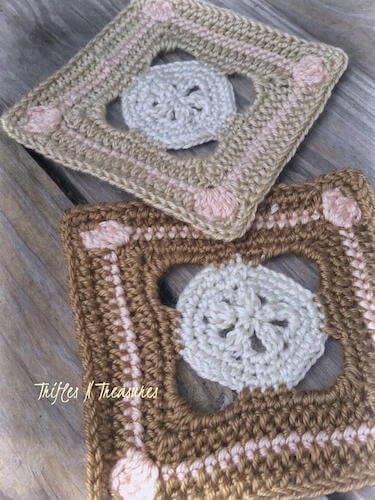 Get the Pattern here

22. Free Lace Square Crochet Pattern by Cre8tion Crochet
Give your afghan an enticing lace pattern with this Lace Square Crochet Pattern. This is a quick and easy design that's perfect for crafting afghans or trivets for around the kitchen. (Check out more quick crochet projects here.)
Switch up the types of yarn to create granny squares for a variety or purposes. These lacy granny squares are fun, fast, and simple!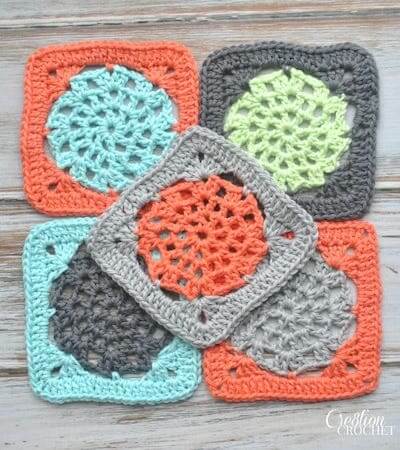 Get the Pattern here

23. Bloomfield Square Crochet Pattern by TL Yarn Crafts
This Bloomfield Square Pattern will bring together your love of Tunisian crochet and traditional crochet. This square is incredibly easy to make, even if you've never tried Tunisian crochet before. And the possibilities for your finished square are endless.
Make individual squares for coasters or wall art. If you're feeling ambitious, seam several squares together to make a scarf, blanket, or even a top.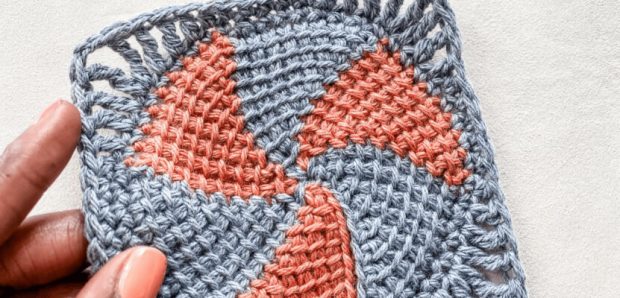 Get the Pattern here

24. Window Box Granny Square Crochet Pattern by Lisa Mauser
These lovely, vibrant crochet squares are absolutely perfect to whip up a fun, spring project, like for instance a blank, pillow case, or a table runner.
The best part is, you can easily make these using yarn scraps! Don't forget to add extra rows for a larger square, if you want!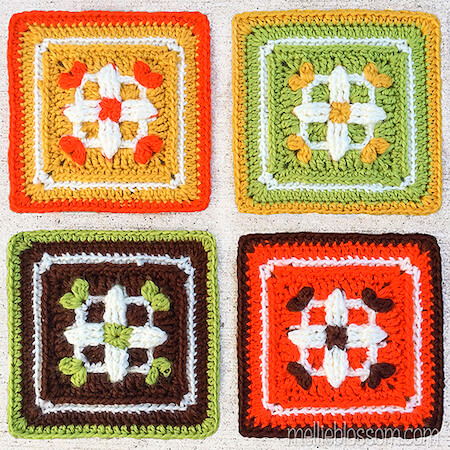 Get the Pattern here

25. Grandview Granny Square Crochet Pattern by Stitching Together
This is a gorgeous crochet granny square motif perfect for heirloom quality blankets, bags, scarves or wherever else you'd like to use a beautiful granny square crochet pattern.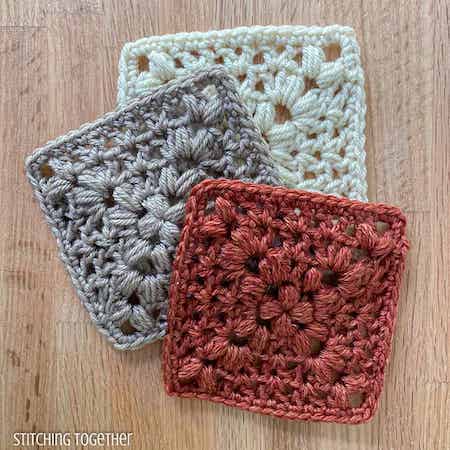 Get the Pattern here
26. Floral Crochet Granny Square Pattern by LubaDaviesAtelier
This floral pattern is easier than it looks. The pattern includes clear instructions and plenty of photos. It is so easy; a beginner will be able to make a square in no time at all.
The completed square measure 5 inches (13 cm) x 5 inches (13 cm). It calls for DK weight yarn.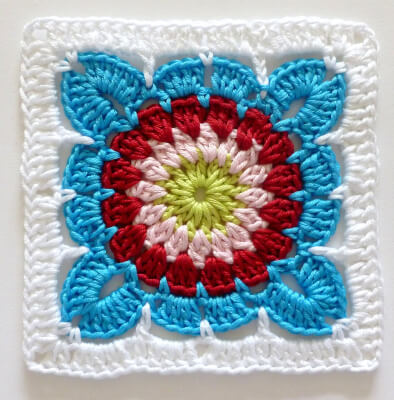 Find the Pattern by LubaDaviesAtelier HERE
27. Gummy Bear Granny Square Pattern by Luluslittleshop
Are you looking for granny squares to create a blanket for a child? Check out this gummy bear inspired granny square pattern. This pattern would make the cutest and most colourful blanket that a child will absolutely adore.
This PDF pattern includes a Gummy Bear YouTube tutorial, written instructions, and a visual chart for the background panel. It is an intermediate level pattern. The completed crochet square pattern will measure about 3.5 inches (8.89 cm) wide x 4 inches (10.16 cm) tall.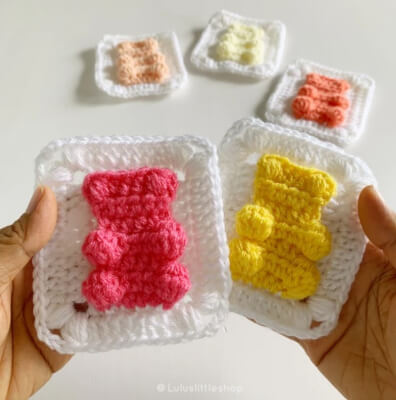 Find the Pattern by Luluslittleshop HERE
28. Crochet Mushroom Granny Square Pattern
Here is a simple granny square pattern for a cute mushroom. This square is perfect for fall projects and rustic decors.
To make this square you need to know chain, slip stitch, double crochet, treble crochet, and how to change colours. The pattern includes step-by-step instructions and photos.
If your a mushroom lover, check out our collection of Crochet Mushroom patterns.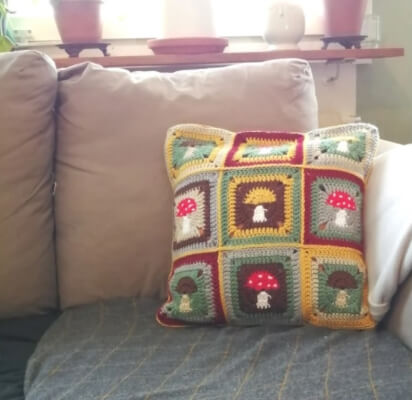 Find the Pattern by SleepyFrogCrochet HERE
29. Easy Crochet Sunflower Granny Square Pattern by PontoCrochetPatterns
Here is another granny square pattern perfect for creating a stunning fall themed blanket, scarf. Or hat.This is an easy crochet pattern that can be completed by an advanced beginner.
You will need to know how to work in rounds, basic crochet stitches, join new colours, and crochet treble three together (cluster) stitches. All basic and special stitches are explained in the pattern.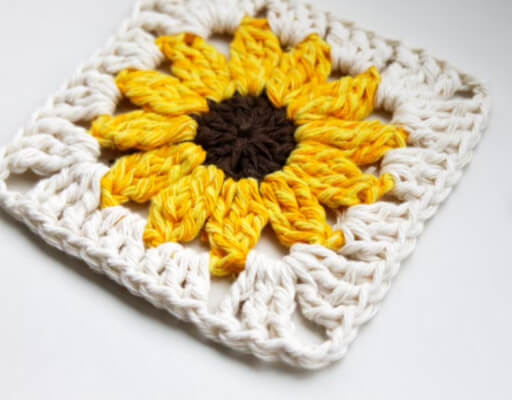 Find the Pattern by PontoCrochetPatterns HERE
30. The Bergenia Square Crochet Pattern by EchtGaafHaken
How about a burst of colour to liven up your next project? Although this Bergenia crochet square pattern looks complicated, it is easy and relaxing.
The completed square measures 10 inches x 10 inches (25 cm x 25 cm). The stitches used include single crochet, half double crochet, double crochet, front post double crochet, and front post treble crochet. You will also be making stitches in the back loops only.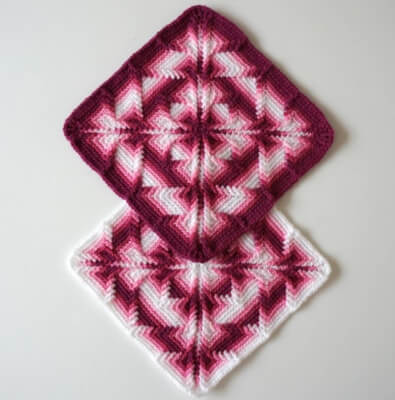 Find the Pattern by EchtGaafHaken HERE
31. Fleur Motif Free Square Crochet Pattern from Poppy & Bliss
This cute little granny square pattern is perfect for creating small multicolored blankets and pillows. The design is simple, and the pattern is free.
You will need 8 ply cotton in 2 colours and a 3.5 mm hook. The terms used include chain, double crochet, half double crochet, slip stitch, space, treble crochet, and yarn over.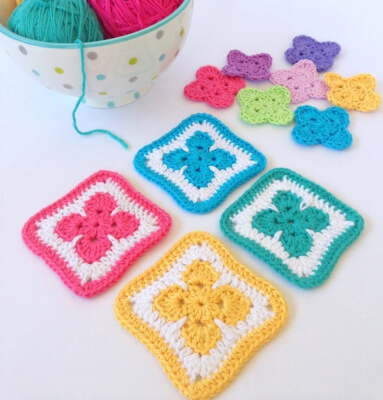 Find the Pattern from Poppy & Bliss HERE
32. Sunny Days Granny Square Pattern by hardknotlifecrochet
Made in 4 weight medium yarn, the results are soft without being too bulky. It is a sweet design that produces a beautiful flower inspired pattern.
This crochet square pattern works well with both muted yarns and bright colours. You will have a lot of fun working on this project.
The clean and clear directions are ideal for advanced beginners and experienced crocheters alike. The pattern works up quickly.
These squares can be used for so many projects such as bags, blankets, or throws. Each Square will measure approximately 5.5 inches (13.97 cm) square.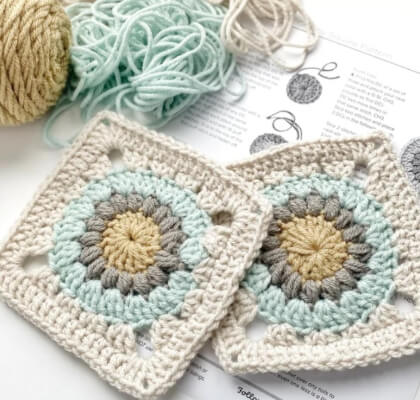 Find the Pattern by hardknotlifecrochet HERE
33. Heart At The Centre Granny Square Pattern by JaydaInStitches
Use this fun heart granny square pattern to make a baby blanket or a blanket for a little girl. It is also a great pattern for creating Valentine's Day gifts and garlands. The possibilities are endless.
Using the hook and yarn sizes suggested, the squares will be approximately 6 inches (15 cm). The PDF pattern download includes instructions, photos, and tips.
There are also directions for making a simple shell stitch blanket border, a car seat baby blanket, and a crib sized baby blanket.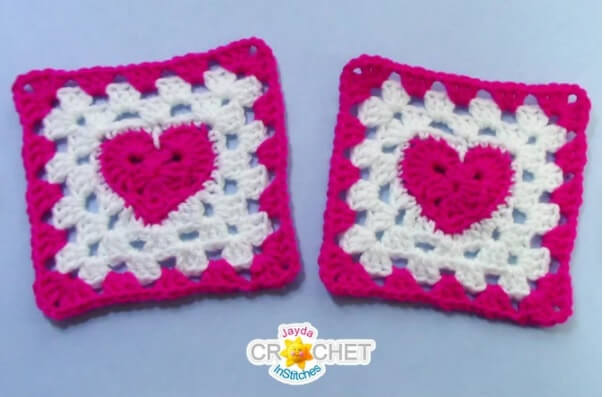 Find the Pattern by JaydaInStitches HERE
34. Lamb Square Crochet Pattern by ThoresbyCottage
How sweet is this little lamb? This granny square pattern is ideal for making a throw blanket and matching pillow for a nursery decorated in farmyard decor.
This is a PDF pattern with all the instructions needed to crochet your very own Little Lamb square. Included are a chart and written instructions. Using the recommended hook and yarn, the square will be approximately 5.12 inches (13 cm) x 5.12 inches (13 cm).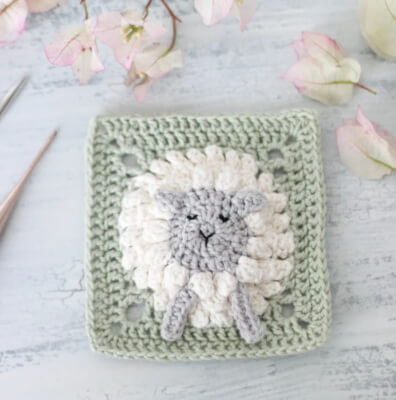 Find the Patten by ThoresbyCottage HERE

Granny Squares Frequently Asked Questions
Why are they called granny squares?
People would save scraps of yarn unraveled from old sweaters, socks, or whatever they could get. Nothing was thrown away. As the piles grew, they would make small squares which were then joined together to make blankets.
Poor old granny was of no use around the house as she could not contribute to the manual labor, so she was given the job of joining them together. And so the name went into history!
Why are granny squares so popular?
Granny squares are a popular crochet element that can be used to make blankets, clothing, accessories, and more! Granny squares are so popular that we even celebrate them online on August 15th each year with Granny Square Day, where people from all over the world hook up their favorite granny squares and share pictures of them on Instagram!

The popularity of the granny square is understandable: they're great for using up small pieces of yarn, so they could be made cheaply with leftovers or even from old sweaters. To save money during times like the Great Depression, it was critical to be able to reuse and remake items.
The squares are also versatile, as evidenced by their popularity in 1970s fashions. They can be made into blankets, potholders, dishcloths, or pieces of clothing. They're now everywhere, from high fashion to classic, and they're a crochet world icon.
What are granny squares used for?
Blankets, bags, scarves, and cushions are the most common granny square projects, but there's so much more you can do with these fun crochet squares! From jewelry to slippers, coats to curtains, once you've mastered the basic granny square, the possibilities are endless!
How to crochet a granny square?
Knowing how to crochet a granny square is almost mandatory for crocheters. Okay, not really. But is one of the easiest things to learn.

Granny squares are crocheted from the center out in what is known as the granny stitch, which is groups of three double crochet stitches in clusters connected by chains (usually a ch-1 or 2 with more chains at the corners). It usually has a lace-like appearance, with fairly large gaps between the stitches.

Use our step-by-step guide to learn to how to make a granny square — even if you've never picked up a crochet hook before!
What are the different kinds of granny squares?
This iconic crochet square is always evolving, with innovative and beautiful variations springing up on the Internet regularly. From the basic to the bold, the crochet granny square is always beautiful.
I spend hours scouring the web for fun crochet projects and I've found these 32 beautiful crochet granny square designs to inspire you.
How long does it take to crochet a granny square?
It depends upon the size of the square, but most classic granny squares can be crocheted in less than an hour, most in 30 minutes unless it is very large or has an intricate design.
What's the best yarn for granny squares?
A granny square can be made with almost any yarn. Wool is a good choice if you want your finished piece to be warm and water-resistant. Cotton is the best option for a cool summer piece.
If you want something extremely soft, alpaca or merino wool are the best options. Sparkly yarns can also be used for a fun look.
What size crochet hook is best for granny squares?
The crochet hook size is based on the yarn weight. The most common hook size for a crochet square is size H or 5mm. This is also the best hook size for beginners. You may want to get a soft grip handle made of elastomer rubber, allowing you to experience comfortable and stress-free crochet.
Check the yarn label for the recommended hook size if you use a different yarn weight.
How many granny squares do you need to make a blanket?
The number of granny squares needed to crochet a blanket depends on both the size of your granny squares and what size blanket you want. Divide your desired blanket width by the width of your granny square to get an idea of how many squares you need. (Same goes for the height.)
Example:
– Size of granny squares: 5×5″
– Desired blanket size: 40×50″
– Width = 40″ ÷ 5″ = 8 squares
– Height = 50″ ÷ 5″ = 10 squares
– Total squares needed = 8 x 10 = 80
Are granny squares in style?
1970s hippie style is having a comeback, that thin line between retro and modern, or the nostalgia for our grandmothers' artisanship — whichever the reason, crochet is everywhere! And among the crochet techniques, the granny square is, without a doubt, this season's top trend.

Before you put effort into your crochet granny square project, you might be wondering if they're in style now. The answer is an enthusiastic yes! From runways and fashion mags to mainstream box stores, you'll see granny square clothes everywhere.
ONCE YOU'RE PUMPING OUT CROCHET SQUARES LIKE A GRANDMA ON A MISSION, YOU'LL BE READY TO DECIDE ON WHAT TYPE OF PROJECT TO MAKE WITH THEM!
We'd love to know what ideas you came up with. So please share your finished projects on our Facebook Page.
And if you want to go beyond just a square and looking for larger projects, you may also check our collection of patterns for blankets, clothing, home decor, and more!

Crocheting takes practice and it's always refreshing to crochet a nice, simple, square that's perfect for beginners! We hope you enjoyed these crochet square patterns for beginners!