What's better than a shawl? A pocketed shawl! As the cold weather persists, these snuggly shawls are real must-haves—and they're handy for carrying bits and bibs in, too. If you're looking for the perfect pocketed shawl crochet patterns, I've listed some of my favorites below.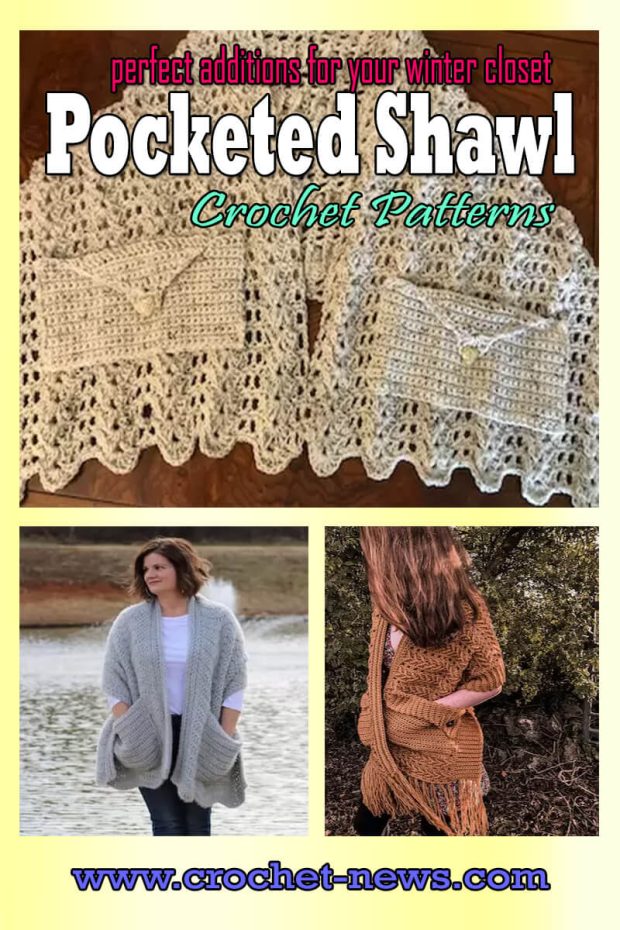 I can't get enough of pocketed shawls. Simple, stylish, and super practical, these handy additions to your winter closet will be coming everywhere with you from now on.
Perfect for popping your cellphone, purse, lip balm, or hand sanitizer in when you pop out; your handbags will be long forgotten! Let's face it, everything's better with pockets!
15 Pocketed Shawl Crochet Patterns

1. Crochet Texture Message Pocketed Shawl Pattern by Yarnspirations
Indulge in the comfort of this crochet shawl designed to keep you toasty indoors as the cold wind blows outside. You'll do single crochet, post stitch textures, post stitch ribbing and treble crochet to achieve the interesting linear textures on this wrap.

Designed in 2 pieces with a center back seam, the pattern direction stays beautifully balanced for a professional look. Cozy pockets are added with pocket linings that are sewn into the main body, on the wrong side. Finished with a generous fringe, it's a stylish garment for the coldest months of the year!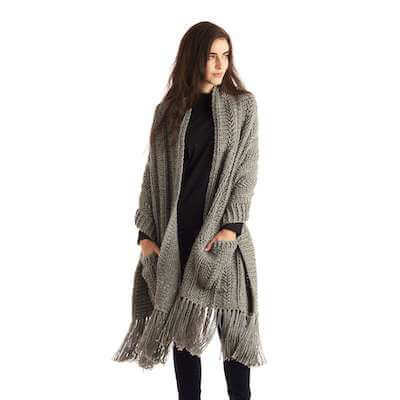 Get the Pattern here

2. Crochet Hygge Pocket Shawl Pattern by Mason Jar Yarn Designs
Hygge is defined as the Danish concept for a mood of coziness and comfortable enjoyment that evokes feelings of well-being and contentment.  And this shawl is all of those things!
Made with soft and silky bulky yarn, this project works up fast using basic stitches and features extra-wide pockets to hold all your important things.

This crochet shawl with pockets uses a traditional ripple stitch, which is an easy one-row repeat using double crochets.  This oversize shawl is literally like wearing a blanket!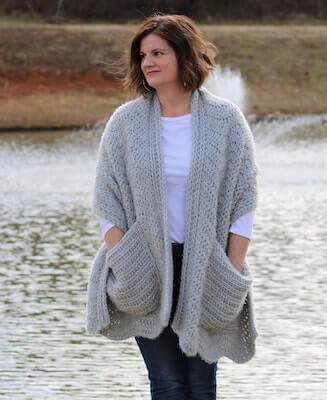 Get the Pattern by Mason Jar Yarn Designs here

3. Stay At Home Shawl Crochet Pattern by Make And Do Crew
Wrap up in a cozy crocheted hug, complete with perfectly roomy pockets. This pocket shawl is a meditative, simple Tunisian crochet project that's comforting to both make and wear. The eyelet stitch pattern is easy to memorize and creates a beautifully flowy fabric.

Add optional wooden buttons in the front to create a poncho-esque look or leave the buttons off for more of a traditional scarf. Either way, you'll feel elegant, comfy and proud wearing your Stay at Home Pocketed Shawl!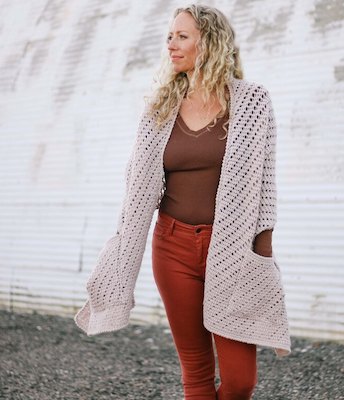 Get the Pattern by Make And Do Crew here

4. Rainbow And Storm Pocketed Shawl Crochet Pattern by Crafty Kitty Crochet
This pocket shawl has gorgeous, puffy rainbow stripes in between smoky grey stitches – the perfect representation of a rainbow after a storm! The look of this scarf is colorful, unique, and great for rainbow lovers!

Cheer someone up with colorful rainbows and handmade warmth and comfort! The pockets make it very functional and convenient, as well!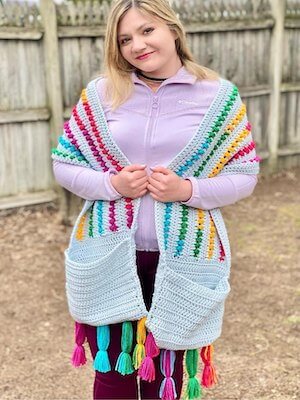 Get the Pattern by Crafty Kitty Crochet here

5. Comfort Pocketed Shawl Crochet Pattern by Rich Textures Crochet
This crochet pocket shawl is a simple rectangular design worked in the sedge stitch. The shawl can be worked in two colours as I have done or in one solid colour. It is constructed in three pieces: the shawl body and two pockets that are sewn on after completion.

The pockets are a good size, about 8 x 9 inches — the perfect size to hold a special photo, journal, or hands! I see this shawl being a great gift as a prayer shawl to someone needing comfort in a hospital or long term care home.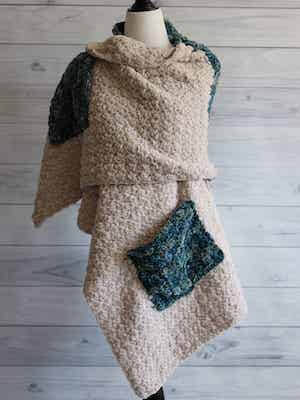 Get the Pattern here

6. Harmony Hooded Pocket Shawl Crochet Pattern by Carroway Crochet
This Harmony Hooded Pocket Shawl is soft and cozy with the special texture created by the granny stripe stitch. Adding the hood makes it especially on trend. It is great for those who love a little boho in their style. You also have the instructions on how to add a fringe if you would like one.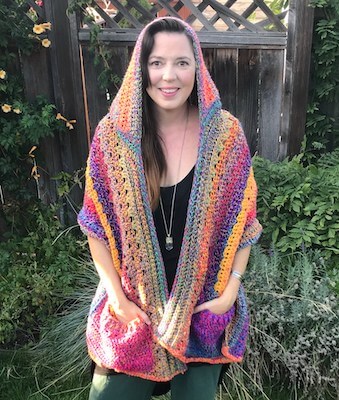 Get the Pattern by Carroway Crochet

7. Crochet Color Block Pocketed Shawl Pattern by Yarnspirations
Keep hands cozy as you stay warm wearing this unique crochet shawl that packs a punch of color! This gorgeous layer of warmth features random blocks of color with contrast edges for pockets and coordinating fringe. Created in single crochet and chain-1 techniques, it's a super-easy project that you'll love to do more than once!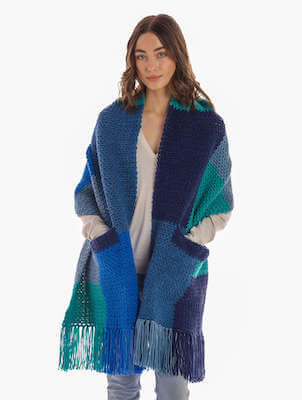 Get the Pattern here

8. Tri Pocketed Shawl Crochet Pattern by A Purpose And A Stitch
This oversized shawl is both unique and comfortable! Made from 3 triangular shaped panels and 2 cabled pockets, this new take on the pocket shawl trend is sure to impress!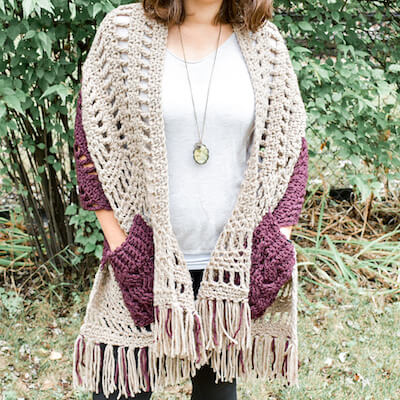 Get the Pattern here

9. Calla Lily Crochet Shawl with Pockets Pattern by Stephanie Lau
Crochet this romantic shawl using the elegant bobble trellis stitch! The cozy pockets and luxurious fringe will make this shawl your new favorite using superwash merino yarn!

This beautiful design is very functional as it provides warmth and comfort while adding a touch of sophistication to any outfit — it can be worn both casually with jeans or dressed up for formal events!
Get the Pattern by Stephanie Lau here

10. Sunflower Pocketed Shawl Crochet Pattern by Kathy Lutz Designs
If you like texture and sunflowers, this pocketed shawl is the make for you. Regardless if gifting someone or making it for yourself, you can be assure that it is a cozy wrap to put over your shoulders or on your lap when you need something a little extra to keep you warm. It is a fashionable piece that will bring a little sunshine into your wardrobe.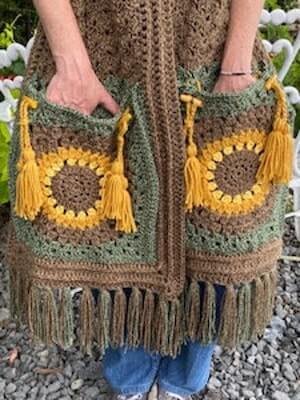 Get the Pattern by Kathy Lutz Designs here

11. Leopard Print Crochet Pocketed Shawl Pattern by Sienna Ivy
Show off your wild side with this Leopard Print Pocketed Shawl. This striking shawl is made using the C2C technique. Pockets are made with a matching pattern using the same technique and sewn on to the shawl. Finally, a tassel fringe is added to the bottom edges.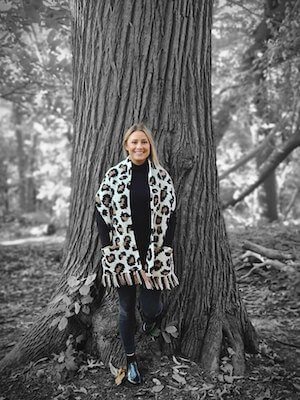 Get the Pattern by Sienna Ivy here

12. Harvest Moon Pocketed Shawl Crochet Pattern by Crochet With Carrie
This Harvest Moon Crochet Pocket Shawl is a quick and easy two row repeat that can be finished easily in a weekend. The best thing about this shawl is you can customize it to be any length.

It's the perfect staple to have in your Fall wardrobe. If you are a lover of texture you are going to find this shawl to be a firm favorite. Not only can this be a pocket shawl but you can omit the pockets and fringe and just create a beautiful scarf to get you through the winter months ahead.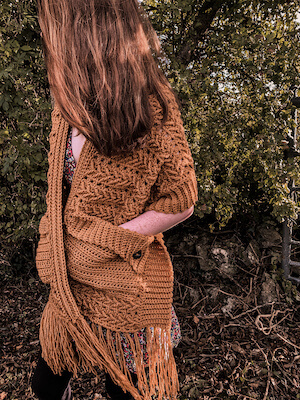 Get the Pattern here

13. Hearts And Hands Pocket Shawl Crochet Pattern by Blanche Rosenblatt
This Hearts and Hands Pocketed Shawl has a beautiful lacey texture. And the pockets have flaps with buttons, in case you're one of those people who actually put stuff in your pockets you don't want to lose!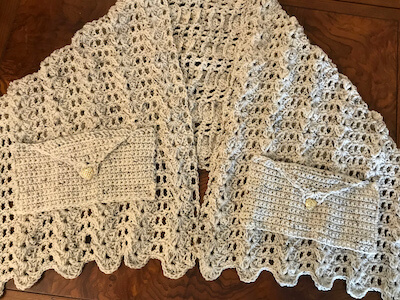 Get the Pattern here

14. Teddy Bear Pocketed Shawl Crochet Pattern by Little World Of Whimsy
This luxurious pocket shawl is whimsical without sacrificing its trendy look. This shawl is long enough to loop around your neck to create a cowl, and can also be worn long for warmer days. The adorable bear face on the pocket adds a sweet touch on a classic shawl!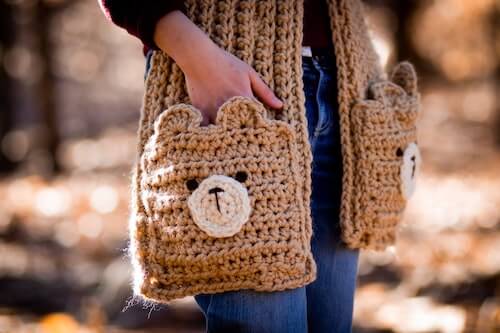 Get the Pattern by Little World Of Whimsy here

15. Persimmon Pocket Shawl Crochet Pattern by Hooked Homemade Happy
This Persimmon Pocket Shawl Crochet Pattern is the perfect pattern to get you ready for fall! It uses the classic granny stitch with a textured ribbing.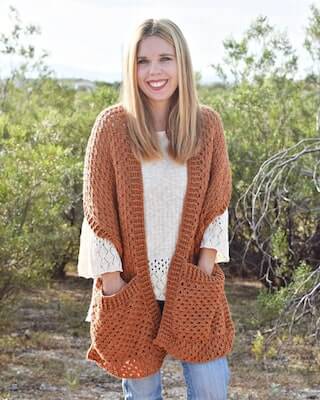 Get the Pattern by Hooked Homemade Happy here
Pocketed Shawl Crochet Patterns Frequently Asked Questions
What is a crochet pocket shawl?
The very basic essence of this design is that you can make a crochet rectangle that wraps around the body, ending at other fingertip with a pocket for your hands. There are many different options for pocketed crochet shawls.
But the gist is that it's a wrap (with our arms, that would be pocket cardigan or sweater) that has pockets, usually (but not always) one for each hand.
How do you crochet a pocket shawl for beginners?
Pocket shawls do not require any shaping, making them ideal for beginners. Most pocket shawls use simple stitches like single crochet, half double crochet, or double crochet, making them an excellent choice for beginners who want to wear their work.
What's the best yarn for crochet pocket shawls?
Shawls are great because you can use any type of yarn. Wool, acrylic, cotton or a blend. Wool and acrylic yarns are best for fall and winter shawls to keep you nice and warm. Cotton or a cotton blend yarn would be a great option for spring and summer shawls.
What weight of yarn is best for a pocket shawl?
You can make a crochet pocket shawl out of any weight yarn you want. Most shawls require DK or lighter yarn, with many patterns requiring fingering weight. These lightweight yarns contribute to the stitch definition and elegance of the pocket shawl patterns.
What is the best crochet stitch for a shawl?
There is no single or unique stitch that is considered to be the best for pocket shawls. Some crochet stitches, such as puff stitch, waffle stitch, and cable stitch, are ideal for creating a beautiful pattern and texture. To add variety, combine them with some basic stitches.
If you want to finish a pocket shawl quickly, consider using double or treble crochets. For a ribbed effect, try crocheting only on the back loops, as in front post double crochet and back post double crochet.
How wide should a pocket shawl be?
This varies depending on the individual, but a typical width is 60-65 inches. A pocket shawl's length can be easily adjusted by crocheting more or fewer rows. When making a pocket shawl, keep the wearer's size in mind because you want the shawl to be the length from fingertip to fingertip.
WHATEVER YOU'RE LOOKING FOR IN A POCKETED SHAWL CROCHET PATTERN, YOU'RE SURE TO FIND IT HERE.
We love to see your in-progress projects! Share them on our Facebook Page for everyone to look up to! And, congratulate yourself for adding a new piece to your handmade wardrobe!
Treat yourself with another must-make winter accessory with these crochet projects below:
Make the hottest trend this season with these pocketed shawl crochet patterns. They are a true showstopper – without a doubt!