Let the buttons take the center stage with these crochet button cowl patterns. Take on the trend before everyone else does with these chic picks that are right on the button!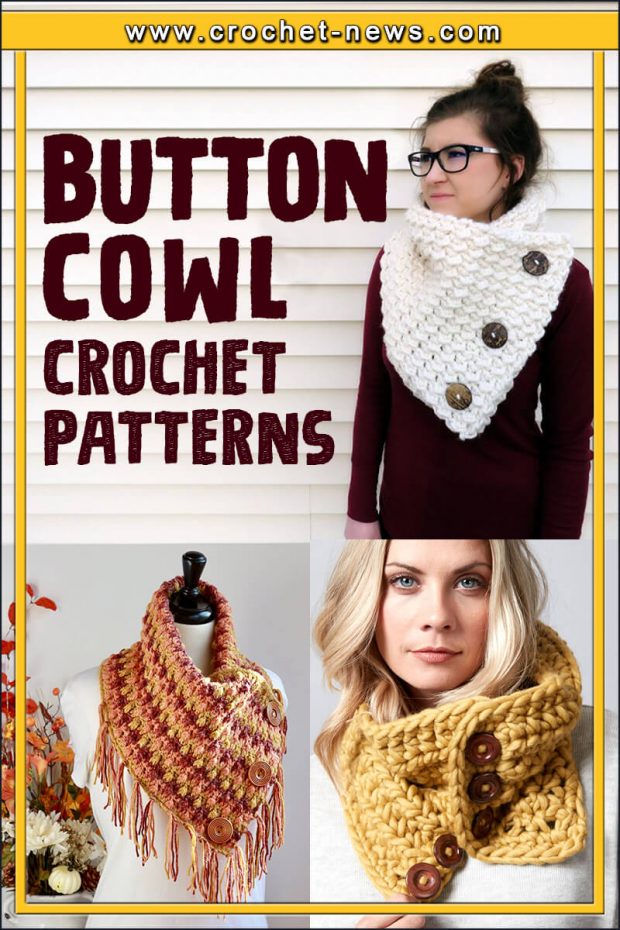 As any fashion photographer knows, it's the accessory that makes a garment. Here are some examples of how a simple button will take a simple cowl to a whole new level. A simple piece of work can instantly come to life with the addition of a few adorable buttons!
12 Crochet Button Cowl Patterns

1. Button Up Crochet Cowl Pattern by Yarnspirations
This plush cowl is perfect for a last-minute handmade gift! Made with three balls of super bulky yarn, you'll be able to whip one up in no time.
This free pattern uses half double crochet stitches for the body of the cowl, plus an easy single crochet border. Turn the rectangle into a cowl with five complementary buttons.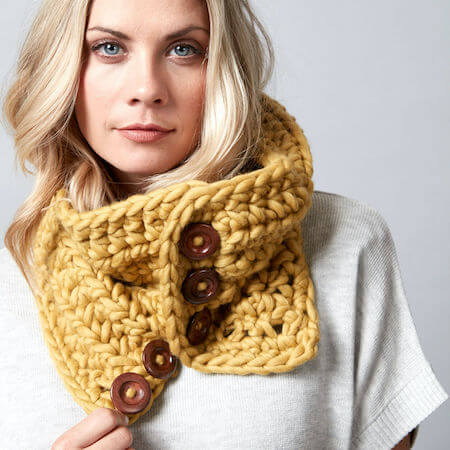 2. Easy Breezy Buttoned Cowl Crochet Pattern by Dabbles And Babbles
This Breezy Buttoned Cowl is so easy to make and works up quickly. you're looking for a fun crochet project that looks great with just about any outfit, this project is perfect for you. You might even find yourself making a few cowls for your friends too!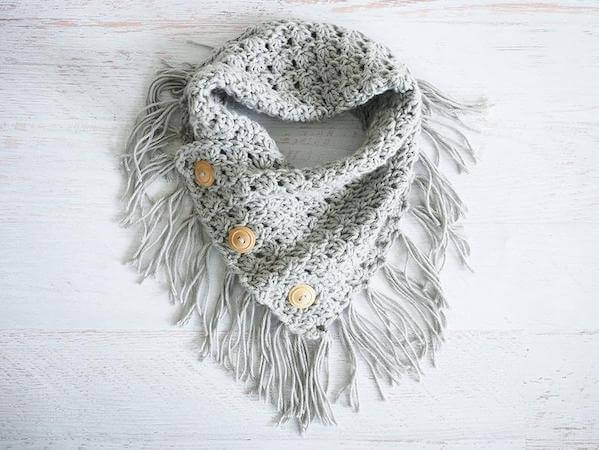 Get the Pattern by Dabbles And Babbles here

3. Button Cowl Crochet Pattern by Silver Maple Stitches
This is the classic and the ultimate in warm and cozy – for sure! Add your lovely coconut buttons, or any findings you wish, and you have the best accessory in your wardrobe.

Quick to whip up, this cowl definitely makes a fantastic gift! Make a few of these for some gifts in a lighter weight yarn as Spring wraps – beautiful! Use a bigger hook for a more drapey look – even better! Use your imagination to branch out!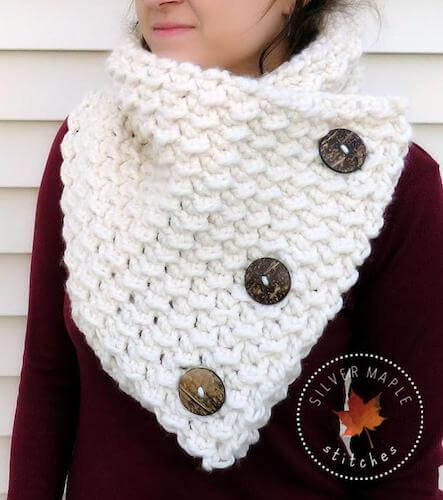 Get the Pattern by Silver Maple Stitches here

4. Crochet Cowl with Buttons for Kids by Yarnspirations
This rendition of the classic cowl is a perfect gift for that little fashionista. Let her choose shades she loves for a piece that makes her happy, or craft the version shown and surprise her. It's such a trendy piece, she may just want another!
Get the Pattern here

5. Buttoned Plaid Cowl Crochet Pattern by Winding Road Crochet
Plaid just seems to be the best pattern when you are looking for something rustic, cozy, and stylish. This Buttoned Plaid Cowl adds a nice pop of color to an outfit without being too bulky. Plus it can be styled in so many different ways. This buttoned plaid cowl would make a perfect gift.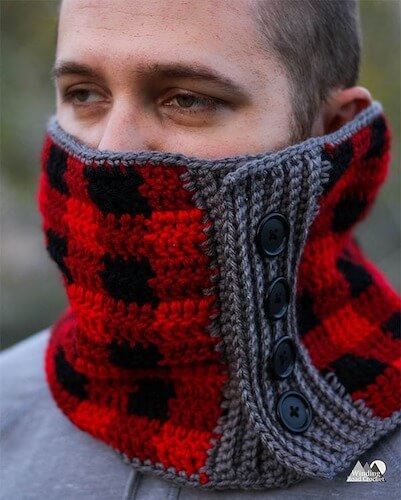 Get the Pattern here

6. Herringbone Buttoned Cowl Crochet Pattern by Yarn And Chai
This is a snug little piece of neckwear that is perfect for layering. On a cool day, it looks great worn with a shirt and jeans. On a colder evening, tuck it under your winterwear and let the ribbed collar peek out – the bottom of the cowl is nice and flat, so it won't add bulk under your coat!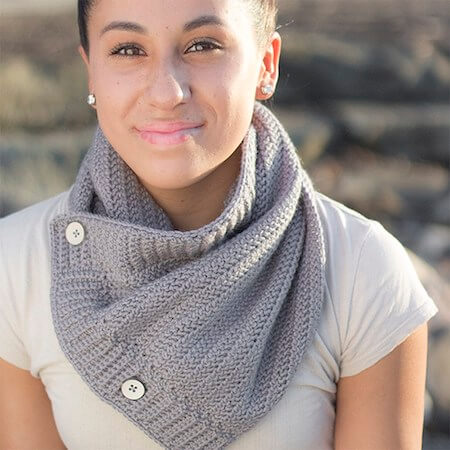 Get the Pattern here
7. Rustic Chunky Button Cowl Crochet Pattern by The Stitchin Mommy
This Rustic Chunky Button Cowl is soft, cozy, and is the perfect fall accessory. The stitch pattern has just enough open parts so that you don't even have to create buttons holes! If you don't like buttons, you can seam the ends for an infinity cowl instead.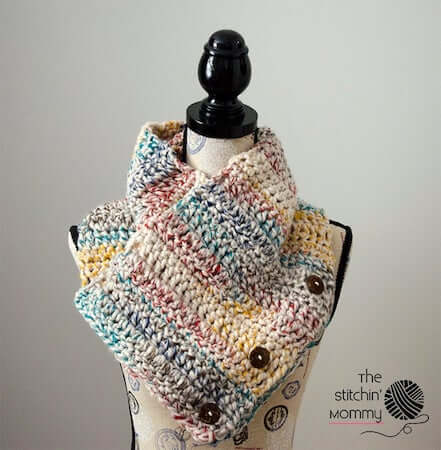 Get the Pattern by The Stitchin Mommy here

8. Striped Cluster Cowl Crochet Pattern by Nicki's Homemade Crafts
This stylish spring cowl has beautiful stripes and clusters that make it eye-catching and a hit for any day. This Striped Cluster Cowl uses two different colors of yarn to show off the textured cluster stitch. Alternate colors to show off the striping and depth of the design.
It is a fabulous accessory to have for the fall and winter season. Finish off your cowl by adding three buttons that will match and enhance the look of your gorgeous cowl.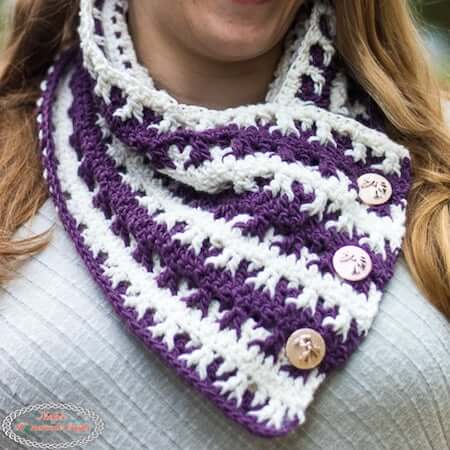 Get the Pattern by Nicki's Homemade Crafts here

9. Free Crochet Cowl Patterns with Buttons by Nana's Crafty Home
A free crochet button cowl pattern which has a ton of beautiful texture provided by the Falling Leaves Stitch. A simple drop stitch variation creates visual interest texture in this easy repetitive pattern! With button accents and fun fringe, this trendy cowl will be the perfect Fall accessory. This pattern also makes the perfect 1 skein project!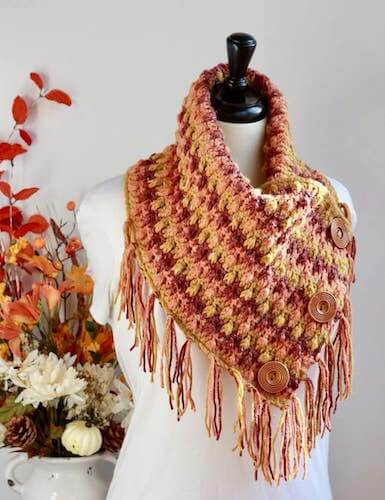 Get the Pattern here

10. Basic Chunky Button Cowl Crochet Pattern by Hopeful Honey Designs
Chunky, oversized, cozy – this Basic Chunky Button Cowl radiates with effortless style and sophistication, a timeless classic that belongs in every closet.
Whether worn with a loose tee and jeans, or paired with a stylish coat and high heel boots, this snug piece will keep you extra warm and toasty as you fight off the blustery winter weather!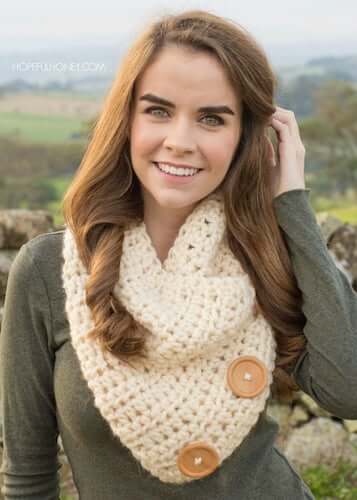 Get the Pattern by Hopeful Honey Designs here

11. Clearwater Beach Buttoned Cowl Crochet Pattern by Salty Pearl Crochet
This pretty knit-look crochet cowl pattern features some beautiful crochet ribbing at the top, pretty faux stockinette stitches, and a decorative button tab. You'll love how easy it is to style this with the buttons!

The gorgeous crochet ribbing at the top gives just enough of a gather to create a really effortlessly elegant drape. The neat and tidy waistcoat stitches pair really nicely with the graceful clusters, too, don't they?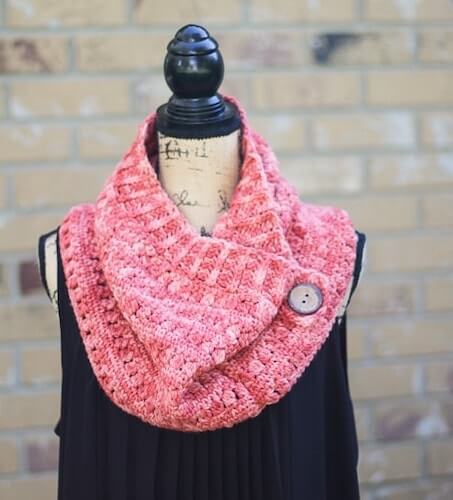 Get the Pattern here

12. Button Cowl Crochet Pattern by Crochet Dreamz
Is it just me or is it chilly outside? I think the weather is just perfect for a button cowl piece. The button cowl crochet pattern will help keep the cold at bay.
In most places across the world, the norm is snuggling up in front of an open fire. Wrapped up in a blanket sipping hot cocoa and watching double-bill episodes of your favourite shows.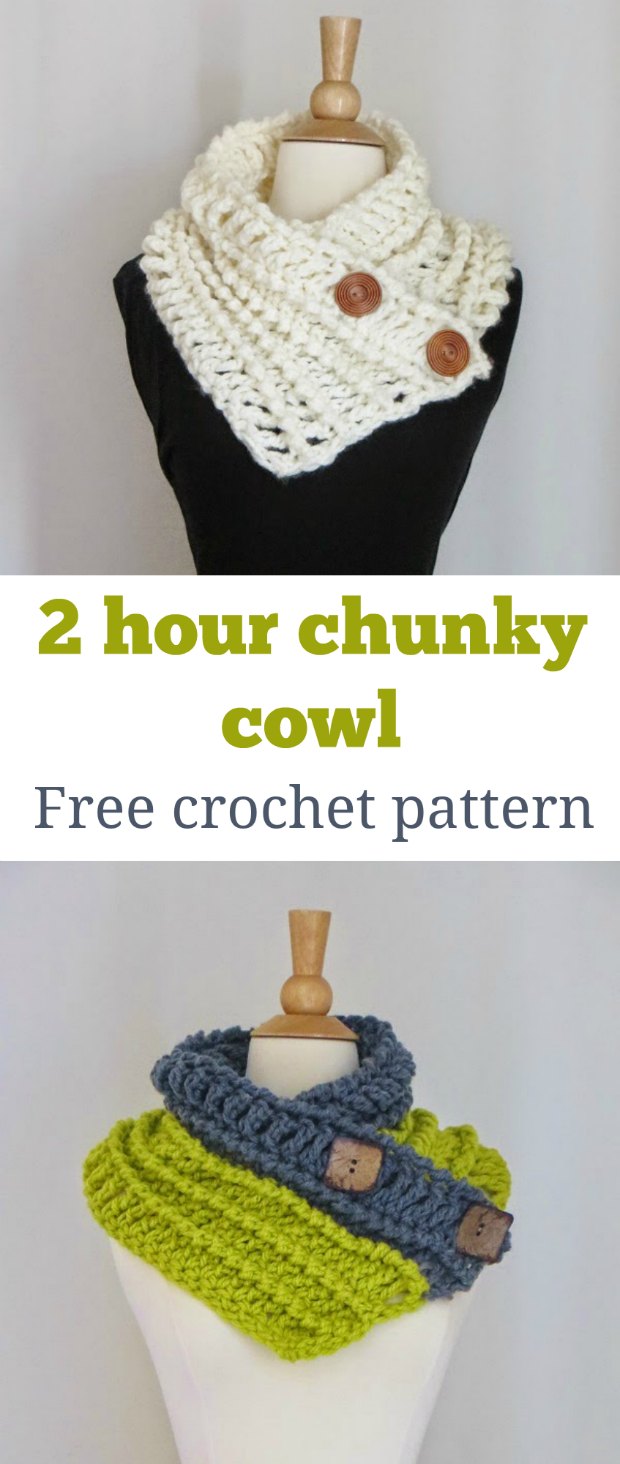 You might however, need to step outside for whatever reason now and then. Trust me you do not want to go outside wrapped in a blanket looking like a homeless person. You might want to look trendy while keeping warm. That is exactly what the button cowl crochet pattern was designed for.
Button Cowl Materials
Size 6 super bulky yarn. UK and Australian equivalent is 14 ply yarn.

Try these Super Bulky yarns HERE and

HERE

for inspiration!

Hook sizes P and H which are 10mm and 5mm respectively. Use these to weave in the tails.
Two large wooden buttons.
A sewing Needle.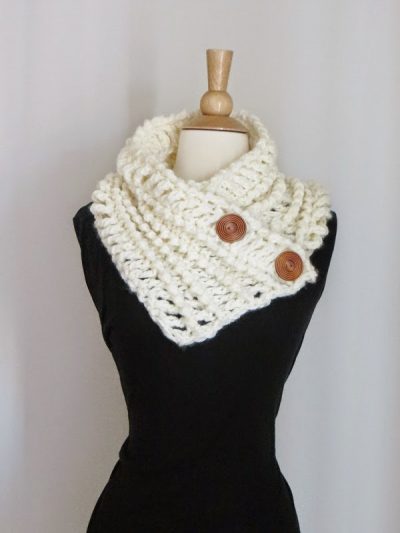 This quick and easy button cowl crochet project could be the perfect remedy for the winter blues. If you opted to pick up one of these cowls from your local store, you'll be surprised at how much you're going to spend. These babies not only look good on you, they'll keep you warm and toasty.
So, before the hypothermia sets in, grab some super 6 bulky yarn of your preference and a hook. You can have this beautiful button cowl crochet patter all made up and ready to wear in a couple of hours.
Start To Finish In 2 Hours
Not everyone has the time or will to sit and crochet for weeks on end trying to crochet some new trendy version of a super-scarf. With the right resources and motivation a quick 2 hour crocheting session should culminate in a stunning button cowl sufficient to keep the chills away.
The finished button cowl should measure 31-inches in length and 10-inches in width.
Using super 6 bulky yarn, you can crochet the button cowl in a single colour or double colour.
This is demonstrated in the tutorial diagrams. Trust me, despite your best efforts to look chic in the cold season, you will still be feeling the need to wrap up and keep warm.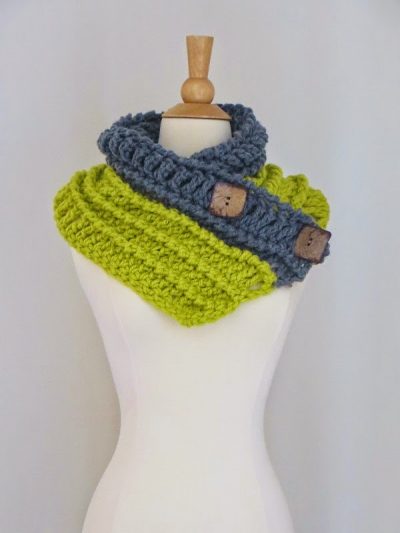 A Great Button Cowl Crochet Pattern For All Skill Levels
Now concerning the level of skill necessary to take on this project, I recommend anyone with basic to advanced knowledge of crocheting to try this pattern. I don't necessarily mean the rookies can sit this one out, there's plenty of web resources and tutorials that can help beginners practice their stitch with this pattern.
I know you're used to crocheting projects where you either gift the finished product to someone else or offer it for sale. However, with the button cowl crochet pattern, you are allowed to be selfish.
Do this one project for you and no one else. Don't worry about your neighbours and friends turning green with envy. This crochet piece is sure to turn some heads and ignite conversations.
Warm and stylish are two words not often used in the same context but with the button cowl crochet pattern, you have a trendy way of stepping out into the cold with a smile on your face.
Find the Free Cowl Pattern Here
No doubt, the addition of a button gives these crochet button cowl patterns a touch of panache and pizzazz that really highlights their looks!
We would love to see a picture when you're done, so please feel free to come by our Facebook Page and show off your project!

And if you're into winter-wear, you might also like these patterns:
Throw on your squishy new button cowl crochet and head to dinner, the opera or the corner store!