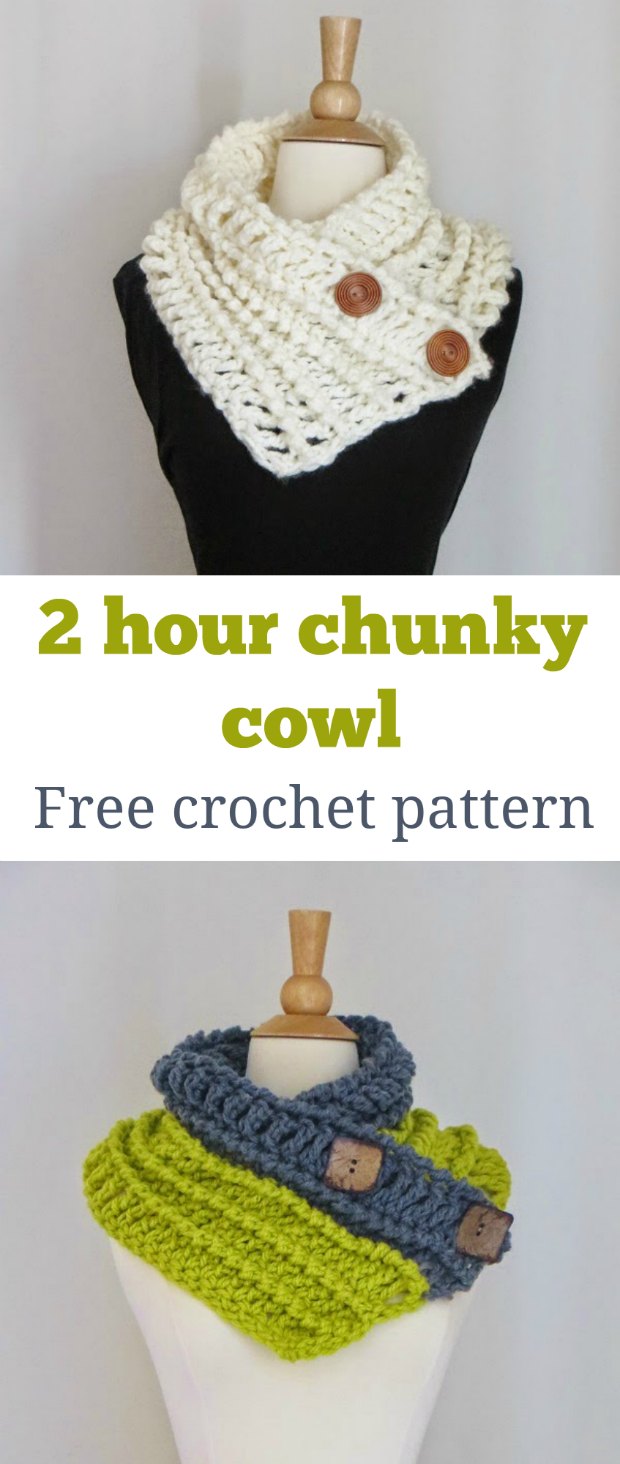 Button Cowl Crochet Pattern
Is it just me or is it chilly outside? I think the weather is just perfect for a button cowl piece. The button cowl crochet pattern will help keep the cold at bay.
In most places across the world, the norm is snuggling up in front of an open fire. Wrapped up in a blanket sipping hot cocoa and watching double-bill episodes of your favourite shows.
You might however, need to step outside for whatever reason now and then. Trust me you do not want to go outside wrapped in a blanket looking like a homeless person. You might want to look trendy while keeping warm. That is exactly what the button cowl crochet pattern was designed for.
Button Cowl Materials
Size 6 super bulky yarn. UK and Australian equivalent is 14 ply yarn.

Try these Super Bulky yarns HERE and

HERE

for inspiration!

Hook sizes P and H which are 10mm and 5mm respectively. Use these to weave in the tails.
Two large wooden buttons.
A sewing Needle.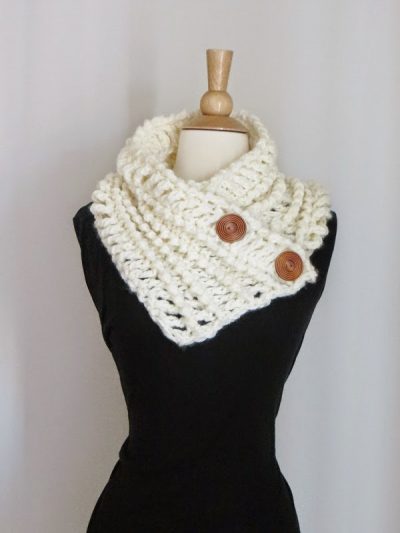 This quick and easy button cowl crochet project could be the perfect remedy for the winter blues. If you opted to pick up one of these cowls from your local store, you'll be surprised at how much you're going to spend. These babies not only look good on you, they'll keep you warm and toasty.
So, before the hypothermia sets in, grab some super 6 bulky yarn of your preference and a hook. You can have this beautiful button cowl crochet patter all made up and ready to wear in a couple of hours.
Start To Finish In 2 Hours
Not everyone has the time or will to sit and crochet for weeks on end trying to crochet some new trendy version of a super-scarf. With the right resources and motivation a quick 2 hour crocheting session should culminate in a stunning button cowl sufficient to keep the chills away.
The finished button cowl should measure 31-inches in length and 10-inches in width.
Using super 6 bulky yarn, you can crochet the button cowl in a single colour or double colour.
This is demonstrated in the tutorial diagrams. Trust me, despite your best efforts to look chic in the cold season, you will still be feeling the need to wrap up and keep warm.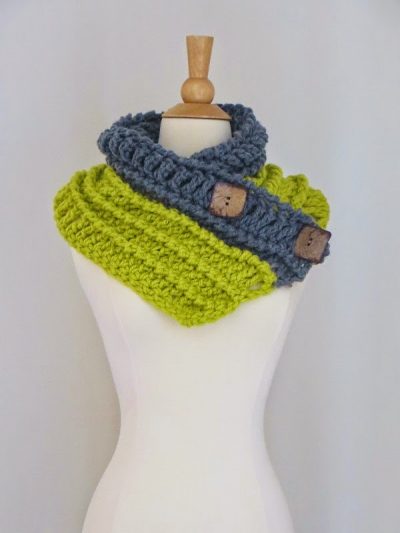 A Great Button Cowl Crochet Pattern For All Skill Levels
Now concerning the level of skill necessary to take on this project, I recommend anyone with basic to advanced knowledge of crocheting to try this pattern. I don't necessarily mean the rookies can sit this one out, there's plenty of web resources and tutorials that can help beginners practice their stitch with this pattern.
I know you're used to crocheting projects where you either gift the finished product to someone else or offer it for sale. However, with the button cowl crochet pattern, you are allowed to be selfish.
Do this one project for you and no one else. Don't worry about your neighbours and friends turning green with envy. This crochet piece is sure to turn some heads and ignite conversations.
Warm and stylish are two words not often used in the same context but with the button cowl crochet pattern, you have a trendy way of stepping out into the cold with a smile on your face.
Download the free cowl pattern here