Perfect for winter walks, seaside excursions and outdoor adventures, a hooded cowl is your trusty companion. Combing a hoodie with a cowl for the ultimate functionality and fashion, these hooded cowl crochet patterns are a unique and crafty project that will keep you snug and warm in the cold weather.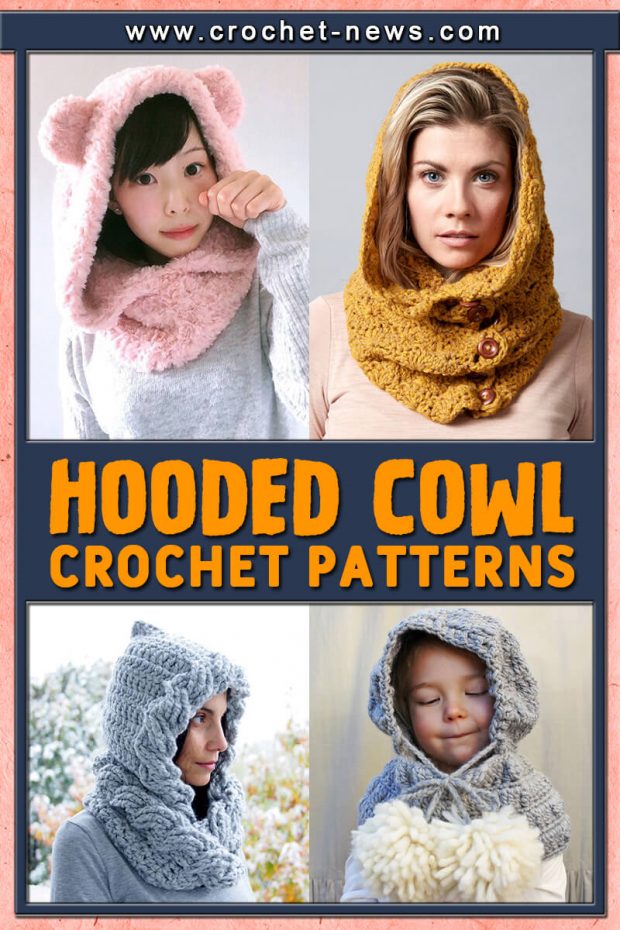 You will see a range of gorgeous styles and colors as you explore this brilliant range of crochet hooded cowl patterns. And for the kids, why not try your hand at a gorgeous animal design?

1. Wild Oleander Hooded Cowl Crochet Pattern by Wickedly Handmade
This Wild Oleander Hooded Cowl Crochet Pattern features a unique texture throughout the entire design using some interesting stitches. The fringe is an optional add-on, with instructions on length per size you may be making.

This hooded cowl features a long ribbed cowl that is capable to work as a hood or a baggy cowl neck. These scarves are incredibly flattering and can be worn a few different ways that will look great over just about anything you wear.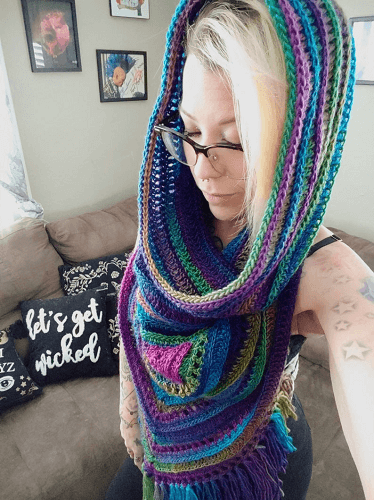 Get the Pattern by Wickedly Handmade here

2. Rhiannon Hooded Cowl Crochet Pattern by Morale Fiber
If you can chain, single crochet, and double crochet, you can make this fabulous convertible cowl! With a deceptively simple stitch pattern and a few quick construction elements, even beginners can work this stylish fairytale wardrobe staple.

Wear it four different ways – stitch it in two different sizes – paint it in endless color combinations! Great for gift-giving, stash-busting, and just plain looking sweet. It's long enough to wear as a small wrap vest, while the leaf motif drawstring can convert it to a closed, hooded capelet.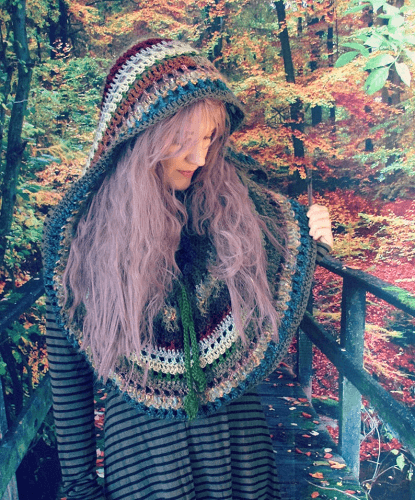 Get the Pattern by Morale Fiber here

3. Fluffy Hooded Bear Cowl Crochet Pattern by Sweet Softies
This Fluffy Hooded Bear Cowl is a fun and whimsical winter accessory that is sure to keep heads and necks warm! This snoodie is quick to work up with simple stitches, a large hook, and super bulky textured yarn!

There is minimal sewing involved as the hood and cowl sections are crocheted all as one piece, with the teddy ears separately attached at the end. The two sizes for this pattern (adult and child) make this a perfect Mommy and Me gift!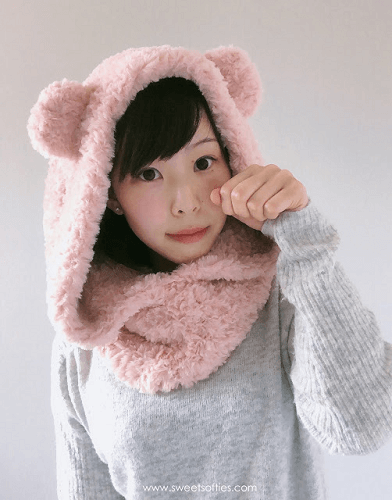 Get the Pattern here

4. Crocodile Stitch Hooded Cowl Crochet Pattern by Bonita Patterns
This Crocodile Stitch Hooded Cowl is straight out of a fairy tale. This unique and eye-catching cowl is the perfect addition to your handmade closet and makes an amazing one-of-a-kind gift for a loved one. The crocodile stitch featured in this hood is much easier to crochet than it looks!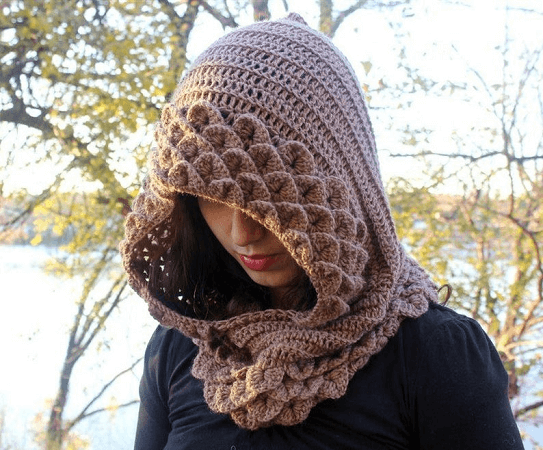 Get the Pattern by Bonita Patterns here

5. Athena Hooded Cowl Crochet Pattern by Crystal Bear Designs
Designed to keep you snuggly warm, this crochet hooded cowl can also be worn as poncho. It adds extra warmth to your chest and back and can be worn under or over a jacket. The beaded fringe adds a bit of sparkle and boho flare.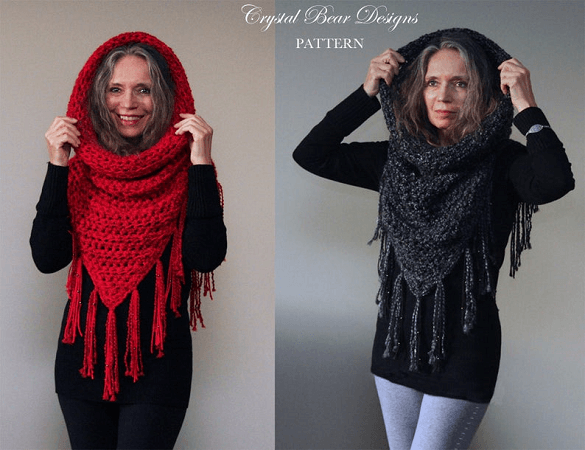 Get the Pattern by Crystal Bear Designs here

6. Textured Waves Hooded Cowl Crochet Pattern by Underground Crafter
This Textured Waves Hooded Cowl is a convertible cowl that can also be worn as a hood. Use post stitches to create gently textured waves. Crocheted flat and then seamed, this hygge-inspired project will wrap you in warmth and texture.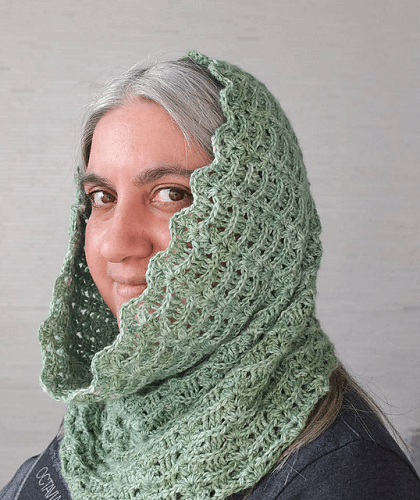 Get the Pattern here

7. Dusk Hooded Cowl Crochet Pattern by Knit And Crochet Ever After
Using a simple two round repeat, this hooded cowl creates a beautiful and interesting texture. The woven quality gives unique visual interest. The generous sized hood is sure to keep your entire head safe no matter what the weather.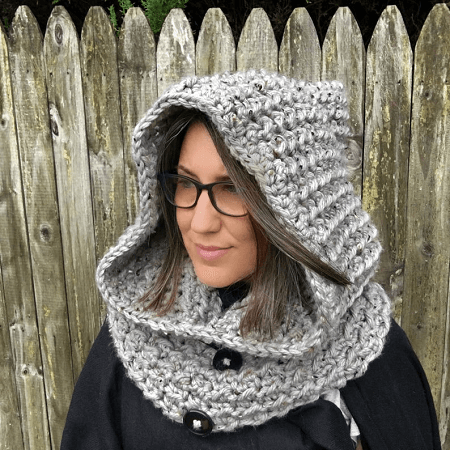 Get the Pattern by Knit And Crochet Ever After here

8. Frog Hooded Cowl Crochet Pattern by The Hat And I
Get your frog on! A totally fun and functional hoodie that will add a little hop to your walk. This frog hooded cowl crochet patternincludes three sizes: toddler, child, and adult. It's absolutely perfect to keep everyone's head and neck warm and cozy.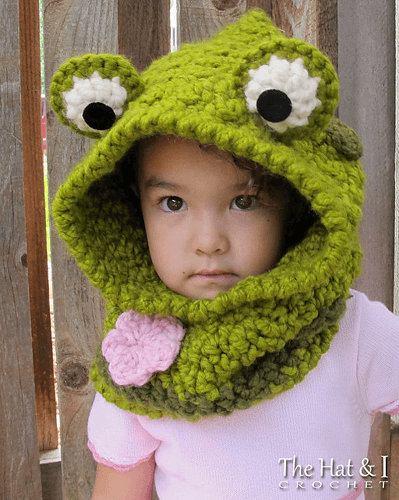 Get the Pattern by The Hat And I here

9. Spumiglie Hooded Cowl Free Crochet Pattern by Rebekah Haas
This beginner friendly cowl works up quickly, making a soft, fluffy, and wonderfully snuggly cowl that is deep enough to be pulled up into a hood. This cowl features the puffed shell stitch and includes a full tutorial for making that stitch. The puffs in the shell add an extra element of fluffiness to an already soft and luxurious cowl.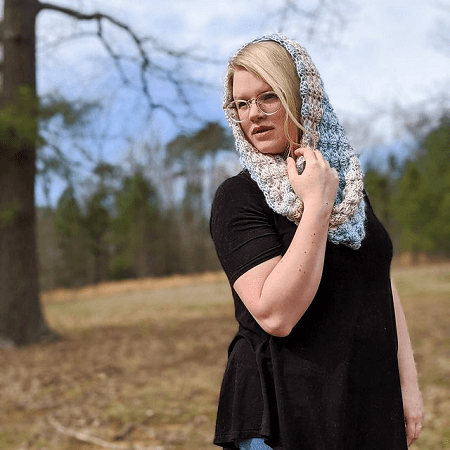 Get the Pattern here

10. Hooded Infinity Cowl Crochet Pattern by By Accessorise
You can keep yourself cozy and warm with this Hooded Infinity Cowl hat is made with bulky yarn. Wrap it around your neck, wear the hood on your head, or drop it down on your shoulders.

This piece is a versatile winter fashion accessory that will keep you warm through cold winter days. And it's the warmest gift for women, men, and teens. Make one for each member of the family!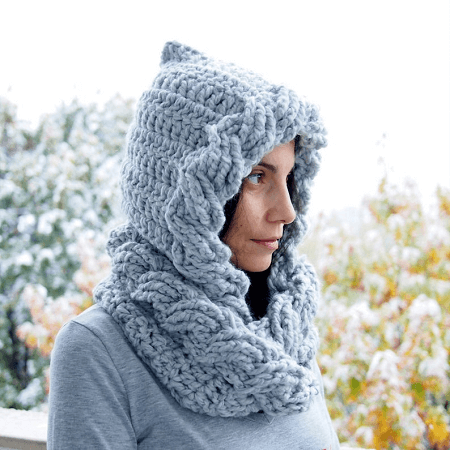 Get the Pattern by By Accessorise here

11. Dragonfly Hooded Cowl Crochet Pattern by Dragonfly Creations 83
This Dragonfly Hooded Cowl is full of texture and style and will go with any outfit. The incredible bobbles really make the dragonfly design stand out. Plus, this is just one of those projects you can't get bored with! It works up really quick and makes a great gift or market make! The design really pops with solids, ombre, or color-blocking colorways.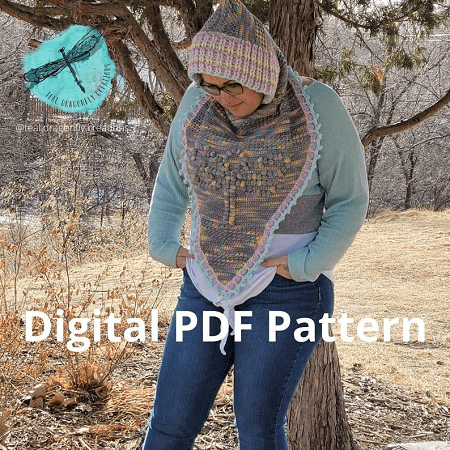 Get the Pattern by Dragonfly Creations 83 here

12. Blossom Stitch Hooded Cowl Crochet Pattern by Crochet N Crafts
This Blossom Stitch Hooded Cowl Crochet Pattern is given in a small size for adults, but you can easily adjust both the width and length as needed. Thus, you can use this pattern to whip up a small cowl for a toddler or to make an oversized cowl for adults.

Depending on how long you make it, you can wear it as a scarf or as a cozy neck cowl over a big winter jacket. Another option is to wear it over the head as a hooded cowl. It's great by itself or as an extra shield over an ear warmer if you like.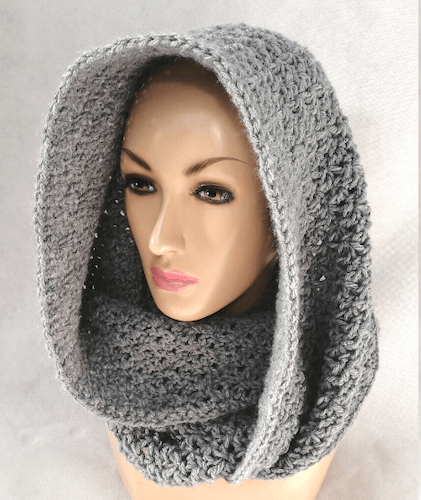 Get the Pattern here

13. Dinosaur Hooded Cowl Crochet Pattern by The Yarn Genie
This dinosaur hood, sometimes called a dinosaur cowl or even scoodie, is a great cosy hat and scarf all in one. It slips over the head easily, is super soft and snuggly and will keep out a cold wind, and even light rain. And how fun are the spikes & tail?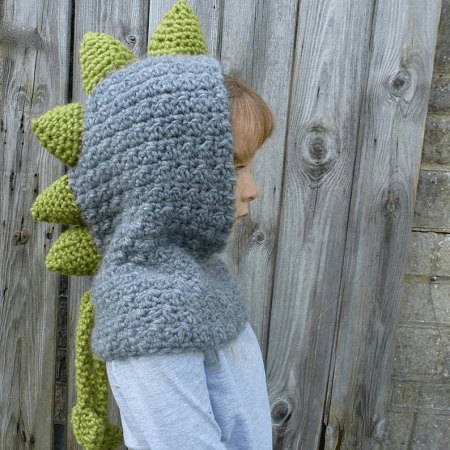 Get the Pattern by The Yarn Genie here

14. Cabled Hooded Cowl Crochet Pattern by Red Heart
Show your skills on this crochet cowl that can be worn under a jacket or on its own for a chic look. It's a unique project that stands out, making it a great choice to spruce up your cold-weather wardrobe. You could wear the hood over your head or let it fall back, either way, it looks good and feels very comfortable.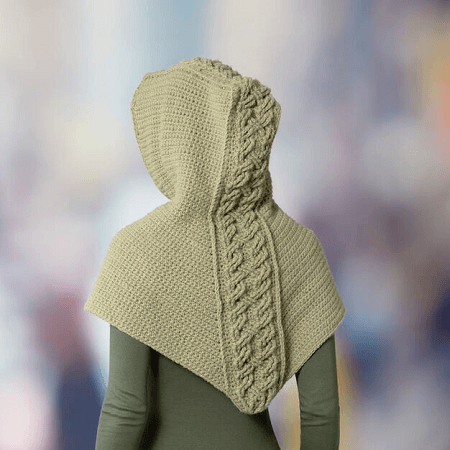 Get the Pattern here

15. Dugme Hooded Cowl Crochet Pattern by Avarus Crochet Designs
This elegant crochet cowl is both practical and stylish at the same time. It protects your neck and ears from the low temperatures and wind and draws attention with its unique shape and design, helping you stand out in the crowd. There are two ways to button it so you can wear it differently along with your outfit for the day.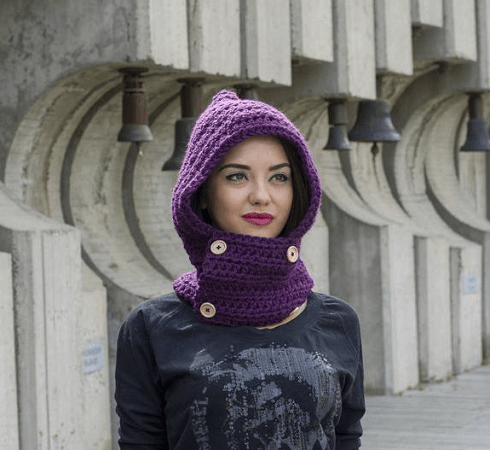 Get the Pattern by Avarus Crochet Designs here

16. Serene Reflections Hooded Cowl Crochet Pattern by Crystalized Design
This cowl has a Crystalized twist on the rising popularity of the hooded cowls, an infinity cowl that can also be made with less length if no hood is preferred. This Serene Reflections Hooded Cowl has off set shells make this pattern flow throughout and drift around the face.

This stitch combination is perfect for 3 colors, enhancing multiple wardrobe options for anyone over the age of one. Use subtle colors or bright colors, or even a rainbow of colors for an ocean of possibilities.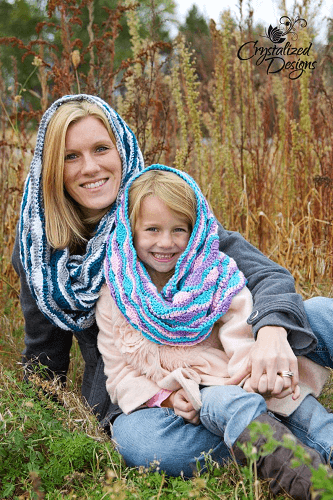 Get the Pattern by Crystalized Design here

17. Crochet Baby Hooded Cowl Pattern by Whistle And Ivy
This Crochet Baby Hooded Cowl is perfect for keeping those little heads warm! The construction allows this baby crochet hood to stay on baby's head easier and longer, and it perfect for winter walks or rushing from the warm house to the warm car! This pretty hooded cowl is the perfect way to keep baby's head warm when she won't keep a hat on!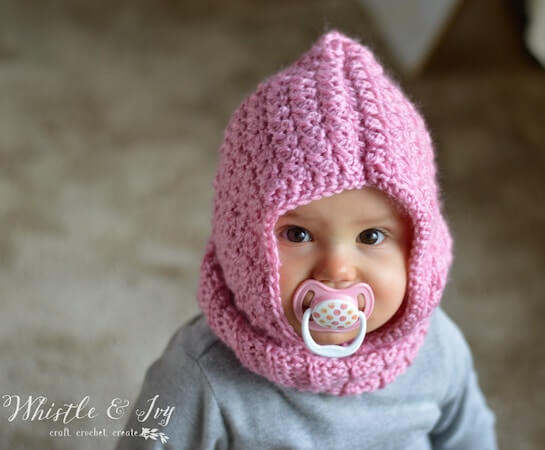 Get the Pattern here

18. Unicorn Hooded Cowl Crochet Pattern by Mama In A Stitch
If you have a little girl who is enthralled with unicorns. What isn't there to love with magical horned horses with their flowing manes? This Unicorn Hooded Cowl has a size that fits approximately 2T-4T and measures 8.5″front to the back of the hood, and 12.5 " from top of the hood to bottom of the cowl.

This unicorn hood features a horn, flowing "hair-like" mane, and a drawstring which helps secure the hood while it's warm and it's nice because you can adjust it to fit various little faces.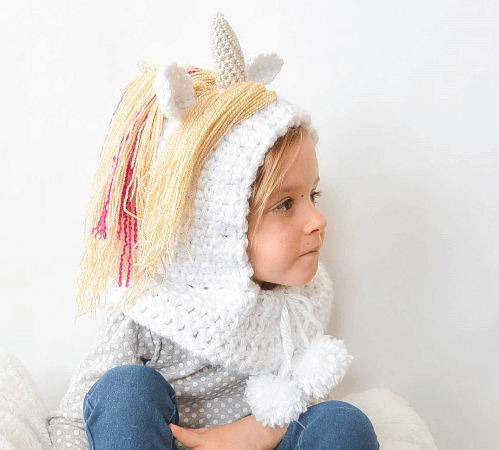 Get the Pattern here

19. Celeste Hooded Cowl Crochet Pattern by Naturally Nora Crochet
This Celeste Hooded Cowl is designed to be the slightest bit oversized for cozy winter coverage. The adult size hood has a drawstring around the edge to cinch out the cold. It is designed with a slightly puffy stitch for just the right amount of texture. It also includes two big, irresistibly puffy pom-poms.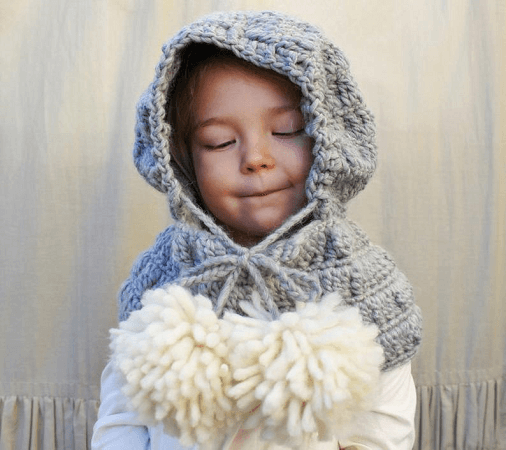 Get the Pattern by Naturally Nora Crochet here

20. Spice Hooded Cowl Crochet Pattern by Highland Hickory Designs
This Spice Hooded Cowl is a single loop infinity scarf. No fussing around with adjusting your loops to get them to lay just right. Just throw it on and go. And when those blustery winds pick up, the cowl is long enough to pull up over your head like a hood and still keep the back of your neck fully covered.

This pattern is an easy two row repeat and the only stitches you'll need to know are single crochet and double crochet. This cowl can be crocheted in only a couple of hours, which makes it great for last minute gift giving as well.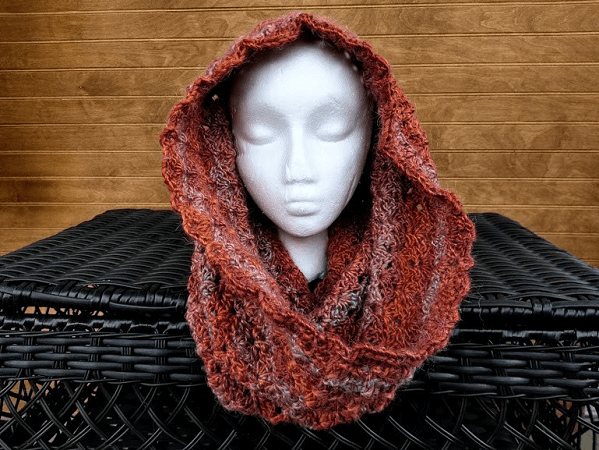 Get the Pattern here

21. Crochet Viking Style Hooded Cowl Pattern by The Hat And I
If you love to dress up and you are looking for a fun project, you can't go past this crochet viking style hooded cowl. This pattern includes three sizes: toddler, child, and adult.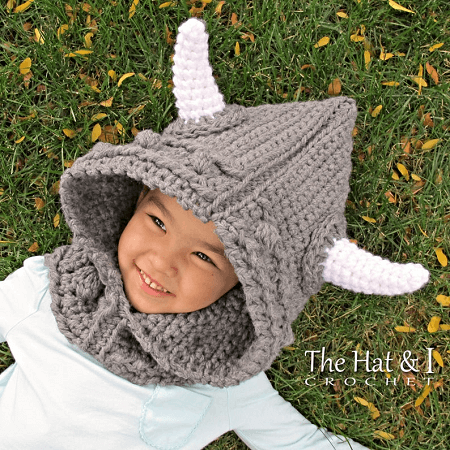 Get the Pattern by The Hat And I here

22. Self Striping Hooded Cowl Crochet Pattern by Made With A Twist
This crochet pattern for a Self-striping Hooded Cowl is full of interest with texture, color, and softness and can be worn as an infinity scarf or as a head wrap.

Elegant enough for evening, but comfy and warm enough for every day, this hooded cowl is called Sweet Harmony because of the soothing touch and delightful design of this self-striping yarn. You can use your favorite self-striping yarn to make this beauty or go for a more subtle charm with a soft solid. It's all up to you!
Get the Pattern by Made With A Twist here

23. Little Textures Hooded Cowl Crochet Pattern by Two Brothers Blankets
This Little Textures Hooded Cowl is a beautiful and warm crochet cowl that is long enough to wear as a hood on cold winter days! The cowl is worked all in the round and can be customized to be any width or length. This crochet hooded cowl can be worn around the neck like a usual cowl, or pulled up over the head like a hood.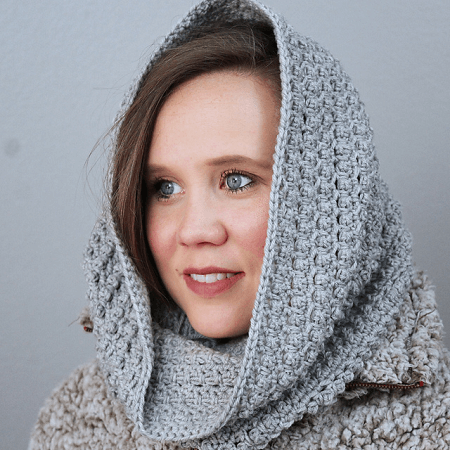 Get the Pattern here

24. Archers Hooded Cowl Crochet Pattern by Miramar Woods
Born from a love of Old-World style, the need for functionality and an obsession with the outdoors – this Archers Hood is an oversized hooded cowl perfect for wearing alone or layering to extend the life of your favorite hoodless sweater or jacket.

This adult sized pattern has two size options and is large enough to fit over a beanie (With poms!), hats or mom buns without riding back. It acts as a great layering piece and a windbreaker for cold, blustery days. The cowl portion can be folded down or flipped up for more cozy neck coverage.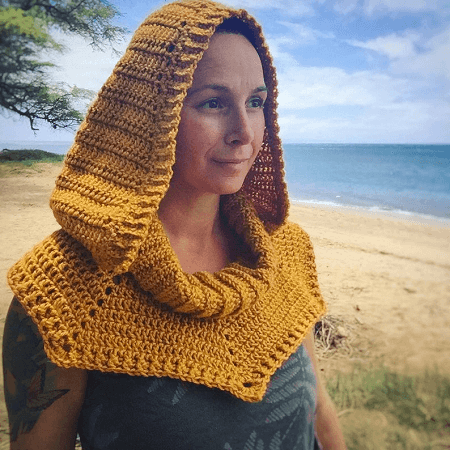 Get the Pattern by Miramar Woods here

25. Mountains Cowl Free Crochet Pattern by Gleeful Things
This Mountains Cowl is a zig zag patterned cowl that can be made in three sizes: a large hood cowl, a small cowl, and an infinity scarf. The large cowl hood is long enough to be worn over your head as a hood while still keeping your neck cozy!

The small cowl is meant to fit slightly loose around your neck. And the infinity scarf is meant to wrap twice around your neck and also be slightly loose. You can make it with a multi-colored yarn and it will naturally show the zig zag pattern in some places or you can use multiple colors and change each round for a more obvious zig zag pattern.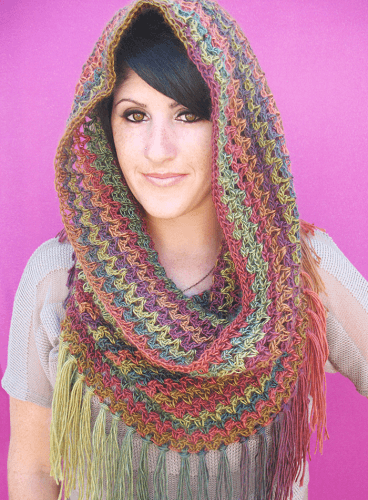 Get the Pattern here

26. Viking Norse Crochet Hooded Cowl Pattern by Veronica The Viking
This is a Hooded Cowl designed around Viking type design. It can be worn 3 different ways just by flipping the cowl around. It can be a loose hood, a fitted neck warmer hood, or a fitted Hooded face warmer. It hangs nicely around the shoulders when not in use.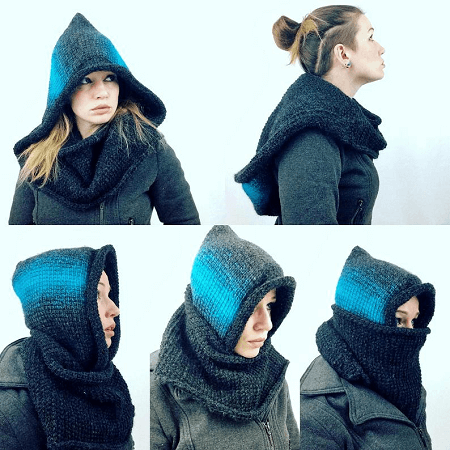 Get the Pattern by Veronica The Viking here

27. Hooded Fox Cowl Free Crochet Pattern by Sweet Softies
This Hooded Fox Cowl is a super warm and whimsical accessory that you'll love wearing in the cooler Fall and Winter seasons! It's both a hood and a cowl, to keep your head and neck warm!

Add those fox ears and it makes for and adorably unique clothing item. It's a great Christmas, holiday, birthday, or special occasion gift for anyone who loves this cute and fashionable design.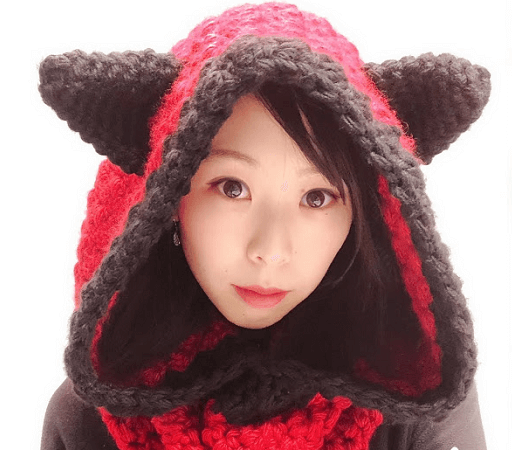 Get the Pattern here

28. Medieval Archer Hooded Cowl Crochet Pattern by The Mystic Wood
This Medieval Archer Hooded Cowl is a wardrobe staple for every adventurer. A stylish wardrobe basic featuring peaked medieval shaping, a roomy hood, and a neck cowl that slips on over your head and keeps your hood from falling off no matter how fast you or your horse runs, the cowl on this hood is narrow and not very bulky around the neck.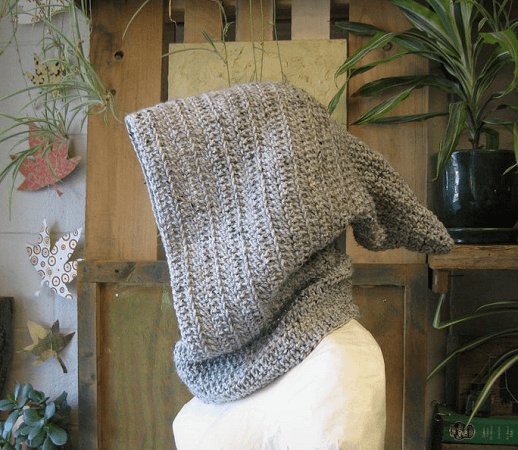 Get the Pattern by The Mystic Wood here

29. Pumpkin Hooded Crochet Cowl Pattern by Briana K Designs
Pumpkins, pumpkins and pumpkins are just about the best thing for fall! What better way to get ready for that crisp air than a Pumpkin Hooded Crochet Cowl?!

While this pattern would look adorable on your little one, you would totally rock it as well. It's warm, cozy, and practical. And if you need a last-minute festive costume, this is an easy one.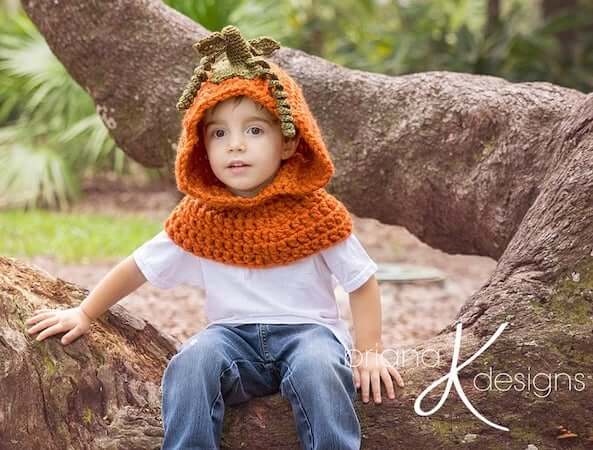 Get the Pattern here

30. Crochet Star Stitch Hooded Cowl Pattern by Crochet By Jennifer
This crochet cowl is perfect for the coolest winter days. Wear it as a cowl around your neck or pull it up to wear as a loose hood. This is a perfect pattern for an advanced beginner looking to learn a new stitch: the star stitch. The pattern includes instructions for sizes: baby, toddler, child, teen/adult, and large adult.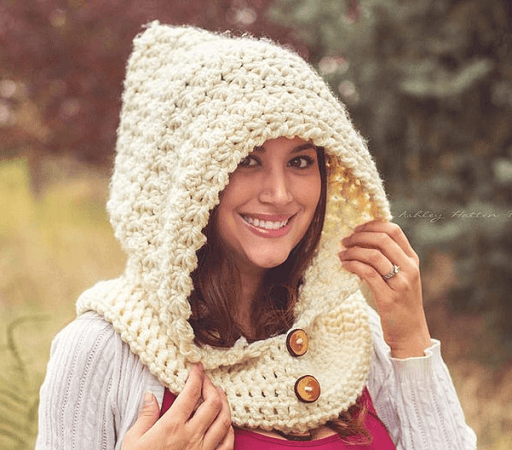 Get the Pattern by Crochet By Jennifer here

31. Adorable Crochet Bear Hooded Cowl Pattern by The Velvet Acorn
Are you looking for a great hooded cowl crochet pattern? We've found a beautiful pattern you'll definitely want to try out for yourself!
For more information on this adorable hooded cowl crochet pattern, keep reading!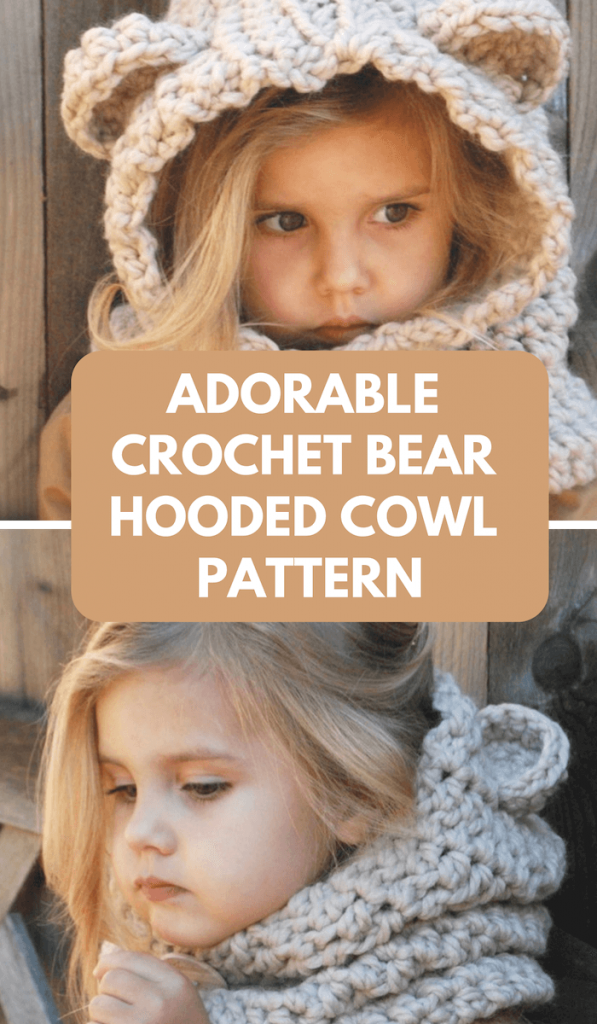 A Hooded Cowl Makes a Great Gift
It's never too early to start thinking about gifts, especially if you're like me and like to make them yourself! Handmade gifts are always special because they are made with love.
Of course, anything handmade takes time! So I'm always on the lookout for things I can get started on for the next birthday, Mother's Day, or Christmas gift.
Not to mention making things just for fun for myself and my family and friends. The hooded cowl crochet pattern by The Velvet Acorn is one of those patterns I ran across that just yelled at me to be made ASAP!
I started off by choosing a super bulky yarn in light purple because my four-year-old loves purple. I used a size N crochet hook, but the size hook you choose should depend on your tension.
Then I got to work. This pattern worked up quickly and the little touch of the optional "bear ears" were just perfect for my little snuggle-bug. Not only is her hooded cowl warm and cozy, it's also fun and quirky. Makes mommy and kiddo both happy!
This pattern for a crochet hooded cowl is perfect for any age or gender. You can use any color you like, just choose a soft and bulky yarn.
I will definitely be making more of these. The adult ones I will leave the ears off except for a certain teenage girl I know that will love the ears the most.
Because they are so warm, they will also make great gifts for the men in my family for those cold football games coming up this fall. They will be just perfect worked up in their teams colors too!
How to Crochet the Hooded Cowl Pattern
What Stitches are Used?
FIrst, it is important to note that The hooded cowl crochet pattern is written in U.S. Crochet Terms, but since it only uses a few basic stitches, is easily converted to U.K. crochet terms as well.
The stitches used in this pattern are single and double crochet. This pattern uses simple basic crochet stitches, making it a great pattern to practice this basic stitches.
How Do You Obtain the Pattern?
The pattern is a PDF instant download. As you soon as you purchase it, the pattern will be instantly downloadable. No shipping charges are needed because there is nothing to ship.
What Yarn Do You Need?
You will need a super bulky yarn of your choice and a corresponding large hook
What Sizes Can You Make?
The patterns includes instructions for the following sizes: 3-to-6 months, 6-to-12 months, 12-to-18 months, toddler, child and adult.
What Skill Level Do I Need for this Pattern?
Because this pattern uses basic crochet stitches, a fairly experienced beginner should be able to work this pattern.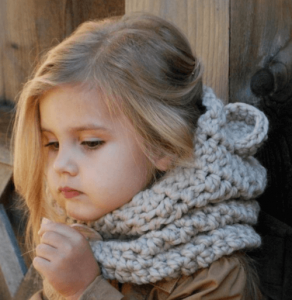 I hope you decide to head on over the The Velvet Acorn Etsy page and check out this pattern for a hooded cowl crochet pattern. Know I have enjoyed making this and I think you will too! I plan to make another one for myself very soon.
Please click here for more on the hooded cowl crochet pattern!
Pop your hood up or down – either way, you'll be the most stylish lady in town with your favorite hooded cowl crochet pattern!
We would love to see a picture when you're done, so please feel free to come by our Facebook Page and show off your project!

If you like making your own accessories, you might also like our collection of keyhole scarves, free crochet shawls, hooded scarves, cape, and more crochet clothing patterns we have on our site. Your to-crochet list is about to get really long!

These hooded cowl crochet patterns are a true showstopper – without a doubt!