There are so many reasons to love crocheting shawls. Take your pick from these free crochet shawl patterns below, then cast on your new favorite accessory!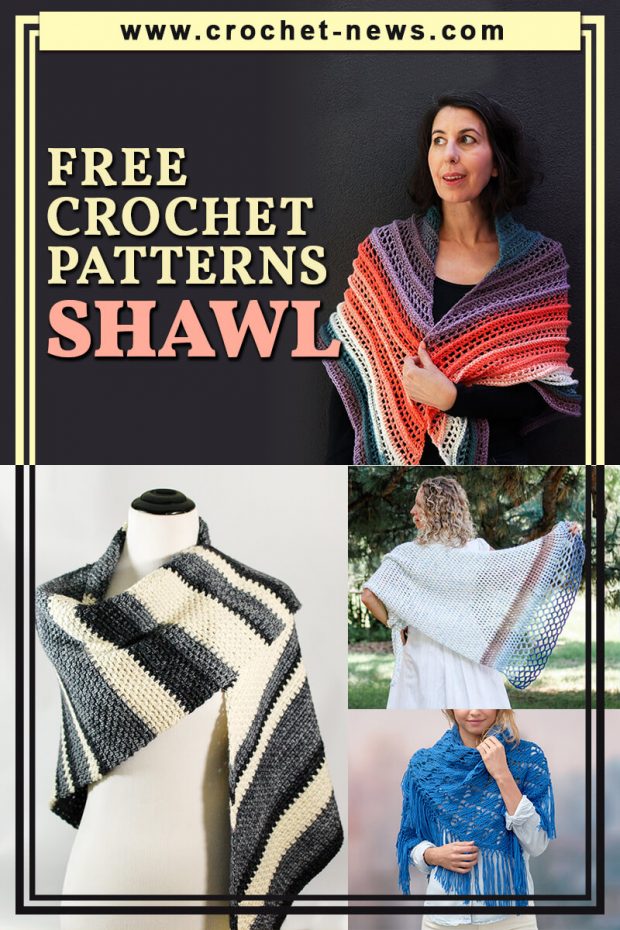 You should always have a beautiful shawl close at hand. A true fashion multi-talker, they can be worn so many different ways and instantly add some spark to even the simplest of outfits.

And of course, they feel so nice and soft, which you'll appreciate all the more on those chilly fall and winter days when you need something nice to snuggle up with. Find your favorite style and get ready to cast on!

1. Crochet Boho Shawl Pattern by Red Heart
The openwork design on this breezy crochet shawl makes it an ideal layer all-year-long. Stitch in whichever color inspires your creativity, or take the guesswork out and begin with the vibrant version shown. It's a relaxed look with a carefree boho touch thanks to long swaying fringe.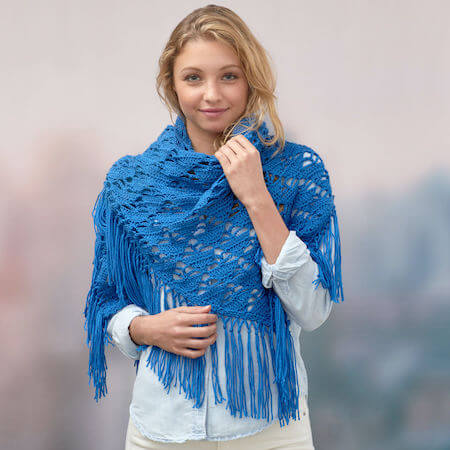 Get the Pattern here

2. Free Crochet Shawl Pattern by Marly Bird
This shawl is super fun, super simple and super addictive! It begins at the center top and increases are worked at the beginning, middle and end to make this fantastic triangle shawl.

Using a long color changing yarn and changing colors every two rows really makes the crocheter eager to get to the next repeat to see how the colors will look in the final piece!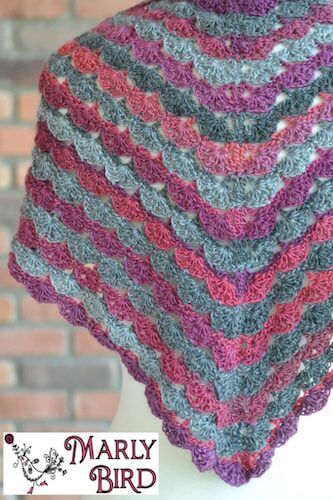 Get the Pattern here

3. Easy Crochet Wrap Pattern by For The Frills
This wrap is the perfect shawl for any season! The mesh arches give the wrap an open airy look while the optional scalloped border adds a romantic and feminine feel.

Although the design looks intricate, this crochet wrap it a lot easier to make than it seems. Chains and double crochets make up 99% of this easy wrap (with single crochets making up the last 1%) and the pattern follows a four row repeat so you can extend it to any length you want!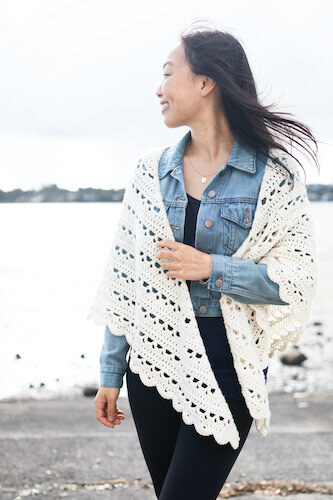 Get the Pattern here

4. Novella Shawl Crochet Pattern by Morale Fiber
This Novella Shawl is an easy crochet pattern designed to showcase the unique texture of linked double crochet. This thick, interwoven crochet stitch calls to mind the cozy look of loom weaving while the dramatic point and slight ruffle create a tailored look that flatters.

Crochet just the shawl or choose to top it off with a deep hood and fur trim for a really special piece to show off on all your woodland wanderings!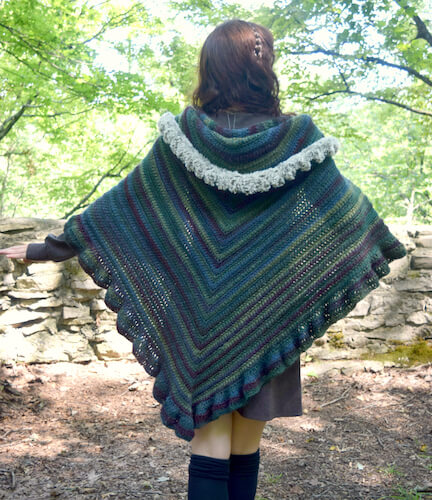 Get the Pattern here

5. Easy Pocket Shawl Free Crochet Pattern by Winding Road Crochet
Pockets on a shawl? What a wonderful idea. Keep warm this fall and winter with the easy to crochet pocket shawl. This shawl has a stunning stitch combination that you will love. It is easy to crochet – only uses single crochet and chains.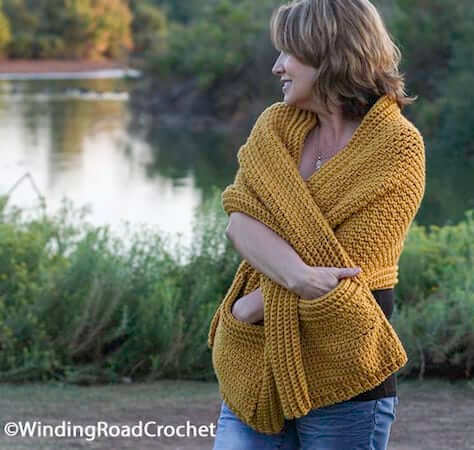 Get the Pattern here

6. Pine Gap Pocket Shawl Crochet Pattern by Stitching Together
Are you ready to jump on board with the hottest trend of the season, but want something that's unique? This Pine Gap Pocket Shawl Crochet Pattern is the project you're hook has been waiting for. Who knew granny squares could look so modern?

You'll be surprised how quickly it actually works up. And you're probably going to need to be prepared to make more than one because once your friends see it, they'll want one too!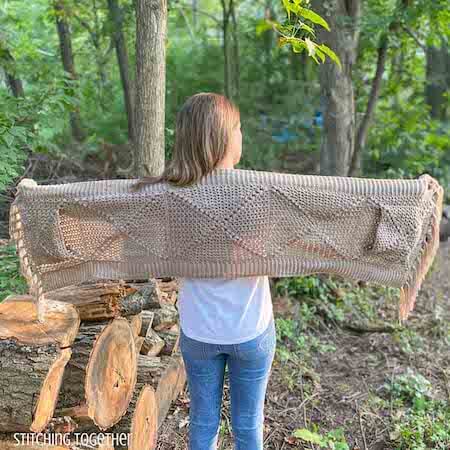 Get the Pattern here

7. Free Lace Shawl Crochet Pattern by Sara Huntington
If you're looking for a super-stylish shawl to complete your outfit, then look no further! This free crochet shawl pattern is a gorgeous accessory that works equally well wrapped over an evening dress or just thrown over your everyday clothes! It features a beautiful repeating diamond design, and uses clever treble shaping to create a perfect triangular shape.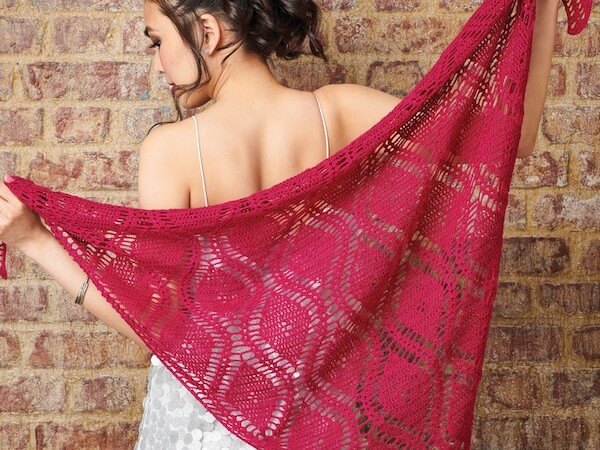 Get the Pattern here

8. Sunset Peaks Crochet Shawl Pattern by My Poppet Makes
Named Sunset Peaks, this crochet shawl pattern looks a little complicated, but it's actually very easy and only uses a couple of basic crochet stitches. The raised ridges form little textured 'peaks' to highlight the colour changes, so you can guess how the pattern name came about.

You can choose to make this shawl to any size you prefer as it's worked from the center out. The pattern repeats every 4th row and is worked flat (back and forth).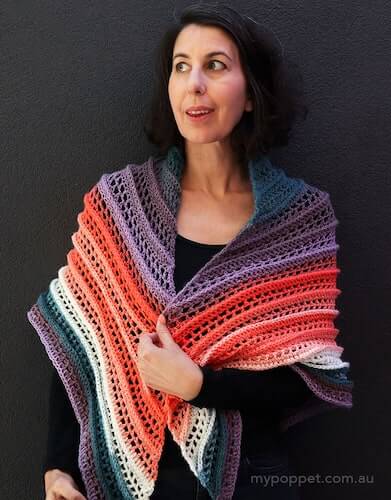 Get the Pattern here

9. Free Sampler Shawl Crochet Pattern by Furls Crochet
This Sampler Shawl is sure to be a great project for any crocheter, new or seasoned! This crochet project is full of different stitches and combinations that won't let you get bored but will still give you the opportunity to mindlessly stitch away. Finished off with some fringe that really makes a statement, get ready to get compliments every time you wear this piece!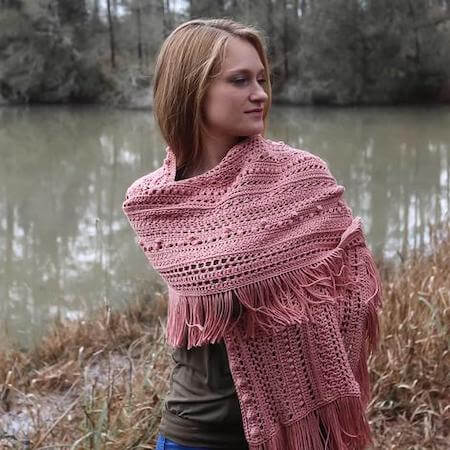 Get the Pattern here

10. Crochet Bridal Shawl Pattern by Yarnspirations
Flower motifs are worked in assembled rounds using the "join-as-you-go" technique, on this gorgeous shawl for spring and summer. Crochet your project in the pristine color shown, or if you imagine a juicier effect, select a brighter shade for your work. It's breezy, elegant and can be worn on any special occasion.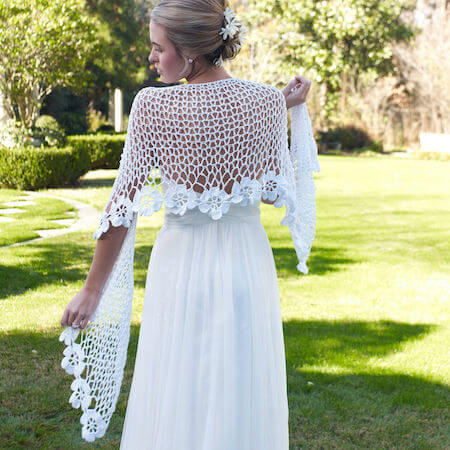 Get the Pattern here

11. Rising Tide Asymmetrical Crochet Triangle Shawl Free Pattern by Make And Do Crew
This elegant four-season shawl is much simpler than it looks. You'll have the stitch pattern memorized before the sun sets behind the sea! Basic puff stitches combine with a lace trim to make for a shawl that's a perfect mix of squish, fluff and fancy.

Whether you're headed to the beach, a wedding or just need protection from some overzealous air conditioning, this asymmetrical crochet triangle shawl is the perfect go-to way to wrap up this summer–and for the rest of the year!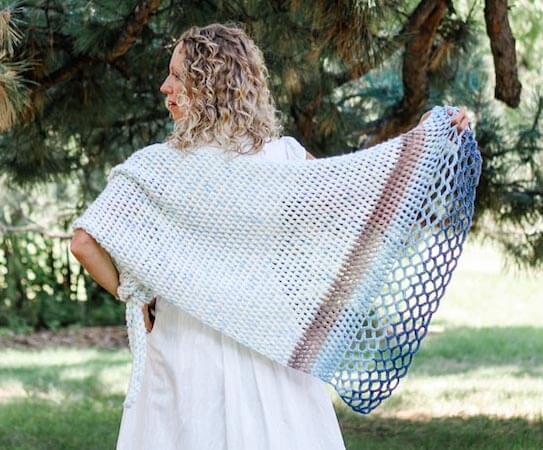 Get the Pattern here

12. Double Crochet All The Way Shawl Pattern by Wilmade
Today it's time for an easy crochet shawl: the Double Crochet All The Way Shawl. As the name already indicates, this beginner-friendly shawl is made with double crochet stitches.

It's a project without too much thinking and counting and is perfect to work on while traveling or watching Netflix. If you like, you can add fringes or tassels. The shawl also looks great as it is, without any additions.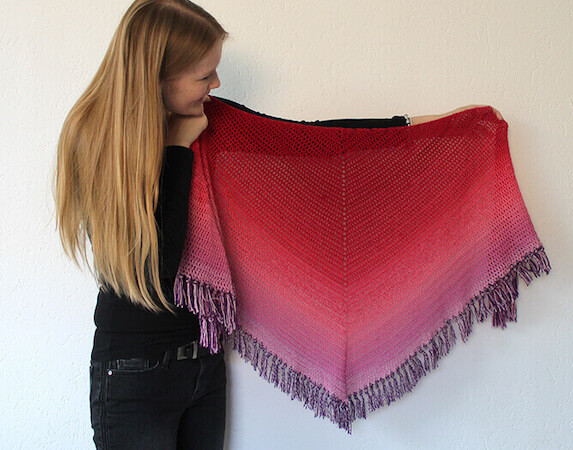 Get the Pattern here

13. Goldenrod Shawl Free Crochet Pattern by My Crochetory
This delicate and feminine bottom up crochet triangle shawl pattern is easy to memorize and fun to make. Perfect for beginners wanting to improve their skills or any crocheters that enjoys an easy project!

Goldenrod is a lightweight spring/summer shawl, made from the bottom up with beautiful diagonal lace sections throughout. Increases are placed along the edges forming a wide triangular shape. The easy construction and basic stitches make The Goldenrod Shawl suitable as a first lace project.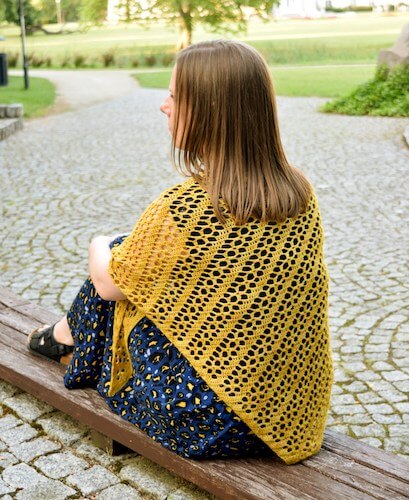 Get the Pattern here

14. Summer Shawl Crochet Pattern by Mama In A Stitch
A light and airy wrap, crocheted with a cotton blend that's perfect to cover your shoulders wherever you may wander. This wrap also doubles as a lovely scarf come fall or winter. The fabric is easy to fold and pack as you travel, making it a fun and practical piece to take on trips near or far.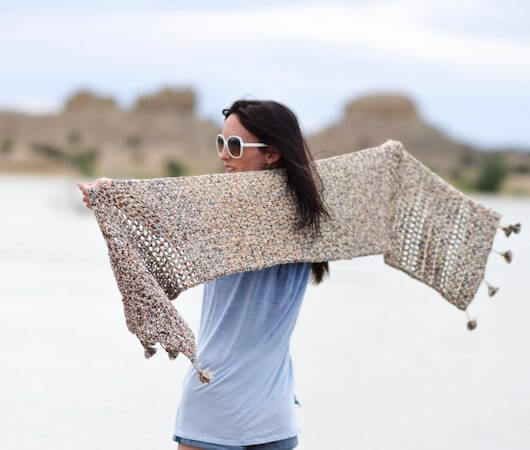 Get the Pattern here

15. Crochet Spread Your Wings Shawl Pattern by Yarnspirations
Worked in two pieces and seamed in the center, this free crochet shawl pattern works up quickly and easily. Each "wing" is worked from the center-out in double crochet with simple shaping to create a horseshoe shape. Customize the stripes to your liking with the shades that you like!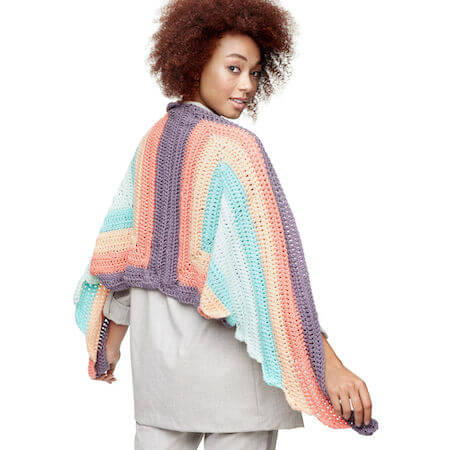 Get the Pattern here

16. Crest Of Wave Crochet Shawl Pattern by Yarnspirations
Waves of speckled color ripple across this gorgeous crochet shawl that's perfect to refresh your wardrobe. It's an engaging project that includes chains, half double crochet and treble crochet back post stitching techniques. Create it as designed, or imagine another trio of shades to complete an attractive original for yourself or a friend.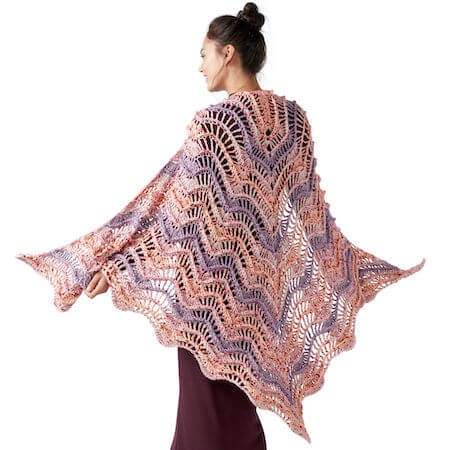 Get the Pattern here

17. Catalina Wrap Free Crochet Pattern by Two Of Wands
Introducing the Catalina Wrap, a lacy, drapey, flowy triangle scarf that oozes with elegance. Whether you wear it with the point in front or draped across the shoulders, it will instantly dress up your outfit and add a touch of graceful sophistication.

This is an easy level crochet pattern and the techniques involved include single crochet, double crochet, front post double crochet, bobbles, chaining and skipping stitches, working into chain spaces, and the magic loop.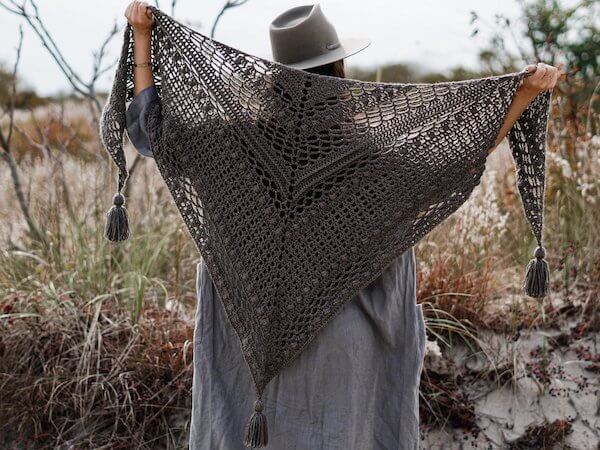 Get the Pattern here

18. Free Crochet Shawl Granny Pattern by Easy Crochet
Have you been looking for an easy crochet shawl pattern? If so, then you'll love this pattern! This simple shawl featuring the granny stitch maybe it! It works up fast, looks beautiful and will keep you cozy. This shawl is easy to make, follows a simple stitch repeat and works up with minimal ends to weave in, so you have more time to make even more patterns!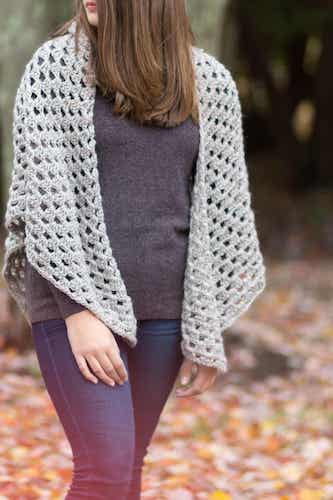 Get the Pattern here

19. Warlock Triangle Shawl Crochet Pattern by Passionate Crafter
This Warlock Triangle Shawl will make you feel warm and cozy in winter cold days. It's perfect for Autumn as well because the pattern includes small holes to keep it airy. All you need is 2 balls of Lionbrand mandala yarn or any other cake yarn and a 4.5mm crochet hook. This design is soft to the touch and looks nice for draping around your shoulders or neck.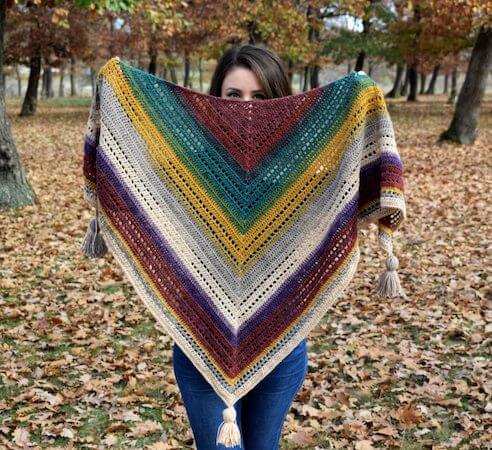 Get the Pattern here

20. One Skein Crochet Shawl Pattern by Annie Design Crochet
This is a beautiful asymmetric lace shawl crocheted with only one skein of fingering weight yarn. When you are finished, only 2 ends to weave in! Perfect for that precious skein of Indie Dyed yarn you have been saving. The pattern repeat is an easy 4-row repeat with basic stitches, so once you have the repeat established, you can relax and crochet!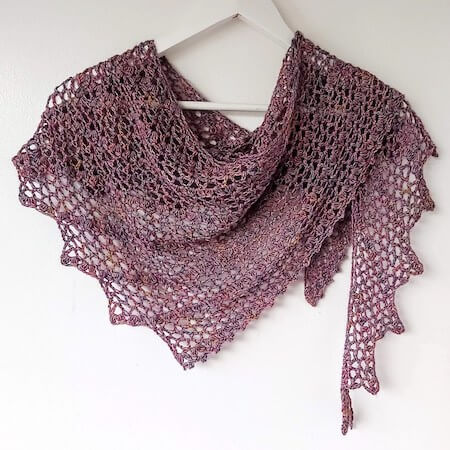 Get the Pattern here

21. Pineapple Lace Crochet Shawl Pattern by Red Heart
A popular pattern takes a modern turn on this lovely crochet shawl featuring a lacy pineapple design. So easy to create, you'll love how the self-striping yarn reveals gentle tones that perfectly bring out the pattern.

On this project, you'll practice crochet, single crochet, chain and more, to complete a stunning shawl. It is made in neutral for a touch of sophistication, but feel free to customize yours using a more vibrant color. It's a gift that pleases any lucky lady.
Get the Pattern here

22. Crochet Beginner Fade Shawl Free Pattern by Sewrella
This Crochet Shawl Pattern for Beginners can be worked up in a weekend and is so very easy! It only uses 2 simple stitches, easy repeated rows and easy tassels!

It is a great project for those still new to the craft – very beginner friendly. It is the perfect size and weight – not too chunky but soft, breezy, and warm.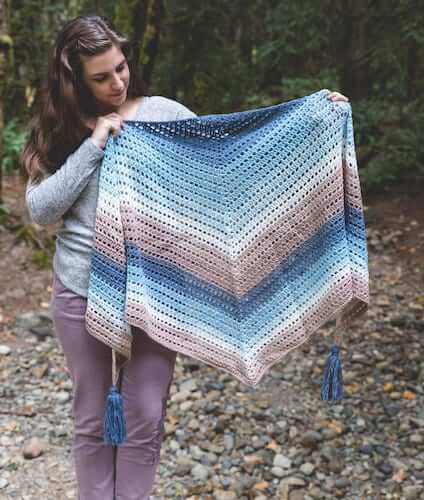 Get the Pattern here

23. Ombre Shawl Free Crochet Pattern by Petals To Picots
The gorgeous stitch texture and modern striping of this Ombre Shawl Crochet Pattern allows this shawl to pair just as easily with your favorite pair of jeans as it does over a little black dress, and it can be easily customized to any size you like.

You can follow the basic shawl crochet pattern and customize your colors and striping to fit your taste or you can follow the striping pattern included.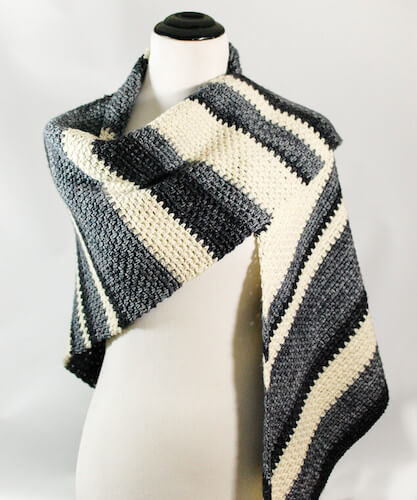 Get the Pattern here

24. Wine Country Triangle Shawl Crochet Pattern by Simply Collectible Crochet
Are you looking for a shawl pattern that's perfect for just about any occasion? Look no further than the classic styled Wine Country Triangle Shawl – a shawl that's perfect for wearing while sipping wine as the sun sets over the vineyards. It has a light and airy feel yet gives just the perfect amount of warmth to ward off the chill of nightfall.

This versatile shawl can also be worn in a multitude of ways, from a traditional wrap style to the more modern triangle scarf style. Perhaps the best part of this lovely pattern is the fact that it's ridiculously quick and easy to make up. It's the perfect crochet pattern for any level of crocheter.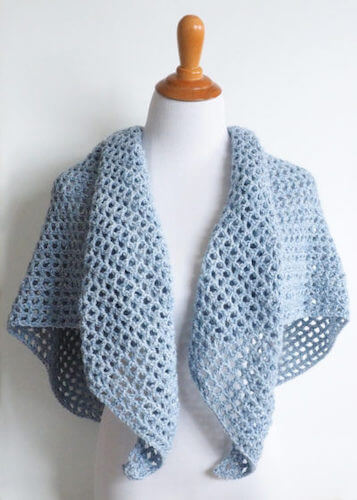 Get the Pattern here

25. Living Lagom Shawl Free Crochet Pattern by Lilla Bjorn Crochet
This Living Lagom Shawl is about living a happy and balanced life. The shawl is slightly asymmetrical with chunky cables combined with lace parts for additional softness and comfort.

This shawl crochet free pattern is an excellent combination of light and lacy outer section with a rope-like knotted edge, with a dense inner portion that is warm and cozy. The piece will be a great cold-weather addition to your outfit and a fashion statement in itsown right!
Get the Pattern here

26. Woodward Hooded Shawl Free Crochet Pattern by Stitch And Hustle
You can make this Woodward Hooded Shawl Crochet Free Pattern in your favorite team colors for those weekend football games as the weather gets cooler.

While this pattern is intended for two colors, you can get creative like and use 3 or even more colors. You can also add a pom pom for a fun accent.
Get the Pattern here

27. Vela Flower Shawl Free Crochet Pattern by Wilmade
This Vela Flower Shawl is a triangle shawl worked top-down and full of visual texture. It features three different flower stitches which start with a tight weave of stitches close together, and gradually changes to the loose open weave of lace. This crochet flower shawl comes in two sizes: adult and child version.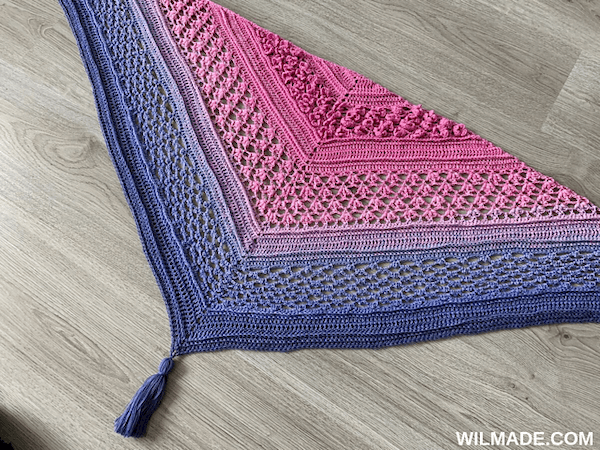 Get the Pattern here

28. Royal Granny Shawl Free Crochet Pattern by Nicki's Homemade Crafts
This fantastic and unbelievably free crochet pattern is called the Simple Royal Granny Shawl. Who would have thought that such amazingly simple combinations of granny stitches and crossover stitches would create one of the most beautiful and elegant accessory to complete your favorite outfit. This shawl also looks fantastic when worn as a warm cozy scarf or around your hip as a light, comfy skirt.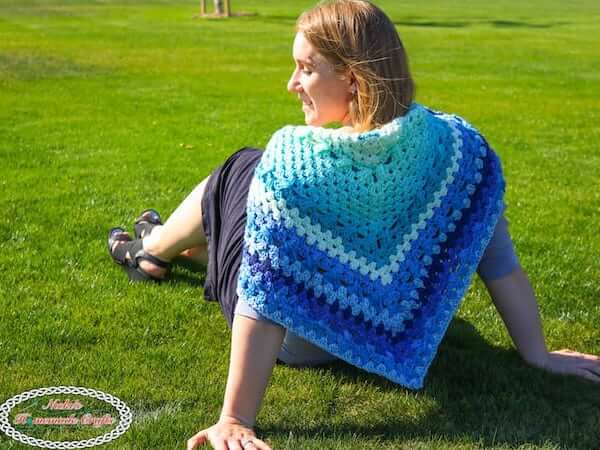 Get the Pattern here

29. Seafoam Crochet Lace Shawl Pattern by Bella Coco Crochet
This Seafoam Crochet Lace Shawl is a wonderful mix of lace and geometry. You will adore the lace panels that are inspired by the marble lattice designs of one of the world's most beautiful wonders, the Taj Mahal. The lattice patterns are intricate yet so simple. Worried the pattern may be too complex? Don't be. The lace pattern is easy to master, uses basic stitches and works in repetitions.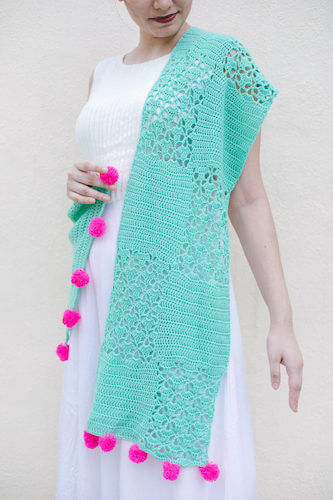 Get the Pattern here

30. Lake Sunset Shawl Free Crochet Pattern by Crochetpedia
This crocheted triangle shawl is perfect for beginners, because it uses only basic stitches. Ombre yarns are perfect for this kind of design, because it doesn't need more decoration.

Essentially, there are two types of rows – solid, made of double crochet stitches, and the one with holes, which works as and interesting detail. The pattern shows exactly how this particular shawl is made, but feel free to alternate rows as you want, to create your own combination!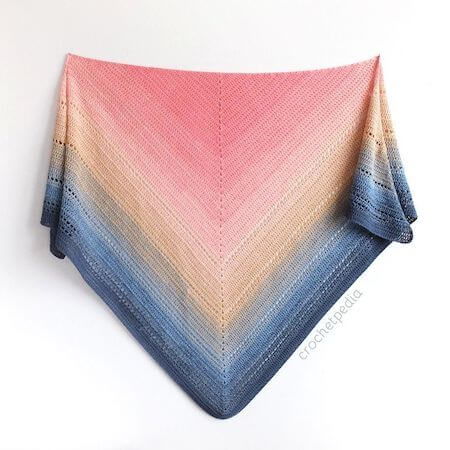 Get the Pattern here

31. Nobody's Perfect Shawl Crochet Pattern by Potter & Bloom
This Nobody's Perfect Shawl has been designed to use up yarn scraps, minis, odd bits and bobs of yarn that you have hanging around. It can be made using any size yarn, just as long as you have a big enough basket full of scraps all in the same size so that you can reach into the basket and pull a colour without looking.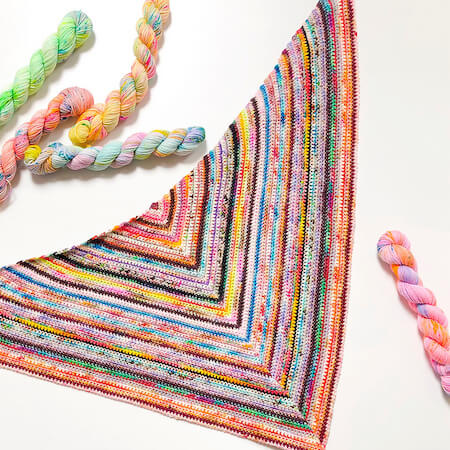 Get the Pattern here

32. Chic And Strong Crescent Shawl Crochet Pattern by Red Heart
Looking to create a boost to your style? This Chic And Strong Crescent Shawl Crochet Pattern features softly shaded stripes and is graced with beautiful scalloped edging. Crochet it in any two colors that make you smile!

Use your favorite worsted weight yarn for this one or dig through the scrap stash and choose a couple of your old stand by's. Choose a cool main color to really show off your stitch definition and skills!
Get the Pattern here
So many beautiful free crochet shawl patterns to choose from! What will you pick?
A stunning lace crochet shawl or something chunkier? Whatever designs you decided to make, we are sure they turned out great! So don't be afraid to show us some of your works by posting them on our Facebook Page!

If you loved these free shawl crochet patterns, you'll definitely love this free virus shawl and prayer shawl patterns. And a few more crochet shawls and scarves patterns that are most loved by crocheters. You should try them out too! We also have Shawl Pin Ideas for keeping your shawl in place

For now. let's get hooking with these beautiful free crochet shawl patterns to get our outfit ready this season!