This crochet pattern virus shawl is so popular, nobody even knows who the original designer is!
Its popularity can be attributed to the lovely details you can make by following the virus shawl crochet pattern. The lacy and flowy style of this virus crochet pattern is perfect for any season.
Although seeing the completed scarf can be a little intimidating because it looks a little complicated, you'll be surprised at how easy it is to make!
As long as you know how to do single and double crochet, you'll easily finish this virus shawl.
If you want to learn how to work on this crochet pattern virus shawl, continue reading through this article to find out!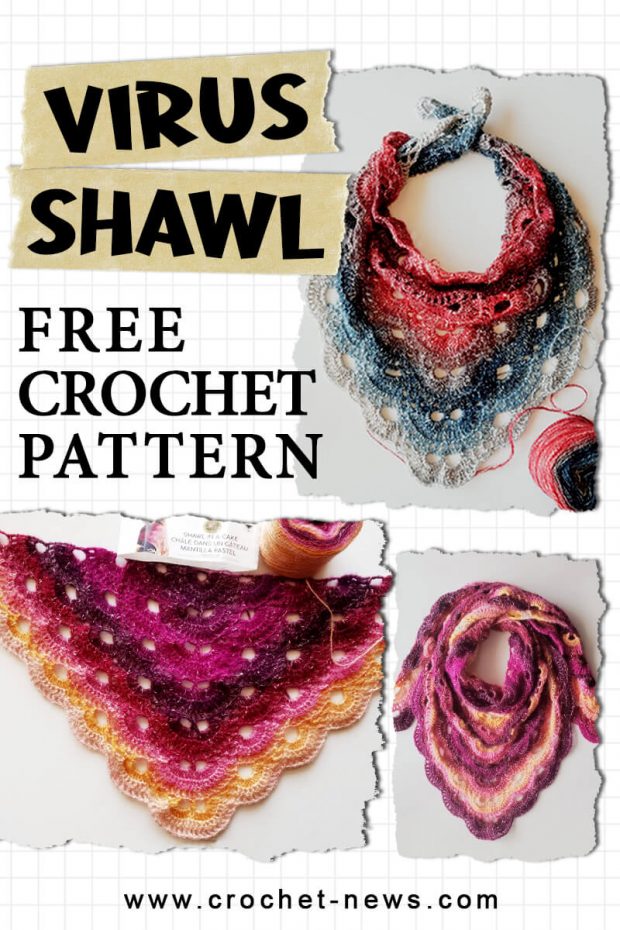 Who is the Designer of this Crochet Pattern Virus Shawl?
Upon further research, we found a pattern by Julia Marquardt. But there's a catch, it is written in German!
Not to worry though, there are other patterns – and even videos – translated in English that are based on Julia's pattern. Thankfully, we do not have to learn how to speak or read German to be able to make this famous virus shawl crochet pattern.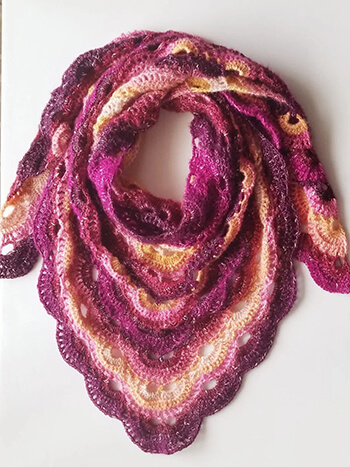 With its lovely texture, we totally understand why people love working on this virus shawl crochet pattern. Just by looking at the beautiful and colorful shawl others made makes us want to create our own pronto!
The Variegated Lion Brand Shawl In a Cake Yarn
Whatever yarn you choose in making your crochet project can have a huge impact on your final output. As an example, take a look at Handmade By Raine's version of the crochet pattern virus shawl.
By using a Lion Brand Shawl in a Cake variegated yarn, they were able to showcase the intricate patterns of this crochet virus shawl. Plus, the colors they chose to work with are just stunning!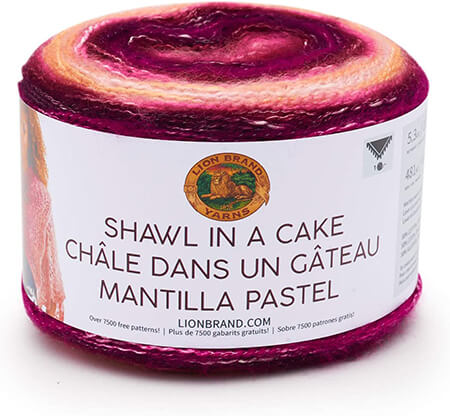 Using Lion Brand Shawl in a Cake Yarn in Healing Teal reminds us of the calm ocean. The combination of colors in Community Coral, on the other hand, looks like a late afternoon sunset.
To add more pizzazz to your crochet shawl, we recommend using Lion Brand Shawl in a Cake Yarn in Moonstone! The silver-blue metallic strand adds a much-needed sparkle to the virus shawl.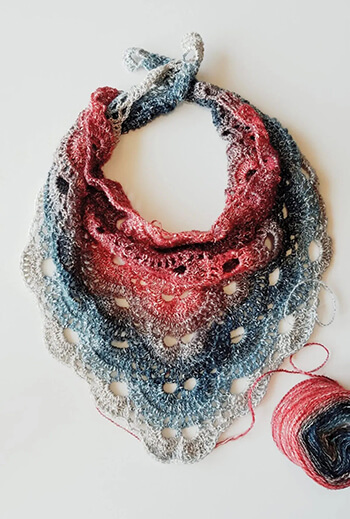 Learn More About This Free Crochet Virus Shawl Pattern
It can be hard to find an English pattern in US crochet terms of the crochet pattern virus shawl, so we searched high and low for one that's just for you! Thankfully, we found one that is also accompanied by a video.
Although it may look like its a complicated piece, this virus shawl crochet pattern is actually so easy to make! It can even be a great practice project for beginners who are tired of the usual rectangle shawls.
The yarn you will use can affect the size of the shawl you'll make. If you make two shawls with the same number of rows but with using two different yarn weights, you'll probably end up with two shawls in different sizes.
Crochet Virus Shawl Video Tutorial
To help you easily understand how to make the crochet pattern virus shawl, here's a video that will teach you how to work on each row:
Skill Level
Intermediate
Materials Needed
2 balls Lion brand shawl in a cake yarn
Hook
Stitches Used
Slip stitch
Single crochet – Learn how to do Single Crochet here
Double crochet – Guide on how to Double Crochet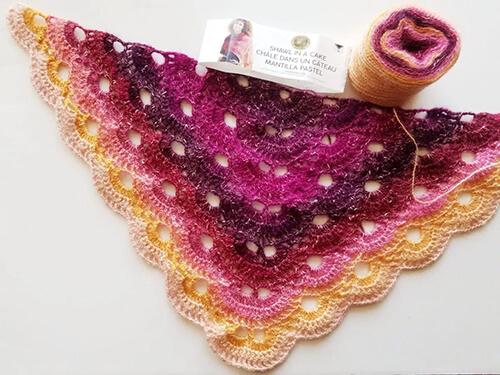 What Colors Did You Use for Your Crochet Pattern Virus Shawl?
Just like the other crocheters who tried the virus shawl pattern, I'm sure you'll also want to work on another crochet pattern virus shawl in a different color!
The pattern is so easy to make, you'll probably be able to work on it while watching your favorite TV show.
We would love to see how your shawl turned out! Don't forget to post them on our Facebook Page so other crocheters can admire your work too.
If you're looking for other shawl patterns to make, check out our list of Triangle Shawl Crochet Patterns, Fortunes Crochet Shawlette, and Crochet Boho Shawl Pattern.
We hope you enjoyed working on this crochet pattern virus shawl. Let us know what other patterns you want to make next!