Add these 21 triangle shawl crochet patterns to your spring, summer, fall, and winter wardrobe! We have light and lacy and shawls made with bulkier and cuddlier yarns. Whether you're looking for a basic triangle shawl or a more intermediate pattern, you're sure to find the ones that you like below.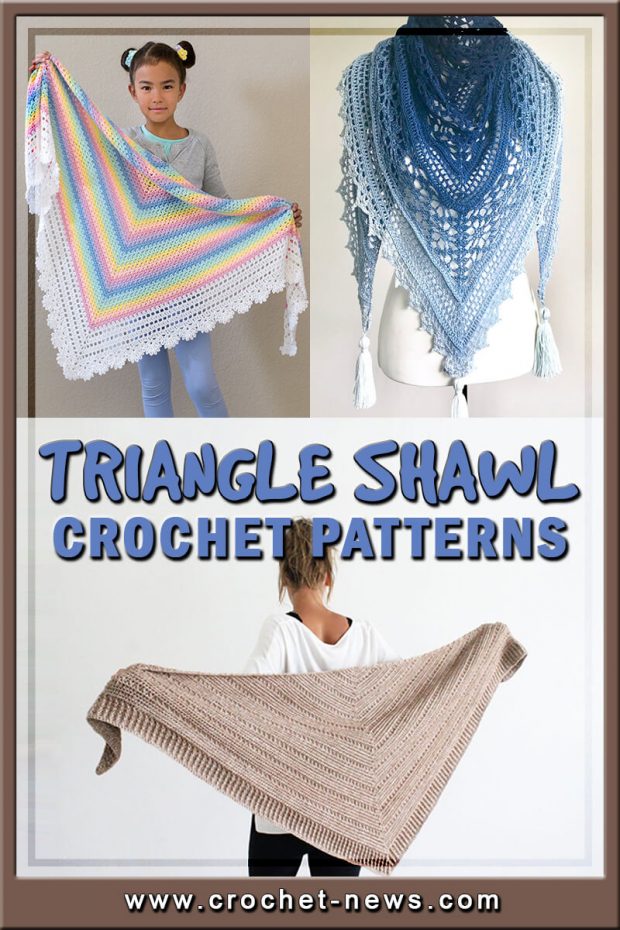 Triangle shawls are a chic way to add a layered look and a little warmth to your wardrobe without being too bulky. The triangle shape of the shawl makes it easier to wrap and wear with just about anything you would like!
21 Triangle Shawl Crochet Patterns

1. Outlander Inspired Triangle Shawl Crochet Pattern Crab Abble
Crochet your own Outlander-inspired wrap! This outlander shawl crochet pattern will help you make a shawl that wraps around your body and ties behind your back to give you an Outlander or Little House on the Prairie feel.

The pattern is a tutorial style, so you will have the freedom to make this shawl as long as you need. The tips of the triangle have crochet i-cord ties so you can easily tie the shawl behind your back.
Get the Pattern by Crab Abble here

2. Lace Triangle Shawl Crochet Pattern by Darling Jadore
"Gorgeous, vintage-inspired, and romantic" are the three words used to describe the elegance of this shawl — a fun crochet pattern perfect for advanced-beginner/intermediate crocheters that allows you to crochet a lacy, triangle scarf shawl.
Also see: Crochet Lace Patterns
Get the Pattern by Darling Jadore here

3. Crochet Granny Stitch Shawl Pattern by Make And Do Crew
Put a modern spin on a crochet classic with this simple crochet granny stitch shawl! This free crochet triangle shawl pattern uses rhythmic stripes to modernize the iconic stitch.

The resulting piece is light, super warm, and can be worn around the shoulders as a shawl or around the neck as a triangle scarf. Add tassels or fringe to create a versatile statement piece you can wear all season long.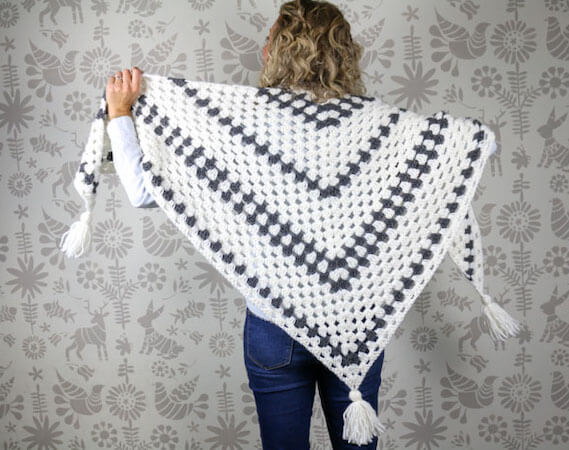 Get the Pattern here

4. Little Fictions Triangle Shawl Crochet Pattern by Annie Design Crochet
This Little Fictions Shawl is a crochet triangle shawl, with a beautiful drape, using only 400m of fingering weight yarn. One beautiful skein of yarn is all that is needed to show off this light and lacy shawl pattern.

A wide wingspan to curl around your neck and shoulders – lovely as a Summer wrap, or a cozy scarf in colder months. Made using basic crochet stitches that combine to create an interesting 2-row crochet pattern repeat, that is relaxing and quick to crochet.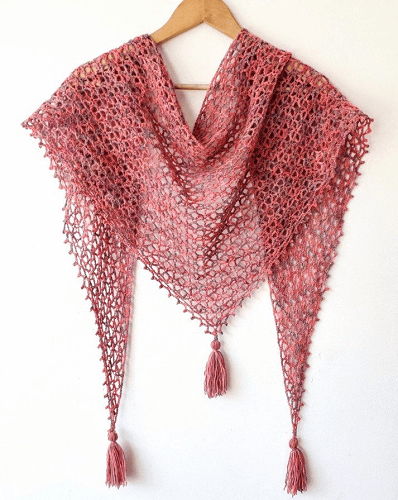 Get the Pattern here

5. Crochet Kalinda Shawl Pattern by My Crochetory
This Kalinda Shawl is a modern triangular shaped shawl worked in fingering yarn with some wave rows. This pattern is perfect for a beginner or more experienced crocheter who wants somethings elegant with a lot of character. You can wear the Kalinda shawl wrapped around your shoulders or as a triangle scarf around your neck.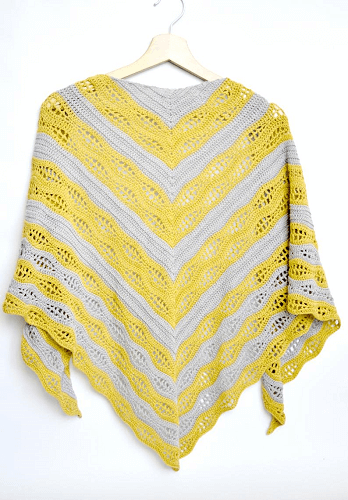 Get the Pattern by My Crochetory here

6. Crochet Triangle Shawl Pattern by Lisa's Attik
Peaks and picots give a dramatic finish to this eye-catching piece, with optional tassels just because well, because tassels are great! This crochet shawl is an easy-to-wear top-down triangle shawl that has dynamic textured grids slice through a bold geometric floral motif. Isn't it so pretty?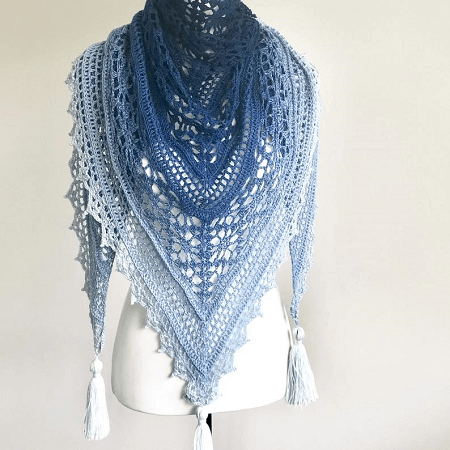 Get the Pattern by Lisa's Attik here

7. Crochet Shell Stitch Triangle Shawl Pattern by Yarnspirations
It's a joy making and wearing this wool-blend crochet shawl that brings comfortable warmth, whether indoors or out and about. Stitched in a triangular shape, a lacy pattern is fascinating to do with crochet, single crochet, double crochet, chain and picot techniques to keep you engaged. You only need 1-ball to create this lightweight layer of warmth for yourself or as a gift.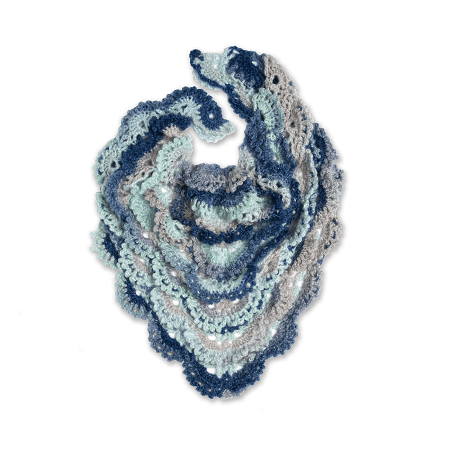 8. Fairy Lights Triangle Shawl Crochet Pattern by Knitting With Chopsticks
This Fairy Lights Triangle Shawl Crochet Pattern is the perfect combination of elegant and cozy. If you've never done colorwork before, this is a great pattern to start with! The simple colored bobbles add a fun texture and personality to this triangular wrap.

You can wear this as a classic shawl draped over a dress or nice top one day, then pile it around your neck as a casual scarf with jeans the next day. You'll find excuses to wear it all the time!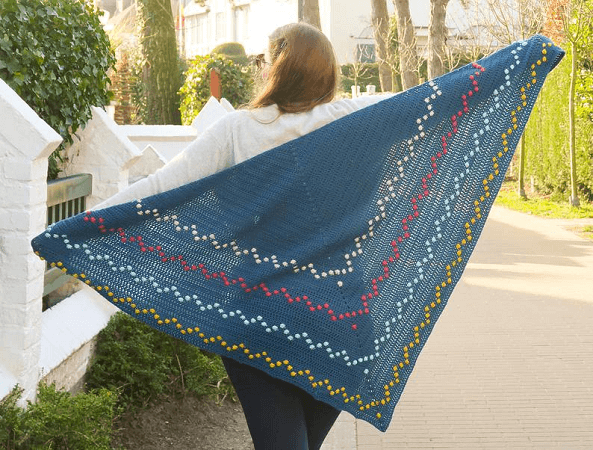 Get the Pattern by Knitting With Chopsticks here

9. Victoria's German Shells Shawl Crochet Pattern by Jonna Martinez Crochet
This royal lacy shawl is designed using the German shells or virus stitch and a V stitch. It is lovely in many different colors and has repeats to easily make it bigger.

The finished size is 68 inches across straight edge by 35 inches from middle to tip. Again, You can make this shawl bigger by just continuing with the repeats.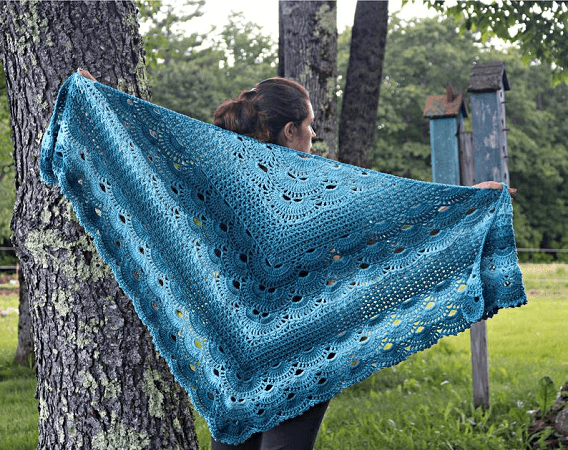 Get the Pattern by Jonna Martinez Crochet here

10. Primrose And Proper Triangle Shawl Crochet Pattern by Kirsten Holloway Designs
The classic triangle shape and lacy stitches make the Primrose and Proper Shawl Pattern a warm, yet beautiful project to dress up your wardrobe this winter. The simple single, half-double, and double crochet stitches mean this pattern is easy, and even an advanced beginner should be able to crochet this without too much trouble.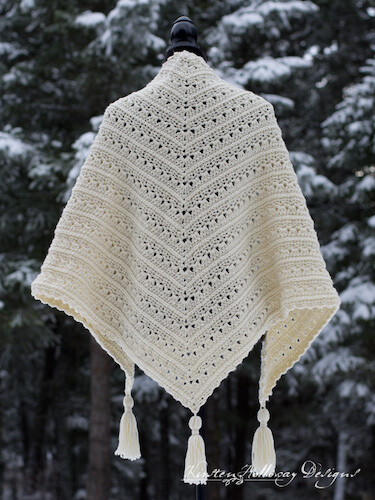 Get the Pattern here

11. Pastel Rainbow Shawl Crochet Pattern by The Hat And I
Add a sprinkle of candy-colored cuteness to any outfit with this Pastel Rainbow Shawl that's made with a dreamy palette of soft and muted rainbow shades. A dreamy, lightweight shawl designed for chasing butterflies, fairies, and unicorns, and also for staying warm and looking fab!

Wear bundled around your neck on chilly Autumn & Winter daysor draped over your shoulders on a fresh Spring or Summer evening.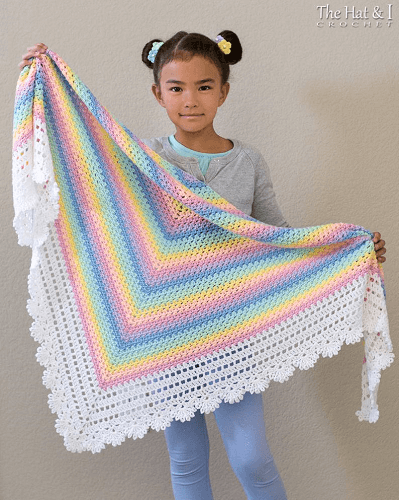 Get the Pattern by The Hat And I here

12. Amaya Mosaic Shawl Crochet Pattern by Lilla Bjorn Crochet
This Amaya Crochet Shawl uses Mosaic Crochet – an amazing technique which might look tricky but is not difficult at all. It combines a lovely triangle shape with eye-catching mosaic sections.

With its super long wingspan and generous height, you can wrap yourself in warmth this cold days! Choose high contrast or subtle tone-in-tone color combination – Amaya Mosaic Shawl makes your wardrobe more colorful and fun!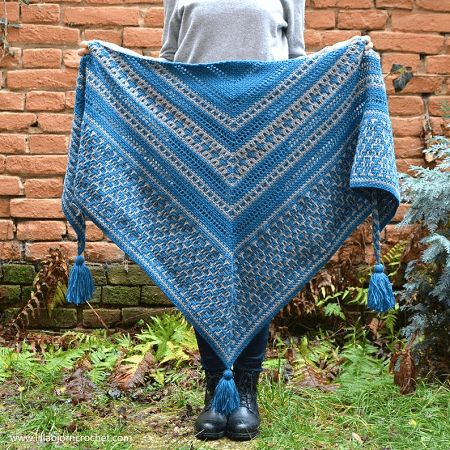 Get the Pattern by Lilla Bjorn Crochet here

13. Crochet Triangle Shawl Pattern by Yarnspirations
Start from the center back and increase out to make this open work, triangular shawl. Once the increase rows are established, the pattern repeats itself to reveal the full beauty of this wrap.
You'll practice a combination of chain stitches, double crochet and double crochet around posts to complete a lacy layer shawl perfect for summer season!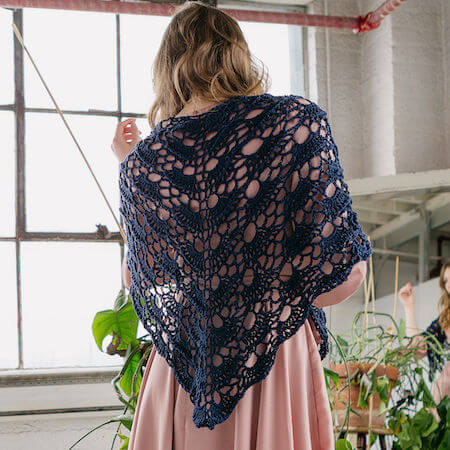 Get the Pattern here

14. Branch Out Shawl Crochet Pattern by Kay Krochets
This Branch Out Shawl is a timeless accessory that brings warmth in a stylish way! This beautiful piece is filled with raised stitches that create modern lines and unique texture. It's also quite large (Its wingspan measures approx. 6 ft.!), which means you can pretty much wrap it around yourself wherever and however you wish!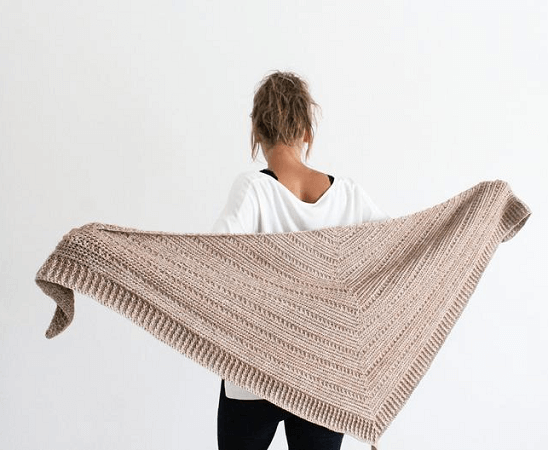 Get the Pattern by Kay Krochets here

15. Leaf Shawl Crochet Pattern by Alyse Crochet
This DK weight shawl is so much easier and quicker to make than it looks, and uses combinations of simple stitches to create its delicate, lacy leaf-trellis pattern. Drape yourself in this cloak of Mallorn leaves, do a twirl, and become the Elven queen you've always dreamed of!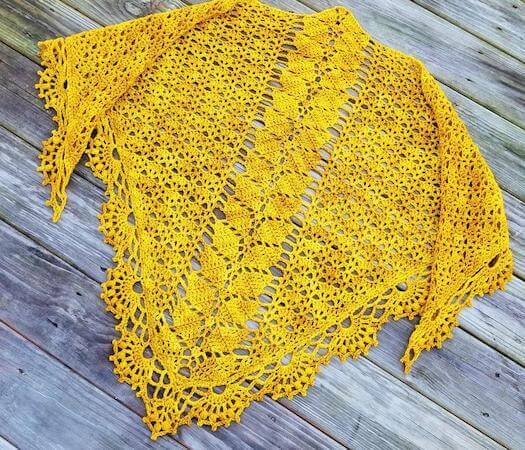 Get the Pattern by Alyse Crochet here

16. Ada Triangle Shawl Crochet Pattern by TL Yarn Crafts
Style meets minimalism in the design of this Ada Shawl. Simple Tunisian crochet stitching and colorwork are elevated by surprisingly easy shaping techniques. The pattern uses Aran (heavy worsted) weight yarn and incorporates a striking color transition to challenge your skills.

Deceptively simple, this shawl features meditative stitching and colorwork to keep makers of all skill levels engaged and excited.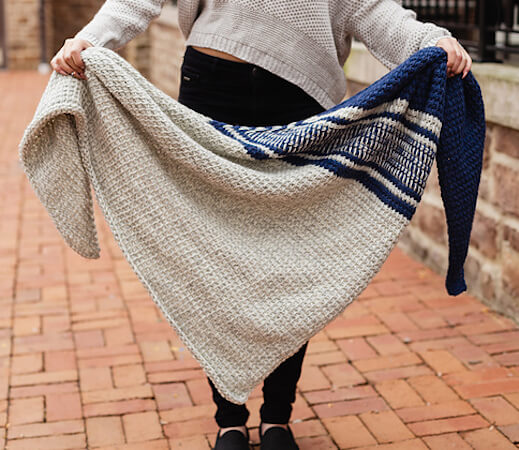 Get the Pattern here

17. Crocodile Stitch Triangle Shawl Crochet Pattern by Bonita Patterns
This fashion-forward Crocodile Stitch Shawl features a dramatic and gorgeous design that you will love to wear. The famous crocodile stitch takes center stage in this design, while the shawl is framed with fringes for a beautiful look. You can use any hook size and yarn for this project. Perhaps, this project might be a good way to make a dent in your yarn stash!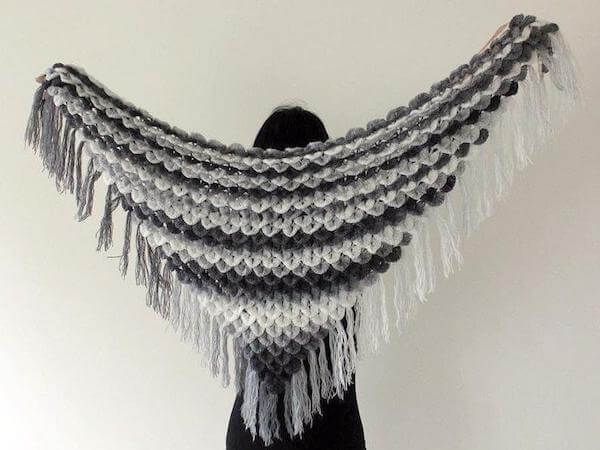 Get the Pattern by Bonita Patterns here

18. Agape Triangle Shawl Crochet Pattern by Lenysea Crochet
This Agape Triangle Shawl is enjoyable to make and features simple and delicate lace in a heart motif. The pretty shell edging adds a beautiful detail to this crochet shawl with a wonderful drape. It looks gorgeous just in any color and type of yarn, without a doubt. Use a solid color, variegated or self-striping yarn for different effects.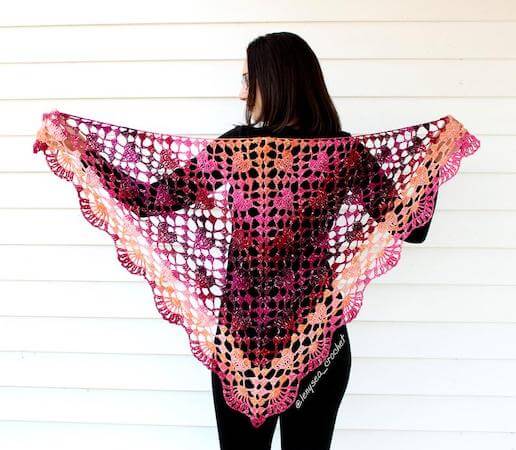 Get the Pattern by Lenysea Crochet here

19. Sparkle Cake Crochet Triangle Shawl Pattern by Sewrella
This crochet triangle shawl/scarf/wrap does not get any easier. It's a series of double crochet stitches with a few chain stitches to create that pointed triangle shape, and that's it! t's totally Netflix-able and easy to pick up and put down without having to refer back to the pattern.

Effortlessly stunning, A classic for the ages – a shawl for simple stitching and ultimate comfort. Made in popular cake yarn for no-brainer color combination ease, this shawl works up so easily you'll be sad to finish it.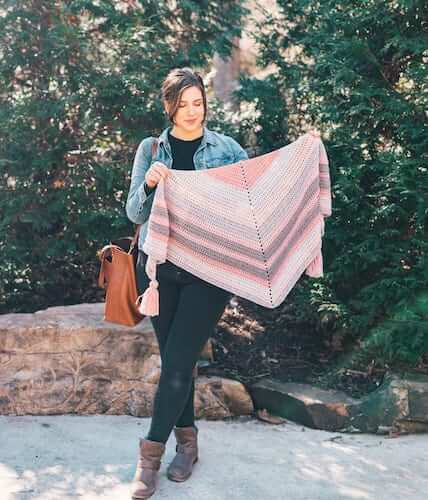 Get the Pattern here

20. Sugar Plum Triangle Shawl Crochet Pattern by Rachy Newin Designs
This Sugar Plum Shawl is a delicate dance, with stitches that dip and curtsy throughout. The pattern uses only basic stitches, but they combine to create a work of art, for a gorgeous project that is accessible even to a newer crocheter.

The pattern is designed specifically to highlight the beauty of a hand dyed gradient and to showcase gradual color changes. It features a 12-row repeat and the also includes instructions for ending on any row in the repeat so you can use up every scrap of yarn.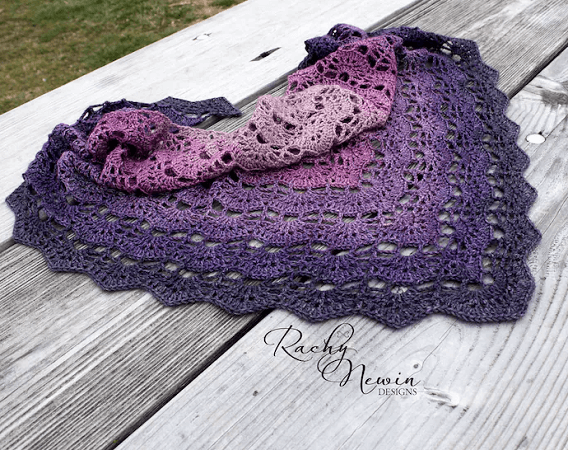 Get the Pattern by Rachy Newin Designs here

21. Lacy Triangle Shawl Crochet Pattern by Yarnspirations
Keep your shoulders warm in an oh-so-pretty way! This shawl is crocheted in a lovely cluster and bobble stitch pattern starting at the center back point and increasing to the top. It's perfect for formal occasions as well as for more casual days.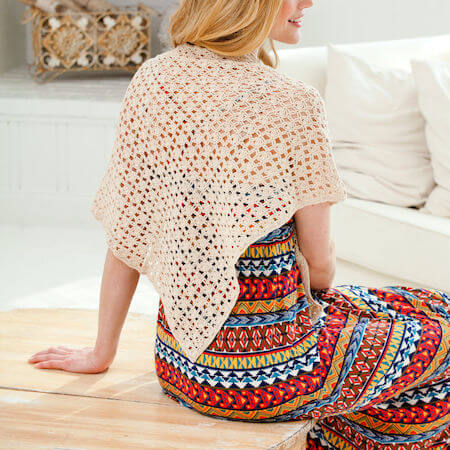 The best  thing about triangle shawl crochet patterns is that you can make them as long as you want! So if you crave that extra bit of warmth keep adding row repeats until it's perfect for you.
We would love to see a picture when you're done, so please feel free to come by our Facebook Page and show off your project!

Now that you are on a roll, also check our dragonfly shawl crochet pattern, prayer shawls, crochet wraps and other crochet clothing patterns we have on our site. Your to-crochet list is about to get really long!

Find your favorite style and get ready to cast on your favorite triangle shawl crochet patterns!