Cold weather makes you want to bundle up that eventually affect your style and outfit. Worry no more, you can still look fashionable with this free crochet wrap patterns.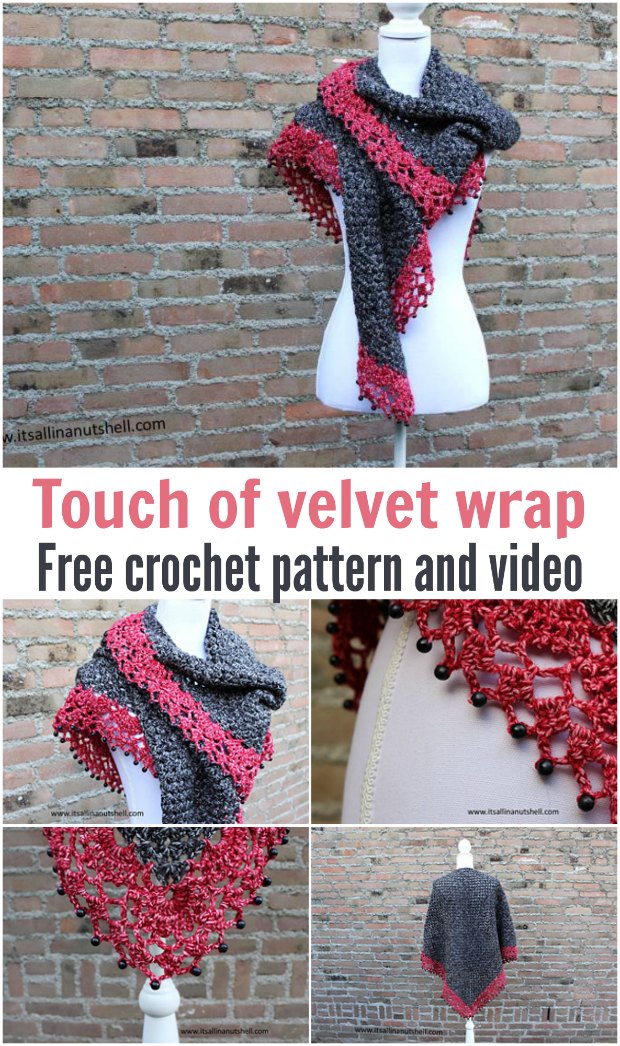 1. Touch of velvet wrap crochet pattern
This velvet wrap crochet pattern is really special. It's an elegant design that is finished with a playful beaded edge.
The black and red yarn work lovely together and the black beads are the finishing touch.
It's warm and cozy yet elegant at the same time. Large enough to really wrap up in get with the dainty edges you can still wear it over something special and not feel weighed down.
Materials
You will need the following materials to make the Touch of Velvet Wrap
needle to thread the beads on your yarn
Gauge and size
Gauge is not essential for this project and it's not needed to make a gauge swatch. Your final wrap will be approximately 200cm wide and 90cm high.
Touch Of Velvet Wrap Crochet Pattern Video Tutorial
2. Lake House Crochet Wrap Pattern by Jennifer Dickerson

This lake house easy crochet wrap pattern made from Fiber Flux is super soft, lightweight and lacy, and warm too for when you need it.
There's a free crochet pattern and even a step by step video so even someone fairly new to crochet should get great results and soon have a beautiful wrap to wear.
It's made in a fairly bulky yarn so you get the satisfaction of it working up fast too. Don't want to weave in any ends? Chose a naturally color blended yarn like Red Heart Soft Essentials Stripes.
We think this wrap would look stunning in the yarn below.
Sizing
13.5 inches wide
70 inches long
Lake House Wrap Crochet Pattern Materials:
8.0 mm L crochet hook
Tapestry Needle
Scissors
Lake House Crochet Wrap Pattern Video Tutorial
Warm up your shoulders with these wrap crochet patterns!
Once your done making your own crochet wrap feel free to post your finished wrap crochet pattern on our Facebook Page.
Looking for more patterns for colder months? Check out our Free Crochet Pattern Virus Shawl, Crochet Cardigan Patterns and Crochet Shawl Patterns.
Now you won't be worrying of getting cold with these wrap crochet patterns.