Having trouble finding a gorgeous wrap to match your outfits? We gotcha covered. Take your pick from the elegant crochet wrap patterns below and stitch your perfect match.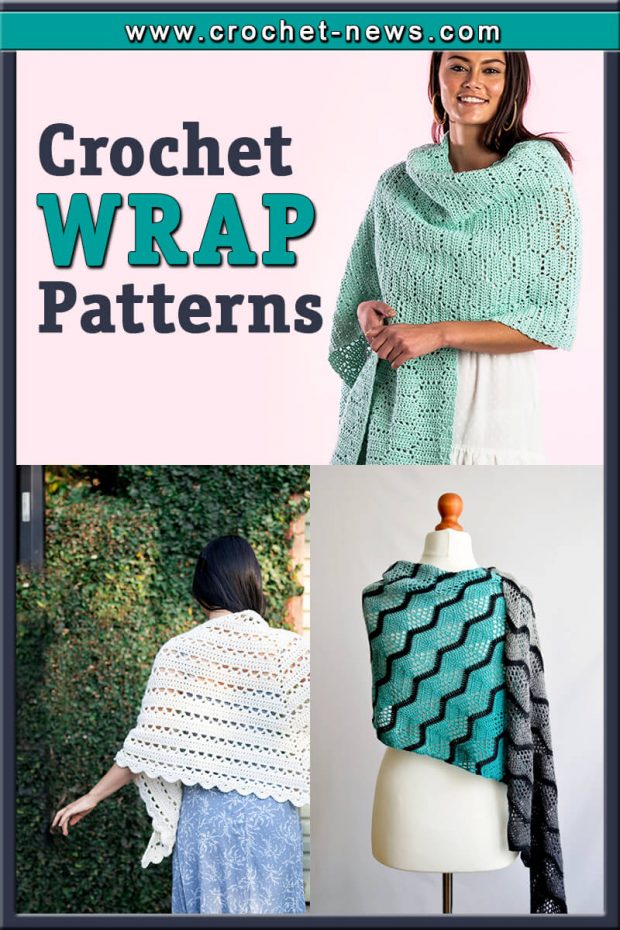 If you've been hunting around for the perfect year-round wrap, you've found your place! These pieces are great for summer and winter and everything in between. So grab those hooks and let's get to work!
25 Crochet Wrap Patterns

1. Fancy Shells Wrap Crochet Pattern by Yarnspirations
An open-lace wrap brings a dynamic vibe in bright colors of the season. Choose your color story and tell it with the wonderful shades you love. This openworked beauty finishes at 72″ for a flattering drape that wears well with any outfit.

2. Outlander Inspired Wrap Crochet Pattern by Crab Abble
Crochet your own Outlander-inspired wrap! This pattern will help you make a shawl that wraps around your body and ties behind your back to give you an Outlander or Little House on the Prairie feel.

This garment is perfect for layering in the early days of fall or spring. The easy-to-follow pattern will help you make a shawl that is perfectly sized for you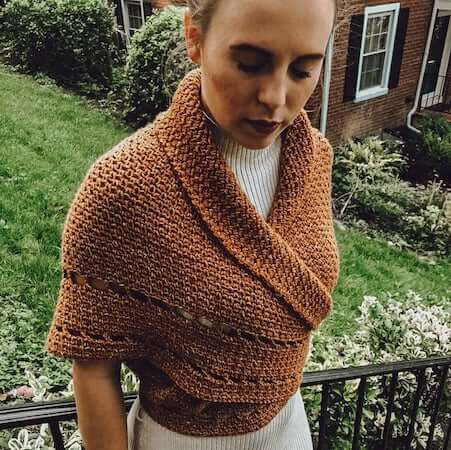 Get the Pattern by Crab Abble here

3. Crochet Dewdrop Wrap Pattern by For The Frills
Romantic, lacy and feminine – this Dewdrop Wrap is the perfect shawl for any season! The mesh arches give the wrap an open airy look while the optional scalloped edge border adds a vintage touch.

Although the design looks intricate, this crochet wrap it a lot easier to make than it seems. Chains and double crochets make up 99% of this easy wrap and the pattern follows a four row repeat so you can extend it to any length you want!
This simple and versatile project would also make a great Mother's day gift.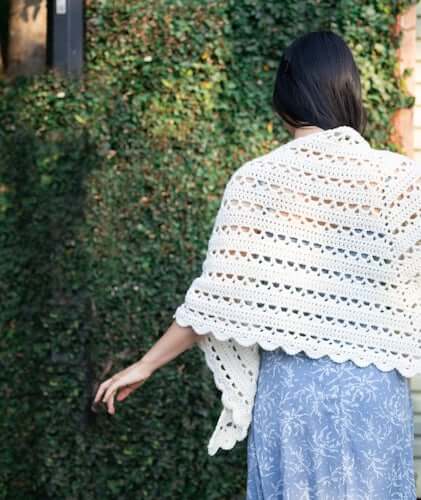 Get the Pattern by For The Frills here

4. Adirondack Wrap Crochet Pattern by One Dog Woof
This Adirondack Wrap uses shapes and colors to create to a long, light and flowing wrap that can also be worn as a scarf. It's deceptively simple design makes it perfect for on-the-go crocheting, watching-tv crocheting, and sip-and-stitch crocheting!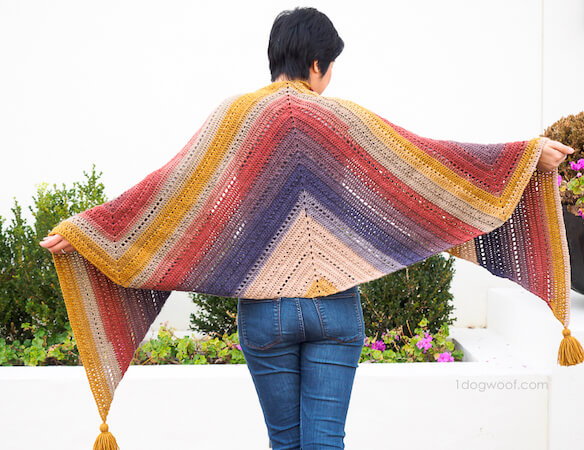 Get the Pattern here

5. Aztec Mosaic Crochet Blanket Wrap Pattern by Leelee Knits
Practice your mosaic crochet skills with this beautiful and warm crochet blanket wrap! Inspired by Aztec design, this wrap is fun to make, and will keep you cozy on chilly summer nights.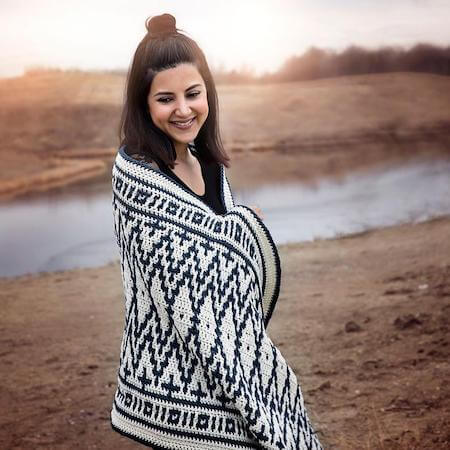 Get the Pattern by Leelee Knits here

6. Easy Women's Crochet Wrap Pattern by Simple Things By Tia
This wrap is scrumptious! The delicious blend of chocolate and cherry colored yarns along with the squishy, soft texture created by the up and down stitch combine to create a magical wrap that is simply divine to wear.

Add to that the fact that it is so easy and relaxing to crochet, and you have an awesome project for those long winter nights. The finished wrap is 24"x76" so it's big enough to drape around you in a stylish way or simply wrap up in for warmth like those big blanket scarves that are so in fashion now.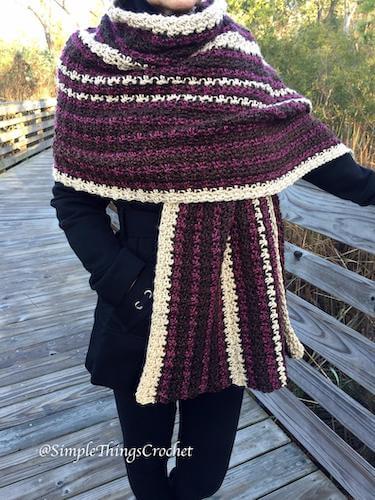 Get the Pattern by Simple Things By Tia here

7. Wishing Well Wrap Free Crochet Pattern by Sewrella
This crochet wrap has everything! It's got color, it's got neutrals, it's got easy-peasy stitches, it's a free pattern. You will love this crochet wrap because it's so customizable. Make it smaller, make it bigger, watch the color changes, let it go, make it solid.
Add tassels, no tassels, multi-colored tassels, fringe, anything goes. The result will not look quick or easy, even though it was both! It looks lacy and intricate and the color changing yarn just adds to the effortless simplicity of this project.

The initial impression is that this wrap took an expert level crafter. It's really just a series of double crochets and chain stitches to create little eyelets. You'll be amazed at how simply this crochet wrap comes together!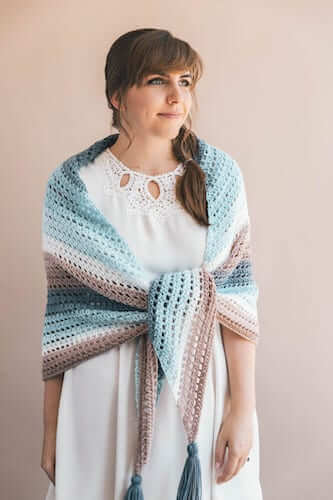 Get the Pattern here

8. Cozy Hygge Blanket Wrap Crochet Pattern by Sigoni Macaroni
This Cozy Hygge Blanket Wrap is a fast and easy crochet pattern that you are going to love making and love wearing even more! This isn't your traditional triangle shawl, so you can also call it a blanket scarf.

Either way you're going to want to wrap yourself up in this cozy rectangular blanket shawl the moment you're finished making it. This modern design only uses one simple stitch because we're letting the yarn do all of the work for us.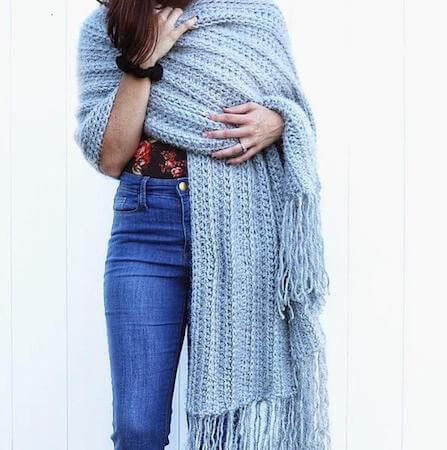 Get the Pattern by Sigoni Macaroni here

9. Havra Crochet Wrap Free Pattern by My Crochetory
This Havra Crochet Wrap Pattern combines a simple stitch, bias crocheting and ombre yarn to create a wearable crochet shawl that may be worn in a variety of ways! The pattern may look advanced, but is actually very easy to crochet.
Simple double crochet and chevron eyelet lace makes this a perfect first lace project or a relaxing piece for a seasoned crocheters. With a repetitive yet interesting stitch pattern, this calming crochet pattern is straightforward to follow, but accessible to the adventurous beginner!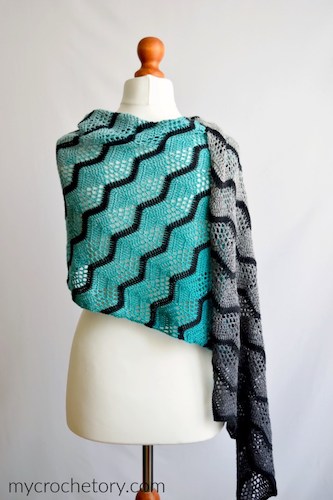 Get the Pattern here

10. Wanders Crochet Wrap Pattern by Mama In A Stitch
A light and airy wrap, crocheted with a cotton blend that's perfect to cover your shoulders wherever you may wander. This wrap also doubles as a lovely scarf come fall or winter.
The fabric is easy to fold and pack as you travel, making it a fun and practical piece to take on trips near or far.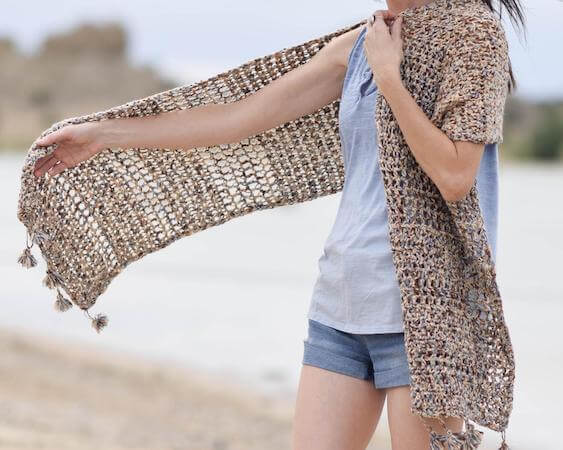 Get the Pattern by Mama In A Stitch here

11. Ruffle Edge Wrap Crochet Pattern by Christa Co Design
The easy crochet ruffle edge on this wrap really makes a statement. Combine the ruffle with the textured post stitches, and it's stunning. The front post double crochet is also a pretty stretchy stitch, so it worked perfectly in this wrap.

The pattern repeat is quickly established and you'll be able to watch tv or listen to your book while crocheting away. The open airy pattern is perfect for a spring or summer shawl.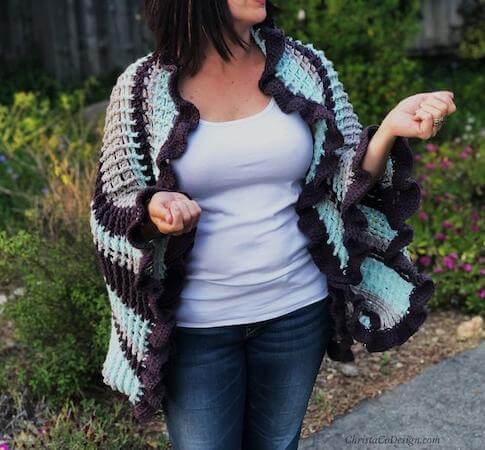 Get the Pattern by Christa Co Design here

12. Stormborn Wrap Crochet Pattern by For The Frills Store
Keep yourself cosy on blustery, windy days with this Stormborn Wrap! The large, oversized triangle is worked from the centre out, to create a drapey and relaxed scarf.

This design varies basic stitch techniques (bobbles and mesh) so that this project has enough variety to keep you interested all throughout the pattern! The sleek and modern design is topped with large, chunky tassels for a touch of whimsy!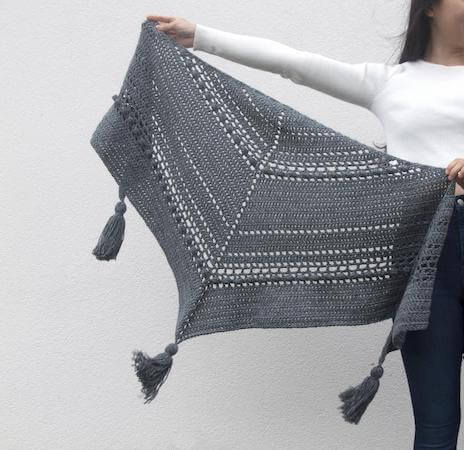 Get the Pattern by For The Frills Store here

13. Catalina Wrap Free Crochet Pattern by Two Of Wands
Introducing the Catalina Wrap, a lacy, drapey, flowy triangle scarf that oozes with elegance. Whether you wear it with the point in front or draped across the shoulders, it will instantly dress up your outfit and add a touch of graceful sophistication.

This is an easy level crochet pattern and the techniques involved include single crochet, double crochet, front post double crochet, bobbles, chaining and skipping stitches, working into chain spaces, and the magic loop.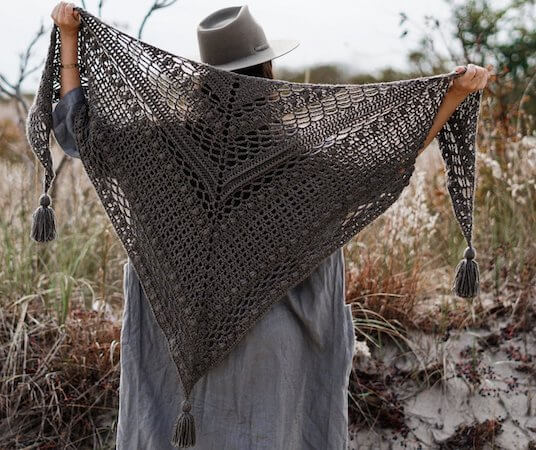 Get the Pattern here

14. Crochet Flurry Wrap Pattern by Highland Hickory Designs
If you're a fan of prayer shawls, wraps, or even super scarves, you're going to love this pattern! It's a seven row repeat, but please don't let that intimidate you. The stitches are all easy – single crochet, half double crochet and double crochet.

The worsted weight yarn makes this shawl heavy enough to fight off a chill and the lovely lacy stitch pattern keeps it light enough to wear as a scarf.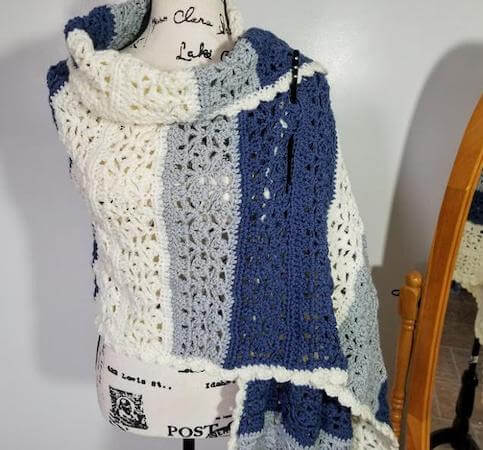 Get the Pattern by Highland Hickory Designs here

15. Isla Scalloped Wrap Crochet Pattern by Mama In A Stitch
This airy wrap featuring scallop shells and stripes is the perfect accessory whether you're on an island vacation or just out with friends. It's simple to achieve the look of stripes with the color changing yarn while an easy pattern repeat makes it fun to create.
Feminine and light, you can wear it as a shawl, scarf or cover-up!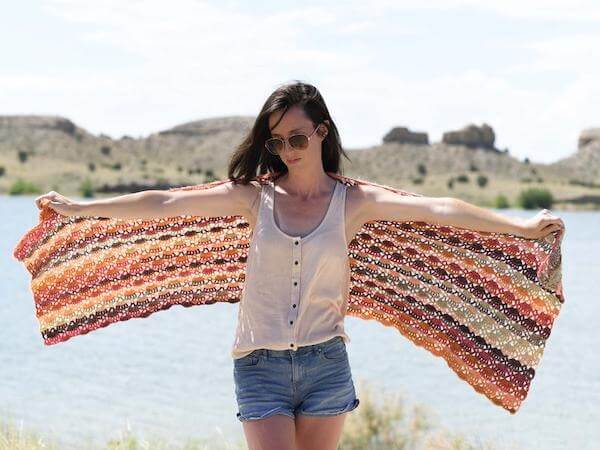 Get the Pattern by Mama In A Stitch here

16. Simple Shells Light Wrap Crochet Pattern by Dabbles And Babbles
This Simple Shells Light Wrap is really delicate and simple to make. It uses the shell stitch which, paired with the subtle metallic yarn, adds a beautiful textural wave to the wrap.

It's a lightweight crochet wrap to take on vacations with you or for mild weather. It can also be worn in a variety of ways, so it would be a beautiful holiday gift.
Throw it over your shoulders for an elegant drape or wrap it into a chunky scarf for a cold walk outdoors. It also makes a beautiful crochet prayer shawl.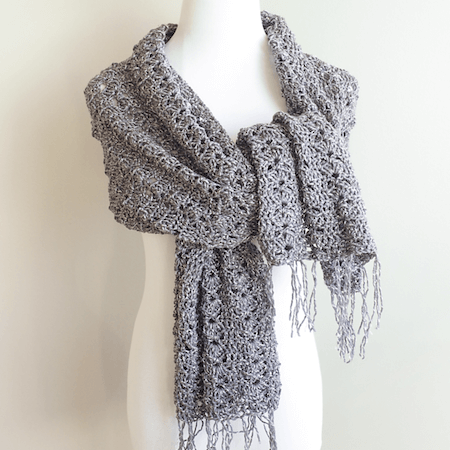 Get the Pattern here

17. Adrift Wrap Crochet Pattern by Rachy Newin Designs
Drift away on a sea of yarn and stitches! This Adrift Wrap is rhythmic and relaxing, with gentle solid rows interspersed with sections of color and texture. The contrast ebbs and flows, with the same handful of techniques used to create inlets in a variety of colors, textures, and sizes.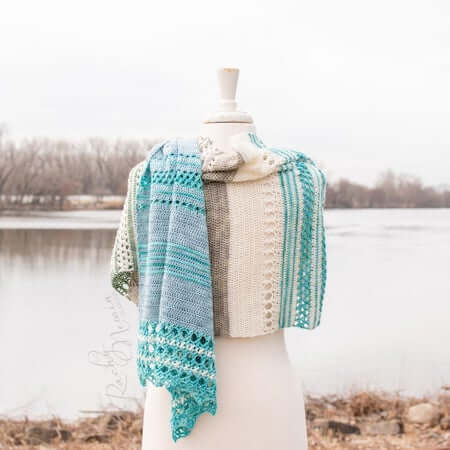 Get the Pattern by Rachy Newin Designs here

18. Easy Crochet Wrap Free Pattern by Annie Design Crochet
This Easy Crochet Wrap can be worn as an elegant shawl draped on your shoulders, or as a cozy scarf. This easy to wear rectangular shawl is worked in a four-row repeat crochet pattern, and it's easy to customize for your perfect size.

This wrap will fit any size and makes a gorgeous statement piece to wear anytime – use your favourite shawl pin to pin at the shoulder for a special occasion.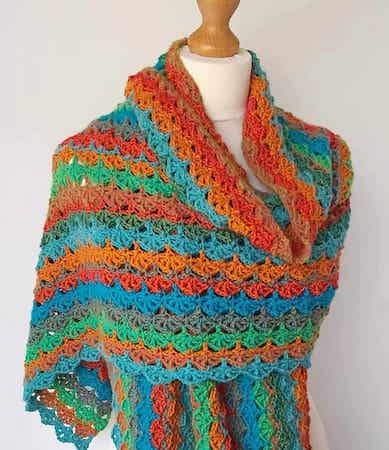 Get the Pattern here

19. Hexagon Beehive Crochet Wrap Pattern by Yarnspirations
A pretty pattern of hexagons is stitched into this elegant crochet wrap that's perfect for warmth on cooler days. Hexagon shaped eyelets appear on a background of half double crochet and chain stitches.
It's featured in a cool blue, but the wrap would look amazing in any solid that brings out the overall design. It's a season-spanning essential in any closet.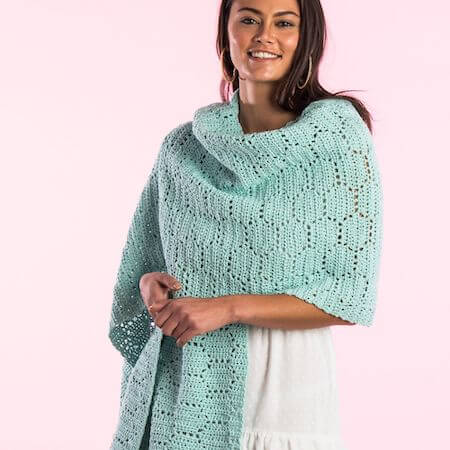 Get the Pattern here

20. Dotted Wrap Crochet Pattern by Evelyn And Peter
This Dotted Wrap is perfect to throw on during those chilly spring days. Wear it around your shoulders like a shawl or wrap it up as a scarf! The Fine weight yarn gives it a beautiful drape and is great for those who don't like extra bulk.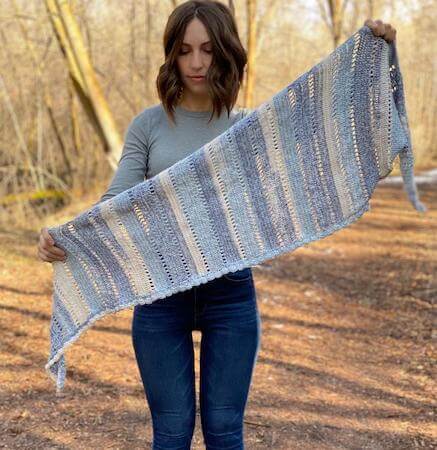 Get the Pattern by Evelyn And Peter here

21. Eastwick Wrap crochet Pattern by Two Of Wands Shop
Conjure up some spells while you drape this spider web-like shape over your shoulders like a cape, go for an effortless look with it styled like a scarf with the point in the front, or bring out your inner free spirit by tying it as a sarong at your waist.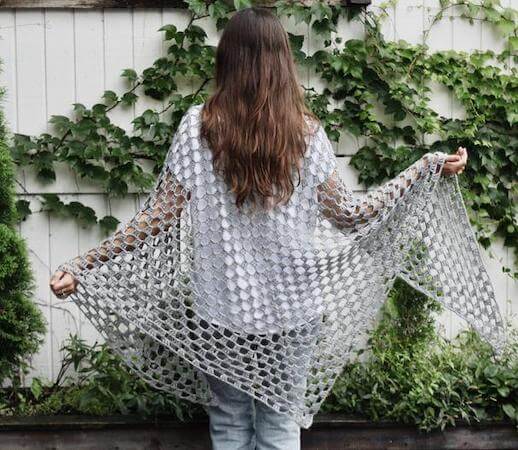 Get the Pattern by Two Of Wands Shop here

22. Boho Crochet Wrap Pattern by All About Ami
This Boho Crochet Wrap is your new favorite versatile piece as it can be worn as a cardigan, scarf, or shawl! This wrap is worked up as a triangle, and the delicate shells give it a romantic, lightweight, and airy look!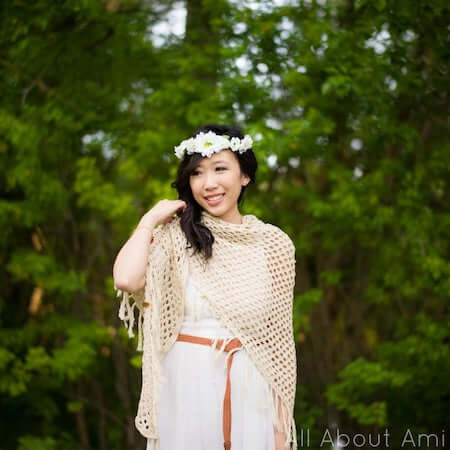 Get the Pattern here

23. Crochet Wrap Pattern by Han Jan Crochet
This wrap is perfect for all the seasons. The simple scarf with sleeves crochet pattern can be worn in so many ways depending on how cosy you want to feel. This deceptively simple and versatile cover up can be a wrap cardigan, a shawl, a cowl, a regular scarf and more!
Made in just one piece with simple seams for the sleeves, you'll have it made and on in no time.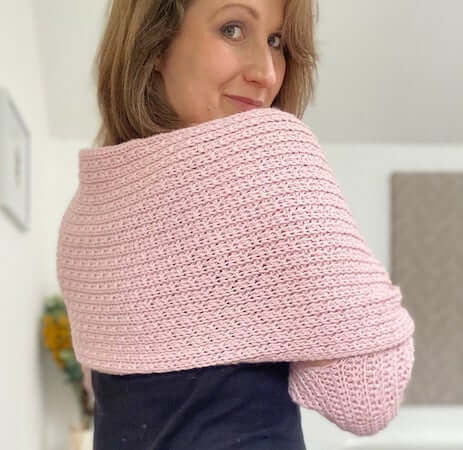 Get the Pattern by Han Jan Crochet here

24. Touch Of Velvet Wrap Crochet Pattern by Esther Dijkstra
Cold weather makes you want to bundle up that eventually affect your style and outfit. Worry no more, you can still look fashionable with this free crochet wrap patterns.
This velvet wrap crochet pattern is really special. It's an elegant design that is finished with a playful beaded edge.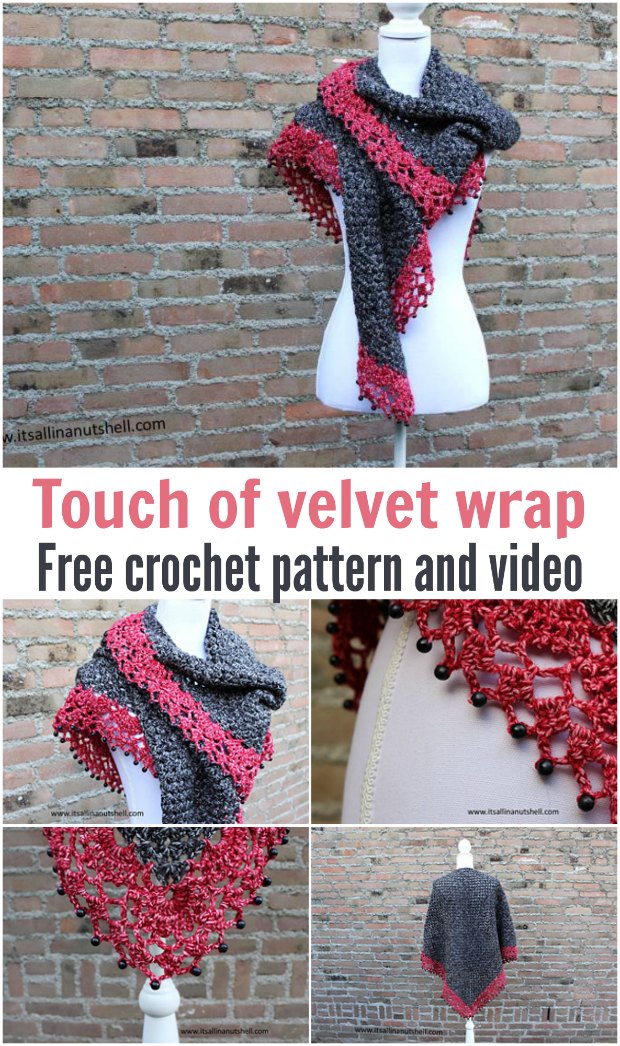 The black and red yarn work lovely together and the black beads are the finishing touch.
It's warm and cozy yet elegant at the same time. Large enough to really wrap up in get with the dainty edges you can still wear it over something special and not feel weighed down.
Materials
You will need the following materials to make the Touch of Velvet Wrap
3 x Scheepjes Color Crafter Velvet – Kelly (841)
1 x Scheepjes Color Crafter Velvet – Bogart (847)
needle to thread the beads on your yarn
Gauge and size
Gauge is not essential for this project and it's not needed to make a gauge swatch. Your final wrap will be approximately 200cm wide and 90cm high.
Touch Of Velvet Wrap Crochet Pattern Video Tutorial

25. Lake House Crochet Wrap Pattern by Jennifer Dickerson
This lake house easy crochet wrap pattern made from Fiber Flux is super soft, lightweight and lacy, and warm too for when you need it. There's a free crochet pattern and even a step by step video so even someone fairly new to crochet should get great results and soon have a beautiful wrap to wear.

It's made in a fairly bulky yarn so you get the satisfaction of it working up fast too. Don't want to weave in any ends? Chose a naturally color blended yarn like Red Heart Soft Essentials Stripes.
We think this wrap would look stunning in the yarn below.
Sizing
13.5 inches wide
70 inches long
Lake House Wrap Crochet Pattern Materials:
8.0 mm L crochet hook
3 balls of Soft Essentials by Red Heart Yarn in "Navy" "Seafoam" and "Greyhound"
Tapestry Needle
Scissors
Lake House Crochet Wrap Pattern Video Tutorial
WARM UP YOUR SHOULDERS WITH THESE CROCHET WRAP PATTERNS!
A stunning lace crochet wrap or something chunkier? Whatever designs you decided to make, we are sure they turned out great! So don't be afraid to show us some of your works by posting them on our Facebook Page!

Now that you are on a roll, you might also enjoy other crochet shawl patterns we have on our site. Your to-crochet list is about to get really long!

Find your favorite style and get ready to cast on your favorite crochet wrap patterns!