The Fortunes Crochet Shawlette Pattern has free written instructions, to guide you step by step, to make this exquisite crochet piece.
That's not all…
It also has a video tutorial, so you can each step, resulting in you being full of confidence and stress free during this project, so you can enjoy the whole process.
The best part?
Once you have completed your crocheting masterpiece, it is yours to keep and wear all year round.

Fortunes Crochet Shawlette Pattern
The Fortunes crochet shawlette pattern is an all-time favorite of the Crochet News team and one we highly recommend you add to your crochet-to-do list.
In fact, add it towards the top of your list and treat yourself by making something pretty for you.
The designer was inspired by the diagonal box stitch. But added her own twist to the pattern, creating a lacy, open summer shawl pattern.
The result is gorgeous, and just right for all year-round. Bunch it up for warmth, stretch it out for a light as air layer on the shoulders.
If you want a bigger shawl, you could try a thicker yarn, or even use the same yarn and add more rows – it's super easy, and once you get started, it'll fly off the hook!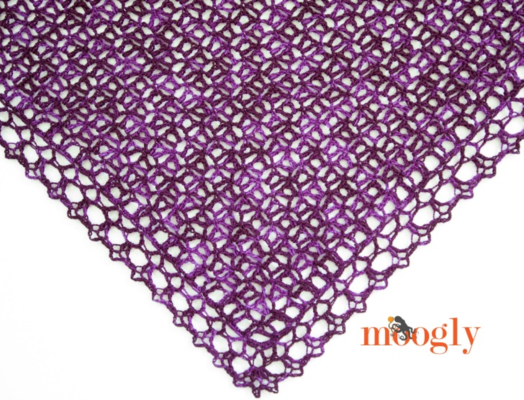 Fortunes Shawlette Materials
Yarn – 357 yds fingering weight yarn. We suggest:
US – J, 6.0 mm hook – we suggest you treat yourself to a new Susan Bates crochet hook.
Finished Size:
52″ wide, 20″ deep, 33″ along each side

The Fortunes Shawlette Crochet Pattern Is Super Fun To Put Together And Produces Stunning Results
The style is used to create breathtaking pieces that are fit to wear all year round. If you intend to crochet a bigger shawl using the Fortunes crochet shawlette tutorials, you can try using thicker yarn, or simply using the same yarn to add more rows.
The method is easy, and once you get basics done, you will be churning out new projects at an impressive rate.
For inexperienced novices, as soon as a learning curve is established, you will be able to create unique pieces such as trendy shawls, crochet scarves, ponchos, and prayer shawls just to mention a few.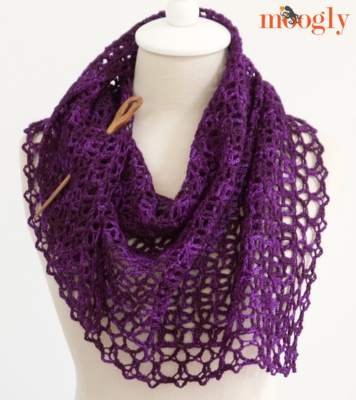 Most pieces created using the Fortunes crochet shawlette pattern often come in one color scheme. This monochrome effect isn't to be looked down upon or frowned at.
In fact, monochrome projects created using this method are some of the most aesthetically appealing crocheted pieces. You may, however, incorporate more colors into your project and play around with different color schemes.

Basic Techniques Needed To Make The Fortunes Crochet Shawlette
The crochet style is initiated by starting with a six loop slip-stitch. It makes use of pretty patterns and spaces bigger than other crochet styles.
It does, however, require basic knowledge of crocheting techniques. Such as single crochet and treble crochet.
Commonly referred to as double crochet and double treble crochets in the UK. Also others such as chain stitches, slip stitches and half double crochets.
With sound knowledge of the basics, your imagination can be let loose. You can then explore the different shapes and patterns you can come up with.
The good thing about crocheting and Knitting is both can be considered to be an art form. Therefore can be used to express ideas and thoughts.
You can put in as many rows and edges as you prefer, there are no restrictions whatsoever. Similar to other crochet styles, it is typically considered a good idea to mark the front of the piece for reference purposes so as to ensure that your stitches match as you want them to.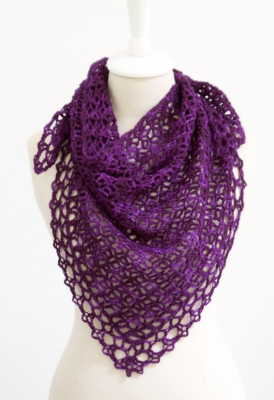 Sizing Up The Fortunes Crochet Shawlette
The size of the final product will also be determined by the exact yardage of your yarn. Also the amount of tension applied while holding the thread and the hook size.
It is also essential to use the right hook size that corresponds to the gauge of the yarn you are using in the Fortunes Shawlette crochet pattern.
How To Crochet The Fortunes Shawlette Video
In summary, the fortunes crochet shawlette pattern is a widely appreciated style. It has been used to create stunning pieces. With so many designs and models to choose from, the Fortunes crochet shawlette pattern is perhaps the most popular and versatile crocheting method today.
This is not surprising considering that it is one of the easiest crochets to learn. For more shawl patterns, check out our 21 Triangle Shawl Crochet Patterns, Crochet Boho Shawl Pattern, and Crochet Virus Shaw Pattern.
As mentioned, you may opt for a monochrome effect on your crocheting project, or you may incorporate an array of colors to bring the whole thing to life.
Either way, you will not be disappointed with the fortunes crochet shawlette pattern.
Find The Written Fortunes Shawlette Pattern Here