Here are 36 Crochet Scarf Patterns to help you make your own unique scarves and to save you from spending a fortune in department store-bought ones.
Whether you're piling on wooly wearables for a walk in the woods, for the chilly weather, for a fashionable night out, or simply adding a stylish piece to your outfit, scarves are an essential part of any wardrobe.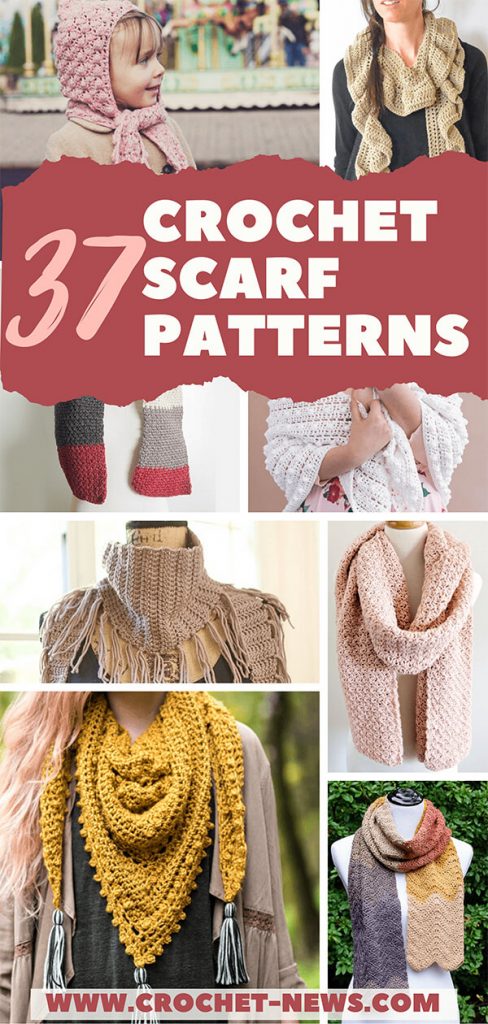 Whether you prefer lace, boho, or modern scarves, this roundup includes patterns for all tastes!
Let's face it, you can never have enough, so no matter how experienced you are, you'll want to crochet up at least two or three of these fabulous crochet scarves designs. The big question is: which one first?
1. Crochet Scarf With Pockets Pattern by Knot Yourself Out
This Crochet Scarf With Pockets Pattern is worked in back-and-forth-rows utilizing half double crochet stitches and wrapped double crochet stitches.
Detailed instructions with photos are given for the wrapped double crochet stitches, and for adding the fringe. The pockets are attached via a whip stitch.
This project is such a statement and so fast to make!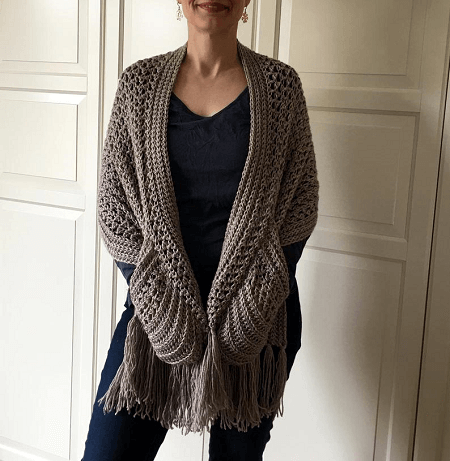 Get the Pattern by Knot Yourself Out here

2. The Meadowlark Triangle Scarf Crochet Pattern by Hailey Bailey
This Meadowlark Triangle Scarf is inspired by the Western Meadowlark bird.
These birds boast a distinctive yellow-colored chest with a black v-shaped marking – which looks almost like they are wearing little black triangle scarves!
You can take your style inspiration from these fashionable little birds with this triangle scarf, which features whimsical little picot details and fun tassels.
The pattern is written for a one size scarf that will fit most adults. The pattern is written so that the scarf increases in size with each row, so you can customize to make the scarf bigger or smaller and thus could easily be adapted to children's sizes.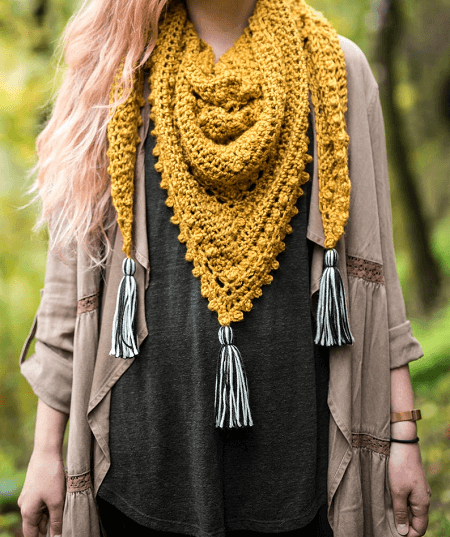 Get the Pattern by Hailey Bailey here

3. Rustic Canyon Crochet Scarf Pattern by All About Ami
Crochet this stunning and luxurious Rustic Canyon Scarf using a wide array of rich and earthy hues!
7 complimentary shades of Touch of Alpaca are used to create stripes of various widths for an overall beautiful effect.
This scarf can hang long or be looped once around the neck for a cozier look. It's a gorgeous addition to any wardrobe with its beautiful colors and luxurious fringe and is simple to crochet using the relaxing granite stitch!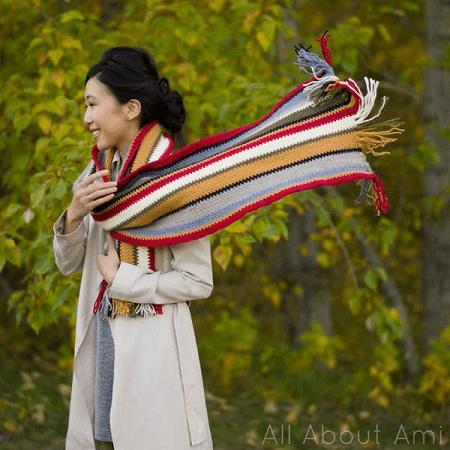 Get the Pattern here

4. Hearts Entwined Crochet Scarf Pattern by The Unraveled Mitten
This trendy Hearts Entwined Crochet Scarf is sure to add some style to your cold-weather wear this winter. It is made with super bulky yarn and features a twisted heart cable pattern on each end.
This is definitely not a beginner pattern but a full photo tutorial is included to go along with it so if you're feeling adventurous, give it a whirl!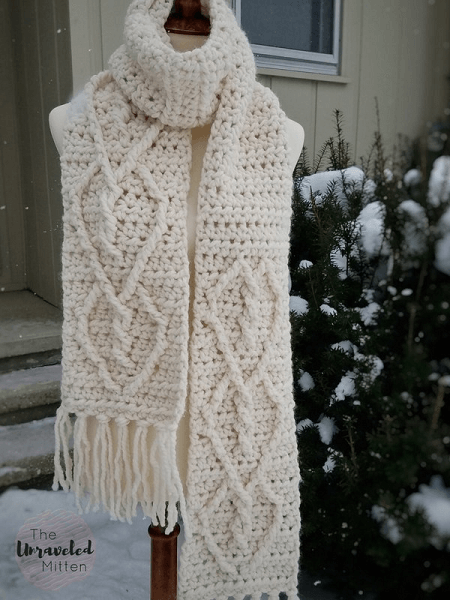 Get the Pattern here

5. Wrap Me In Diamonds Scarf Crochet Pattern by Stitching Tog
This gorgeous over-sized crochet scarf will look amazing with your favorite little black dress and will keep you warm and stylish on cool evenings.
If you prefer something to just keep the chill off of your neck, This Wrap Me in Diamonds crochet scarf works perfectly for that as well!
The diamond lace stitch used in this pattern has amazing texture when unblocked and an awesome patterning when blocked. You can't go wrong either way!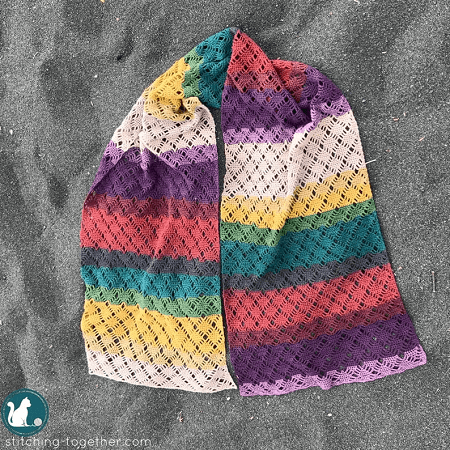 Get the Pattern by Stitching Tog here

6. Crochet Ruffle Scarf Pattern by Mama In A Stitch
Ruffles on clothing have been quite the trend, so why not put one on a scarf?
This Crochet Ruffle Scarf Pattern is a super easy project as it's all done with half double crochet and double crochet stitches. It's going to be your fave – a nice neutral that goes with anything.
While this ruffle scarf is wool, it's super duper soft and it's washable!
Get the Pattern here

7. Desert Winds Scarf Crochet Pattern by Make And Do Crew
Toss on this modern crochet triangle scarf to head out to the desert, the mountains…or just the grocery store.
This free Desert Winds Scarf Crochet Pattern takes all the stress out of choosing colors because the skein does it for you!
It's a perfect one skein crochet project and a great and inexpensive DIY gift idea. The simple increases and decreases make this scarf pattern appropriate for a confident beginner.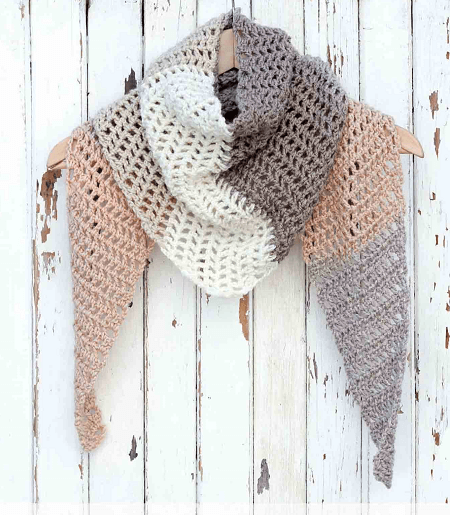 Get the Pattern here

8. Crochet Button Scarf Pattern by Alyse Crochet
This Crochet Button Scarf is a beautiful, lacy scarf featuring a unique construction, extra-long fringe, and two trendy button bands to keep it snug and cozy!
It uses less than one skein of yarn, so it works up much quicker than the average scarf – perfect for beginners and for those who want instant gratification.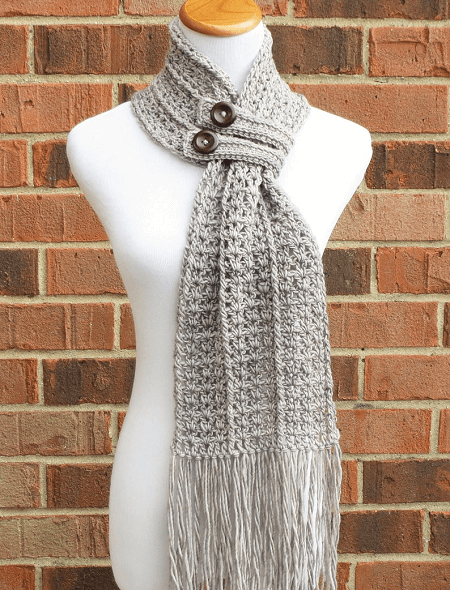 Get the Pattern by Alyse Crochet here

9. Simple Crochet Scarf Pattern by Just Be Crafty Shop
This Simple Crochet Scarf is a fun, quick, and easy project that could easily be worked up in just a weekend! Whip up a few in your favorite colors to spice up your wardrobe!
The pattern uses the easy-to-master shell stitch, and it's the perfect crochet project for beginners!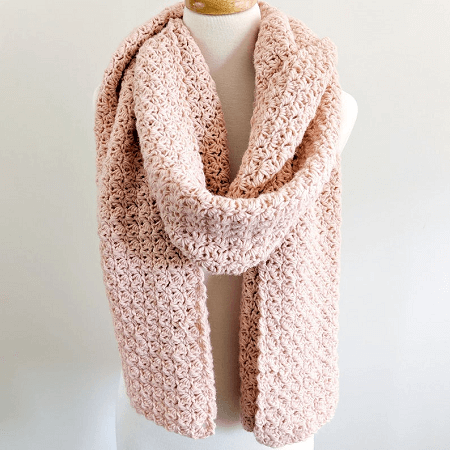 Get the Pattern by Just Be Crafty Shop here

10. Bernard Houndstooth Scarf Crochet Pattern by Two Of Wands
This dapper unisex crochet scarf makes a subtle statement with its oversized silhouette and classic houndstooth fabric. The mesmerizing soft striping looks so intricate but is actually achieved with only two simple stitches!
This Bernard Houndstooth Scarf Crochet Pattern is an easy level crochet pattern and the techniques involved are single crochet, double crochet, and working in tapestry crochet to carry along an unused color.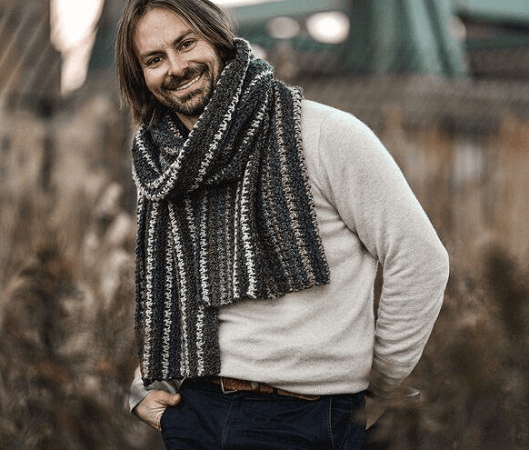 Get the Pattern here

11. Minimalist Crochet Scarf Pattern by Sarah Ruane
Go back to basics with this minimalist, monochrome crochet scarf. It features a one-row repeat so it's a perfect scarf crochet pattern for beginners.
And how cool is the vertical stripe effect that requires no mid-row color changes!? You will love clean lines and woven look of this scarf; it looks so stylish but in an effortless sort of way.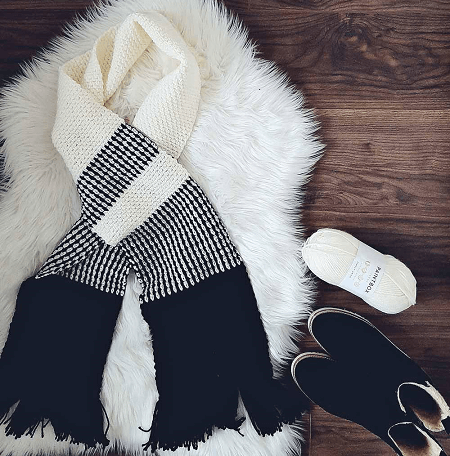 Get the Pattern by Sarah Ruane here

12. Color Block Free Crochet Scarf Pattern by Annie Design Crochet
This free crochet scarf pattern is suitable for a beginner and is perfect for cooler weather, to wrap you in all the warmth you will need.
The easy repeat pattern makes this project a fast make, you could rustle up a trendy color-block scarf for everyone on your list!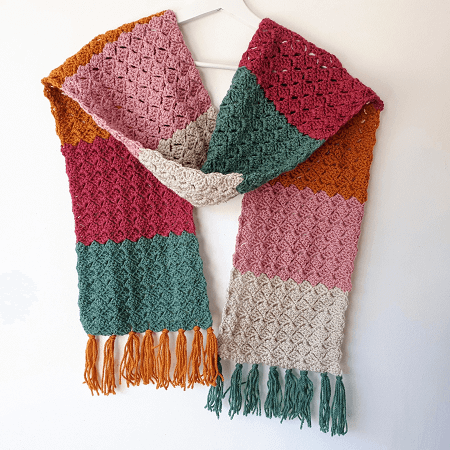 Get the Pattern here

13. Crochet Buffalo Plaid Scarf Pattern by Whistle And Ivy
This crochet buffalo plaid scarf is a classic look for fall, winter, or the holidays!
Perfect for both men and women, this simple scarf uses The Plaid Technique for changing colors and achieves the look of buffalo plaid. Once you get a hang of the plaid technique, you will love making them for all your besties!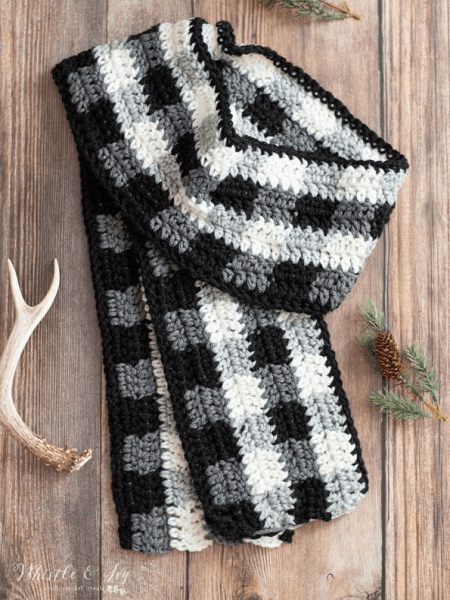 Get the Pattern here

14. Easy Triangle Scarf Crochet Pattern by Sewrella
This Easy Triangle Scarf is like snuggling up in a big yarn cloud that you never want to leave!
It'sa beginner friendly project, with simple stitches and an easy repeating pattern. The perfect thing to make while watching TV.
It's the perfect size and weight – not too chunky but soft, plush, and warm. It can be worn as a wrap around the shoulders or a triangle scarf around the neck.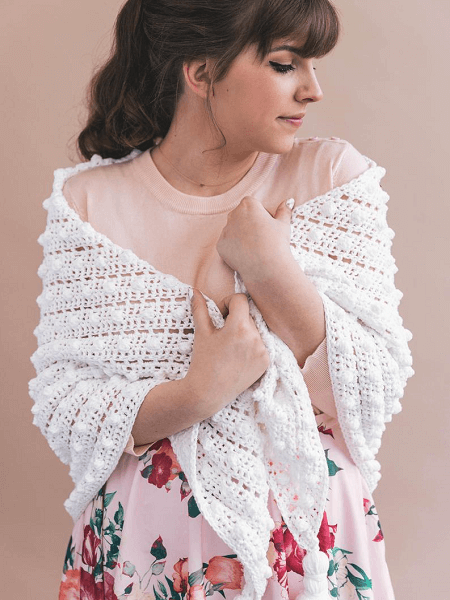 Get the Pattern by Sewrella here

15. Crochet Fur Pom Pom Scarf Pattern by The Crochet Cabinet
Say hello to the coziest crochet scarf you'll wear this season – the Crochet Fur Pom Pom Scarf!
This beginner crochet pattern is perfect for an afternoon quick project or gifts for the holidays. Also, great for advanced crocheters that want an easy, but a fulfilling project.
The design features a simple ribbed texture and is finished off with two faux fur pompoms. Super on-trend and fun to wear!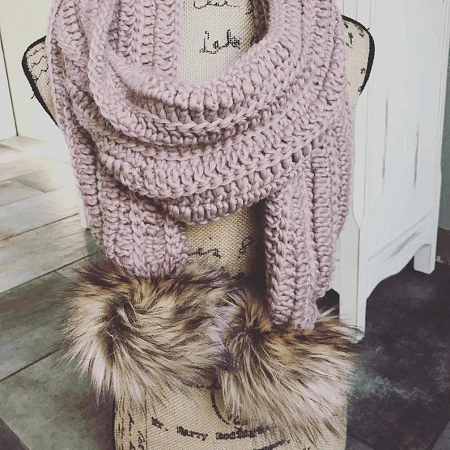 Get the Pattern by The Crochet Cabinet here

16. Wrap Scarf Crochet Pattern by The Easy Design
The design for this Wrap Scarf is different from everything you've seen so far! Both elegant and stylish, it's a lovely piece for each season to complete your look and keep you comfortable.
This Wrap Scarf Crochet Pattern is a great pattern for beginners -the stitches used are basic, and it's relaxing crochet for advanced crocheters.
You have a choice of two finishing options, the pattern has two versions: one for bulky yarn and another for medium yarn.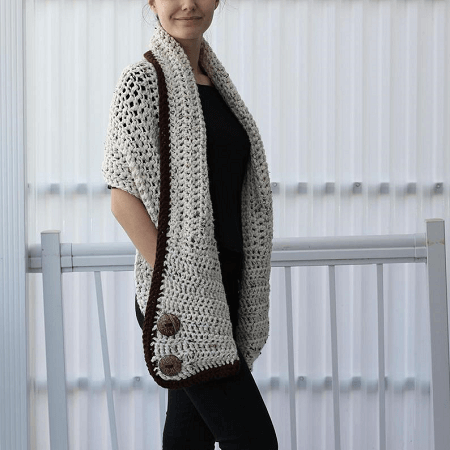 Get the Pattern by The Easy Design here

17. Striped Neck Scarf Crochet Pattern by Ideal Me
If you're looking for a versatile and effortlessly stylish accessory, this Striped Neck Scarf is so chic and will have you daydreaming of French countrysides.
It's a simple square scarf, with a black and white striped pattern. Because of its shape, you can easily wrap it around your neck or wear it as a stylish hair accessory.
This scarf is made using a 100% Circulo Cotton Yarn that is machine washable and can add an amazing texture to your piece.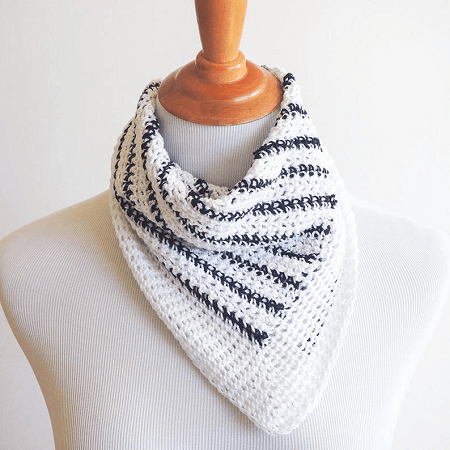 18. Dragonfly Free Crochet Scarf Pattern by Stitch 11
This free Dragonfly Crochet Scarf Pattern is designed for you or for you to gift to someone you know.
The open spaces in the scarf represent change and reflection. What are they? They are what your eyes see. Whether it be a dragonfly, fairy, angel…it's all about personal perception.
This adorable crochet scarf pattern is a fun and easy project that makes a perfect accessory to any outfit.
Get the Pattern here

19. Super Granny Scarf Crochet Pattern by Cotton Pod
Hook up a super long, super cozy, 'super scarf' with this Super Granny Scarf Crochet Pattern.
Bright, beautiful colors make this Granny Square Scarf a fun pattern to wear not only on a dreary cold winter day, but also during the springtime.
This free crochet scarf pattern is easy to make and can be made as long as you want it.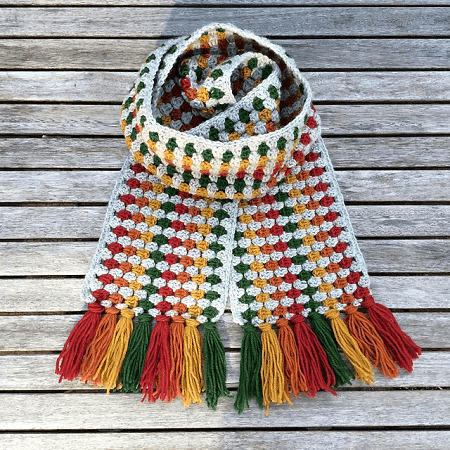 Get the Pattern here

20. Sunshine Crochet Scarf Pattern by Hooked Homemade Happy
Let the warm sunshine in with this Sunshine Crochet Scarf Pattern! It's made with a super lightweight cotton and that makes it perfect for warmer weather.
It hangs loosely around the neck so you don't have to worry about getting too warm with this scarf.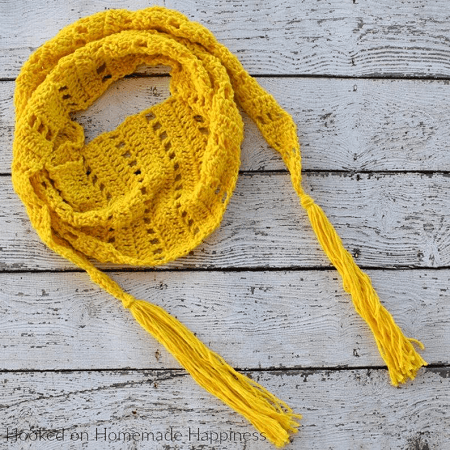 Get the Pattern here

21. Mint Twist Crochet Scarf Pattern by Left In Knots
This Mint Twist Scarf is a simple scarf with a modern twist. It is a triangular cowl shape, but if that's not your jam it is easily customizable!
The pattern only used a partial skein of Lion Brand Scarfie yarn. If you want to make a more classic crochet scarf just use the whole skein and skip the joining.
This modern bandana scarf with twisted fringe is an easy and versatile one skein free crochet pattern that is suitable for an advanced beginner.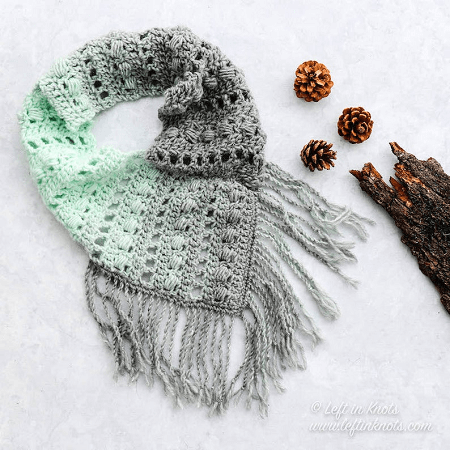 Get the Pattern by Left In Knots here

22. Autumn Ripple Scarf Crochet Pattern by Petals To Picots
This Autumn Ripple Crochet Scarf Pattern makes for a great project for any experience level!
It's a perfect beginner project because it only takes one stitch and some increases and decreases to get an awesome ripple effect.
Add in some self-striping yarn and you don't even need to fuss with changing colors!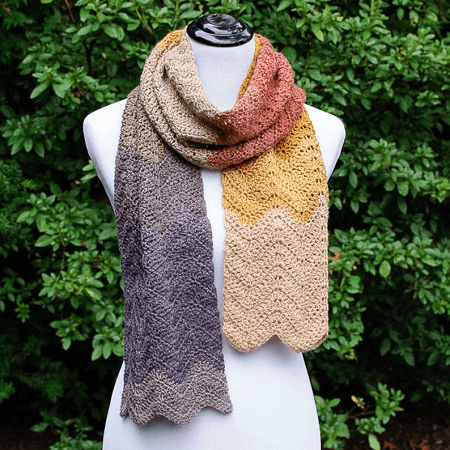 Get the Pattern by Petals To Picots here

23. Crochet Basketweave Heavy Scarf Pattern by Tjoc Pattern Shop
This Crochet Basketweave Heavy Scarf is a warm and fuzzy men's scarf that is crocheted in a basketweave stitch.
Although there are a lot of scarf patterns for men, it is difficult to find crochet patterns that men actually want to wear.
Hipster style captured in crochet, this scarf pattern is perfect for the men in your life.
This scarf is an intermediate crochet pattern. It features front and back post stitches and cables. It is made in stages. Not easy but definitely worth the effort.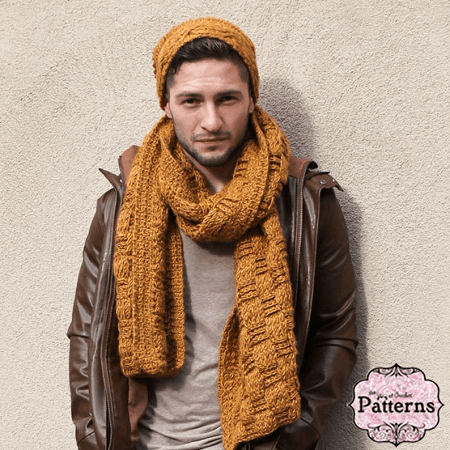 Get the Pattern by Tjoc Pattern Shop here

24. Crochet Chevron Scarf Pattern by Rescued Paw Designs
This Easy Chevron Scarf Crochet Pattern is the perfect project for a beginner who is looking for something a bit more than a straight scarf.
If you have mastered a scarf made in a straight line, then this crochet chevron scarf would a great next crochet project.
Crochet chevron patterns tend to use extremely bright colors, but sometimes you want to incorporate your favorite pattern into a more subtle hue.
This chevron scarf does just that, with its calming gray tone and gentle chevron waves.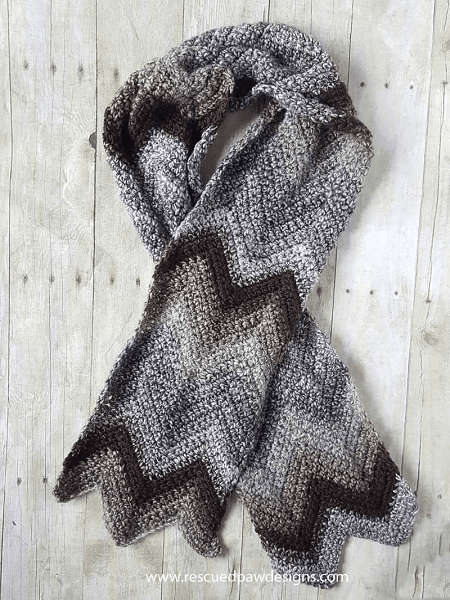 Get the Pattern here

25. The Boyfriend Scarf Crochet Pattern by Dabbles And Babbles
This Boyfriend Scarf is all about subtle details that look polished and distinguished.
The whole of the scarf is worked using the detailed ribbed stitch for added texture. It's a good length too, perfect for wrapping up in. The detail that really sets this scarf apart though, is the yarn choice.
This crochet scarf is great for those family members who are hard to shop for. This is a practical, unique gift that they can use for years to come. Make one for your partner or your father.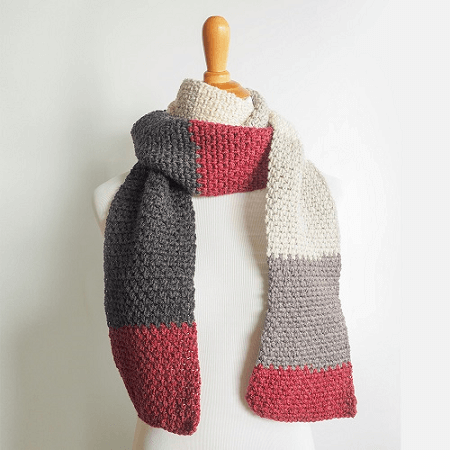 Get the Pattern here

26. Men's Winter Free Crochet Scarf Pattern by The Spruce Crafts
Want to crochet a classic winter scarf for a special guy? This free crochet scarf pattern resembles a knit rib but knitted it is not.
This crochet scarf is a classic men's style. Slip stitch gives it a knit rib look while still working in crochet. Of course, this scarf isn't only for men. It makes an excellent gift for anyone!
Beginner to advanced beginner level, the project is suitable for crocheters who are comfortable with chain stitch, single crochet, and slip stitch.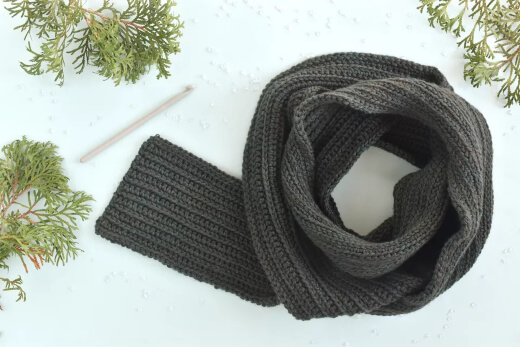 Get the Pattern here

27. Lenny Scarf Crochet Pattern by Avarus Crochet Designs
If you want to have all eyes on you, but are not willing to compromise with your comfort and warmth, here is the perfect item for you!
This huge Lenny Scarf will cradle you safe and warm in its woolen embrace. It's definitely the perfect thing to help you spoil your loved ones for the winter season.
This scarf works up surprisingly fast considering its size because of the repetitive nature of basic crochet stitches. Which also makes it the perfect crochet pattern for both the beginner and long time crocheter alike.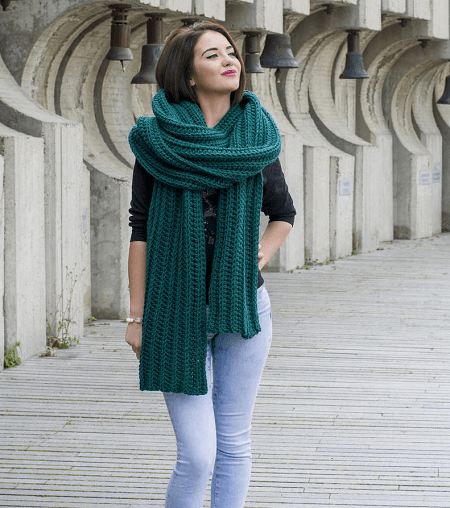 Get the Pattern by Avarus Crochet Designs here

28. Tunisian Crochet Scarf Pattern by Purl Soho
As crisp fall air descends upon us, find a few hours to steal away to a sunny park bench nestled in a grove of trees, and there, create this beautiful Tunisian Crochet Scarf in no time flat!
Whether you use a solid color or variegated yarn – this is scarf would look amazing in any combination!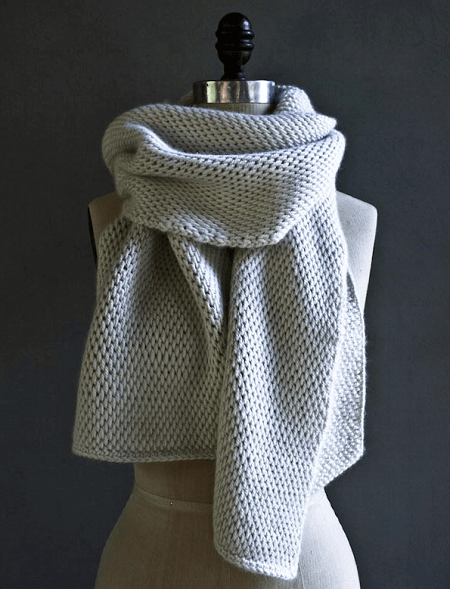 Get the Pattern here

29. Crochet Scarf With Hoodie Pattern by Mon Petit Violon
Two birds with one shot – scarf and hat in one piece. It is really comfortable for both – babies and parents.
The Crochet Scarf With Hoodie Pattern includes sizes baby to adult so you can make matching scarfs-hats for both!
If you are not a fan of pom-poms pattern includes instructions on how to make fringes as well.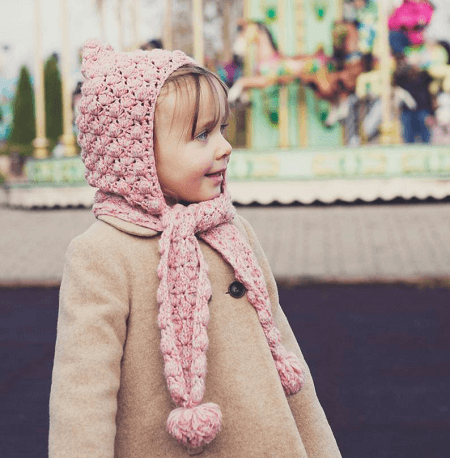 Get the Pattern by Mon Petit Violon here

30. Pizza Scarf Crochet Pattern by Lily Of The Valley TM
This fashionable, unique, slice of pepperoni pie will definitely keep you warm and toasty during those cold, winter months!
This Pizza Scarf fits both kids and adults (not for babies and toddlers) and can easily be made longer. Double-sided cheese and pepperoni on one side, crust on the other side make it nice and warm. It's the perfect gift for any foodie or pizza lover!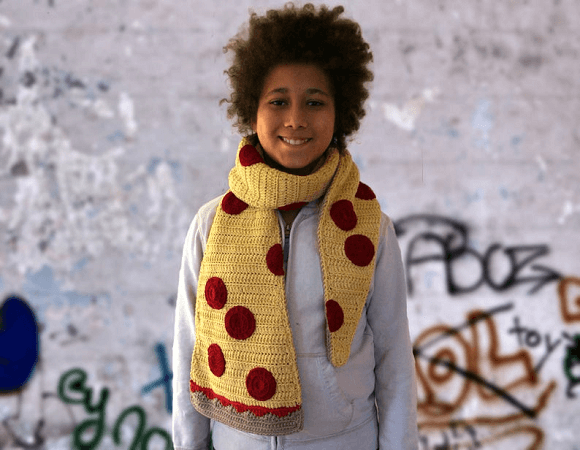 Get the Pattern by Lily Of The Valley TM here

31. Fringed Triangle Free Crochet Scarf Pattern by Salty Pearl Crochet
This easy Fringed Crochet Triangle Scarf will add a fun Boho flair to your wardrobe! The Western-inspired fringe pairs well with the delicious Suede colorway of the Chic Sheep yarn.
Even better? This lovely free crochet scarf pattern just takes one ball of yarn! That makes it the perfect quick crochet gift idea.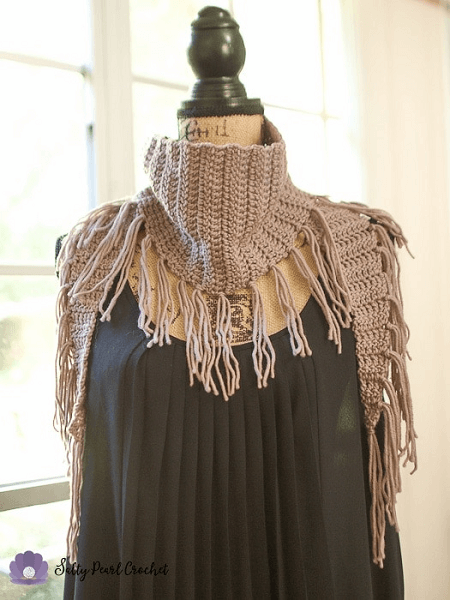 Get the Pattern here
33. Zebra Print Crochet Scarf Pattern by Just Be Crafty
The Zebra Print Crochet Scarf Pattern is a fun project to practice your colorwork skills. Follow the simple intarsia chart provided in the pattern to get this awesome zebra-like look!
The body of the crochet scarf is worked entirely in single crochet and finishes off with two different ribbing border techniques. 
While completing the body of the scarf you'll be making the zebra design by following an intarsia grid.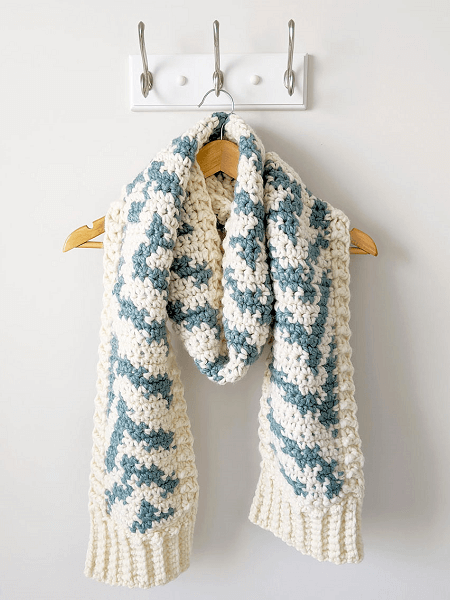 Get the Pattern here

34. Chunky Scarf Crochet Pattern by Pixie Bell
Classic, warm and chic, this Chunky Scarf is a must-have piece for any wardrobe. This trendy cowl scarf will keep your neck warm while making a fashion statement.
This item can be worn in a variety of ways. Completely reversible, the detail of this piece is just a bit different than your ordinary scarf.
Made with a super bulky weight yarn, this crochet scarf pattern is sure to be perfect for a quick gift!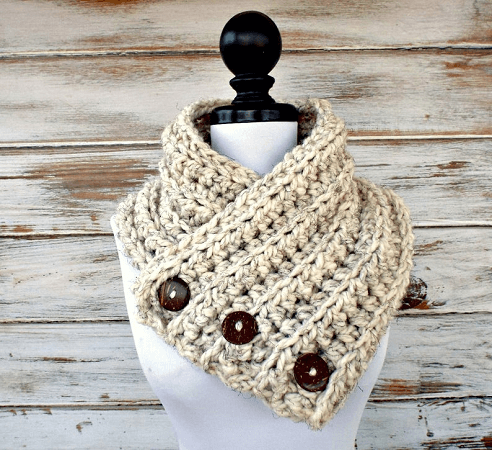 Get the Pattern by Pixie Bell here

35. Waffle Stitch Crochet Charity Scarf Pattern by Jennifer Dickerson
The Waffle Stitch Charity Scarf Pattern makes a warm and wonderfully textured scarf pattern to keep the chill away.
This easy crochet scarf is worked up using the waffle stitch, a quick and simple stitch pattern that uses double crochet and front post double crochet stitches to create a textured appearance like you'd see on breakfast waffles.
For a fun variation, try seaming then ends together to make a pretty infinity scarf too.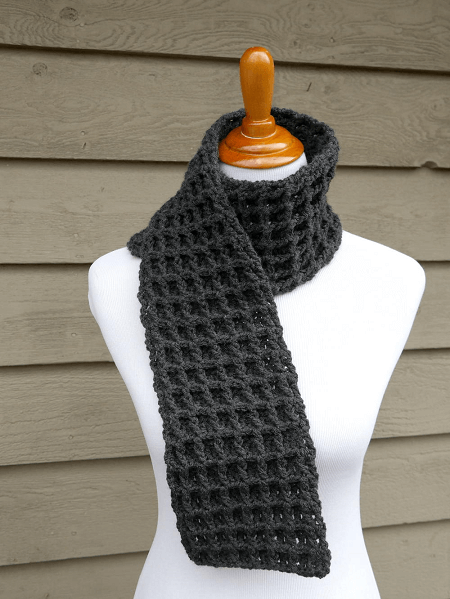 Get the Pattern here

36. Embossed Phoenix Crochet Scarf Pattern by Bonita Patterns
Inspired by feathers of the fiery phoenix, this Embossed Phoenix Scarf Crochet Pattern is perfect for those who want the warmth and comfort of a scarf but also want to stand out.
Because of its colors, your friends can definitely see you even from afar! Aside from its colors, its unique shape and design is another aspect that will attract others' attention.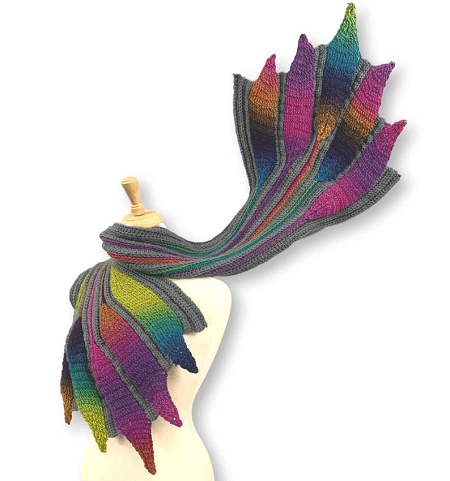 Get the Pattern by Bonita Patterns here
Learn more about the Embossed Phoenix Scarf Crochet Pattern here

No matter your style, you are sure to find the designs you'll want for your fall and winter wardrobe with these list of crochet scarf patterns!
Many of these are one skein projects or great scrap busters and use every type of yarn from thread to worsted weight yarn. Which one is your favorite?
And as always, we'd love to see if you make one. Be sure to share pictures of your finished projects on our Facebook Page.
You can find a variety of crochet clothing patterns right here. You can always check them out!
For now, let's get our hands busy with these 37 gorgeous Crochet Scarf Patterns – go wild and add your personal touch!