Candy isn't the only treat this autumn – these Halloween amigurumi patterns give every maker the chance to add some tricks and treats to the day.
If you're bored with cute, sick of sweet, and prefer your patterns a little more on the dark side, you will love these gruesome and spooky collection of zombies, witches, vampires, and more.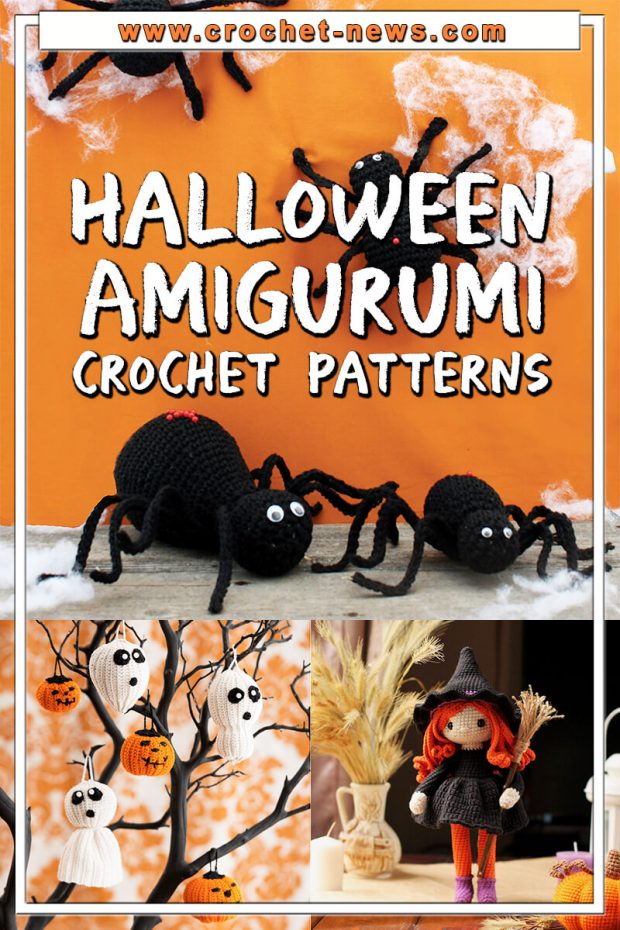 Some of these decorating ideas double as toys to keep your little goblins occupied while you make your party preparations.
50 Crochet Halloween Amigurumi Patterns
These handmade decorations will inspire you and any wickedly wonderful friends who come through your door. Which one will you be trying?

1. Halloween Spiders Amigurumi Pattern by Yarnspirations
No Halloween display is complete without a fearsome army of adorable, googly spiders! This free halloween crochet pattern includes two sizes of spiders for your crocheting pleasure. With such a playful project, why not call over a friend and work on this one together?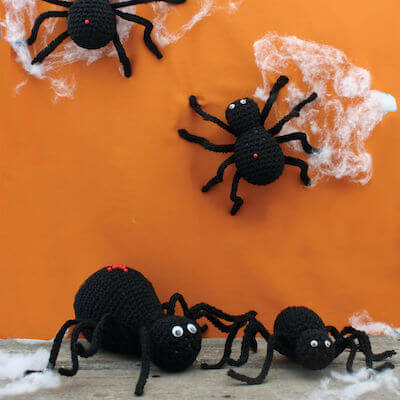 Get the Pattern here

2. Zombie Free Halloween Crochet Pattern by Spin A Yarn Crochet
Get in the spooky spirit by adding this creepy-cute zombie to your amigurumi collection this Halloween! With textured brain detailing, exposed bone, and hanging eyeball, he'll be the cutest zombie you come across this year!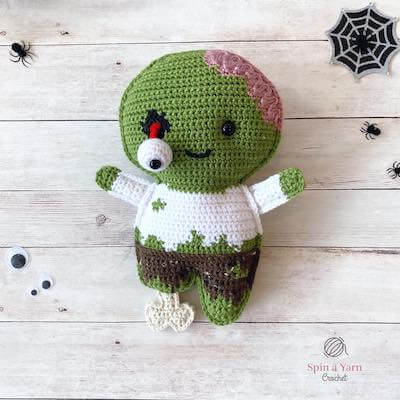 Get the Pattern here

3. Crochet Cat In Pumpkin Pattern by Magic Filament
This adorable little cat in pumpkin is sure to be a family-favorite Halloween decoration! Combining two icons of Halloween – pumpkins and black cats – this amigurumi pumpkin crochet pattern is the perfect amigurumi project for fall. Finished item is approximately 10cm.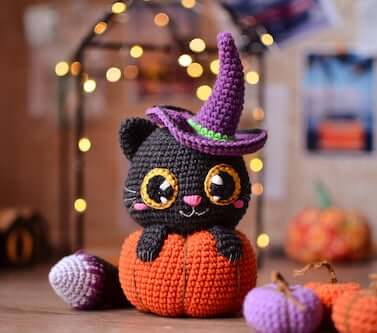 Get the Pattern by Magic Filament here

4. Halloween Voodoo Amigurumi Pattern by Mikado Cutes
This Little Crochet Voodoo Doll Keychain is probably the cutest voodoo doll you've ever seen! A little embroidery is used to add character to these dolls.

You can embroider the stitches wherever you like and use whatever color you like. Amigurumi Voodoo doll's height is 6.5 -7 cm / 2.56 – 2.76 inches, if used stated materials. Aren't they adorable?

Check out our list of crochet keychain patterns for more cool ideas.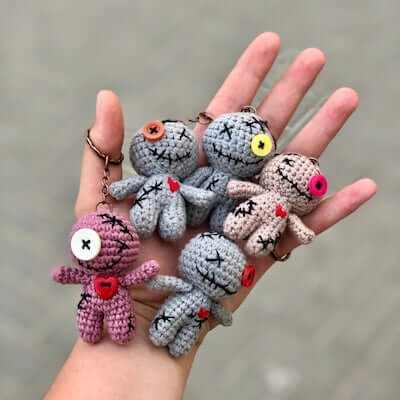 Get the Pattern by Mikado Cutes here

5. Hanging Skeleton Crochet Pattern by Red Heart
Crochet a spooky skeleton and add hand-crafted style to you Halloween décor. He's perfect for greeting trick-or-treaters at your front door!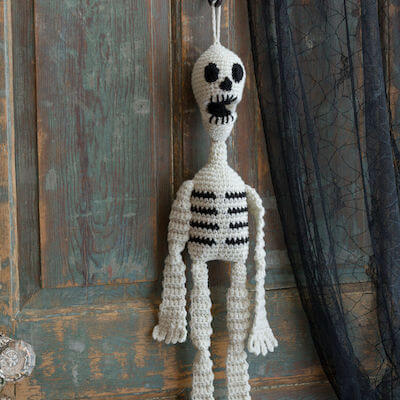 Get the Pattern here

6. Baby Ghost Mini Amigurumi Pattern by Ami Amore
Make a DIY mini ghost in just a few hours! A perfect crochet cute Halloween decoration, adorable birthday gift, or as a Christmas gift for a little girl or boy!

The easy-to-follow amigurumi pattern has many clear step by step photos and instructions; and is suited for advanced beginner/intermediate crocheters. A fun and quick pattern to crochet, make yourself a cute boo baby today!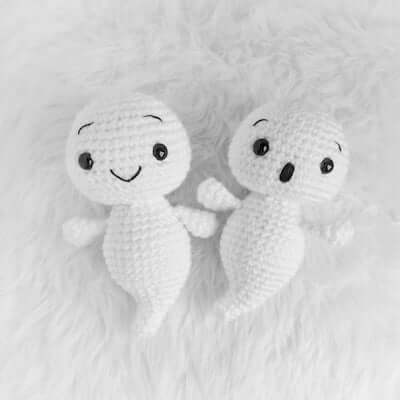 Get the Pattern by Ami Amore here

7. Halloween Doll Amigurumi Pattern by Cute Toys By Tatiana
Who can't resist this adorable Crochet Witch Doll? This little amigurumi witch will be the perfect addition to an autumn nature table and for your Halloween storytelling. Make this toy with the help of this pattern. It's never too early to prepare for Halloween!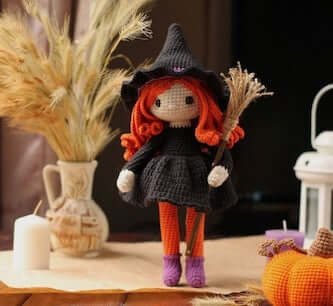 Get the Pattern by Cute Toys By Tatiana here

8. Cuddle Me Vampire Crochet Pattern by Amigurumi Today
Meet cuddly and lovely crocheted vampire! Measuring 6 inches tall, this amigurumi vampire is an ideal companion for Halloween spooky fun!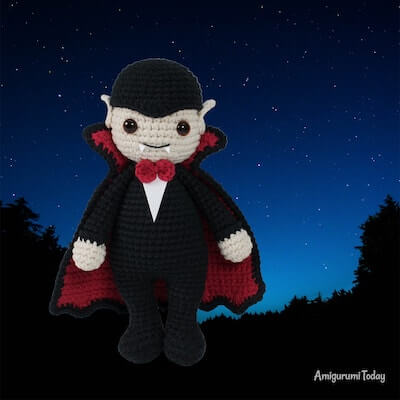 Get the Pattern here

9. Frankie, The Zombie Teddy Bear Crochet Pattern by Krawka
Frankie, the zombie teddy bear is a creepy-cute Halloween merger of a teddy bear and Frankenstein's monster.

You should know basic crochet stitches including chain, slip stitch, single crochet, decrease,increase, double crochet, half double crochet, and how to start with a magic ring in order to finish one. Frankie, when finished, is 24 cm (9.4 inches) long.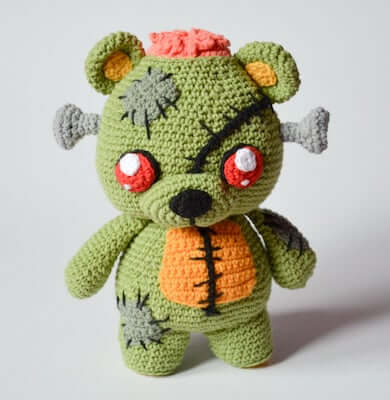 Get the Pattern by Krawka here

10. Jack Skellington Crochet Pattern by Square Pig Crochet
Put your amigurumi skills to use making this crochet doll inspired by the character from "The Nightmare Before Christmas," which is always a popular movie to watch during the Halloween season.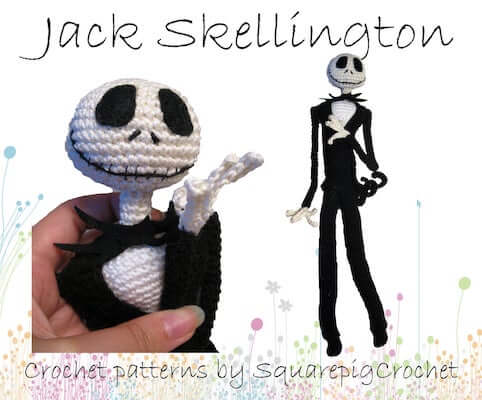 Get the Pattern by Square Pig Crochet here

11. Halloween Tree Of Spookiness Crochet Pattern by Red Heart
Create a spooky tree using a branch or use these ornaments wherever a little Halloween fun is needed. Choose from three Ghost variations and two sizes of Jack o' Lanterns.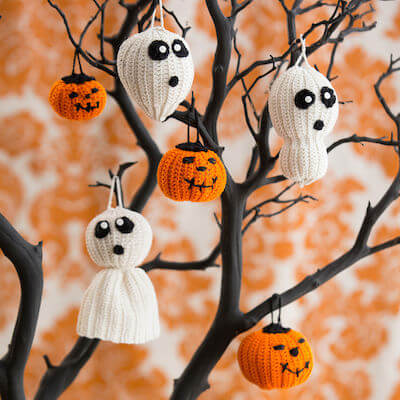 Get the Pattern here

12. Amigurumi Bat Pattern by Sassaroo Designs
These amigurumi bats measure just over 3 inches tall when crocheted with 4ply cotton thread on a 2.25mm hook. They make adorable decorations to hang around at Halloween – or year round for that matter!
They're the perfect size for little hands to play with. Or maybe you just want your own colony of super sweet bat babies!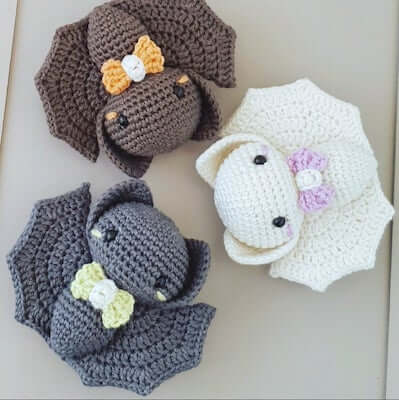 Get the Pattern by Sassaroo Designs here

13. Sweet Little Skull Amigurumi Pattern by Voodoo Maggie Studios
Now you can have a home full of skulls without having to go and hunt them. Leave it plain or add some embroidery and flowers and make it a sugar skull.
Dress it up however you like! The pattern works up pretty quickly with lots of pictures for the trickier parts like the eyes.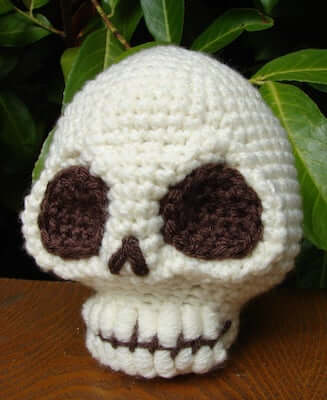 Get the Pattern by Voodoo Maggie Studios here

14. Goat Skull Amigurumi Crochet Pattern by Deprecat
A great gift for those that love displaying animal skulls – without having to worry if the skull is ethically sourced!

This pattern will teach you how to create your own life-size goat skull, and even includes instructions on how to create your own mount to display your skull on the wall! A great gift for fans of animal specimens, taxidermy, or your witchy friends!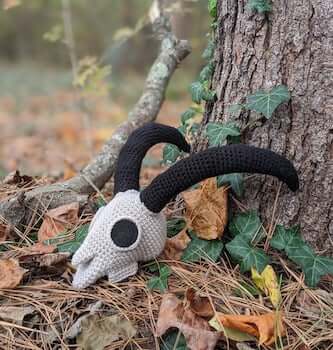 Get the Pattern by Deprecat here

15. Paco, The Vampire Amigurumi Pattern by Elif Tekten
Paco is the cutest little vampire and fits the idea of a perfect Halloween toy, a little ghoulish but not scary. He is quite simple to crochet, but you will that with the addition of accessories and details, he looks so much different than he actually is.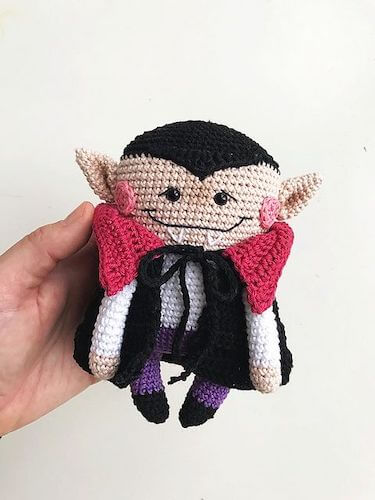 Get the Pattern here

16. Halloween Donut Amigurumi Pattern by Amigurumi Food
Scary donut? Why not! This one is sprinkled with eyeballs and bats, and will make a fun decoration on your table. Have fun making it and adorn it with whatever comes to your mind. You can make a bunch of these in no time at all!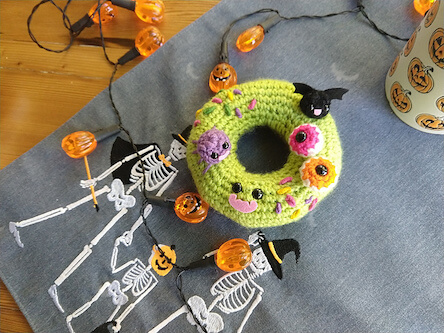 Get the Pattern here

17. Halloween Minis Amigurumi Pattern by Aradiya Toys
These toys are perfect as Halloween decorations. The pattern describes how to create the four toys: Mrs Witch (including the hat), Mr Frankenstein, Mr Dracula and Mr Pumpkin.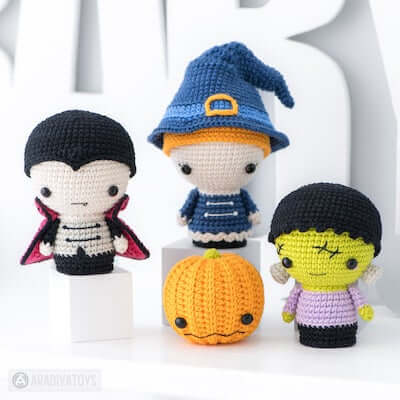 Get the Pattern by Aradiya Toys here

18. Wednesday Addams Amigurumi Pattern by Elfin Thread
This is a pattern to make Wednesday from the Addams Family. Isn't her cute with her braids and her black outfit? She may be the perfect gift for Halloween!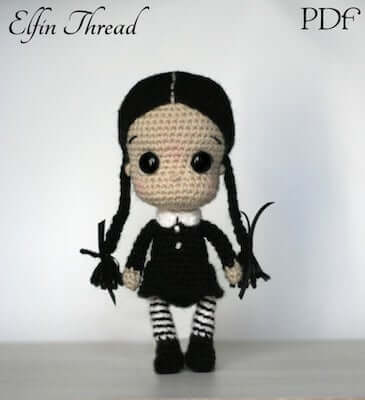 Get the Pattern by Elfin Thread here

19. Halloween Cuddle Me Ghost Crochet Pattern by Amigurumi Today
Need to make a cute Halloween gift for your friend? Or maybe you know a small person who's a bit scared of Halloween or the dark, and could use a friendly crochet ghost to protect them? Either way, this cute amigurumi ghost is ready for endless and guaranteed to make the recipient smile!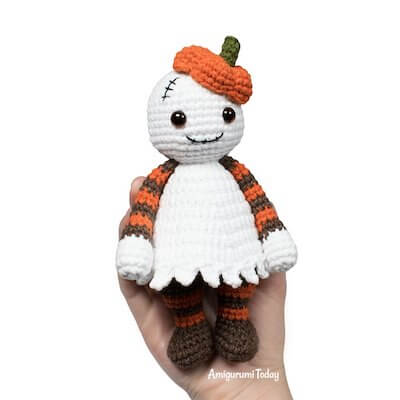 Get the Pattern here

20. Halloween Long Legs Dolls Amigurumi Pattern by Moji Moji Design
These dolls would make perfect shelf sitters for your Fall display, or cuddly toys for Halloween gifting. Frankenstein's Monster (also known as Fred), Gilbert Ghost and Pammy Pumpkin are very quick to crochet as their bodies are made by using doubled up yarn. Leave the legs off entirely and you can use them as doorstops too!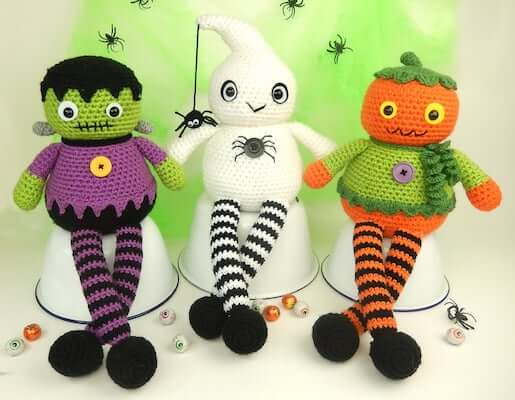 Get the Pattern by Moji Moji Design here

21. Shrunken Heads For Halloween Amigurumi Pattern by Funny Freaky Toys
Shrinking heads is a messy process. First you remove the skull, then scoop out all the flesh and fat, and fill the cavity with seeds and wood before boiling the skin in water.
This fashionable home accessory can then be adorned with decorative beads and hair. Alternatively, skip the decapitation and crochet one instead!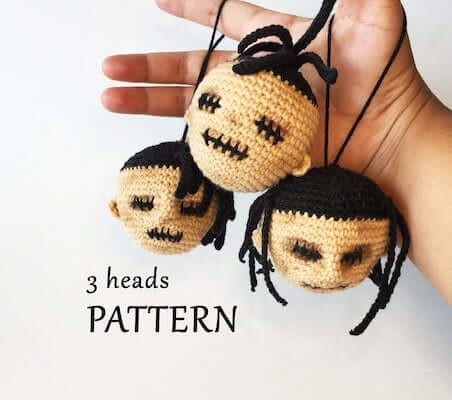 Get the Pattern by Funny Freaky Toys

22. Voodoo Bunny Amigurumi Pattern by Blue Rabbit Toys
These Amigurumi Voodoo Bunnies are excellent fall decorations – they are both cute and perfectly "scary" for Halloween! They would make great trick-or-treat gifts for adults and children alike!
You can make them in any color combination and there many ways to make the eyes and decorate the bodies to show their personalities!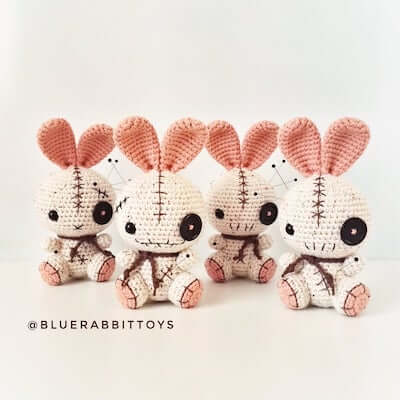 Get the Pattern by Blue Rabbit Toys here

23. Circle Of Skulls Wreath Crochet Pattern by Red Heart
This chilling crochet wreath features 8 skulls and a striped ruffle that are combined on a metal wreath form. Perfect for Halloween, it's a spooky decoration for the front door featuring any shades.
Or, keep it scary as designed! Whether displayed to greet party guests or to lure in excited trick or treaters, it's a creative way to welcome ghosts and goblins of all ages!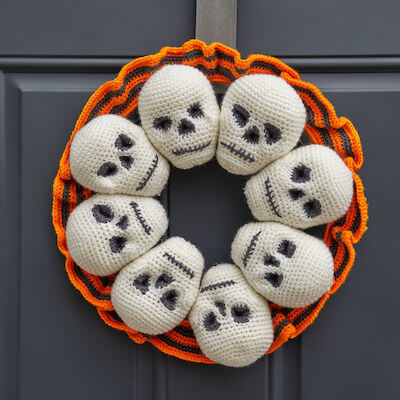 Get the Pattern here

24. Amigurumi Halloween Dolls Crochet Pattern by By Knit Toys
The fact that you get three different toys: Frankenstein, Dracula, and Witch in one pattern is a real plus! You will like that once you learn how to make the body of one then you can make the others by changing the colors and head a bit to make a totally different amigurumi toy.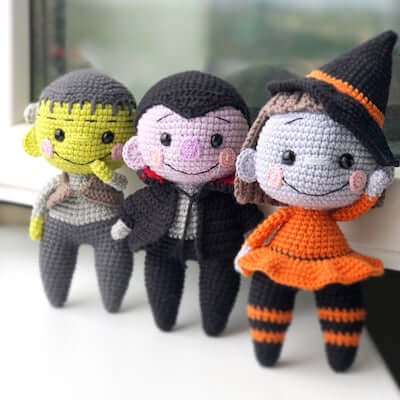 Get the Pattern by By Knit Toys here

25. Grim Reaper Crochet Pattern by Monster Hook
If you're looking for something that's just a little more chilling this Halloween, have a look at this Grim Reaper Amigurumi Doll. What a great decorative item you can add to your Halloween collection!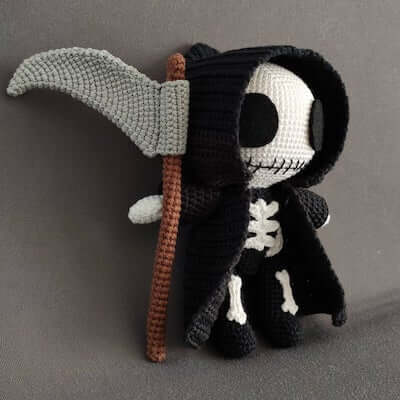 Get the Pattern by Monster Hook here

26. Witch Leg Yarn Bomb Crochet Pattern by Rayna Noel
Make your house the star on the block with this "Wizard of Oz"-inspired yarn bomb decoration. Everyone is familiar with those ruby red slippers and the Wicked Witch that they are attached to.
It's an untraditional choice for Halloween decorating and that is exactly why it's going to make all of your trick-or-treaters look twice!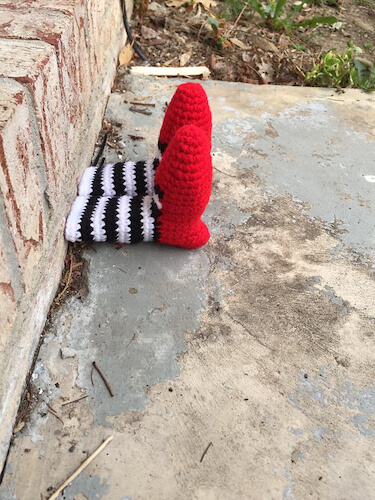 Get the Pattern here

27. Crochet Frankenstein Amigurumi Pattern by Maria's Blue Crayon
This Frankenstein Amigurumi crochet pattern is the perfect little cuddler for your little one or for a fun decoration on your couch or bed!

This Frankenstein is so easy to make and pretty quick too! It is a ragdoll style amigurumi so the body portion is made by crocheting flat pieces and then sewing them together in the end.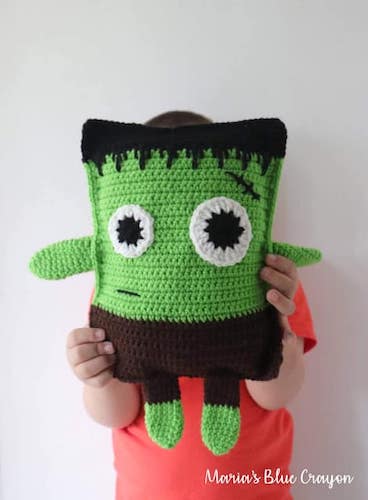 Get the Pattern here

28. Free Halloween Amigurumi Set Pattern by Stringy Ding Ding
This delightful pattern includes many designs of softies, as well as a Ghost Advent Calendar. We're in love with the little Pumpkin, Bat, and Candy Corn! Their small sizes would also work as really gorgeous wreath decorations.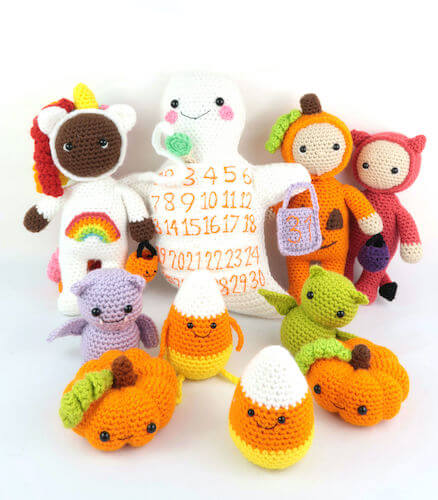 Get the Pattern here

29. Scary Muffins Amigurumi Pattern by Red Heart
These scary treats will last from one Halloween to the next! Decorated with embroidered accents, each muffin sits in its own crocheted liner. So easy to make, you'll have a dozen before you know it!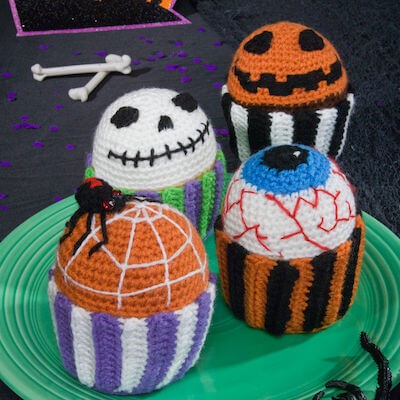 Get the Pattern here

30. Three Little Pumpkins Amigurumi Pattern by Yarnspirations
These pumpkins are perfect for little hands to hold or toss around, without smashing pumpkins! Crochet all your pumpkins with the same color or various colors as shown for a haunting Halloween accessory.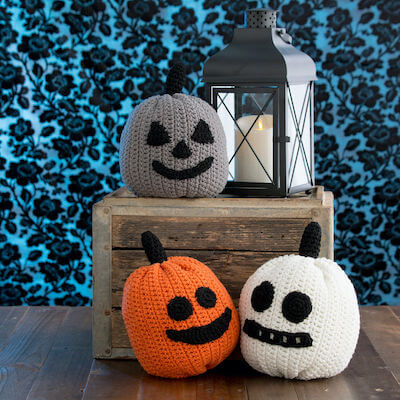 31. Halloween Amigurumi Candy Corn Creatures by Josephine Wu
If you don't like eating these sugary cones of goodness, maybe squeezing cute plush versions of this Halloween reject will tickle your fancy!
The pattern include directions to make these super cute candies as well as how-to guides to creating zombie candy corn and Frankenstein Candy corn! Make one or a few dozen!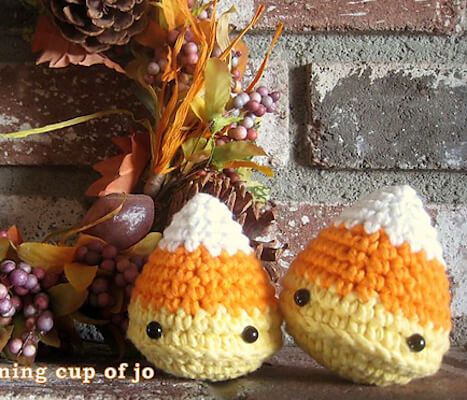 32. H

alloween Amigurumi

Baby Ghost Ornament by Josephine Wu
This free halloween amigurumi pattern won't scare you away, even if you're new to crochet! The halloween amigurumi baby ghost is a quick, cute, and easy project and I've designed it so you don't even have to sew on separate arms! The arms are built right into the crocheted rounds, so this is a no-sew treat just for you.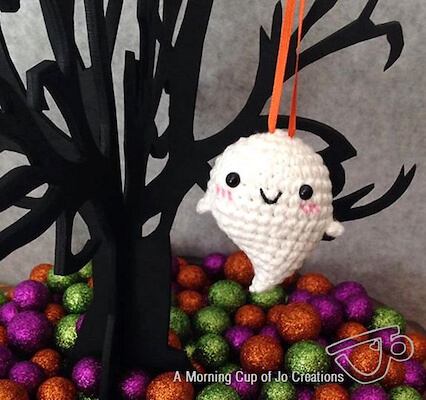 33. Baby Owl Halloween Amigurumi Pattern by Josephine Wu
Get ready to make lots of baby owl ornaments! Once you've made one, you'll want to make a few dozen more because these are so quick and easy to crochet. What's your favorite color? These tiny 2-inch plushies are also great as party favors, stocking stuffers, key chains, and thoughtful gifts!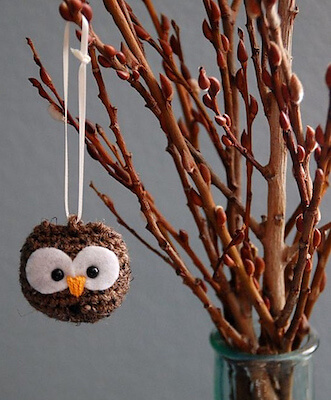 34. Halloween Pumpkin Crochet Amigurumi by Blue Rabbit Toys
Halloween amigurumi Crochet Pumpkin – BOO! With Halloween is just around the corner so it is time to pick up those crochet hooks and get busy! We absolutely love this little guy.
He will be the star of the show at your place this Halloween. You could even make a few of them and place them around the front door for all the trick-or-treaters to marvel at.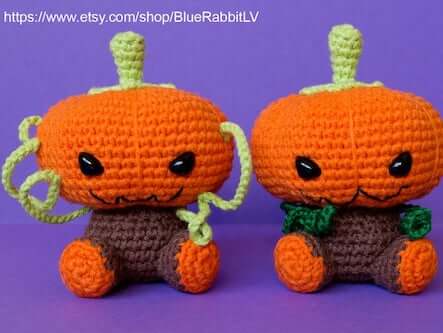 Get the Pattern by Blue Rabbit Toys here

35. Halloween Amigurumi Pumpkin Crochet Kittens Pattern
The Halloween Amigurumi Pumpkin Crochet Kittens Pattern make splendid party decorations for your Halloween party and can be used both inside and outside your home.
They are eye-catching and are bound to be the talk of the night. You can even make a few to give away to friends and family during the season, and they will absolutely love them.
You can make a variety of them in the colors of the season to spice it up and add some flair. Don't limit yourself when it comes to the crochet Halloween pumpkin pattern.
Also see: Crochet Pumpkin Patterns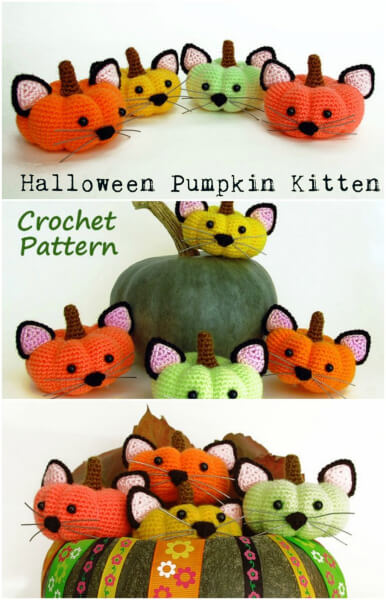 36. Tiny Halloween Amigurumi Monsters Crochet Pattern by Mohu Store
If you're thinking that you're betraying Halloween because of your cute decorations, you have to relax! Halloween doesn't have to always be scary.
Just take Mohustore as a great example. They made these tiny creatures that are so adorable yet still fit the Halloween theme!
Aside from using as decoration, you can also give them to trick or treaters along with the usual candies and chocolates. Hang them on your door so they can just pick whatever they want. For sure, even the grown ups cannot resist the cuteness of these tiny monsters!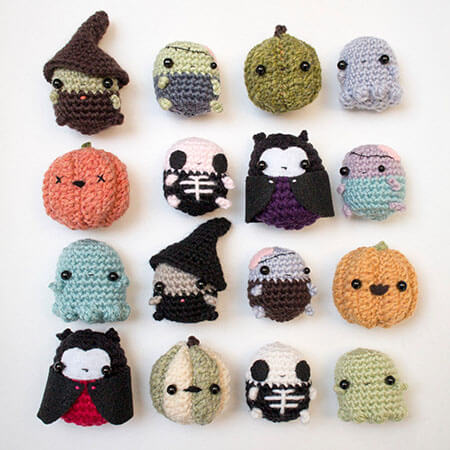 37. Winne Halloween Wreath Crochet Pattern by Pippin Poppycock
This fabulous Winne Halloween Wreath is sure to catch the attention of passers-by on All Hallows' Eve! We love the bright colors, what a fun crochet project!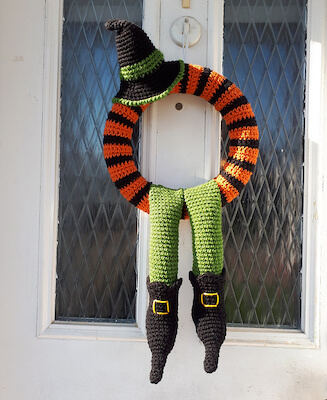 Get the Pattern here

38. Scarecrow Amigurumi Crochet Pattern by Toys Metlina Elena
At just 11 inches tall, this Scarecrow Amigurumi might not frighten crows away but he'll make for festive fall decor! Whether displayed on a shelf, placed as a centerpiece, or incorporated into your seasonal decorations, he is an adorable addition to your Halloween-themed collection.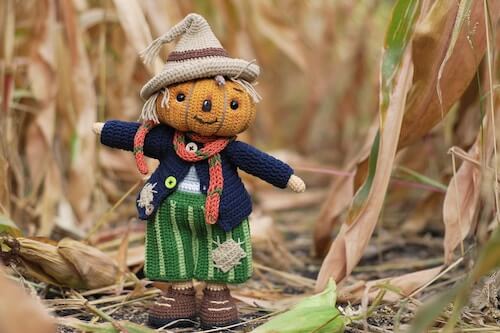 Get the Pattern by Toys Metlina Elena here

39. Halloween Amigurumi Candle Crochet Pattern by Fayni Toys
Decorate your mantle or table with a set of these creepy candles. Measuring approx. 9 cm tall, these amigurumi candles are sure to make a hauntingly fun addition to your Halloween decor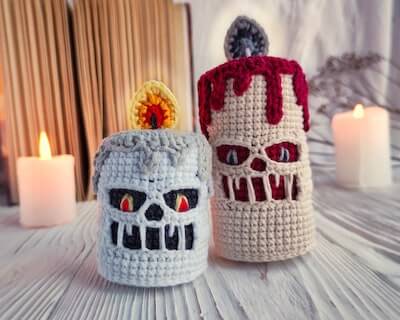 Get the Pattern by Fayni Toys here

40. Free Halloween Amigurumi Ornaments Crochet Pattern by Ollie Holly
This Free Halloween Amigurumi Ornaments Crochet Pattern features the holiday's favorite characters: Jack-o-lantern, candy corn, witch's cauldron, ghost, tombstone, and bat.

These tiny ornaments are an ideal way to use scrap yarn from bigger projects and perfect for determined beginners who know basic stitches like single, half double, and double crochet.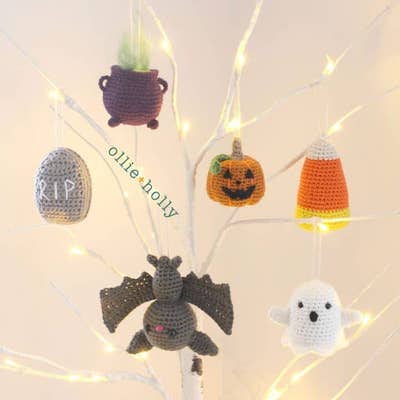 Get the Pattern here

41. Eyeball Amigurumi Crochet Pattern by Svetik Shop Crochet
Shock your guests with bloodshot eyes popping out from the corners of your home, delight the trick-or-treaters with an extra surprise in the treats bowl, or create an awesome Halloween display by dangling these spooky eyeballs in your windows – what fun!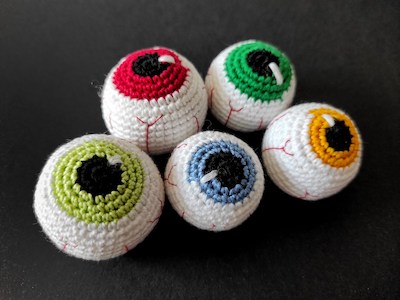 Get the Pattern by Svetik Shop Crochet here

42. Pennywise Amigurumi Crochet Pattern by Guichai
Based on the classic Stephen King film, you can make your favorite nightmare plush to add some true terror to your Halloween decor with this Pennywise Amigurumi Crochet Pattern. Or show off your love for the classic horror movie IT and add this toy to your Pennywise costume for the perfect accessory!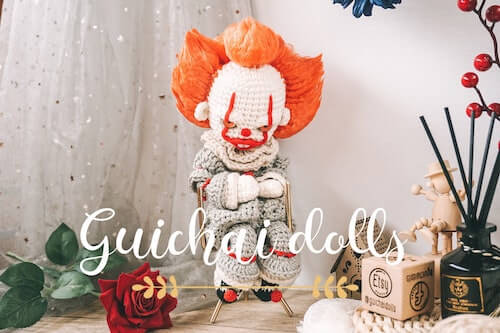 Get the Pattern by Guichai here

43. Halloween Amigurumi Crochet Pattern by Hippiegurumi Crochet
Who is ready for some spookily cute fun? Get ready for Halloween with this Halloween amigurumi set. They are quick and easy-to-make and are ideal if you are looking to add some Halloween cuteness to the day. They are suitable both as a toy for a child or as a part of your Halloween decoration.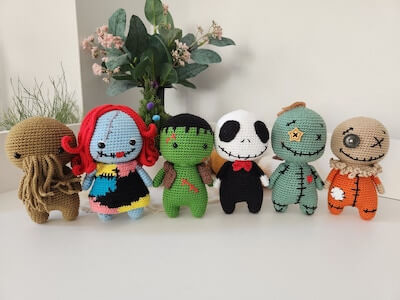 Get the Pattern by Hippiegurumi Crochet here

44. Mumford, The Mummy Amigurumi Crochet Pattern by The Blue Elephants
This cute, little amigurumi mummy is the perfect piece of decor for spooky season. The entire body is just one color and all in single crochet. Then the bandages are done in white strips of just more single crochet.

It may be small, but it definitely hits all the right notes for those who like to have hints of Halloween in their space.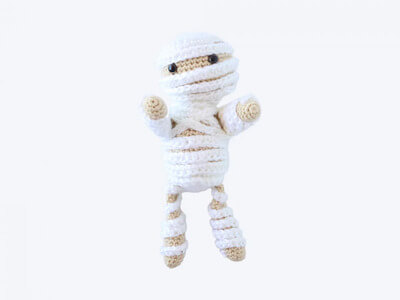 Get the Pattern here

45. Mini Poisoned Apple Amigurumi Pattern by Fayni Toys
Since Snow White ate a poisoned apple, her story has become popular every Halloween. So, crochet a Mini Poisoned Apple to add to your decked out Halloween decor to match the Snow White theme.

Including similar features to the one animated in the film, this crochet pattern lets you choose the yarn colors. For the intermediate crocheter, it works up in about one night!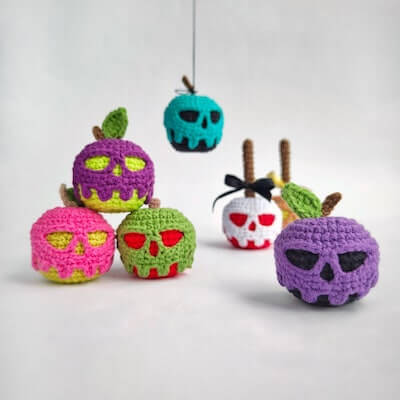 Get the Pattern by Fayni Toys here

46. Raven Amigurumi Pattern by I Crochet Things
Many people associate Ravens with death, bad luck, and other scary things, so it is another amigurumi perfect to crochet for Halloween. This fantastically lifelike Raven Amigurumi would definitely creep out your guests perched solemnly in a corner!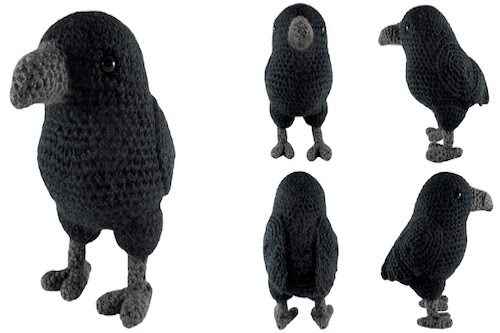 Get the Pattern here

47. Jack Skellington Free Crochet Pattern by Spin A Yarn Crochet
This Santa Jack Skellington is all set to deliver lots of holiday hugs! The star of Tim Burton's The Nightmare Before Christmas is finely detailed with his beard and Santa outfit, making him a welcome presence in any home.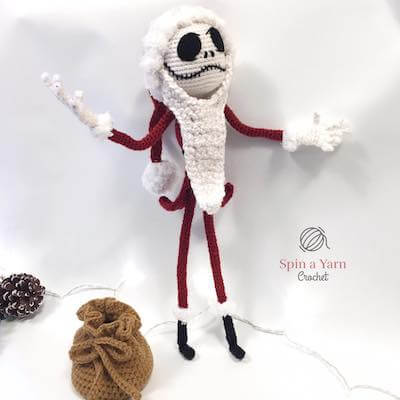 Get the Pattern here

48. Crochet Halloween Gnome Pattern by Mufficorn
Gnomes seem to be all the rage this year, and these amigurumi gnomes with pumpkins and bats will be a perfect addition to your Halloween decor.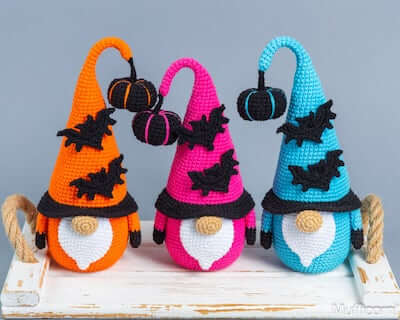 Get the Pattern by Mufficorn here

49. Mr Yarn Bones Amigurumi Crochet Pattern by Manic Yarn
This spooky but cute Mr Yarn Bones Amigurumi measures 40-46″ tall making him a great item for celebrating Goth Day, Day of the Dead, Halloween and so much more! It's a perfect addition to your bone-chilling collection and a fun festive touch for any bedroom or living space.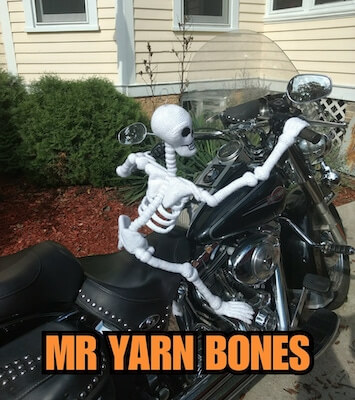 Get the Pattern by Manic Yarn here

50. Horror Movie Classics Amigurumi Doll Crochet Pattern by Mama's Creations Crochet
Welcome your favorite creeps into your home and guarantee you won't spend the night alone by making your own horror plush characters you will ever have the pleasure of cuddling up with! These cuddly plush creepers will perk up any decor!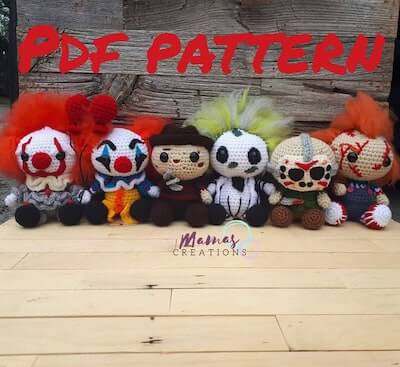 Get the Pattern by Mama's Creations Crochet here
PREPARE FOR HALLOWEEN BY MAKING THIS ADORABLE AND FUN HALLOWEEN AMIGURUMI!
Are you ready to make the most adorable twist of your Halloween this year? Add a little twist to the usual scary Halloween decorations you do every year. It's a fun way to welcome the season and the perfect piece for it.
So get the crochet Halloween pattern now, and I promise you won't be disappointed. Feel free to post some of your finished works on our Facebook Page
Looking for other Halloween patterns to make for this year? Check out Crochet Witch Hat Patterns, Crochet Spider Web Patterns, Crochet Spider Patterns and Skull Crochet Patterns.
Add a twist to your Halloween that your neighbors and friends will truly enjoy! Start working on this Halloween Amigurumi Patterns!