Enjoy the great outdoors even during the chilly winter with this Glacial Beanie Ombre Crochet Pattern! Use this everyday crochet beanie to keep you warm even during the winter.
We are well aware that we already have a lot of articles that focus on crochet beanies, but this particular beanie is one-of-a-kind. In fact, it perfectly embodies the winter season!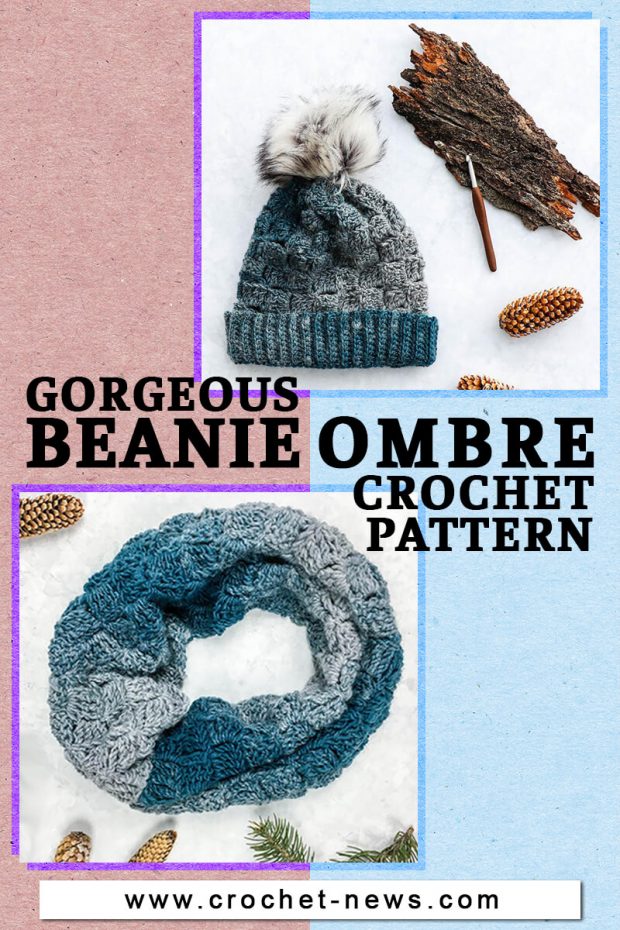 If you're ready to make your own stunning and functional crochet beanie, continue reading this article to know more about how to make this gorgeous beanie ombre crochet pattern!
Stunning Glacial Beanie Ombre Crochet Pattern
Afternoon walks can be a great way to unwind and relax after a long day of work. However, the weather can be a bit chilly during winter.
Keep yourself warm and cozy with this Glacial beanie ombre crochet pattern by Left in Knots! You can even partner it with a matching cowl for added warmth.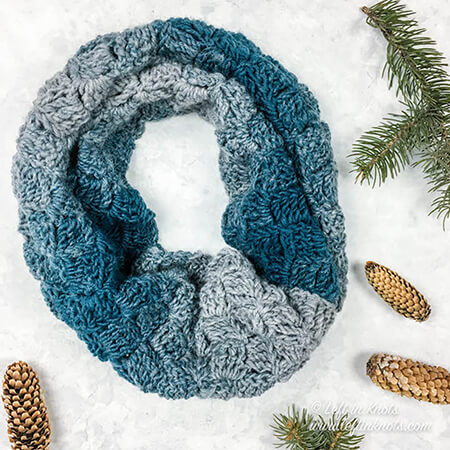 Aside from its functionality, you'll also fall in love with how it looks. Its glacial ombre color is sure to capture everyone's attention!
People who enjoy going outdoors during winter are definitely going to love these winter-inspired beanie ombre crochet pattern! If you're curious to know what yarn to use for this project, we'll tackle that next.
Self Striping Yarn to Create the Ombre Effect
It can be hard to achieve the perfect ombre look if you are going to use multiple yarns. Thankfully, we have the self-striping Lion Brand Scarfie yarn!
The Scarfie Yarn is a soft yarn made with blended acrylic and wool that has enough yardage to complete a scarf. Its color gradually changes from one color to another creating the ombre effect.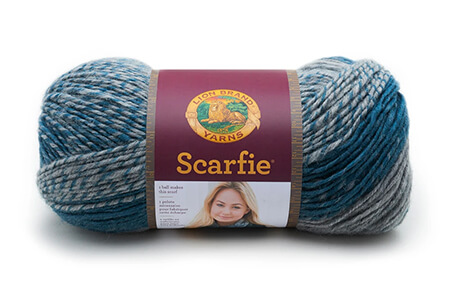 If you want to achieve the perfect glacial color, go for the Teal and Silver variant. With this yarn, you'll be able to create peacock blue stripes that fade to oxford gray.
Create a Gorgeous Beanie using the C2C Stitch
There's nothing ordinary in this Glacial Beanie Ombre Crochet Pattern! Aside from its striking ice-colored ombre effect, the c2c stitch used to make the beanie is also unusual.
In fact, we are so used to seeing this stitch being used in blankets and scarves, we never thought it can also be used in beanies! Using the c2c stitch definitely gave it a different look.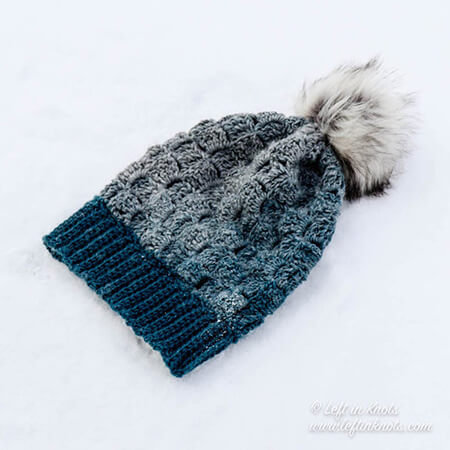 The c2c stitch also has a huge effect on the direction of the ombre effect created by the yarn. Instead of the usual vertical or horizontal fade, the colors of this crochet beanie fade diagonally.
So are you ready to create your own stunning and warm glacial beanie ombre crochet pattern?
Skill Level
Advanced beginner
Gauge
One C2C square is about 1" x 1"
Materials Needed
Approx. 172 yards of Lion Brand Scarfie Yarn Teal/Silver
J/6.0mm crochet hook
Scissors
Yarn needle
Optional Faux fur pom or pom pom maker
Finished size
Length = 11.5
Width = 9"
Stitches Used
Chain
Slip Stitch
Single Crochet
Triple Crochet
Share Your Crochet Ombre Pattern Beanie to the Community!
Don't let the winter season stop you from spending your downtimes outdoors! Keep yourself warm yet still fashionable with this glacial beanie ombre crochet pattern.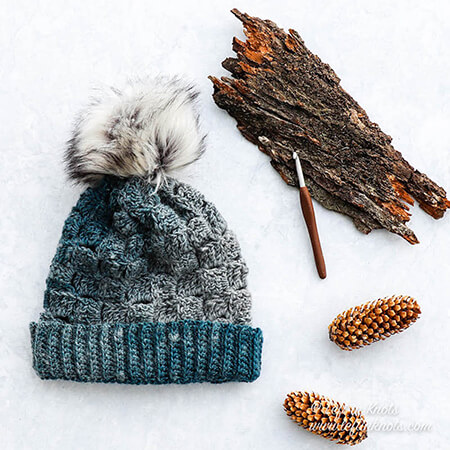 We're sure other crocheters in the community will love seeing your ombre crochet project. Don't forget to share a little bit about your work and its final output on our Facebook page! If you want more head accessories, also see our collection of Slouch Beanie Patterns, Brim Hat Crochet Patterns, and Cap Crochet Patterns.
Did you fall in love with the design you're able to create using the c2c stitch? You can also make this gorgeous blanket pattern that uses the same stitch!
We hope with this glacial beanie ombre crochet pattern, you'll be able to enjoy your outdoor trips this winter!