The giant beasts of the past will always astonish and draw in that geeky love. Whether for a little tyke that's developing their very first mastery of esoteric knowledge or an adult that still holds onto the fascination of the prehistoric rulers of the world, these crochet T Rex patterns are a perfect treat to your dinomania!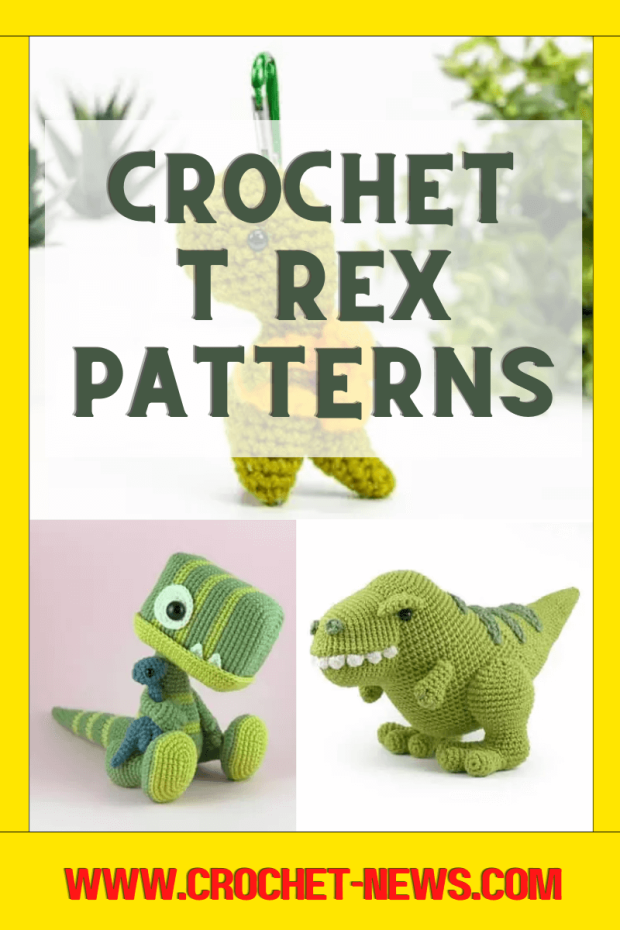 15 Crochet Tyrannosaurus Rex Patterns
There's a reason the Tyrannosaurus rex is considered the 'king' of dinosaurs. Not only was the T-Rex one of the biggest carnivores of the Cretaceous period, but it was strong, fast, and smart to boot. Check out my pick of great garments, terrific toys, and amazing accessories — all inspired by this ferocious predator. I think they're T-rexcellent!

1. Free T Rex Amigurumi Pattern by Amigurumi Today
This T Rex Dinosaur Amigurumi Pattern is just what you need to create a unique gift. The amigurumi T Rex's authentic coloring and excellent detailing will please even the most particular future paleontologist.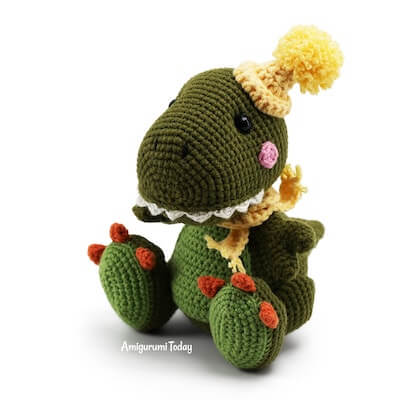 Get the Pattern here

2. Crochet T Rex Backpack Buddy Pattern by The Loopy Lamb
A keychain sized t-rex can easily hang from a child's backpack with the addition of a carabiner. The t-rex also has a backpack of his own – how precious! The adorable little backpack is actually functional, so it's the perfect place to store little notes of encouragement for your kids before you send them off to school.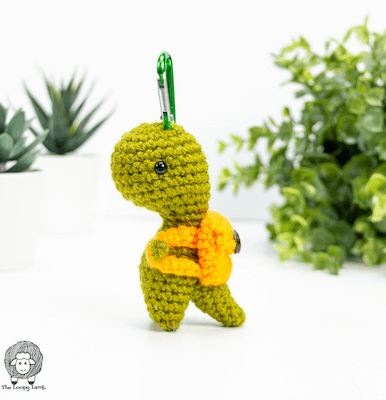 Get the Pattern here

3. Terrifying T Rex Crochet Pattern by Spin A Yarn Studio
These little T-Rex buddies are unique amigurumi made in the ragdoll-style; separate pieces worked in flat rows and joined together to give it that charming and distinctive 2-D appearance. That's a real win for crocheters who are new to crocheting stuffed animals! And it certainly doesn't make them any less adorable than their round counterparts.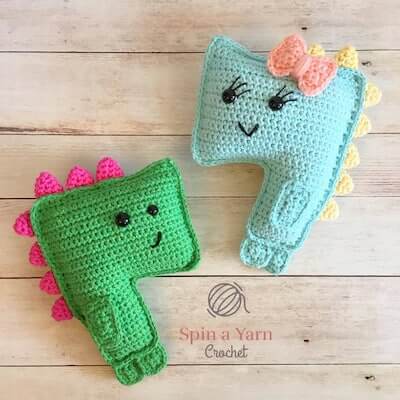 Get the Pattern by Spin A Yarn Studio here

4. Emmett, The Tyrannosaurus Rex Crochet Pattern by Overton Fancies
Emmett is an adorable little (big) dinosaur. He is just over 6 feet long and the perfect stuffed buddy to cuddle with while reading a good book or watching TV. His head is made just the right size for a pillow and a high-density foam is used so the little ones can ride on him without worrying about squishing his stuffing. While this pattern is large, it is not that complex.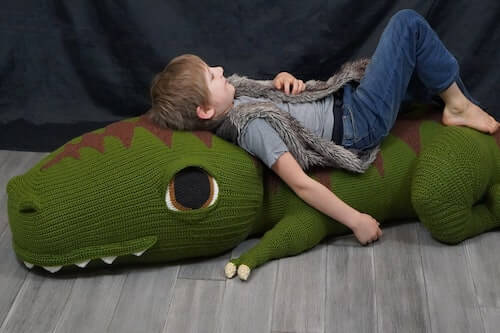 Get the Pattern by Overton Fancies here

5. Crochet T Rex Amigurumi Pattern by Elena's Times
This T-Rex is nothing less than incredible. They're a little scary too! For anybody interested in recreating a semi-realistic dinosaur without any sharp edges, this project offers tons of customizability and a fully-fledged inner skeleton so they can be put on display as well.
Get the Pattern by Elena's Times here

6. Tiny T Rex Amigurumi Pattern by Sweet Softies
If you're looking for that quick, easy, no sew amigurumi to crochet in just 30 minutes, here's the one for you! It's a real crowd pleaser as it's an adorable instant-gratification project that can be great for gifting or as a craft fair product. You're going to want to make one of each color! Tiny-Rex, the Pocket Dino is the cutest little T-Rex you'll ever meet!
Get the Pattern here

7. Terrific T-Rex Crochet Children's Sweater Pattern by Bella Coco Crochet
This sweet sweater keeps things simple, but adds a fun twist with a T-Rex motif that children will love. I hope you agree that it's a dino-mite design!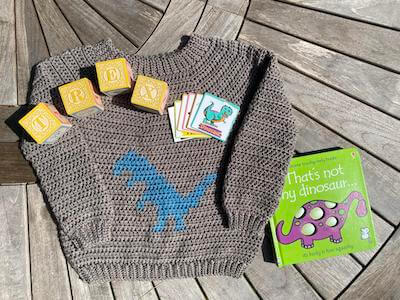 Get the Pattern here

8. Travis, The T Rex Crochet Pattern by Little Green Bear Shop
I love the goofy smile of friendly Travis, the T-Rex, who's sure to bring a grin to the face of children and adults alike. Travis looks like he's up to something sneaky, which will make him a fabulous gift for any little troublemaker. At only 8-inches tall, he's a pocket sized friend with a personality much larger than his miniature body.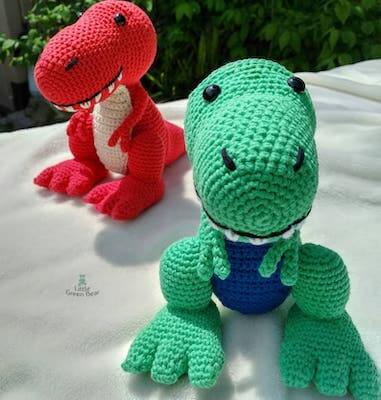 Get the Pattern by Little Green Bear Shop here

9. Titus, The T-Rex Crochet Pattern by DIY Fluffies
Some intermediate to advanced skill is needed to craft your very own Titus, a cartoon-style dino with a chunky body and a mouthful of sharp teeth. More friendly than ferocious, this soft and squeezable T-rex is great for giant hugs.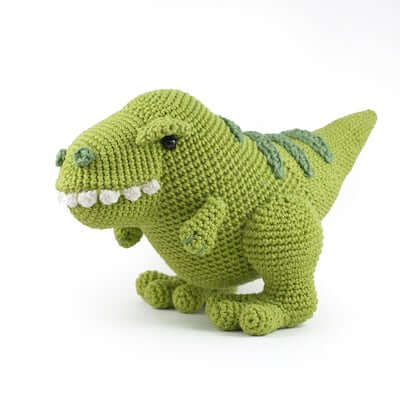 Get the Pattern by DIY Fluffies here

10. Crochet Baby T-Rex Dinosaur Blanket Pattern by But First Crochet
This adorable baby T-rex Dinosaur Baby Blanket is the perfect baby shower or birthday gift! It works up quickly and is sure to be a crowd-pleaser. This crochet dinosaur blanket pattern is the perfect addition to the nursery or kid's bedroom. The size is ideal for a newborn, toddler, or as a security blanket.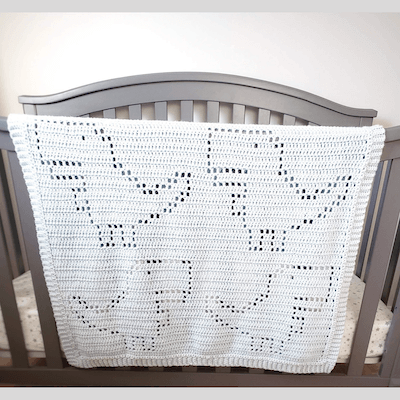 Get the Pattern here

11. Crochet Baby T-Rex Pattern by Maja Hansen
The Tyrannosaurus Rex may be the most dangerous dinosaur of them all — but this little baby refuses to be a tyrant. He just wants to cuddle with his diplodocus teddy.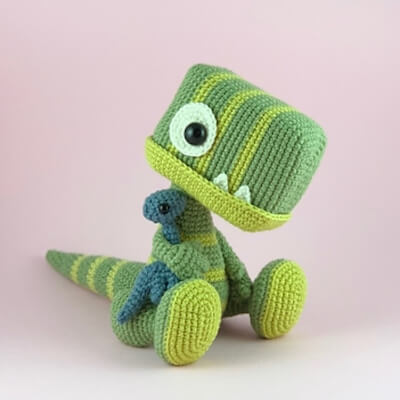 Get the Pattern here

12. Crochet T Rex Amigurumi Pattern by Delicious Crochet
Is your back yard big enough to shelter another pet? Don't be afraid of the mean look on his face, because this t-rex is very sweet and gentile. And he won't bite you either, unless you forget to feed him with lots of love and hugs!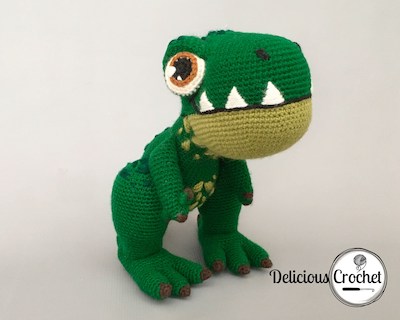 Get the Pattern by Delicious Crochet here

13. Walter, The T Rex Crochet Pattern by Sarah Dee Crochet
Walter, the T-Rex isn't a carnivorous predator like its prehistoric relative, but you can bet he is always on the hunt for hugs. He is the fiercest snuggler in all the land. With a manageable size of 11 inches, this cretaceous-era cutie is the perfect buddy to take on any adventure.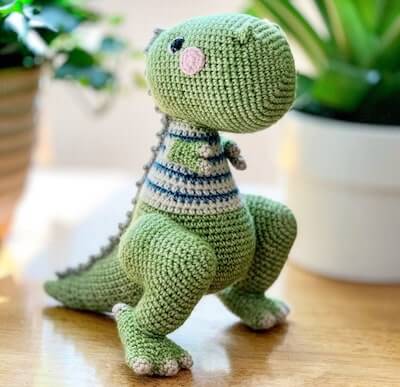 Get the Pattern by Sarah Dee Crochet here

14. Tee Rex Shirt Crochet Pattern by Made In The Moment Shop
Bigger dinosaur fans don't need to miss out on the fun. Show off your love for a prehistoric Tyrannosaurus rex that once roamed the Earth! Feel prehistoric yet comfy with this t-shirt!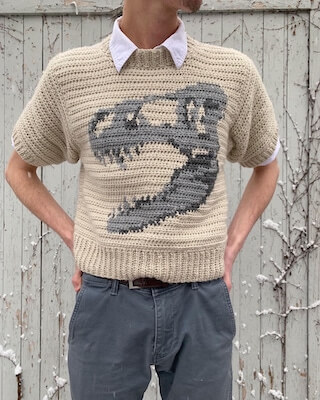 Get the Pattern by Made In The Moment Shop here

15. Crochet T-Rex Applique Pattern by Maria's Blue Crayons
T-rex is the king of all dinosaurs and hearts when you stitch out this majestic creature on all of your prehistoric projects! You can attach it to a blanket, but I think this "ferocious" little guy is the perfect touch for your little one's outfit. Not too baby-ish, not too scary!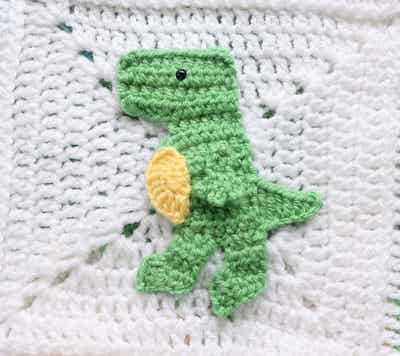 Get the Pattern here
Crochet T Rex Patterns Frequently Asked Questions
Is amigurumi the same as crochet?
Amigurumi is inspired by Japan's 'kawaii' culture. The main distinction here is that amigurumi is more than just crocheting. Crochet or amigurumi are two options. Furthermore, amigurumi is all about creating collectibles and keepsakes, such as a cute T-Rex amigurumi!
What is the easiest amigurumi to crochet?
Which projects are easiest to make depends on the specific pattern and how they are put together. Look for things like whales and chibi-style animals that are made out of simple shapes and don't have a lot of detail.
Can beginners crochet an amigurumi T-Rex?
Yes! Some amigurumi patterns are beginner-friendly. They use simple stitches – most patterns are crocheted using single crochet. For amigurumi, you will need to learn the magic circle (which is difficult to get the hang of initially but with some practice you will get it), single crochet, increases, and the invisible decrease.
How long does it take for beginners to learn crocheting dinosaurs?
It will take a few months to crochet dinosaurs for novices. Nonetheless, the basic stitches can be learned in a day or week, including the magic ring, single crochet, increase, and invisible decrease.
LET'S BRING THIS KING OF THE TYRANT LIZARDS BACK TO LIFE WITH THESE CROCHET T REX PATTERNS!
We can't wait to see your creativity and all the different colors you folks come up with. When you complete one, please post it on our Facebook Page. We love seeing your work!
Whether or not you love dinosaurs, you might like other animals and creatures, as well. If you're on the hunt for different crochet animal patterns, then you might enjoy these other posts:
With all these crochet T Rex patterns, you can create custom dinosaurs for all the Dino fans in your life — with the comfort of knowing your custom dinosaurs won't run amok!