You have probably noticed pom pom blankets everywhere recently, whether on your Instagram feed or the shelves of your local Target. I have loved these blankets, but I haven't loved their huge price tags! The solution? These crochet pom pom blanket patterns below! Get ready to settle in.
Life is just better with pom-poms. I don't know why those small fluffy balls instantly add sunshine to the day, but they do. Whatever your style is, there's a pom pom blanket to match. And whichever you choose, the unexpected texture from the pom-poms will add a little something special to your bedroom. Here are some of my favorite crochet pom pom blankets you can make now.
You can buy pom pom maker in most craft stores, or you can learn how to make a pom pom at home yourself in no time!
10 Crochet Pom Pom Blanket Patterns

1. Celestial Moms Throw Crochet Pattern by Two Of Wands
Treat your home to this drapey throw with voluminous poms that is sure to add texture and intrigue to any space. The mesh fabric works up in no time and makes this a quick project for yourself or a gift.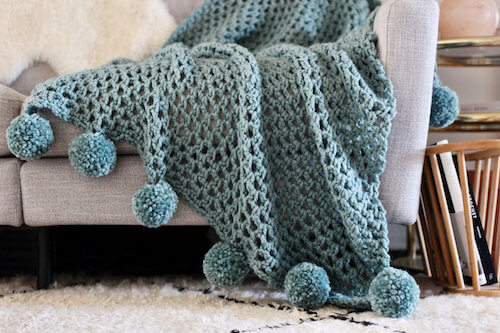 Get the Pattern here

2. Crochet Pom Pom Blanket Pattern by Pro Yarn
This Crochet Pom Pom Blanket is easy and relaxing to make, the whole blanket is made by crocheting in rows of treble stitch. The pattern is very easy and suitable for beginners and for experienced crocheters.

It's perfect to brighten up a bedroom or to keep you warm in front on the TV. The bright colors mixed with the modern grey background and pom poms make this blanket modern and fun.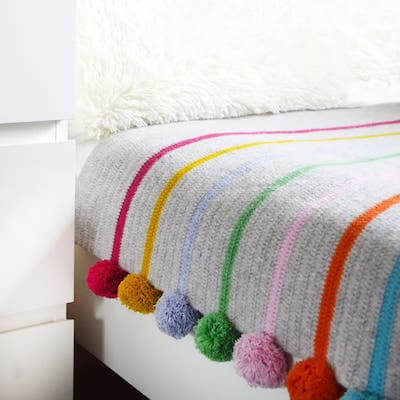 Get the Pattern by Pro Yarn here

3. Little Gems Rainbow Pom Blanket Crochet Pattern by Little Gems Craft Shop
Here's a beautiful rainbow inspired blanket full of squishiness and pom poms! Using 3 strands of Aran yarn at a time this blanket works up soooo fast and has a particular technique to blend the colors giving it a gradient feel.

Ideal for babies/young toddlers as nap blanket or car seat blanket, or just to snuggle on the sofa with! This pattern is worked up using simple crochet stitches of half treble crochet ideal for a confident beginner to more advance!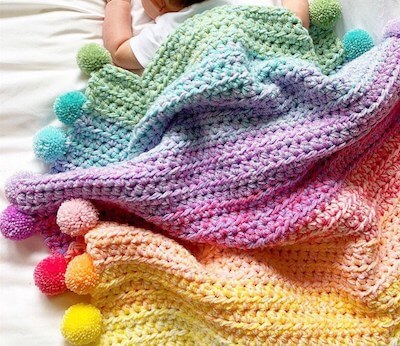 Get the Pattern by Little Gems Craft Shop here

4. Lattice Crochet Pom Pom Blanket Pattern by Yarnspirations
Want a throw in a timeless color? You can't go wrong with a cream-colored blanket with fuzzy pom poms, which is pretty much guaranteed to never go out of style.
To make this enticing blanket, combine the texture of elevated cables with a layer of fun pom poms. This toasty throw is well suited to a bedroom or your quiet space. It's a thoughtful gift throw for someone who could use a little comfort!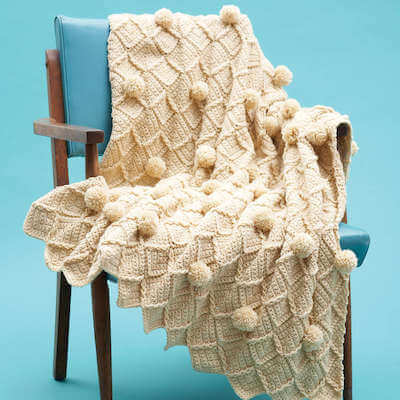 Get the Pattern here

5. The Loft Pom Pom Baby Blanket Crochet Pattern by Mama In A Stitch
This baby blanket is crocheted with the lovely "wattle stitch" which is super simple and quick to make! The blanket is not only super soft, but it's easy and works up in a flash.

Line it with pom poms to add to the playfulness, or keep it without. If you are looking for a baby blanket that will work up in no time, this is a great choice!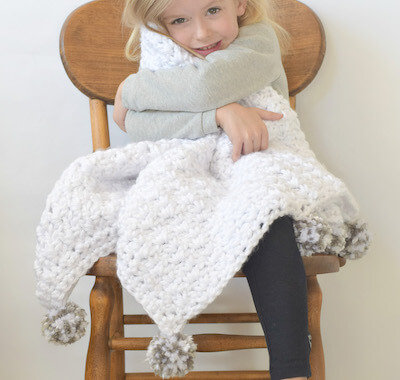 Get the Pattern here

6. Crochet Pom Pom Blanket Pattern by Daisy Farm Crafts
I do love a nice chenille blanket throw and this crochet pom pom blanket is fast and really easy. It's only two stitches and leaves you with a nice braid look across the blanket. The blanket yarn gives this weighty blanket texture and softness for a piece that's equal parts cozy and chic!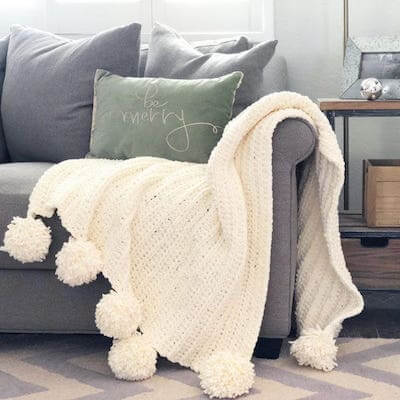 Get the Pattern by Daisy Farm Crafts here

7. Crochet Pom Pom Yarn Blanket Pattern by Hooked By Robin
If you're looking for more of a visual statement, make a blanket that doesn't just have pom poms on the edges but across the entire throw!

This Crochet Pom Pom Yarn Blanket is an excellent way to use pom pom yarn, which is commonly used in knitting, to make a funky blanket suitable for babies, toddlers, or adults. It's also perfect for spring infants or as a one-of-a-kind Easter blanket.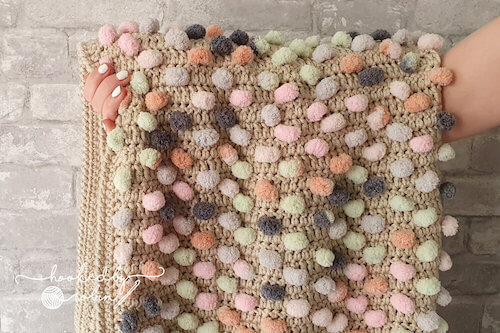 Get the Pattern here

8. Pom Pom Blanket Crochet Pattern by Darling Jadore
For those who put a premium on higgle, you need to drape this chunky blanket across the corner of your bed. Thanks to its oversized pom poms, this crocheted throw will add a wintery touch to your room, even if it's in the middle of summer.
Seamlessly crocheted flat using only simple crochet stitches and techniques, this crochet pattern is perfect for beginners looking to crochet their first blanket without any frustration. And look at those adorable pom poms on the ends!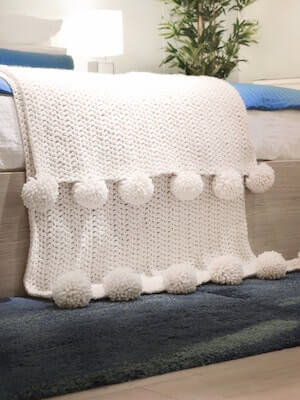 Get the Pattern by Darling Jadore here

9. Big Poms Crochet Blanket Pattern by Yarnspirations
Contrasting colored pinstripes and big bobble clusters at each end of fringed chains bring personality to an otherwise plain crochet blanket. Slip stitch, half double crochet, and treble crochet cluster techniques are used to make this luxurious throw.

Make a simple piece of furniture more interesting or add comfort to your bedding.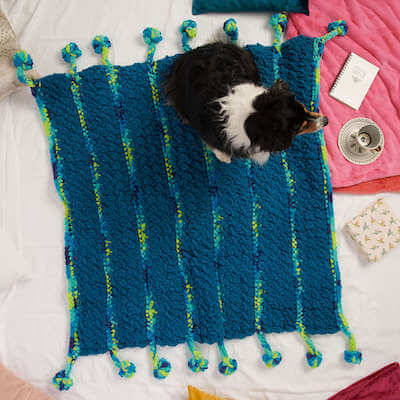 Get the Pattern here

10. Crochet Posh Pom Blanket Pattern by Kerry Jayne Designs
This sweet Crochet Posh Poms Blanket is a great crochet pattern for the beginner and the more experienced crocheter alike. It comes with an adorable little hat, too! It's perfect for any baby and can be made in any color of your choice.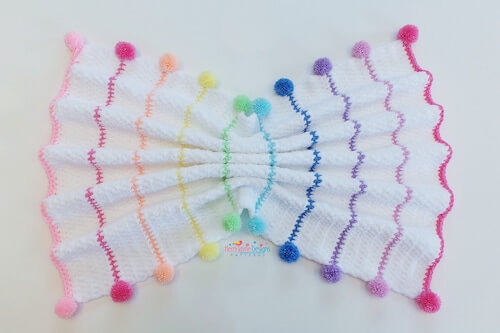 Get the Pattern by Kerry Jayne Designs here
COZY UP YOUR HOME WITH THESE CROCHET POM POM BLANKET PATTERNS!
Will you give these blankets a go? We'd love to see pics if you do! Share them with us on our Facebook Page.
When it comes to crochet blanket patterns, there's no reason that you have to stick with the traditional. For more fun and modern crochet blankets, check out these round ups for stylish new ways to hook up a stunning blanket.
What are you waiting for? Make your pom pom dreams come true with these crochet pom pom blanket patterns!