If you're overwhelmed by crocheting, start by choosing a simple project that comes together quickly. A crochet patchwork blanket creates an impressive blanket.
But it's easy to do since it's made by crocheting individual squares and sewing them together. In this list, I've curated 15 of the best crochet patchwork blanket patterns from various designers, including several free patterns.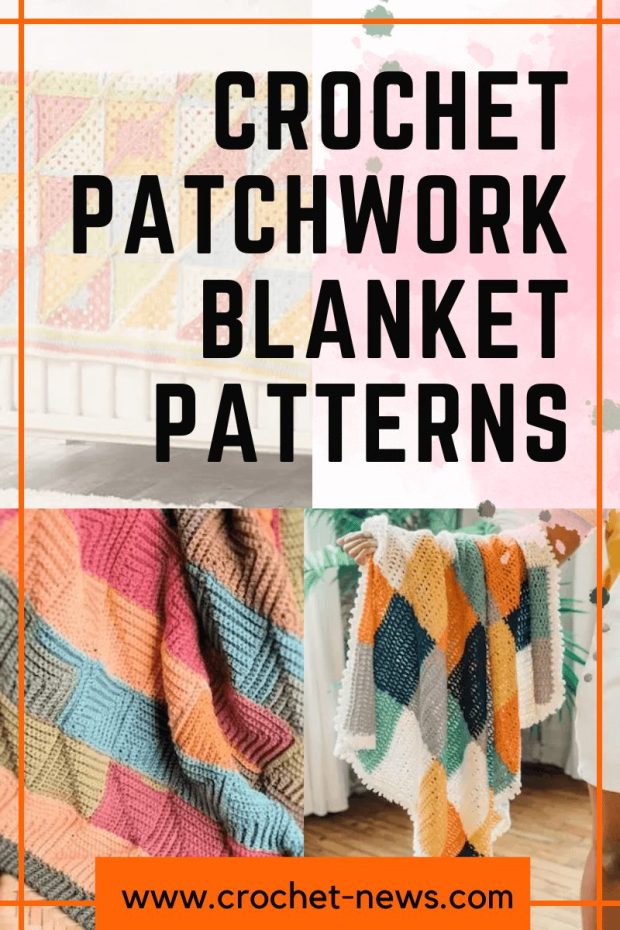 Liven up your room with these bright and colorful patchwork blanket crochet patterns
These projects can be very simple, but they're also great patterns to exercise your inner designer as the creative possibilities are endless. You can customize the size, color, and stitchwork of each patch without having to worry about making mistakes on the blanket as a whole.
It can be as easy or as difficult as you'd like! These projects also make a great yarn stash busters giving you the versatility to play around with colors and layout.

1. Crochet Modern Patchwork Abstract Blanket Pattern by Red Heart
Liven up a room with the contemporary beauty of this timeless crochet blanket. This pattern features 2-color granny squares that mimic half square triangles.
This abstract throw pairs well with a neutral color palette, but you can explore shades for a custom version you prefer. The pattern features solid crochet granny squares worked in turned rounds, plus 2-color granny squares techniques.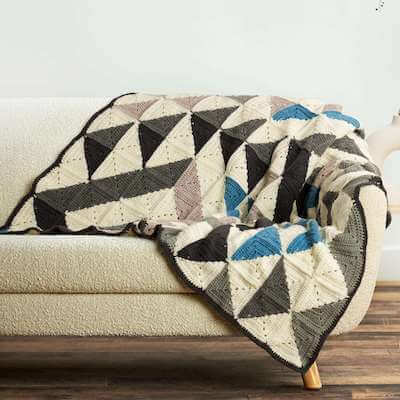 Get the Pattern here

2. Plaid Crochet Patchwork Blanket Free Pattern by Whistle And Ivy
This Crochet Plaid Patchwork Blanket is made up five different squares that come together into a beautiful patchwork blanket. Mix and match the different squares to customize this blanket just for your tastes.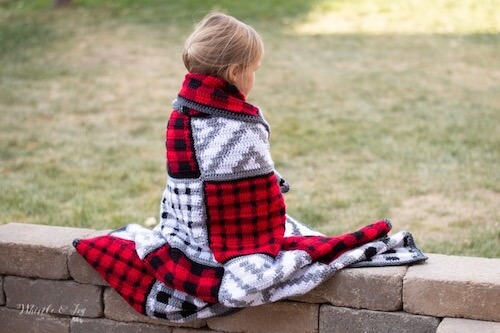 Get the Pattern here

3. Billow Cable Easy Crochet Patchwork Blanket Pattern by Han Jan Crochet
This Billow Blanket is a stunning patchwork blanket crochet pattern that's quick easy and fun to crochet too! Constructed from 4 long rectangles of half double crochet stitches (2 of which have an optional easy crochet cable stitch running through them), you don't have lots of squares to join at the end, only a couple of long panels and you're done!

A wonderful piece of crochet home decor to add to your collection, a great yarn stash buster project and a beauty as a baby blanket too. The pattern includes a colour planning chart for you to plan ahead and customise yours to match your home and style perfectly.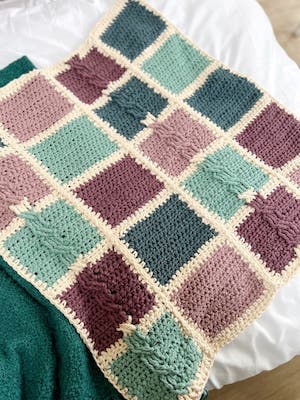 Get the Pattern by Han Jan Crochet here

4. Big Heart Crochet Patchwork Blanket Pattern by Julie Harrison
This Big Heart Blanket would make a gorgeous gift for a child or baby. It is made utilizing the tapestry crochet technique, creating a patchworked effect that is fully reversible and allows for endless colour play opportunites! This is an easy technique to master and uses only basic crochet stitches so would be a great project for a beginner looking to extend their skills.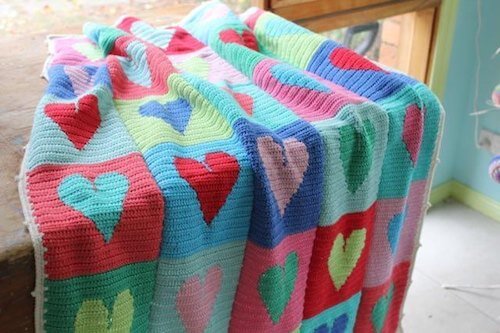 Get the Pattern by Julie Harrison here

5. Crochet Puff Quilt Blanket Pattern by Sass And Stitch Crochet
Create this heavy-weight, quilt-like crochet blanket with just one simple stitch and simple seaming techniques! This quilt has also been designed to be a slow make.
This takes a lot of time. Its not something you can work up in a week. But there's something so rewarding about putting so much time and effort into such a beautiful make.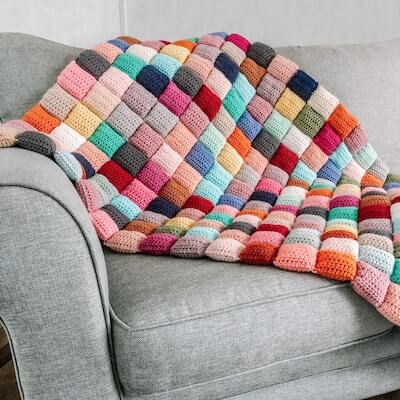 Get the Pattern by Sass And Stitch Crochet here

6. Homestyle Crochet Patchwork Blanket Pattern by Of Mars
Here's an easy crochet patchwork blanket inspired by all the sampler quilts we've seen out in the world. It's made using simple granny squares sewn together. It's one of those blankets you quickly memorize the pattern of and are able to make it easily while watching Netflix on the couch.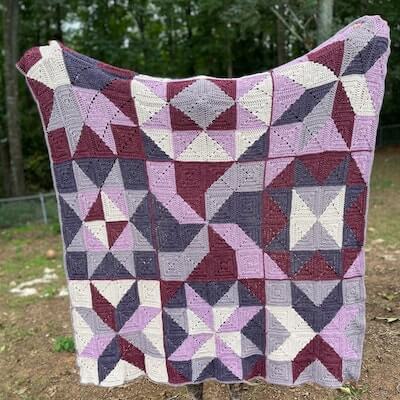 Get the Pattern by Of Mars here

7. Crochet Patchwork Blanket Pattern by Yarnspirations
Worked in the easy-to-master single crochet stitch, this beginner-friendly crochet blanket is a breeze to make. With simple color changes along the way, the shades come together in a colorful patchwork that is sure to please.

A perfect on-the-go project, this quaint throw is worked in panels and then seamed together with visible whip-stitched seams to showcase your handcrafting skills!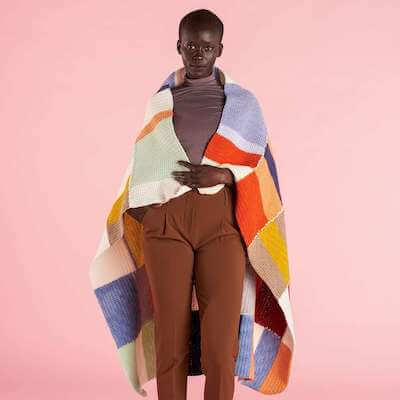 Get the Pattern here

8. Crochet Quinn Blanket Pattern by TLYarn Crafts
Ready to win the baby shower? Try this free pattern for a beginner-friendly crochet baby blanket! This Quinn Blanket is constructed using a unique join-as-you-go method for double crochet stitches. Build your blanket with a planned color palette or try a little stash busting for a truly special afghan.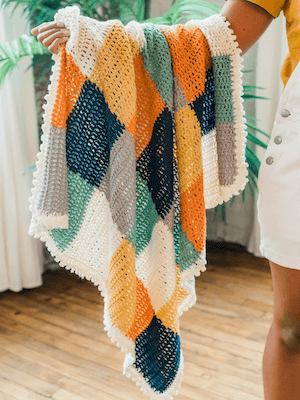 Get the Pattern here

9. Modern Patchwork Throw Blanket Crochet Pattern by Mj's Off The Hook Designs
This Modern Patchwork Throw is a large cozy throw blanket that fits along the bottom of a king size bed (shown in pictures). The finished size is 86" x 65". A handy chart is included for twin to King comforter sizes. it's an easy C2C crochet pattern and works up quickly!
Get the Pattern by MJ's Off The Hook Designs here

10. Tunisian Crochet Patchwork Blanket Pattern by Smiley Goose
This Tunisian Crochet Blanket is a fun patchwork design that would look great in several different color combinations. It's made 1 panel at time and subsequent blocks are made off the initial panel. You will only have 20 stitches on your hook at a time making this blanket more manageable.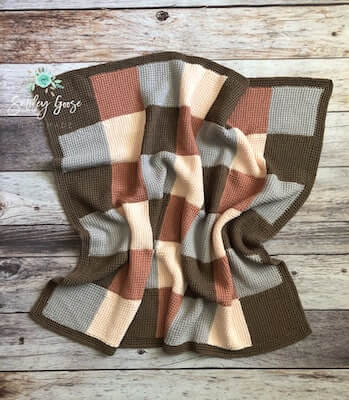 Get the Pattern by Smiley Goose here

11. Crochet Stargazer Blanket Pattern by Emma Varnam
This crochet pattern creates a beautiful and colourful patchwork pattern using granny squares.
I have always been inspired by the geometric patterns of traditional patchwork and this pattern recreates the tradition quilt motif in yarn.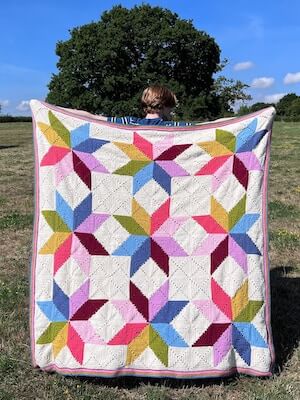 Get the Pattern by Emma Varnam here

12. Crochet Pippa Patchwork Blanket Pattern by Little Doolally
Crochet your own Pippa Patchwork Blanket — a wonderful blanket to make for a adult or child a like. Country style to suit many modern tastes, this blanket would be perfect for many chairs, beds or cots. Included is a full photo tutorial with written instructions, picture charts for the flower panels and step by step tutorials for any special stitches.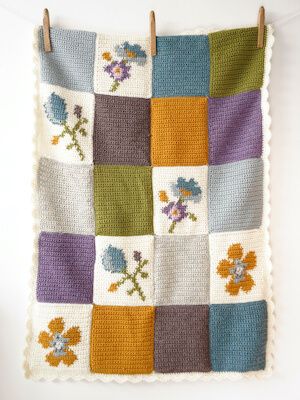 Get the Pattern here

13. Crochet Log Cabin Blanket Pattern by Princely By Marilyn
This crochet blanket design is reminiscent of popular log cabin quilts. Grab all your leftover worsted weight yarns and crochet yourself this easy to make blanket.
Done entirely in HDC, this simple but elegant stitch pattern creates a squishy texture that you want to snuggle up in, and it's reversible. The log cabin pattern starts in the center and works outward, allowing you to create a blanket any size you want.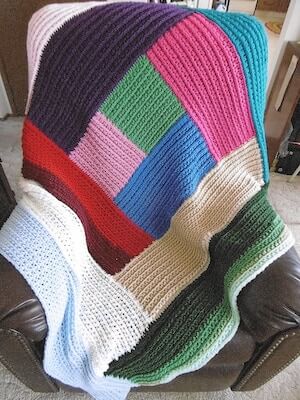 Get the Pattern by Princely By Marilyn here

14. Crochet Modern Patchwork Throw Blanket Pattern by Three Needles Shop
This interesting throw is a great way to bring dynamic energy to a room. Using a yarn with a long self-striping sequence, you can enjoy the color changes of these join-as-you-go mitered squares without snipping and adding new yarn!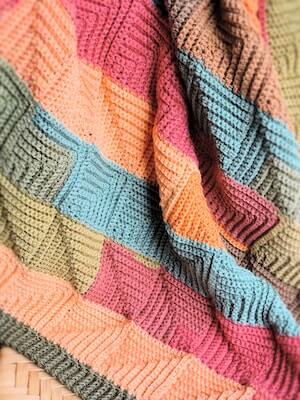 Get the Pattern by Three Needles Shop here

15. Granny Triangle Patchwork Crochet Blanket by Yarnspirations
An easy crochet patchwork baby blanket that's bright and colorful. The triangular motif of this patchwork blanket creates a fun geometric look for this blanket.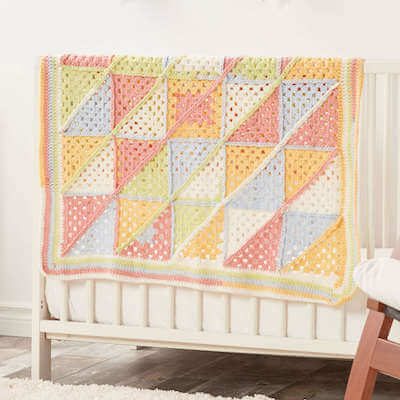 Get the Pattern here
CHOOSE YOUR FAVORITE, I'M SURE YOU'LL LIKE AT LEAST ONE CROCHET PATCHWORK BLANKET!
Other blankets that make great crochet yarn stash buster projects:
I look forward to seeing your finished projects, so please share them with us on our Facebook Page!
Have fun crafting these crochet patchwork blanket patterns. I can't wait to pick some of my favorite colors for my next one!