These stylish chevron crochet blanket patterns are bound to be your new favorites! Crocheting basic stitches can be fun, but if you need a little challenge, make your own chevron blanket.
The chevrons are very bold and striking as each top and low point is very sharp compared to other ripple or wave tutorial out there.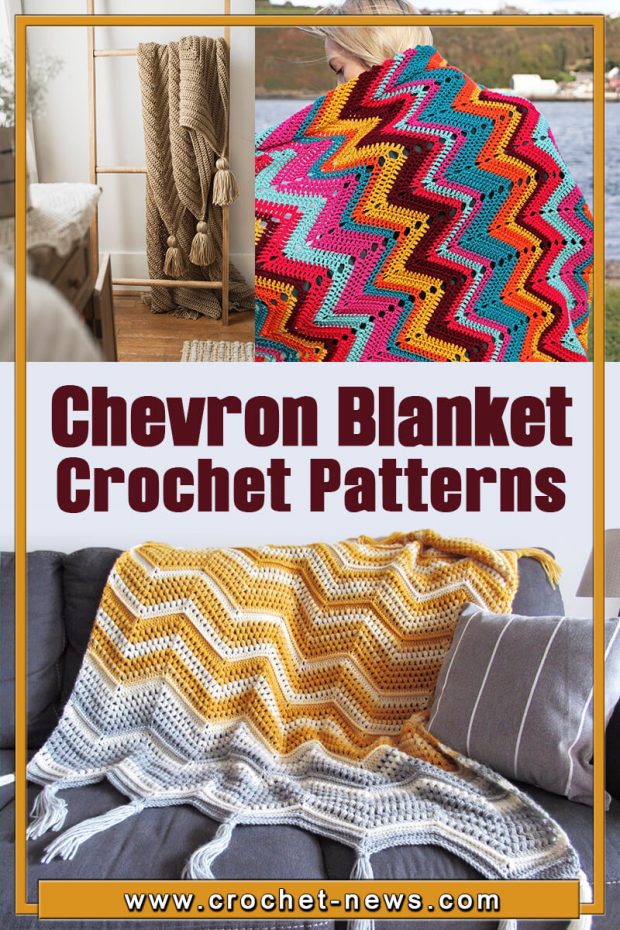 15 Crochet Chevron Blanket Patterns
By alternating simple stitches, you'll create a blanket with the classic peaks and valleys or ripple shapes. It's a great classic blanket that's easy to customize. Use soft yarn for a baby blanket or crochet with different colored yarn to make the chevrons stand out.

1. Baby Blanket Free Crochet Chevron Pattern by Yarnspirations
This free crochet chevron pattern a simple chevron baby blanket. It's a suitable pattern for more advanced beginners and works up fast using chunky, self-striping yarn.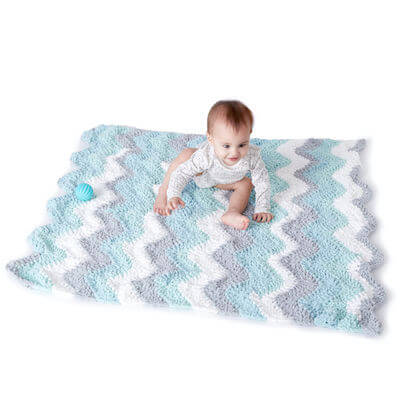 Get the Pattern here
2. Crochet Chevron Pattern With A Twist Blanket by This Pixie Creates
Crochet this cozy Chevron with a Twist blanket to snuggle up with on breezy summer evenings! The puff stitch, double crochet, and front post double crochet stitches are used to create tons of texture and visual interest.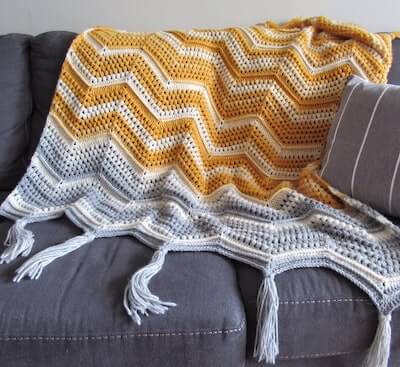 Get the Pattern by This Pixie Creates here

3. Chevron Pattern Crochet Puff Blanket by Crafting Friends Design
This Chevron Pattern Crochet Puff Blanket has a simple yet beautiful texture to it giving just the right amount of eye catching pop to any room.
For those who don't like the chevron edges, this pattern cleans it up for you by working a straight foundation and final row to give it a square or rectangle shape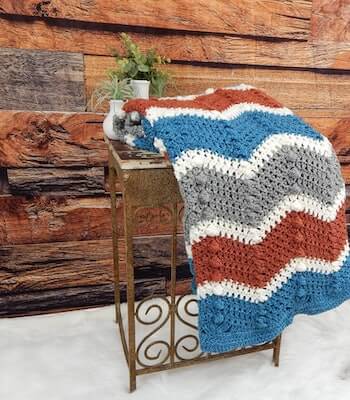 Get the Pattern by Crafting Friends Design here

4. Crochet Chevron Throw Blanket Pattern by The Hat And I
Inspired by the fun, colorful balls of sock yarn – because some yarn is just too pretty for your feet! Each chevron strip will use up 1 ball of sock yarn.
The guys will also love this one for its muted colors, no lacy holes, it's big enough to snuggle under, and it's completely reversible – it's a man-ghan!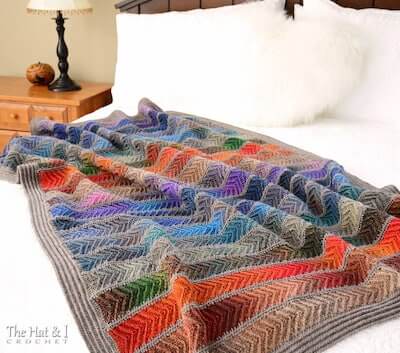 Get the Pattern by The Hat And I here

5. Grande Chevron Crochet Blanket Pattern by Megmade With Love
This is a crochet pattern for the Grande Chevron Blanket, a simple and textured oversized chevron throw. It's got a classic look, and will make any room in your house cozy.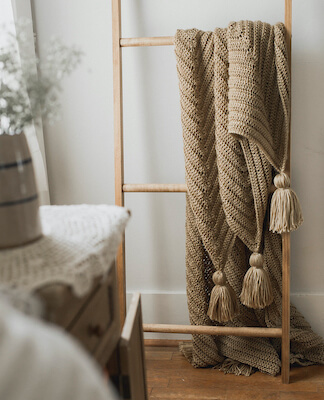 Get the Pattern here

6. Dragonfly Chevron Baby Blanket Crochet Pattern by Pattern Paradise
We can't seem to get enough of these adorable little dragonflies! This free crochet chevron pattern features the little critters in a sweet chevron design.
It is worked it in 4 colors but really it would look great with any number of colors or even in one solid color to show off the texture.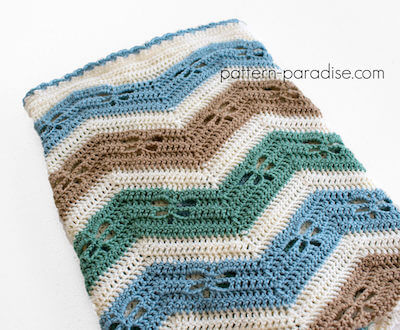 Get the Pattern here

7. Easy Chevron Crochet Blanket Pattern by My Crochet Place UK
This Chevron Party Blanket is the perfect blanket pattern for a summer baby and is also a fabulous stash busting pattern. The bobbles and technique of working through the back loop of stitches creates a beautiful texture.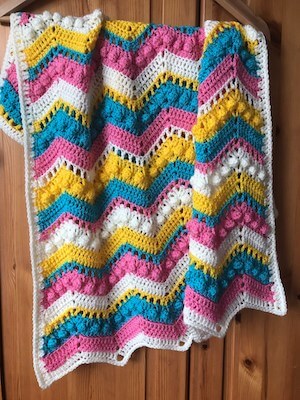 Get the Pattern by My Crochet Place UK here

8. Crochet Chevron Retro Blanket Pattern by Annie Design
Indulge your inner Flower Child with this modern take on 70's Retro Crochet! This pattern for a Crochet Chevron Retro Blanket will give you all the vintage vibes, and will be a bright colorful addition to your home.
Once you have the first few rows established, it is an easy one-row repeat pattern! There is no border so your blanket will be ready to use straight away!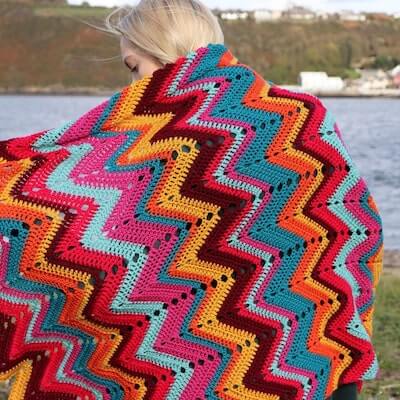 Get the Pattern by Annie Design here

9. Basketweave Chevron Blanket Crochet Pattern by Crafting Friends Design
We've seen the Basketweave, we love the texture, but now, you can enjoy it in a new Chevron design! This Basketweave Chevron Afghan Crochet Pattern is a unique design to enjoy for years to come.
With the warmth and texture of this stitch and the ability to use a variety of colors, this is a perfect design to use for photo props!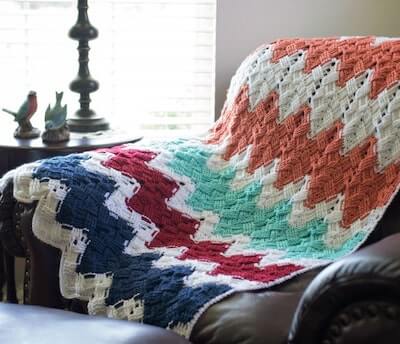 Get the Pattern by Crafting Friends Design here

10. Chevron Baby Blanket Crochet Pattern by Red Heart
A lovely chevron pattern is soft in gentle shades, while the finished edge is wavy for a fluid design that blends effortlessly into any space. Choose 2 colors and stitch up the perfect crochet baby blanket for your child. This project is a favorite among modern moms, loved for its style and silky soft finish.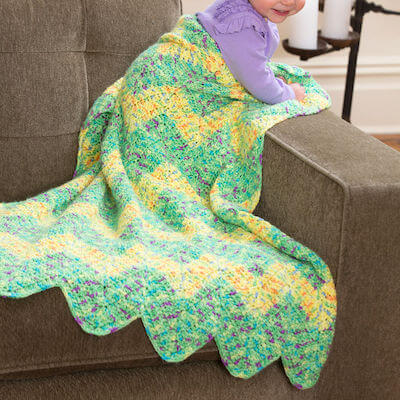 Get the Pattern here

11. Easy Peephole Chevron Crochet Blanket Pattern by Sigoni Macaroni
This pattern will show you how to crochet this easy, Peephole Chevron Crochet Blanket. This is a free crochet pattern using double crochet stitches in the back loop only to create a beautiful texture.
This lightweight baby blanket would be the perfect baby shower gift and you're going to love working on it.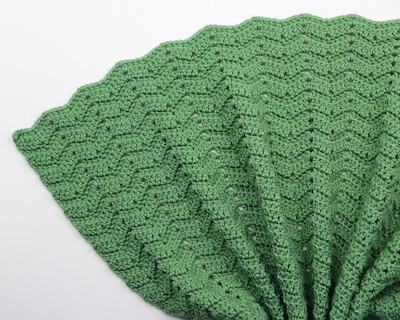 Get the Pattern here

12. Chunky Crochet Chevron Blanket Pattern by Christa Co Design
This Chunky Chevron Blanket gives this classic crochet chevron pattern some pizzazz with metallic sparkle and pops of color. Crochet this throw blanket up in 4 hours or less with #7 jumbo yarn.
This chevron crochet blanket is perfect for relaxing on the couch with your favorite show or snuggled up with your little reading buddy.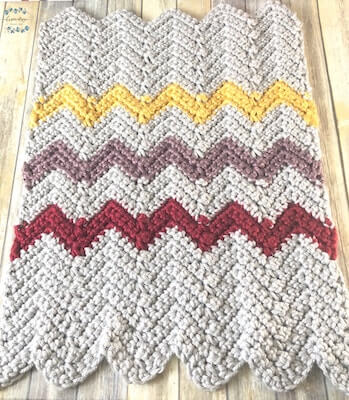 Get the Pattern by Christa Co Design here

13. Mountain Hideaway Crochet Throw Pattern by Only As Brave
Crochet this loop stitch chevron throw which is just the right size for keeping warm while curled up on the sofa. Perfect for intermediate crocheters or confident beginners looking for an interesting, textured crochet blanket project.

This pattern uses a worsted weight yarn held double to make a warm, snuggly throw. The use of one colour throughout the project makes for a modern look while the stripes of crochet loop stitches add a hint of retro vintage.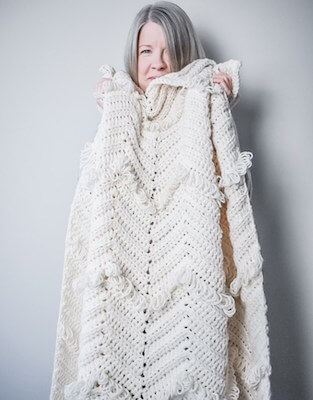 Get the Pattern here

14. Loopy Chevron Blanket Crochet Pattern by MJ's Off The Hook Designs
Bundle up and stay cozy in our Loopy Chevron Stitch Blanket! Loop stitches add texture and a fun element to this blanket. Blanket is worked holding together 2 strands of worsted weight yarn for a bulky warm throw.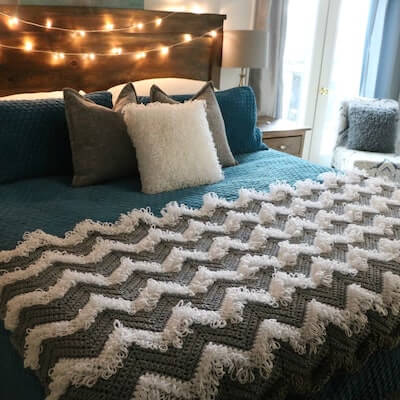 Get the Pattern by MJ's Off The Hook Designs here

15. Pillows And Blanket Set Chevron Crochet Pattern
Crochet Chevron patterns look a lot more complicated than they really are so they crochet up really fast and yet look striking enough to impress your friends and visitors. Once you quickly have the pattern memorized you can relax and enjoy it.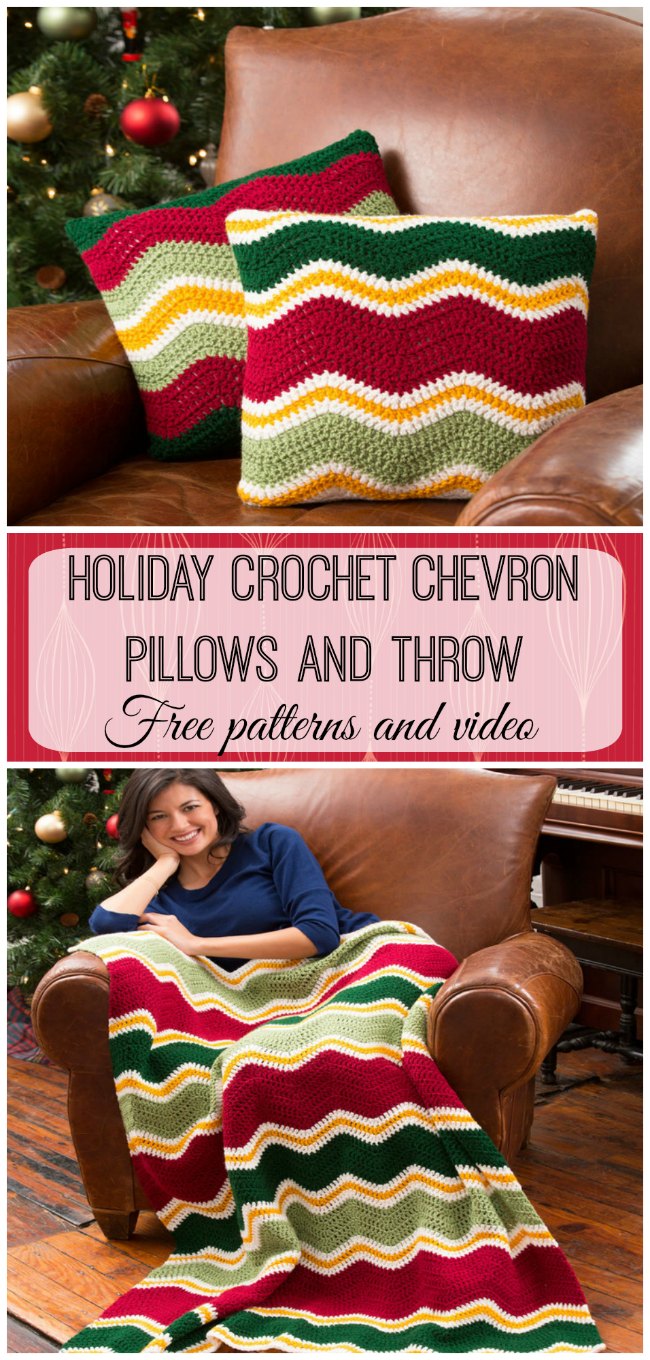 Popular crocheter and Red Heart representative, Marly Bird teaches you how to crochet these Holiday Chevron Pillows for holiday decoration. You can change the colors of Super Saver to make another version.
That will look great in your living room all year. Even better, if you have more time on your hands there is also a matching chevron throw. There are free patterns for both.
And we love the Red Heart site because it makes it SO easy to get exactly the right supplies in one click. For simplicity and convenience, you just can't beat it. A full crochet kit arrives at your door ready to work on, and at a great price too.
Also see Bernat Crochet Pillow Pattern and Crochet Pillow Patterns for more options.
More Christmas Crochet Patterns Here
THESE CHEVRON CROCHET BLANKET PATTERNS ALSO MAKE A FANTASTIC GIFTS FOR ANYONE IN YOUR LIFE. ESPECIALLY IF THEY LOVE CHEVRONS AS MUCH AS YOU DO!
Let us know if you'll be trying out these chevron crochet blanket patterns and what modifications you make to them by sharing your finished blankets on our Facebook Page!

Are you kinda digging this blanket thing? We've got a lot more for you to make! Check out our Bernat Blanket Yarn Crochet Patterns, Crochet Ripple Blanket Patterns, Chunky Crochet Blanket Patterns, Rainbow Blanket Patterns, Modern Crochet Blanket Patterns, Crochet Star Blankets, Crochet Queen Size Blanket and Heart Crochet Blanket Patterns.
Or learn more about crochet chevron stitch with this Raised Chevron Stitch Crochet Tutorial.

Chevrons crochet blankets have been all the rage in the crochet world – and for a good reason!