Lego is by far the most beautiful of toys – versatile, colorful and fun. And to have a lego blanket? Kid-dream come true, I'd say! Whether you've got a novice builder or a seasoned brickhead, wrapping up in a crochet lego blanket is a surefire way to please!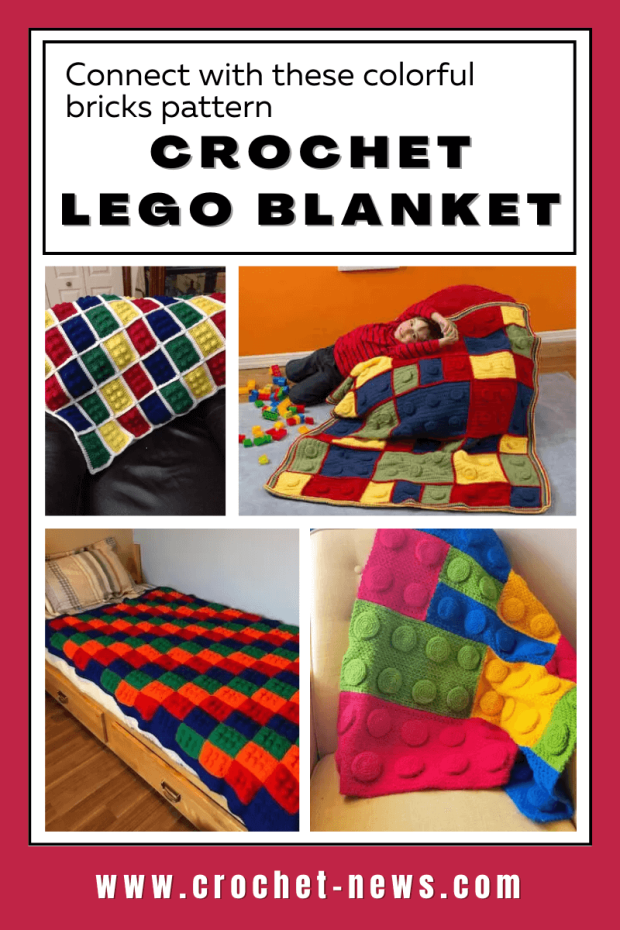 Are you a Lego enthusiasts? Or maybe you would like to connect your own admiration for these colorful bricks with your crafting hobby? Either way, these crochet lego blanket patterns are certainly going to be a real treat for you! Don't forget to play with the colors!
10 Crochet Lego Blanket Patterns

1. Crochet Building Blocks Throw Pattern by Red Heart
This crochet throw is vivid and inspired and brings lots of play value to any child's room! Stimulate imaginations by crafting in primary shades as shown, or change up the colors to coordinate with your room's décor.
Squares and rectangles are stitched separately and joined together, while dots are later crafted and sewn on to complete each block.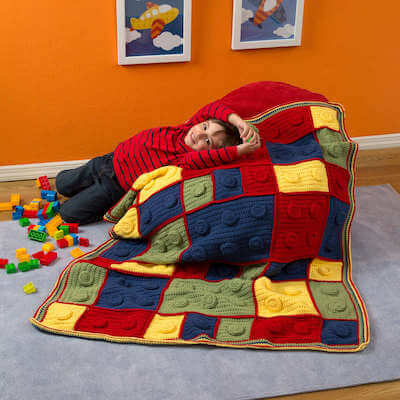 Get the Pattern here

2. Crochet Lego Block Blanket Pattern by Bethany Miller
This pattern includes instructions and chart to make a 3D block blanket. This pattern can be adapted for various sizing, and includes instructions for baby blanket and throw sizes.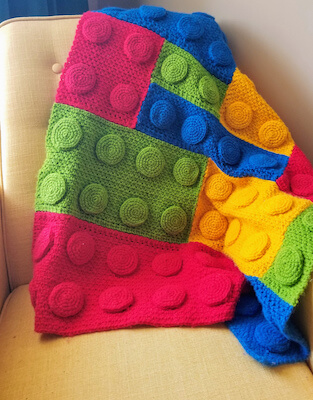 Get the Pattern here

3. Crochet Block Blanket Pattern by Craft A Boo
This Crochet Block Blanket pattern is simple, fun, and the possibilities are endless! Make one block, or make a whole blanket, it's really up to you! Either way, this Toy Block Themed Crochet project is going be an awesome gift for birthdays, Christmas, or a new baby!.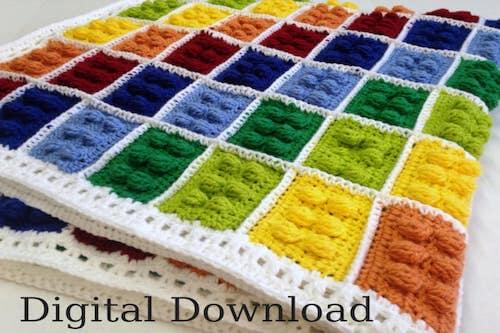 Get the Pattern by Craft A Boo here

4. Crochet Lego Building Block Blanket Pattern by The Poised Gypsy
Using approx 3000 yds of weight 5 yarn, you can crochet a beautiful blanket any little building block fan will love! The pattern is easy even for beginners. This blanket fits across the top of a twin bed as seen in the picture.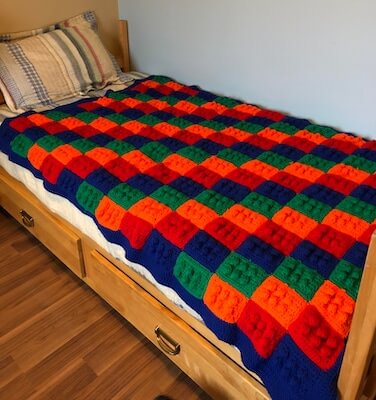 Get the Pattern by The Poised Gypsy here

5. Crochet Building Block Blanket Pattern by Stitch Away Crochet
This is an awesome pattern if you prefer to work in smaller blocks and join those pieces together for a finished blanket, which I sometimes find easier than working with a lot of stitches at once. This is also a great stash buster project that you can use to work through all the bits of yarn you have leftover.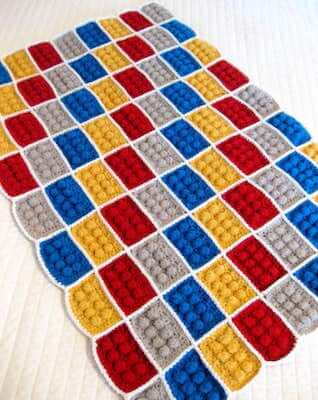 Get the Pattern by Stitch Away Crochet here

6. Crochet Lego Blanket Pattern by Eva Ferrebee
These Lego blocks are really popular. Using the bobble stitch, you can make an adorable crochet lego blanket for yourself or a child — just whip up these motifs in varying colors and stitch them together!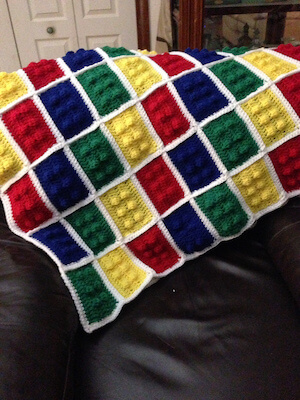 Get the Pattern here

7. Emmet Lego Crochet Blanket Pattern by Celine Beaupre
Any Lego Movie fan would love an Emmet blanket. The graph can be used to complete blanket in corner to corner method, graphgan or even needle point.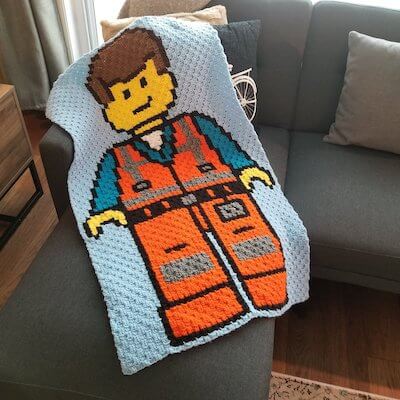 Get the Pattern here

8. Crochet Brick Faces Blanket Pattern by Swish And Stitch Crafts
This stunning, bright afghan is perfect for children, teens and all AFOLs (adult fan of Lego). Each brick face is meticulously detailed and uniquely fun. Stitch all 12 blocks for a bed-size blanket or stich 4 or 9 for a smaller baby or child-size afghan.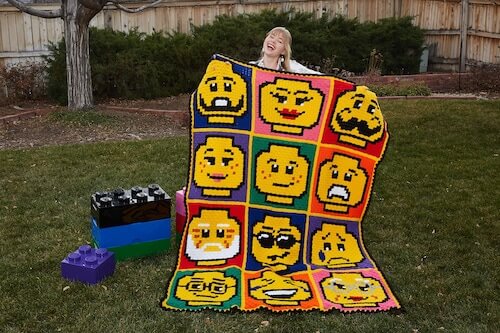 Get the Pattern by Swish And Stitch Crafts here

9. Crochet Lego-Inspired Blanket Pattern by Alexi Westover
Have fun creating this Lego inspired blanket. This pattern uses 6 different colors, but you can choose whatever colors you want. Have fun with it. The possibilities are endless!
Get the Pattern here

10. All-In-One Lego Blanket Crochet Pattern by Sarah Irving
If you're not a fan of making loads of individual blocks to be joined together, this is just the right pattern for you! In this pattern, you will find two ways of making the blanket; either truly all-in-one or, if you want to have isolated color blocks, a pattern for long strips of blocks to join later(that can be done as you go along).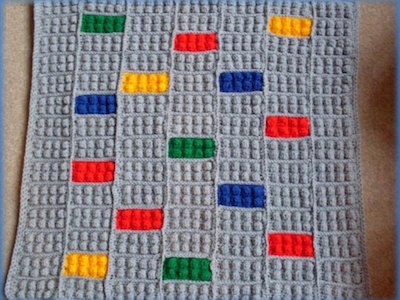 Get the Pattern by Sarah Irving here
I THINK A CROCHET LEGO BLANKET IS A PERFECT PERSONALIZED GIFT FOR SOMEONE WHO JUST LOVE THE BUILDING BLOCKS. IT'S A THROWBACK TO MEMORIES.
There are so many opportunities with these designs to make it unique to you and we would really love to see what you come up with, especially since the possibilities really are endless here! Be sure to share your projects on our Facebook Page.
See more of our collection of afghan and blanket patterns to crochet and get inspired for your next crochet project!
This crochet Lego blanket patterns are super fun to crochet. Happy crocheting, friends!