Planning to redecorate? Need to refresh a room quickly? Hold off on painting the walls or splurging on brand new furniture; opt instead for a set of crochet pillows. With new cushions, you can dip a toe right into a bright color or busy pattern, too, without committing to an entire spendy, re-do.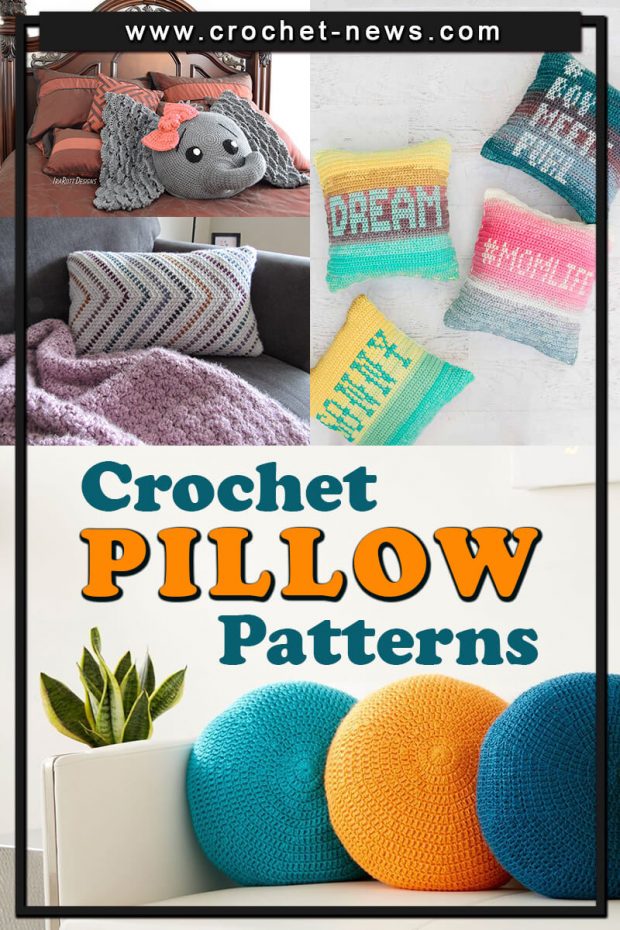 These crochet pillow patterns showcase a range of styles for different homes. You may want to crochet pillows that are colorful or neutral, fancy or plain, textured or smooth, square or round, or some other shape entirely.

While some crochet pillows are designed to be stuffed with a pillow form and then seamed shut, many are designed as removable pillow covers that can be easily washed and switched out from season to season.
1. Modern Throw Pillow Crochet Pattern by Textured And Cozy
This is a pattern for making a geometric modern throw pillow cover with four squares of beautiful and basic colors. Velvet texture makes it cozy and due to its design, it's a nice touch to different interiors.
Get the Pattern by Textured And Cozy here

2. Crochet Rainbow Pillow Pattern by Poppie Joe And Co
Catch a rainbow every day with this snuggly Crochet Rainbow Pillow. It's a joy to stitch up as shown or imagine tones that show off your perfect rainbow. It's a colorful addition to the nursery or playroom. If you know how to HDC and how to work a Bobble stitch then this pattern will be a breeze!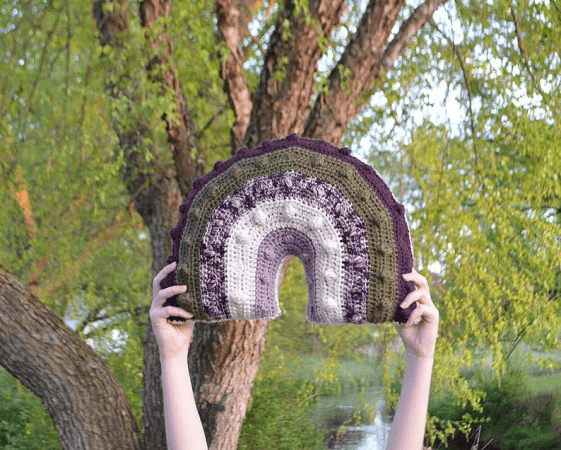 Get the Pattern by Poppie Joe And Co here

3. Crochet Twinkle Star Pillows Pattern by Yarnspirations
Crocheted from the center-out, these cuddly stars are sure to shine in any nursery or playroom. Work using front post stitches (double crochet front post) to shape your pillow into its final form.
Customizing a set that sparkles with any décor is a cinch by simply selecting your favorite colors!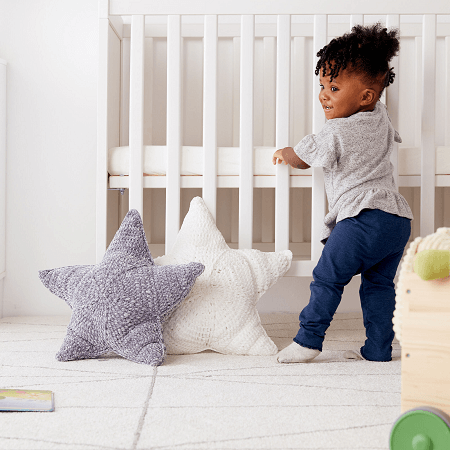 Get the Pattern here

4. Monogram Crochet Pillow Case Pattern by TLB Patterns
This crochet pillow case pattern is simple, classic, and elegant. The perfect throw pillow to personalize any home and add a little bit of extra handmade warmth.

Wouldn't this make the perfect housewarming gift? Or a beautiful bridal shower gift for the newly married couple? Make one for each of your children's bedrooms in their favorite colors!
Mom would certainly love this for Mother's Day! So many options for this pillow, the list could go on and on.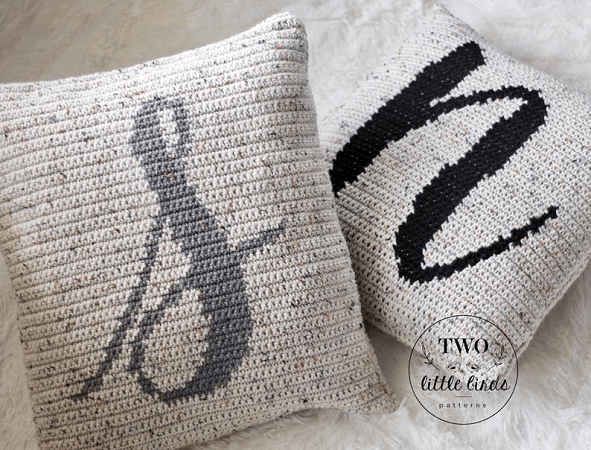 Get the Pattern by TLB Patterns here

5. Dahlia Pillow Free Crochet Pattern by My Crochetory
This Dahlia Pillow Crochet Pattern uses the Intarsia Crochet Technique. White flowers are set against a mustard background for a crochet pillow that works well in rooms with white or grey furniture.
These pillows are perfect for spring but will work all year long.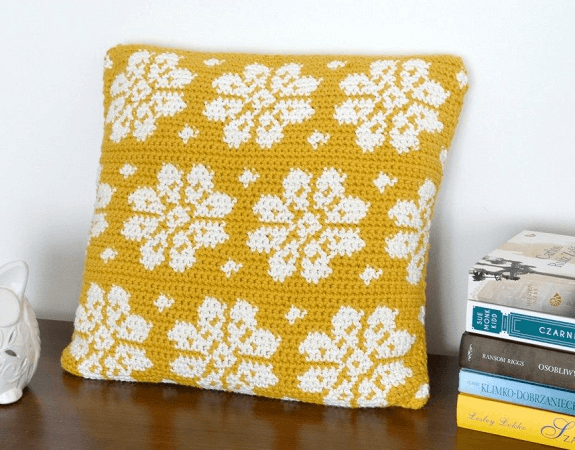 Get the Pattern here

6. Sakura Mandala Pillow Crochet Pattern by Lilla Bjorn Crochet
The idea of this design is to crochet two cabled mandalas in one or several colors, simple but with lots of texture. And turn them into a round pillow decorated with pom poms.

This Sakura Pillow can be put together in several ways. you can just crochet two mandalas together along the edge with slip stitches or single crochet stitches, and stuff it as-you-go.
Get the Pattern by Lilla Bjorn Crochet here

7. Hygge Diamond Pillow Crochet Pattern by Moogly
This Hygge Diamond Pillow features 2 gorgeous yarns, a ton of texture, and is just what you need to finish off that handmade vibe in your space!

It's easy to customize – from colors to corners! Go with white for a versatile look – this works for your winter wonderland, boho, and texture on texture looks. But feel free to mix it up and make it your own!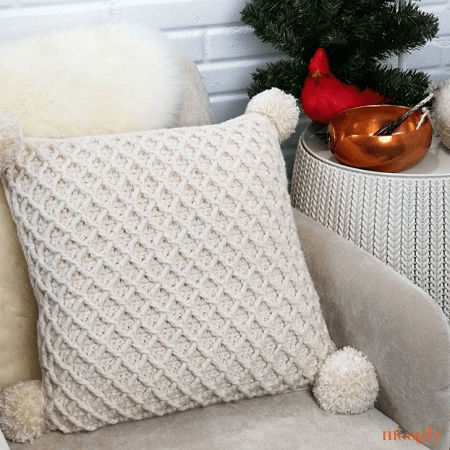 Get the Pattern here

8. Funky Fringe Pillow Crochet Pattern by Megmade With Love
This Funky Fringe Pillow got the perfect amount of spunk, while still sporting some laid-back simple vibes. It makes the perfect home decor accessory – plop it on your couch or use it as a sham on your bed.

The pillow is made up of half double crochets and bobbles. It's actually quite simple. And the fringe makes the perfect finishing touch!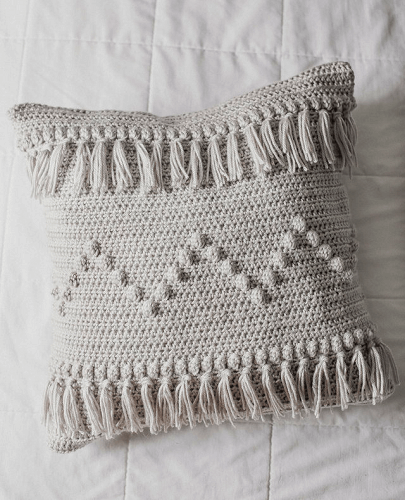 Get the Pattern here

9. Flower Pillow Cover Crochet Pattern by Crochet Spot Patterns
Crochet this pillow cover to cover up a 16″ square pillow. You can use it to cover an old pillow that needs a new look, or a plain white pillow. The cover has one open end that is fastened closed with 6 small buttons.
The buttons are designed to be on the inside of the pillow so they're hidden and the cover appears seamless. The cover can be removed from the pillow at anytime, making it easily washable.
The large flower is crocheted all in one solid piece, and then sew to the pillow cover.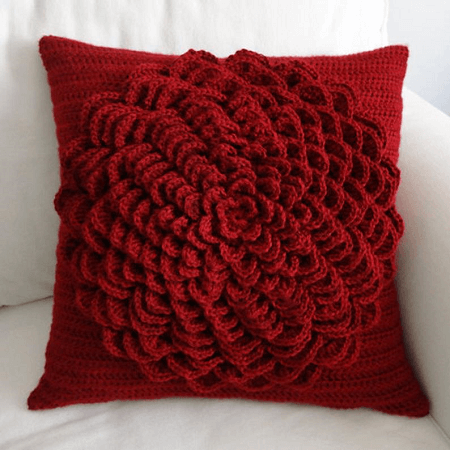 Get the Pattern by Crochet Spot Patterns here

10. Bear Pillow Crochet Pattern by The Turtle Trunk
This Crochet Bear Pillow would make the perfect addition to any room, home, or cabin! It would also make a great gift for anyone who loves the outdoors!
This pattern is classified as intermediate because of the color changes and intarsia technique. Even if you are not familiar with the intarsia technique, there are instructions to show you the way!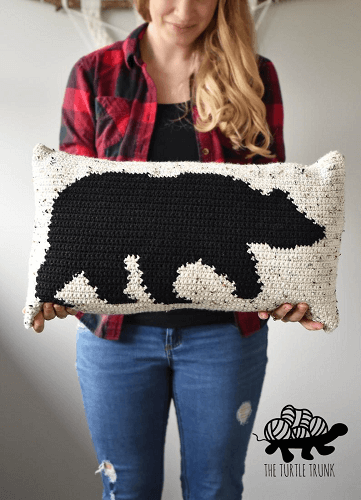 Get the Pattern by The Turtle Trunk here

11. Granny Square Crochet Cushion Cover Pattern by Susie Johns
This variation on the ever-popular granny square features a circular centre motif. Made up in bright colours, this cushion cover has a fiesta feel and would look equally at home in a camper van or caravan, or in your living room.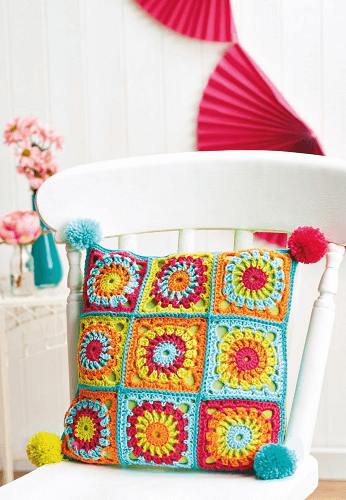 Get the Pattern here

12. Crochet Pleated Pillow Pattern by Yarnspirations
A charming crochet zig-zag circle motif is worked from the middle outwards to create this eye-catching pleated pillow. Whether worked in stripes as shown or in a solid color of velvet yarn, this is sure to become a favorite piece to snuggle up with.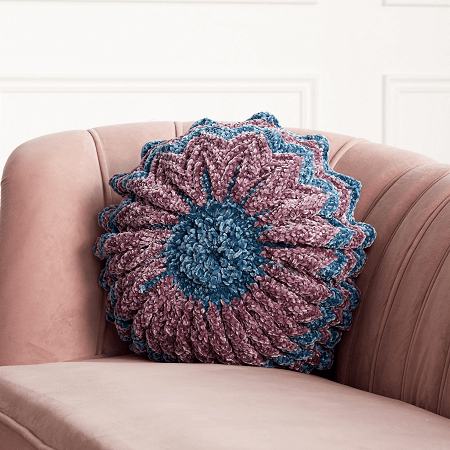 Get the Pattern here

13. U Shaped Travel Pillow Crochet Pattern by Crochet Spot Patterns
Crochet this U-shaped Pillow to enjoy a nap in an airplane, train, or even your office chair. This pillow is crocheted in the round as one piece and is made with tight stitches to prevent stuffing from falling out.

Stuff your pillow to make it soft or firm. You can also customize your pillow by using different yarn colors or alternating colors after each round to create stripes!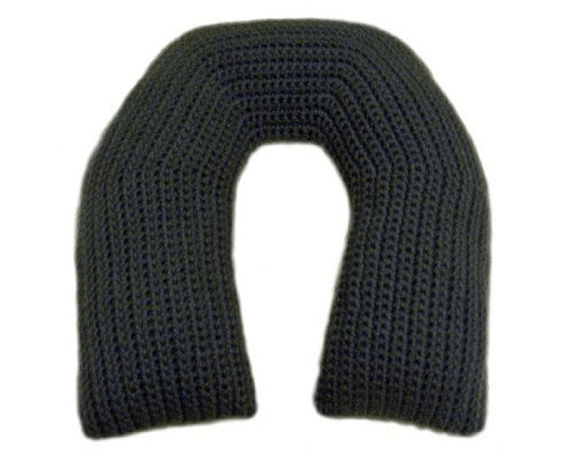 Get the Pattern by Crochet Spot Patterns here

14. Carnivale Cushion Crochet Pattern by My Poppet Makes
The thoughts of fairy floss and Ferris wheels will fill your head when you finished this Carnivale Cushion. It's rather bright, isn't it! But fear not. If an eye-popping color is not your thing, it looks equally lovely in just one color or in pretty pastel shades.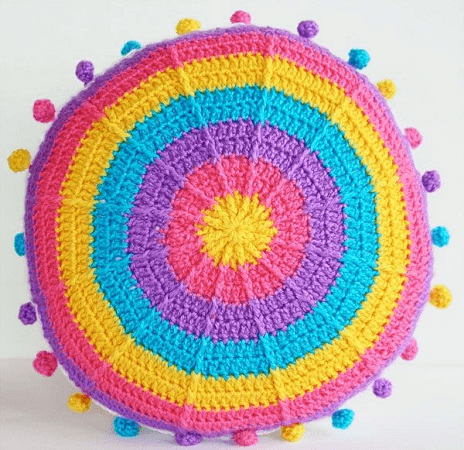 Get the Pattern here

15. XOXO Pillow Crochet Pattern by Haakmaarraak NL
Cuddle up with this XOXO pillow! This big, chunky bolster pillow will make a colorful addition to your porch, lounge chair or living room. By alternating the main color with other warm shades, a beautiful color gradient will emerge.

And as a little fun twist, colorful tassels embellish both sides. The pattern contains a written pattern, photo tutorial and crochet diagram and is suitable for intermediate crocheters.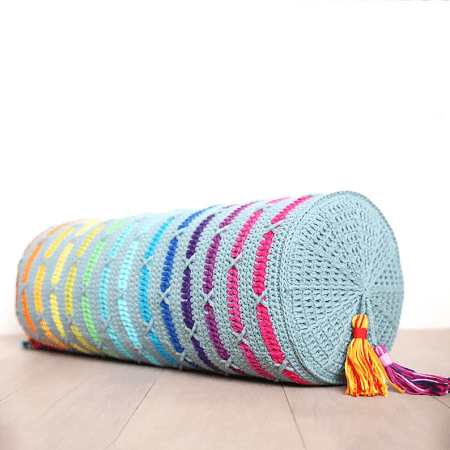 Get the Pattern by Haakmaarraak NL here

16. Ruffle Rose Pillow Crochet Pattern by Red Heart
Try your hand at this fascinating crochet pillow that adds a decorator's touch to your bedroom or sofa. The pretty ruffle texture can be achieved in any color you desire.

Create it in Off White to work with all your spaces, but let your imagination take you to the version that's beautiful to you. It adds an inviting touch of softness, so stitch one for the guestroom too.
Get the Pattern here

17. Crochet Knot Pillows Pattern by Midknits
These Knotted Pillows will make the perfect addition to any decor! Worked in two pieces in the round, and then knotted and seamed, this pattern is an easy pattern for both beginner and experienced crocheters alike.

This pattern includes complete instructions for how to make and assemble all three styles of knotted cushions (Ball, Square, and Rectangular).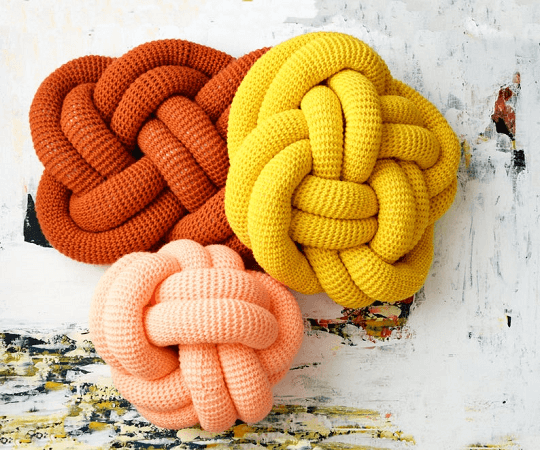 Get the Pattern by Midknits here

18. Aztec Throw Pillow Crochet Pattern by Spin A Yarn Crochet
This Aztec-inspired geometric pattern makes a beautiful throw pillow, but you could also add some fringe to make a tapestry wall-hanging, forego the stuffing to make a stylish handbag, or make several panels and join them together to make a rug or throw.

The options are endless for making this trendy design work for you and your home!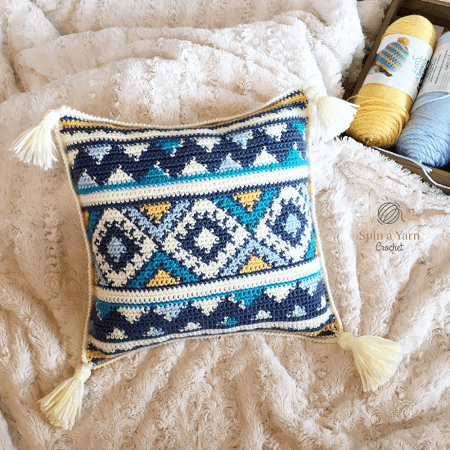 Get the Pattern here

19. Crochet Timber Pillows Pattern by Yarnspirations
If you have a passion for the great outdoors, these handmade accent pieces easily find a place in your home. Crochet rustic looking pillows with excellent stitch definition and choose Oak or Birch version to complete the ideal bolster for any sofa.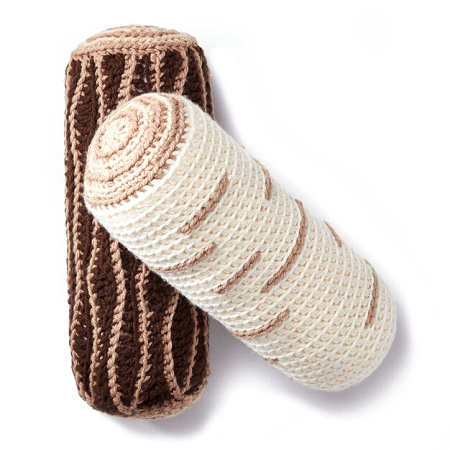 Get the Pattern here

20. Whimsical Stripes Pillow Cover Crochet Pattern by The Pixie Creates
Crochet this beautiful and modern Whimsical Stripes Pillow Cover to add some coziness to your space. This pillow is a great way to use up some of your yarn stash.
It calls for 2 skeins of any medium 4 worsted weight yarn for your main color, and scrap pieces of yarn for the stripes.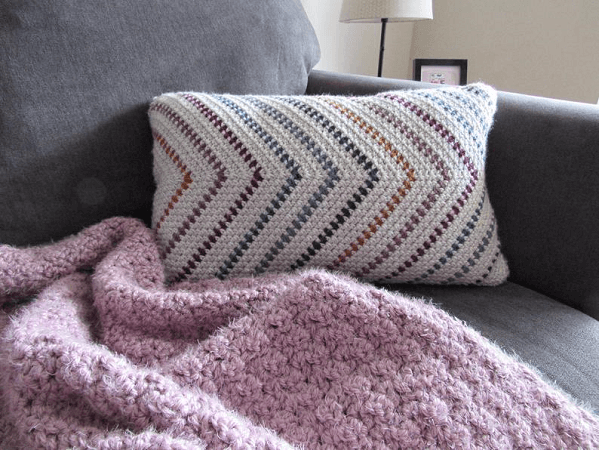 Get the Pattern by Pixie Creates here

21. Mandala Ombre Pillows Crochet Pattern by Make And Do Crew
Paint your perfect palette with these Ombre Pillows made from gorgeous Mandala yarn. Three strands held together throughout creates a chunkier look while the cross-stitch detailing allows you to personalize a message for everyone you know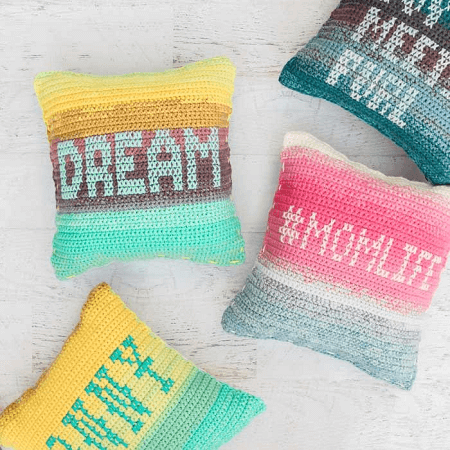 Get the Pattern here

22. Pom Pom Cushion Crochet Pattern by Stitch 11
This is a decorative cushion that makes an absolutely wonderful housewarming gift or statement piece for your home. It's a simple, straight-forward pattern that has just the right amount of boho flair.

It's worked up in the magic ring with the pom poms attached at the end. It's not too complicated either, which makes this an ideal project for all levels.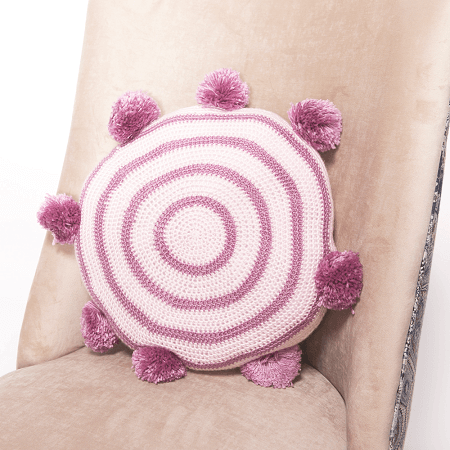 Get the Pattern here

23. Waffle Crochet Pillow Pattern by Bernat
The luxuriously textured waffle pattern on this squishable crochet pillow is a great way to practice front and back post double crochet stitches and the waffle stitch.

Working in velvet yarn, this inviting pillow is stitched in pieces and seamed together in finishing. Keep it soothing as designed, or create yours in another classic shade with more pop.
Any way you create it, this cozy yarn finishes with a beautiful shine that turns any pillow into a showstopper!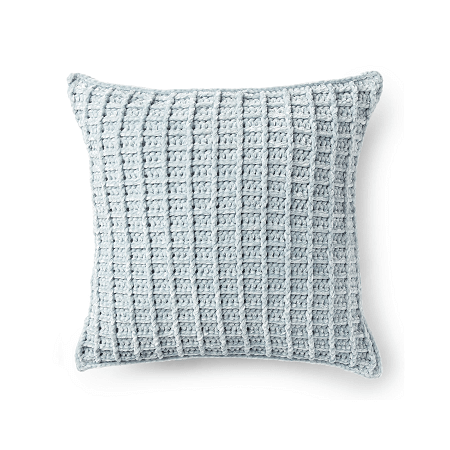 Get the Pattern here

24. Crochet Elephant Pillow Pattern by Ira Rott Patterns
This Crochet Elephant Pillow Pattern is a fun, cute and quirky addition to any baby's or child's room. The elephant pillows, named Josefina and Jeffrey are just plain adorable.
For the kid who loves animals, this pillow is the right thing to do for them!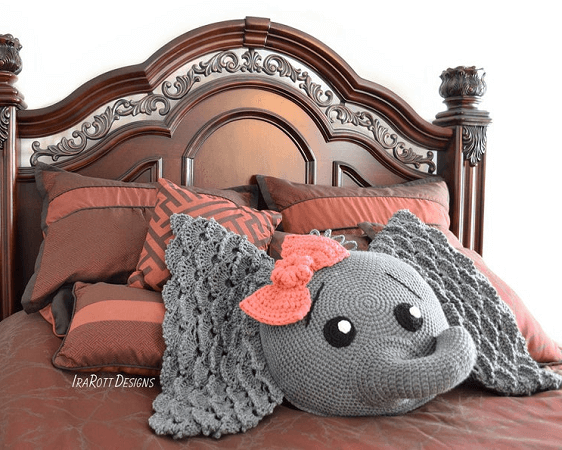 Get the Pattern by Ira Rott Patterns here

25. Chevron Pillow Crochet Pattern by Red Heart
There's no better way to give your room an instant lift of color and style than by adding these vivid crochet pillows.

Designed with a popular chevron design, this pair adds an interesting decorative element to any space, whether you complete them as designed, or shape them in colors you imagine.

Toss them on the sofa, display them in the bedroom or add them to your reading nook as a focal point of style.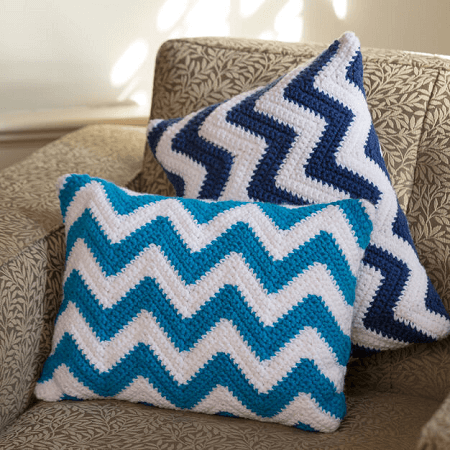 Get the Pattern here

26. Candy Heart Pillow Crochet Pattern by Once Upon A Cheerio
These pillows usually come with little messages stamped into them and are considered to be very romantic indeed!

Of course, these heart-shaped pillows are not just for Valentine's Day and therefore these cute pastel-colored beauties make perfect housewarming gifts or kid's room decor!
Make them in any color you like or even give them multicolored stripes. 

Have a look at these Crochet Heart Pillow Patterns for more ideas.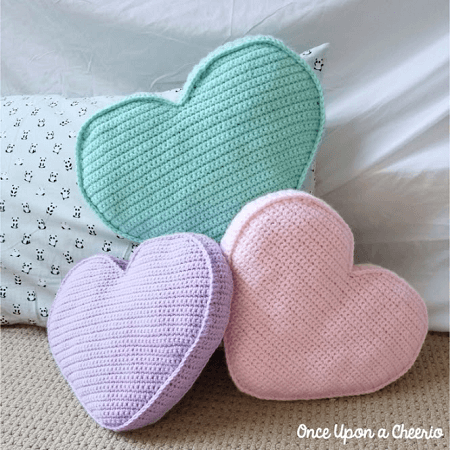 Get the Pattern here

27. Snuggle Bunny Pillows Crochet Pattern by All About Ami
These sweet Snuggle Bunny Pillows are irresistibly snuggly and the perfect size to cuddle. Their cute expressions will brighten up any room and add a whimsical touch to your decor!

You can choose any combination of colors to match your decor or theme, and the yarn holds up really well without fuzzing up!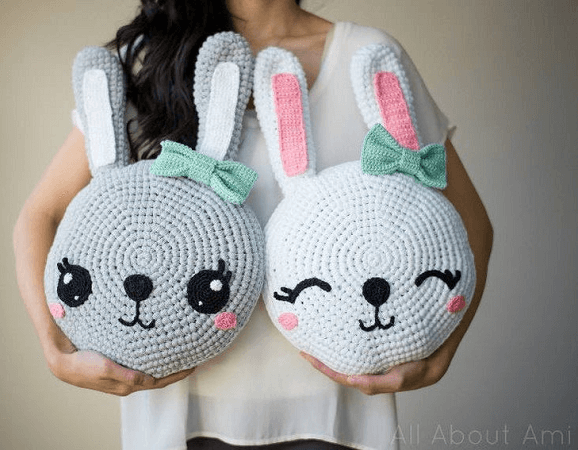 Get the Pattern by All About Ami here

28. Anthropologie Inspired Long Pillow Crochet Pattern by Bella Coco Crochet
This Anthropologie Imspired Crochet Cushion can be fully customized to fit your style and your own home decor. What colors will you choose? It will look amazing on a bed and add so much interest to an all-neutral bedding.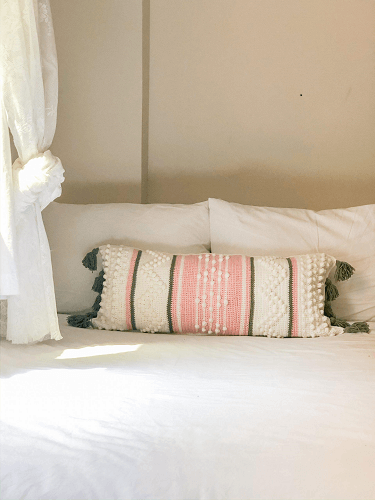 Get the Pattern here

29. Cactus Pillow Crochet Pattern by A Crafty Concept
Whether you prop it in the corner or toss it on the bed, these fun Cactus Pillows are sure to add a bit of southwestern flair to your decor. No gardening expertise needed!

These pretty crochet cactus pillows are very easy to make, perfect for your desert chic decor! Try playing with different hooks and yarn weights to get different-sized pillows.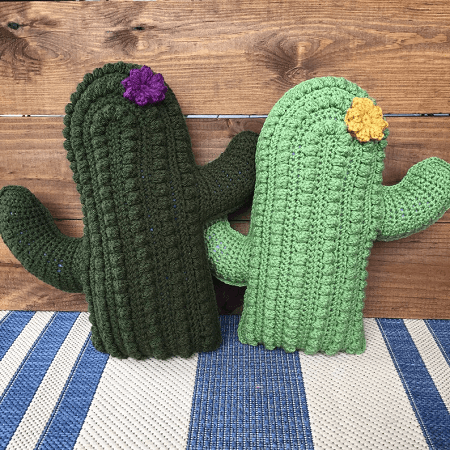 Get the Pattern by A Crafty Concept here

30. Crochet Unicorn Body Pillow Pattern by Bri Abby HMA
This Unicorn Body Pillow is a must-have for every little unicorn lover out there. Insert your pillow into the body and your unicorn comes to life!

Perfect for sleepovers, car rides, vacations, lounging in the house, a play toy, and more. When it's time for a wash take your pillow out and toss it in. It doesn't get any easier than that.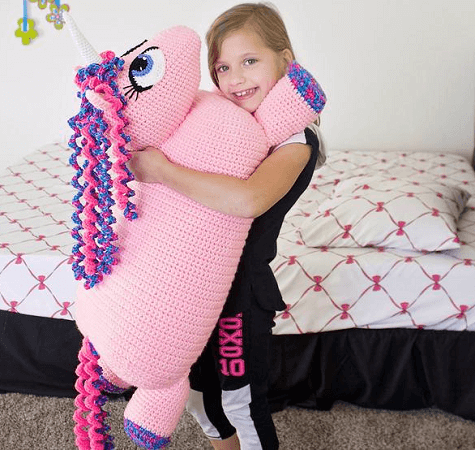 Get the Pattern by Bri Abby HMA here

31. Puff Stitch Round Pillows Crochet Pattern by Red Heart
With or without the ruffled edge, display a decorative crochet pillow that stands out in 2 colorways for your crocheting enjoyment. This cozy pillow pattern has you learning the puff stitch as you crochet.

Measuring 16″ in diameter, make one or both pillows for the living room, bedroom or anywhere you want to add a pop of color and textural interest.
Get the Pattern here

32. Crochet Pillow Patterns Full Circle Crochet
We love these Crochet Pillow Patterns full Circle! They are the perfect way to freshen up your lounge or bedroom, and will suit any home once you can pick the colors and patterns to suit you.
Not to mention how comfortable they look, you'll want to stay snuggled up with these pillows all night long!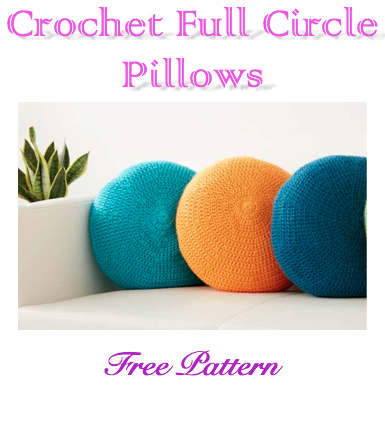 Skill Level: Beginner
Size: 14 inches
Full Crochet Circle Pillows Materials:
More Crochet Decor Patterns Here
Consider these approachable DIY patterns to get started decorating, covering, or making your own crochet pillows!
If you end up completing one (or all!), please snap a pic and share them with us over on Facebook, we'd love to admire it!

Whether you want to fill your rooms with color or use your crochet skills to make some useful and practical items, you'll find loads of crochet ideas such as our Toilet Roll Cover Doll Crochet Patterns. You'll find out home decor crochet patterns and even some fun makes for the kid's rooms too!

Rather than spending money on pillows at your favorite home decor store, it's time to make your own today with these crochet pillow patterns.